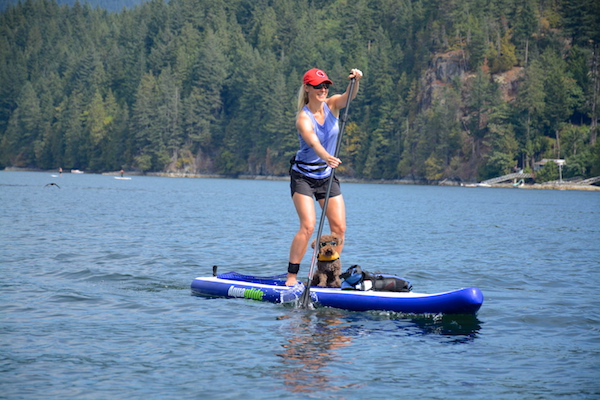 Hi there! My name is Allison and I am the owner and creator of ISUPworld.com.  I am based in British Columbia, Canada where there are countless stunning water ways to paddle and explore.
I have been paddling inflatable stand up paddle boards for well over a decade and have been fortunate enough to paddle on bodies of water all over the world.  With my love to travel, I realized early on the conveniences that an inflatable SUP offers.
Over the years I have tested out many different inflatable boards, competed in a few races and shared my love of SUP with thousands of people through my blog and on social media.
My experience with inflatable SUP's is extensive and I hope to share that expertise with you through my detailed paddle board reviews.  Hopefully my reviews can help you choose the right board to suit your needs best.
When I am not sitting at my computer writing I can most often be found on the water with my dogs or hiking/running up and down mountains.
Being outside and enjoying the outdoors brings me a great amount of joy and peace.  Paddle boarding in particular keeps me balanced, calm, fit and happy.
My goal is very simple… To share my love of SUP, promote the SUP lifestyle and hopefully in the process introduce people to a healthier and more balanced way of living.
Drop me an email if you have any questions, I always do my best to help.  Also don't forget to stay connected through the ISUPworld Instagram and Facebook page.  In my experience paddle boarders are awesome people!  The bigger the community the better.  🙂
Happy paddling!
Allison