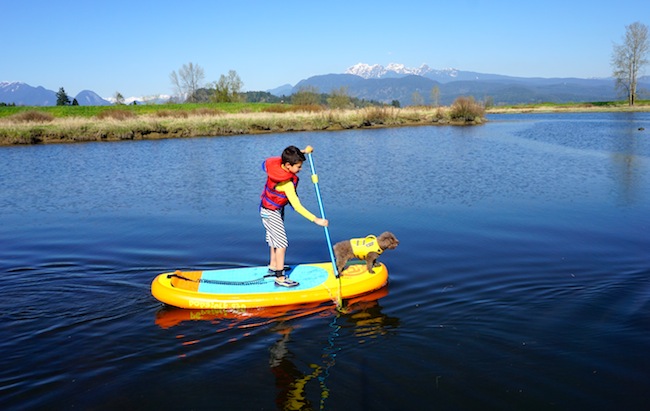 Do you have kids who love the outdoors and love adventure?  Want to bring the whole family paddle boarding?
The Airhead Popsicle is a fantastic inflatable stand-up paddle board that will suit kids that weigh anywhere from 30 to 120 lbs.
I love the colors on this board. It is bright and fun and easy to spot in the water.
It only weighs 19 lbs. so many kids will be able to lift and carry it by themselves.
The Popsicle is basic in shape but it is most definitely kid approved.
9-year old Alessandro tested this board for us and loved it.  He paddled fearlessly without falling in the water even once… Even with our dog Seth standing up front as navigator!
This board has lots of good features and will last your child for several years before they grow out of it.
Specs For The Airhead Popsicle
7' long
30" wide
6" thick
weighs 19 lbs.
for paddlers 30 to 120 lbs.
air pressure 15 PSI
Material: Durable PVC
Best Suited For: Kids, cruising, recreation
Pros: Lightweight, stable, 4 attached thruster fins, comfortable EVA Traction deck pad with tail kicker, bright and easy to spot in the water, nice padded carry handle, comes with mesh backpack, has a stainless steel tow ring and back D-ring for SUP leash
Cons: Tracking is not perfect, slower moving, no D-rings or bungee ties up front for securing gear
Where To Buy The Airhead Popsicle
Click here for the best deal on the Airhead Popsicle at Amazon.com.
More In-Depth Info On The Airhead Popsicle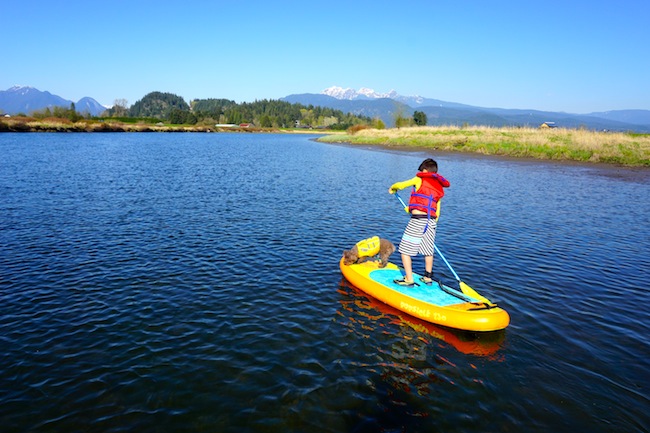 The Popsicle is a super fun board for kids to use.
It is 7' long, 30" wide and 6" thick providing a nice stable platform for kids to paddle.
This board has a lot of nice features and is very kid friendly.
I think kids in general have far greater balance than us adults and Ale had absolutely no trouble getting comfortable.
Overall the board is rigid and stable. I like the 30" width as it is wide enough to still be stable but not so wide that kids have to reach too far over to paddle.
This board is versatile enough for flat water cruising or small ocean waves.
Important Features
There are a lot of great features that stand out…
Color – The first thing I noticed was the nice bright orange, yellow and blue colors.
This board stands out, looks fun and best of all is easy to spot in the water.
I think Airhead did a great job with the colors for this stand-up paddle board.
It looks bright and fun for kids without looking 'childish' so it will suit a wide variety of ages.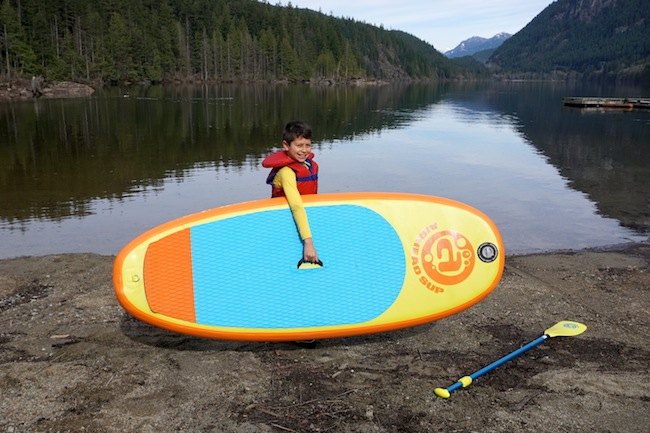 D-Rings There are two D-rings. One is underneath the nose of the board that is perfect for towing.
The other is at the back end and can be used for attaching a SUP leash.
These are the two most important D-rings to have and I am happy to see them included on the Popsicle.
It would have been nice to have some extra D-rings up front for securing gear. However if you wanted these you could always add them yourself.
A pack of D-rings doesn't cost much and they can easily be glued one.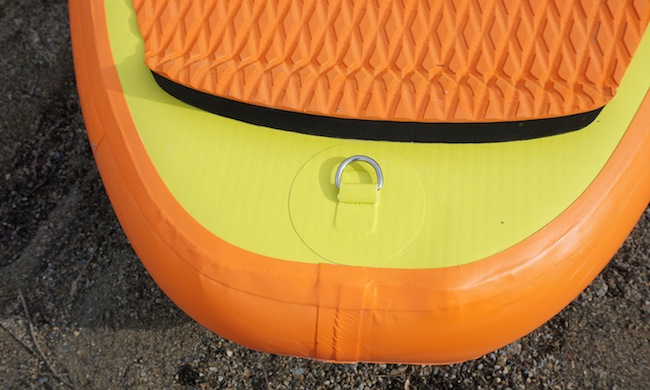 Traction Pad – The blue EVA traction pad is comfortable to kneel or stand on.
It is a decent length and has a orange kick tail at the back end perfect for kids to practice their pivot turns.
Kick Tail – The kick tail as mentioned at the back of the traction pad is a nice touch.
Practicing pivot turns and quick handling can be a lot of fun. Just make sure your child is prepared to fall in the water! It takes practice to get pivot turns down smoothly. 🙂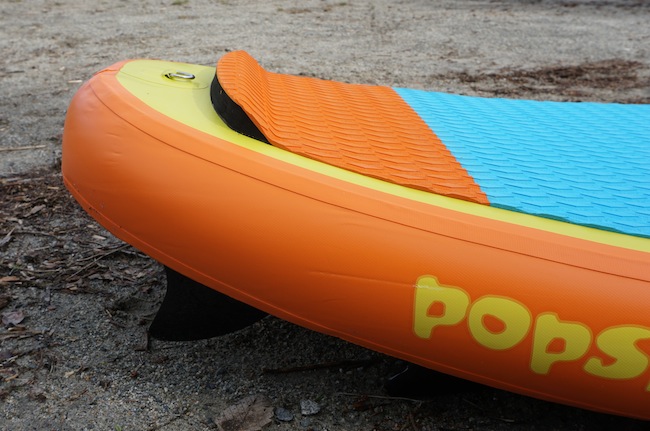 Thruster Fins – There are four smaller attached thruster fins on the Popsicle.
It is nice that the fins are attached, as there are no parts to have to worry about losing.  The thruster fins help with stability and drive.
The fins have a little flex to them so they won't get damaged if they hit debris.  They are quite small however so damage is unlikely anyway.
Carry Handle – There is one center carry handle.  The handle is durable and comfortable to use.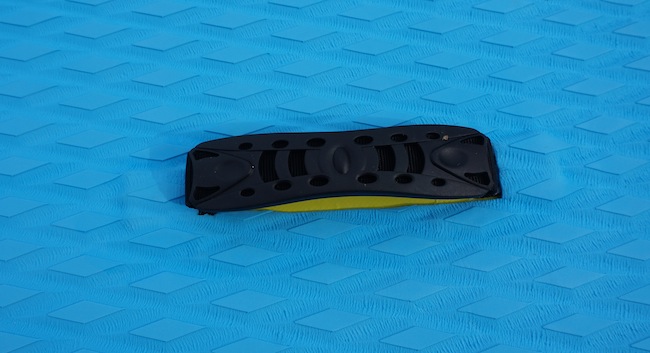 Hand Pump – The pump that comes included in the package is a decent hand pump and includes a pressure gauge.
The board is not very big so it is faster to inflate than most other inflatable SUP's that I have used.
It does take a bit of effort with the hand pump but if you and your child take turns pumping it'll get done in no time.
Or my own preference is to use an electric pump to eliminate all the hard work.
Airhead makes a good electric pump that works well with this board. The electric pump is an added option but totally worth it in my opinion.
Backpack – The mesh backpack has a full center body zipper so it is very easy to get the board in and out.
The mesh body of the bag allow the board to breathe when stored away.
The shoulder straps are a little flimsy, there is not much padding on them. However for carrying to and from the water from your vehicle it works great.
Older kids will be able to carry the bag themselves but it will be tricky for younger kids.  It is a compact package but still fairly large for a smaller child to handle themselves.
The backpack is able to hold not only the ISUP but also the pump and the paddle as well.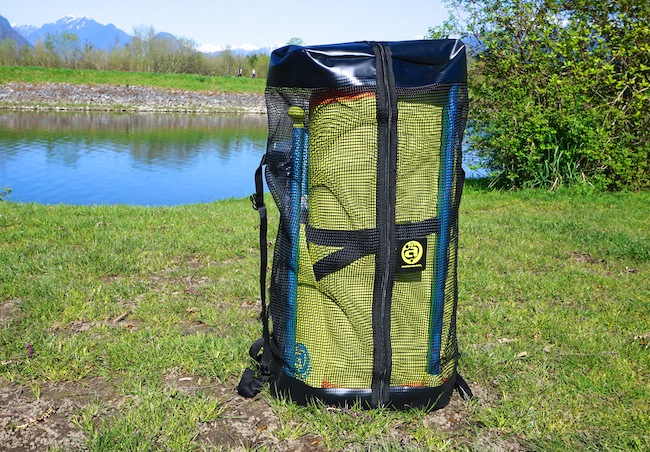 3-Piece Paddle
This board comes with everything you need to get on the water except for the paddle.
The Airhead SUP 3-piece Youth Paddle is a separate purchase but very affordable.
This paddle is basic but durable and ultimately very functional for kids learning to SUP and for recreational use.
The paddle has a blue aluminum shaft, yellow fiberglass reinforced ABS "duck foot" blade and yellow grip handle.
The height is easily adjustable from 52″ to 74″so it will work well with paddlers 43″ to 65″ tall.
It comes apart into three pieces making it easy to store in the backpack carry bag.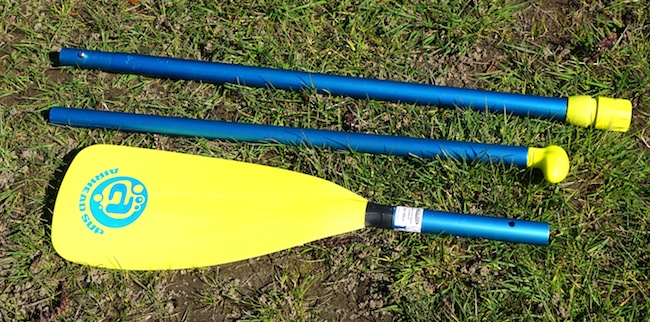 Performance
The rounder shape of this board does not lend to speed. It cruises along nicely but the tracking and speed are mediocre.
It excels in stability and ease of paddling, which is probably what is most important to younger kids.
Alessandro paddled this board alongside three adults on their own boards. The adult boards were obviously much faster.  He kept up fairly well but his board had its limits.
He got in some good power strokes however and all things considered was moving along just fine.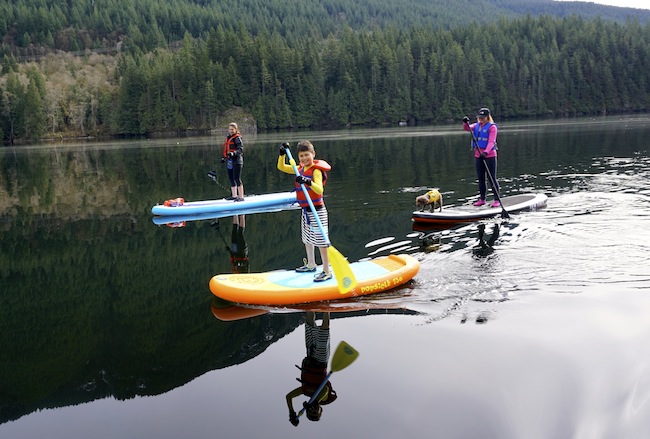 As your child grows and improves their paddling technique they will eventually grow out of this board and into one that is a little more technical and is able to go faster.
The Negatives
Overall this is a great SUP. There are more pros than cons.  The negatives to be aware of are:
– Tracking was only so-so. This board did not paddle as straight as most others I have seen or tried. However I don't think most kids will mind.
– There are no D-rings up front or bungee cords for securing gear. The Popsicle is only 7' long so I can understand perhaps why these were left out.  They can always be added on if you really want them.
– The price is higher than I would expect for a kids ISUP although the package does come with everything needed. It is a good board, well made and functional.
If your kid is really into SUP'ing, then this board should last them several years making the price worthwhile.  However watch for sales, I have seen the Popsicle on sale at Amazon for a much lower price.
More Pics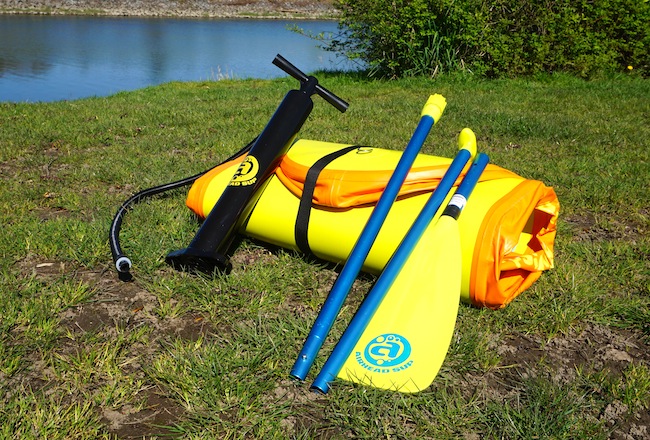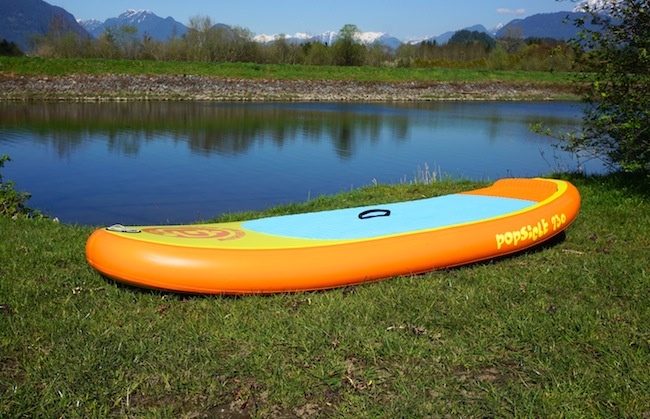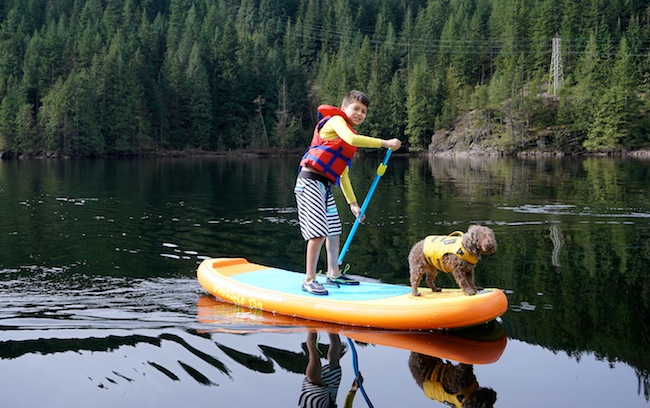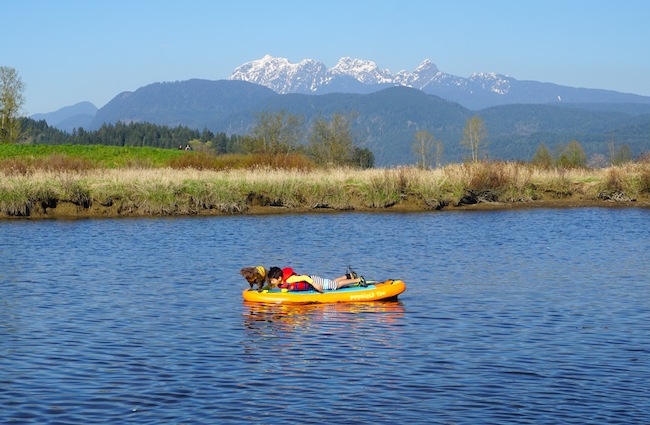 Where To Buy The Airhead Popsicle
The best deal we have seen is at Amazon, especially with the free shipping.
Click Here For The Best Deal On The Airhead Popsicle At Amazon.com.
Did You Know?
By clicking on any of the above seller links you can help keep ISUPworld.com growing. When you make a purchase after clicking on our links, the retailer will contribute a portion of the sale to help support this site. It won't cost you anything extra and it's a simple way to help us fund our gear reviews. Thanks!