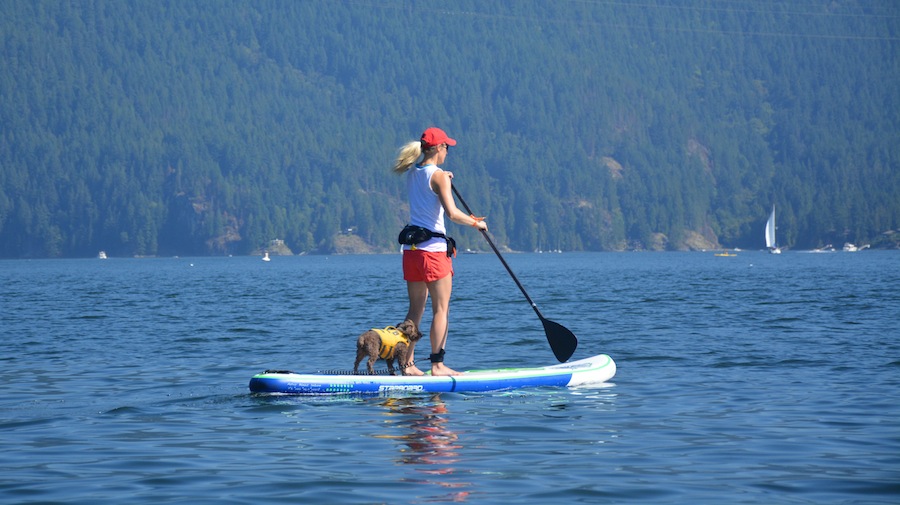 Allround is the most popular category for inflatable SUP's. Boards in this category are ideal for recreational use, are versatile enough to be used on different types of water as well as be used by different riders.
The advantage of this type of paddleboard is that it is extremely versatile. The disadvantage is that an allround board will tend to be a jack-of-all-trades but master at none.
However that being said there are some excellent Allround inflatable paddle boards out there that are super fun to paddle, perfect for traveling and great for use by different family members or friends – if you want to share your board.
An Allround board will usually have a tri-fin configuration meaning there will be two back smaller side fins and one back larger center fin.
The center fin helps with better tracking in open water and the side fins will help with tracking and maneuverability in shallow or moving water and surf.
Depending on the board some or all of the fins may be removable.
An Allround board will often have a slightly rounder more traditional shape, be quick and easy to turn and stable to paddle.
Below are the Allround inflatable SUP's that we have reviewed so far.
Allround ISUP's
Click the links to read our full detailed review of each board and to see more pictures.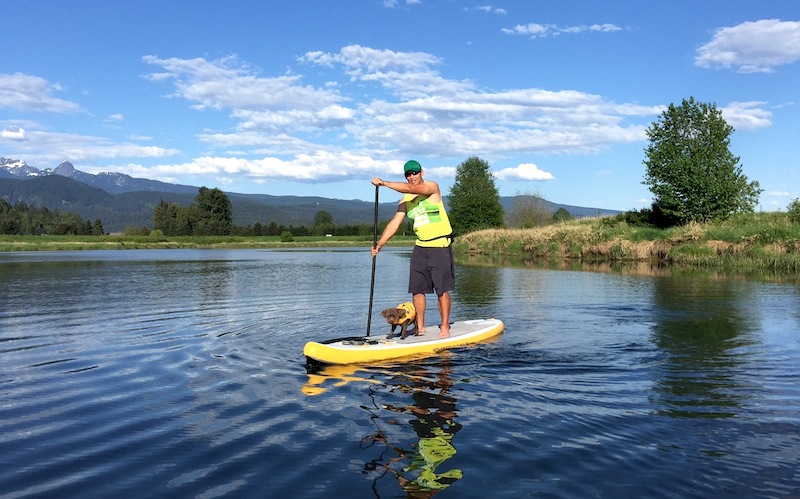 The AE Fishbone could also be considered a touring board. It's one of those that are hard to classify. It is versatile but still able to pick up decent speed and cuts through the water nicely.
It is a nice size at 11' long and 30" wide and ideal for lake or ocean paddling as well as for use on calm rivers.
It paddles fairly well and is quite versatile in that all three fins can be removed so you can customize them as you like depending on what type of water you are paddling on.
The only downside is that it is a little heavy at 26.5 lbs. for it's size, but still very manageable. The fins also take some practice to secure – not my favorite type of fin attachment.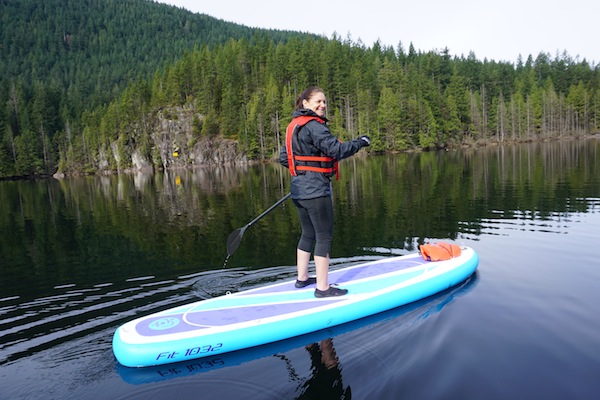 The Fit is a very attractive looking board with nice bright colors. It is an ideal size for recreational paddling on any type of water as well as perfect for yoga or fitness.
At 10'6" long and 32" wide it will suit a large variety of people, provide a good amount of stability and hold a lot of weight (it can hold up to 300 lbs.).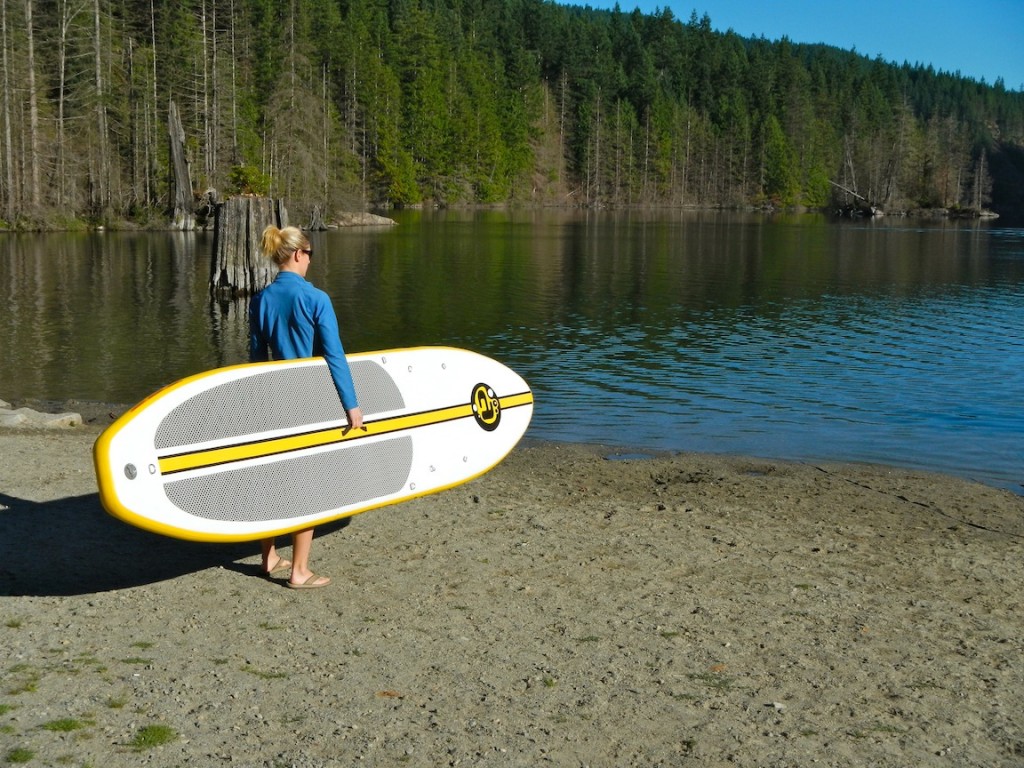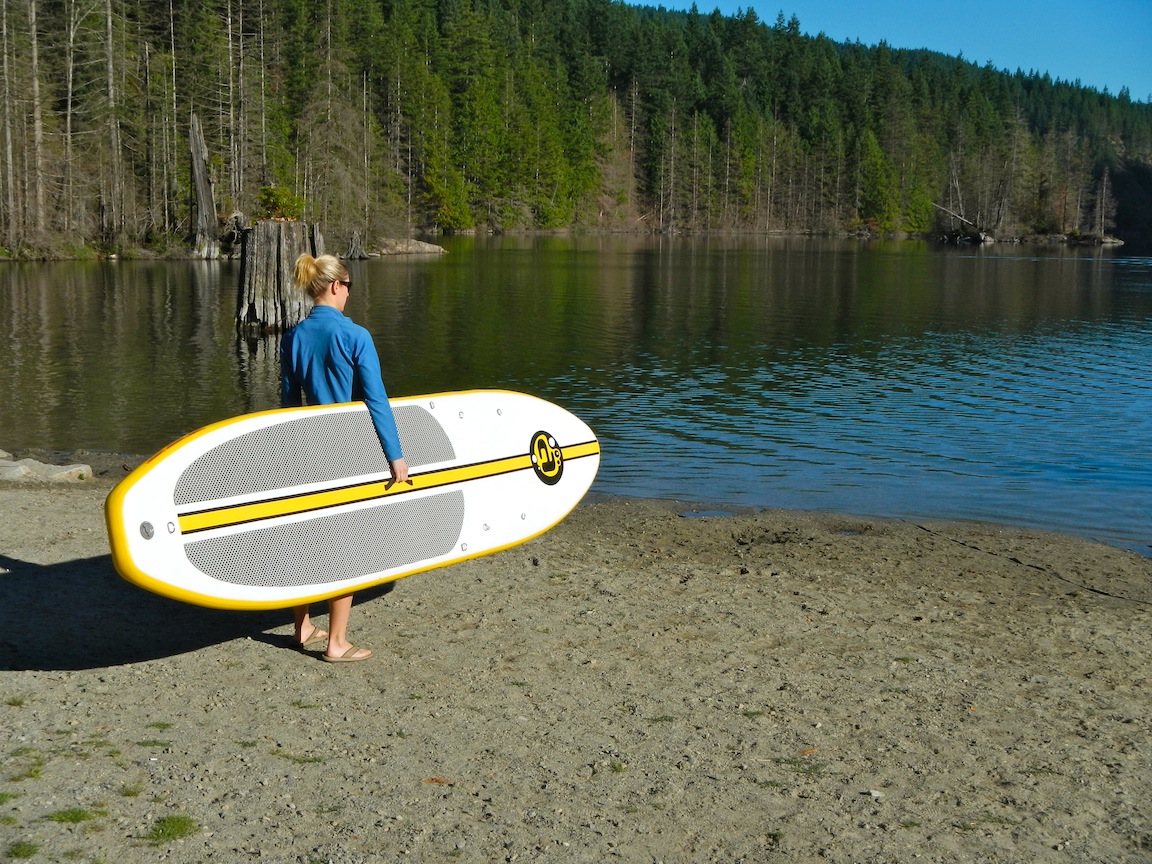 The Napali is versatile in that it has three removable fins and the option of attaching a seat.
It inflates easily, looks nice and feels good to paddle. My only gripe with it is that it is quite heavy at just over 38 lbs.
The heavier weight makes it quite solid however it does take a little more effort to paddle and of course more strength to carry to and from the water.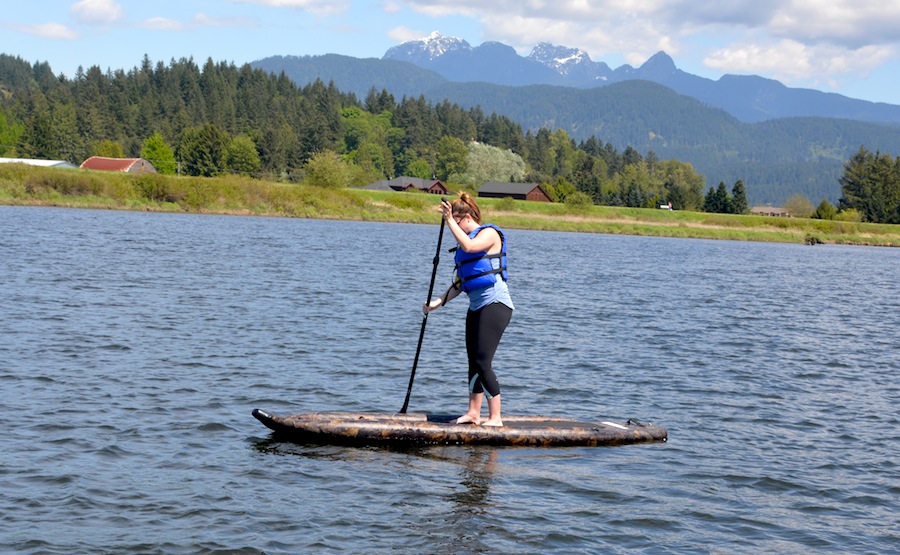 The SS Camouflage is 38" wide and has pontoon-like sides that add a lot of extra stability.
It is ideal for beginners as well as for a larger person. It can hold a lot of weight and still be quite rigid and stable.
I think the SS Camouflage is great for loading up with kids, fishing gear or dogs.
It is not that fast but considering the size it handles fairly well and feels very secure to paddle.  It offers the ultimate in stability.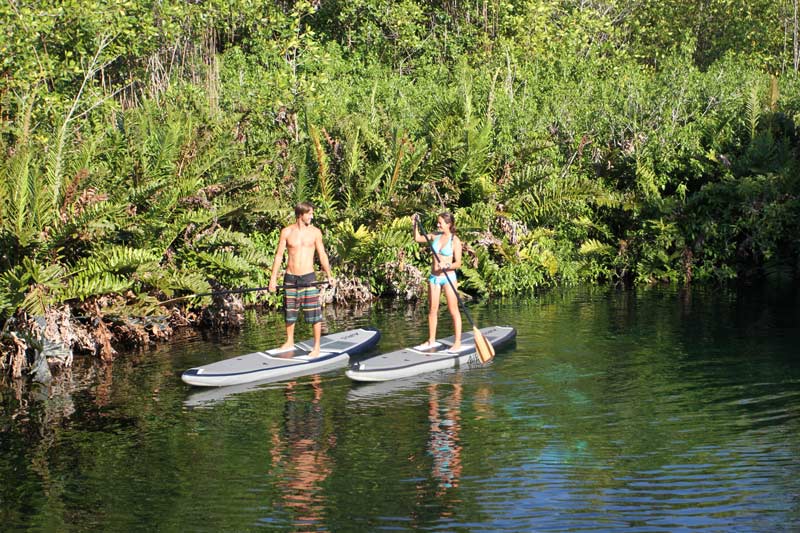 The 9' Stubby is best suited for someone with a smaller frame although it can easily hold up to 225 lbs.
Like all of the Airis paddleboards it has the fiberglass steps to stand on adding extra rigidity.
The smaller size makes it a little less stable on ocean chop but it is still very versatile and can be used on just about any type of water.
It is very compact, quick to turn and maneuver and fun to zip around on.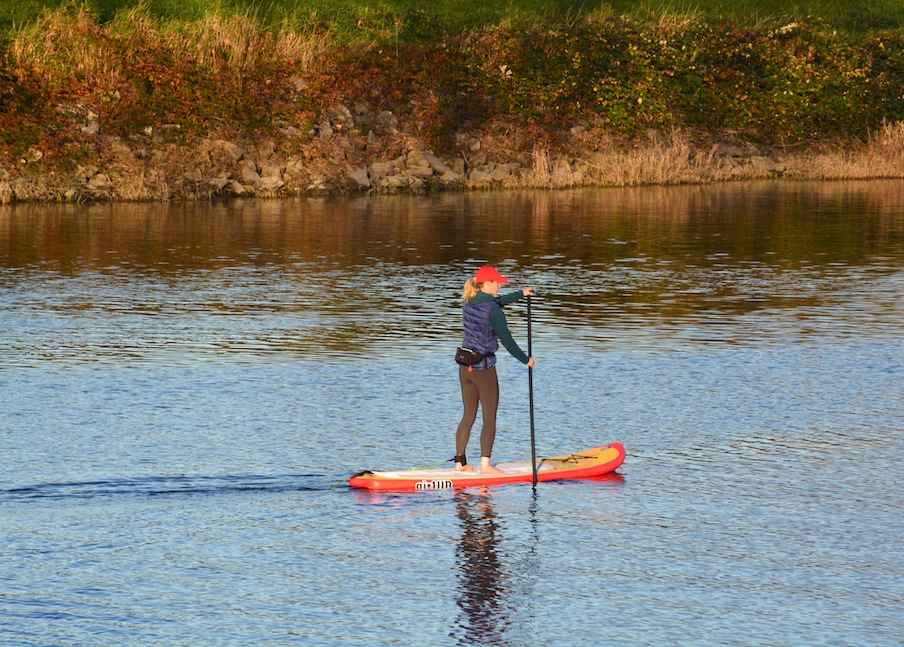 I like the airSUP 96sl. It is small and compact, weighs only 15.5 lbs. and is perfect for traveling and storing in a small space.
It is only 4" thick as opposed to 6" like you see with many other ISUP's so it is not as stable however very responsive on both flat water and in surf.
The wider swallow tail provides a little extra stability in surf and helps with carving and turns.
It will suit best those who weigh less than 200 lbs.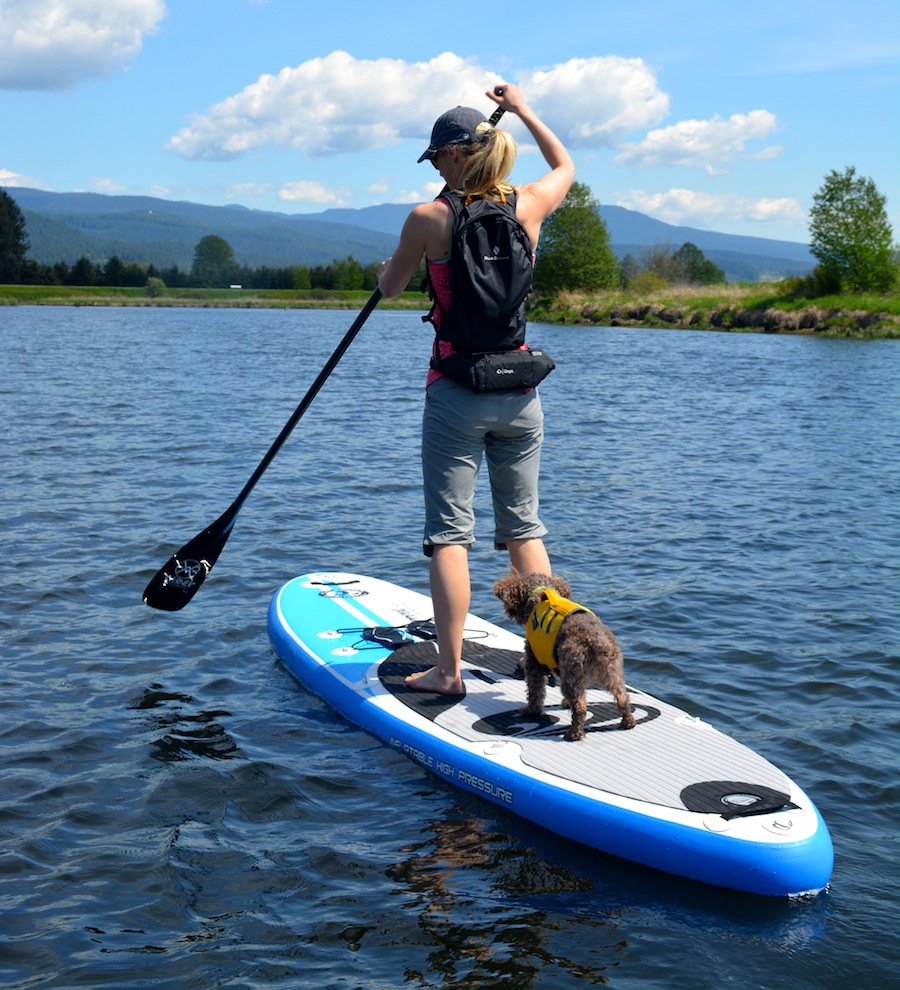 With two side fins and one large removable center fin as well as an optional seat to attach, the 132 Current makes for a great allround board.
The round nose, 32" width and 5.5" thickness provide quite a bit of stability.  It is not that fast but it will suit a wide variety of people and it's great for recreational use.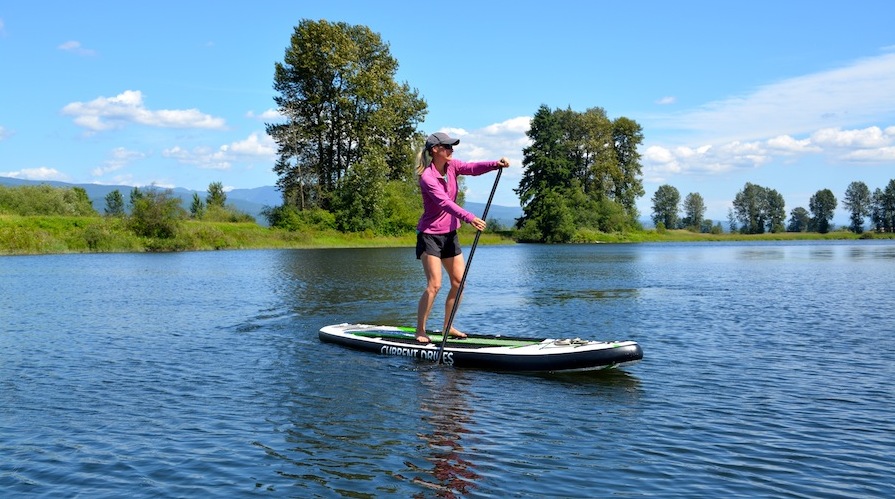 The Huey is durable, has a nice large bungee tie system for securing gear and a tapered nose and tail for cruising.
It could also be considered a touring SUP but the size, shape and versatility keep it more in the Allround category in my opinion.
At 11'6" long and 34" wide, it is very stable and can easily hold over 400 lbs. With the wider width it does take more effort to turn and can feel a little sluggish in the water.
However it is dependable, great for larger loads and versatile with the fin options.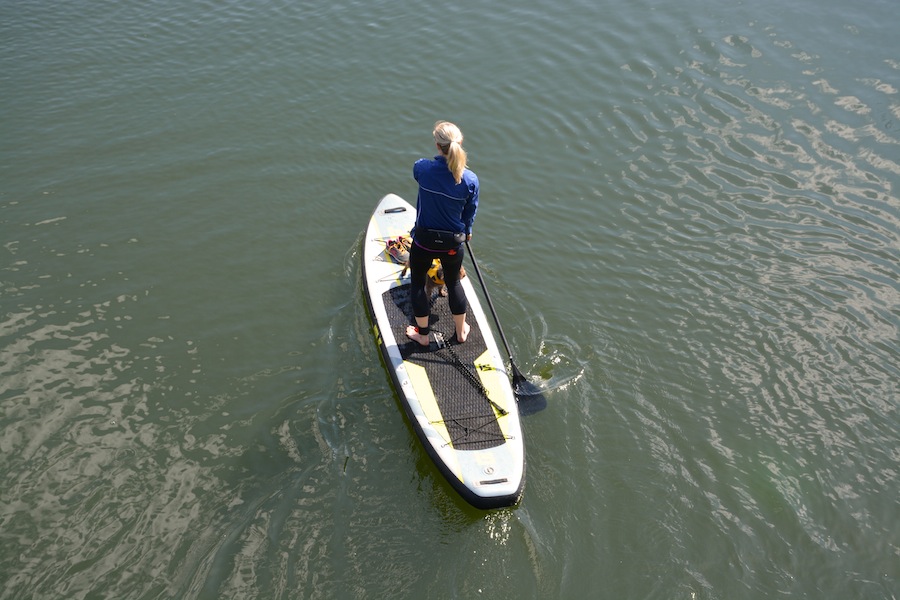 The Explorer has been very popular for a few reasons. It is priced well for what you get, it provides good stability for all types of water and it comes with some great features.
I have an older Isle Explorer that I have had for a couple years now and I still use it occasionally.
It is not my go-to board however it is great for loading up with dogs, taking on choppy ocean water or for when I take out friends who have never paddled before.
It feels secure pretty much right off the bat and it has never let me down. I have never had an issue with it and although it is definitely not the fastest board in the water it is still easy to paddle and maneuver.
The newer Explorers only weigh 19 lbs., which is awesome (as my older one is quite a bit heavier and weight was always one of my complaints).
It is versatile, stable and able to hold up to 275 lbs. – although we have loaded it up with well over 300 lbs. before and had no issues.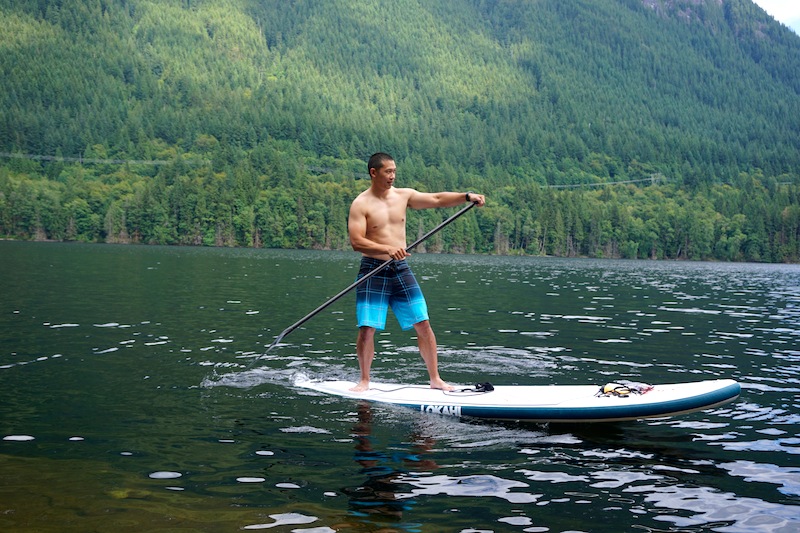 The Lokahi is fun and I think a little bit unique. It comes in different size options but the one we reviewed and the one I think is the most versatile is the 106" long option.
The reason it is unique is that it is 33" wide and only 5" thick.
So the width adds stability but isn't cumbersome because the 5" thickness keeps it easy to maneuver and a little faster to turn than you can with a 6" board.
The 5" thickness also allows it to move faster in the water than a 33" wide board would normally that is 6" thick.
Consequently we found it really fun and also really versatile. It is great for cruising on flat water but also easy to pivot turn quickly or use in surf.
Worth noting that even with the smaller 5" thickness the 10'6" WE can hold over 250 lbs.
FUN is a great word to describe the Mana Air. It is short at only 9'10" long but stable with a 34" width.
It is easy to paddle and able to hold a lot of weight considering the smaller size.
Fun in surf, ocean waves, rivers or lakes, it is highly versatile and portable.
Not fast but excels in just about every other way.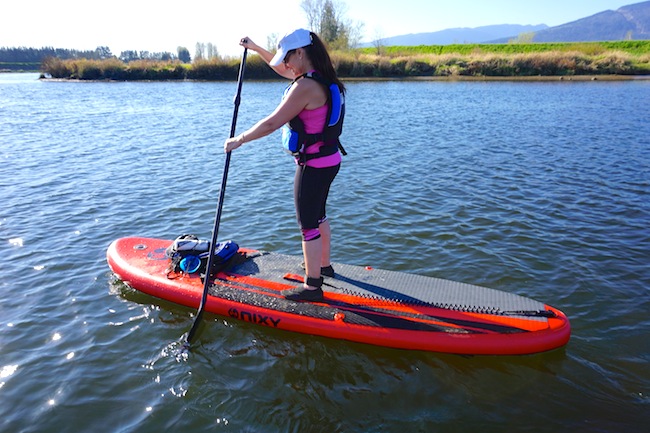 The Newport has the classic Allround SUP design. It is definitely a jack-of-all-trades but master at none.
It is an ideal Allround board that can be enjoyed by anyone. Stable, easy to use, portable and best of all affordable.
This ISUP is great for someone who is just getting into stand-up paddling and wants a board that they can use to gain their 'SUP legs' and enjoy for several years.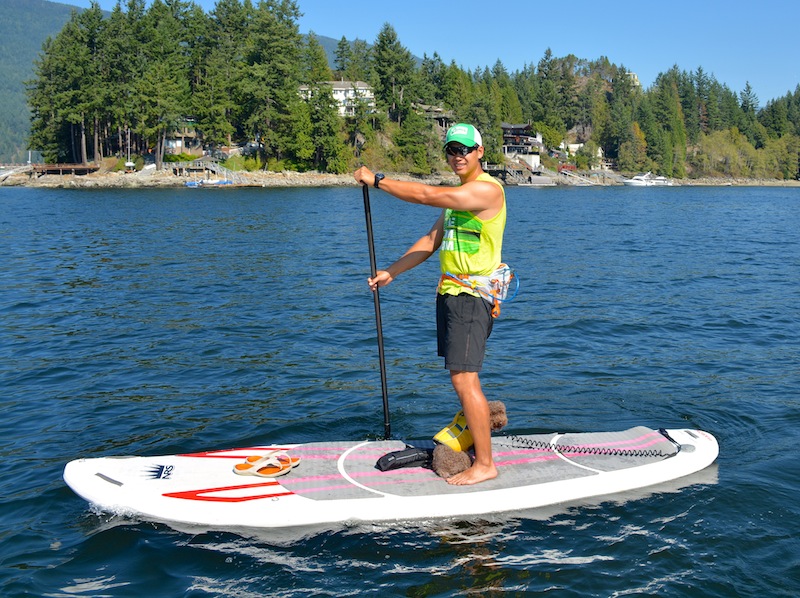 The Baron is big and good for holding a ton of weight. It is not my favorite board out there for the sole reason that I find it sluggish and heavy to paddle.
However NRS is a good name and their boards are popular.
The Baron is quite wide (36" thick) and extremely stable. It takes more effort to turn as well as to paddle but if you want a big board that is not only durable but can hold a lot of weight, the Baron might be a good option.
It is also a good choice for yoga as it gives you a nice big rigid platform to do your poses.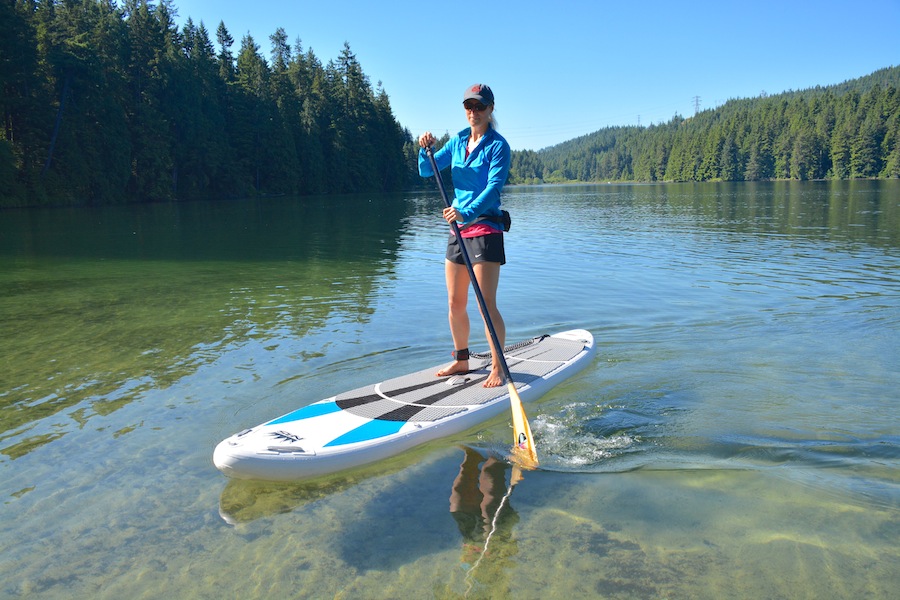 The Earl is another classic Allround board that gives you a decent performance and is super versatile and durable.
The fins are all removable and NRS provides several fin options so you can choose the size depending on your needs.
If an Allround board is what you want, this is a good option. It glides well and is easy to turn and maneuver plus you can use it just about anywhere.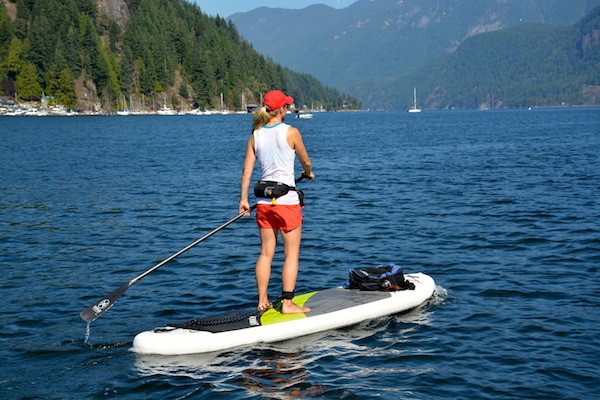 I don't mind the Imperial for flat water paddling but I wasn't fond of it on ocean chop. I'm not sure why as you would think that the size and shape would make it great to paddle on all types of water.
However it wasn't my favorite and I have to say I never really got used to the feel of it.
It comes in a 4" thick option or a more stable 6" thick option.
It glides fine, is quick to maneuver and has some nice features. It's a good board, for some reason my experience with it wasn't great however I have seen many positive reviews for the Imperial as well.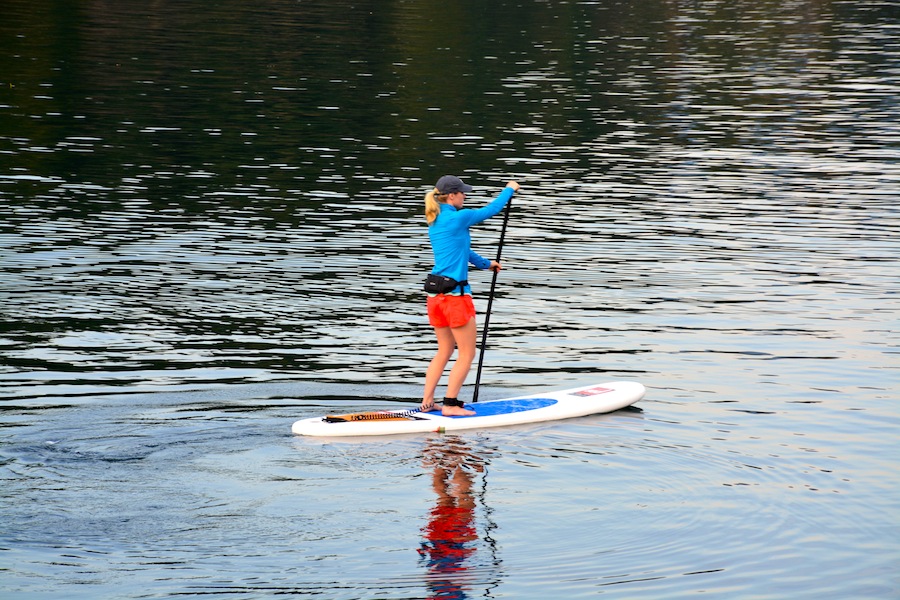 Ahhh the Allwater… so fun! Paddling the Allwater will keep your heart pumping and your mind focused.
It is smaller in size and super portable. The 9'6" length, 32" width and 4" thickness make is super responsive but definitely less stable.
As the name implies it can be used in all types of water and is equally as ideal for surf as for just cruising around on flat water.
It has some cool and unique features that are worth checking out in our review.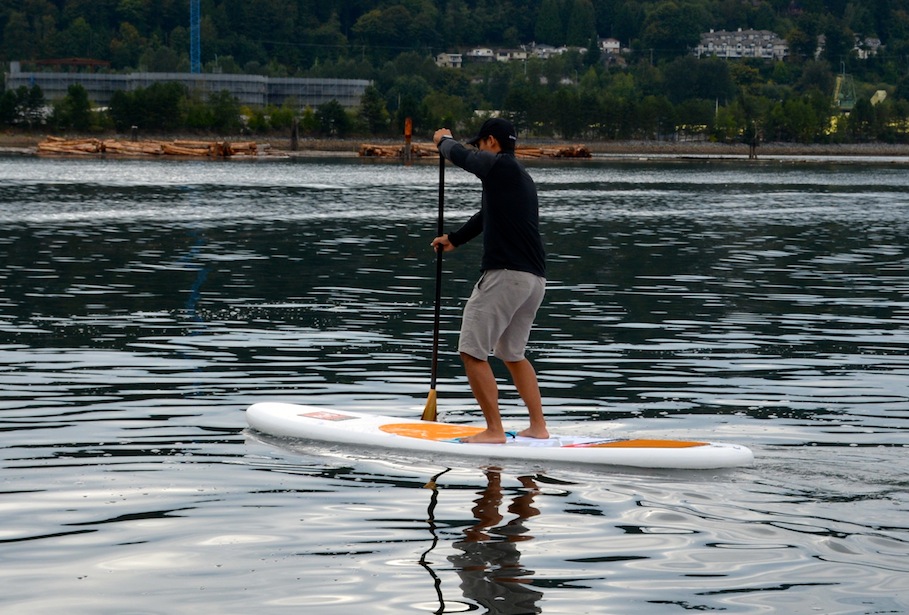 I like the size of the Ride. It is 10'6" long, 32 wide and just under 5" thick. As with most Red Paddle Co boards it is extremely well made, very responsive and super rigid.
I rarely hear of anyone who is disappointed in the Ride. It excels at being versatile and is a great Allround SUP option.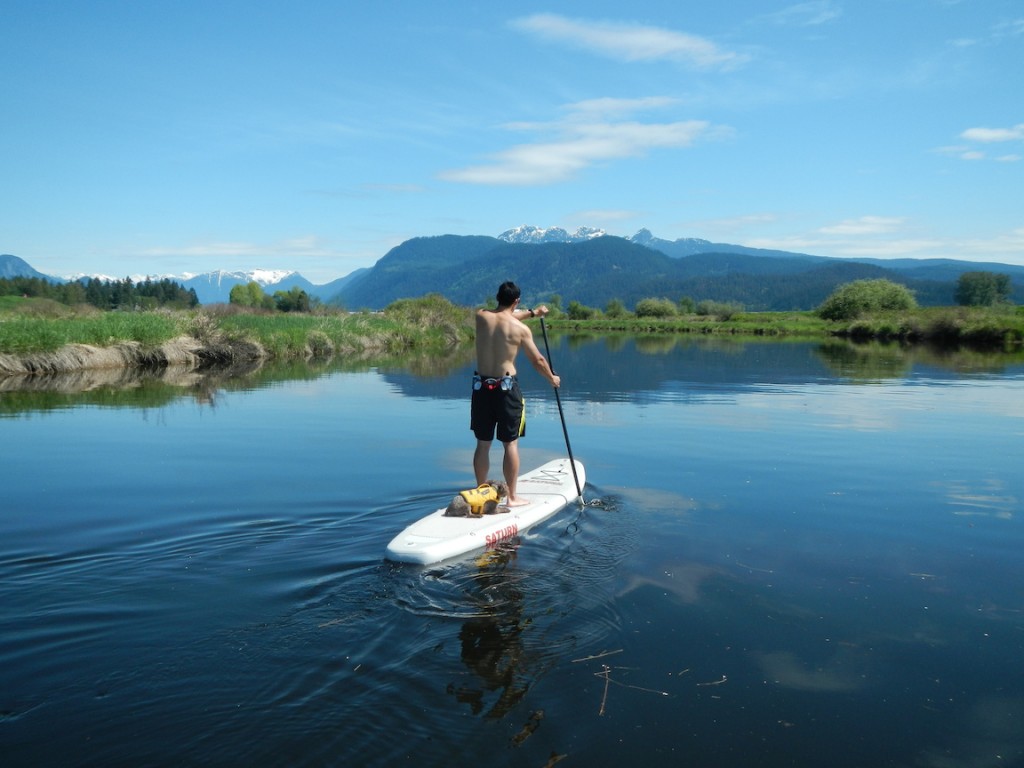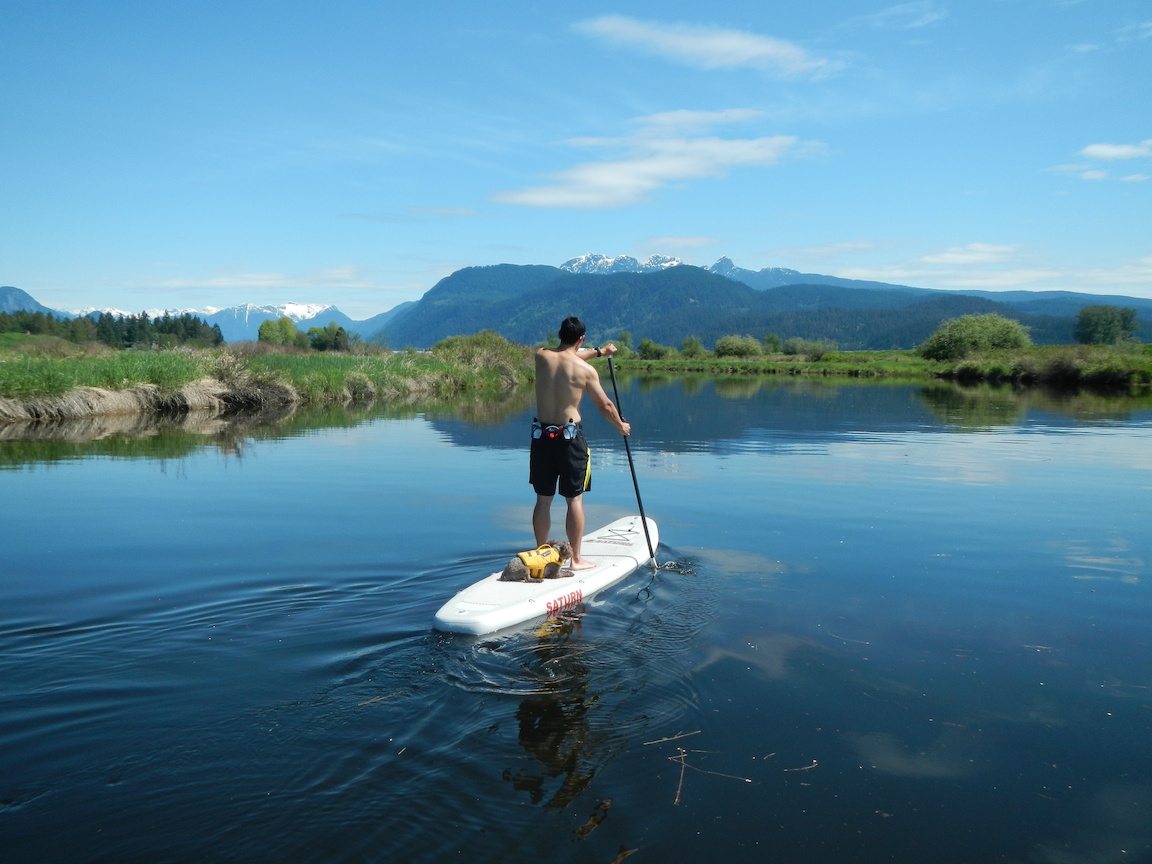 The 11' Saturn is basic in quality and design but super affordable. I didn't mind paddling this ISUP and although I know the quality isn't the same as the more expensive brands, it still paddles well and has the right features covered.
It has a 2-year warranty and is a good choice for a beginner or even as a second board for family or friends.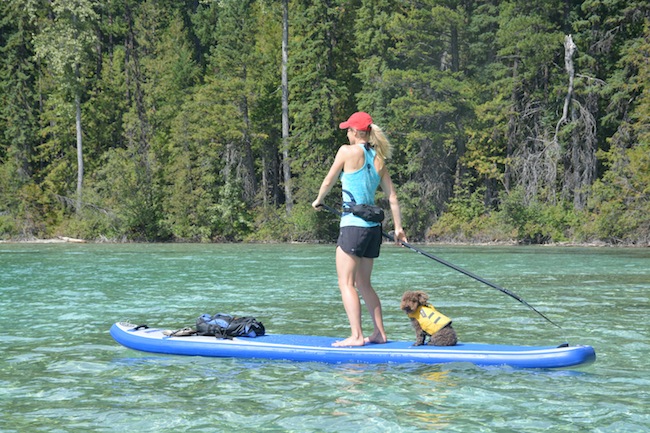 The Longboard was one of the original inflatable paddleboards that I tried and reviewed and I still use it to this day.
I have since upgraded to the latest model but it is still an awesome Allround option.
The Longboard glides nicely on flat water, feels good on ocean chop and can be used in surf as well.
I find it equally as great for beginners to advanced riders. Plus of course it comes with the Sea Eagle 3-year warranty and 180-day risk free trial.
It is one of our favorites for sure.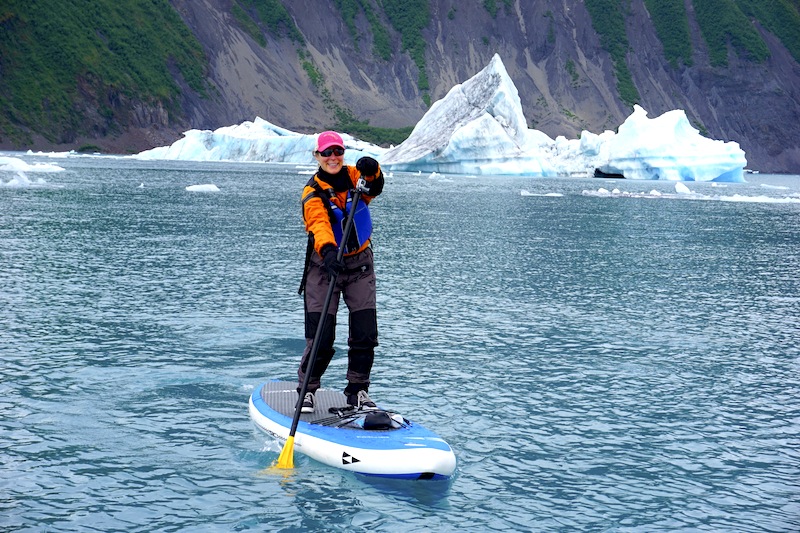 I got to try out the Sic Air Glide Recon while vacationing in Alaska. It was a fantastic opportunity to try out this board in the freezing cold ocean water.
With my full drysuit on I had a lot of fun on the Air Glide Recon. It is super responsive and fun to paddle albeit a little less stable.
It is a really nice compact size and highly portable and easy to take anywhere.
I found it better suited for a smaller frame but it can definitely handle more weight if someone has the focus and skill to ride it.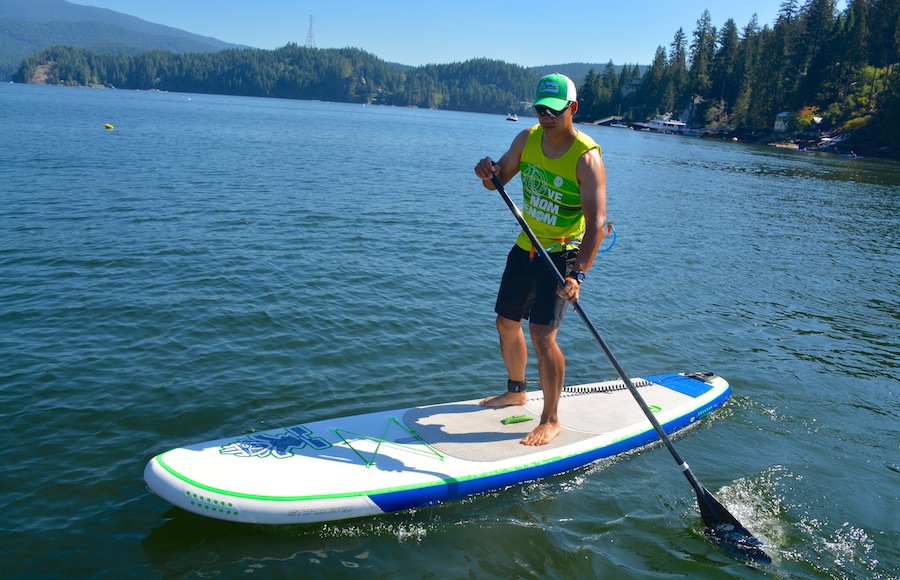 The Blend is one of our favorite boards. I think for the quality, style, features and overall performance it is one of the better Allround inflatable paddle boards on the market.
It is awesome to paddle on ocean waves, ocean bays, calm lakes or even rivers. It is not the fastest but definitely an overall good performer.
The Blend also will suit a wide range of people of all different sizes and abilities and comes in a 4.7" thick option or a 6" thick option.
We reviewed the Weekender a while back and were not surprised by how popular it became.
For one it is very reasonably priced and you get a lot in the package. Second it is compact, portable, versatile and overall just fun.
Isn't that what most are looking for in an Allround paddle board? The Weekender fits the bill and suits this category perfectly.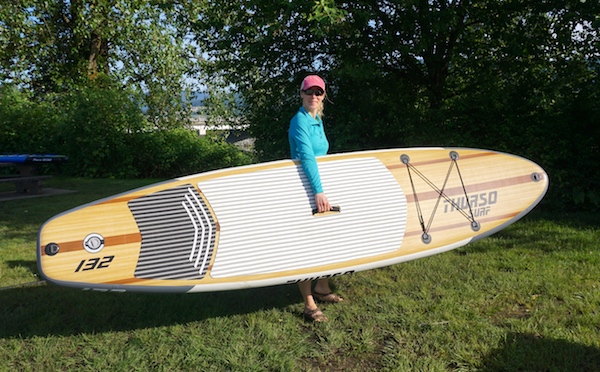 We loved reviewing the Thurso Surf inflatable SUP.  It's one of those boards that everyone will love right out of the package.
It has a natural wood grain look to it even though it is made with durable PVC material.
The 11′ length, 32″ width and nice tapered nose and tail help it to perform well and be quite versatile.
This is a great package for a great price and is worth checking out!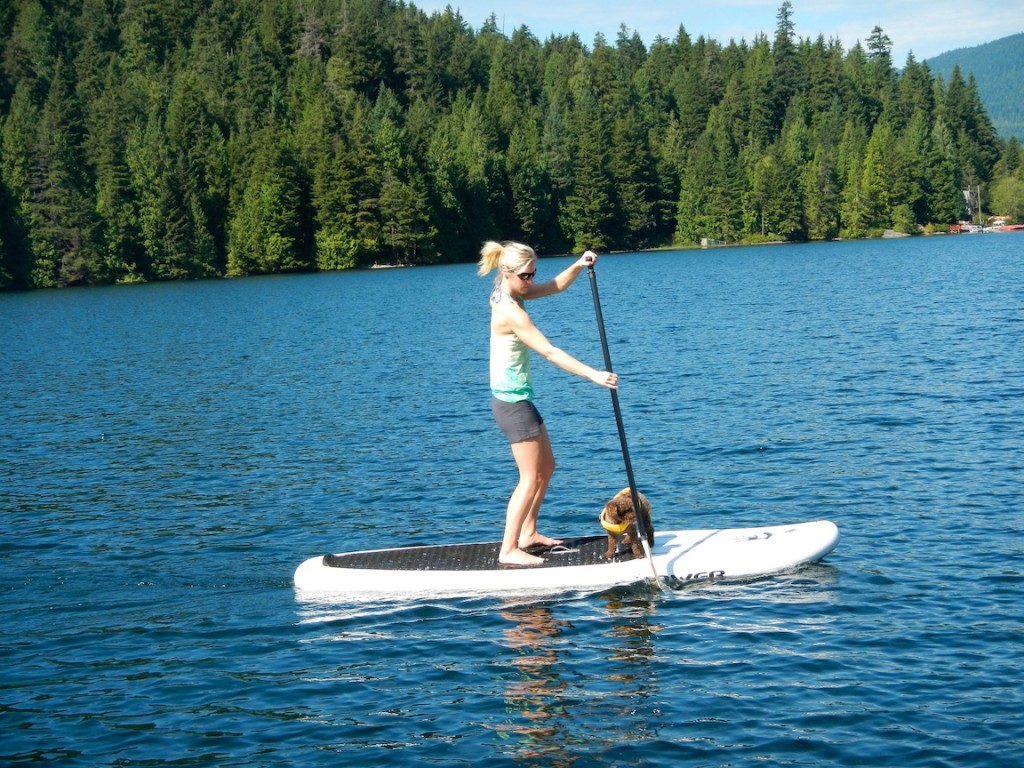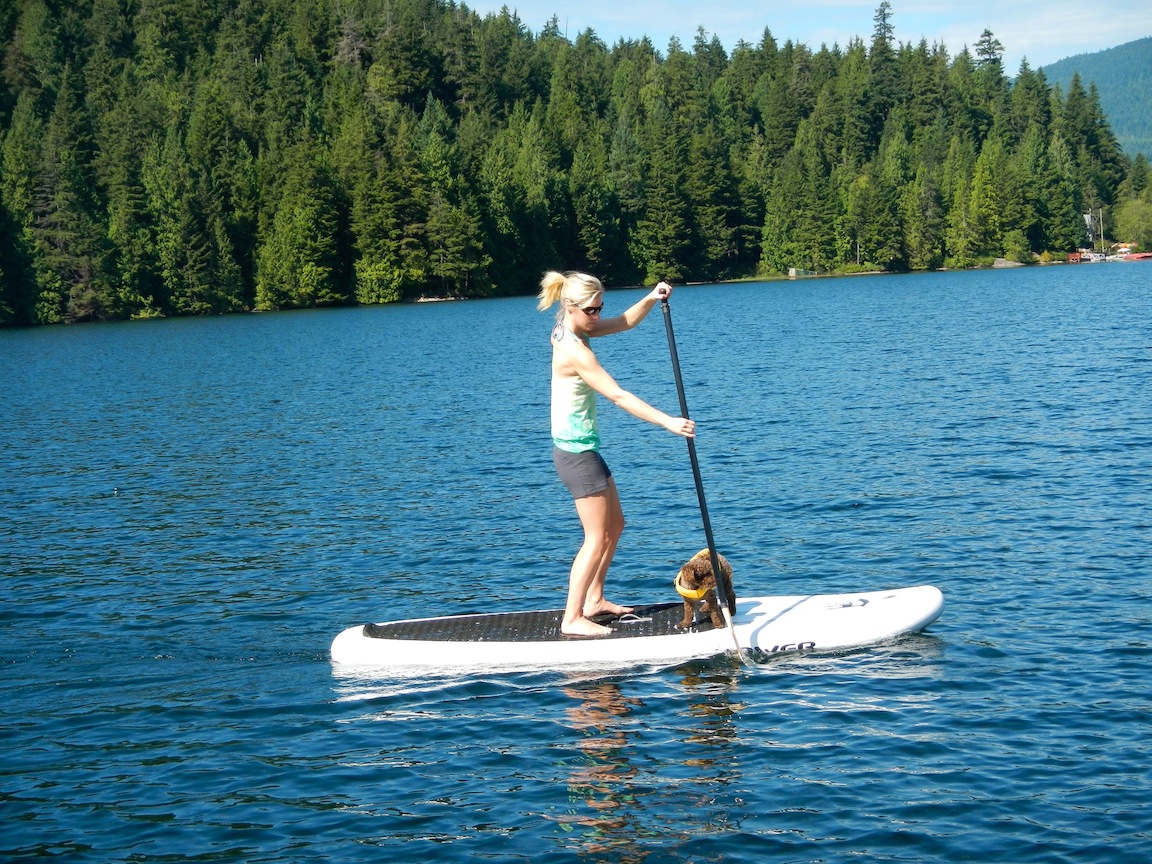 The Adventurer was one of Tower's original ISUP designs. Although priced well we found it to be quite basic in design, features and performance.
That being said it is made strong, can hold a ton of weight and even though we found it did have some drag, it can still be used on just about any type of water.
Tower has since come out with an updated version called the Adventurer 2, which personally I think paddles a lot better and has some nice added features.
Click here to see the Adventurer 2 on Amazon.com.