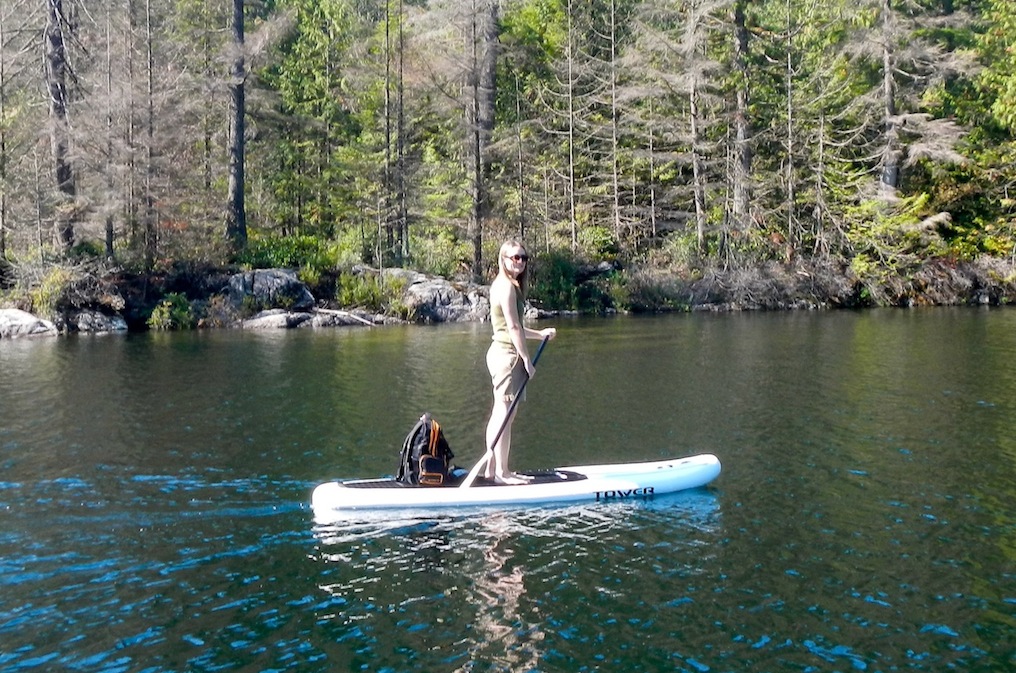 Inflatable SUP's in general tend to be ideal for beginners. Although they can vary greatly in size they still tend to be quite stable and provide a little softer landing for falls.
There are however certain boards that are better for beginners than others.
If you are brand new to the growing sport of stand-up paddling and are looking for a board to take you from the beginner stages right up to intermediate then follow the guidelines below.
Thickness
Basically the wider the board and the thicker the board, the more stable it will be. Stability when you are first starting out is key.
Just like kayaking, when you hit the water for the first few times, you do not want to be in the longest, sleekest kayak. You can almost guarantee a few spills and will likely have trouble getting your technique down.
The long skinny boards will be quite tippy and it will be a lot harder to stay above the water.
Inflatable SUP's are typically either 4 inches thick or 6 inches thick. The 6" thick boards are extremely stable and provide excellent rigidity.
They are great for beginners as well as people over 160 lbs. because they support the weight with no flex whatsoever.
However which size you choose will depend not only on your skill level but also on your height and weight.
A beginner who weighs less than 160 lbs. is going to be fine on a 4-inch thick board. You may want to go for a 6 inch thick board nonetheless just for the extra stability and rigidity but it is not absolutely necessary.
A beginner who is over 160 lbs. will be very comfortable on a 6-inch thick board as opposed to a thinner board.
The 4-inch thick boards tend to be quicker to manoeuver but unless you are racing or doing all kinds of tricks, this is nothing to be concerned about.
Length
A bigger board is going to be more stable but it will also take more strength to paddle.
If you will mostly be paddling flat water then a board anywhere from 9 to 13 feet will be best.
The longer the board, usually the better it will track and the more speed you will be able to do.
If you are brand new to stand-up paddling I wouldn't let the length intimidate you at all.
Shorter boards are fun and very easy to maneuver but longer boards are better for touring.
Choose one that suits the type of paddling you will be doing most. You will get used to whatever length it is very quickly.
Accessories
In your excitement to get out on the water you may not be thinking too much about board accessories.
There are a few accessories however that are really nice to have.
For example… Bungee tie down cords are a must for me. Some boards have them either up front or on the back, some have them in both places and others don't have them at all.
With bungee tie down cords you can secure a dry bag, your flip-flips, your water bottle or any type of gear you want to have access to while you are out paddling.
Without them you just have to place your drybag/backpack on the board and hope it doesn't fall off.
I have noticed that some of the cheaper boards do not offer this accessory. However you can always get creative and add them yourself if you want to. It simply requires some extra D-rings, some waterproof glue and some bungee cords.
The next accessory to take not of when doing your research is the carry bag. Some boards come with them and some don't.
Again usually price is a factor here. The quality boards will cost a bit more but they also come with everything you need. The drybag/backpack that comes with many of the inflatable SUP's is very handy.
It allows you to easily carry the board to and from the water on your back. It is also extremely convenient for storage as well as for traveling.
I find that the backpack/carry bags are usually all very good quality, rugged and comfortable to use. It is really nice to have one when transporting an inflatable SUP.
Beginner ISUP Suggestions
Based on the above info, here are some suggestions for inflatable SUP's for beginners.
Airis ISUP's
Airis has three ISUP's that are ideal for beginners right up to intermediates. Each of the three boards are 6 inches thick which makes them really stable and able to hold a lot of weight.
There are three different sizes to choose from, a 9' board, an 11' board as well as a long 12'6" board.
What I like best about these boards is that they have fiberglass plates to stand on which make them extremely rigid and easy for any person to use.
Sea Eagle Longboard
The Sea Eagle Longboard is one of the first ISUP's I ever used and is a great overall board.
The size and length make it ideal for most people and quite versatile. This is a high quality board that offers a lot for your money.
Once again this is a board that will work perfectly for beginners but also keep you satisfied as your skill and comfort level improve.
Tower Adventurer
The Tower Adventurer is shorter at 9' 10" and fairly wide at 32". It is also 6" thick and very stable. The short and squat nature of this board makes it very easy for a beginner to paddle.
It is extremely rigid and is able to hold quite a bit of weight. Although this board is not going to be the fastest SUP in the water, it does give new paddlers a great affordable option to consider.
The quality is good and at only 24 lbs. it is easy to take anywhere.
NRS
There are so many other inflatable SUP's and truly any of them could be considered for a beginner.
I find that your comfort and skill level improves very quickly. With even just a few times out on the water, you won't likely be a beginner for long.
NRS has quite a few inflatable SUP's to choose from as well and many of them are ideal for beginners.
I don't have as much experience with the NRS boards but I do know them to be excellent quality and very popular.
As a beginner your options are open. Go for a board you will feel comfortable not only paddling but also carrying and transporting.
Click here to view our inflatable SUP reviews for more information and specific board details.