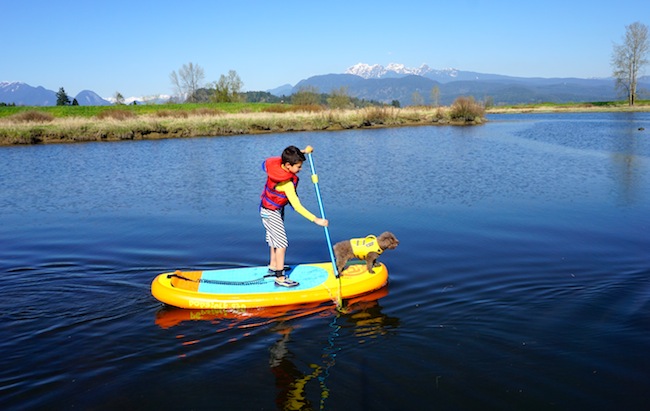 There are so many wonderful benefits for kids who stand up paddleboard.
Besides it being a great physical activity that is fun it also gets them outdoors and disconnected from cell phones or computers. The same benefits go for the adults too!
It teaches them a new skill, improves their balance and most often your child will return home exhausted with a big smile on their face.
Paddle boarding is awesome for all age groups and I love seeing parents enjoying this activity with their kids.
Best SUP For Kids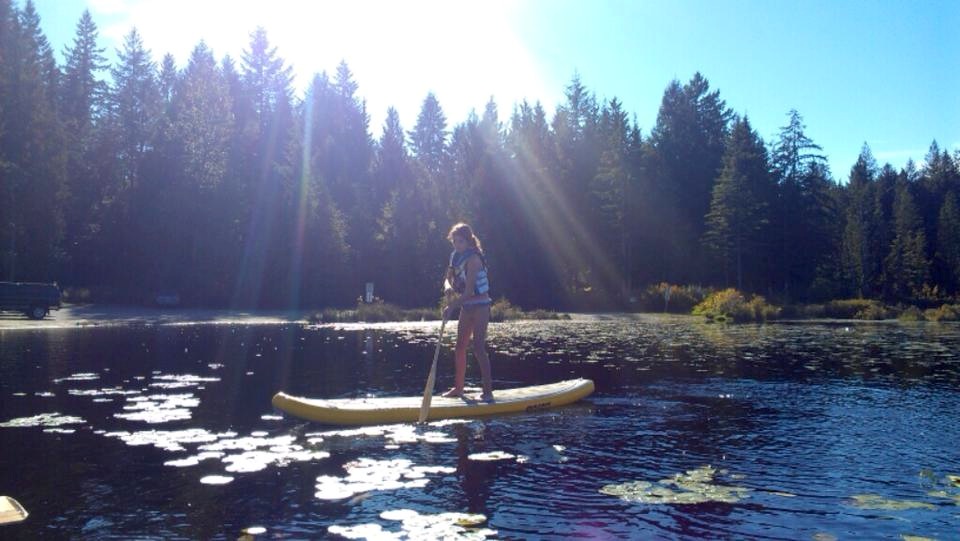 Realistically any SUP can be paddled by kids however some will be easier than others and there are a few on the market that are specifically designed for children.
Inflatable paddleboards are ideal for kids. They are solid, stable and easy to paddle. They also offer a slightly more cushioned surface if they should fall.
You can expect a child specific board to typically range between 7 and 9 feet long and be between 28" and 30" wide.
The leaner width (compared to a wider 32" – 34") will be easier for them to reach and paddle, turn and maneuver.
You will also find that kid ISUP's are only 4" thick as opposed to 5" or 6" thick.
A 4" thick board is lighter, moves easier and typically cannot hold as much weight as a larger board.
For these reasons a 4" thick board is great for kids or small adults.
Which size is best for your child will depend on his/her size and skill level. In my own experience I have found that kids that start off with a smaller board quickly outgrow it and want a longer board (10' or more) that can move better in the water.
However a smaller child will have a much easier time paddling and reaching for the forward stroke on a smaller SUP.
10' is a great length for an older child (12 years + depending on skill level). Just make sure the 10' board isn't too wide for them to maneuver well.
When just starting out there are a few great options to consider, especially if your child is 11 and under and just learning the skills.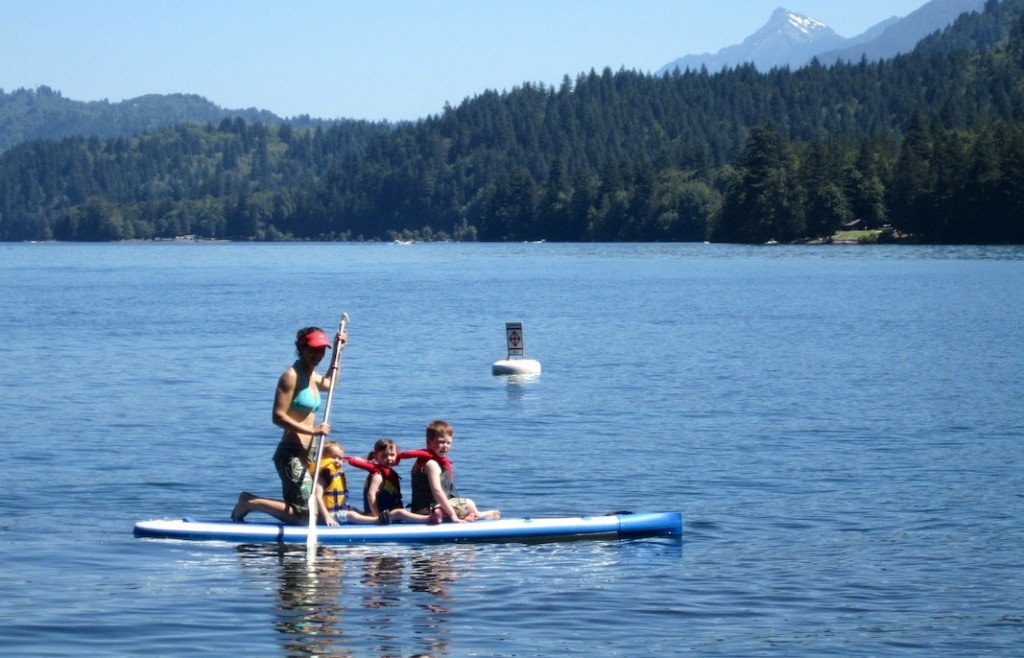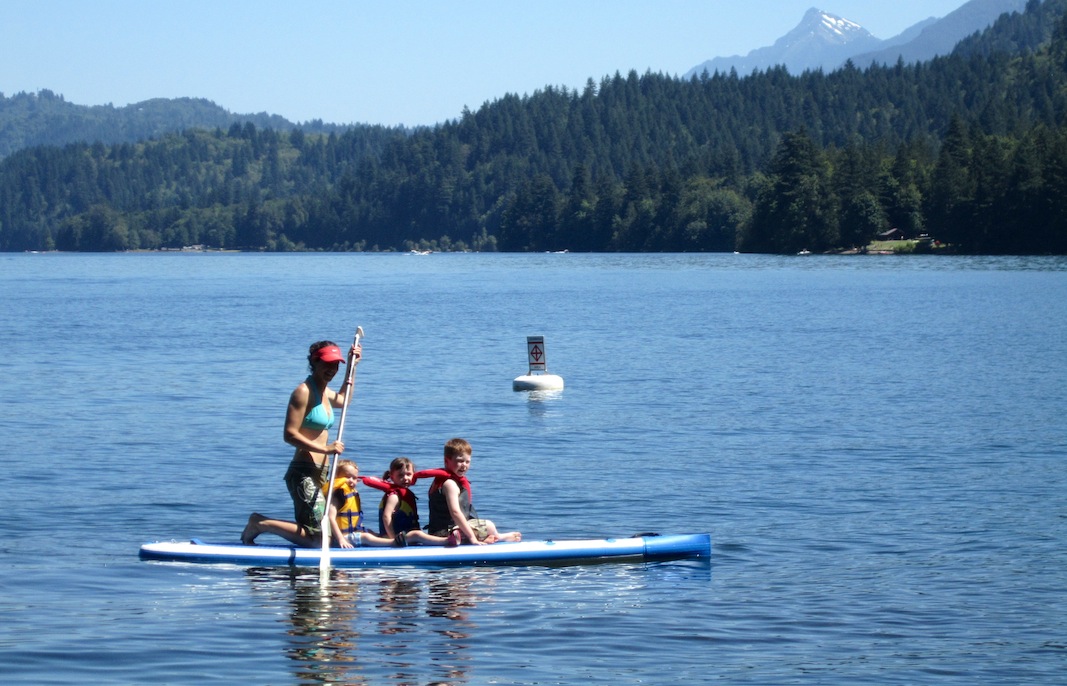 Kid Specific ISUP's
Below are a few kid specific inflatable stand-up paddleboards that I know of…
Airhead Popsicle – 7' long, 30" wide, 6″ thick and weighs only 19 lbs. This board is suited for paddlers who weigh 30 to 120 lbs.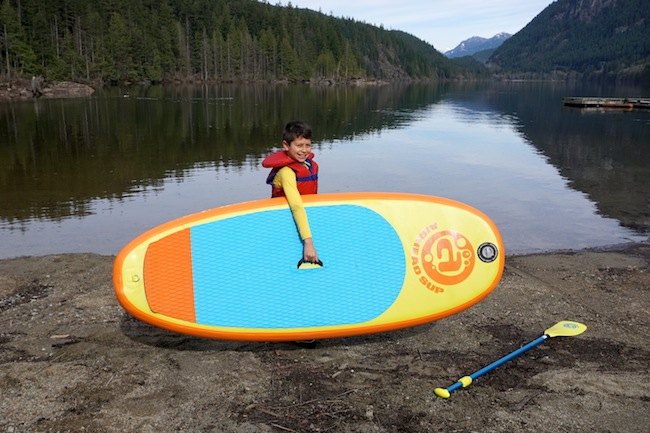 The Popsicle is easy to paddle and the 6" thickness provides a nice amount of stability. This is a great board for a kid to learn on.
It is fun, portable and we love the nice bright colors. It comes with everything your child needs to get started including a pump, storage bag and paddle.
We didn't find the Popsicle to be particularly fast or to track that well but overall Ale who tested this SUP for us loved it all the same and has had a great time paddling it.
He comes out with the adults on paddling adventures all the time and paddles hard to keep up.  We have seen his skill, balance and confidence improve greatly after just a  few times out on the Popsicle.
Click here to read our full review of the Airhead Popsicle.
Lucky Bums 6'6" Paddleboard – 6'6″ long, 26″ wide and 4″ thick. It has a max load capacity of 100 lbs.
This is definitely a smaller board and best suited for a smaller child.
We haven't tested the Lucky Bums board but we have seen some great deals on it over the years making it an affordable option for getting your kid on the water.
The smaller size will be ideal for a younger child but an older child (I would say 10 and above) will outgrow this ISUP way too fast.
This smaller Lucky Bums paddleboard is not always easy to find.  You might have to do a little searching for it.
Ten Toes Board Emporium Nano – 8′ long, 30″ wide and 4″ thick.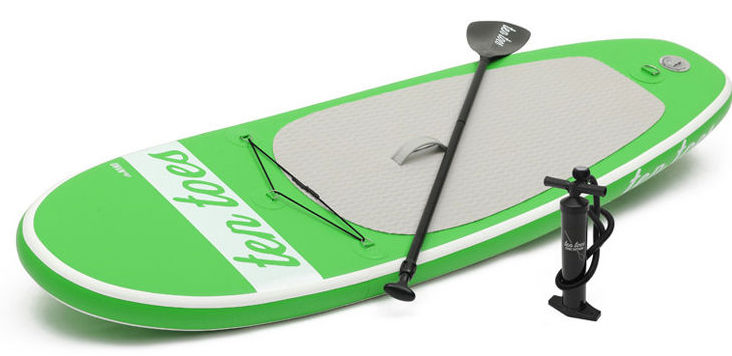 I like the Ten Toes boards in general, they give you a lot for your money and the size of this Nano is ideal for the junior rider.
The 8′ length makes it a little more versatile than the shorter boards.
The Nano will be easy to paddle and will track and glide better than the boards mentioned above.
It will be fast and easy to turn and suit a wider range of ages. Your child won't outgrow this one so fast and the price is still quite decent for what you get.
I personally think the Nano is a great choice for a kid SUP.
Click here for more info on the Ten Toes Board Emporium Nano on Amazon.com.
NRS Youth Jester – 9' long, 28" wide and 3" thick

The Youth Jester is a better performer than the others listed here. The tapered nose and tail really help this board to glide nicely.
It is long enough and versatile enough to be used on just about any type of water. The Jester will take a little more skill to paddle and will suit paddlers up to 135 lbs.
The 3" thickness makes it really quick and easy to maneuver but also less stable than a thicker board.
It is a little pricier but also comes with a great 3-year warranty.
Click here for more info on the NRS Youth Jester from the official NRS.com website.
Other ISUP Options for Kids
Another option to consider is just buying a smaller adult board for your child.  A board 10′ or shorter and 4″ thick will be perfect.
As long as you keep within a certain size range it will still be easy enough for your kid to paddle and will last them many more years as they grow.
Keep in mind however that these options will also likely cost a bit more to buy but the investment should hopefully last you longer.
Here are a few to consider…
Ten Toes Board Emporium Weekender – 10' long, 30" wide, 6" thick, weighs 29 lbs.
NRS Earl – 10'6" long, 30" wide, 4" thick (also comes in a 6" thick option), weighs 21 lbs.
Shark SUP 10'6" Touring – 10'6" long, 30" wide, 6" thick, weighs 24 lbs.
SIC Air Glide Recon – 10'4" long, 31" wide, 6" thick, weighs 19.4 lbs.
Tower Adventurer – 9' 10" long, 32" wide, 6" thick, weighs 24 lbs.
Paddling Adult Boards
You might be wondering if it is possible for your child to simply paddle your board once in awhile instead of investing in a SUP of their own.  The answer is yes absolutely.
I have had many of my friends kids out paddling on 11′ or longer boards and they were just fine.  A longer, wider and thicker board will feel very stable to them however it will take more effort to paddle and turn, especially in choppy water or wind.
However it is doable and another option to consider.  Hopefully whichever board you choose will bring you and your family many hours of awesome outdoor fun!