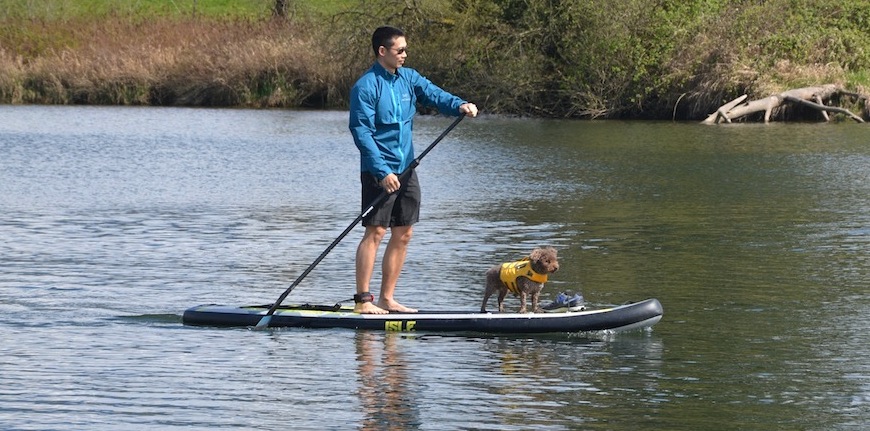 Isle has some great inflatable SUP boards that offer good quality, great features for an affordable price.
They have six boards available right now…
7'6" Kids
10' All Around
10'4" Womens
11' Explorer
12'6" Touring
15' Megalodon
All of their ISUP's can be inflated up to 15 PSI and I think overall they have a really nice look to them.  There is a board to suit each person's need.
The smaller kids inflatable SUP is light weight and the ideal size for anyone under 120 lbs.
The women's board has a more feminine look. The Explorer is ideal for cruising lakes, ocean bays or rivers.
The Tava All-Around has the most traditional SUP shape to it and is exactly as the name implies, a great 'all-around' board for a recreational paddler.
The Touring ISUP is a little more tapered and designed to get better speed and glide easier on the water. It is good for longer distances where you will be paddling more in a straight line.
The large Megalodon inflatable SUP can take up to 4 adult riders at the same time.  This board is for pure fun. It is big and stable and sure to be blast to use. It comes with four paddles.  The Magalodon is 15' long, 8" thick and 50" wide… it's huge!
The 11′ Explorer, which is the Isle board I've tried so far, is a nice sized board that would suit a large range of people.  It is perfect for exploring all different types of waterways.  It is loaded with good features and is lots of fun to paddle.
Compare Isle Inflatable SUP Boards
| | | | | | | | |
| --- | --- | --- | --- | --- | --- | --- | --- |
| Model / Review | Best Uses | Length | Width | Thickness | Weight | Load Capacity | Where To Buy |
| | | | | | | | |
| 7'6" Isle Kids  | kids, cruising, lakes, calm rivers, ocean bays | 7' 6" | 28" | 6″ | 18 lbs. | 120 lbs. | Amazon.com |
| 10' Isle All Around  | cruising, flat water, surf | 10' | 31″ | 6" | 24 lbs. | 190 lbs. | Amazon.com |
| 10'4" Isle Womens  | women, cruising, flat water, surf, yoga | 10' 4" | 31" | 6″ | 27 lbs. | 201 lbs. | Amazon.com |
| 11' Isle Explorer  | touring, flat water, fishing, camping | 11' | 32" | 6″ | 29 lbs. | 214 lbs. | Amazon.com |
| 12'6" Isle Touring  | touring, speed, flat water | 12' 6" | 31" | 6″ | 32 lbs. | 233 lbs. | Amazon.com |
| 15' Isle Megalodon  | flat water, surf, groups of up to 5-7 people | 15' | 50" | 6″ | 50 lbs. | 400+ lbs. | Amazon.com |