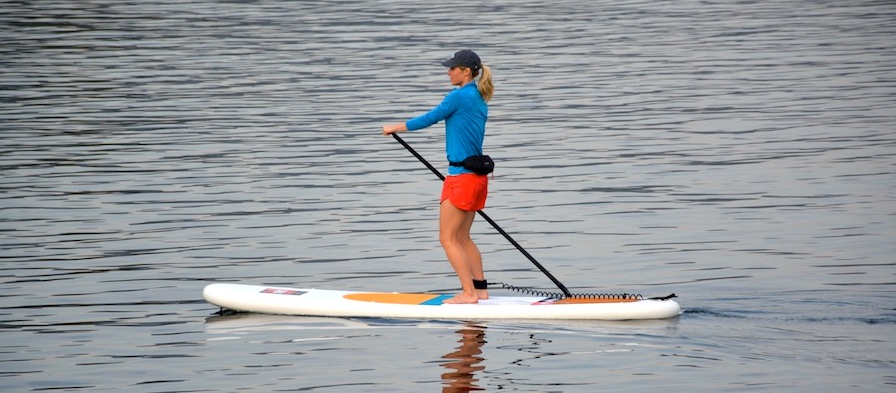 Red has redesigned their lineup of inflatable SUP's for 2015. They are one of the few ISUP companies that produce boards that can compete in races and competitions.
Their new lineup is awesome and there is a board for everyone. They have expanded their very popular 'Ride' model to include 4 different versions of this all around fantastic board.
You pay a little more for a Red Paddle Co. inflatable SUP but you can't go wrong with these boards. They are extremely well made, perform great and can withstand a lot of abuse.
I've been lucky enough to test out a few of their models and always enjoy riding the Red paddle boards.  I do find some of them to be a little on the heavy side but overall there really isn't much to complain about.
Also worth noting that Red Paddle Co includes the best backpack carry bag in the business.  It is very well made and includes wheels so you can easy pull it to your vehicle, to the water or right onto an airplane.
Compare the different models below and click the ISUP name to read our review.
Compare Red Inflatable SUP Boards
| | | | | | | | |
| --- | --- | --- | --- | --- | --- | --- | --- |
| Model / Review | Best Uses | Length | Width | Thickness | Weight | Load Capacity | Where To Buy |
| | | | | | | | |
| Red Paddle Co Surf Star  | surf | 9'2" | 30″ | 3.93" | 21 lbs. | 200 lbs. | Amazon.com |
| Red Paddle Co Snapper     | kids | 9'4" | 27″ | 3.93" | 21 lbs. | 135 lbs. | Amazon.com |
| Red Paddle Co Allwater  | rivers, surf, cruising | 9' 6" | 32″ | 3.93" | 25 lbs. | 215 lbs. | Amazon.com |
| Red Paddle Co Flow  | whitewater | 9'6" | 34″ | 5.9" | 28 lbs. | 265 lbs. | Amazon.com |
| Red Paddle Co Ride 9'8"  | surf, cruising | 9'8" | 31″ | 3.93" | 26 lbs. | 210 lbs. | Amazon.com |
| Red Paddle Co Ride 10'6"  | surf, cruising, touring | 10'6" | 32″ | 4.72" | 28 lbs. | 220 lbs. | Amazon.com |
| Red Paddle Co Ride 10'8"  | bigger riders, families, surf, cruising | 10'8" | 34″ | 4.7" | 18 lbs. | 220+ lbs. | Amazon.com |
| Red Paddle Co 10'8" Active  | yoga, pilates | 10'8" | 34″ | 4.7" | unknown | 220+ lbs. | Amazon.com |
| Red Paddle Co 10'8" Ride Windsurf  | windsurfing, cruising | 10'8" | 34″ | 4.7" | unknown | 220 lbs. | Amazon.com |
| Red Paddle Co 11′ Sport  | touring, small waves, lakes, ocean, rivers | 11' | 30″ | 4.72" | 25 lbs. | 220 lbs. |  Amazon.com |
| Red Paddle Co 12'6″ Sport | touring, small waves, lakes, ocean, rivers | 12'6″ | 30″ | 5.9" | 30 lbs. | 330 lbs. | Amazon.com |
| Red Paddle Co Explorer  | touring, heavy loads | 12'6" | 32″ | 5.9" | 34 lbs. | 330 lbs. | Amazon.com |
| Red Paddle Co 10'6″ Max Race  | speed, close competition in youth racing class | 10'6" | 24″ | 4.72" | unknown | 155 lbs. | Amazon.com |
| Red Paddle Co 12'6″ Race  | racing | 12'6" | 28″ | 5.9" | 32 lbs. | 300 lbs. | Amazon.com |
| Red Paddle Co Elite 12'6" | racing, competition | 12'6" | 26″ | 5.9" | 32 lbs. | 250 lbs. | Amazon.com |
| Red Paddle Co Elite 14'  | racing, competition | 14' | 26″ | 5.9" | 34 lbs. | 265 lbs. | Amazon.com |