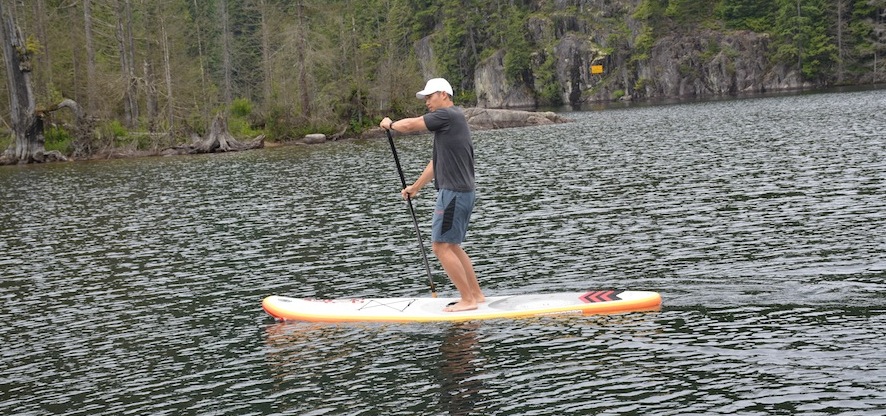 Astro is Starboard's inflatable SUP lineup of boards. They have one of the most extensive list of boards to choose from and there is truly a SUP to suit each persons needs and skill level.
I love the Astro boards. They are not only funky in design but they are well made. I find that Starboard pays special attention to all the little details on their inflatable SUP's that often get overlooked by other companies.
It is hard to go wrong with one of these ISUP's. They are fun to paddle, perform well and have a great reputation.
I have personally had a lot of fun with the Astro Whopper and would recommend this board to anyone.  It is highly versatile, super responsive and of course fun to paddle.
These boards are priced a little higher but their quality is top notch.  If you don't mind spending a little extra, you won't be disappointed with these SUP's.
Compare all the different models below.
Compare Starboard Inflatable SUP Boards
| | | | | | | | |
| --- | --- | --- | --- | --- | --- | --- | --- |
| Model / Review | Best Uses | Length | Width | Thickness | Weight | Load Capacity | Where To Buy |
| | | | | | | | |
| Astro Atlas Deluxe  | all around, surf, lakes, ocean bays | 12′ | 33″ | 6″ | 31 lbs. | 230 lbs. | Amazon.com |
| Astro Atlas Zen   | all around, surf, lakes, ocean bays | 12′ | 30″ | 4.7″ | 28 lbs. | 210 lbs. | Amazon.com |
| Astro Blend Deluxe  | all around | 11'2″ | 32″ | 6″ | 28 lbs. | 220 lbs. | Amazon.com |
| Astro Blend Zen     | flat water to wave crossover | 11'2″ | 32″ | 4.7″ | 25 lbs. | 185 lbs. | Amazon.com |
| Astro Drive Deluxe  | all around | 10'5″ | 30″ | 6″ | 26 lbs. | 198 lbs. |  Amazon.com |
| Astro Drive Zen  | all around | 10'5″ | 30″ | 4.7″ | 23 lbs. | 176 lbs. | Amazon.com |
| Astro Whopper Deluxe  | cruising, rivers, surf | 10′ | 35″ | 6″ | 27 lbs. | 254 lbs. | Amazon.com |
| Astro Whopper Zen  | cruising, rivers, surf | 10′ | 35″ | 4.7″ | 24 lbs. | 210 lbs. | Amazon.com |
| Astro Converse Deluxe  | cruising, rivers, surf | 9′ | 30″ | 4″ | 21 lbs. | 187 lbs. | Amazon.com |
| Astro Converse Zen | cruising, rivers, surf | 9′ | 30″ | 4″ | 19 lbs. | 185 lbs. | |
| Astro Yoga Crossover  | yoga, fitness, cruising | 11'2″ | 32″ | 6″ | 24 lbs. | 210 lbs. | Amazon.com |
| Astro Yoga 40  | yoga, pilates | 11'2″ | 40″ | 6″ | 29 lbs. | 265 lbs. | |
| Astro Touring Zen 11'6"  | touring, exploring | 11'6″ | 30″ | 4.75″ | 24 lbs. | 176 lbs. | Amazon.com |
| Astro Touring Deluxe 11'6" | touring, exploring | 11'6″ | 30″ | 6″ | 25 lbs. | 200 lbs. | Amazon.com |
| Astro Touring Zen 12'6" | touring, exploring | 12'6″ | 31″ | 4.75″ | 25 lbs. | 210 lbs. | Amazon.com |
| Astro Touring Deluxe 12'6" | touring, exploring | 12'6″ | 31″ | 6″ | 26 lbs. | 230 lbs. | Amazon.com |
| Astro Touring 14' | touring, exploring | 14′ | 31″ | 6″ | 32.4 lbs. | 254 lbs. | Amazon.com |
| Astro Racer 12'6″  | racing, exploring | 12'6″ | 28″ | 6″ | 26 lbs. | 210 lbs. |  Amazon.com |