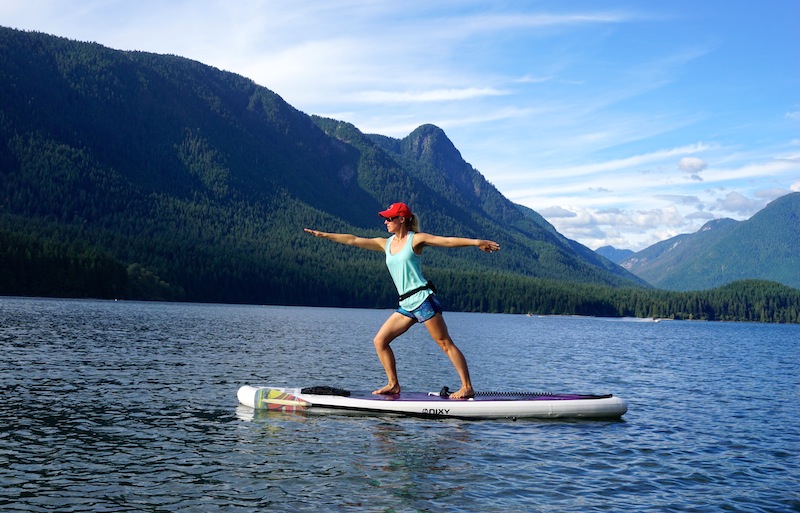 This yoga ISUP is awesome. Not only does it look great but it is super comfortable and stable for all types of fitness activities and especially ideal for yoga.
The 34" width provides lots of room and stability for all different poses.
The extra soft traction pad feels very comfortable to stand, kneel, or sit on.
The bungees up front allow you to secure a PFD and store your essentials but are far enough up front not to get in the way of your poses.
The side bungee paddle holder keeps your paddle safe and off your board so there is more room to do yoga.
The shape and design allow it to cruise nicely through the water when paddling. Although this board is not fast, it feels solid, stable and easy enough to paddle.  It is perfect for cruising around lakes, ocean bays or calm rivers.
The colors and design best of all make it really stand-out. You can choose from purple, turquoise, pink or gray to suit your style.
Specs For The NIXY Venice
10' 6" long
34" wide
6" thick
weighs 30 lbs.
can hold up to 400 lbs.
Material: Durable and strong drop-stitch PVC
Best Suited For: Yoga, fitness, cruising, families, paddling with dogs, anyone who needs a board that can hold a lot of weight
Pros: Very stable, nice design and color options, bungees for securing gear, bungees are further up front allowing more room for yoga poses, soft comfortable traction pad, comes with good accessories, 3 removable fins for versatility, 10 D-rings, paddle bungee holder
Cons: A little heavy, bag is big and awkward to carry
Where To Buy The NIXY Venice
Click here for the best deal on the NIXY 10'6" Venice Yoga ISUP at Amazon.com.
More In-Depth Info On The 10'6" Venice ISUP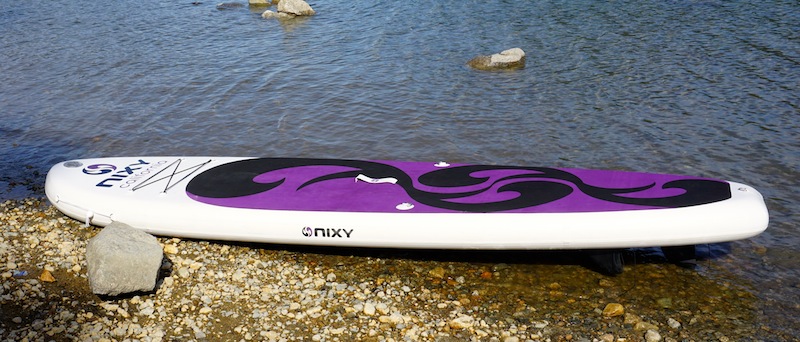 I really enjoyed this inflatable SUP. It is very functional for it's intended purpose, comes with great accessories and stands out on the water.
Although I think it is perfect for yoga, it is also well suited for anyone who wants a stable board that can hold a lot of weight.
You can load this one up with kids, dogs or gear. It will easily hold up to 400 lbs. and still feel secure and rigid.
It is not that fast when paddling but any board that is 34" wide is going to be a little on the slower side. As long as you are happy just cruising along easily I think you'll enjoy the ride.
On ocean chop and waves it is extremely stable, which is a huge plus. On the down side it feels heavier and harder to turn because of the size.
However it is still very manageable and when paddling straight it tracks well.  This is definitely one of the better if not the best yoga SUP I have tried so far.
Important Features
Bungee System – The front bungees system on this paddle board is a decent size for securing your PFD, a water bottle and a small dry bag… Or any essentials that you want to bring out paddling with you.
The bungees are placed far enough up front on the nose of the board so that they don't get in the way of your yoga poses.
However I still found them easy enough to access from a kneeling position at the center of the board.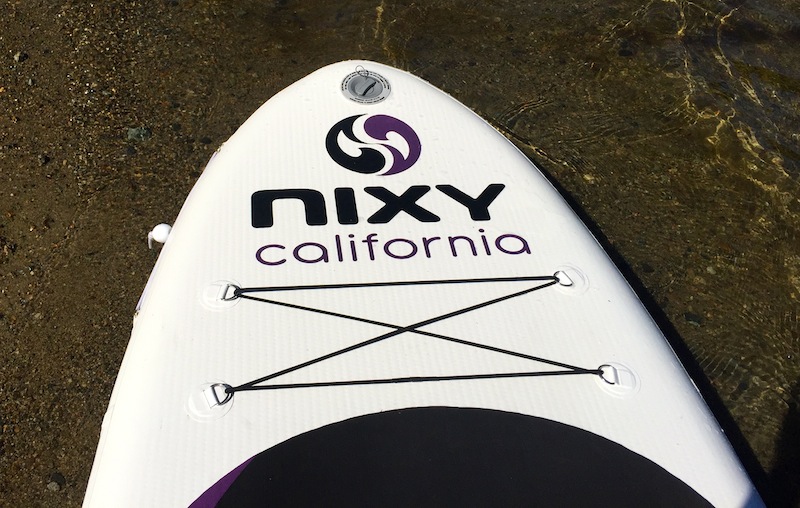 Paddle Holder – On the left side of the nose there is another small bungee system that can be used to secure your paddle when not in use.
This is important so that your paddle does not get in your way causing you to trip or lose your balance while stretching or doing yoga.
This is a really great feature and I think essential for a yoga board to have.  You can place the blade of your baddle through the bungee cords and just let the handle of the paddle float in the water.  It stays secure and keeps your paddle close but out of the way.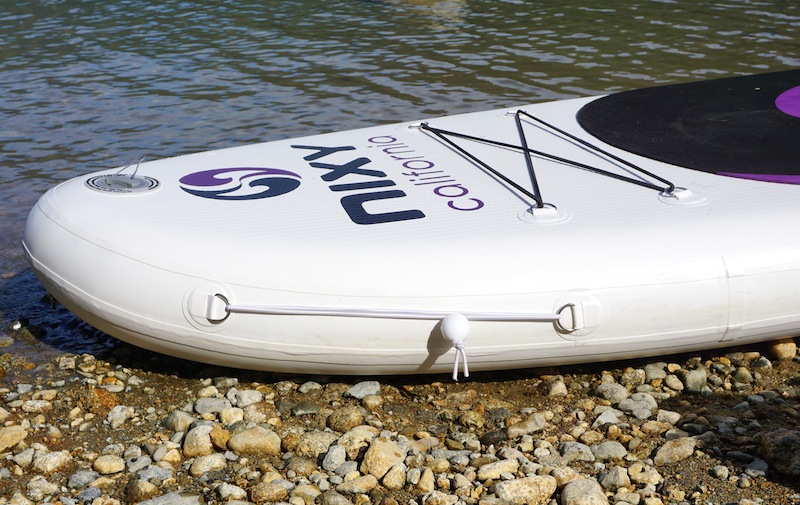 D-rings – There are quite a few D-rings on this board, 10 in total.
There are 4 up front being used by the bungee cords.
There are two on the left side of the nose being used by the bungee paddle holder.
There are two (one on each side) at the center of the board that can be used to secure a kayak seat if wanted.
There is one at the back tail that is perfect for securing your SUP leash.
Then there is one underneath the nose of the board that can be used for towing.
With all these D-rings you have lots of versatility and room for securing your gear.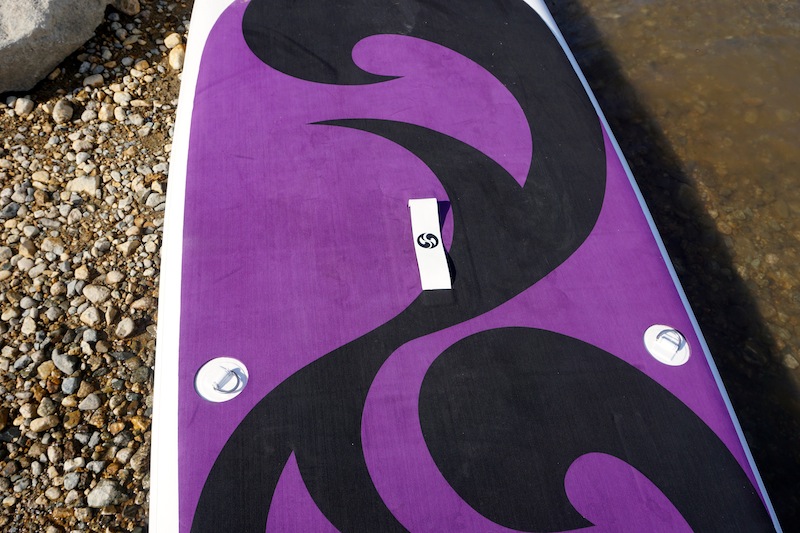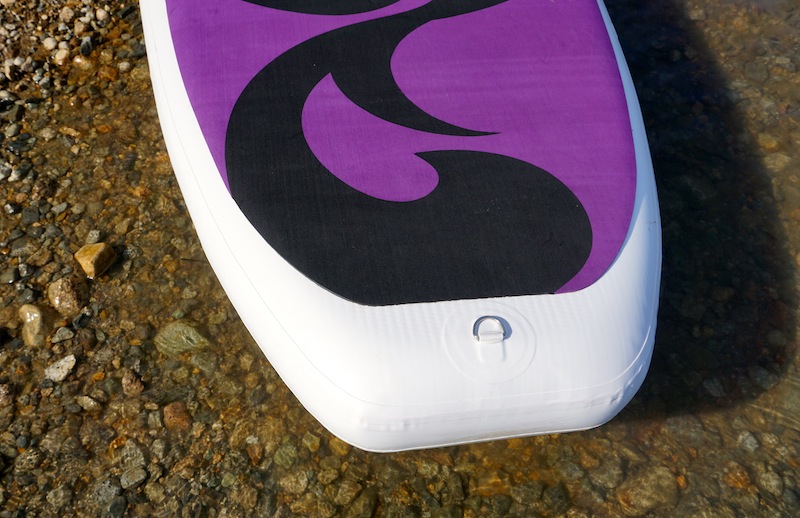 Traction Pad – The traction pad is one of the features that I especially like with the Venice.
It is long and wide.  It goes right to the side edges of the board width wise and right to the back tail giving you lots of room to maneuver.
It is also flatter and softer than the traction pads you normally see on other boards that are not designed for yoga.
The flat softer pad is a little less 'grippy' however it is one of the most comfortable I have used for stretches, yoga and fitness.
It feels so much nicer doing yoga on a soft traction pad and really ups the comfort level of this SUP.
Plus I think the colors and design on the traction pad look really nice.  It really stands-out in the water.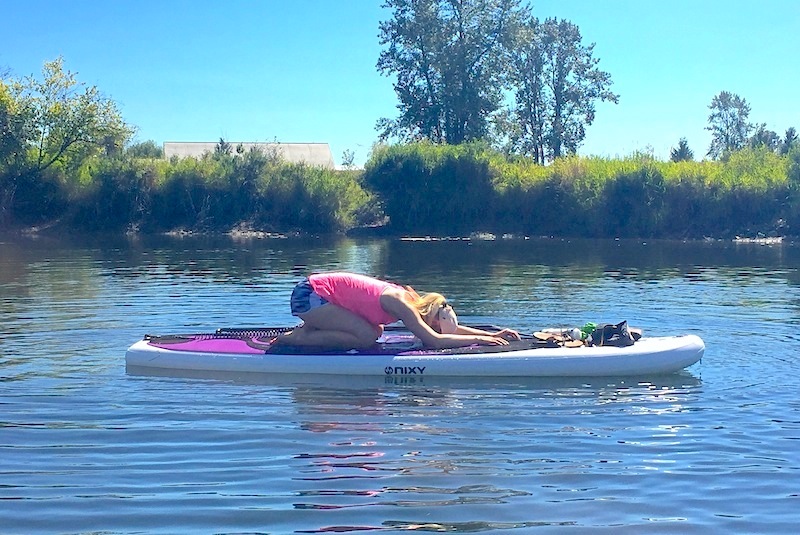 Fins – There are three removable fins so you can customize them as you wish.
There are two smaller side fins and one large center fin. With all three fins attached I found they helped with stability and especially with tracking.
They are solid and slide easily into their fin boxes and clip securely in place.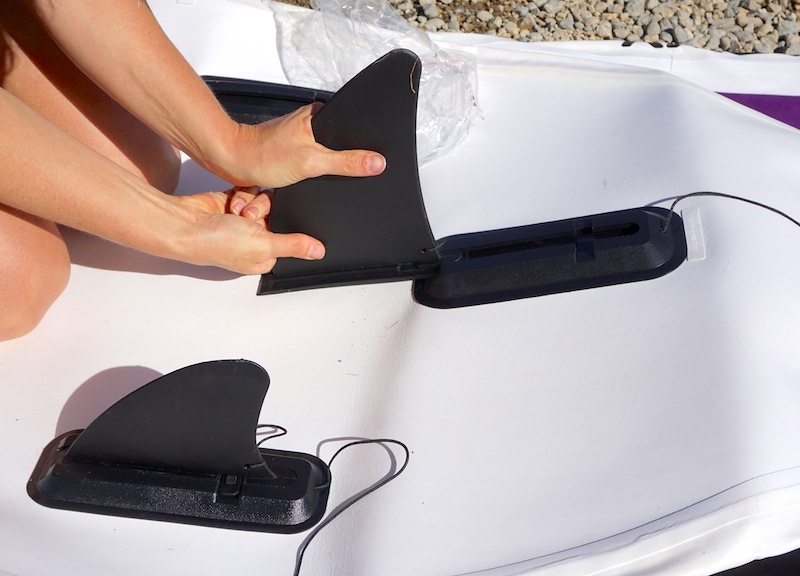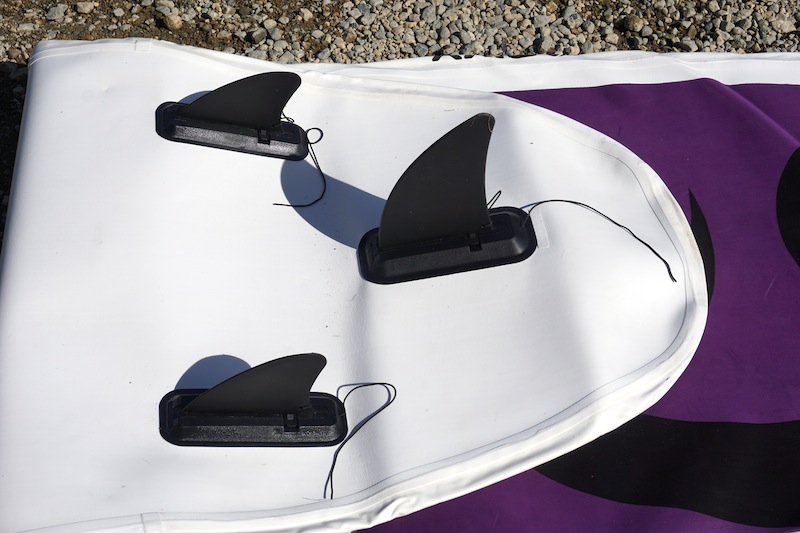 Carry Handle – The carry handle at the center of the board is made of PVC and feels strong and durable.
It lays flat to the board keeping it out of the way of your feet or hands when doing yoga.
I normally like a little extra padding on the carry handle to make it more comfortable when carrying to the water.
However on a yoga board a flat PVC handle is all you want so you don't end up tripping on it.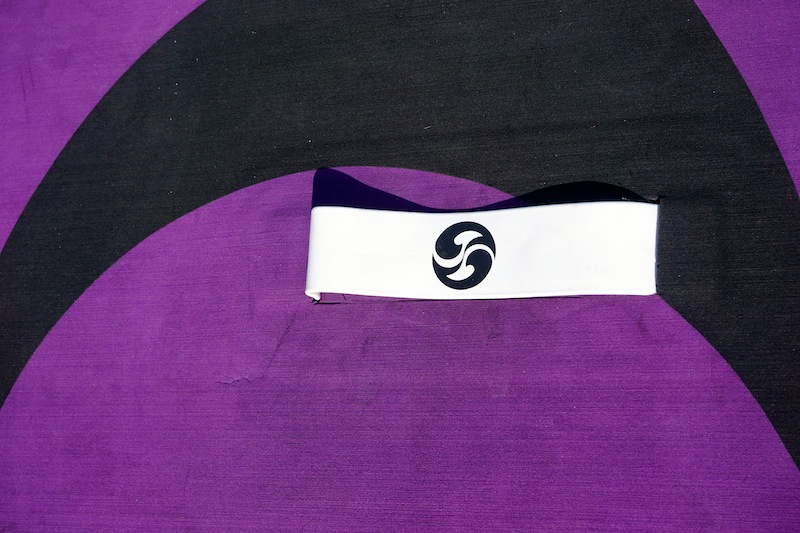 Included Accessories
One of the nice things about the NIXY Venice package is that for a great price it includes everything you need to get on the water right away.
Besides the board the package comes with:
Fins – 3 detachable fins are included in the package.
Paddle – A 3-piece adjustable aluminum paddle is included. The paddle is basic and a little on the heavy side but makes a good starter paddle or also a great travel paddle.
It's nice that the paddle is included with the package price and you could always upgrade to a higher end lighter paddle down the road if you were doing a lot of SUP'ing.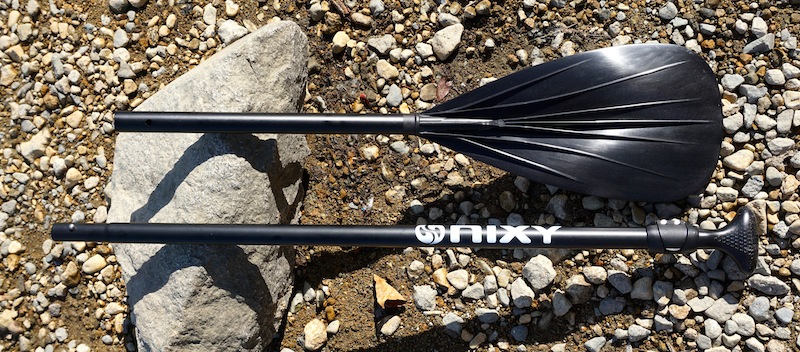 Leash – A SUP leash is an important safety accessory to have.
One end attaches to your ankle and the other end attaches to the back D-ring on your paddle board.
If you should fall off your SUP the leash ensures that you won't end up too far from your board.
It is a bonus that a leash is included with this package.
Pump – The double action hand pump that comes with the 10'6" Venice is decent and easy enough to use.
Even with a board this size it only took me just under six minutes to inflate up to 15 PSI.
It includes a gauge so you can check your progress as you pump.
Backpack – This backpack is huge.  It has a full body zipper, which allows you to easily place the board in the bag and take it out.
It has a little padding around the sides to protect the board and paddle holder straps to secure your paddle in the bag as well.
The bag is large enough to fit the board, the 3-piece paddle, the pump and the repair kit.
The shoulder straps are lightly padded and there is a waist clip for added support. The carry handles help to load it in and out of a vehicle.
I wouldn't want to have to carry this bag too far because of the size and the fact that it isn't that comfortable on my back but it is quite doable for shorter distances.
Even Darryl found the shoulder straps to be quite far apart and uncomfortable when carrying.
That being said it is great for storing the board and it fits the board well, which is what you want.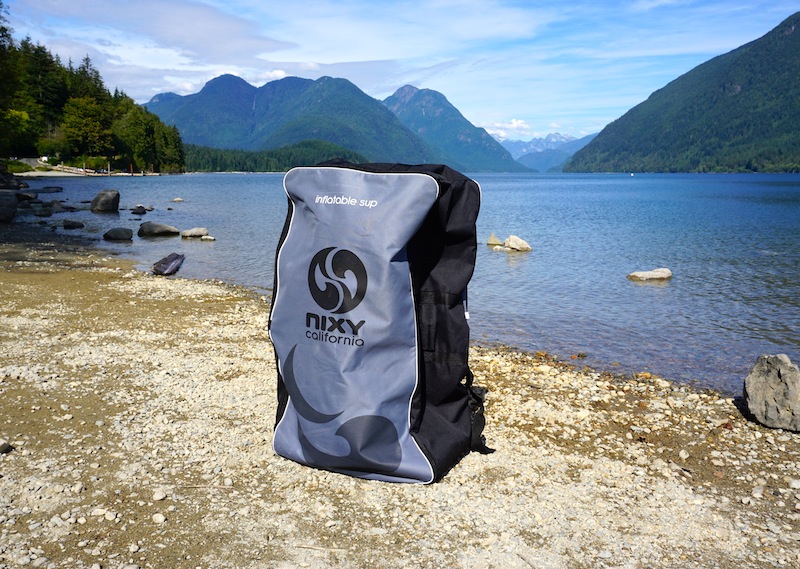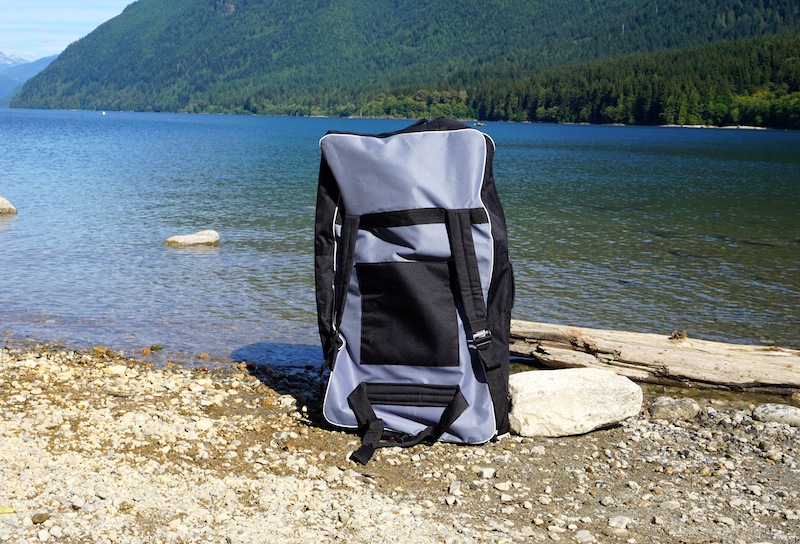 Repair Kit – As with most ISUP's, this package comes with a repair kit that includes PVC patches, glue, and a valve tightener.
Setup
For a board this size I found the setup process to be really fast. Once you take the board out of the bag, unroll and open the valve cap.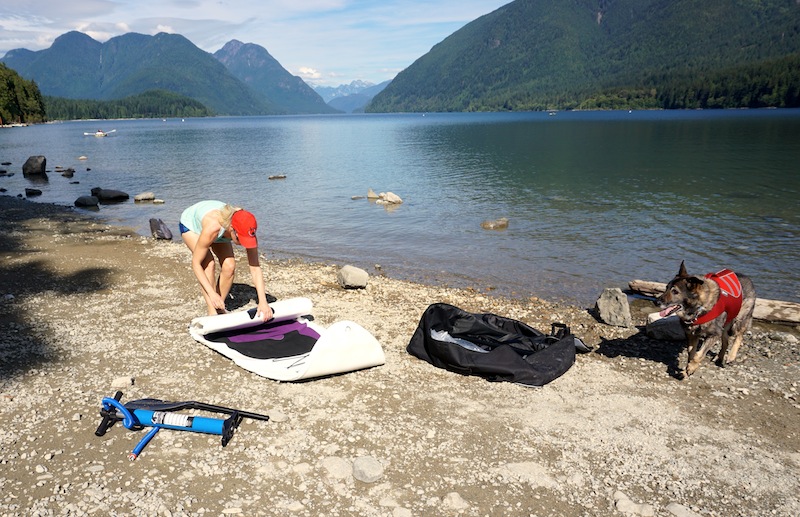 Push the tip of the valve in and twist so that it pops up. Then inflate the board up to 15 PSI.
It takes a bit of work to manually pump it to the right air pressure but even with a few breaks it gets done fairly quickly.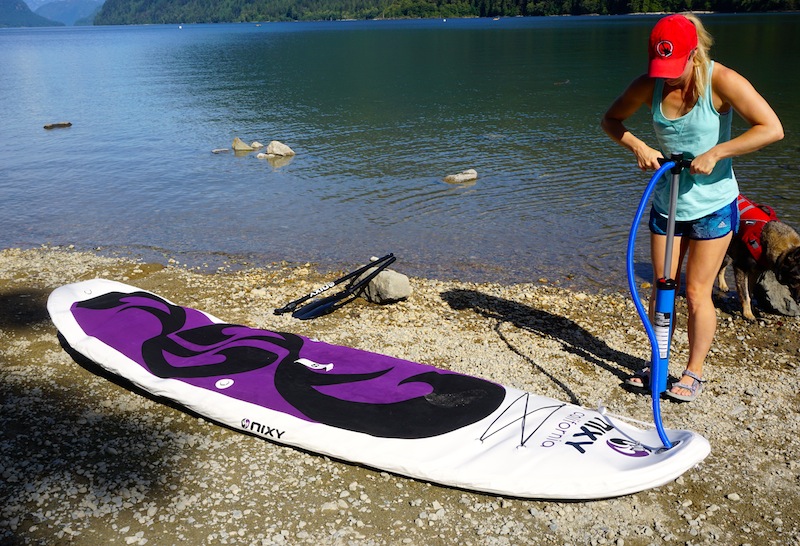 It took me 5 minutes and 45 seconds to fully inflate it to 15 PSI and that was with a few quick breaks to catch my breath.
The first 5 PSI is a slow process but easier to pump.  It took me just under 3 minutes to get to 5 PSI.  The last 10 PSI goes quickly but is harder to pump.
An electric pump is always a great option if you wanted to invest in one but I found it to be just as fast if not faster to pump the board myself.
Once you have finished inflating the board you can attach the fins and your leash.
All in all you can be on the water within ten minutes of arriving.
(Below:  The Venice is all loaded up and ready to go.  Seth loved this board, it was super stable for him to ride!)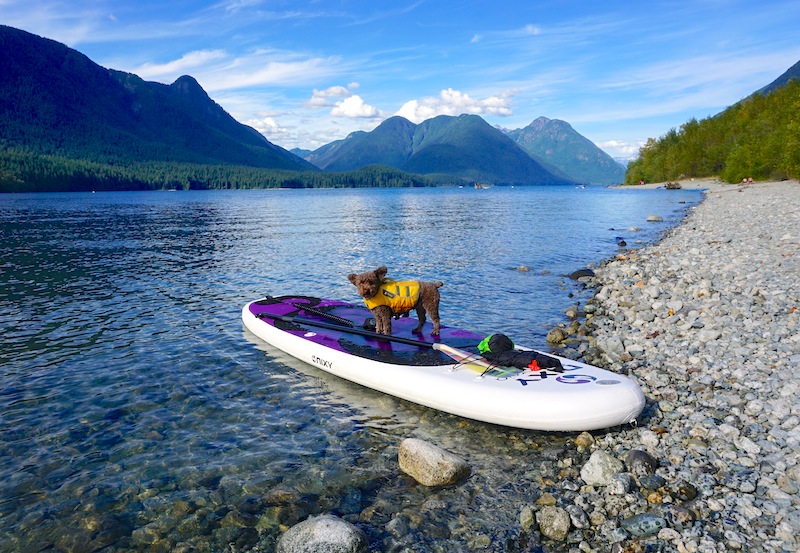 Once you are finished paddling you can towel dry it , remove the fins and push in the valve to deflate.
Then roll it back up and place back in the backpack.
Performance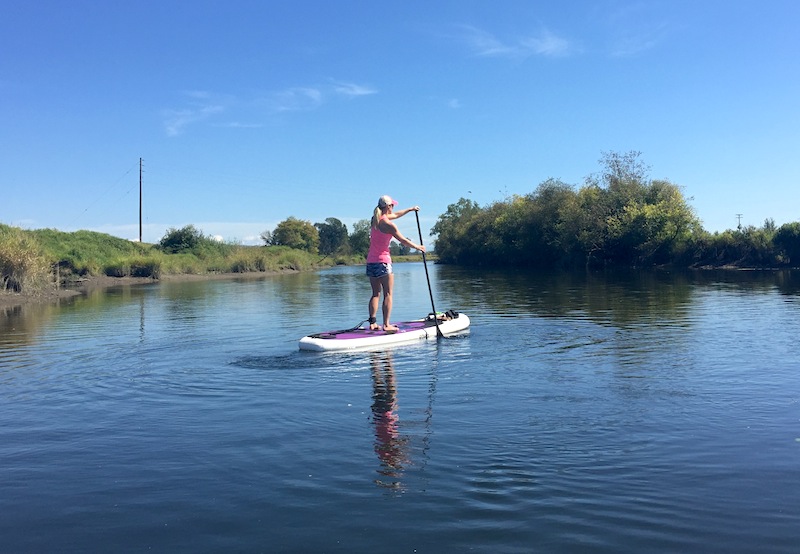 You have to take into consideration the shape and size of the Venice when talking about performance.
A 34″ wide SUP is never going to be that fast in the water.  However the slightly tapered nose and tail do help it to move smoothly, plow through waves and turn when needed.
It is fun to cruise around on, stable in choppy water and smooth riding on flat water. If you happen to be paddling on ocean waves, you will love the extra stability. It feels very secure.
For yoga and fitness it excels and I thought all things considered it performed quite well for a board of its size.
Anybody can feel very stable and secure on this SUP, even if you have never paddled before.
Yoga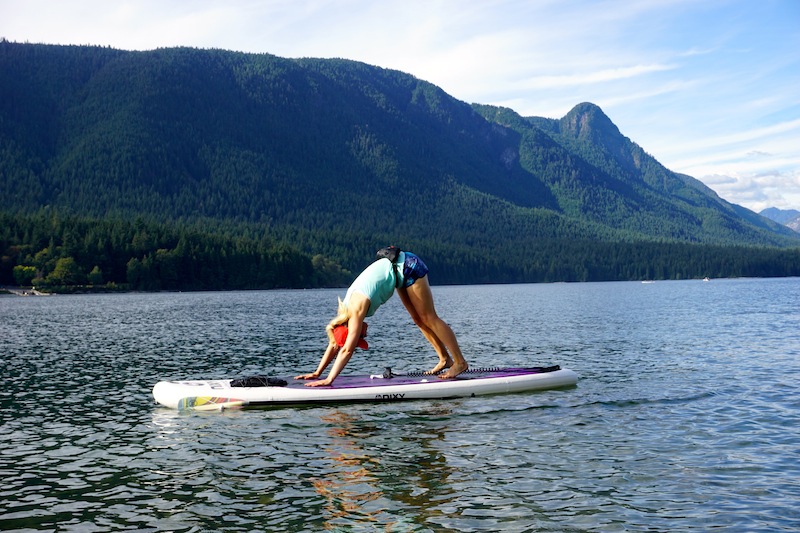 Of course yoga is what this board is designed for and it excels in this area.  With the soft traction pad, the stable width and the convenient paddle holder it makes for a fantastic yoga platform on the water.
Considering all the advantages the Venice offers and the fact that it is sold at a great package price, I think this is an excellent option for anyone looking for a cool looking yoga SUP that is also fun to paddle.
It is the perfect platform for all types of fitness activities.  Darryl was also using it for pushups, squats and stretches.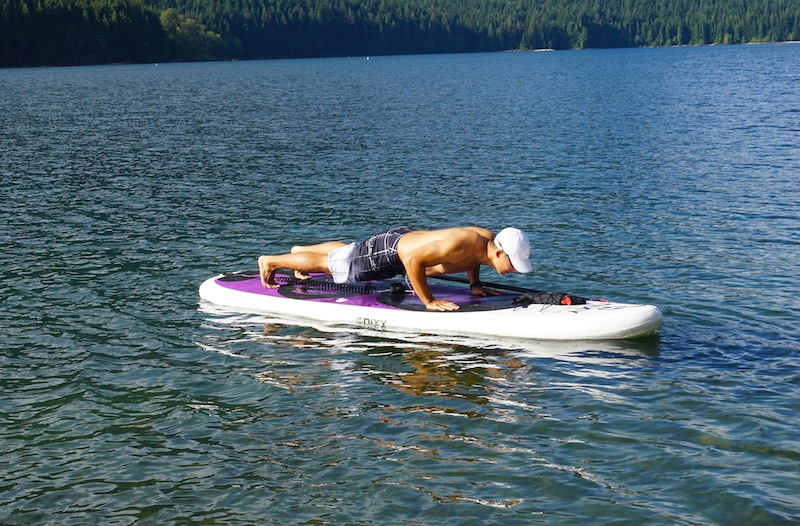 Paddling With Dogs
One of the big advantages of a wider stable board is that it is ideal for paddling with dogs.  This is a yoga SUP but it is also ideal for carrying larger loads.
We found that we could easily paddle the Venice with our German Shepard Oscar on board and later tried it with both dogs.
With both dogs along for the ride it took more effort to paddle but still felt stable… More so when Oscar would sit, less stable when he stood or moved around.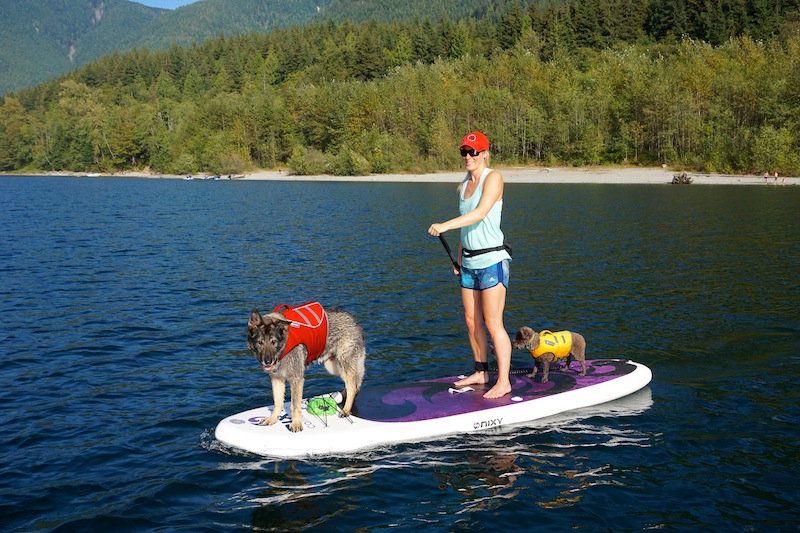 This board is a fantastic option for paddling with your dogs or even for paddling with your kids.
The Negative
I found very few negatives, I really liked this ISUP. For it's intended use it is a great paddle board for a good price.
I did find it a little heavier to carry than many of the boards I am used to paddling. However I find that to be true of most yoga SUP's.
The bag is big and slightly awkward to carry but good for storing everything in one place.
Turning takes more effort and for this reason it wouldn't be my choice for surf but it handles well in choppy water and when taking on waves and wake.
More Pictures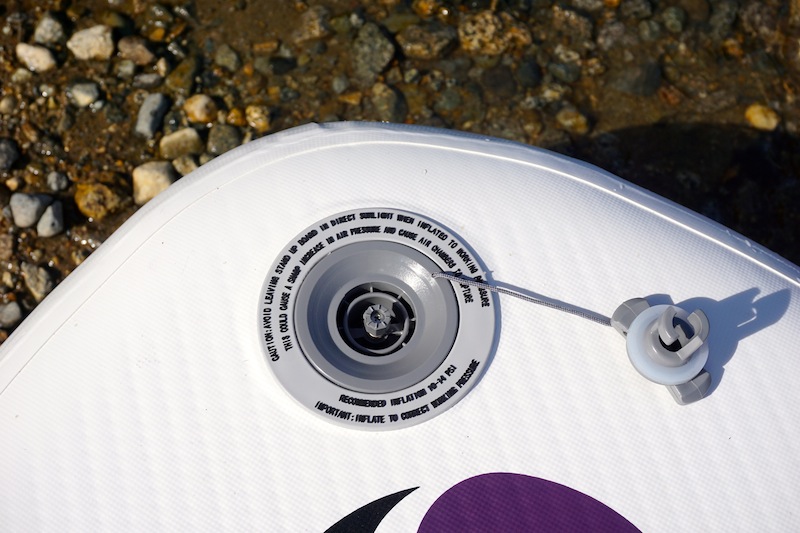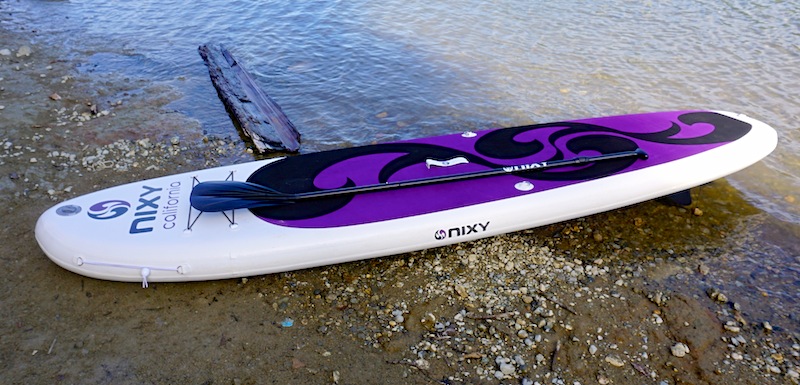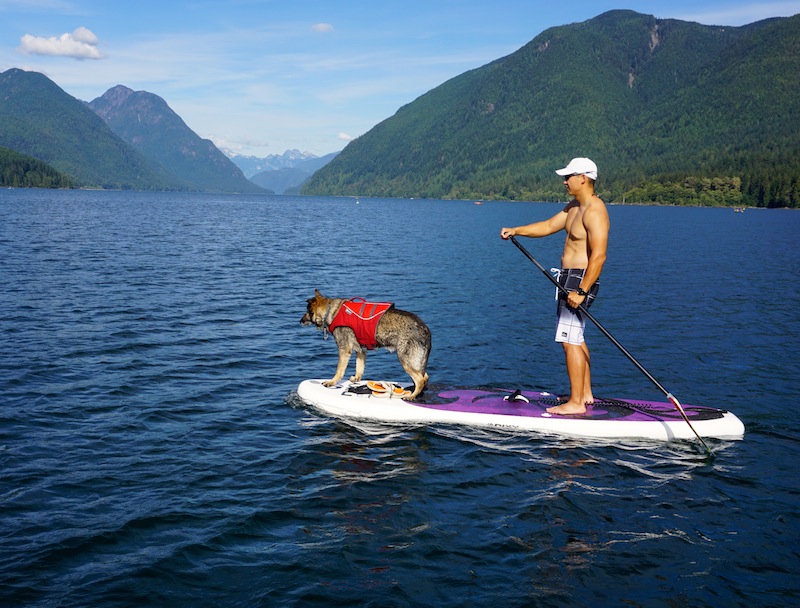 Bottom Line
The 10'6" Venice Yoga ISUP is a nice looking functional board that will appeal to those who want to do yoga on the water and for those who want a stable board that can hold a lot of weight.
I personally liked it a lot. It wouldn't be my choice for touring but for yoga, fitness, stretching, cruising around and having fun with the family it is a great choice.
NIXY offers a two-year warranty that covers everything outside of normal wear and tear.
Where To Buy
Click Here For The Best Deal On the NIXY 10'6" Venice At Amazon.com.
Did You Know?
By clicking on any of the above seller links you can help keep ISUPworld.com growing. When you make a purchase after clicking on our links, the retailer will contribute a portion of the sale to help support this site. It won't cost you anything extra and it's a simple way to help us fund our gear reviews. Thanks!