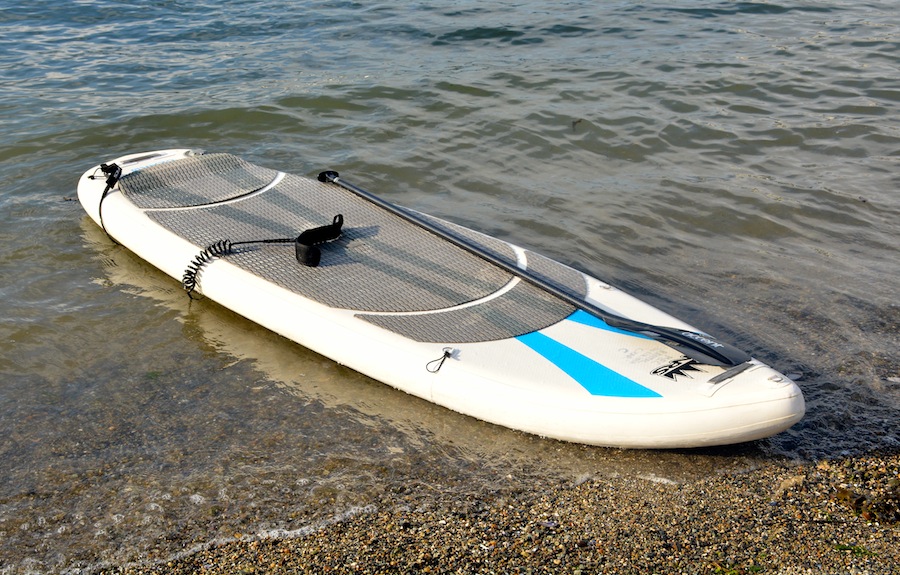 NRS has two inflatable SUP's designed specifically for surf… the smaller Tyrant 4 and the larger Czar 6.
The Czar is an extra 6" long and an extra 2" thick making it very stable and rigid and ideal for a larger rider.
It is best suited for surfing, moving rivers and ocean waves.
Unfortunately we don't have a lot of surf around my area but we did get to try it out on ocean waves and on some very choppy water.
The first thing that stuck out for us was the width of this board. It is 34" wide making it look kind of fat and squat.
That 34" width creates an extremely stable base. You would think that a board this wide would be quite sluggish in the water and hard to turn and maneuver.
However even though I certainly would not say this is the fastest ISUP I've paddled, for the size it moved swiftly, tracked quite well and neither my boyfriend nor I had any trouble doing quick turns or maneuvers.
Specs For The NRS Czar
9'6" long
34" wide
6" thick
weighs 26 lbs.
can hold up to 240 lbs.
Valve type: Leafield C7
Air pressure: up to 15 PSI
Includes two 2" fins, two 5" fins and one 9" fin
Material: PVC drop-stitch
Best Suited For:  Rivers and Surf
Pros: Stable, easy to set up, compact, easy to turn, good fin options, durable, tapered upturned nose, large traction pad, wide kick tail, good amount of D-rings
Cons: Not ideal for flat water conditions, the size makes it a little less responsive than the smaller Tyrant – although a larger person will find the stability to be worth the compromise
More In-Depth Info On The NRS Czar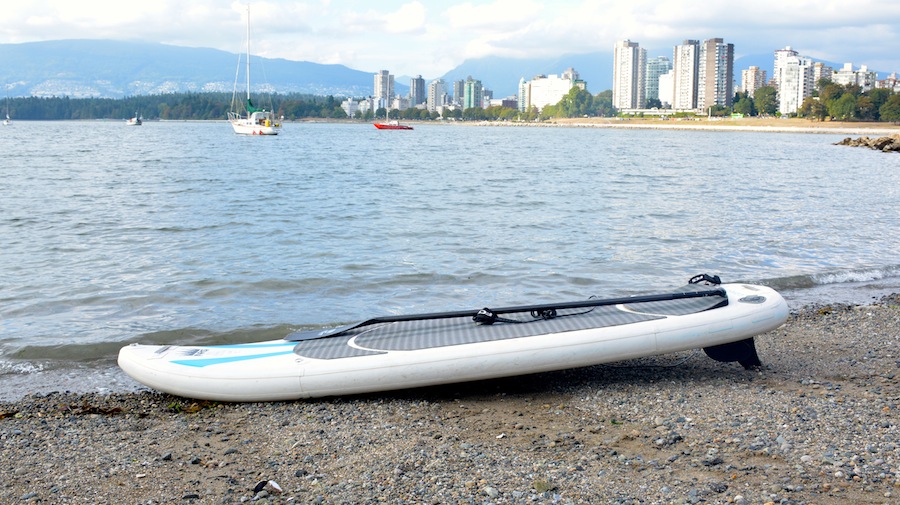 The Czar is easy to paddle and although not that fast it does glide and track nicely.
We found the wider width really made us feel secure even in really choppy conditions.  A larger person would definitely appreciate the width and rigidity.
The stomp pad near the tail of the board allows you to place your weight at the back end to quickly maneuver through surf.
The shorter length makes the board quite responsive.
For myself the smaller Tyrant would have suited my size better. However, I still found the Czar to be easy enough to paddle and fairly versatile. I enjoyed the extra stability.
My boyfriend who weighs roughly 180 lbs. did like the larger size of the Czar.  It is able to hold quite a bit of weight with no flex and still be very forgiving in the water.
I have always found that with inflatable stand-up paddleboards it is very important for a larger rider to really get the right sized board to suit their frame and weight.
If the board is too small for them it will feel very unstable and uncomfortable.
Inflatable vs Hard Shell
I believe there are tons of benefits to owning an inflatable SUP as opposed to a hard shell and I have seen them become more and more popular over the last couple years.
If you are a beginner to novice rider, an inflatable SUP is particularly advantageous for whitewater or surf.
They provide a slightly softer surface for falls from a standing position in heavy water and tend to be slightly more forgiving, reducing the risk of injury.
I know of a few advanced whitewater stand-up paddlers who swear by inflatable SUP's. The trick is getting the right size for your body and skill level and the right design to suit your needs.
The NRS ISUP's have a great rep and although I personally find them to look a bit basic, there is no doubt they are durable and functional.
NRS Czar Important Features
There are a few features worth pointing out.
D-Rings – There are 6 stainless steel D-rings on this board. One at the very tip of the nose that is ideal for towing.
Two more up front at either side of the nose. Another two at the top of the traction pad – one on each side.
Then there is one on the back right tail of the board, which is perfect for attaching your board leash.
This is a good amount of D-rings, gives plenty of options and versatility. If you wanted to you could attach a bungee cord to the D-rings to secure gear or just use them to tie stuff down.
Pointy Nose – The Czar has aggressive lines from a back squared off tail to a wider middle and then tapering into a pointy nose.
This design is ideal for taking on moving rivers or surfing waves and provides stability in just the right places.
Even though the nose is pointy it is slightly turned up allowing it to plow over rapids and waves.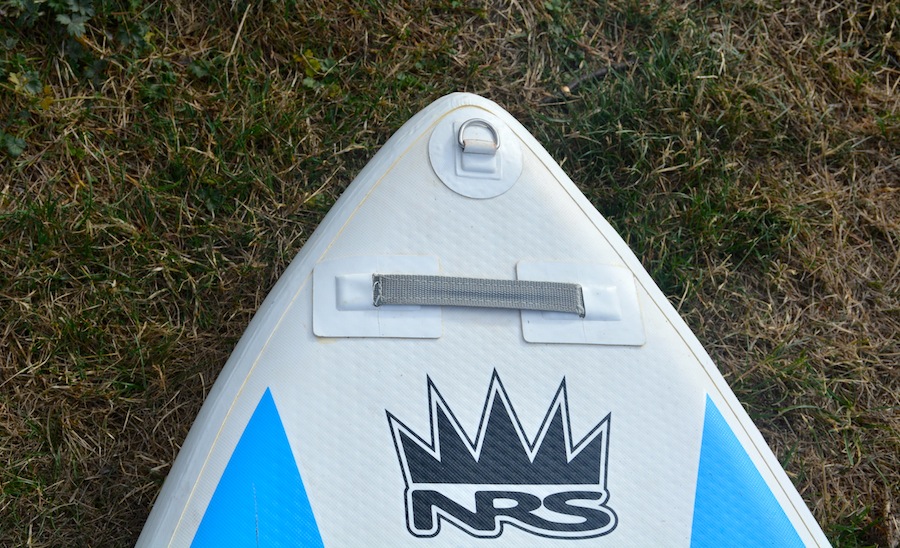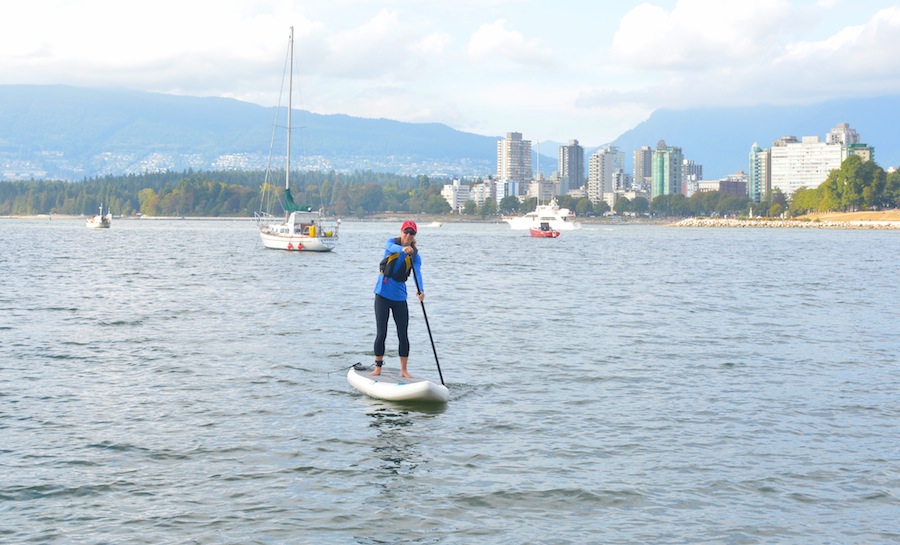 Stomp Pad – The back stomp pad is quite wide and a nice size for weighting the tail end for quick maneuvers and turns.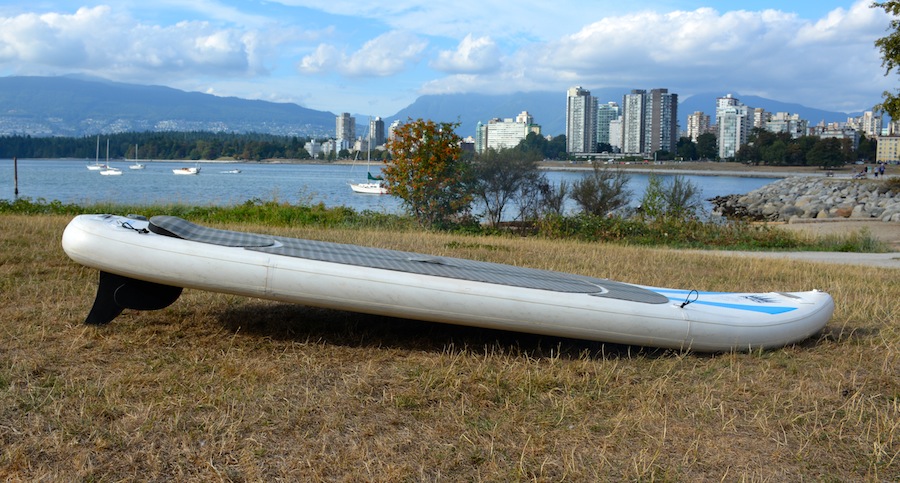 Carry Handles – There are three carry handles. One wide nylon handle at the center of the board and one at the nose and tail.
Foam Deck – The foam traction pad is grippy enough to feel confident that you won't slip when riding waves.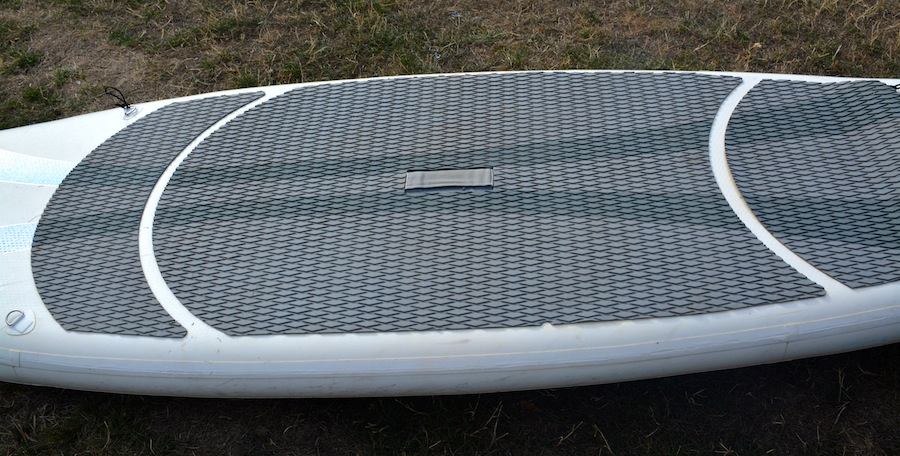 We found it comfortable to kneel or stand on and easy to grip with our feet for maximum control.
Valve – The Leafield™ C7 valve is easy to use. It has a full sized cap that screws on top to fully cover the valve.
With the cover off push the valve in and twist so that it is in the 'popped up' position for inflating. Then push in and twist again when deflating.
Fins – There are quite a few fin options with the Czar. It comes standard with two 2" fins, two 5" find and one 9" fin.
All of the fins are removable and can be interchanged to suit your needs and the conditions you are paddling in.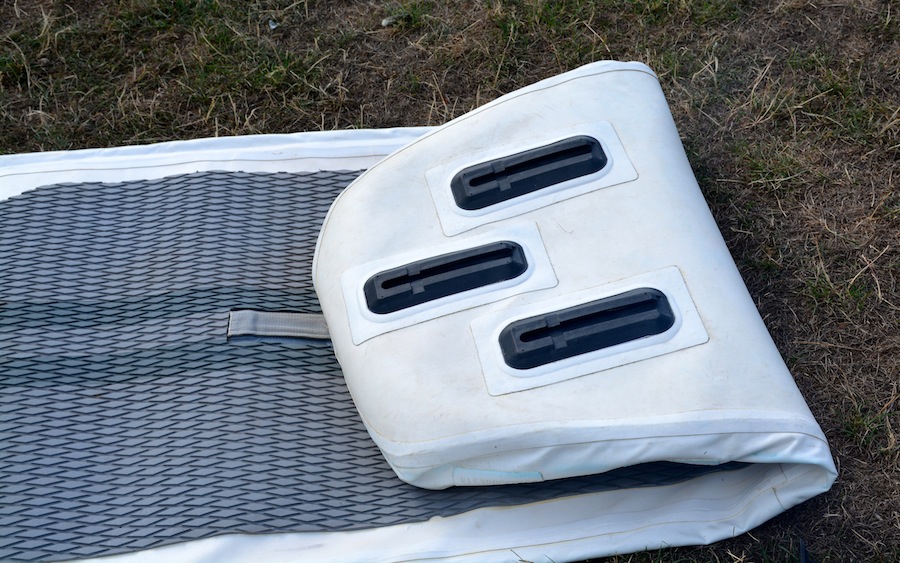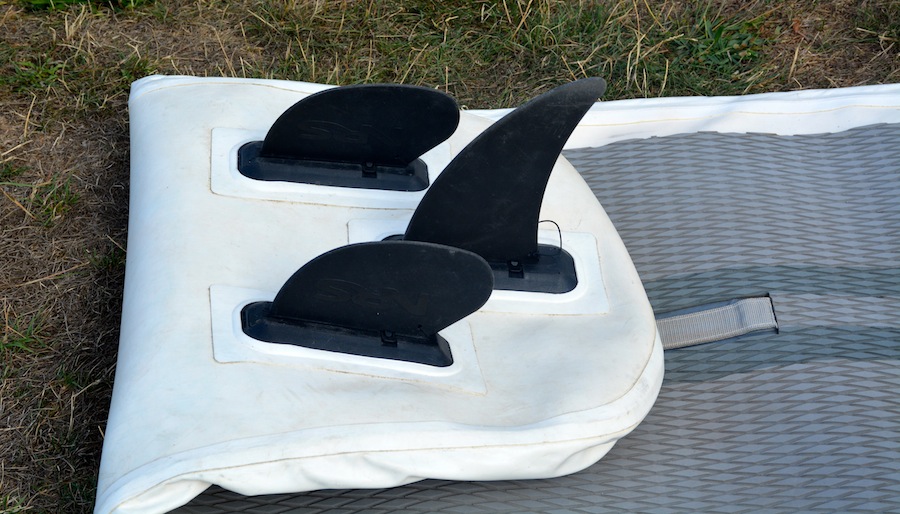 NRS Czar Backpack & Pump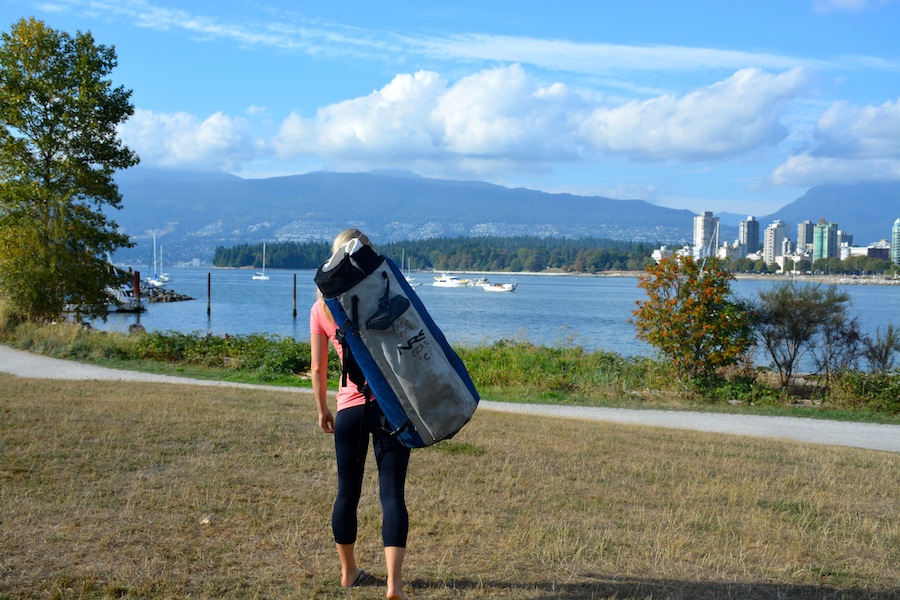 The backpack is decent. I would say it is a fairly standard pack for an inflatable SUP.
Good quality but I have seen better. The one I had for testing was pretty banged up, but it was still holding in there and the board was very easy to put in the bag and take out.
It has a front zippered pocket for holding gear and accessories, a drawstring cord up top to close the bag and two clips to secure it.
The backpack also has two side straps for securing the pump or your paddle.
The back padded straps are fairly comfortable. I would have loved to have seen a waist strap for added support but those are pretty rare on ISUP backpacks.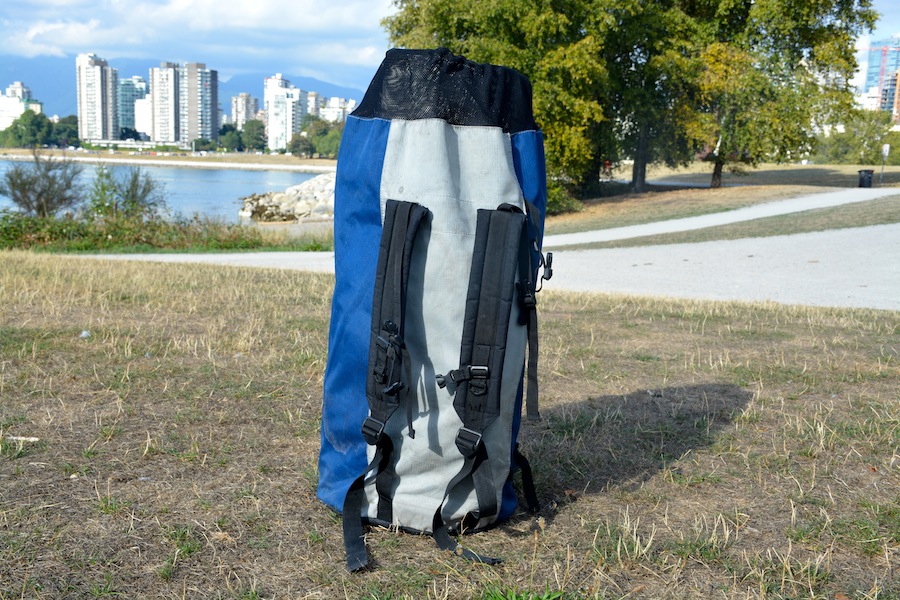 The pump is actually quite good. It works well and has a high pressure and a low-pressure mode to make inflating a little easier.
The pressure gauge that is included with the pump works well and will allow you to watch your progress and stop at the 15-PSI mark.
Czar Setup
This board is not very big length-wise and I found it easy to get out of the bag, unroll and ultimately easy enough to inflate.
The hand pump is decent and has two air pressure modes to make inflation a little easier.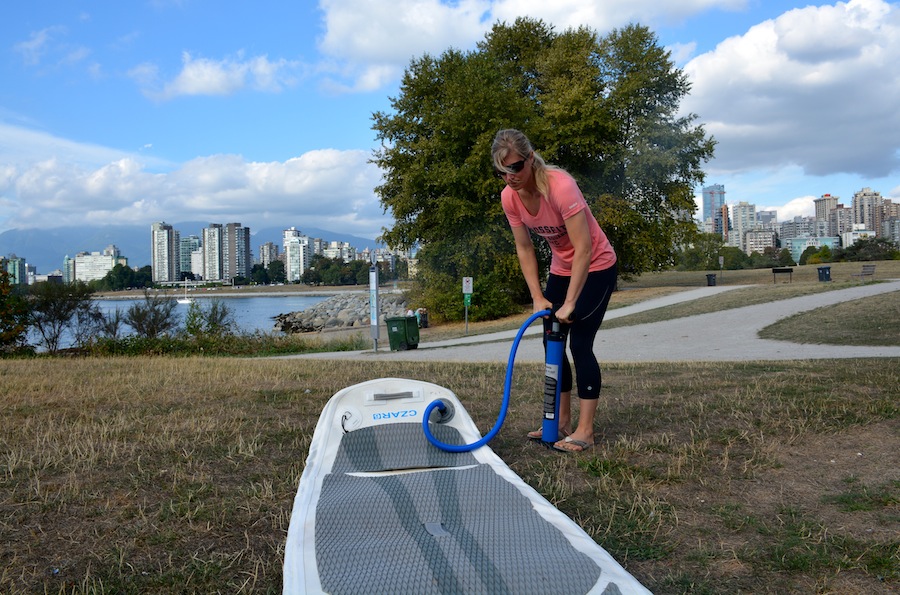 I prefer using an electric pump. Since I got an electric pump a couple years ago I've gotten lazy with the inflation process.
When I do need to use a hand pump for reviews or for any reason, I usually pass the job off to my boyfriend to finish up once I get tired.
An electric pump makes it so much easier to reach 15 PSI. However it is totally doable with the hand pump so if you don't want to splurge for the electric pump right now, you will be just fine using the hand pump… it just takes a little extra effort and possibly a little sweat.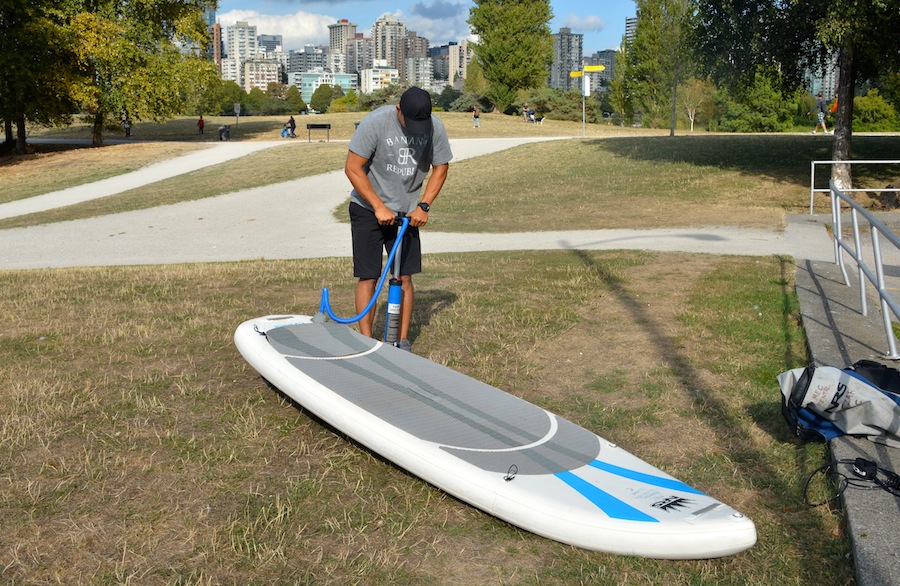 The fins can be attached either before or after inflating the board and easily clip into place.
After using the Czar give it a quick towel dry, remove the fins and deflate the board. It easily folds back up into the backpack carry bag.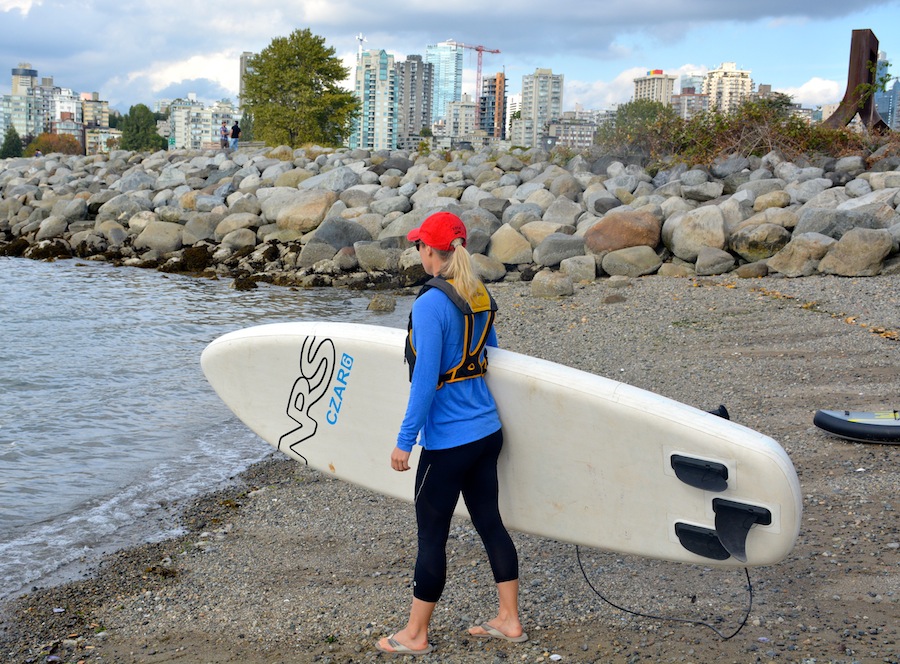 NRS Czar Performance
The unfortunate part about this review is that I don't have a lot of surf around where I live.
Considering the fact that the NRS Czar is designed for surfing, you will have to take my review with a grain of salt as I never got to actual surf on it.
I did however take it ocean paddling and did my best to search out bigger waves and large wake from powerboats to get as much of a feel for it as I could.
I found it to be quite stable. It looks short and squat when inflated and I found that the 34" width and the 6" thickness made it stable and steady even in choppy water.
The pointy nose did help it to cut through the water nicely and the fin selection really helps with tracking.
It is a little sluggish to get moving but that is to be expected with a board of this size.
I found it easy to turn and maneuver and overall I found it to be quite responsive – at least about as good as you would expect with a 6″ thick SUP.
I enjoyed paddling it and even though I wasn't doing any actual surfing, it was a lot of fun.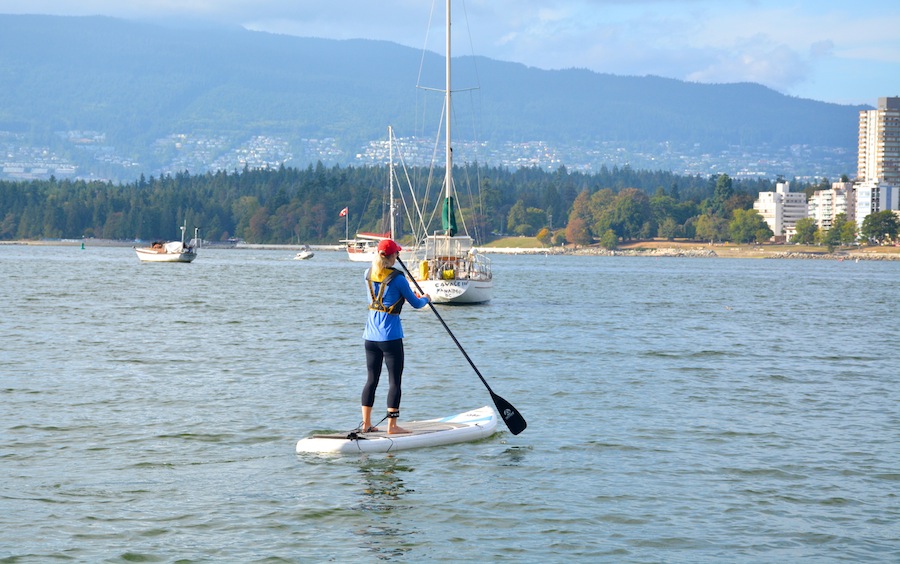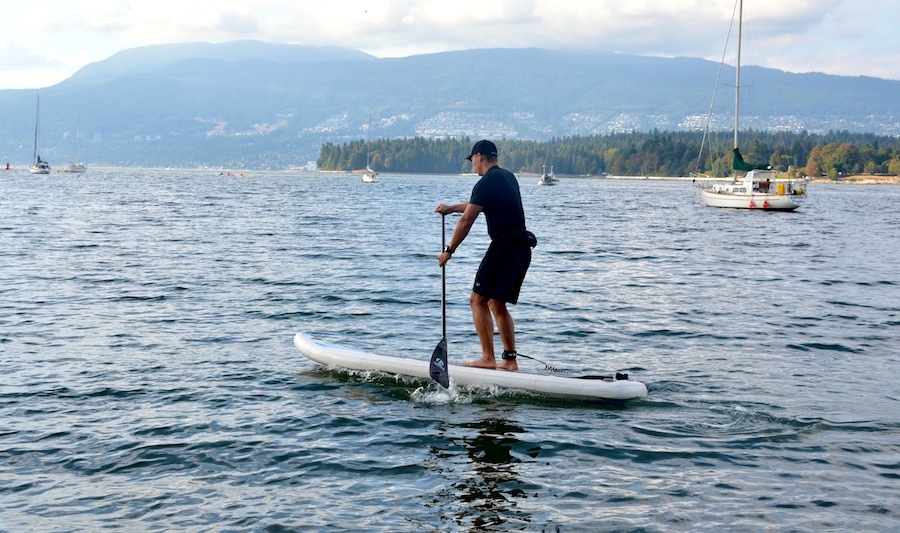 The Negatives
I would love it to weigh a couple pounds less but at 26 lbs. it is still very reasonable and is easy to carry.
NRS has two surf specific inflatable SUP's… the Tyrant and the Czar. The Tyrant is a little smaller at only 9' long, 34" wide and 4" thick; Compared to the Czar, which is 9'6" long, 34" wide and 6" thick.
For the larger board you do compromise a little performance.  The 6" thickness and extra length does make the Czar a little less responsive than the smaller 4" thick NRS Tyrant.
However for a larger rider the compromise might be worth it as you will find the Czar to be far more stable and able to support quite a bit more weight.
NRS states that the Czar can hold up to 240 lbs. (190 lbs. for the Tyrant) and still perform at an optimum level.
I find in general the inflatable SUP's can hold a lot more weight than what is listed so I wouldn't be concerned about loading this board right up.
More Pictures Of The NRS Czar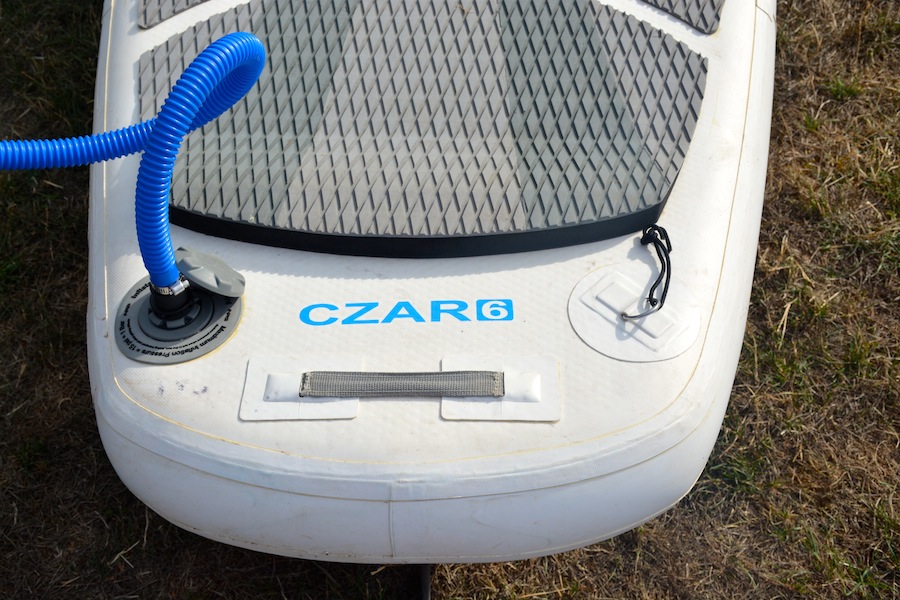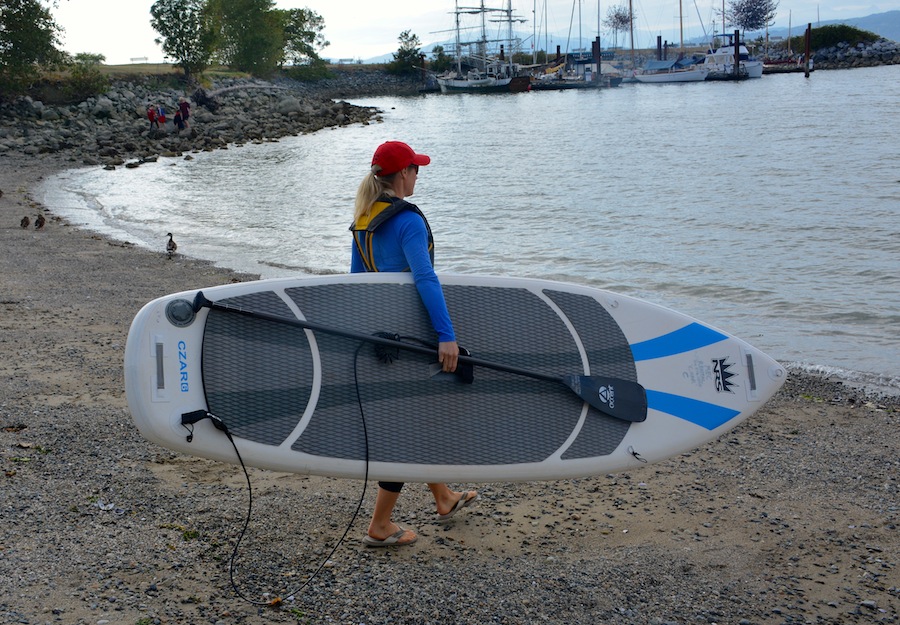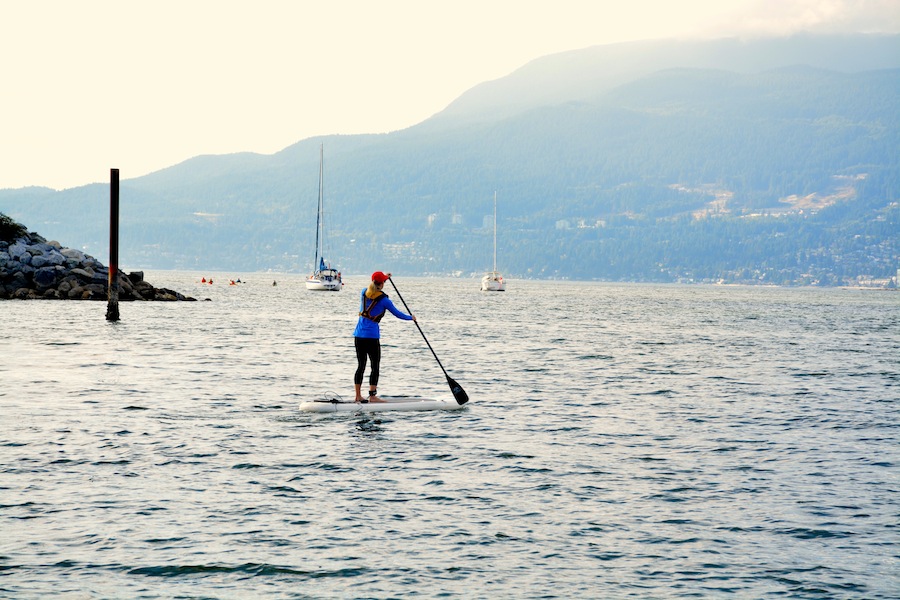 Final Thoughts
NRS is known for durability and I would say more than anything else, the Czar will be able to withstand a fair amount of abuse and hold it's own in surf and waves.
It is stable, rigid and really just a lot of fun to paddle.
It's larger size will hinder the responsiveness a little but for anyone who weighs over 180 lbs., this slight lack of performance will likely be outweighed by the fact that it is super rigid and a little more stable.
I am not a very big person and I know I would have been better suited on the smaller Tyrant. My boyfriend however quite liked the Czar and we thought the size suited him well.  This board is easier for a larger person with more power to paddle for sure.
Also worth noting that NRS offers a 3-year warranty on all of their ISUP's.
Where To Buy
The NRS Czar is no longer available.