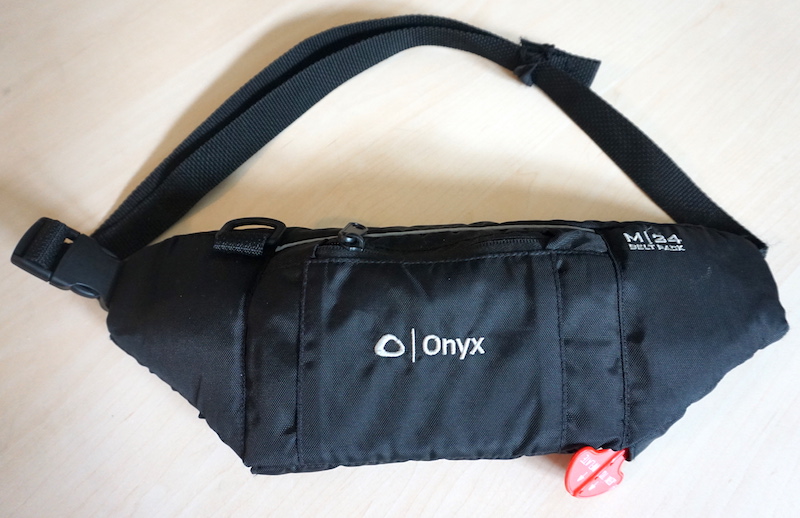 Wearing a regular lifejacket while stand-up paddle boarding can restrict your range of movement and feel really stuffy on hot humid days.
If you are a good swimmer and comfortable in the water then a waist pack PFD is the perfect option for SUP'ing. I cannot stress enough how much more comfortable it is.
We have been using the Onyx M-24 manual inflatable belt packs for a few years now and love them!
For some reason I never got around to reviewing this pack and thought it was about time I do so!
Ours are now the older model but they haven't changed that much.  The new ones are slightly lower profile, which is quite nice.
This pack is comfortable and lightweight. The waist strap is adjustable and there is a small zippered pocket in the front that can hold keys, a phone, small camera and/or a driver's license, etc.
It basically just feels like wearing a fanny pack and it doesn't get in the way of your paddle strokes at all.
You'll see both Darryl and I wearing this Onyx PFD waist pack in the majority of our pictures.
I think you are supposed to have the pouch in the front (against your stomach) as it is probably safer that way and easier to pull the tab if needed.
I usually turn it so that it is at my back, I just like it that way.  However either way you wear it, it feels comfortable.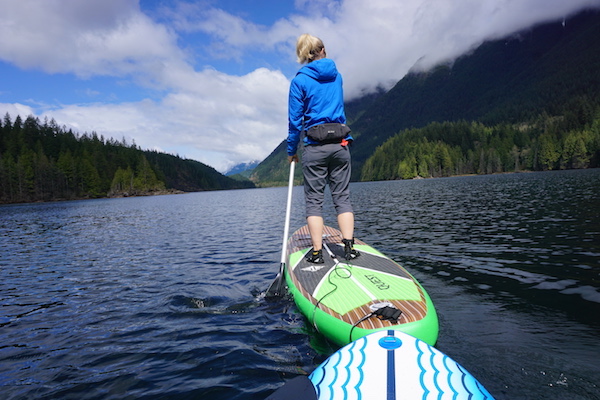 Onyx M-24 Special Features
This pack has a few features that make it very functional.
Reflective piping keeps you visible in low light
Attached D-ring for securing small accessories
Front zippered pocket for storing small items
Adjustable strap fits 24" – 52" waist
Manually inflates when the 'Jerk To Inflate' tab is pulled
Equipped with back-up oral inflation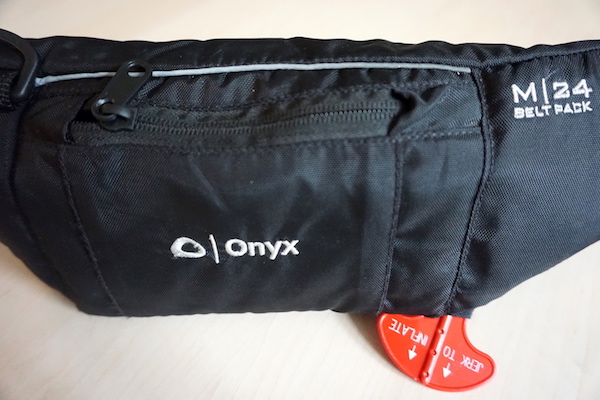 Important Info
There are a few important points to know about this PFD pack.
1. It is important to know that this waist pack will only inflate if you pull the 'Jerk To Inflate' tab.
It DOES NOT automatically inflate when submerged in water.
The CO2 cartridge can only be used one time. So once you inflate it, you will need to replace the cartridge for it to be usable again.
I like that this pack manually inflates. You can jump in (or fall in!), go for a swim or snorkel and not worry about setting off the CO2 cartridge each time.
2.This pack is not suitable for children. Onyx states that it is best suited for people 16 years of age and older – and over 80 lbs.
The person using this pack needs to be comfortable enough in the water to be able to pull the tab if necessary and then put the PFD over your head.
It fits a 30" – 52" chest and has a minimum buoyancy of 22.5 lbs.
3. The Onyx M-24 is a Type V Life Jacket / PFD and U.S. Coast Guard Approved.
If the Coast Guard or ranger comes along and checks to see that you are wearing a life jacket, you are good to go.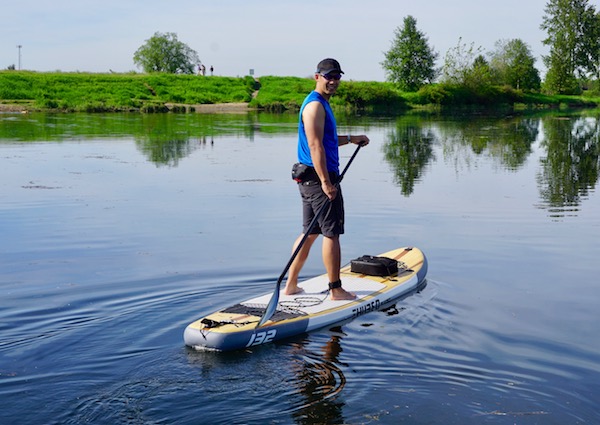 Bottom Line
The Onyx M-24 inflatable waist pack is a must for anyone who loves to SUP.
I have used this pack hundreds of times and it still looks brand new. It is durable and well made and comfortable to wear.
It is also great for traveling as it is lightweight and takes up very little room in your pack.
2nd Option
As a second option to consider, Onyx has another PFD belt pack model (Onyx M-16) that is a little cheaper, slightly lighter and lower profile but does not have the front zippered pocket.
It is equally as good, so which one you choose simply depends on how important the front zippered pocket is to you.
I personally like the pocket a lot, I use it almost every time I am out.
The pocket is small and doesn't hold a huge amount but I love being able to at least store my phone in there and my car keys. It is handy to have.
Whether you are cruising along on flat water or touring through waves and surf, these Onyx inflatable belt packs rock.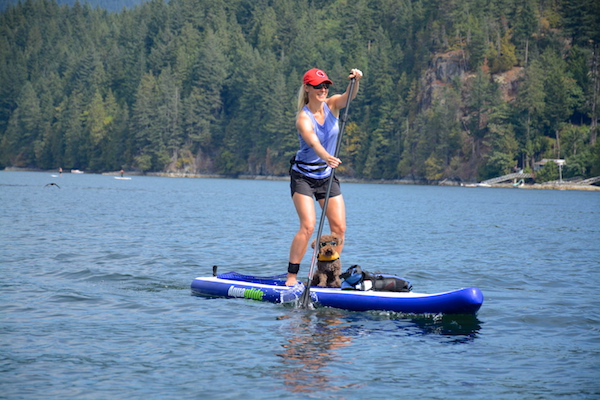 Where To Buy
The Onyx PFD belt pack will last you a really long time. It comes with one CO2 cartridge.
You can use it not only for paddle boarding but also when kayaking, boating and fishing.
I think that it is totally worth the price. As long as you don't expect to be falling in the water consistently, you won't likely need to inflate it often and hopefully not at all.
Click Here For The Best Deal On The Onyx-M24 Inflatable Belt Pack At Amazon.com.
Click Here For The Onyx Rearming Kit At Amazon.com. – This is what you will need to replace if you ever have to pull the tab and inflate the PFD.