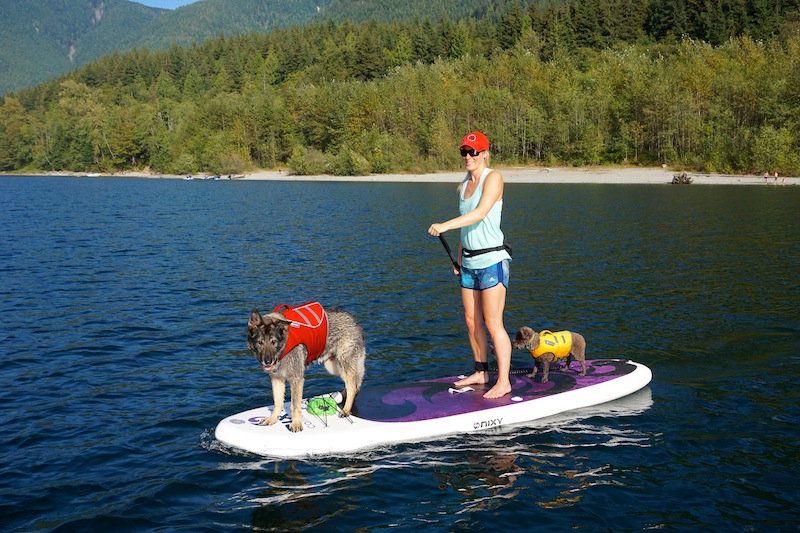 I get a lot of questions about which paddle board is best suited for paddling with a dog.
I love this question because it means there are lots of other people out there who are sharing this awesome activity with their furry pal.
I love dogs and I have two of them who make me smile every single day.  I am so thankful that they both love to go stand up paddling with me.
I believe inflatable SUP's are ideal for dogs as they provide a little more grip than a hard board and sometimes more stability.  If you are concerned about your dogs claws on an inflatable board, don't be.
These ISUP's are built tough and very durable.  I have never had a single repair issue related to their claws or to any aspect of paddling with my dogs.
My 2 Favorite Boards For Paddling With Dogs
My dogs are complete opposites in every way. One is big, one is small. One is old, one is young. One is chill, one is high strung. One loves to swim, one most definitely does not. The list goes on.
My little guy Seth tests out every board I review and has handled each one very well. He is small and weighs only 13 lbs. Consequently he does not affect my balance while paddling much at all nor does he take up much space on the board.
If your dog is small like Seth, you won't need to worry too much about the size, shape or design of the SUP. He will likely handle any board you choose just fine.
The board my boyfriend and I paddle most often on flat water is the Sea Eagle Needlenose and Seth is usually along for the ride.
I wouldn't say this is the most ideal board for paddling with a dog as it has a very tapered pointy nose that takes up some of the space up front and makes it a little less stable although it glides fast.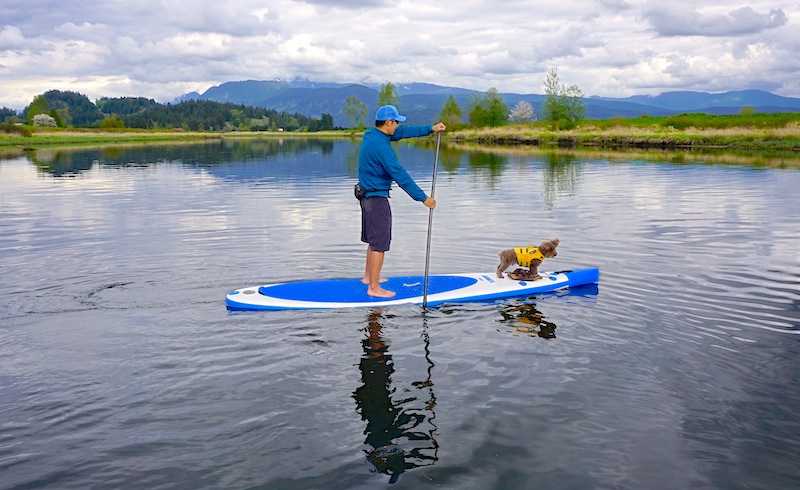 However it is very doable especially with a small dog like Seth and I would say even with a medium to large dog as well… But it is not necessarily the most ideal.
The two boards we have found to be awesome for paddling with dogs (especially when paddling with Oscar our German Shepard who weighs 75 lbs.) are:
the Isle Explorer
the Sea Eagle Longboard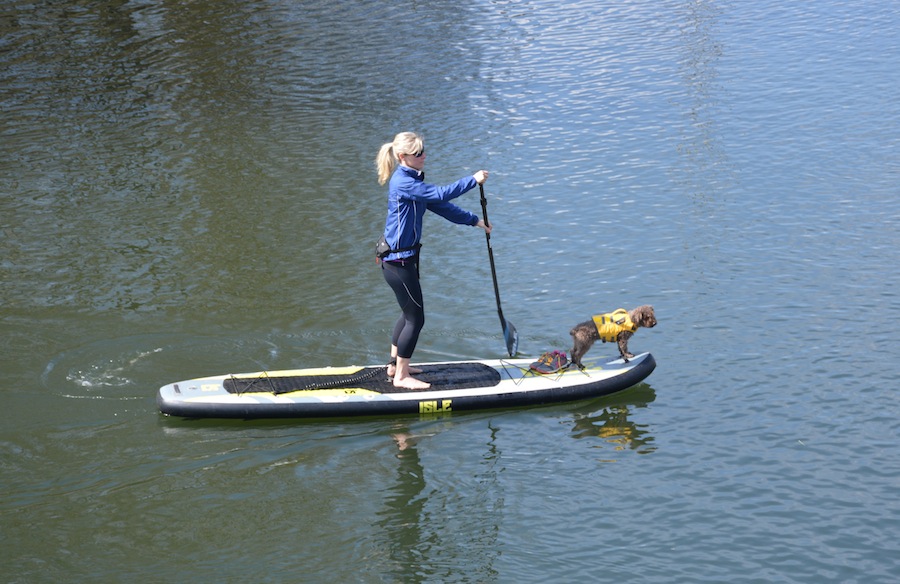 The Explorer is big and stable and very popular. It feels solid when paddling on flat water or on ocean waves.
This is the board we used to teach Oscar to ride with us and although his old legs were initially quite shaky, he very quickly became a pro.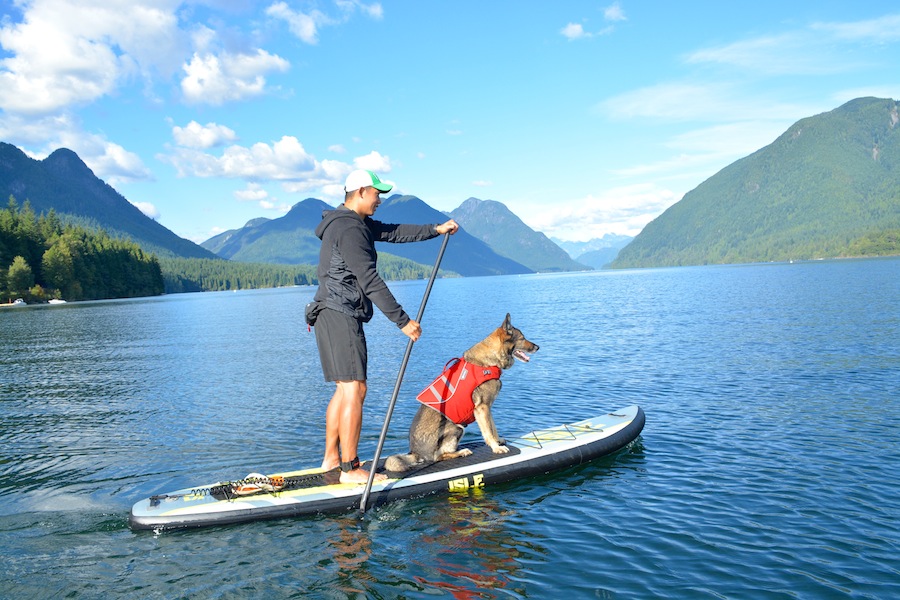 If you'd like to see more pictures and read about Oscar's experience learning to paddle board with us check out our article "Teaching An Old Dog New Tricks".
We found the size (11' L x 32' W x 6" thick) to be very stable with him. The bungee cords are kind of in the way but Oscar would sit either right in front of us on the traction pad or right behind on the traction pad – or sometimes just right over top of the bungee cords (he didn't seem to care).
No matter where we were paddling we knew we would feel solid on this board with Oscar riding along and on several occasions even had both dogs on the Explorer at the same time.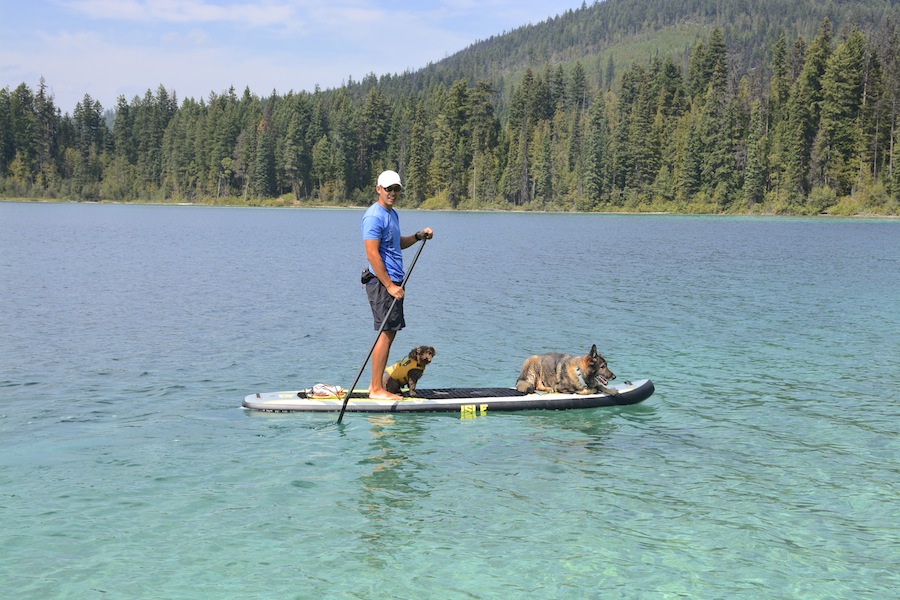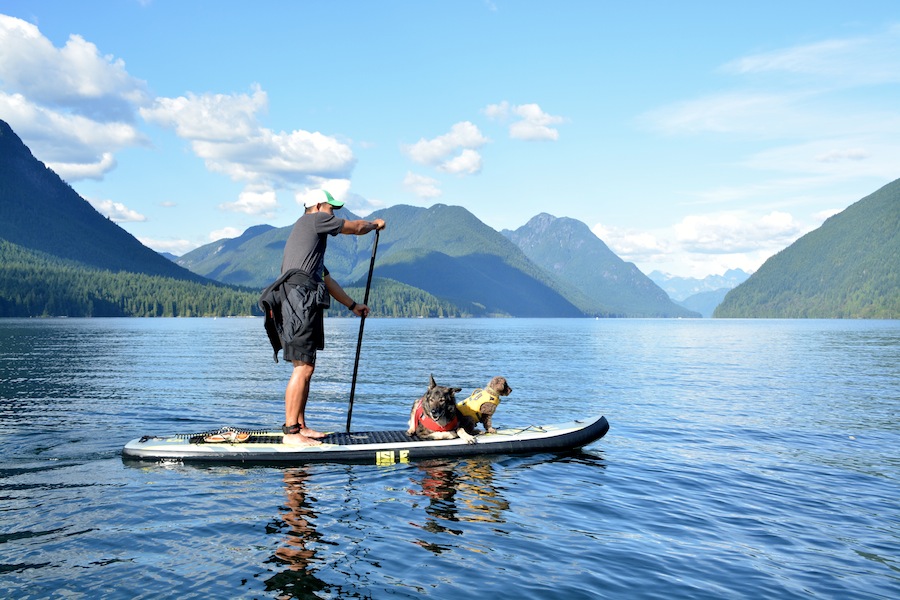 The Explorer is especially a great option if you are a beginner yourself. It is stable and easy to ride. I have used this paddleboard with many friends on their first time out. Everyone does well with it and it is able to hold a lot of weight.
However the one downfall is the lack of speed. This SUP is slow and even slower with a big dog on board.
As we got more used to paddling with a large dog and both our confidence and Oscar's confidence grew, we decided to switch boards to one that moved a little faster through the water.
Although stable and comfortable the Explorer was feeling sluggish and to be honest a little boring.
So when paddling with our German Shepard we now most often use the Sea Eagle Longboard.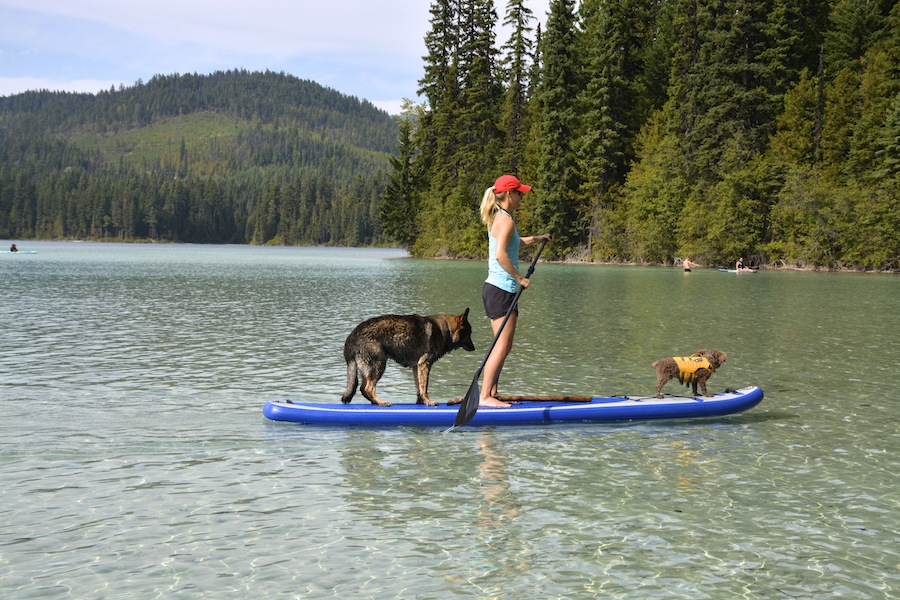 The Longboard comes in two sizes… 11' long or 12'6" long. We own the 12'6" long board and that's the one we use with Oscar. It can hold up to 250 lbs. and we have had it loaded up far over that weight limit with no issues.
It is 30" wide and 6" thick with a nice all-around design that can be used in any type of water.
It is not the fastest board out there but it moves well and definitely glides better than the wider Isle Explorer.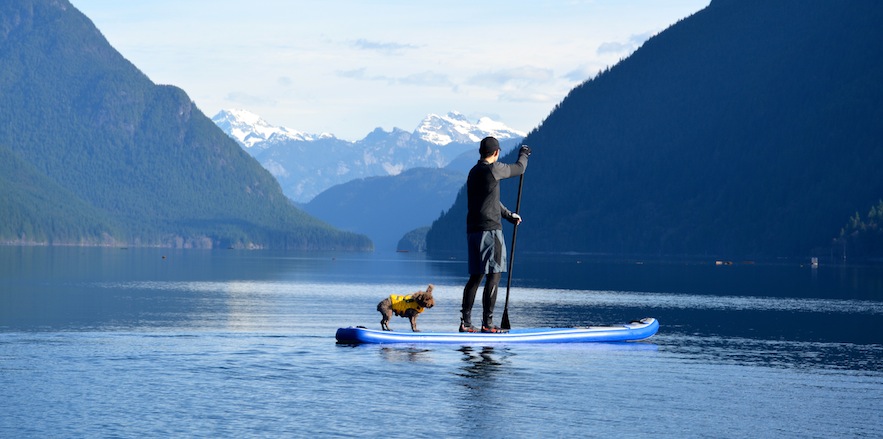 Once again the bungee cords up front do get a little in the way for the dog, but neither of my dogs seem to mind much.
We try and keep Oscar and Seth on the traction pad either right in front of our feet or right behind, especially if we have gear stored under the bungee cords.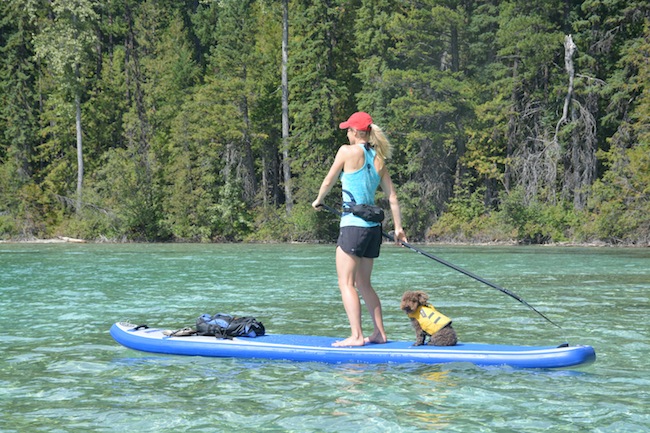 *Tip: The more you can center your dog on the board with you, the better the weight distribution and the easier it will be to paddle… Although there is the possibility of your dog being in the way of your paddle if he is too close to your feet.

The closer your dog is to the nose or tail of the board, the more sluggish it will feel to paddle.  Try out different positions to see what works best.
The Longboard is a couple inches leaner but we still find it to be quite stable. It is not as stable as the Explorer and it may take a little more practice to be fully comfortable with your dog on it.
However it is overall more fun to paddle and we feel it is a great option for paddling with dogs of any size.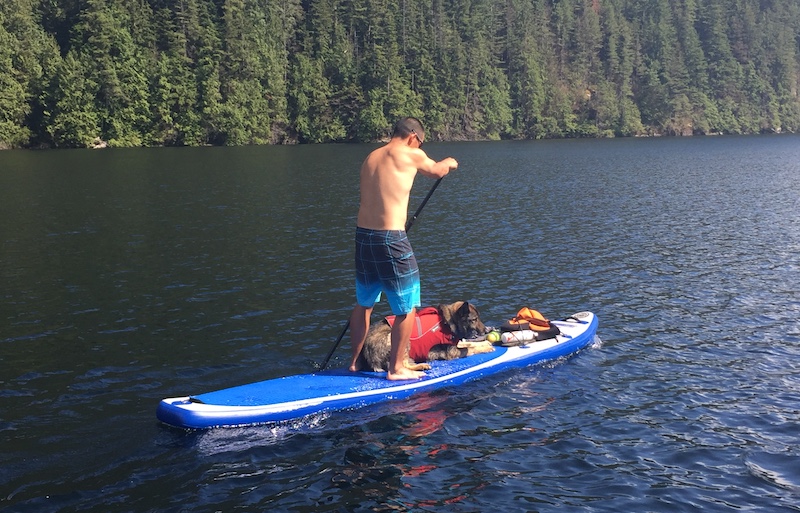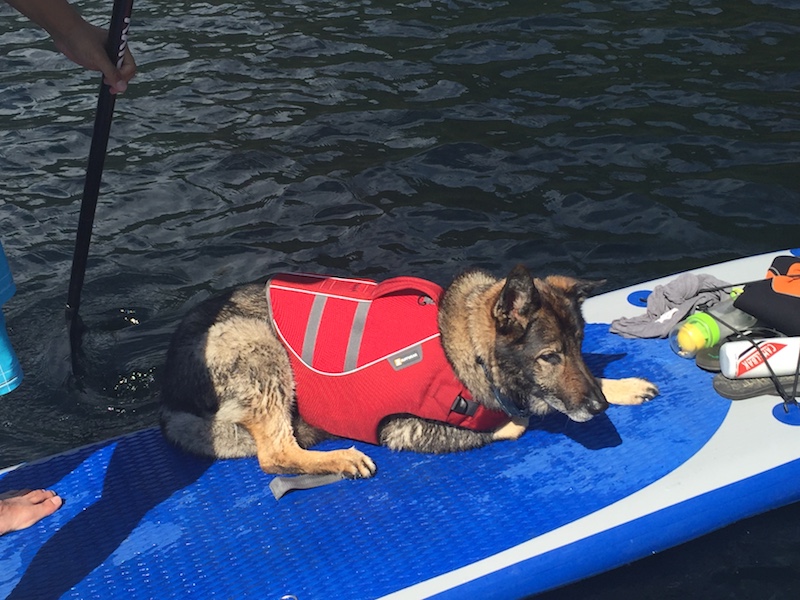 The 11' long Longboard could also work well but the 12'6" board will give you and your dog a little more stability and space to maneuver.
Factors To Consider
In order to be successful paddling with a medium to large dog you will need to consider a few factors such as:
The length, width and thickness of the board
The shape and design of the board
Length of the traction pad
Position of the bungee tie down cords
SUP Size
As I mentioned before a small dog can go on a board of any size. Obviously the larger the board the more stable it is going to be but in general Seth will ride anything and they all seem to work well for him…. Even a small 7' kids SUP.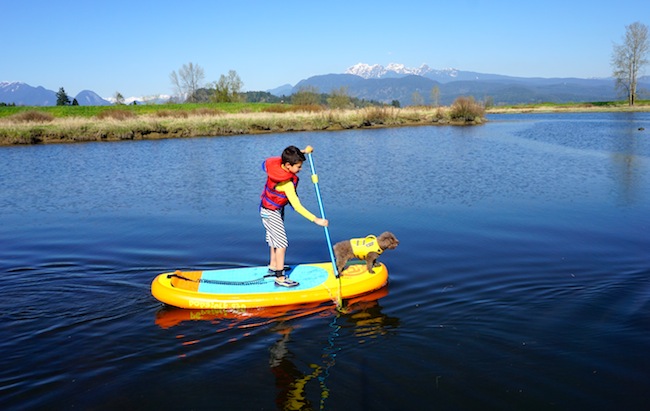 For a medium to large dog we personally prefer a SUP that is 11' or longer and 6' thick.
32" wide or more is going to be super stable and help guarantee that you both stay out of the water.
However a 30" wide ISUP is going to move better and be easier to turn… It will be more of a challenge initially but it is still quite doable with a large dog.
Shape and Design
The rounder the shape the easier it will be to paddle with your furry friend.
A round nose and wider base is more stable. A pointier nose is going to cause you both to feel less stable (at least initially).
We have also noticed that a rounder shape provides more room on the board, whereas a tapered nose and tail will take away some of that space.
I have noticed even when paddling with Seth on the Needlenose (it has a very tapered pointy nose) that there is not as much space up front for him. It is especially noticeable with the 11' model. The 12'6" Needlenose does offer more room.
Traction Pad
With dogs we tend to think we need a long traction pad so there is more room for them to lie down and grip the board.
In truth the traction pad is helpful but in my experience it is not critical.
When we first started paddling with Oscar we had a hard time keeping him centered on the traction pad. He was nervous and wanted to grip the front nose of the board – see pic below… This is not the ideal position for your dog 😉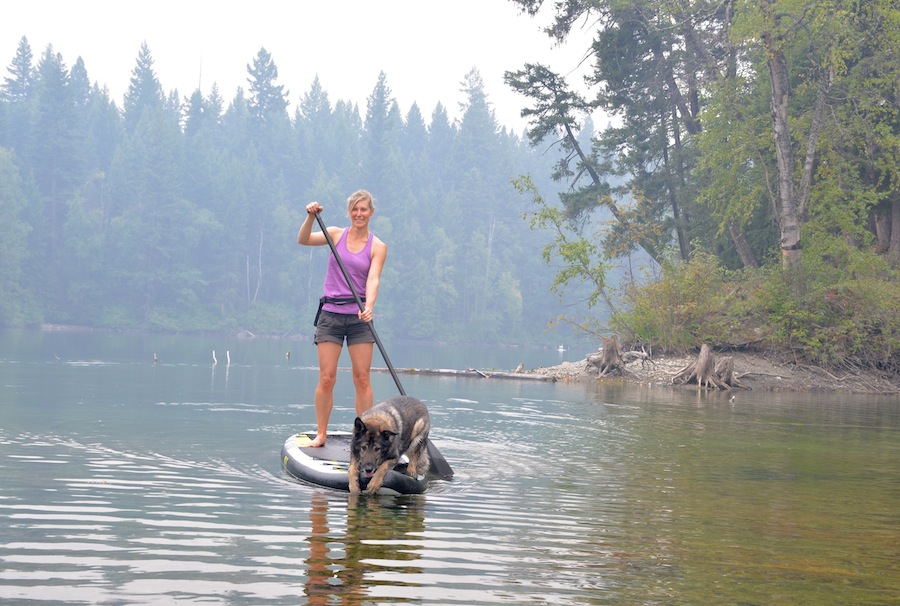 In time we got more successful and now more often than not he gets comfortable laying down on the traction pad.
The traction pad offers more grip for sure even when laying down. When standing and especially when paddling in choppy water or surf, the traction pad is a big help.
For flat-water paddling where stability is less of an issue, I don't find it so critical.
Seth wanders all over my board and he seems as comfortable off the traction pad as he does on. However in rough water he will normally sit right behind my legs, probably for shelter and he grips the board for balance.
So that being said, a long traction pad is helpful but it doesn't necessarily have to make or break your choice.
You can also add your own little separate traction pad for your dog if you want with something like this Paws Pad (at Amazon.com).
I have never tried it but Airhead is a good company and it looks really useful.
It has self-adhesive backing making it easy to attach and can even be added on top of an existing traction pad for added grip or comfort.
If your bungee cords are in the way you can always remove them so there is more space to add the Paws Pad.
Bungee Cords
I love bungee tie down cords on my ISUP as they allow me to secure my water bottle and a dry bag with my essentials.
However for dogs they are usually in the way and a bit of a nuisance.
Both my dogs will just sit on top of the bungee cords.  They have both also tripped on gear that I have stored under the bungee cords.
I don't worry about it too much. We encourage both dogs to sit on the traction pad away from the bungees if possible but we're not always successful. Seth especially loves to ride shotgun at the tip of the board.
If you are having an issue with it and you really find the bungees to be in the way you can always remove them. Then you could add a Paws Pad up front if that is where your dog prefers to sit.
Other Options For Paddling With Your Dog
Below are more inflatable paddle boards that we find work really well for paddling with a dog.
They are a range of sizes so they will suit different needs and different breeds.
Airhead Fit – The traction pad is long and bungee cords are at very tip of the board. Nice stable size 10'6" long, 32" wide and 6" thick, great for yoga. Can hold up to 300 lbs.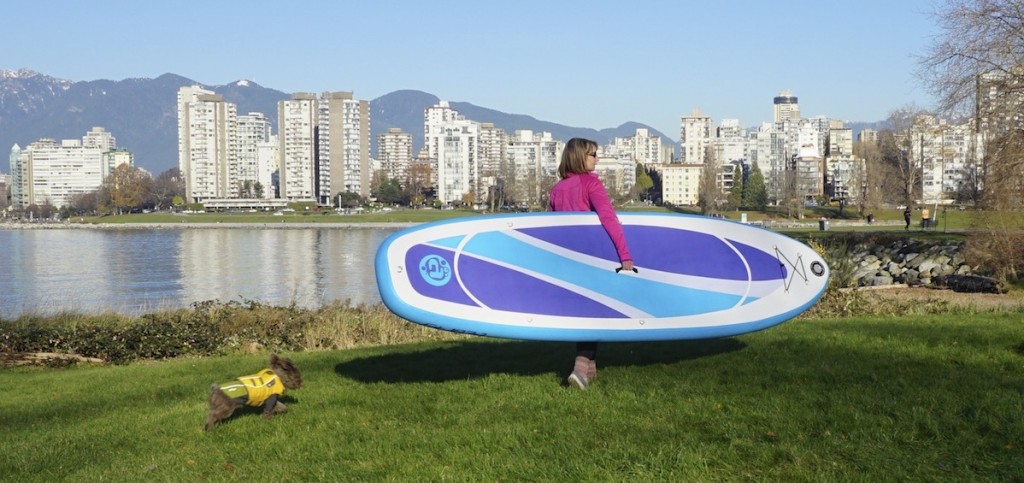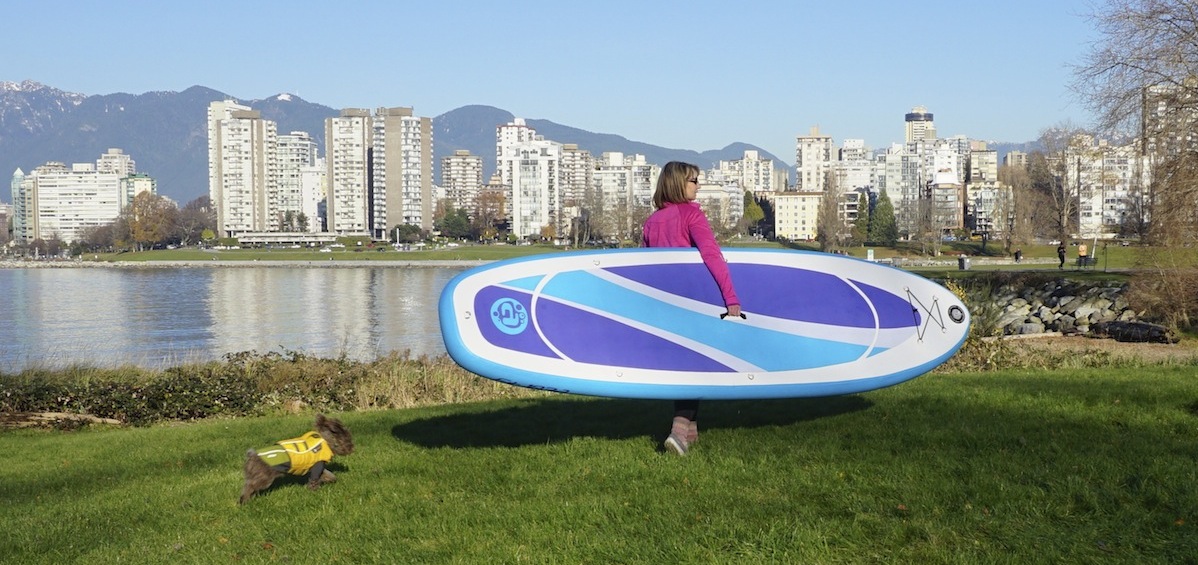 Lokahi Water Explorer – 10'6" long, 33"wide, 5" thick. Can hold 250+ lbs.  You will notice a little more dip because of the 5″ thickness but it is still stable and easy to paddle.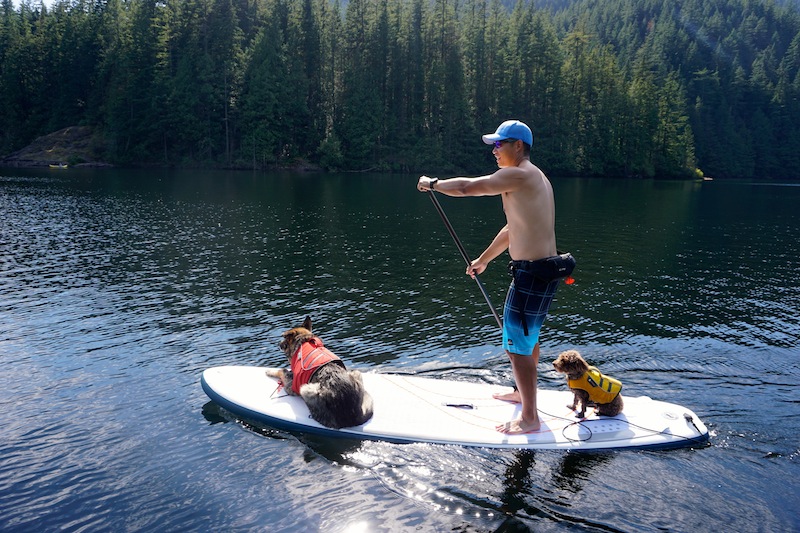 NIXY Newport – 10'6" long, 33" wide, 6" thick. Can hold up to 270 lbs.  The Newport is solid and even with the smaller length would suit dogs of all sizes.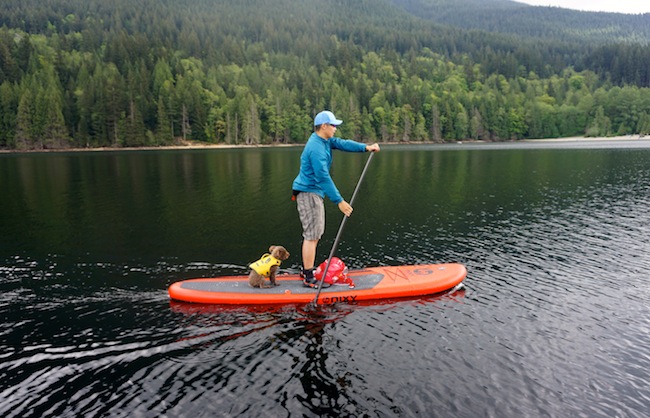 NIXY 10'6″ Venice – 10'6″ long, 34″ wide, 6″ thick.  Can hold up to 400 lbs.  Ultra stable, feel free to load this one up and feel totally comfortable.
NRS Baron 6 – 11'4" long, 36" wide, 6" thick. Can hold up to 275 lbs.  The Baron is a beast, a little sluggish in the water but super stable.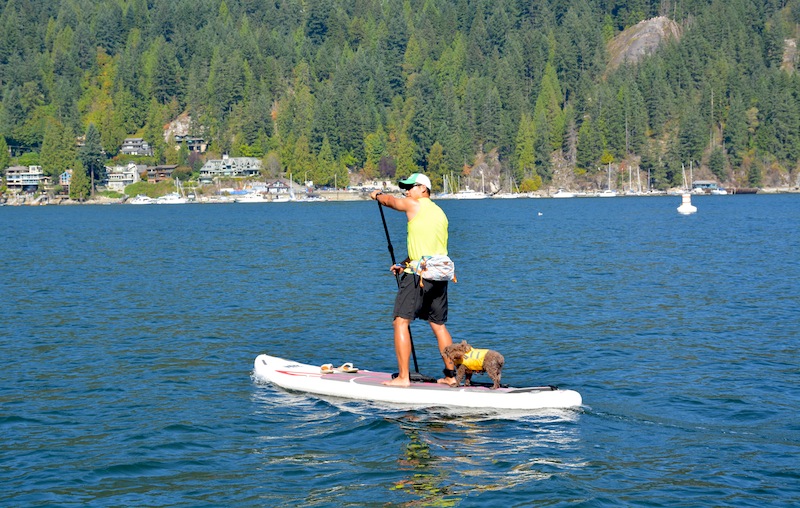 Red Paddle Co Ride – 10'6" long, 32" wide, 4.72" thick. Can hold up to 220 lbs. Better for small to medium size dog.  No bungee cords to get in the way but small traction pad.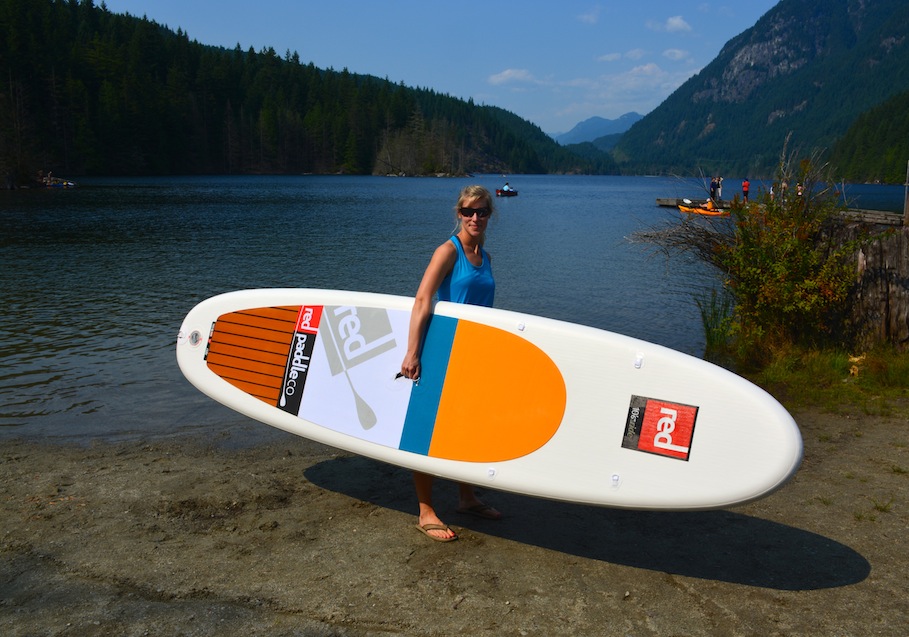 Red Paddle Co Explorer – 12'6" long, 32" wide, 5.9" thick. Rider weight unlimited.  Good for larger dogs, great board, paddles well.
Starboard Astro Blend Zen or Deluxe – Blend Zen:  11'2" long, 32' wide, 4.7" thick. Can hold up to 188 lbs. OR Blend Deluxe:  11'2"long, 32' wide, 6"thick. Can hold up to 210 lbs.
The Zen is good for small to medium size dogs, the Blend Deluxe can hold any size dog easily.  Great board, very versatile.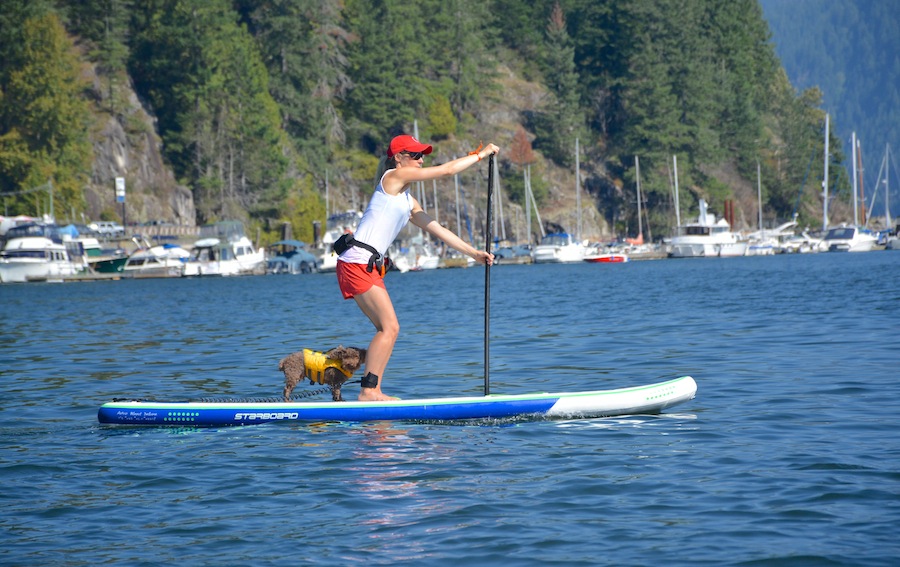 Tantrum Tow Ropes – 12'6" long, 31" wide, 6" thick. Can hold up to 320 lbs.  You lose a little space with the pointy nose up front but with the longer size it still works well and glides nicely.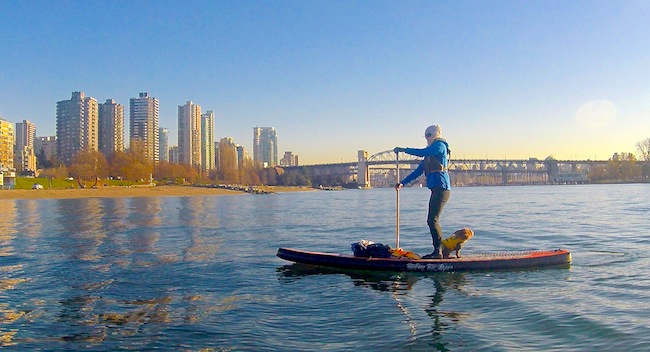 Ten Toes Board Emporium Weekender – 10' long, 30" wide, 6" thick. Can hold up to 250 lbs.  Better suited for small to medium size dog.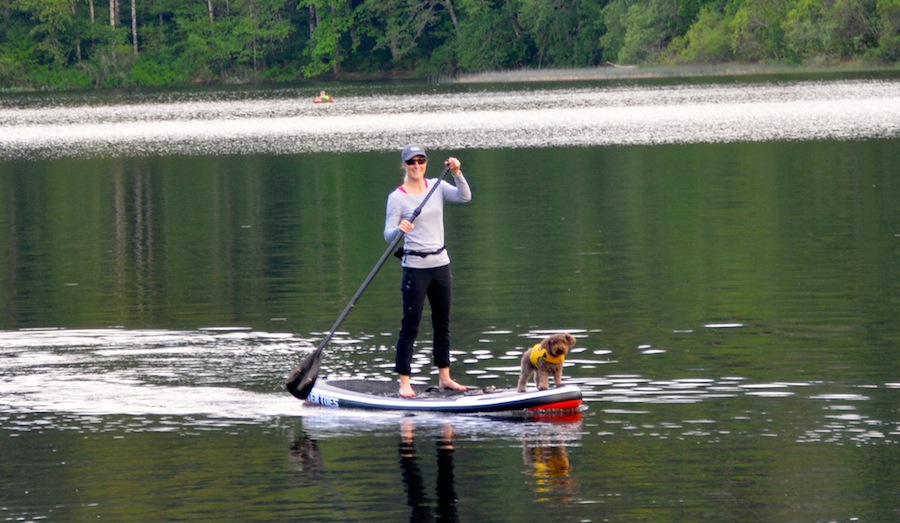 For more information on any of the paddle boards we mentioned please see our ISUP Reviews.