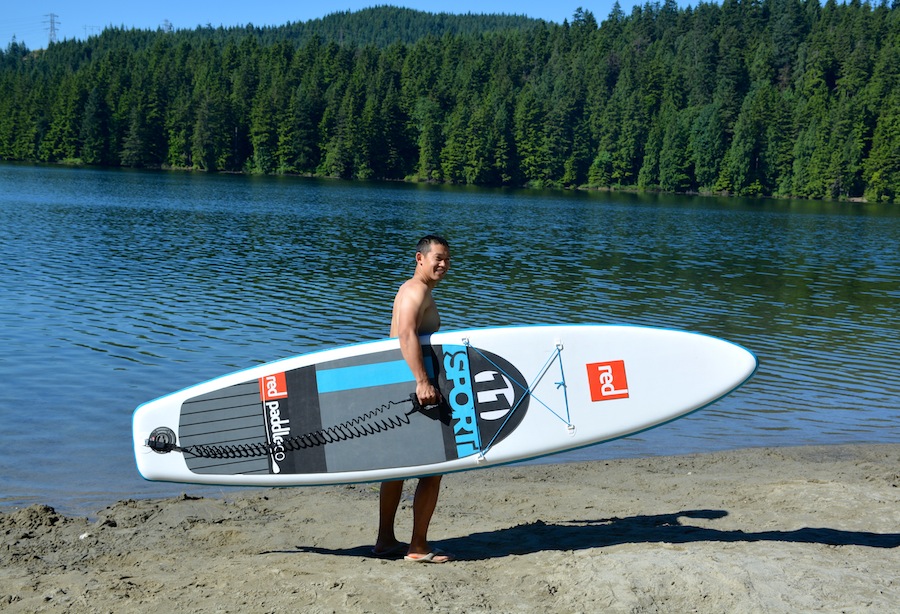 The 2015 Red Sport inflatable SUP has a streamlined design and functional features that makes this board an awesome addition to the inflatable SUP world.
I love that Red has added an 11' ISUP to their lineup. The size and shape of this board make it an ideal choice for anyone with a small to average sized frame who wants a performance board with all the pro features from one of the best ISUP companies out there.
The tapered nose helps the Sport to cut nicely through the water. The squared off back end gives it a little more stability.
The front bungee cord system is ideal for securing your water bottle or gear and the very professional looking fin helps with tracking and performance.
This board can be inflated right up to 20 PSI  and it includes a rocker stiffening system with two side batons that help to create an extremely rigid recreational performance board.
Red Sport Quick Stats
11 feet long
30" wide
4.72" thick
weighs 25 lbs.
air pressure: 20 PSI
can hold up to 220 lbs.
US fin box with removable fin
Material: 120mm high pressure drop-stitch material
Pros: Versatile size, RSS system (rocker stiffening system), front bungee system, great removable fin with US fin box, rigid, easy to handle and maneuver, fantastic rolling backpack carry bag included, new Titan pump included in package
Cons: A little less stable for beginners
Where To Buy
Click here for the Red Paddle Co 11′ Sport ISUP at PumpedUpSup.com. – use coupon code ISWPUS75 at checkout for $75 off your order of $500 or more.
Click here for the Red Paddle Co 11′ Sport at Outdoorplay.com
Click here for the Red Paddle Co 11′ Sport ISUP at Amazon.com. – use coupon code ISUPWRLD for $20 off your purchase of the Red Paddle Co Sport through this link
Click here for the Red Paddle Co Sport ISUP at GreenWaterSports.com.
More In-Depth Info On The Red Paddle Co Sport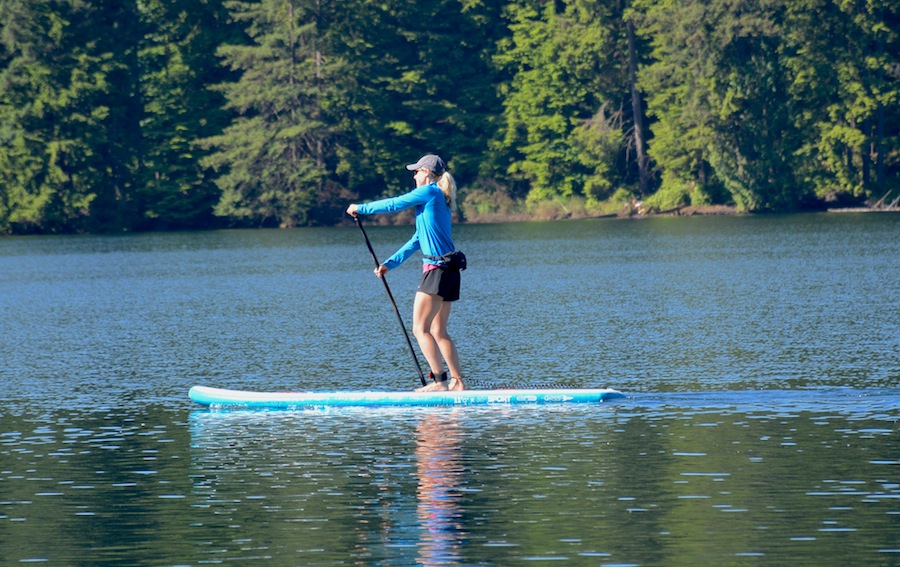 Red Paddle Co specializes in inflatable SUP boards and have been making them since 2008.
They make it a point to design and manufacturer some of the highest quality ISUP's on the market.
Their boards rarely if ever disappoint and you can usually expect a lot of little extras included in your Red Paddle Co SUP package.
The prices are typically a little higher but you are getting a great quality product and some pretty cool accessories.
What I like most about the Sport model is the design and versatility of it.
The 11' length and the sleek design give it an edge performance wise over their previous slightly shorter models.
I can really appreciate the fact that they now have a more streamlined ISUP that is not quite as long or thick as their Explorer model making it easier to paddle with less reach.
Important Features On The Red Sport
Bungee Cord System
I like having the bungee cords up front for touring around. It is ideal for securing your water bottle or dry bag.
The bungee system on this board is fairly large, you can fit quite a bit under it.
The bungee cords are attached to four plastic D-rings.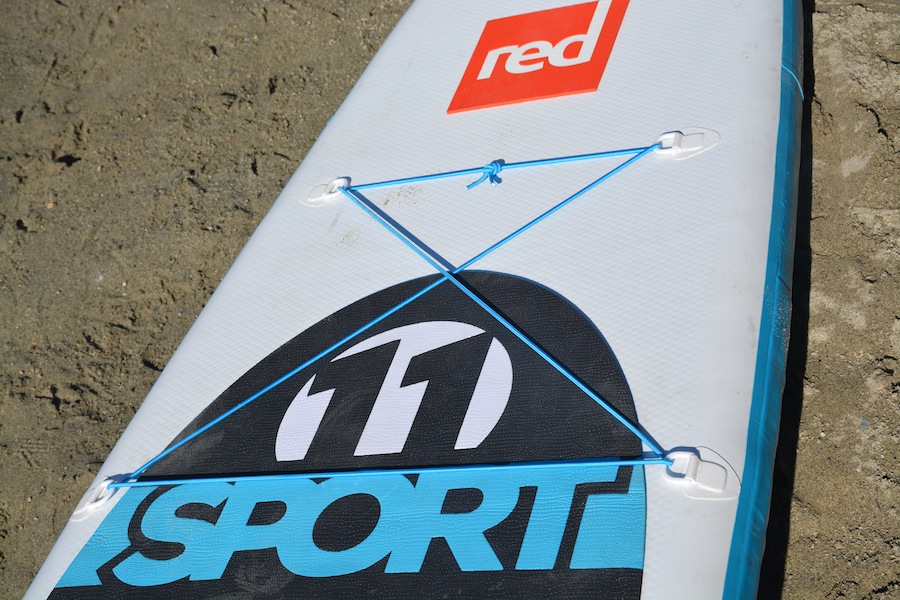 Deck Pad
The deck pad looks really nice and adds to the overall design and nice look of this board.
I found the deck pad a little thinner than some others but overall it is comfortable to stand or kneel on and a good size.
Tapered Nose
The tapered nose and more streamlined design give the Sport a really 'sporty' look. It is definitely appropriately named.
The sleeker design allows it to cut through the water nicely.  I found it paddled well in flat water as well as in some waves and chop.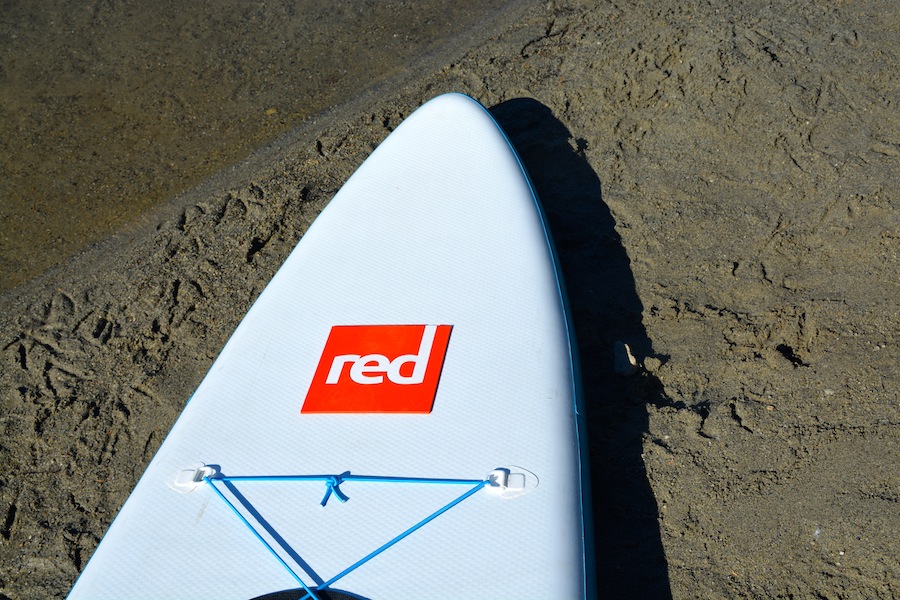 Rocker Stiffening System (RSS)
The RSS is a unique feature to Red Paddle Co boards. It includes two stiffening battens that slide into pockets on each side of the Sport.
This system eliminates any possible flex and increases rigidity.
The stiffening strips are removable so you can easily roll the board up and they fit nicely in the backpack carry bag.
I paddled the Sport with and without the stiffening strips and I actually enjoyed paddling it both ways.   It is still very rigid even without the battens inserted.
However with them inserted they add that slight bit of extra difference in rigidity, which helps the overall performance.
To insert the battens you will need to inflate the board up to around 1 PSI then insert them in the slots.  It is a little tricky the first few times, I had to use a lot of force to get the battens in.  However it seems to loosen up after a couple times out and then it gets easier.  To remove them deflate the board and just pull them out.
Inserting the battens does add to the overall setup time, but I think once you get used to sliding them in, it goes quite quickly.

US Box Fin System & Fin

Some people really like the US fin box on their SUP boards because it allows you to switch out the fin with other fin options. It also provides a super solid base for the fin.
I'm not that fond of having to fiddle with the little parts and screw the fin into place. I've gotten used to the cheaper versions where you just slide the fin into the slot and lock it in.
However there is no doubt that the US fin box is a more professional option and will definitely appeal to a more advanced rider.  After you've done it once, it is easy enough to attach the fin.
The fin that comes with this board is really cool.  I like the shape, the look and the durability of it.  I found the fin did it's job well and kept the board tracking straight.
D-Rings
There are four plastic D-rings up front being used by the bungee cord system and one metal D-ring at the back, which is ideal for securing your board leash.
All 5 D-rings are strong and well placed on the board.
Drop-Stitch Material
All of the Red Paddle Co boards are built using Tec Air specifications. The high-pressure drop-stitch material is extremely durable and strong.
When fully inflated the Sport is rock hard.
When I had this board out I had a few people comment that they couldn't believe it was inflatable.
Carry Handle
There is one carry handle at the center of the board. The carry handle is just nylon and feels strong.  It is basic but does the trick.
At 25 lbs. I found it easy enough to carry.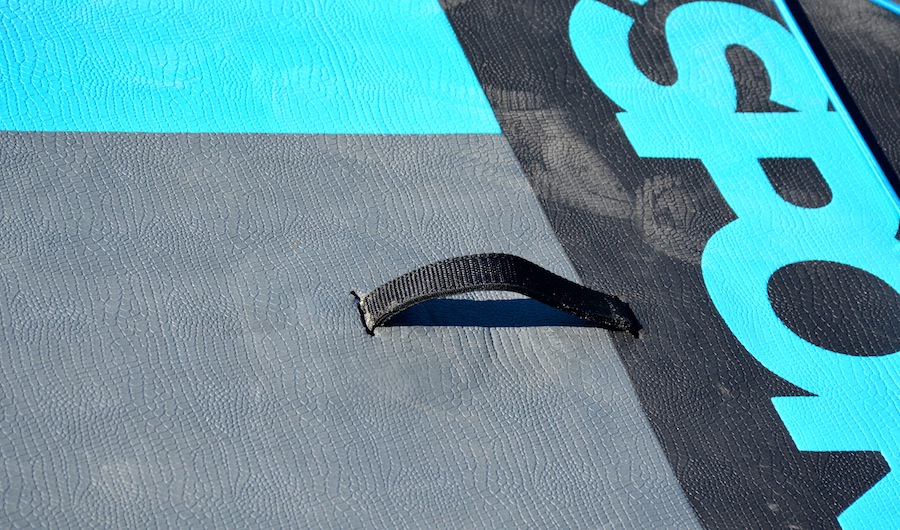 Top-Of-The-Line Accessories
There are two really key accessories that come with the Sport that are worth knowing about.
Titan Pump
The Titan Pump is not only functionally designed but it is also one of the fastest manual pumps for inflating a SUP board.
It will inflate the Red Sport up to 20 PSI faster and with less effort.
It is essentially two pumps in one. There is a low pressure pump and a high pressure pump.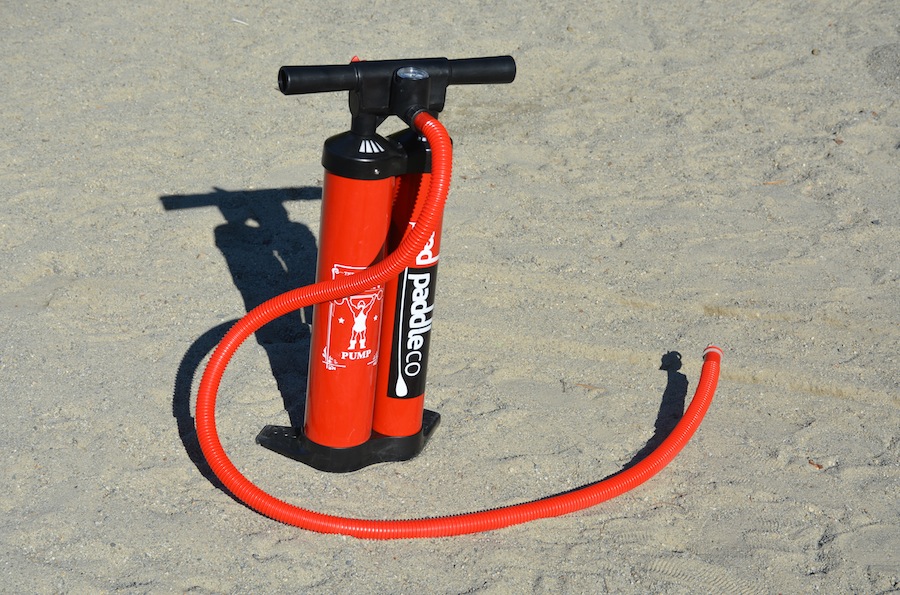 You switch pumps by stitching gears once you reach around the 7 PSI mark or whenever you find it is getting difficult.
Once you have switched gears to the high-pressure mode pumping gets easier and allows you to quickly reach the right PSI level without sweating buckets before getting on the water.
The Titan pump has an extra long handle that actually makes pumping easier by keeping your frame more open so you are not as hunched when pushing down and pulling up.
I found the pump worked great.  I still prefer using an electric pump personally but overall I thought the Titan pump worked really well and is a big improvement over the pumps that come with most inflatable SUP boards.
Most SUP electric pumps only seem to inflate up to 15 PSI, so if you do use an electric pump you could easily top off the last extra 5 PSI with this pump in high-pressure mode.
The guys at Red Paddle Co made this great video comparing the performance of the Titan Pump to the other Red Paddle Co pumps.  You can see in the video how much faster the Titan is to inflate the ISUP.
Backpack
I have been a longtime fan of the Red Paddle Co backpack and this year it has been improved upon even more.
This is one of the best quality ISUP backpacks you will find. Every detail has been thought of and it is extremely functional.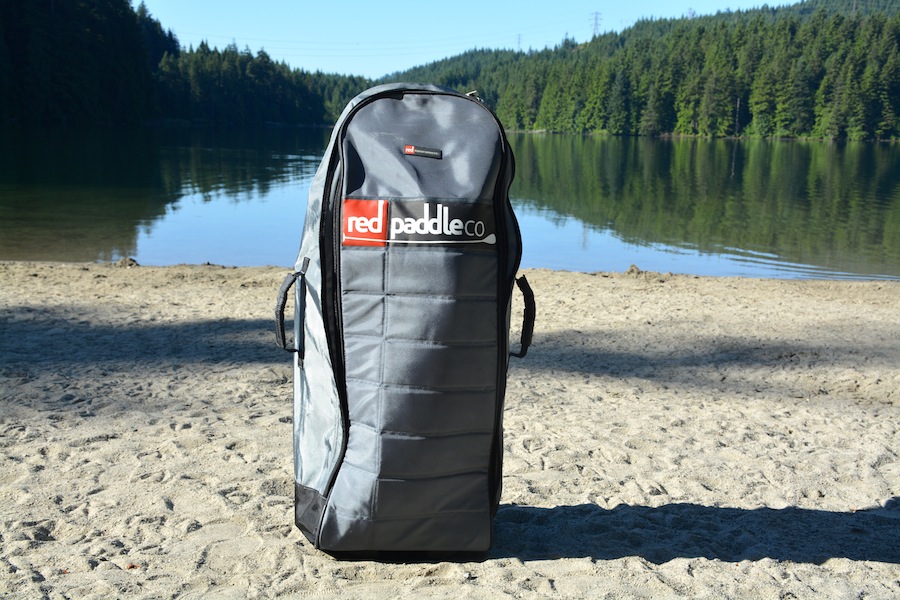 So often the carry bags that come with the inflatable SUP's are fairly cheaply made. The straps aren't super strong or the material might be a bit flimsy.
The Red backpack is extremely well made, very durable and perfect for transporting your board absolutely anywhere.
The wheels make it easy to pull and the padded backpack straps can be used or tucked inside so they don't get in the way.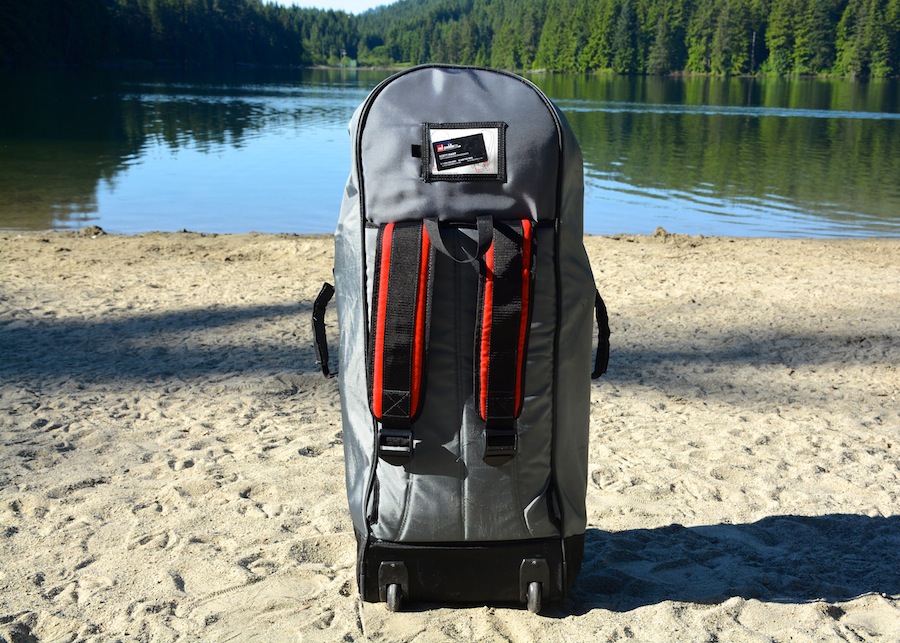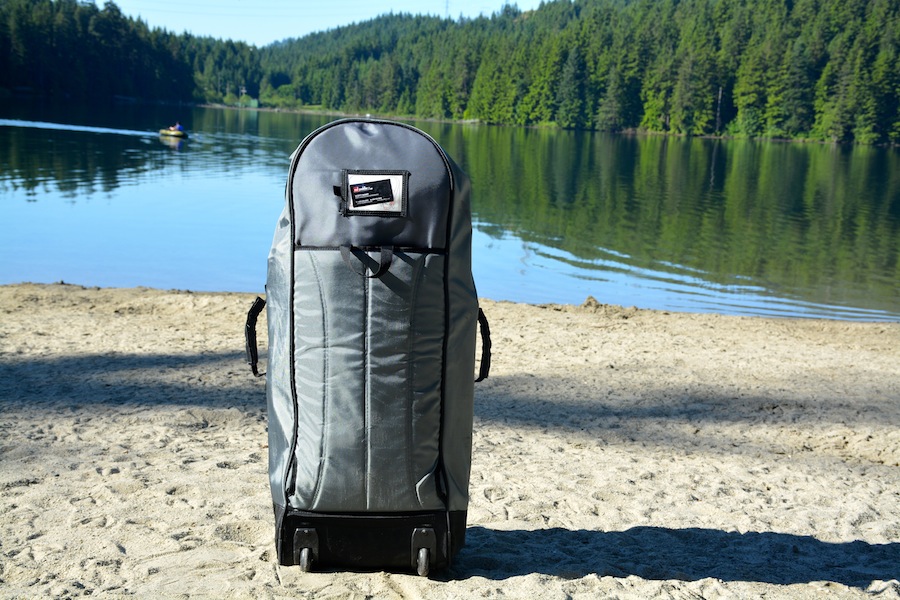 Some of the awesome features of this bag are:
Integrated wheels – perfect for traveling
Heavy duty front loading coil zip – makes loading and unloading way easier
Internal load straps – these straps hold the board in place when packed inside
Padded backpack straps – they are very comfortable and strong
Waist strap – for added support and stability when carrying the bag on your back
Side grasp handles – I found I used these often when loading and unloading the bag in and out of my car
Double stitched seams = very durable
Address window – makes sure your board will get back to you if lost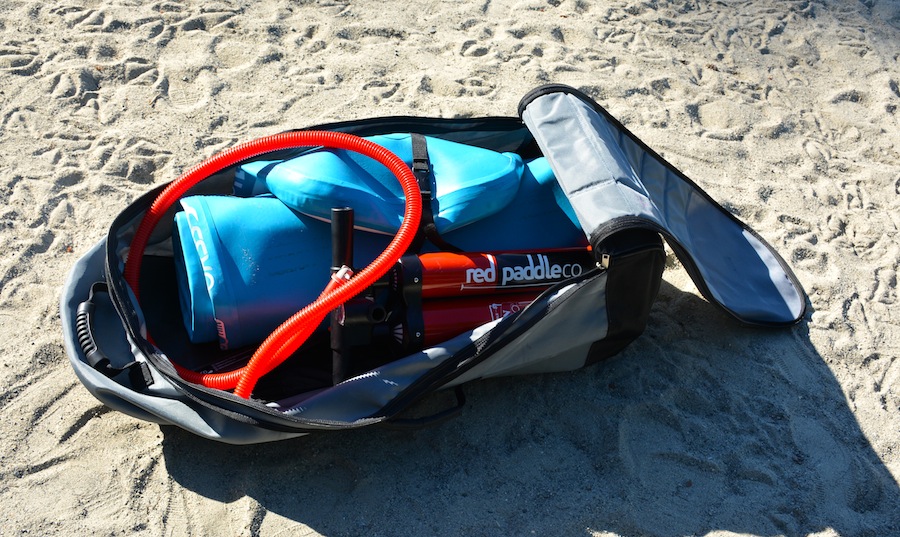 Red Sport Setup
I found setup took a little longer with adding the stiffening battens but overall it was still super fast.
Take the board out of the bag, unroll and inflate. With the included Titan pump it took roughly 8 minutes to reach 20 PSI.  You might be able to do it even faster.
Once inflated you can add the battens and attach the fin.  It took me just over ten minutes to get on the water.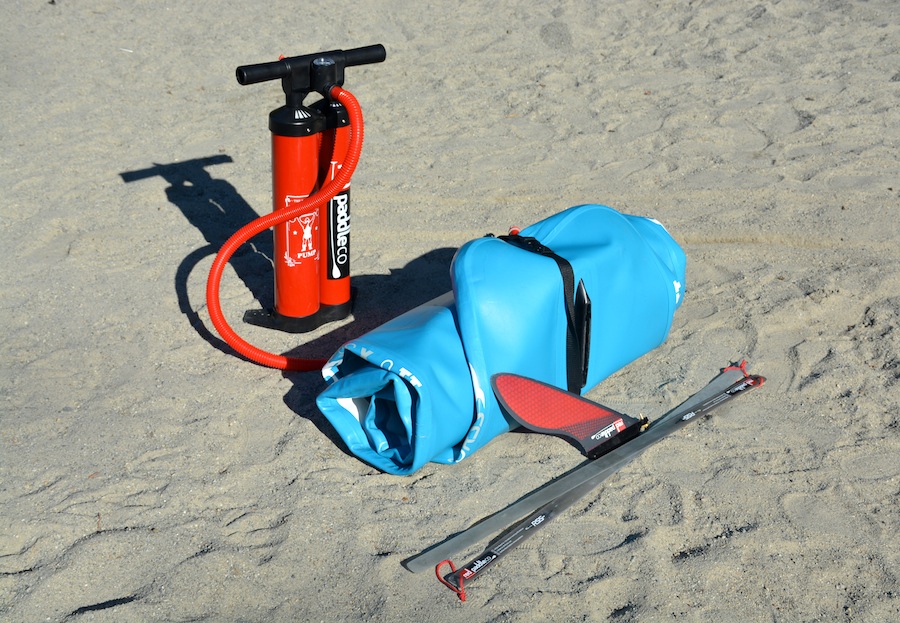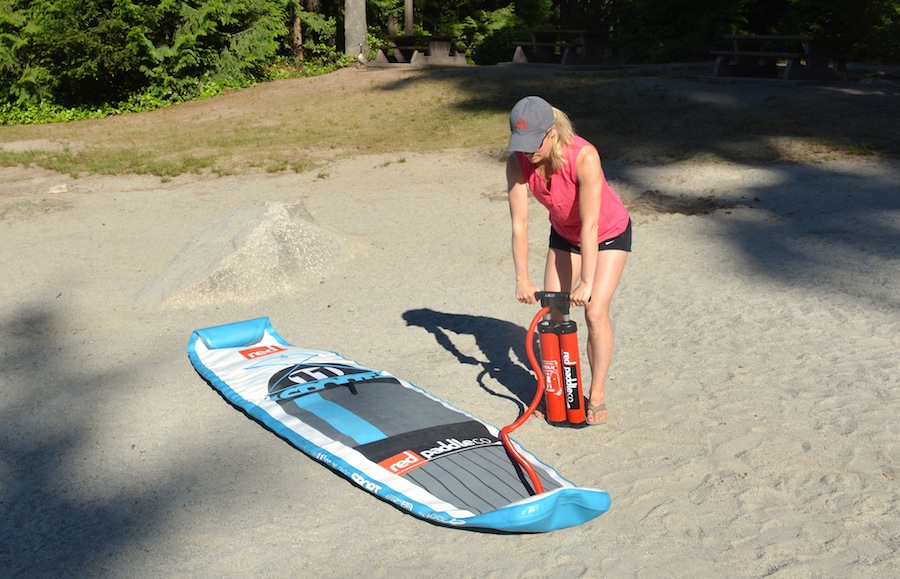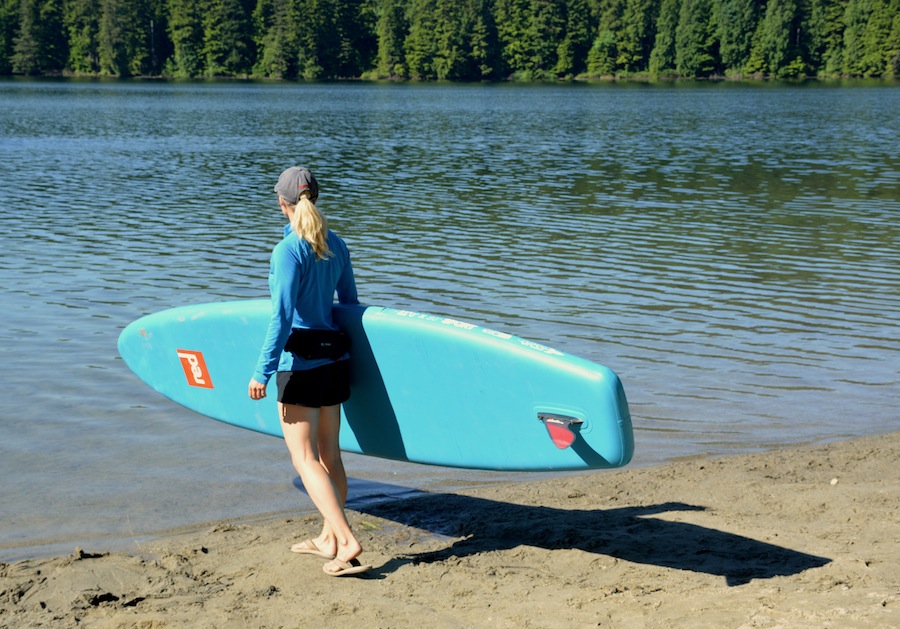 Red Sport Performance
The Sport can get some decent speed.  It's not the fastest ISUP I've tried but for a recreational touring board it paddles well, glides nicely and is easy to turn and handle.
I had it out in some heavy wind and I had no issues pushing through.  The tracking was good and overall it was a lot of fun to paddle.
It is great on flat-water lakes or rivers and perfect for ocean bays as well.
I don't have any surf around my area but it could definitely handle small waves with no problem.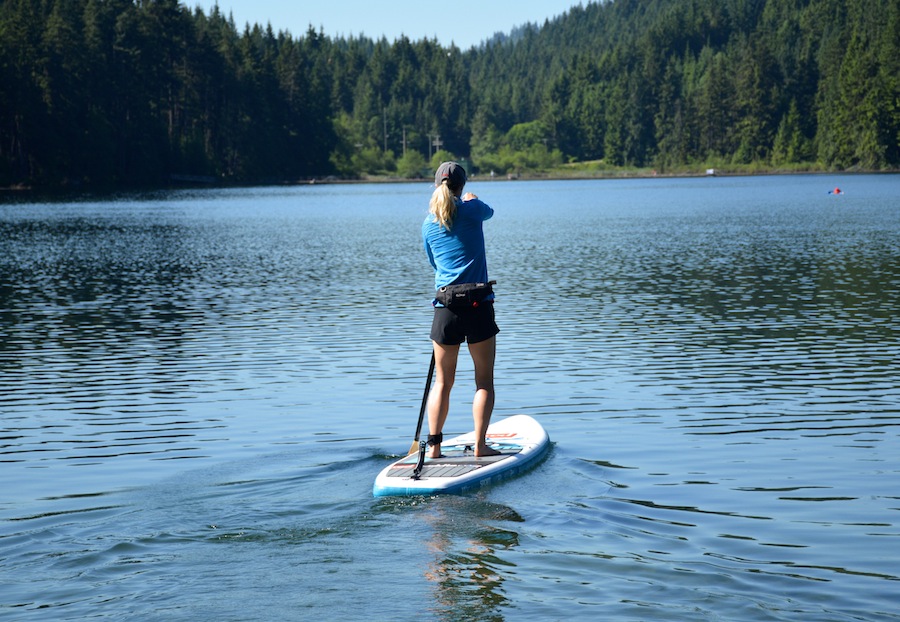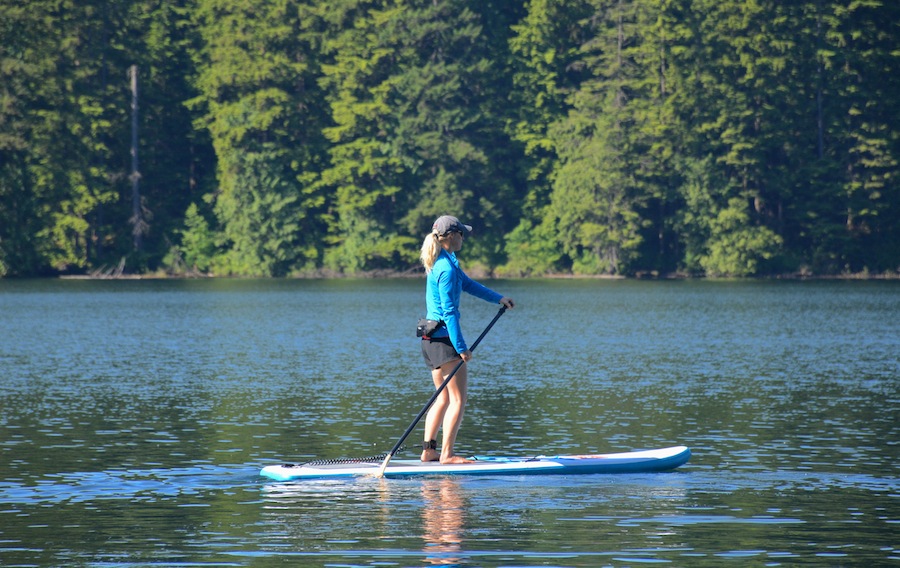 Stability
I thought that this board was quite stable even with the sleek design, 4.72" thickness and 30" width.  It felt rigid to me and I felt quite secure paddling it with my little dog riding up front even in wind.
I had a few brand new stand-up paddlers try out the Sport and they found it a bit wobbly and preferred to be on other 6" thick boards as they provided so much more stability making them feel more secure.
So there might be a bit of a learning curve with newbies but I think they'd get used to the Sport quickly and ultimately appreciate the fact that this is a great quality performance board.
The Negatives
The only negatives I found were that it is a little less stable compared to many other 11′ boards.  The size makes it ideal for someone with a small to average size frame.  I think a larger person would be better off looking at the Explorer SUP.
It glides really nicely and although I found adding the stiffening battens a bit of a hassle at first, I got used to inserting them quickly and love having the option of adding extra rigidity to the board.
The price of the Red Sport is of course a little higher than average but keep in mind that you are getting a high quality rolling backpack, the Titan pump, the RSS system and the nice fin included in your package.
More Pics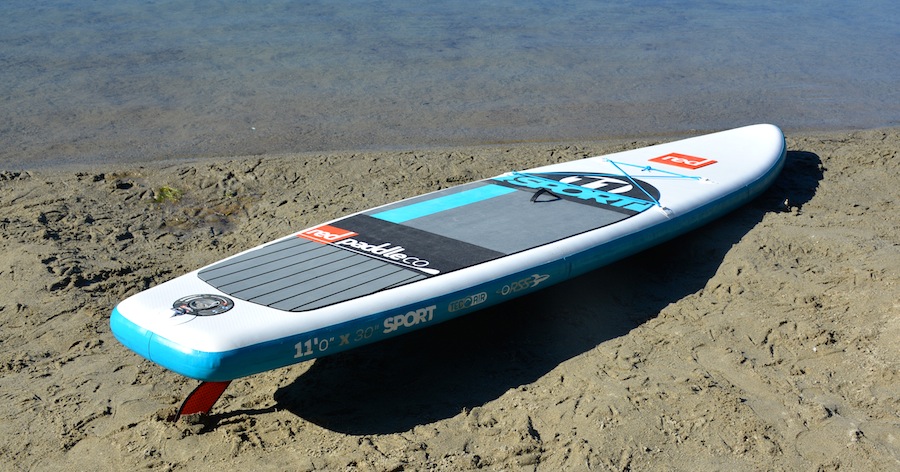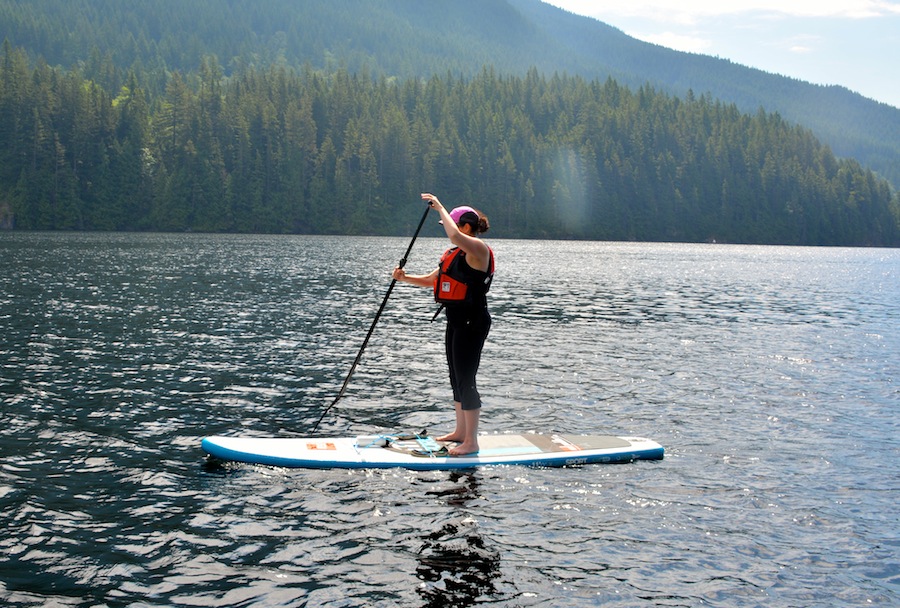 Where To Buy The Red Paddle Co Sport ISUP
Click Here For The Red Paddle Co 11′ Sport ISUP At PumpedUpSup.com. – use coupon code ISWPUS75 at checkout for $75 off your order of $500 or more.
Click here for the Red Paddle Co 11′ Sport at Outdoorplay.com
Click Here For The Red Paddle Co 11′ Sport Inflatable SUP At Amazon.com. – use coupon code ISUPWRLD for $20 off your purchase of the Red Paddle Co Sport through this link
Click Here For The Red Paddle Co Sport ISUP At GreenWaterSports.com.
Did You Know?
By clicking on any of the above seller links you can help keep ISUPworld.com growing. When you make a purchase after clicking on our links, the retailer will contribute a portion of the sale to help support this site. It won't cost you anything extra and it's a simple way to help us fund our gear reviews. Thanks!