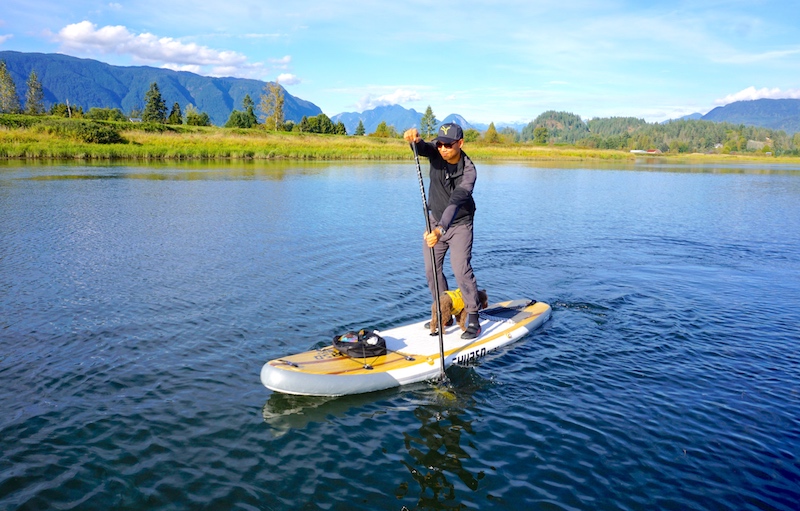 The WaterWalker paddle board by Thurso Surf is a fun all-round ISUP that packs away into a backpack and can be taken anywhere.
We have already reviewed the 11′ version of this board and just got the opportunity to try out the slightly smaller 10'6″ option as well.
What I love most about this ISUP is the fact that it is so versatile.
It is one that can be paddled on just about any type of water and by any person, no matter the skill level.
We also found it to be surprisingly nimble.  It takes very little effort to get this board moving and it turns quickly with ease.  Yet it doesn't feel like a lightweight.  It holds its own even in wind and chop.
I personally really quite like the smaller size.  It is not so small that it feels flimsy and it is not so large that it feels heavy.  The 10'6″ length is really nice for easy paddling, quick turns and versatility.
All in all the 10'6″ WaterWalker is a ton of fun, highly portable and stable enough to support you plus your dog if you have one that tags along for the ride like mine does. 🙂
Our experience with the Thurso Surf company has been all good and we love that they include so much in their package.
Besides the board you will also get:
Backpack Carry Bag
3-Piece Carbon Shaft Paddle
3 Removable Fins
Coiled SUP Leash
Deck Cooler Bag
Hand Pump
Repair Kit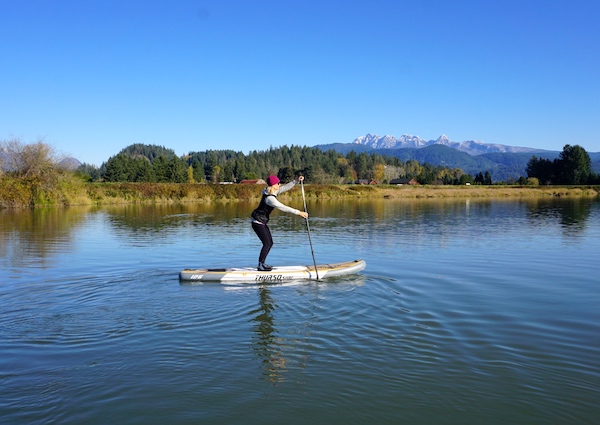 Specs For The Thurso Surf WaterWalker
There are two size options for this board, 10'6″ or 11″ long.  The difference between the two are that the 10'6″ WaterWalker is a little easier to turn and maneuver and takes less effort to get moving.
The 11″ one offers more space for gear, kids or dogs, greater stability and more rigidity for heavier loads.
Below are the specs for the smaller board.
10'6″ long
31″ wide
6" thick
weighs 24 lbs.
can hold up to lbs. 280 lbs.
Material Two-layer construction, Military Grade PVC layer on top of a drop stitch internal fabric layer.  The material is very durable.
Best Suited For: Lakes, Ocean, Rivers – Allround Versatility
Pros: Easy to maneuver, stable, easy to paddle, tri-fin configuration for versatility, can hold a lot of weight, quick to inflate, easy to carry, comes with great accessories
Cons: No kick tail
Where To Buy The WaterWalker
Click here for the best deal on the Thurso Surf WaterWalker ISUP at Amazon.com.
More In-Depth Info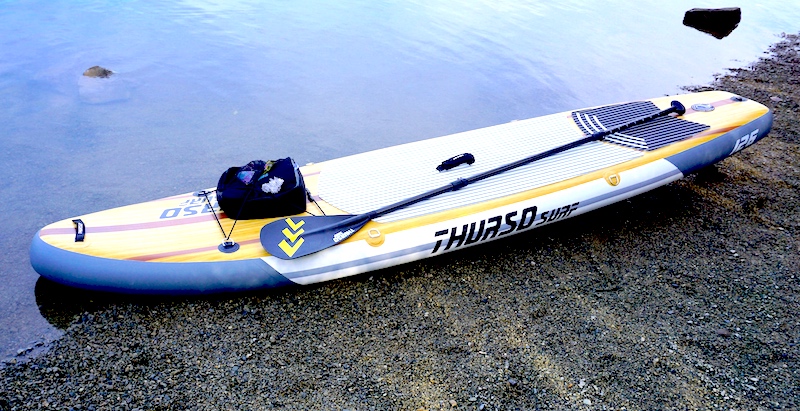 This is another great addition to the Thurso Surf paddle board family. We had a lot of fun reviewing this ISUP.
A good portable all-round design is hard to beat. This is a board that anyone could feel comfortable on, from beginners to advanced, from old to young.
For that reason it is ideal for sharing amongst family members or taking out with friends.
We found it easy to paddle and fun to use. It can easily hold one large dog or two smaller dogs and there is decent room for storing gear under the bungee deck cords.
We like the wood-grain color of the PVC deck material as well that is standard for all Thurso Surf ISUP's. It gives the board a natural look even though it is still an inflatable made with PVC material.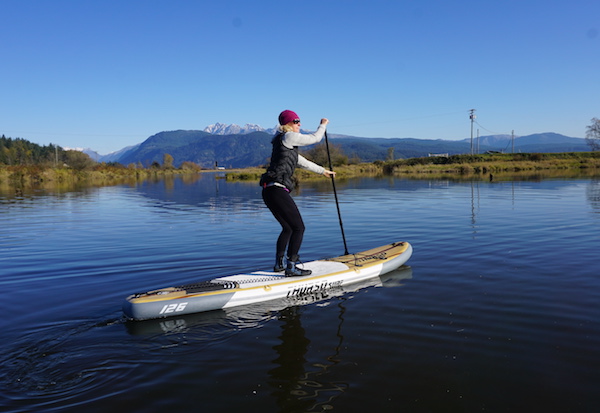 Important Features
Bungee Deck Cords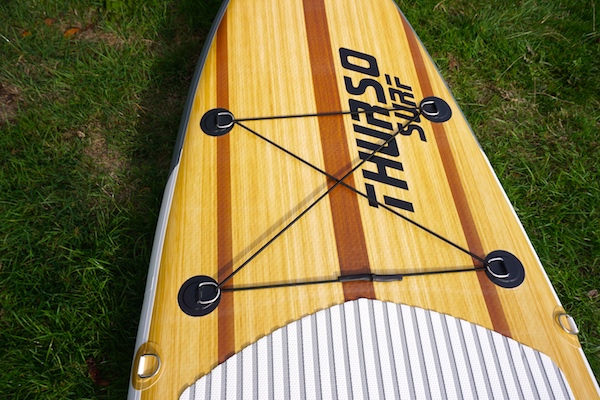 Deck bungees are quite common these days on inflatable SUP's and they are very handy for storing gear such as a dry bag, PFD, water bottle, shoes, etc.
The size of the bungees can vary by board and some cover a larger space than others. I don't like when they are too small as it becomes difficult to store much.
The bungees on this board are a good size. You can easily fit a dry bag, a PFD and a water bottle.
They are very functional and are attached securely to stainless steel D-rings.
D-rings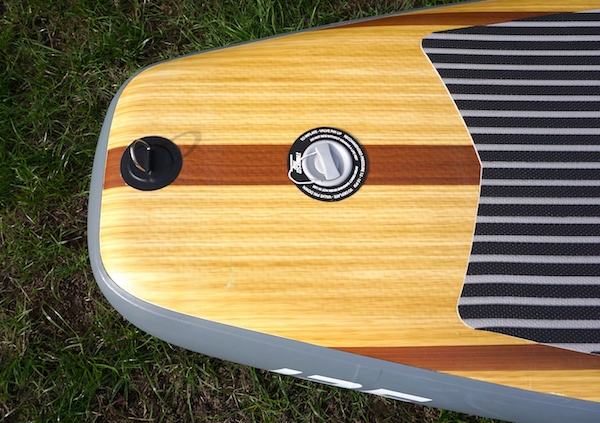 There are 9 D-rings in total.
4 are being used up front by the bungee cords.
There are two spaced out on either side of the traction pad.
Then there is one at the tail end of the board that is ideal for attaching your leash.
Fins
New for 2017 Thurso Surf has included three removable fins instead of one.
There is one large center fin as well as two smaller side fins.
All three fins are removable so you can customize it as you wish depending on the type of water you are in.
The fins are very secure once attached and a great help with tracking and turning.
They each feature the Quick Lock system so you can lock them down without using any tools or fear of losing any extra little parts.
Carry Handle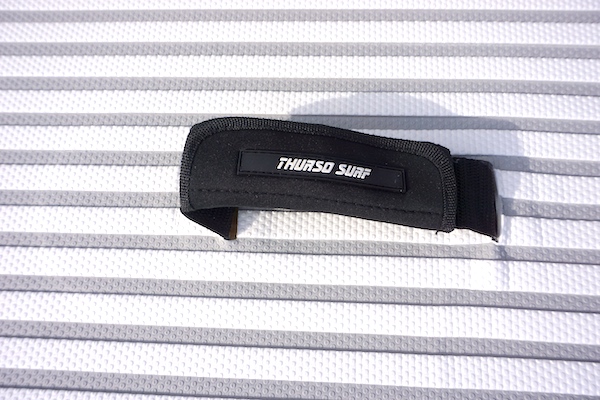 The center carry handle has a neoprene removable cover that makes it very comfortable to carry.
You can open the neoprene cover and use it to secure your paddle to the board.
This is a great feature that can be used when carrying your board and paddle to the water or even for those times when you need to be hands-free and you don't want to risk your paddle falling into the water such as when doing stretches, yoga, fishing, etc.
There is also a handle at the nose of the board as well.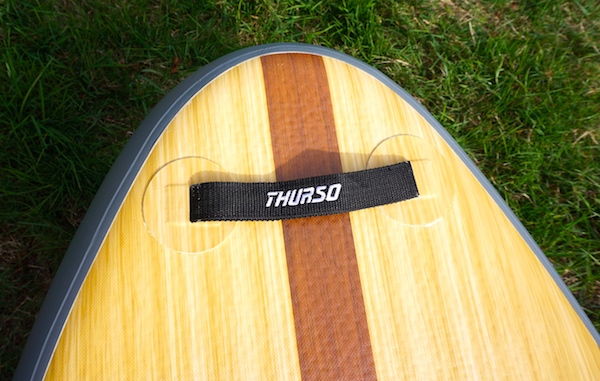 Traction Pad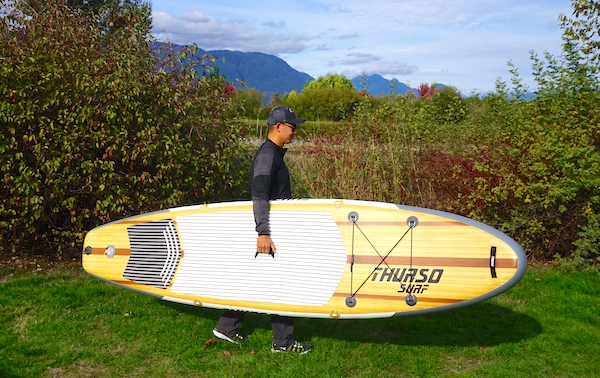 The traction pad is comfortable to stand or kneel on and really helps to grip the board with your toes.
The traction pad goes from the back of the board right up to the front bungee decking.
It is a decent length for moving around and positioning yourself where you need to be to paddle efficiently.
Included Accessories
Deck Cooler Bag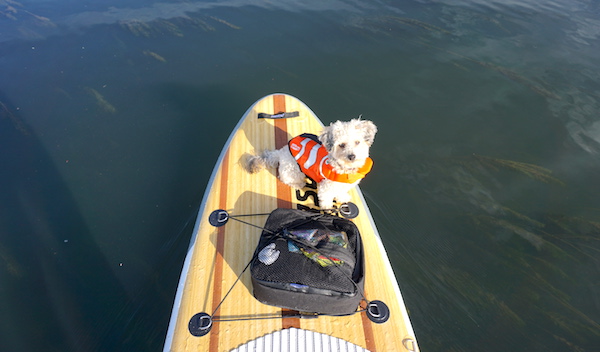 The deck cooler bag that comes with this package is awesome.
The insulated bag can hold 10 cans and there is also a zippered mesh pocket on the outside for storing easy access items.
The bag is water resistant but not completely waterproof.
Even with splashes I have never had anything get wet that has been stored inside.  However to play it safe I would suggest storing items that absolutely can not get wet like your phone or camera inside a separate dry bag.
The heavy duty zipper on the outside seals it tight and the inside is insulated so it helps to keep your food and drinks cool.
Included with the bag are four suction cups with hooks and four bungees to attach the bag to your board.
However I find it just as easy just to secure the bag under the front bungees as it fits well.
SUP Leash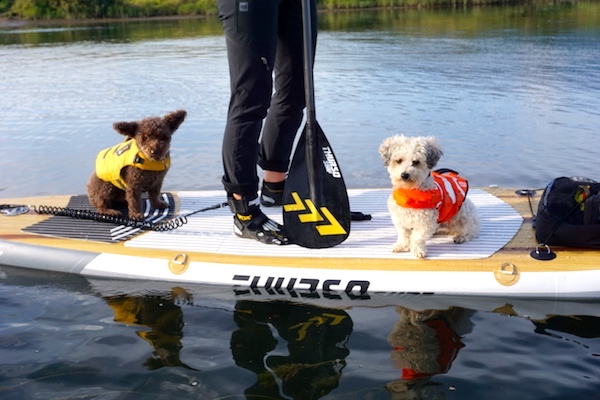 New for 2017 Thurso Surf has added a coiled SUP leash to their package (as opposed to a straight leash that was offered last year).
It is an important safety item that is really nice to have.
You attach one end of the leash to the back D-ring on your board and the other end around your ankle or calf.
If you should fall off your SUP, the leash ensures that you won't end up too far away from your board.
The coiled leash won't drag in the water like a straight leash does eliminating any drag or risk of getting it caught on debris.
3-Piece Paddle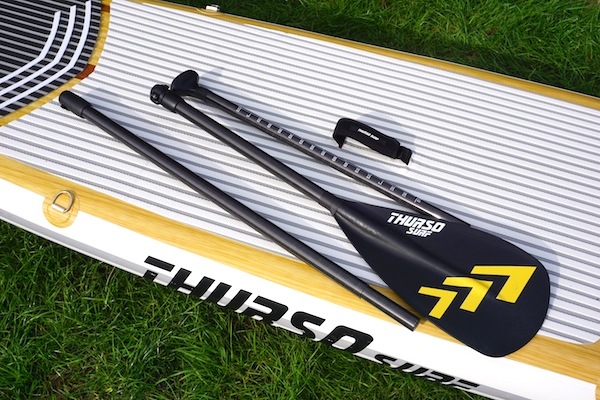 Quite a few inflatable SUP's include a paddle in their package but this one is better than most.
The cheaper aluminum paddles that are most commonly included in ISUP packges are super durable but often a little on the heavy side.
The Thurso Surf 3-piece paddle has a carbon shaft and therefore is lighter allowing you to paddle further with less fatigue.
It is nowhere near as light as a full carbon fiber paddle but it is definitely a step up from what I usually see.
When broken down into three pieces it easily fits inside the backpack carry bag for convenient storage and portability.
Another cool feature of this particular paddle is that you can use it as a 2-piece paddle as well.  If you insert the handle directly into the blade it will create a short paddle that can be used by beginners who prefer to kneel or sit on the board.
Pump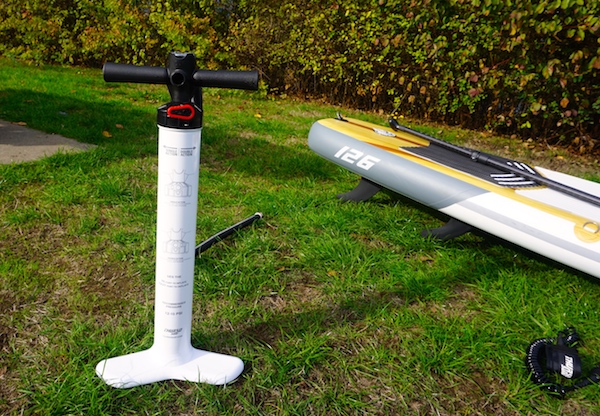 The double-action hand pump works great. It takes roughly 6-8 minutes to inflate the 10'6″ WaterWalker.
If you prefer not to break a sweat before getting on the water then you could always invest in a good electric pump to do the work for you.
I don't mind using the hand pump to inflate one board but now that I have an electric pump, it's hard to go back to the manual effort of pumping 😉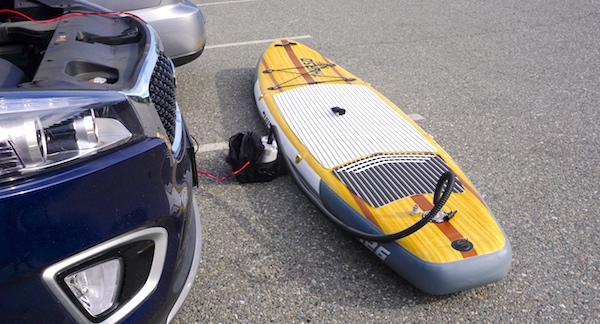 Backpack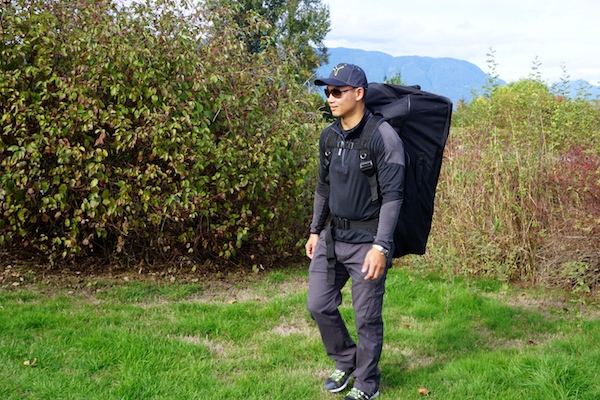 The backpack that comes with the Thurso Surf ISUP is a good one.
It has a heavy-duty zipper that zips around three sides of the bag making it very easy to get the board in and out.
The adjustable padded shoulder straps make it easy to carry and the waist and chest clips provide added support.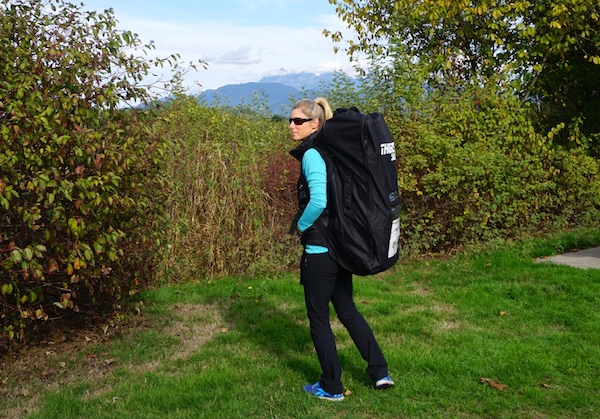 There is a clear zippered compartment on the outside of the bag to hold small essentials.
We could fit the board, pump and paddle all inside the backpack fairly easily.
Repair Kit
All inflatable SUP's come standard with a small repair kit that includes a patch, glue and a valve tightener.
Setup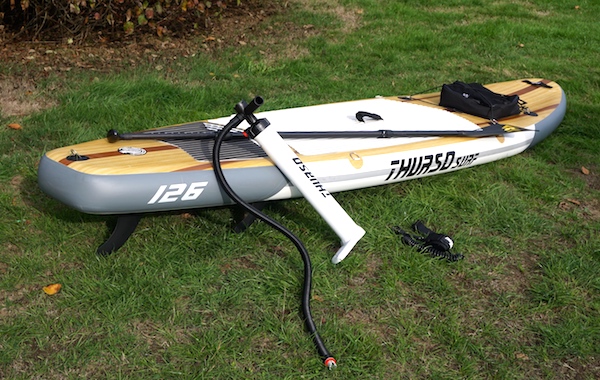 In order to setup the WaterWalker first take it out of the bag and unroll.
Press down and twist the valve tip so that it 'pops up' then attach the pump. Inflate the board until it gets to 15 PSI.
Next attach the three fins and your leash. Realistically it will take you ten minutes to fully set up from the time you arrive until you get on the water.
Once you are finished paddling, remove the fins and leash, dry the board off with an old towel and deflate.
Roll it back up and place it along with the paddle and pump inside the carry bag.
It is a super fast process and after you have done it once, it will be a snap.
Versatility & Performance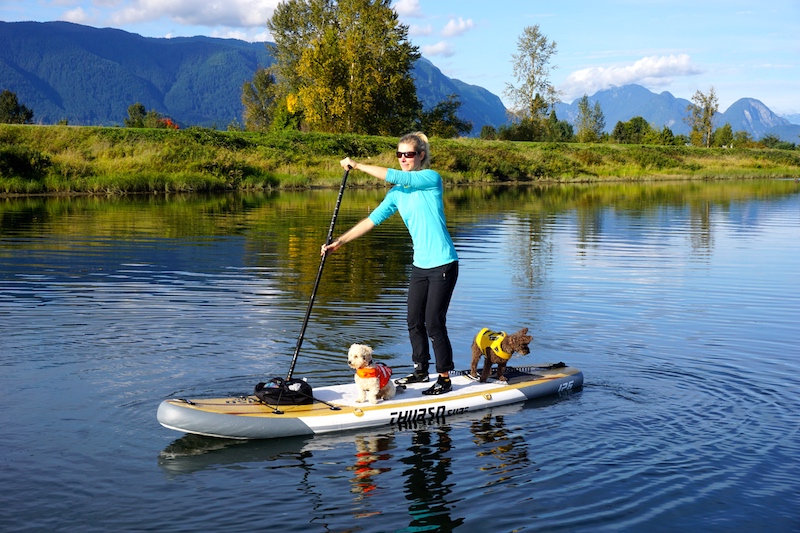 I didn't find the WaterWalker to be that fast but I did find it very responsive. It takes little effort to paddle and turns quickly.
It plows through waves and chop nicely and feels stable and secure without being sluggish or feeling any drag.
We had no issues with the performance and loved the versatility.
We particularly loved cruising around on the WaterWalker with our dogs on flat water lakes and rivers.  It has a really nice feel.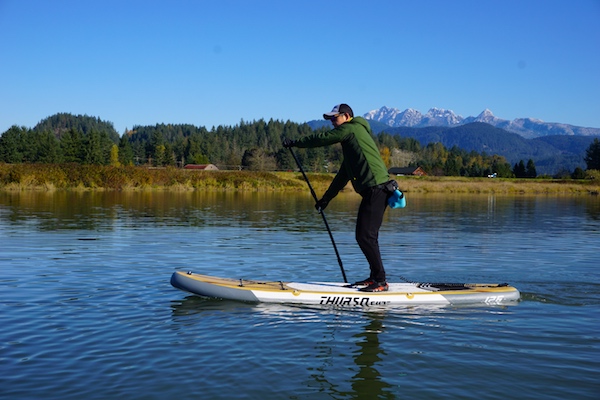 The Negative
There are two negatives to point out and neither is a big deal.
The first is that as I have mentioned above it is not that fast.
However if you want a faster board you would be better off going for a touring SUP with a pointier nose such as the Thurso Surf Expedition (pictured below on the right).
All-round ISUP's are known for versatility not speed so it is hard to even call this a negative.
The second is that there is no kick tail… Again not a big deal, lots of boards don't have them. I just happen to like them for playing around doing pivot turns but it certainly is not critical.
Where To Buy
Overall the Thurso Surf WaterWalker is a fantastic board and a lot of fun.  You get a lot for your money and we feel most anyone would love this ISUP package.  Bottom line this is great value for the price!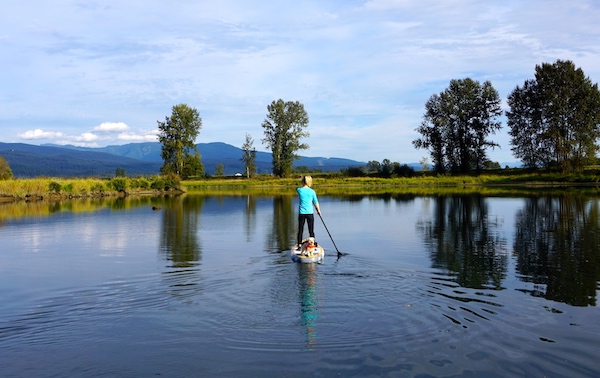 Click Here For The Best Deal On The Thurso Surf Inflatable SUP At Amazon.com.
Did You Know?
By clicking on any of the above seller links you can help keep ISUPworld.com growing. When you make a purchase after clicking on our links, the retailer will contribute a portion of the sale to help support this site. It won't cost you anything extra and it's a simple way to help us fund our gear reviews. Thanks!