It is really hard to choose the five best inflatable paddle boards and I have no doubt opinions will differ.  There are so many great boards on the market and more new models coming out all the time.
Therefore I tried to choose boards that not only perform well but also offer a fair amount of bang for your buck.  These are also some of the boards that we have enjoyed using the most.
Inflatable stand-up paddle boards or ISUP's as they are becoming more popularly known as have become far more mainstream and popular in the last few of years as more paddling enthusiasts realize how convenient and truly awesome they can be.
These 5 ISUP's are some of our favorites and will not disappoint.
Five Of The Best Inflatable SUP Boards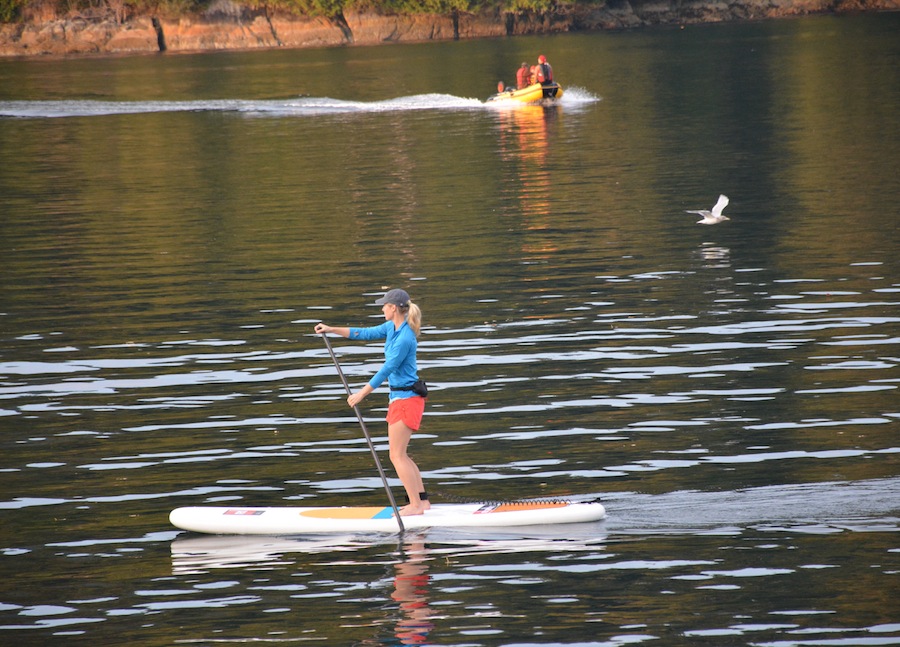 Red Paddle Co has some phenomenal boards, all extremely well made and fun to paddle. It is hard to say one is better than the other and as with most things it comes down to personal choice and which board suits your needs best.
However for us the 10'6″ Ride is a favourite.  We love the versatility, maneuverability and portability that it offers.  It can suit a large variety of people of all ages and sizes making it a great SUP to share amongst family and friends.
The Ride is durable and tough and although I don't find it to be the fastest board on the water it performs well, tracks straight, glides nicely and best of all can be used on lakes, ocean bays, surf or rivers.  It is super versatile.
It has three attached smaller fins that keep this board focused, a comfortable deck pad for added grip, and several D-rings for securing gear.
It comes with an awesome rolling backpack carry bag as well as the Ezee pump which is one of the few manual hand pumps that can easily inflate a board higher than 15 PSI.
The Ride is 10'6″ long x 32″ wide x 4.72″ thick. It can be inflated up to 25 PSI and can easily hold up to 220lbs.
Click here to read our full review of the Red 10'6″ Ride inflatable SUP.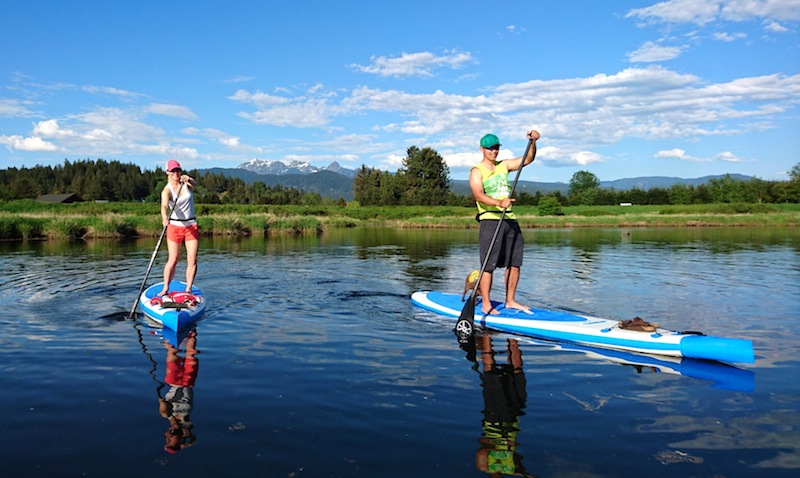 The Needlenose is a totally unique inflatable SUP in that the design is different from the majority of other ISUP's on the market. It has a sharp rigid nose that cuts through the water beautifully.
This is the board we use most often when out cruising on flat water lakes or touring calm ocean bays.  It doesn't take much effort to keep it gliding through the water and moving at a good clip.
The tracking is great and the streamlined design really helps it to pick up some good speed.
We are continually impressed with the performance of this board and feel that not only do you get a great product that performs well but you also get a fair amount in the package for your money.
If you want a board that moves fast without going into the more expensive racing category then this is the best option!
The Needlenose comes in three different size options:
11'6″ long x 30″ wide x 6″ thick and weighs 24 lbs.
12'6″ long x 30″ wide x 6″ thick and weighs 26 lbs.
14′ long x 30″ wide x 6″ thick and weighs 26.5 lbs.
Click here to read our full review of the Sea Eagle Needlenose inflatable SUP.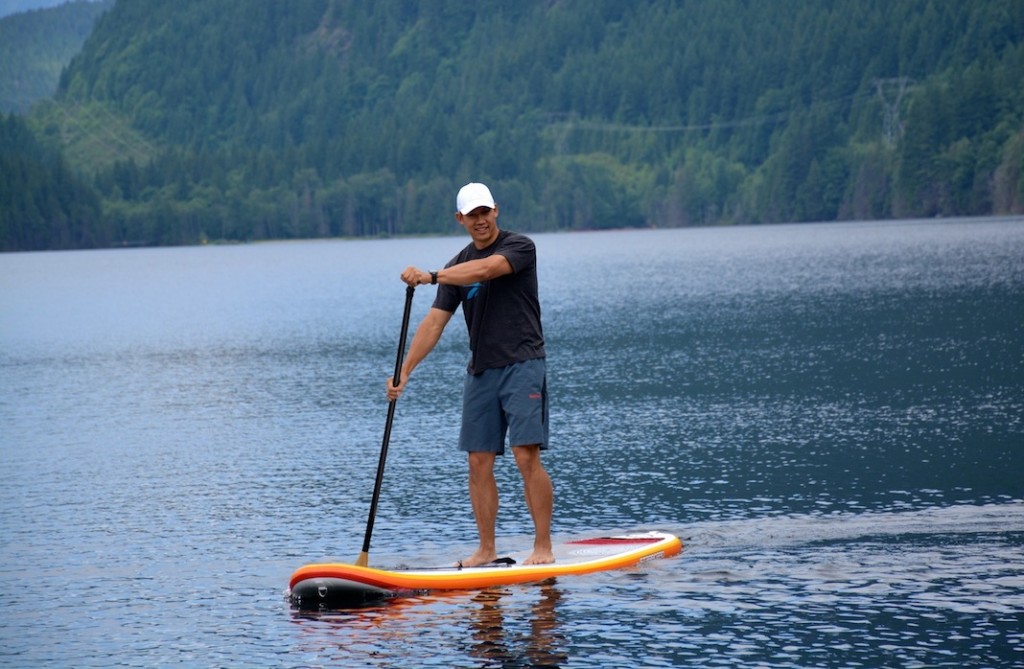 I'm a big fan of the Starboard Whopper paddle boards. There are two of them to choose from… the Whopper Zen which is 4″ thick and the Whopper Deluxe which is 6″ thick.
Both boards are 10′ long and 35″ wide. They are designed for ocean surf and whitewater but I think equally fun for flat water recreational use. I found this board to be highly responsive and easy to maneuver as well as very stable.
The width keeps you feeling solid in waves and also provides a large enough platform to do SUP yoga if you choose.
The smaller length and light weight make it very easy to carry to and from the water as well as easy for any person to paddle.  It takes little effort to get it moving.
The quality is excellent and Starboard makes one of the best backpack carry bags in the business. Their inflatable paddle boards are very well made and you can count on them to perform well.
Another one of our absolutely favourite ISUP's that easily could have made this list is the Starboard Blend (a little longer and leaner than the Whopper).  Starboard thinks of every little detail and we love their boards.
If small surf and ease of use are priority, then the Whopper is a fantastic option.
Click here to read our full review of the Starboard Astro Whopper inflatable SUP.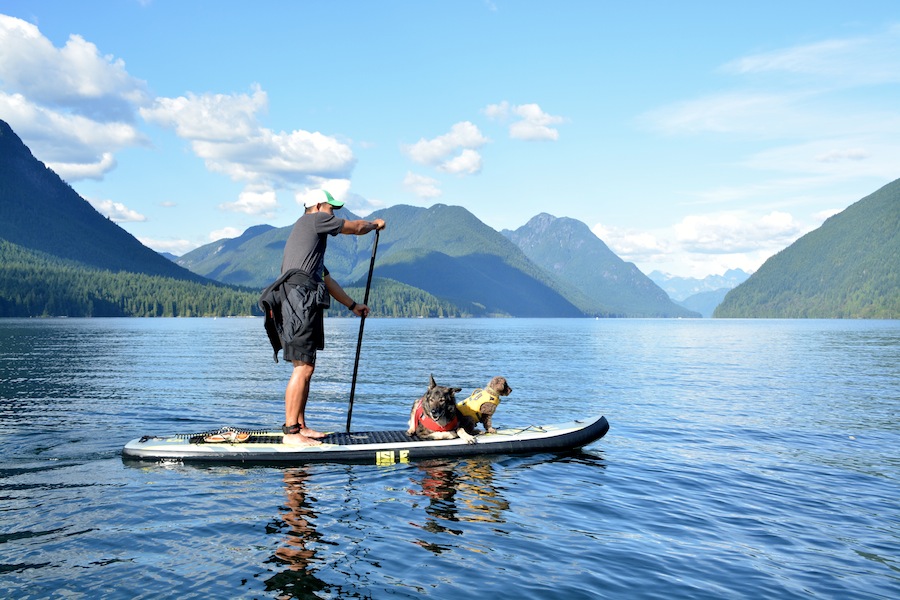 I really debated whether or not to include the Isle Explorer in our Top 5 list. It isn't the best SUP out there but over the years we have found that we used the Explorer a lot and for certain situations, it's pretty awesome.
It has an all around design that can be used on any type of water but personally we think it is best suited for touring around on lakes or ocean bays. It is quite stable without being overly huge and it comes with some great features.
This board is very durable and feels very comfortable and secure to paddle. We love the Explorer for paddling with dogs because it does feel extra stable. The downside is that it can also feel a little sluggish at times and with the 32″ width it takes more effort to turn.
However for beginners. a larger person and for those who want to bring the dogs or kids along for a ride, it is a great choice.
This board has been improved upon over the years and one of the big improvements has been the weight. It used to be a lot heavier but now only weighs 19.1 lbs., making it very portable and easy for anyone to carry.
A more advanced rider will likely want a better performer but for the recreational standup paddle boarder, it's worth taking a look. Plus the package price is excellent!
Click here to read our full review of the Isle Explorer.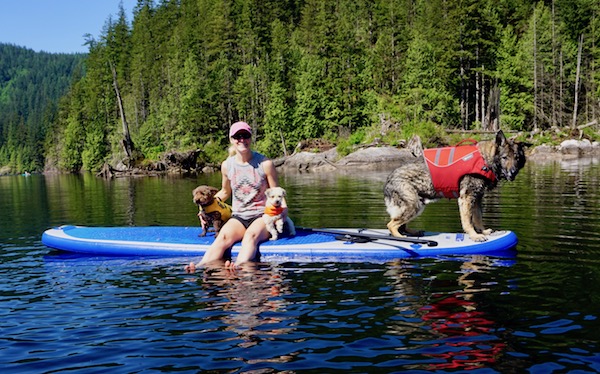 I didn't want to put two boards from the same company in this list but the truth is we use the Sea Eagle Longboard a lot and we love it for many reasons.
The original Longboard was one of the first ISUP's I ever tried and I still love it to this day. It is an ideal design for an all-around great board and it is versatile for many different water conditions as well as many different sized riders.
It has some really nice features and also has an option for adding a seat so you can sit down and paddle kayak-style if you feel like it. It is really a fun board to use, fairly stable and highly maneuverable.
I have had many friends out on the Longboard of all different paddling skills and it is often a favourite.  It provides a nice balance of comfort without compromising the performance.
The Sea Eagle boards in general are quite popular as they come with a great 3 year warranty and a 180-day risk free trial – Meaning if you are unhappy with the board at any time within 180 days you can return it for a full refund as long as it is in good condition!
The Longboard has the option of an 11′ or 12'6″ model. We own the 12'6″ Longboard and I love the size especially for when we bring our three dogs out paddling with us!
Click here to read our full review of the Sea Eagle Longboard 11.
More Detailed Info and Photos
More Information On Sea Eagle

I first learned about Sea Eagle when I wanted to purchase an inflatable kayak several years ago.

I was doing research on which one to buy and ended up choosing their Explorer kayak.

Since that time many years ago I've tried several of their products and learned a lot about them as a company.

Their inflatable SUP's are extremely popular and their Needlenose board is my personal favorite to use and the one I paddle most often.

I find that the Sea Eagle name doesn't have that 'cool factor' in the SUP industry that other companies have such as Naish or Red Paddle Co or Starboard… just to name a few.

I think that is because they were originally an inflatable boat manufacturer as opposed to a specialized surf company. Therefore in surfing circles, Sea Eagle doesn't get the rep it deserves.

However their boards are top notch and it seems that everyone who tries them, including myself, agrees they are some of the best on the market for performance, features and price.

You may not find their boards in all surf shops but there is no doubt that Sea Eagle gives you a lot for your money.

Whenever I bring new boards out with friends I always get them to try the different models that I have at the moment.
My Needlenose is always with me and without fail no matter what other boards I am reviewing it is always the favorite and the one that everyone wants to ride.

The best thing about Sea Eagle however is their 180 day free trial and money back guarantee.

It is not actually a free trial, you have to pay for your board. However if you are not happy with it within 180 days of use, you can return it for a full refund as long as it is in good condition.

I love companies that stand by their products and this one certainly does. The 3-year warranty they provide is great as well.


More SE Needlenose Pictures

Since this is the board I paddle most often, I've collected quite a few pictures over time.
I have the 11' Needlenose and my boyfriend has the 12'6" Needlenose.
We have friends who own the 14' Needlenose. So we've paddled all three and been able to compare the feel and performance of each.
Here are a few of our pictures...
With this one you can see the size difference of all three options.

In this next picture I am trying out the inflatable seat option. The seat attaches to the D-rings on the top of the board.
It is fairly comfortable and allows you to paddle the SUP kayak-style.
I quite like the seat although I don't use it often. I feel the seat is ideal for those who want to fish or who simply want the ability to switch between standing and sitting. It's really nice to have that option.
I find the seat can be especially fun to use when maneuvering through waves... it provides a little more stability and control and a nice change from stand-up paddling.

In this next picture Darryl is paddling the Needlenose on a picture perfect calm lake. I'm not sure what Seth is doing, looks like he's watching the movement of the paddle. This board handles beautifully on flat water.

In this next pic my little paddling partner Seth is waiting to go. He loves to ride on the boards and is always the first one to hop on.

Carrying the Needlenose in the backpack carry bag that comes with the board is fairly easy, although I wouldn't want to have to hike too far with it.
The bag is also very convenient for traveling.

In this picture Darryl is carrying his new 12'6" NN to the water. I believe this was his first time using it and we were psyched to try it out.

In this one we are inflating the NN with the electric pump. I am a big fan of the electric pump. It is simple to use and it inflates any ISUP quickly.
It basically just makes life easier. We can inflate two boards in only a minute or two with no effort. There is also the option of getting a rechargeable battery pack for the electric pump.
I have the battery pack as well and it is handy to have for the times when you are not around your vehicle. However I have to admit that I rarely use it. Most often we just attache the pump to the car battery with the alligator clips.

This is the nose of the paddle board. The NN has a rigid pointy nose and the design cuts through the water very smoothly.
This is typically what the nose of my board looks like when I'm on the water... I usually have my flip-flops and my water bottle secured under the bungee cord. The juice box wasn't mine... I found it floating in the water and wanted to take it back to shore to recycle it.

I love this picture because it shows the versatility of this board. A friend of ours borrowed my Needlenose to go camping with her family.
She had the board piled with kids and even her dog. The board easily fits everyone and she was only using the 11' board!

Click here for more pictures and our full review of the Needlenose SUP.

More SE Longboard Pictures

The majority of my Longboard pics were of the old model as I originally tried this board several years ago. I now have the newest 12'6" Longboard and Ive updated the photos so they are current.
This is a versatile and fun all-around board that is super fun to paddle.
In this first picture I am carrying the Longboard in the backpack carry bag. The 12'6" model is easy enough to carry but I wouldn't want to have to lug it too far.

My boyfriend loved this board immediately and in the phhoto below you can see him carrying it to the water heading out for a beautiful day of paddling.

I love this picture of Darryl and Seth paddling on a very calm Alouette Lake. If I remember correctly Seth (our dog) didn't last long that day as he got too cold after getting wet wading in the water. I think I'm going to have to research winter paddling booties for dogs... if there is such a thing.

Click here for more pictures and to read our full review of the Sea Eagle Longboard.

More Information On Starboard

Starboard has been building boards for over 20 years and in that time frame they have grown massively. They are known for great quality products and their inflatable SUP lineup is impressive.

One thing I can say about Starboard is their boards never seem to disappoint. I feel that they put extra thought into every little detail to create a unique and well rounded board that is functional and awesome to ride... and looks super stylish!

You may notice the little Tiki symbol on all their inflatable stand-up paddle boards. That Tiki symbol stems from the ancient fun loving god king of water and waves, the legendary Inca sun god Tiki Vichara.

The Tiki symbol has evolved over the years but their boards have stayed the same as far as quality and innovation.

The Whopper series in their inflatable SUP lineup are just really cool. They are so much fun to paddle, the boards look awesome, they are lightweight and versatile.

Also the accessories that come with them such as the carry bag and the fin are top notch.

I don't think you can ever go wrong with a Starboard paddleboard.

More Starboard Astro Whopper Pictures

I had so much fun with the Astro Whopper while I had it and took plenty of pictures.
In this first pic my boyfriend is attaching the clip around his waist for the backpack carry bag. Starboard makes one of the best SUP backpacks in the business and it is really easy and comfortable to carry.

In this next photo Darryl is carrying the Whopper to the water. This is a light weight inflatable SUP that is especially easy to carry because of the padded carry handle.

In the photo below I was trying to demonstrate how stable this ISUP is. Considering it is only a 4" thick board, it is surprisingly stable.
The design of this paddle board not only makes it stable but makes it extremely easy to paddle and maneuver.

The Whopper paddles equally well on flat water as it does on surf. It is not the fastest board out there but it is definitely one of the most fun to use.

Click here to see more pictures and to read our complete review of the Whopper Fun.

More Information On Naish

I love Naish. As a company they simply rock. Anyone I've ever dealt with at Naish has been phenominal… super friendly, super knowledgeable and very passionate about their boards and what they do.

Naish is a pioneer in the industry and they are backed by a lot of professional stand-up paddlers.

They have a great lineup of boards and it's rare to find a bad review on any of them.

The Naish One is a particular favorite of mine. It is truly awesome to paddle and ideal for such a wide variety of people.

You can never go wrong with Naish.

More Naish One Pictures

The One is a good sized board at 12'6" long and 6" thick. It is still easy to carry though. The only time I had an issue was when carrying the inflated board from the parking lot to the beach on a super windy day on the Big Island of Hawaii.
The wind would pull the long back end away from me, which made it tricky to carry and funny to see.
However for the most part, I could easily carry it to wherever I needed to be.



When I first got the Naish One I inflated it in my hotel room in Hawaii. This was one of the first pics I took.

In this pic you can really see the tapered design that makes it a great performer.

Click here for more pictures and to read our full review of the Naish One.

More Information On Red Paddle Co

Red Paddle Co. originated in New Zealand and Australia I believe and eventually made their way out to conquer the inflatable SUP market in North America.

They strictly make inflatable SUP boards and are most definitely a leader in the industry.

Their boards are built not only to last but to also perform. There is no compromise, these boards are top notch all the way.

If you own a Red SUP board you can be sure that your board is well made, looks great and paddles better than most other ISUP's on the water.

They have an extensive lineup of inflatable SUP's and they even have some very cool racing boards that often compete in competitions against some elite hard-shell boards.

We love Red. We love the people that work at Red. We love their passion, their innovation and the fact that they consistently supply the market with top quality, super fun stand-up paddleboards.

You can expect to pay a higher price for these boards but they are worth it.

It is also worth noting that their SUP backpack rocks in functionality and quality. It includes wheels so you can pull it or carry it on your back.