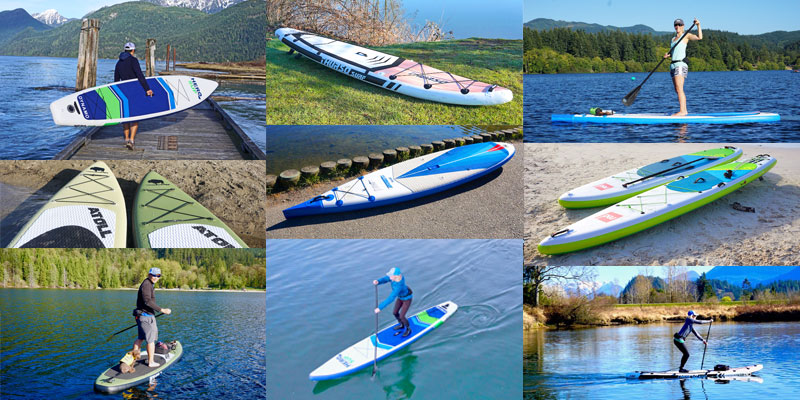 A touring board is the best option for those who want to go faster and cover more distance with less effort.
A touring board with a leaner pointier nose is going to cut through the water better and get you from point A to point B faster.
It is ideal for downwind adventures, fitness paddles and for those who prefer to go just a little bit faster.
Whereas all-around boards are more versatile and typically more stable they tend to plow through the chop, riding on top of the water.
A good touring board will instead slice through the water smoothly creating less drag and more momentum as you propel yourself forward.
We have found that touring inflatable SUP's have evolved over the years.
There are leaner touring boards truly designed for speed and efficiency and there are wider models that offer more stability but less speed. Which you choose will depend on your fitness level and experience.
Speaking from my own experience, I started off with an all-around board initially several years back and eventually upgraded to a touring SUP for faster, longer paddles.
Although I still use all-around boards often, especially when paddling with my dogs, I love the feel of riding on a good touring SUP and find more and more the touring boards are the ones I am taking out most.
The list below contains paddle boards in a variety of price ranges so you can find a great ISUP regardless of your budget or skill level.
Our Fave Touring Inflatable Paddle Boards
You can click the board names to read our full comprehensive review.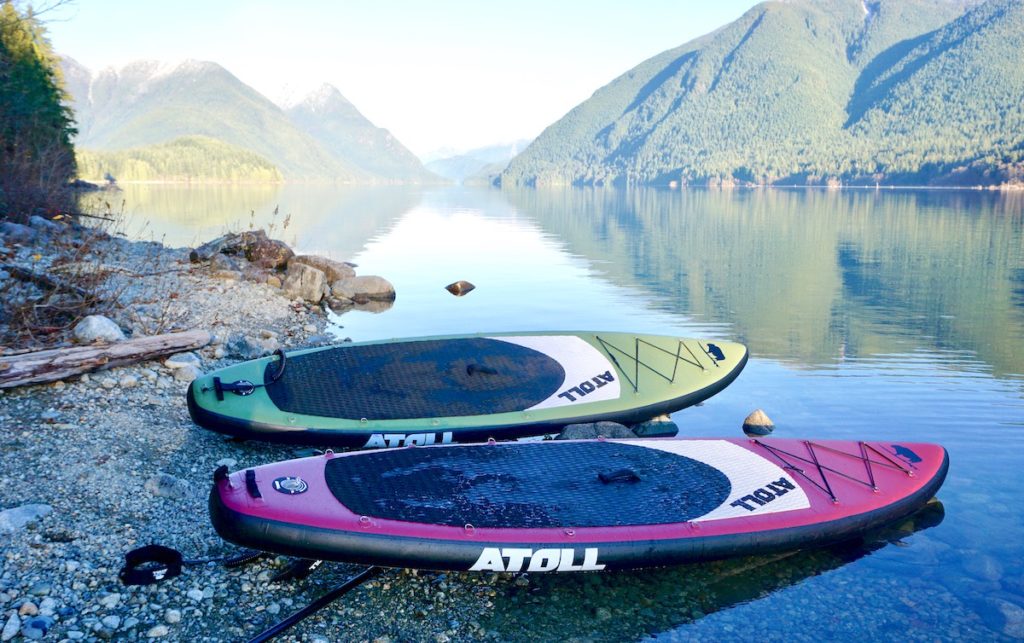 Stable And Budget Friendly For Beginners.
The Atoll paddle board is a beginner friendly touring SUP that is easy to paddle and fun to use.
The 11′ length and 32″ width provide good stability and the tapered nose helps it cut through the water smoothly.
We've had a lot of fun paddling the Atoll boards on lakes and around ocean bays. It is extremely light weight at only 19 lbs. so highly portable and easy to take anywhere.
If you're looking for a good versatile option that won't break the bank but is durable and easy to paddle then the Atoll 11′ is a great choice.
You can load this board up with kids, dogs or gear and still feel comfortable. It can handle most situations well and we found it as nice to paddle on flat water lakes as through wavy ocean chop.
Go to our detailed review of the Atoll paddle boards.
Watch the video below as we take the Atoll paddle boards for a spin. 👇
____________________________________________________________________________________________________________________________________________
.



Efficient touring design with excellent glide, light weight and portable. Two sizes to choose from.
We have been paddling the Dynamo boards since early 2018 and have been loving them.
I typically take out the 11'6" long one and my boyfriend uses the 12'6" model. They feel really nice to ride, they glide smoothly, cut through the water nicely and definitely require less effort to move faster than many others.
We have used them a lot on local lakes, down a calm river and along the ocean coastline.
In each case we have found them to handle well. You will notice a little less stability in choppy water with the leaner width and tapered design but if you are physically fit and have confidence in your ability you will be fine.
The longer 12'6" model offers more stability for beginners and in choppy water. I have a few friends who were total SUP newbies who tried this board, loved it and bought the 12'6" model.
So although this is a faster board it can be used by just about anyone. Beginners to advanced riders will love the ride. It also comes with a fantastic backpack with integrated wheels and great accessories.
Get more info with our in-depth review fo the Hero SUP Dynamo.
In the video below I take the Dynamo out for a sunrise paddle with the city of Vancouver, BC in the background. 👇
____________________________________________________________________________________________________________________________________________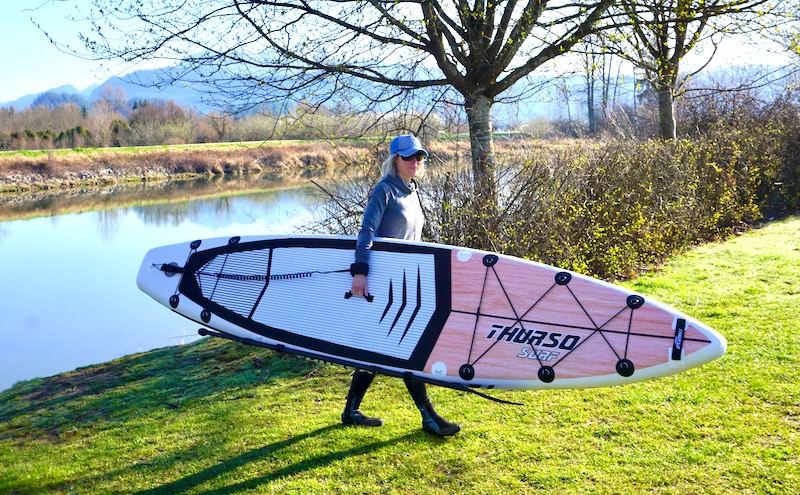 Tapered nose and tail for fast glide. Ideal for calm water.
The Expedition has been upgraded for 2019 and is a really smooth touring board. It is 30″ wide at the center similar to some of the others on this list however the nose tapers quite quickly from the middle of the board causing it to glide fast but also to feel less stable.
I greatly enjoy paddling this board on calm water but if you are a total beginner I would recommend choosing a more stable ride. However if you have the skill it is a lot of fun.
At the moment the Expedition only comes in one size option 11'6″ long x 30″ wide x 6″ thick. It can hold up to 300 lbs. but I personally feel it is best suited for someone under 200 lbs.
The Thurso Surf boards come with a great package that includes a rolling backpack, 3-piece carbon shaft paddle, dual action hand pump, 10′ SUP leash, 3 clip in fins and a repair kit.
See my in-depth review for everything you need to know about this board.
You can check out the Expedition in action below as I paddle it on one of my favourite local lakes.
____________________________________________________________________________________________________________________________________________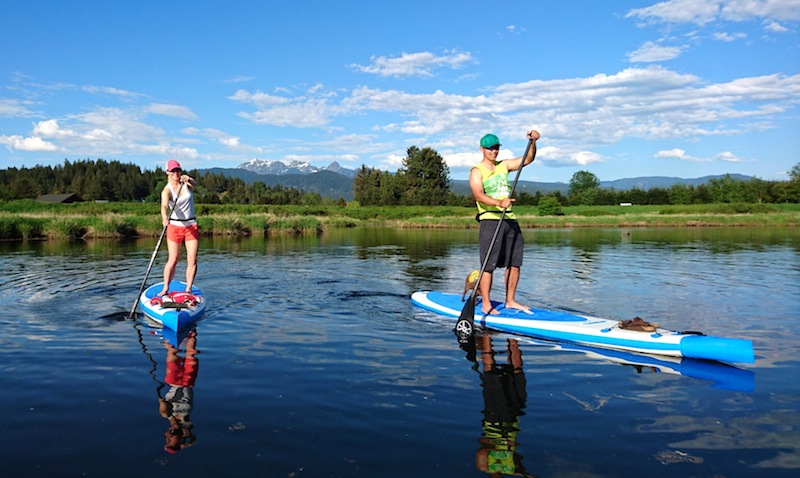 Unique hard tip nose cuts through water smoothly and picks up good speed. 3 Sizes to Choose From
The Needlenose is a totally unique inflatable SUP in that the design is different from the majority of other ISUP's on the market. It has a sharp rigid plastic nose that cuts through the water beautifully.
We have used this board for years and it makes it easy to cover longer distances with more speed and less effort.
The tracking is great and the streamlined design really helps it to pick up some good speed.  For 2018 sea Eagle has redesigned the hard tip nose so that it stays lower in the water (no upturn), which allows for an even better performance.
We are continually impressed with this board and feel that not only do you get a great product that performs well but you also get a fair amount in the package for your money.
The only downside is that the hard tip nose makes for a bulkier package when rolled up and stored in the backpack.  For that reason this wouldn't be our choice for traveling.
The Needlenose comes in three different sizes:
11'6″ long x 30″ wide x 6″ thick and weighs 24 lbs.
12'6″ long x 30″ wide x 6″ thick and weighs 26 lbs.
14′ long x 30″ wide x 6″ thick and weighs 26.5 lbs.
Check out our detailed personal review of the Sea Eagle Needlenose ISUP.
See the Needlenose in action in the video below as I paddle the 12'6″ board down the Alouette River. 👇
____________________________________________________________________________________________________________________________________________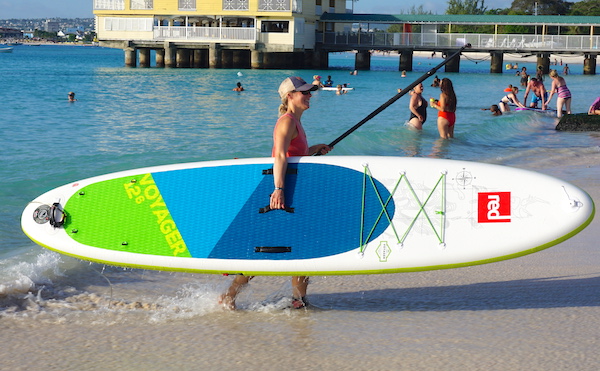 Overall stable touring ISUP ideal for ocean paddling. A little heavier than the others but solid in the water and comfortable to paddle.
The Voyager is a fairly large board at 12'6″ long, 32″ wide and 5.9″ thick. It is big and stable yet fun to paddle with smooth glide and decent turns for the size.  It weighs 27 lbs. and can hold up to 330 lbs. easily.
You can't beat the quality, features and overall great design of the Voyager. The Red boards rarely disappoint.
This one is a little slower than the other two listed above but it will also feel more stable when paddling.
We find the Voyager ideal for cruising around on ocean chop. It feels stable and solid even in ocean waves and can be loaded up with kids, dogs or lots of gear.
There are lots of pros to this board. The only major con is that the price is quite a bit higher. If you don't mind spending the money, the Voyager will be a lot of fun.
See our in-depth review of the Red Paddle Co Voyager.
____________________________________________________________________________________________________________________________________________