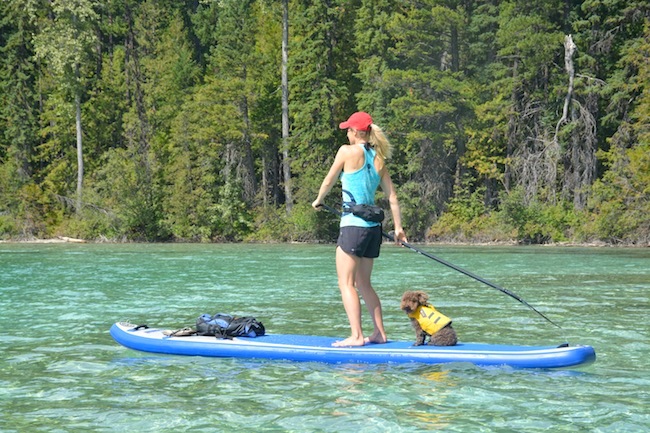 British Columbia is known as Beautiful BC for a reason. There are hundreds of lakes and rivers throughout, it is boardered by the Pacific Ocean to the west and surrounded by gorgeous mountains.
It is a mecca for outdoor enthusiasts. You can stand-up paddle board here year round if you want to.
Although a little cold in the winter months, with the proper gear it is still doable as the BC weather stays far more mild than the rest of Canada.
There are numerous awesome spots to paddle, far more than we could mention in this one article. We chose five different locations that we personally love and think are worth the visit.
If you have your own favourite BC paddling destination please let us know in the comments below. We would love to hear your thoughts and possibly see pictures!
If your next destination trip is to British Columbia or if you live in the area and love to stand-up paddle board, then here are a few places that we at ISUPworld highly recommend.
Vancouver – Jericho beach/Kitsilano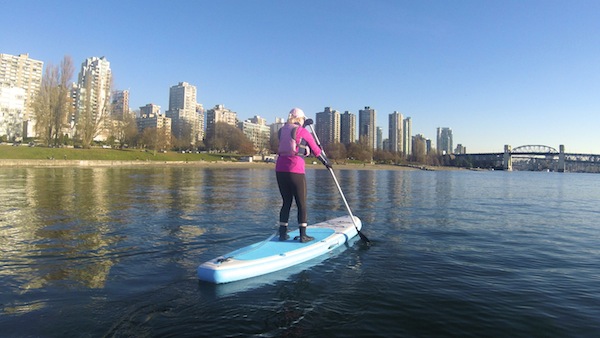 The West side of Vancouver specifically around Jericho and Kitsilano Beach is a wonderful place to paddle. These beaches are very close to each other and provide fairly close paddling access to Enlgish bay in downtown Vancouver.
This location offers some of the most stunning views of the city. You will find other fellow outdoor enthusiasts out there such as rowers, kayakers, boaters, stand-up paddlers, dragon boaters, among others.
Lately there are quite a few SUP yoga classes being held in that location as well.
If you plan on going out in the late afternoon/evening you can catch a breath taking sunset to the west.   To the east the sun reflecting off of the windows and buildings of downtown Vancouver create a beautiful kalaidascope of colors.
During the summer months the Celebration of Light takes place at English Bay and you can watch the stunning fireworks on your board where you'll have prime seating.
However just a reminder while paddling at night time to make sure you come prepared with flashlights and lots of reflective lighting so others can see you from afar for safety reasons.  Be sure to follow the local regulations of Transport Canada.
Click here for more info on water safety in the area.
We tend to paddle in this area year round. I would advise to really be on top of the weather forecast before heading out. Winds are common and in our experience too much wind while ocean paddling is really not fun when surrounded by cold sea water.
In general the conditions tend to be fairly moderate. You can expect some small waves but most larger swells are from power boats. With no wind, the water is quite calm.
Our favourite spot to launch in that area is just slightly East of Kitsilano Beach at the Maritime Museum.
There is a tiny beach there in a sheltered cove that is ideal for launching. From this location you can either head West towards Jericho and Point Grey or you can head East towards Downtown Vancouver, English Bay and Stanley Park.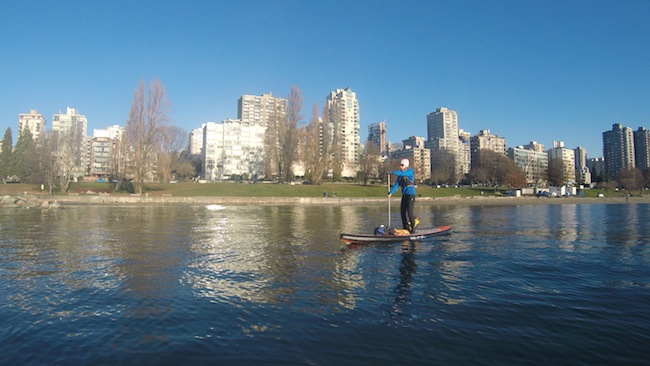 Stick close to shore if you want to avoid the numerous motor boats and their wake.
Parking tips: Both Kitsilano Beach Park and the area around the Maratime Museum are usually busy. There are paid parking lots as well as some free parking on the street if you are lucky enough to get one of those spots. Jericho beach has a lot of free parking but has a slightly longer walk to get to the water.
Whistler – Alta Lake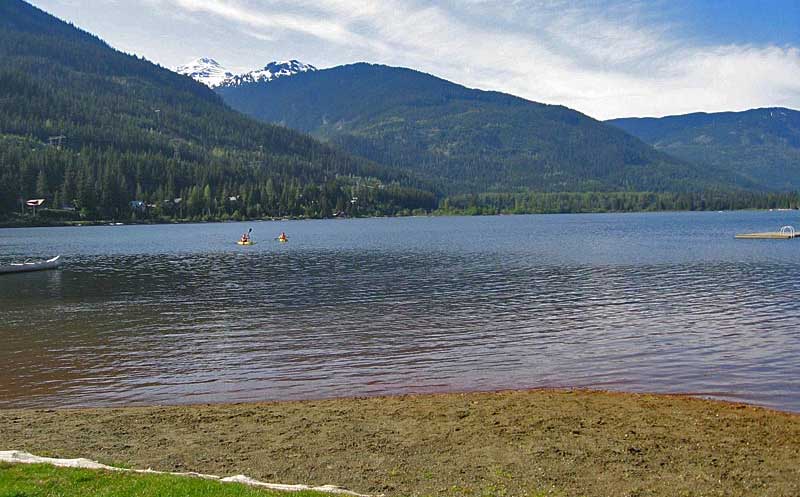 Home of the 2010 Olympic Winter games, Whistler is THE tourist place to be during the summer and winter months.
It is a beautiful 2 hour scenic drive from Vancouver. There are numerous locations to stop and take pictures along highway.
Also if you are feeling energetic there are places to stop and hike (Stawamus Chief) along the way, get out stretch your legs and take in the views of the Howe Sound at the Sea to Sky Gondola.
Alta Lake is only a few minutes drive from the heart of Whistler. It provides magnificient views of the surrounding mountains.
Here if you are lucky you will come across a lot of different wildlife living in the area. Alta Lake is calm and clear.
There are no power boats on this lake and in general you will only find other paddlers or swimmers out enjoying the water. There is a park bordering the lake that can get quite busy in the summer time.
The calm protected waters of Alta Lake make it an ideal spot to learn to SUP or to paddle with your family.  There is a grassy beach area that is very easy to launch from and if you don't have a board there is a SUP Centre nearby to rent from.
Whistler hosts their Annual Ironman in the summer. Alta Lake is where the swimming portion is conducted so watch out for those bright swim caps.
For those of you who don't have an ISUP, you can rent one at www.riverofgoldendreams.com.
Kamloops – Johnson Lake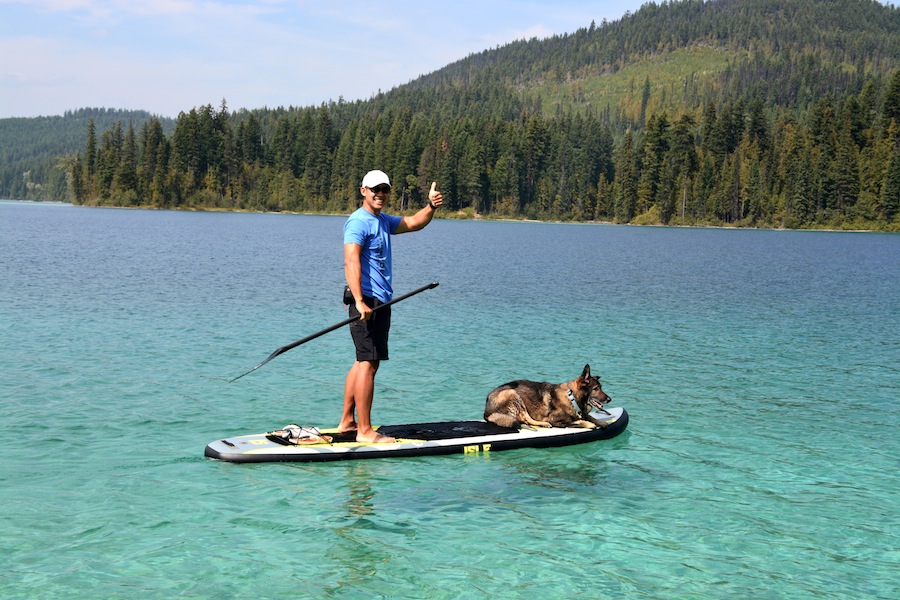 A hidden gem with crystal clear blue waters and Carribean like white sand, Johnson Lake is an ideal spot to visit if you happen to be in the Kamloops area.  It is very close to the popular Sun Peaks Bike, Golf and Ski Resort.
This lake is out of the way, it is a good hour and 30 minutes drive from Sun Peaks and requires driving on a logging road for quite some time. However do not let this deter you.
The drive itself is worth the solitude away from traffic noise, the hustle and bustle of city life, power lines, rush hour, and cell phone coverage.
Johnson lake is well worth the effort to get there. At the end of that long gravel road you will not believe your eyes when you see the colour of the water peaking through the trees..
The turquoise water of the lake and the white sand look more suited to the Caribbean than the West Coast. It is truly a breathtaking sight in the middle of a remote mountain forrest.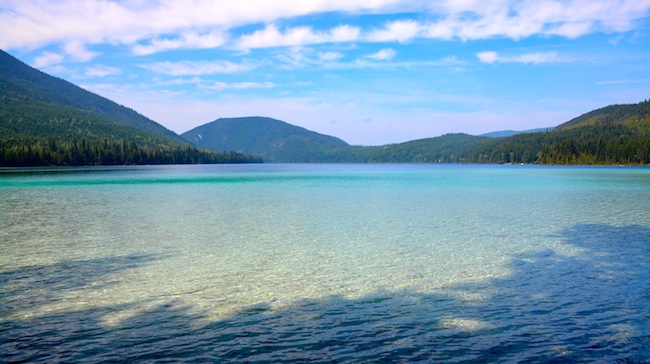 There is a rustic resort on the left side of the lake. Avoid this area as the general public are not really wanted on that side. Instead drive along the right hand side to the opposite end of the lake.
There you will find picnic areas and lots of room for parking and play. It is very remote and if you luck out you may even have the whole lake to yourself.
With the remoteness of this lake it is important to protect the wildlife around it and the natural beauty of the surrounding area. Whatever you bring up there, be sure to bring it back with you so others can continue to enjoy it.
We love Johnson Lake and look forward to going back!  Watch for wildlife on your drive to and from the lake.  Bears and other animals such as hares are not uncommon to see.
Vernon- Kalamalka Lake

Located just 4 Kilometeres south of Vernon, Kalamalka Lake is glacial fed and offers cool green waters to paddle in. The colours of this lake are what makes it so spectacular. The colour can change depending on the time of year from cyan to indigo.
The water colour is a major wow factor.  The warm temperatures and constant dry weather draws many to this area.
The Thompson Okanagan most often records the record temperatures for the summer months averaging 30-40 degrees celsius (Hot in fahrenheit conversion).
This is desert area and summer months tend to be far more dry here than the coastal south end of British Columbia as well.
If you are planing on doing some inflatable stand up paddle boarding here bring sunscreen and plenty of it.  Be prepared to take a dip in the water to cool off.
There are several beaches bordering this 7 mile long lake and in the summer months they will all be jammed packed.
I prefer paddling on this lake in the Spring and Fall to avoid some of the motor boat traffic.
However no matter when you are visiting Kalamalka Lake you can expect to have an awesome day on the water and you will probably leave with some beautiful photographs.
Fort Nelson – Muncho Lake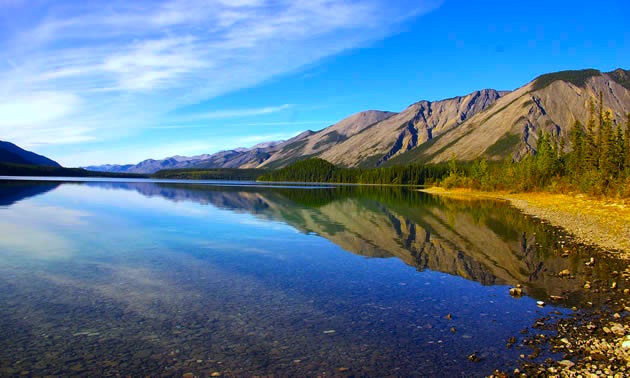 If you happen to be travelling through on the Alaska Highway, Muncho Lake is a great place to stop.
Muncho lake is just a stones throw north of Fort Nelson, well actually approximately 162 miles north.
You know you have arrived at Muncho lake when you come across the jade colour water. Miles and miles away from any town or city you will find your own private and very picturesque paddling spot.
This lake is surrounded by wildflowers and wildlife so defintely bring your camera with you as you as you will likely get some stunning photos.
There are limited amenties in the area so take advantage and stock up in Fort Nelson with everything you need. When you decide to leave Muncho lake and have finished paddling, swing on over to the Liard Hotsprings for a relaxing dip.
Muncho Lake may be a long ways from the city life but it doesn't get more beautiful than this and we feel it is worth adding to your paddling destination list.
British Columbia is definitely a scenic place to paddle and if you have an inflatable SUP you can take it anywhere!
Have you paddled in British Columbia before?  Where is your favourite spot to launch your board?