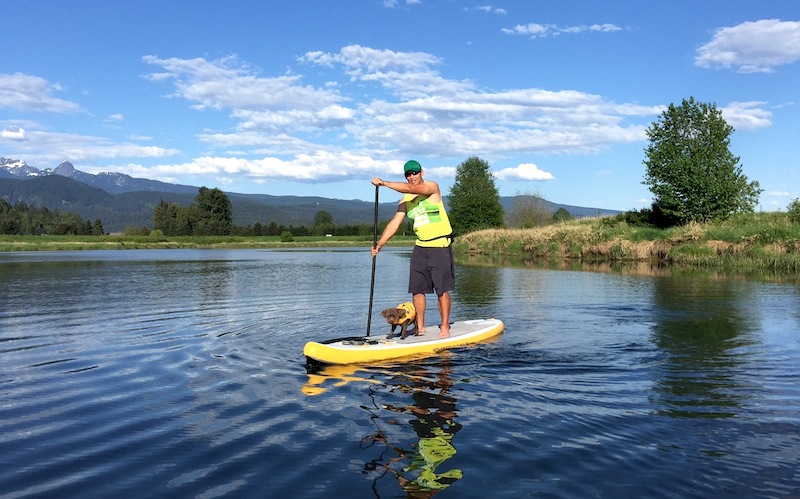 Advanced Elements is known for their popular inflatable kayaks and they have been in business for quite a long time.
They now have a few ISUP's added to their product list as well.  The Advanced Elements Fishbone is their most recent board that I got to test out.
It is a cool inflatable SUP that has a unique design ideal for touring and fishing.
I found this board to be a lot of fun to paddle. The 6" thickness makes it very stable and even a total beginner would feel very secure on it.
It has enough features to make it functional and versatile while still performing at an optimal level on the water.
The weight is fairly standard for an 11' board at 26.5 lbs. and I found it easy enough to carry when deflated and stored in the duffel bag as well as when it was inflated to full pressure.
Overall this is a nice board that is ideal for a large variety of people. It is perfect for touring on flat water lakes, meandering rivers or even tackling some ocean waves.
Quick Stats
Specs
11 feet long
30 " wide
6" thick
weighs 26.5 lbs.
holds 12 – 14 PSI
can hold up to 230 lbs.
has one removable large center skeg
has 2 small removable side skegs
1-year warranty
Material: PVC coated high-pressure drop-stitch material
Pros: Stable, good tracking, decent speed, unique design, large comfortable deck pad, 4 D-rings up front to secure gear, 1 D-ring at the back, comes with functional large duffel bag, easy to carry and transport
Cons: No side D-ring attachments means you can't attach a seat if you wanted to, the center skeg attaches to the board with a bolt – the skeg is strong and secure but I personally prefer the skegs that don't use bolts so that there are no extra parts to lose, I found the two side skews hard to attach
Where To Buy
Click the links below to find the best deal.
More In-Depth Info
The Fishbone has a patent pending displacement hull design with a raised board tip.
This design really improves the performance of this ISUP and makes it stand out from many other basic designed boards out there.
The displacement hull along with the large skeg provides good tracking and allows it to cut nicely through the water.
Yet the raised tip allows it to tackle waves and choppy water.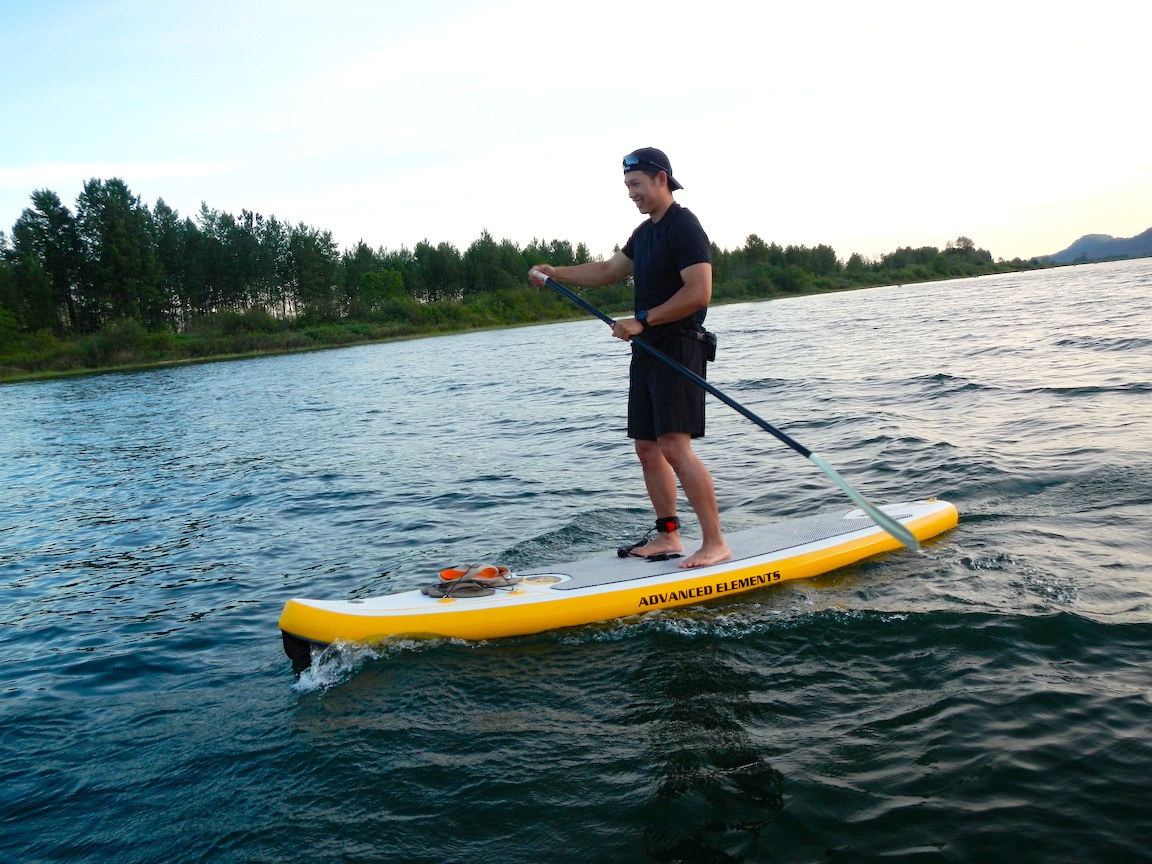 Setup
Setup is fairly easy. The skegs need to be attached first. The center fin has a bolt attachment so you will need to bring a screw driver to attach this fin to the board.
The skegs that use a bolt for attachment are very strong and versatile in that you can always easily replace that skeg if needed.
I personally prefer the fins that don't use bolts for the only reason that it's so easy to lose the bolt.
However don't let this deter you because the fin is strong and works great. Keep the bolt in the repair kit when not in use and you'll be fine.
You may choose to only use the large ceneter fins and leave the side fins off.
I did that a few times because I found the side fins hard to attach (gets a little easier with practice).  They attach by folding the SUP and maneuvering the skegs into place. This has to be done before the board is inflated.
Once the skegs are attached, you simply attach the pump and inflate. This board comes with a high-pressure hand pump that works well.  Or if you prefer the easier method, a good electric pump does the job in a matter of a couple short minutes.
It doesn't take long before the Fishbone is very rigid and you'll be on the water. Deflation is just as easy.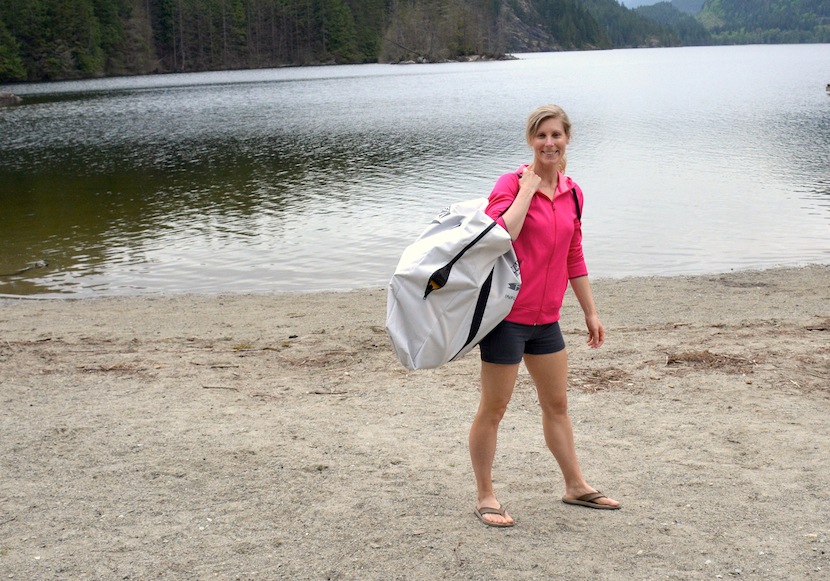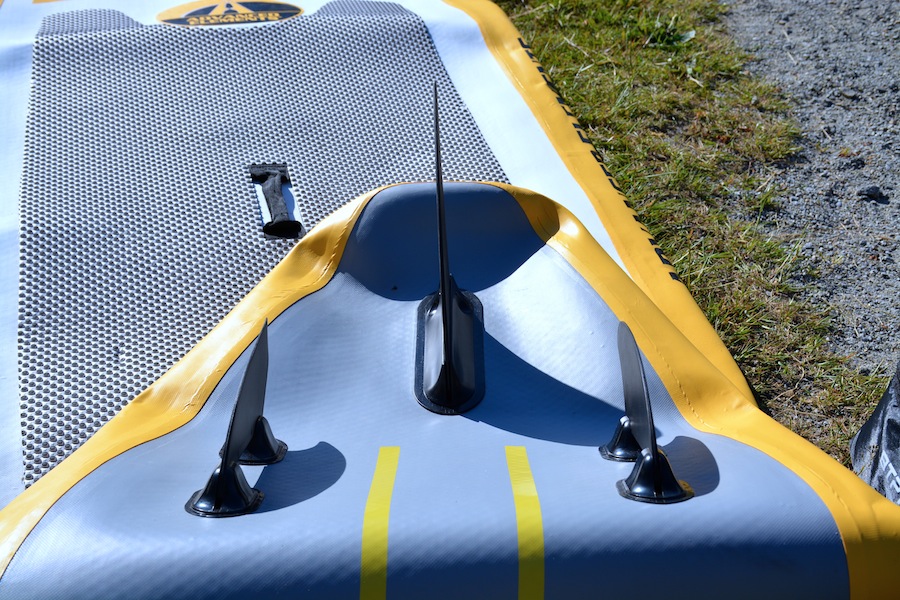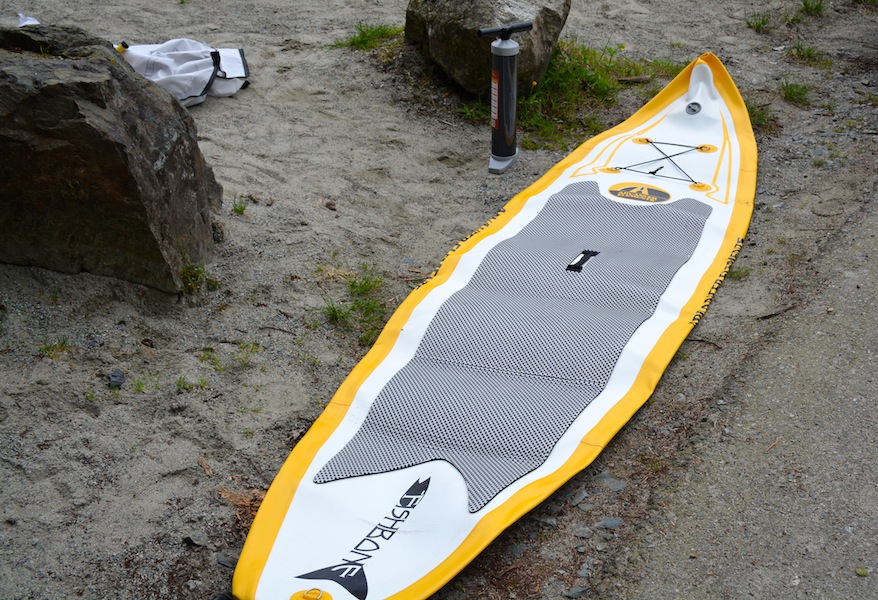 Performance
Performance is good, I liked paddling this board.  I found that on calm flat water it glided nicely, tracked well and was smooth to paddle.  It also handled quite well on choppy water.
Myself, my boyfriend and two of our friends tested the Fishbone several times.  The four of us are all different sizes, heights and have varying degrees of paddling experience.
We all agreed that this board has a lot of positives and overall was a lot of fun to use.  We all felt secure, stable and found the design functional and comfortable.
The 6" thickness adds extra stability and is able to support quite a bit of weight with no flex.  The length is ideal for a variety of paddling and it is easy to maneuver and turn.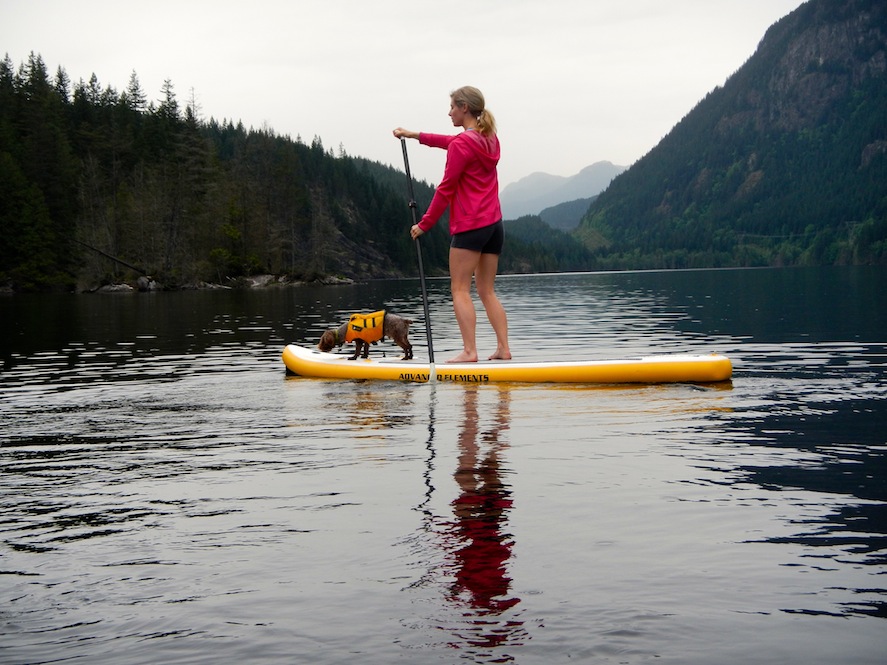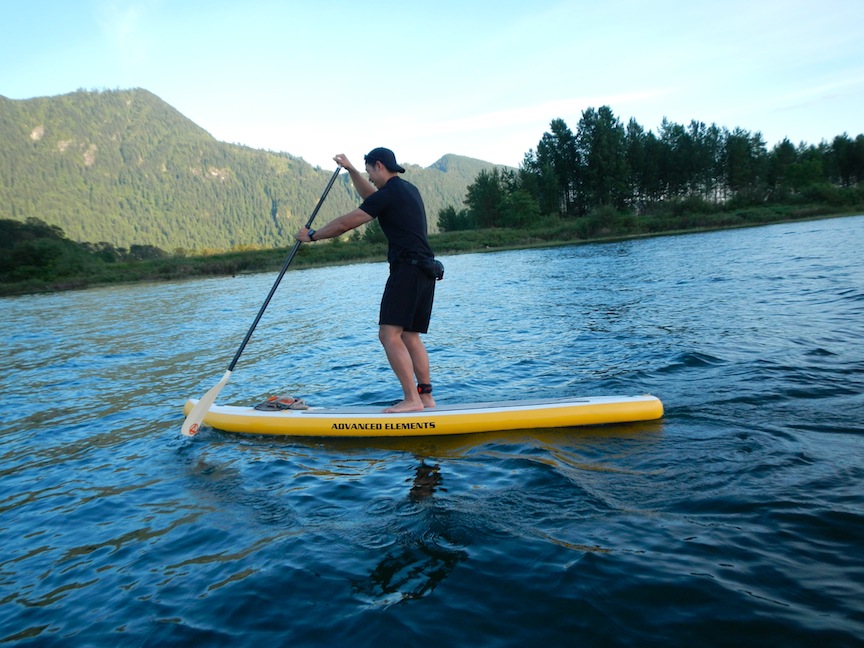 My Pics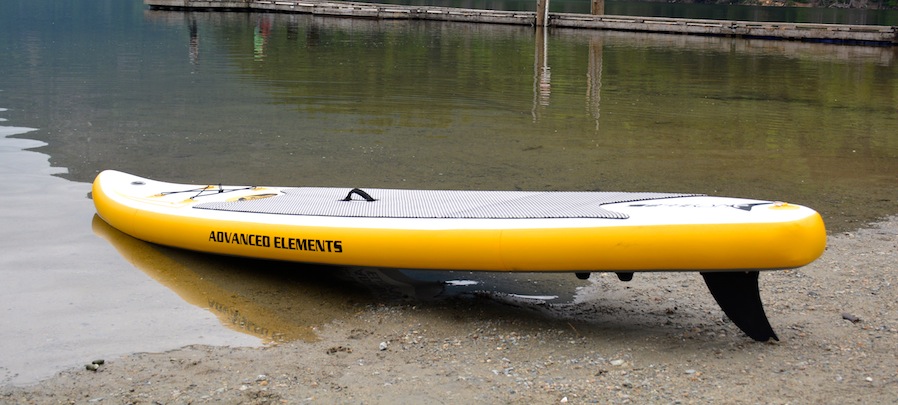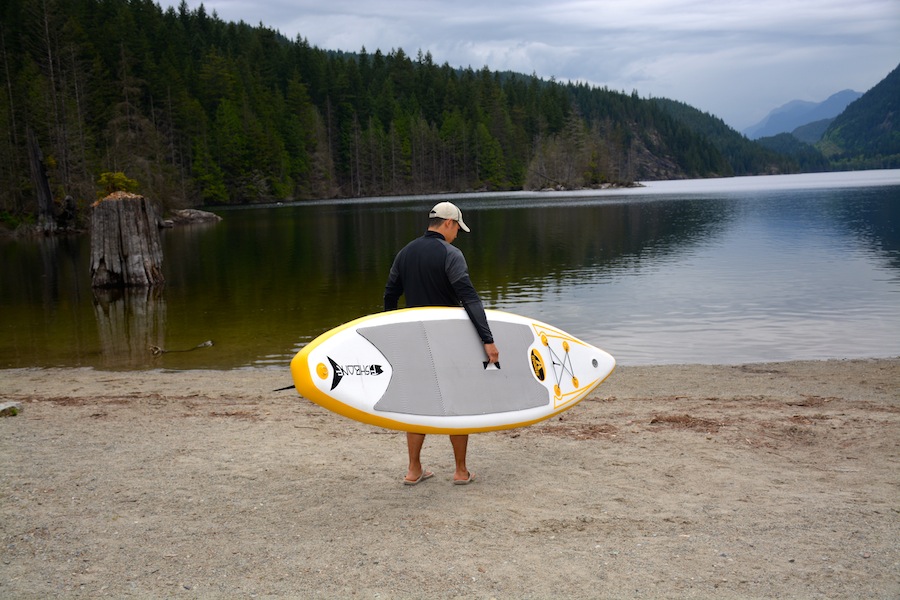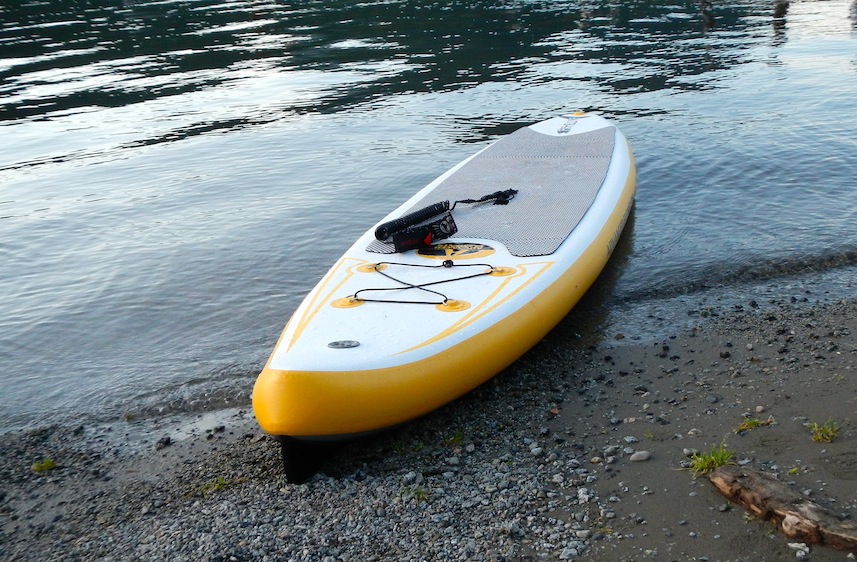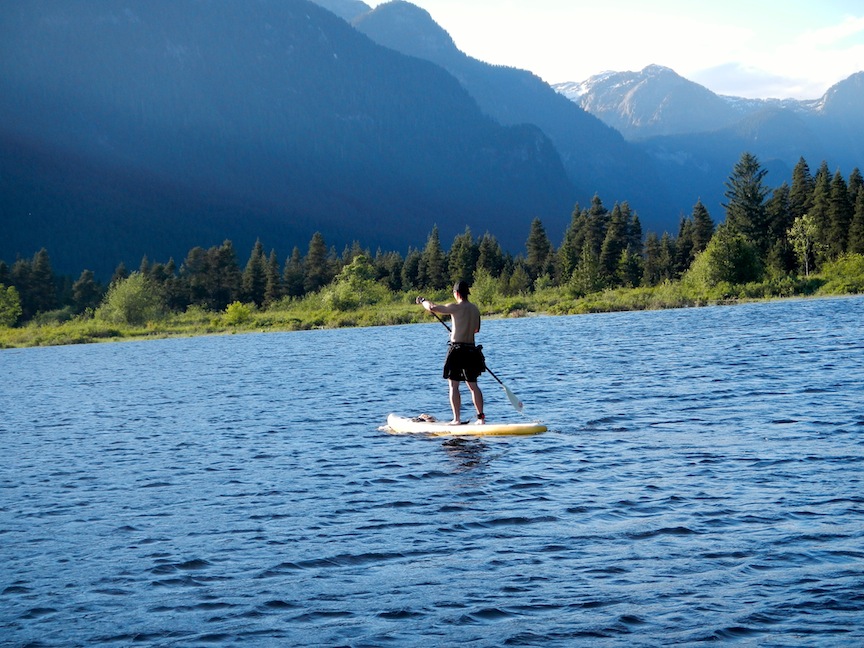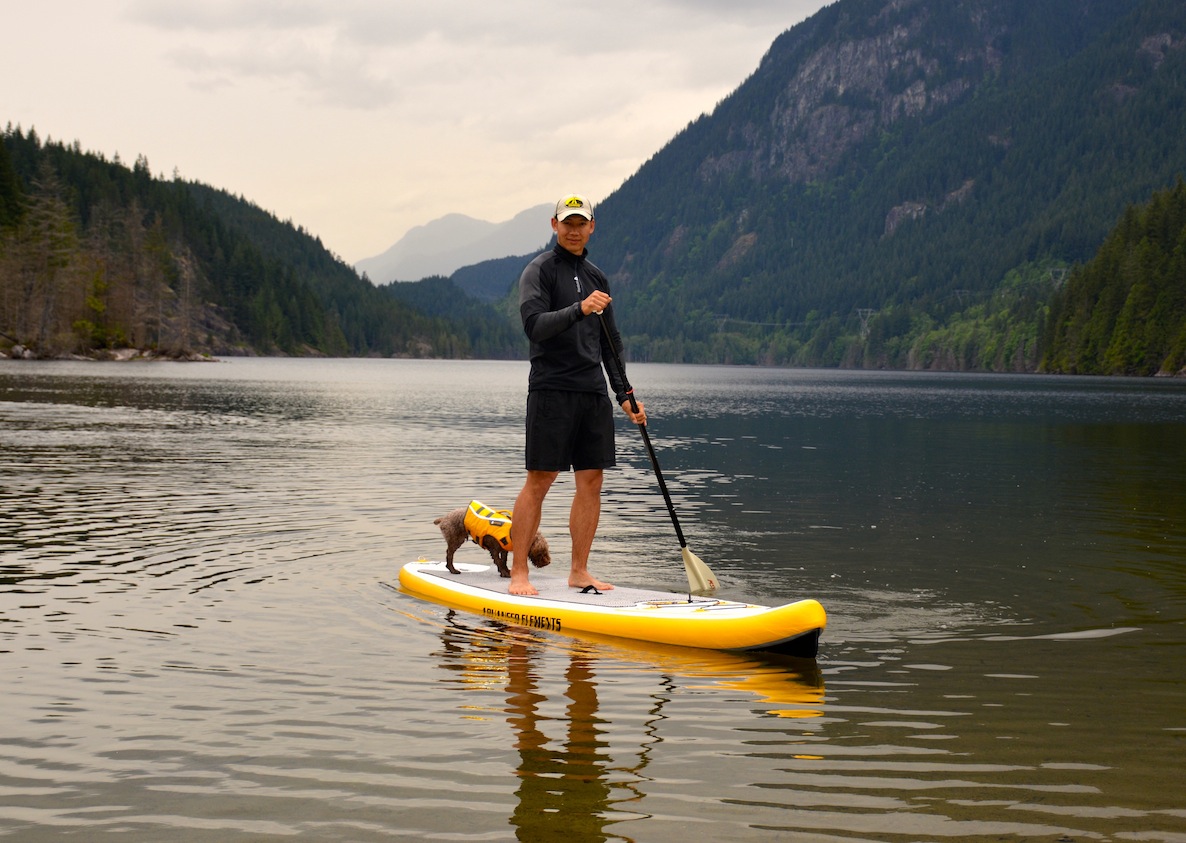 Final Thoughts
Overall I was quite happy with the Advanced Elements Fishbone. It is a nice board and a great addition to the inflatable SUP market.
The overall features are good. There are enough D-rings to secure some gear as well as a board leash. The foam traction pad is comfortable to stand on and the 3 detachable skegs make it quite versatile.
This board is simple to store and transport anywhere you want to go. It comes with a large duffel carry bag.  We found that the deflated board was very easy to place back inside the carry bag along with the high-pressure hand pump and the repair kit.
Where To Buy
Click the links below to find the best deal on the Advanced Elements Fishbone inflatable SUP.
Click here for the AE Fishbone ISUP at Amazon.com
Click here for the AE Fishbone ISUP at Outdoorplay.com.
Did You Know?
By clicking on any of the above seller links you can help keep ISUPworld.com growing. When you make a purchase after clicking on our links, the retailer will contribute a portion of the sale to help support this site. It won't cost you anything extra and it's a simple way to help us fund our gear reviews. Thanks!