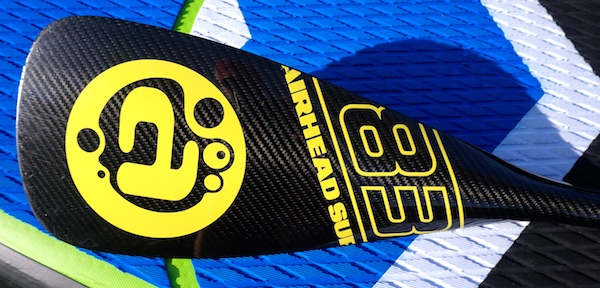 If you want a super lightweight and ultra portable SUP paddle, then this Airhead all Carbon-Fiber paddle is the one to get.
I love so many things about this paddle.
There are three different blade size options to choose to suit different sized paddlers.
It comes apart into three pieces so is ultra portable and easy to store.
It is adjustable for different heights.
It comes with an awesome travel bag.
And most importantly it feels great to use.
At the time of writing this review I have been using this paddle for a month and could not be happier with it.
Important Paddle Features
Material
There are many different types of materials used to make SUP paddles.
The most common are aluminum, fiberglass, wood, plastic and carbon fiber.
The carbon fiber paddles tend to be the most expensive because they are the lightest and the strongest.
Many people (including myself) start out with a cheaper aluminum paddle but eventually upgrade to a lighter carbon fiber one once they really get into paddle boarding and spend more time on the water.
The biggest advantage to a carbon fiber paddle is that you can go further and faster with less arm fatigue.
For longer paddling trips, this makes a huge difference. Once you try an all carbon fiber paddle you won't want to ever go back to a heavier one.
This Airhead paddle is made of all carbon fiber. It is very strong and durable and super lightweight.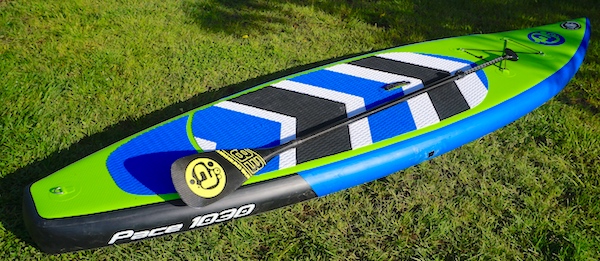 Blade
The blade comes in three size options.
83 sq/in – for paddlers 100-150 lbs.
93sq/in – for paddlers 150-200 lbs.
103 sq/in – for paddlers 200-250 lbs.



Blade size often comes down to preference and I normally prefer a medium size blade. I find it suits my easy relaxed paddling style.
A smaller blade is ideal for a faster cadence and a larger blade is best suited for power strokes. A large blade is often easier for a larger person to handle.
If you are not sure which size will suit you best then I highly recommend making a decision by following the weight guidelines.
For myself I weigh 130 lbs. and decided to go with the blade size specific for my weight.
I also knew I wanted to use this paddle for higher cadence paddling when racing my boards. Therefore a smaller blade would suit me best.
I got the smaller 83 square-inch blade and I am so happy I did.
It suits my size and I find that I can paddle fast and cover a large distance with less effort and fatigue.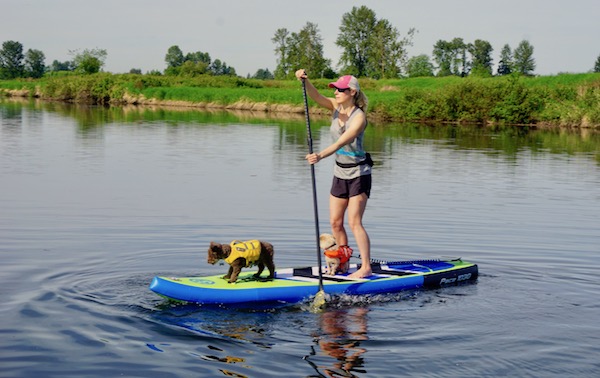 For my boyfriend the blade is a bit small. The next two sizes up would suit him better.
Weight
A larger blade will add a bit of weight. However the nice thing about this carbon paddle is that the weight only minimally goes up with the larger sizes630.
83 sq/in blade – weighs 630g (22.22 oz)
93 sq/in blade – weighs 650g (22.93 oz)
103 sq/in blade – weighs 670g (23.63 oz)
Adjustable Shaft
The length of the shaft is adjustable from 66" to 85" (168cm – 215cm).
In general your paddle should be 10-12" taller than you for racing, 8-10" taller than you for cruising and 6-8" taller than you for surfing.
To adjust the shaft you simply unhook the latch and place it at the right height. Then close the hatch and use a small screwdriver to tighten.
It is worth tightening the little screws to get a secure fit. When tightened properly the shaft is solid and doesn't twist or move.
3-Piece Construction
The shaft comes apart in two different places making this paddle absolutely perfect for traveling and easy for storage.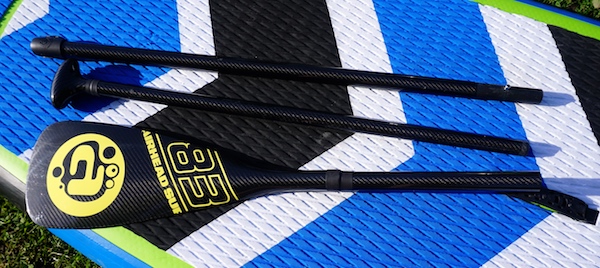 I find with some 3-piece paddles that the shaft doesn't feel as strong. However I did not find that to be the case with this one.
When assembled properly the shaft feels very solid and there is no twist or vibration.
Travel Bag

3-piece paddles are ideal for traveling because they are so easy to transport.
This one is particularly awesome because it comes with its own travel bag.
The bag is padded and has a separate compartment for each piece of the paddle to keep them safe and free of scratches.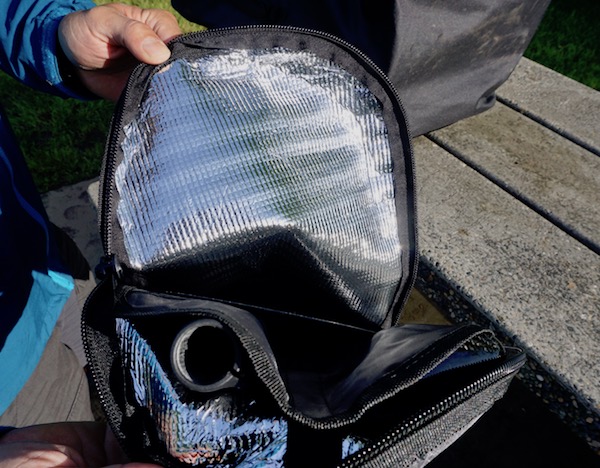 I love this bag and love that it is included in the price. It is a definite bonus.
There is a top carry handle as well as an adjustable shoulder strap. The zipper is solid and overall the bag feels well made. It measures 36" long.
If you like to travel with your board either by car, airplane, RV, boat, or even by bus then you will love this SUP paddle package.
Where To Buy
You will always pay more for a carbon paddle but I feel that for the quality, convenience and package that this Airhead SUP paddle offers, it is a great buy and it is really quite well priced compared to other brands in the same category.
It is convenient, portable, lightweight and perfect for traveling, long distance paddle boarding and will cause less wear and tear on your arm, shoulder and back muscles.
Click Here For The Best Deal On The Airhead SUP Carbon SUP Paddle with 83 sq/in blade At Amazon.com.
Click Here For The Best Deal On The Airhead SUP Carbon SUP Paddle with 93 sq/in blade At Amazon.com.
Click Here For The Best Deal On The Airhead SUP Carbon SUP Paddle with 103 sq/in blade At Amazon.com.