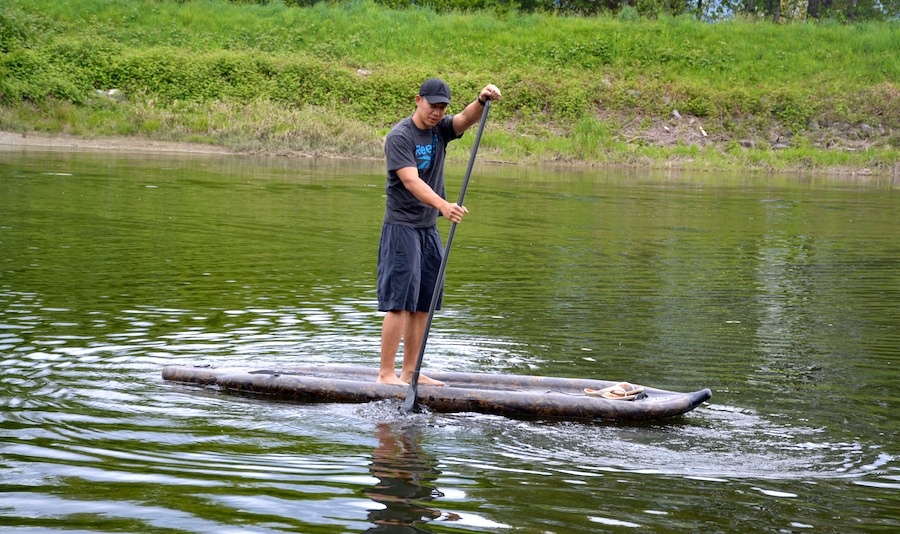 This is one of the most stable inflatable SUP boards on the market.
It is wide, it is strong and it is ideal for any person who would like a little extra stability while out on the water.
Specs For The Airhead SUP SS Camouflage
10'8" long
38" wide
weighs 32 lbs.
can hold up to 300 lbs.
air pressure: main chamber 15 PSI, side chambers 7-9 PSI
includes two small side skegs, one large removable skeg
Material: Extra rugged drop stitch PVC construction
Pros: Super stable, rigid and strong, comfortable anti-skid EVA foot pad, bungee tie-down cords at front of board, padded carry handles at bow and stern and center of board, very easy to paddle
Cons: A little heavy, a slow mover
Where To Buy The Airhead SUP SS (Super Stable)
Although I reviewed the SS Camouflage there is also another version called the SS Super Stable, which is exactly the same except for the color.
Click here for the best deal on the SS Camouflage at Amazon.com.
Click here for the best price on the SS Super Stable at Amazon.com.
More In-Depth Info On The SS Camouflage
I was very pleased with the rigidity of the Airhead SUP SS Camouflage and I also noticed right away the strength of the material.
I expected this ISUP to be stable (and it definitely is) but I was impressed with the ruggedness of it. The material seemed extremely tough. While paddling this board I had confidence it could tackle a lot of different situations.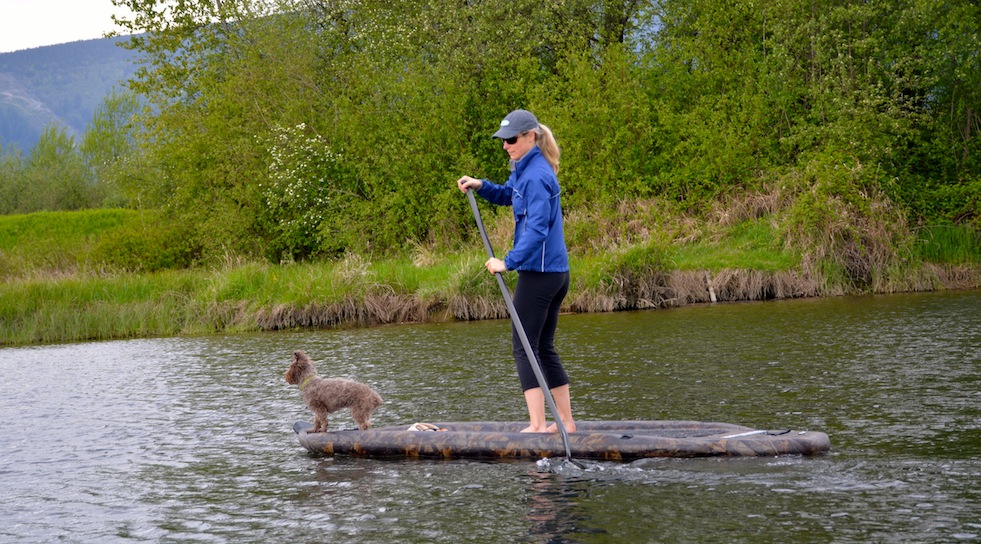 With the extra stability that this board offers it is ideal for:
fishing
SUP yoga
paddling with kids or dogs
larger paddlers
and anyone who wants a little extra stability
It comes in two color options… the Camouflage, which is the one I reviewed or a blue and white option.
The Camouflage color is great for SUP fishing and I really liked the look of it. It looked even better than I expected and it really did blend with the water and the environment.
Airhead SUP SS Inflatable Side Chambers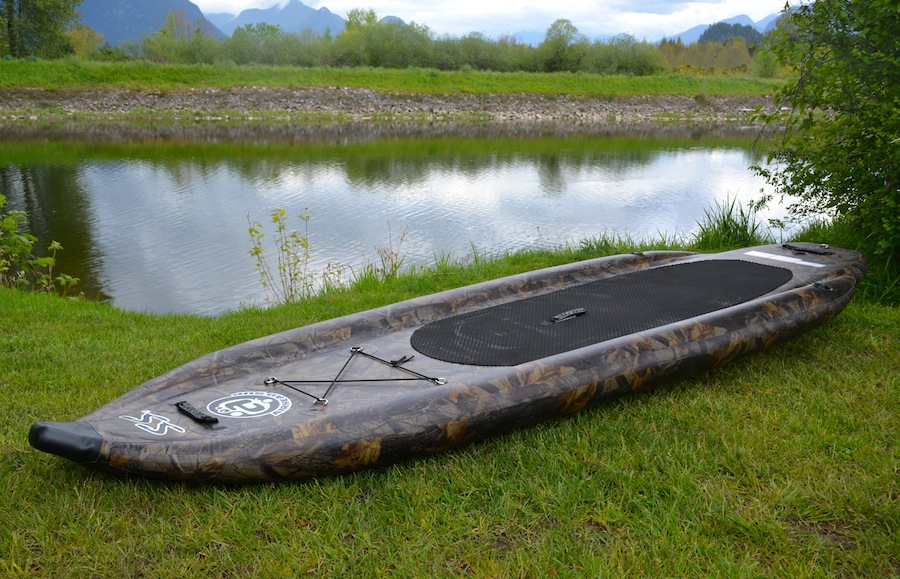 What makes this SUP unique and extra stable is the inflatable side chambers.
Whereas most inflatable SUP's have only one main air chamber, this one has three…One for the main body and one on each side chamber.
The main body can be inflated up to 15 PSI. The side chambers can be inflated up to 9 PSI.
The side chambers make this board extra wide. They create extra buoyancy and stability.
When out on the water we tried rocking this board back and forth and doing little jumps to test the rigidity and stability. It's not easy to fall off this SUP, it truly is super stable.
The extra side chambers do make this board a little heavier because of the added material and width and they also make this board slower to paddle.
However the tracking is good and overall I found it easy to paddle and I quite enjoyed cruising around on it.
The side chambers definitely serve a purpose and for those who want the added stability, I think they will appreciate them as well as the quality of this board.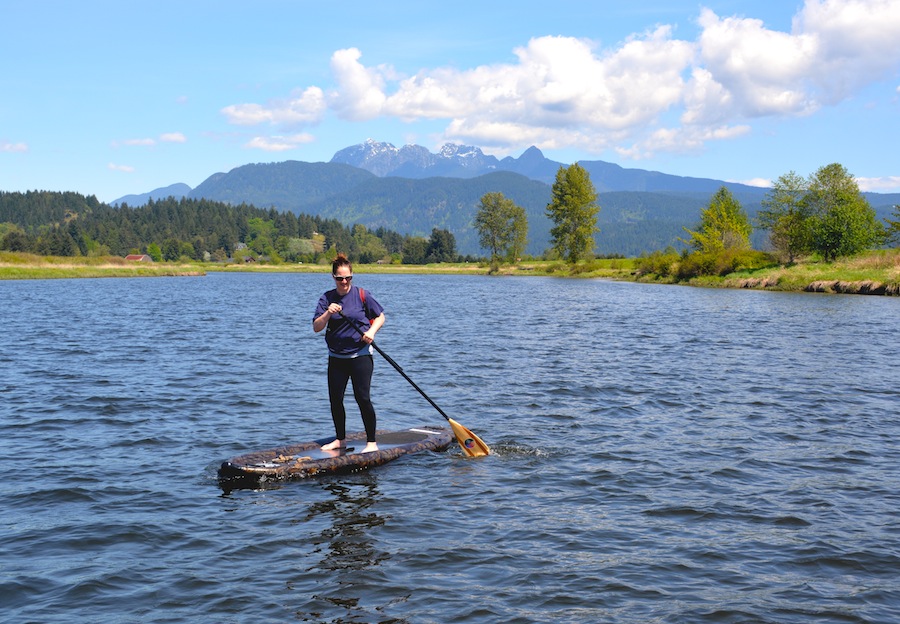 The above picture is of a friend of mine who had never stand-up paddled before.  The SS Camouflage provided so much stability that she excelled right off the bat.
I switched her over to another ISUP that had a more standard design and shape and she noticed the difference in stability right away.
She eventually went back to the Airhead SS and paddled the rest of the way back.  This board is awesome for beginners to gain their confidence.
Setup of the SS Camouflage
Setup is very simple. First take the board out of the backpack carry bag.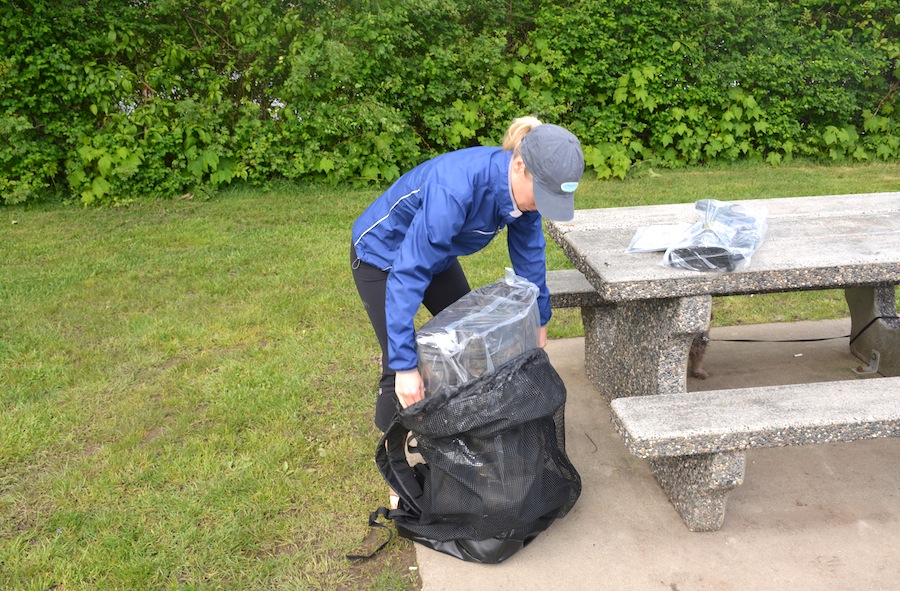 This board comes with a mesh backpack carry bag to store it and transport it.
I like the mesh as it lets the board breath when it is stored away.  However the downside of the mesh is it won't provide as much protection when traveling if you want to check the board on an airplane.
The straps on the backpack are a little flimsy and there is no extra padding for comfort or support. However it does the trick and the bag is big enough to get the board in and out fairly easy, which is nice and not always the case with other boards.
Once you have the SUP out of the bag, unroll and inflate. Inflate the main chamber first then the two side chambers.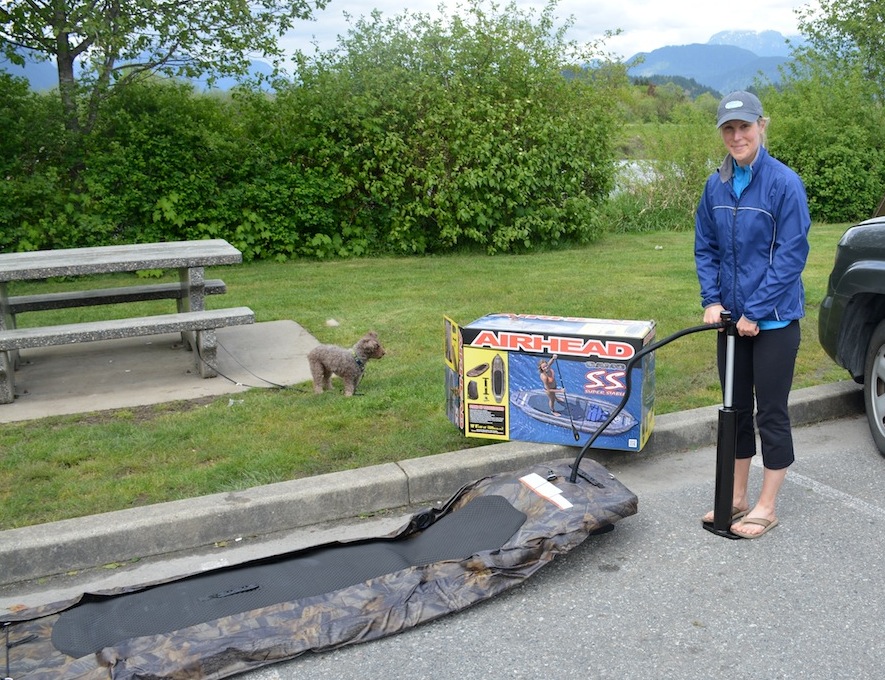 I used the hand pump that comes with this Airhead board. It worked fine… takes some effort to get to 15 PSI but very doable. The two side chambers inflated very fast.
The hand pump comes with a pressure gauge so you can check your progress and it works well.
If you'd rather not exert yourself while inflating the board before hitting the water, Airhead has a great electric pump that can be purchased separately.
Once inflated attach the fin. It secures easily and feels solid and strong once attached.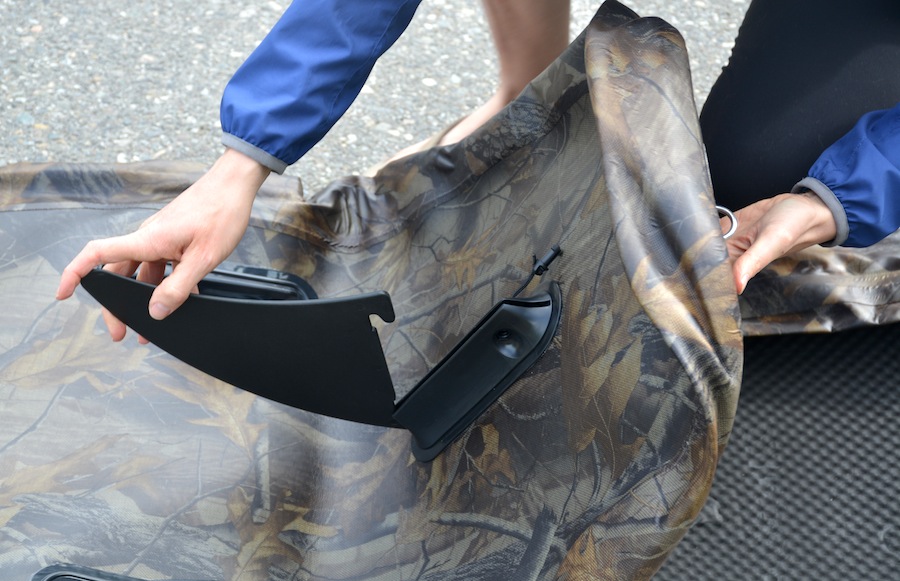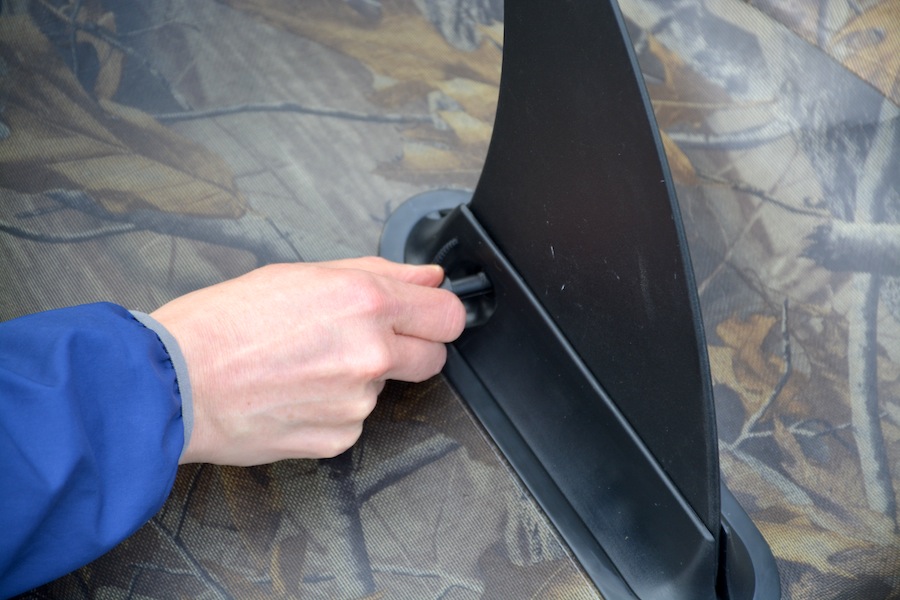 In total it took me about 10 minutes to get on the water. It would be even faster if using the electric pump.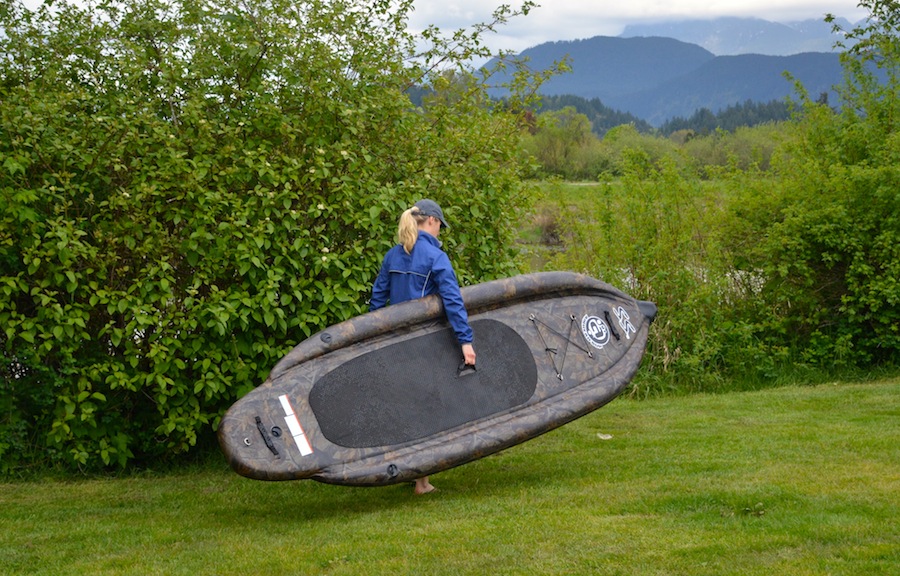 Airhead SUP Super Stable Performance
The performance was decent. This is not a streamlined SUP that is going to race through the water.
However considering it's size I thought it paddled nicely, tracked well and had no problem cutting through choppy waves.
In fact I found it so stable that I noticed the waves made much less of an impact on my paddling than normal.
I felt secure on this board and it was fun to ride.  My little dog Seth was also totally comfortable and he seemed at ease even walking on the board while I paddled.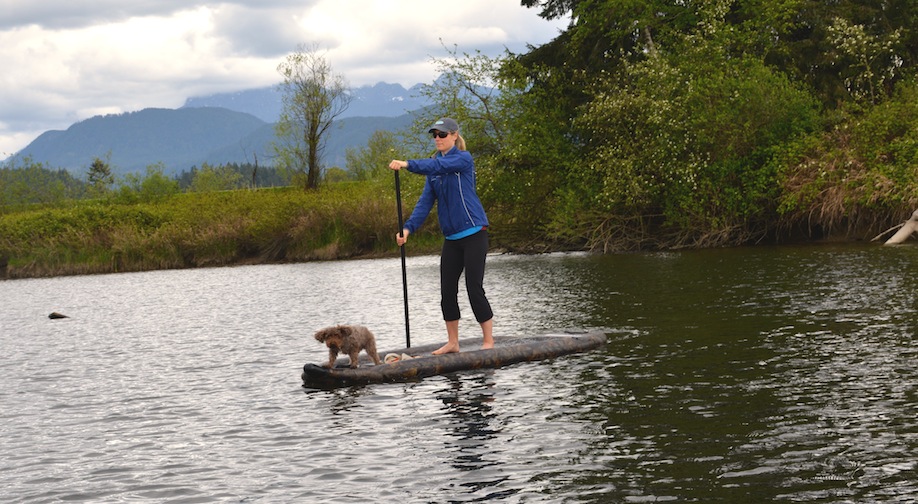 Important Features
Fin System
The fin system on the SS Camouflage is quite good. There are two attached smaller fins and one removable larger fin.
When paddling in shallow water or for whitewater paddling you can leave the large fin off and rely simply on the two small fins.
For open flat water paddling the larger fin really helps with tracking.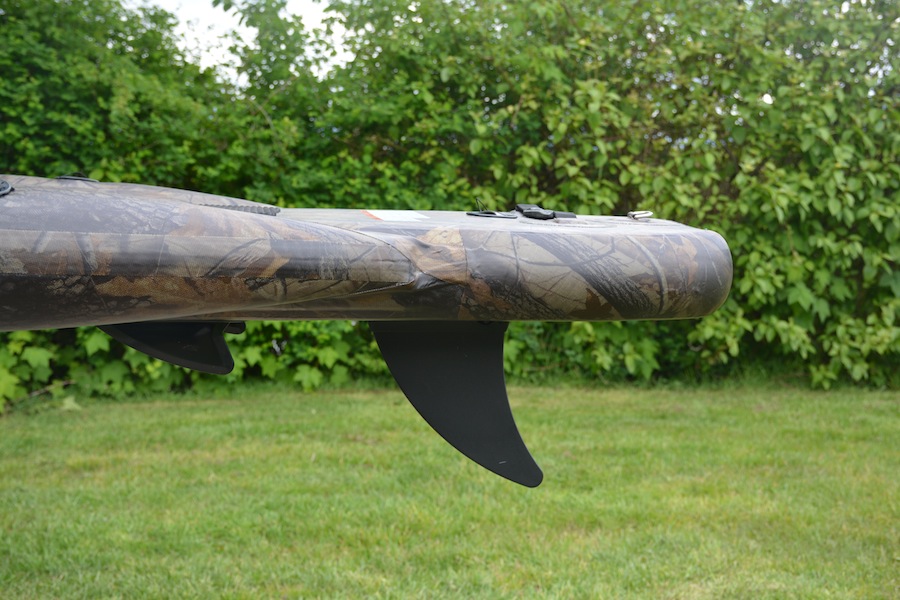 Bungee Tie-Down Cords
I was happy to see there is a bungee tie down system at the front of the board.
This is always handy to have and ideal for securing your water bottle, shoes, or any gear you want to bring out with you.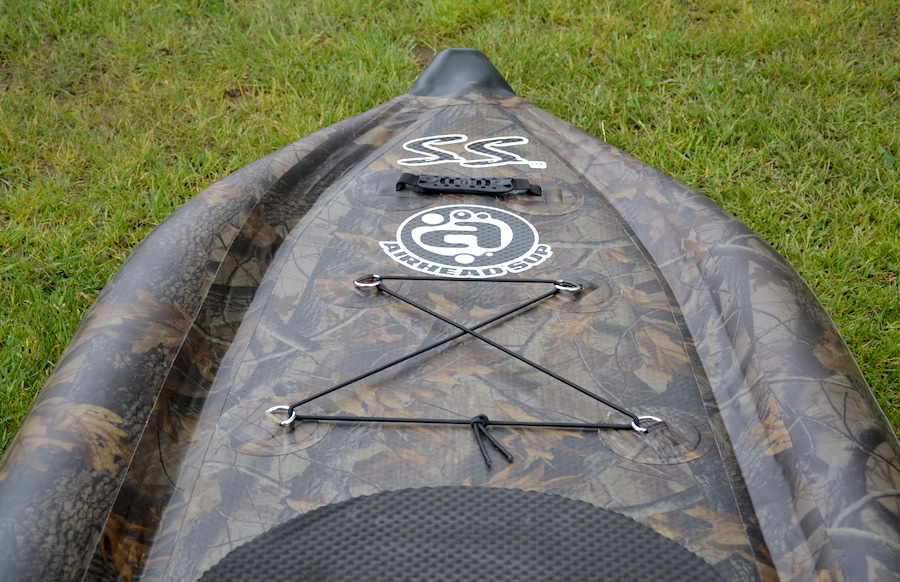 Carry Handles
All three carry handles on this board have rubber padding, which makes them really comfortable to use.  I love when there is padding on the carry handles as I feel it makes such a difference comfort-wise when transporting the board to and from the water.
There is a center carry handle that you would use most often when carrying the board by yourself.  There is also a front and back carry handle as well to use when carrying with two people.  Then handles feel strong and secure just like the rest of this SUP.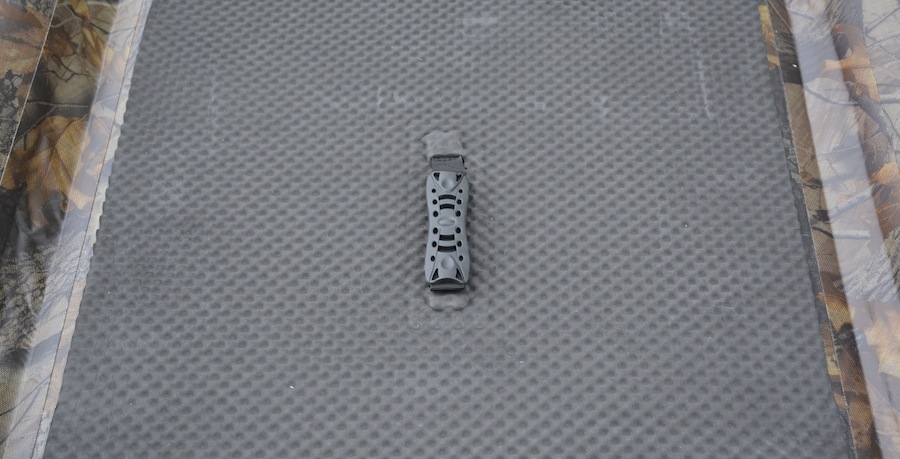 D-Rings
There are four D-rings up front that secure the bungee cords as well as one D-ring at the back.
The back D-ring is ideal to secure your board leash.
Hard-Tip Nose
There is tapered hard-tip nose on this ISUP.  The strength and rigidity of the nose make it ideal for punching through waves.
It is a nice feature that adds to the ruggedness and strength of this inflatable SUP.
EVA Anti-Skid Pad
The foot pad is long enough to be fully functional and comfortable to stand on.
It has enough traction that there is no concern for slipping yet it is very comfortable to stand or kneel on.
One-Way Valve
The Halkey Roberts style air valve works great on all three air chambers.
It is the most typical type of valve used on inflatable SUP boards and leaks from these valves are unusual.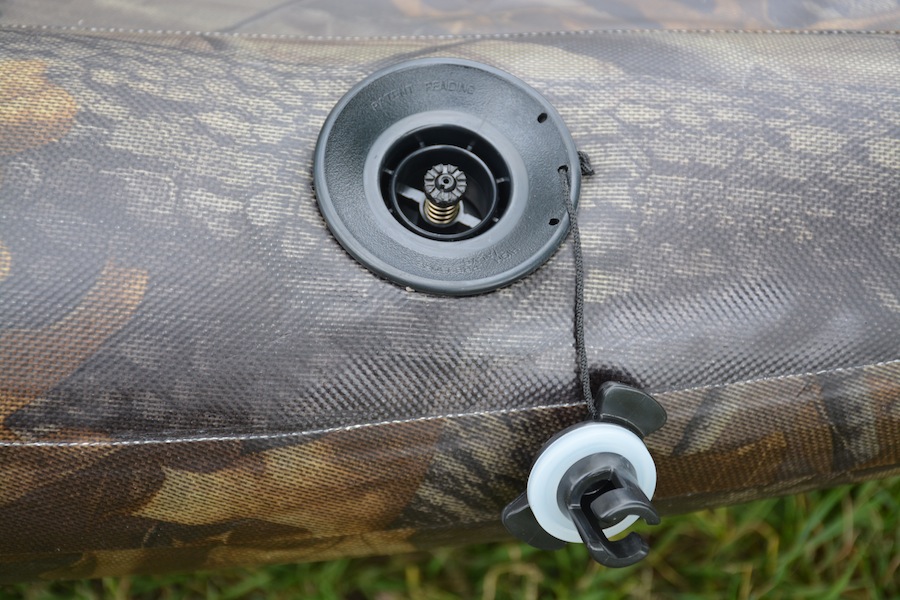 Versatility Of the Airhead SUP SS Camouflage
Believe it or not this inflatable SUP is very versatile.
It may not be the best performing board out there but it serves a purpose and it can be used by any person on just about any type of water.
Whether you are large or small, this SUP is easy to paddle and can handle a lot of weight…up to 300 lbs.
It is very stable for waves and choppy water.
It is ideal for piling on the kids and cruising around.
It is perfect for dogs with the extra width and stability.
It is most ideal for fishing.
It is great for yoga or exercise.
It paddles well cruising on flat water.
It provides extra stability for whitewater and the hard-tip nose punches through waves nicely.
You could even take it surfing, although it won't turn and maneuver as quickly as one might like.
Color Choice
This board comes in two color options…A camouflage color as seen in my pictures or a more standard blue and white design.
I thought the camouflage material looked great and it really did blend with the environment well. This choice is ideal for those who plan to fish from their board or just for those who love camouflage! I liked it more than I expected to.
The Downside
The negatives are the obvious extra weight of the board and the slower movement through water.
One other thing I noticed was that more water seemed to stay on the board while paddling.
It is normal for water to get on the board and one expects their feet to get wet while stand-up paddling.
However I noticed the water did not drain off the top of the board as easily with the puffy extra side chambers.
It didn't bother me at all as the water would eventually drain off the back but thought it worth noting.
My Pictures Of The SS Camouflage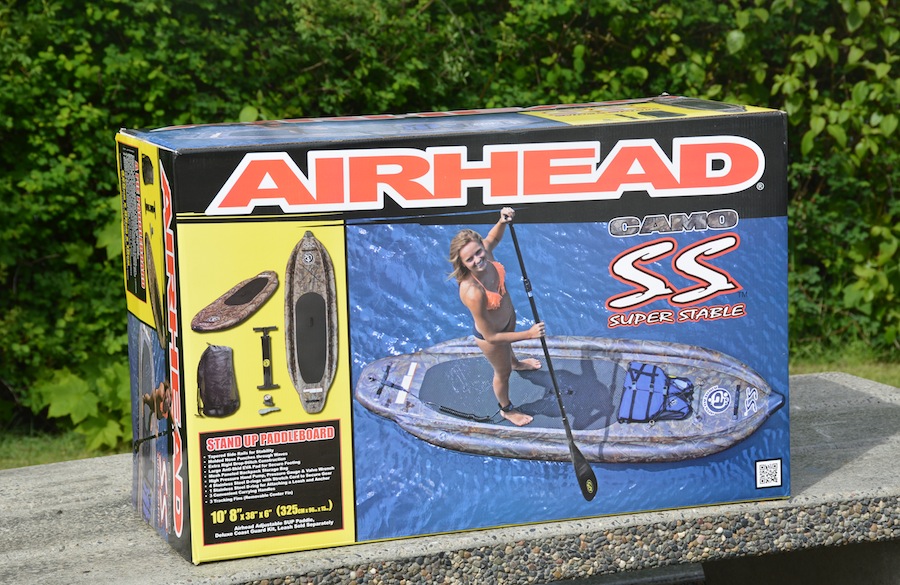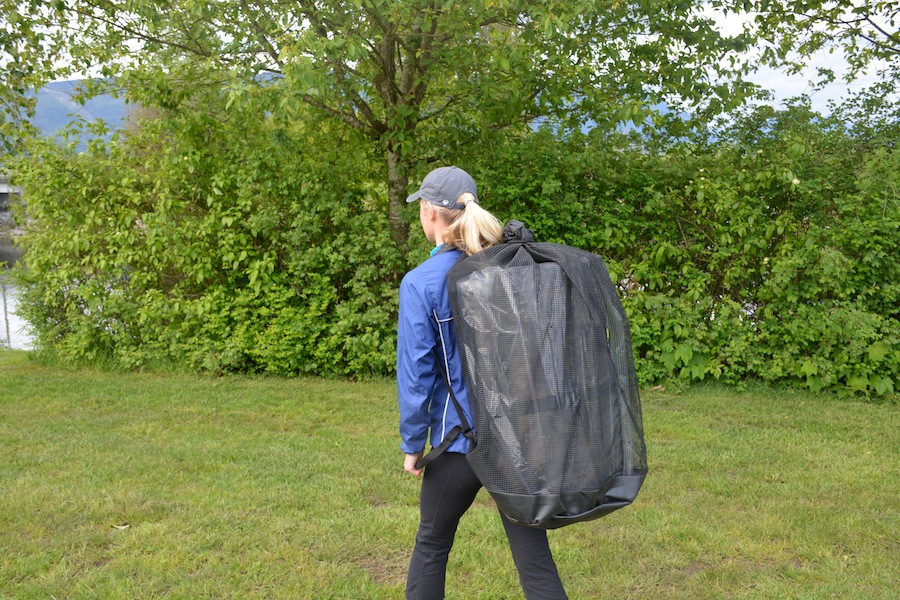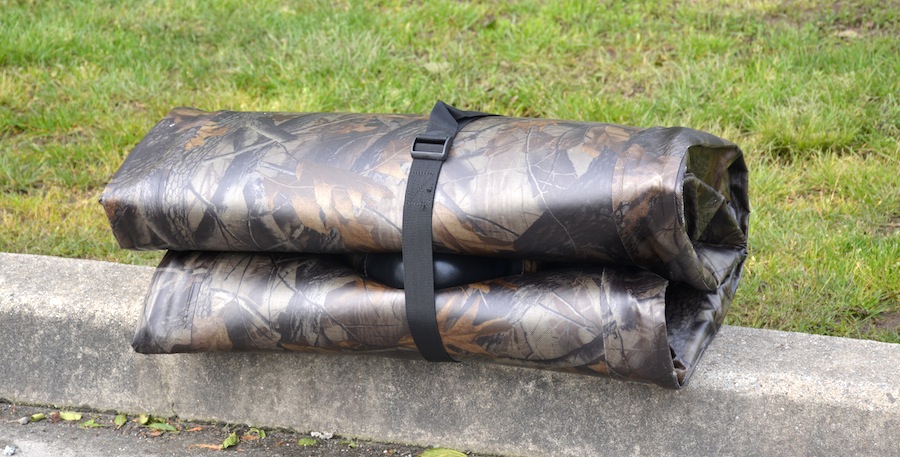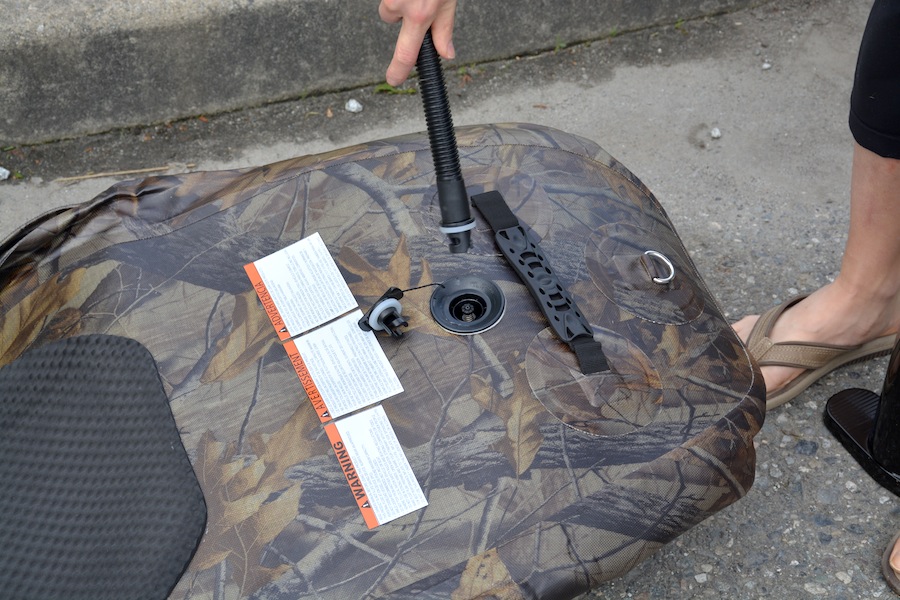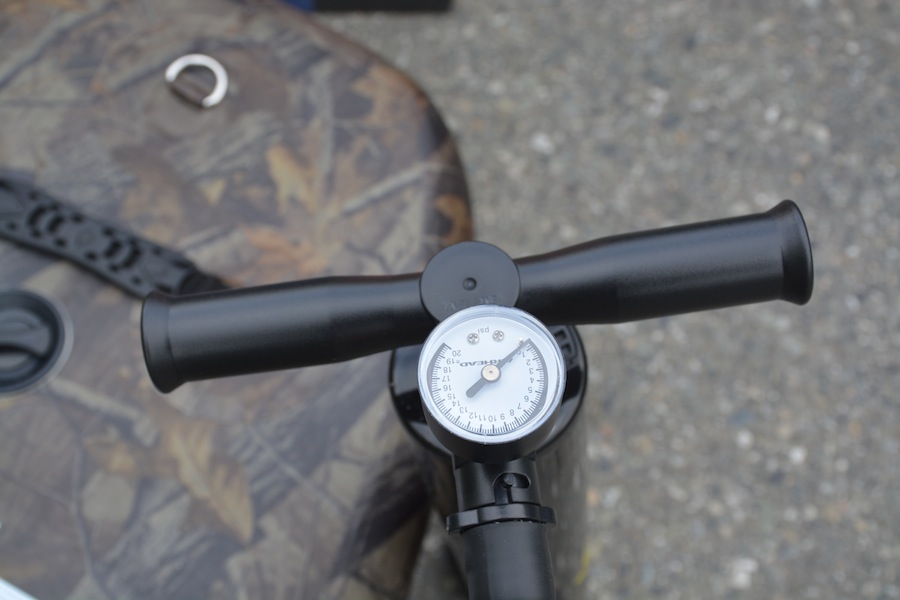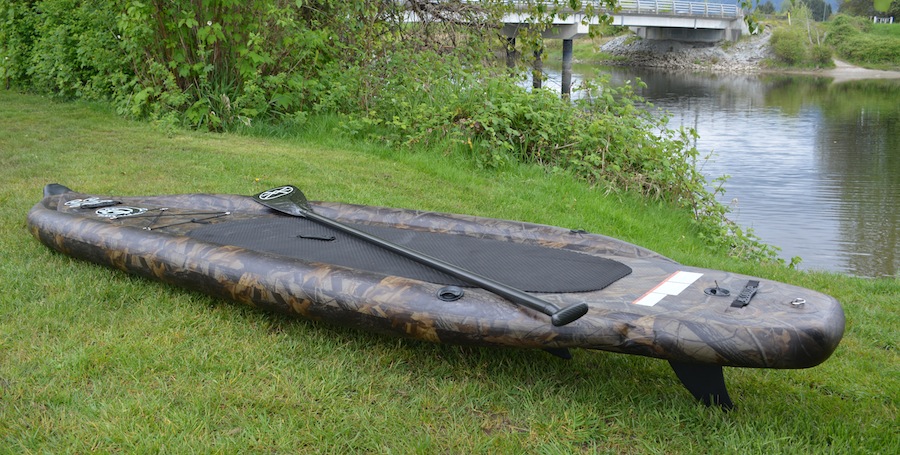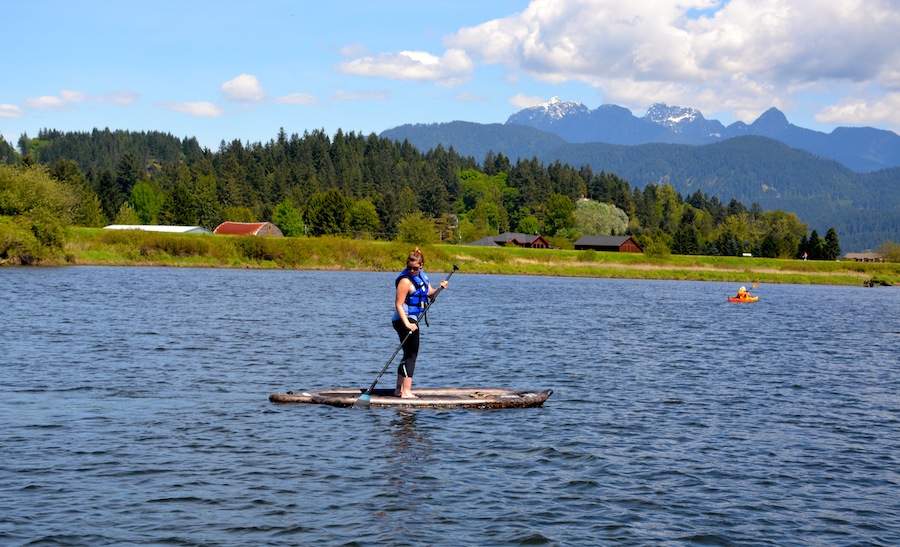 Our Video Of The Airhead SUP SS Camouflage
Final Thoughts
Overall I like the Airhead SUP SS Camouflage. I like the color and design of the board and I get how useful it would be for a lot of people.
It wouldn't be my choice for regular paddling but the pontoon-like sides serve a purpose and if I fished or wanted to do SUP yoga, this would be a great choice.
It is also ideal for beginners who are nervous to try stand-up paddling and for larger riders who need extra support and stability.
The quality is good and it has all the important features covered.
Included in the package is the backpack, high pressure-pump with gauge, valve wrench and repair kit.
Where To Buy
Click here for the best deal on the SS Camouflage at Amazon.com.
Click here for the best price on the SS Super Stable at Amazon.com.
Did You Know?
By clicking on the above seller link you can help keep ISUPworld.com growing. When you make a purchase after clicking on our links, the retailer will contribute a portion of the sale to help support this site. It won't cost you anything extra and it's a simple way to help us fund our gear reviews. Thanks!