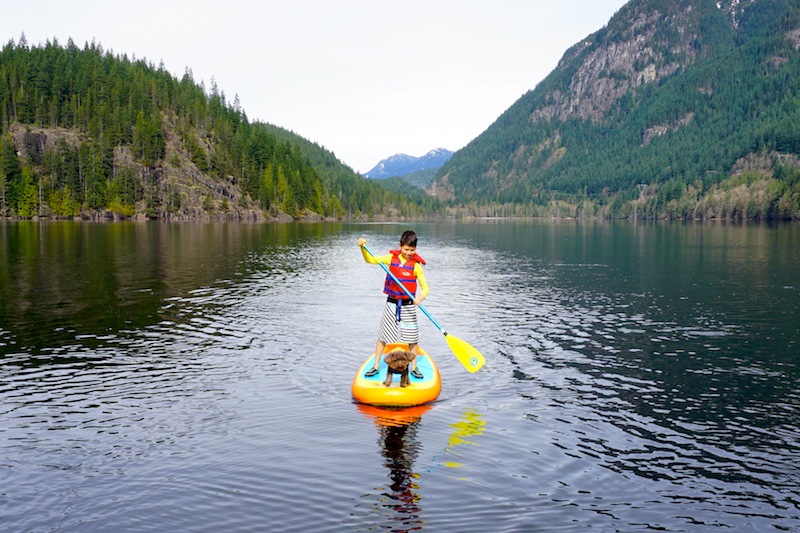 If you have a kid who loves to stand-up paddle or wants to learn then a kid's specific SUP paddle is a must.
The right length and weight as well as a smaller shaft and grip will help kids to be comfortable and confident on the water.
There are a few different kids SUP paddles to choose from and they vary greatly in price and quality.
The Airhead SUP Youth Paddle is awesome for kids that are learning to stand-up paddle and for recreational use.
The price on this paddle is excellent and it is durable and very functional for kids 43" to 65" tall.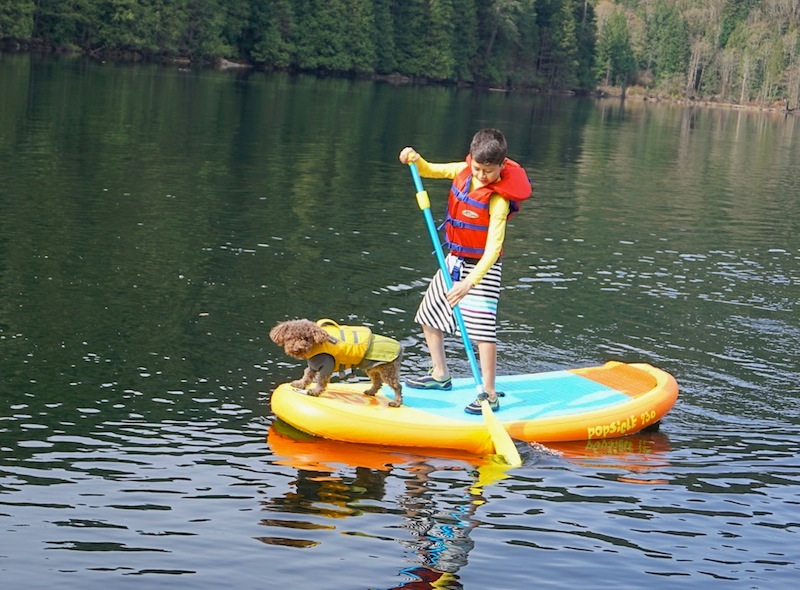 Youth Paddle Special Features
There are a few key features to note for this paddle.
Adjustable Length – The length is adjustable from 52" (132cm) to 74" (188cm).
The length is easy even for kids to adjust themselves. As your child grows the paddle can continue to be adjusted to suit their height right up until they are 5'5" tall.
Aluminum Shaft – The 100% aluminum shaft is strong and durable. It is a nice size to fit kids hands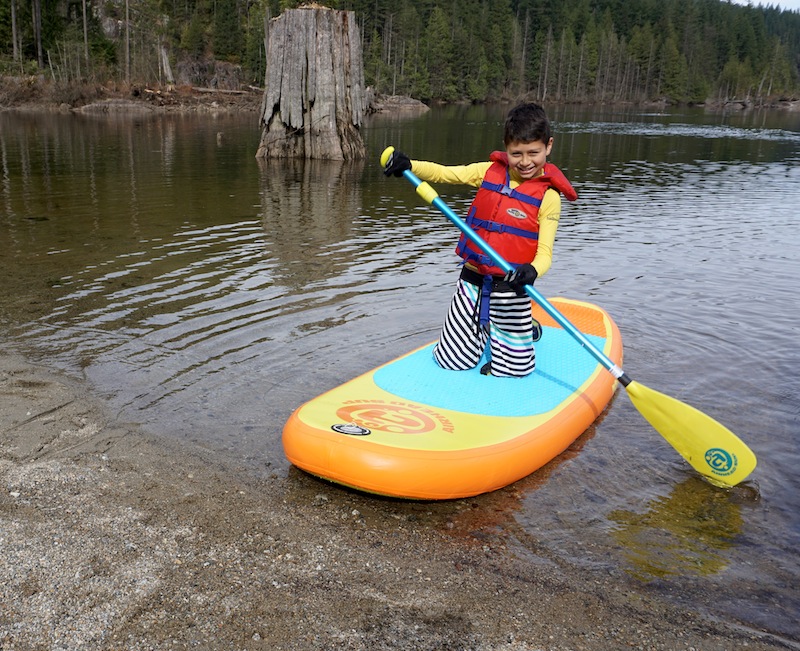 'Duckfoot' Blade – The fiberglass reinforced ABS 'duckfoot' blade is an ideal size and shape for recreational paddling.
The blade is not too big that it weighs down a child's paddling stroke but also not too small that they can't get some good power strokes in.
3-Pieces – This paddle comes apart into three pieces making it easy to be stored in a SUP bag and taken anywhere.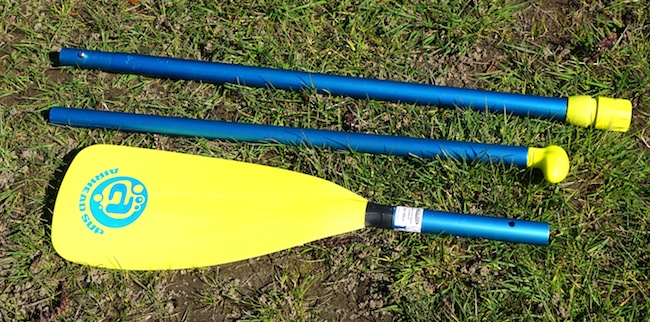 Colour
I thought the colour was worth mentioning as this paddle is bright and easily noticed in the water.  The bright blue shaft and yellow blade and grip stand out.
These bright colours will help you spot your child even from far away.
This paddle also floats and if it should be dropped in the water it will be easy to notice.
Final Thoughts
This Airhead Youth paddle is a base SUP paddle that is durable and functional.
For the price you really can't go wrong. It is ideal for a kid who is learning to stand-up paddle and can be used on flat-water lakes, on ocean chop or even in rivers.
The adjustable length will allow your child to grow with it and it can even be used amongst other kids of different heights.
It is durable and able to withstand a fair amount of abuse. It is not a technical paddle but it is functional and ultimately great for youths.
The kids who tested this paddle for us had no issues with it and enjoyed using it.
If you are still looking for a kid's stand-up paddleboard as well the Airhead SUP Popsicle is worth checking out.
Where To Buy
Click here for the best deal on the Airhead SUP 3-piece Youth Paddle at Amazon.com.
Did You Know?
By clicking on any of the above seller links you can help keep ISUPworld.com growing. When you make a purchase after clicking on our links, the retailer will contribute a portion of the sale to help support this site. It won't cost you anything extra and it's a simple way to help us fund our gear reviews. Thanks!