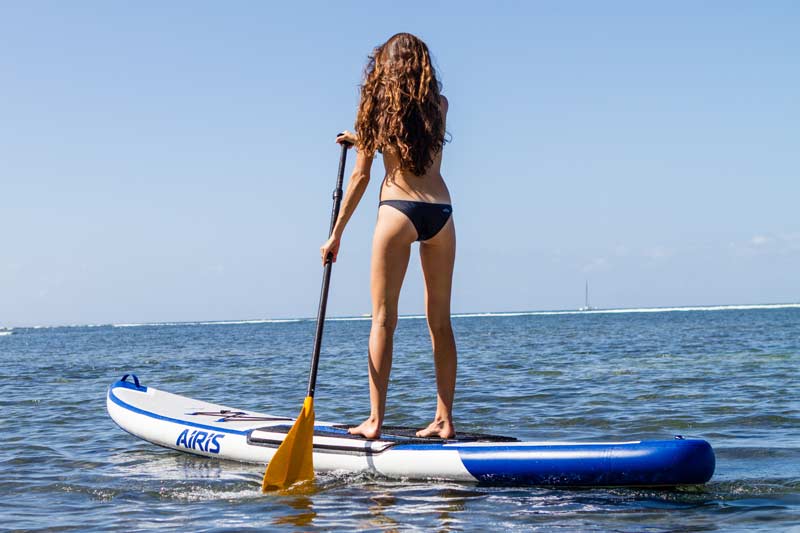 The Airis 12'6" HardTop Tour is stable and efficient.  The long length and 6" thickness can accommodate many people and hold quite a bit of weight.
It paddles really well on lakes as well as in ocean swells.
The size provides a lot of stability and support. I was more instantly comfortable on this ISUP… not just because of the size but also because of the unique fiberglass steps.
The steps make it very easy to balance and provide good rigidity and support.
Quick Stats
Specs
12'6" long
31" wide
6" thick
weighs 33 lbs.
can hold up to 275 lbs.
has one large rear skeg
Material: The Airis boards are made with the Walker Bay patented AirWeb construction.
Pros: Rigid, length is ideal for lake and ocean touring, unique fiberglass steps to stand on, very stable, light enough to take traveling, front bungee tie down cords for securing gear, comes with functional backpack/carry bag
Cons: Not as easy to maneuver for surfing, not as fast as some other boards I've paddled of this size, fiberglass steps make for a slightly bulkier package when board is deflated and rolled up.
More In-Depth Info
I think the nice thing about this SUP is that not only is it ideal for a larger person but it is also so comfortable and stable that any person of any age could easily feel comfortable very quickly.
It is also perfect for paddling with your dog or with a child. The extra length and thickness can make a big difference in your comfort level, especially if you are a beginner.
However this board is completely designed for touring.  It glides nicely on flat water and I found it to handle ocean swells really well.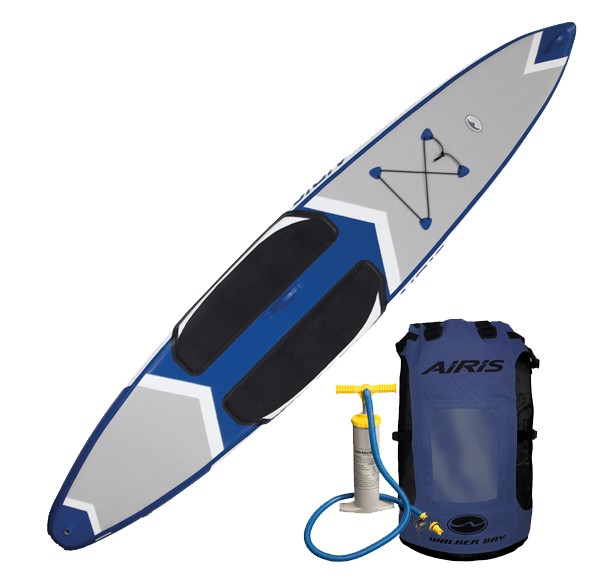 Set-Up
The Set-up as with most inflatable stand-up paddleboards is very simple.
There is only one main air chamber. So simple take the board out of its carry bag, unroll and inflate.
All in all it can be set up and on the water in less than 10 minutes. The one-way valves make inflating as well as deflating very simple and the included high-pressure hand pump works really well to get this board as rigid as it needs to be.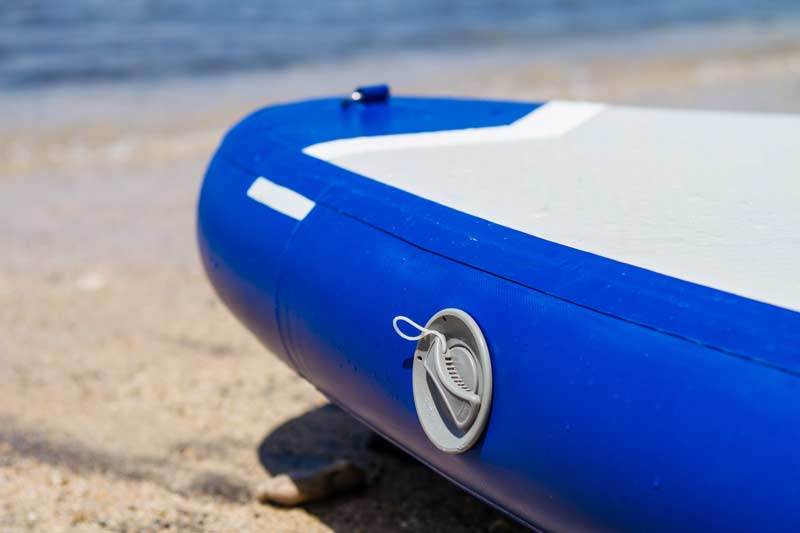 Performance
The HardTop Tour excels at touring for three main reasons:
1. The length and design help it to glide nicely through the water.
2. The large rear skeg keeps it tracking straight.
3. The fiberglass steps give extra rigidity and support which helps you to paddle more efficiently as well as helps the board to be more rigid.
All in all the performance is good. There is no flex in this board and it is able to handle a lot of extra weight.
Taller or larger people will really appreciate the extra size and support that this SUP offers.
Beginners to advanced paddlers will appreciate the comfort that the Airis HardTop offers.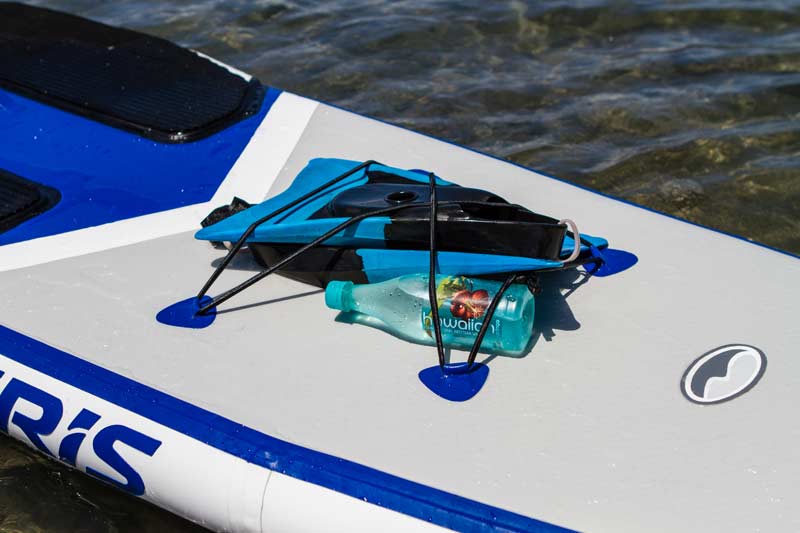 Important Features
There are several features that are worth pointing out..
The RigiDeck EVA covered fiberglass steps are unique to the Airis boards only and give extra rigidity and support under your feet.
D-rings and bungee tie down cords at the front of the board to secure gear, water bottle, etc.
Large rear skeg which greatly helps with tracking and makes a big difference for touring.
Premium one-way valves that make inflation as well as deflation very simple.
As with all of the Airis SUP's and kayaks, this board comes with the Airis backpack/carry bag which makes carrying and transporting this SUP very easy.
The high-pressure hand pump is a good one. It has an adjustable valve for high or low pressure inflation and a pressure gauge to check your progress.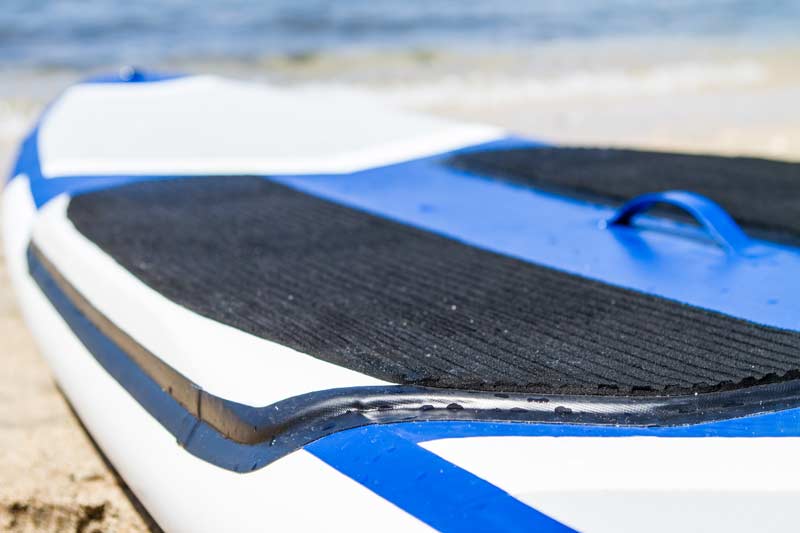 Touring
A longer board is ideal for touring lakes and ocean bays.
I love paddling the 12'6" boards when doing any real ocean stand-up paddling or even for crossing larger lakes.
Touring is an excellent way to see more as well as get more exercise. SUP's are not just for surfing. There is a huge stand-up paddling touring community who travel far and wide on their ISUP's.
The Down Side
The down side to a longer board is that it is not as easy to maneuver and do quick turns.   They tend to be more well suited for straight paddling.
I also find that although this board paddles well it does not glide as fast as some other models I have tried of similar size.
The fiberglass steps which are a unique and functional feature, do make rolling this board up when deflated just slightly bulkier.  It's not a big deal, just something to be aware of.
Final Thoughts
Overall this board is great and I think the price is decent.
It is ideal for a larger person as the size will easily support their weight with absolutely no flex in the middle.
It is also great for paddling with a dog or with a child. There is enough room for everyone to be comfortable and it is super stable.