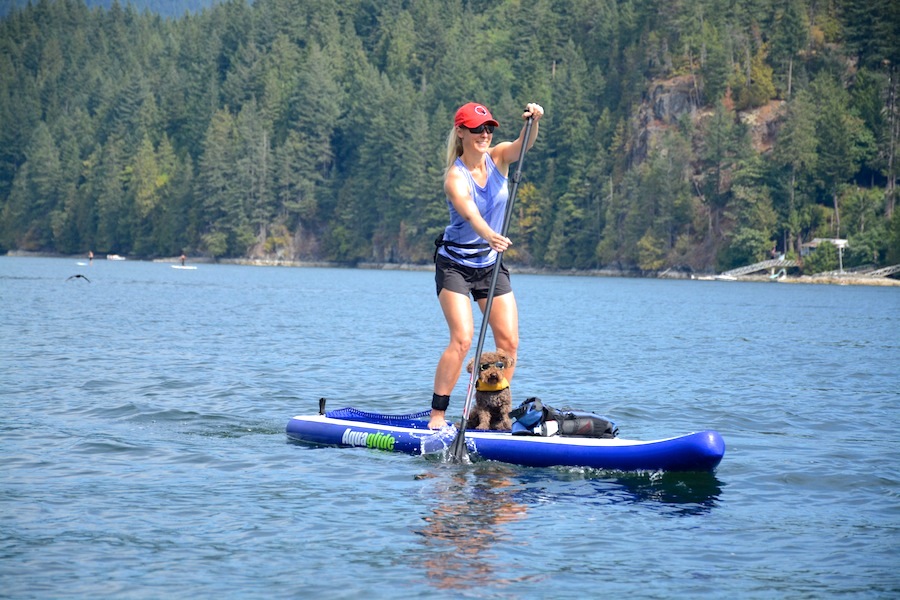 The Aquaglide Cascade is an extremely portable and stable touring inflatable SUP.
Although not considered to be a super performer we found that it paddled well, tracked straight, was easy enough to maneuver and overall felt very stable and secure even on ocean waves.
What it lacked in performance it made up for in stability. I like the look of the Aquaglide 12'6" Cascade and think it would suit a very wide range of people including beginners, advanced riders and families.
The rigid stability and size of this board also makes it ideal for paddling with your dog.
We'd like to give a big shout out to Bram and the friendly folks at Deep Cove Outdoors for letting us try out the Aquaglide Cascade ISUP.
Specs For The Aquaglide Cascade
12'6" long
31" wide
6" thick
weighs 34 lbs.
can hold up to 260 lbs.
air pressure: up to 18 PSI
has one large removable fin
Material: Hi-tech drop stitch PVC material
Pros: Stable, rigid, tracks well, comfortable and easy to paddle, handles waves and ocean chop well
Cons: A little on the heavy side, not super fast
Where To Buy The Aquaglide 12'6" ISUP
*Update for 2018: The 12'6″ Cascasde is no longer available however Aquaglide now has three size options for this ISUP… 10′, 11′ or 12′ long.
Amazon carries all three sizes. Click the link below for more info.
Click here for the Aquaglide Cascade ISUP at Amazon.com.
More In-Depth Info On The Aquaglide ISUP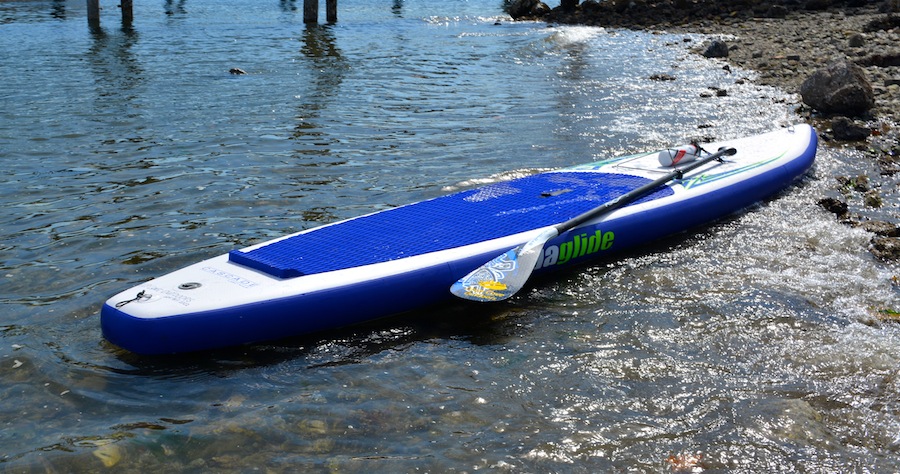 My boyfriend and I spent the day ocean touring on the Aquaglide Cascade and we both really enjoyed this board.
It isn't the fastest board we've tried but it has a lot of pluses that I think make it a great choice for many people.
The main thing we noticed was the stability. Even in choppy ocean water taking on rolling waves and wake from speed boats, this board felt secure and stable.
It is a nice touring length at 12'6" long and the 31" width gives it a nice stable platform without being too wide that it hinders maneuverability or speed excessively.
The pointy nose cuts through the water nicely and the large removable fin helps to keep it tracking straight.
It may not be a top performer but I can't give it much criticism. Overall it paddled well and was a lot of fun to use.
It is a big enough board that it can handle a lot of weight – up to 260 lbs. easily.
However it still rolls up into a nice package and is very portable in the backpack carry bag.
I also really like the look of this ISUP in the water. In fact we had a couple comments from other paddlers who really liked the look of the board as well.
The design is standard but the colors stand out nicely and I think it is a classy looking SUP.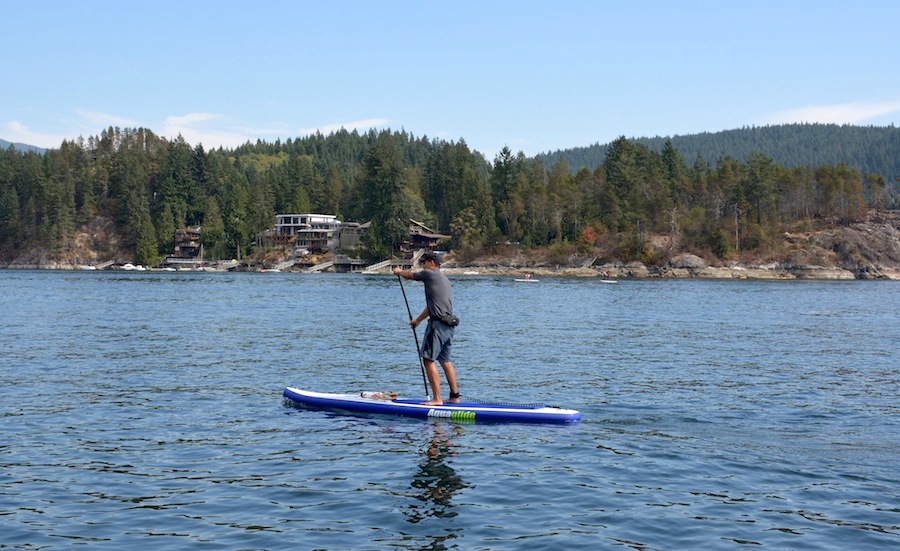 Aquaglide Cascade Important Features
There are a few important features to note for this board.
EVA Traction Pad – Besides being a really nice blue color, the diamond groove EVA deckpad is comfortable to stand or kneel on and has a nice little kick tail at the back for pivot or kick turns.
Bungee Tie Down System – There is one bungee tie-down system up front. I found for the size of this board the bungee system was a little small.
However I had no problem securing my stuffed drybag backpack plus my flip-flops under it so overall it worked well.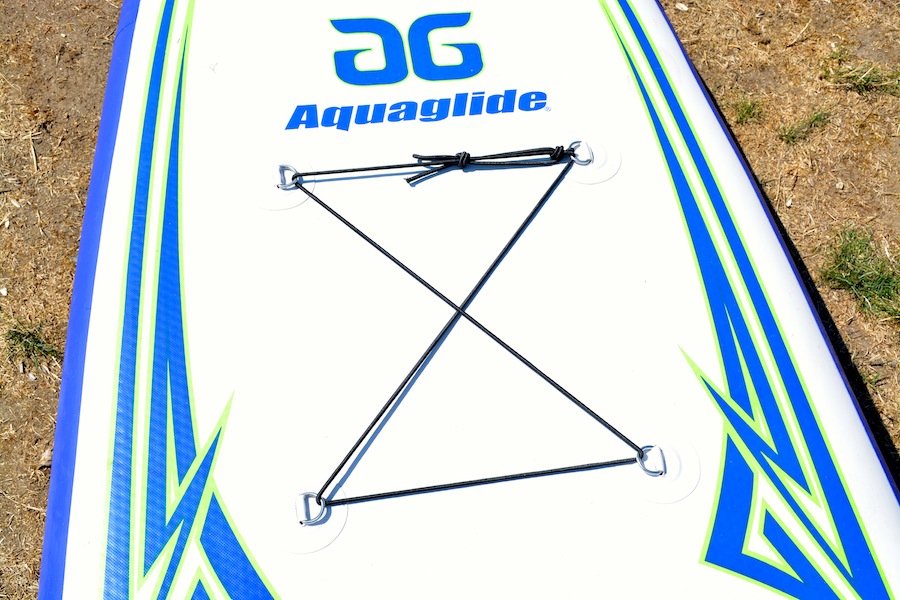 Durable Fabric When inflated this board felt very rigid and durable. The fabric seems strong to me.
Aquaglide states that the Cascade is built with additional reinforcement layers to make it extra durable.
Integrated Powerstrip™ Stiffening Plate – I couldn't find much information on this stiffening plate and the board didn't seem any different than other ISUP's of similar size to me.
I think the bottom blue strip that you see in the picture below is considered the stiffening plate. As far as I can tell there is no 'plate' in this board so the name is a bit deceiving.
I think it might be just some extra layers of material for added stiffness. Either way, the board felt rigid enough to us.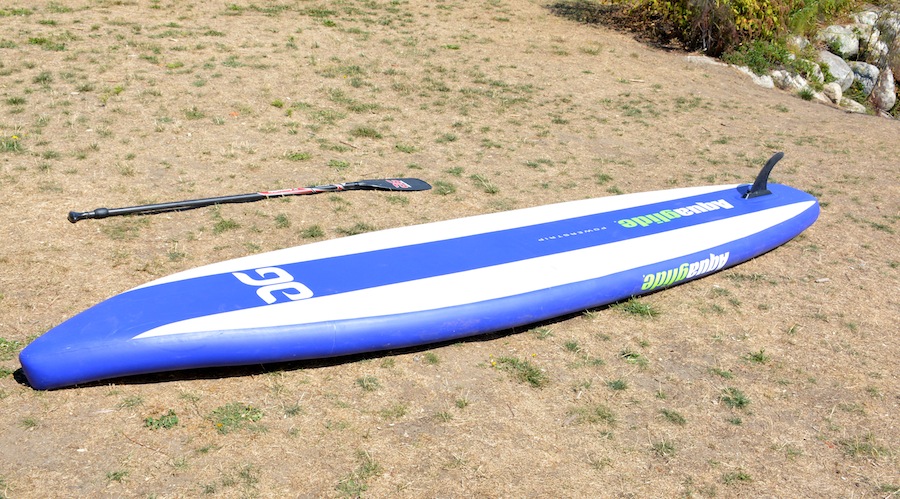 D-Rings – There is one D-ring on the nose of this board and one at the back, which is perfect for securing your board leash.
There are also four D-rings up front being used by the bungee system.
Kick Tail – There is a small kick tail at the back of the traction pad on this board.  This is a nice feature to have if you'd like to practice pivot or kick turns.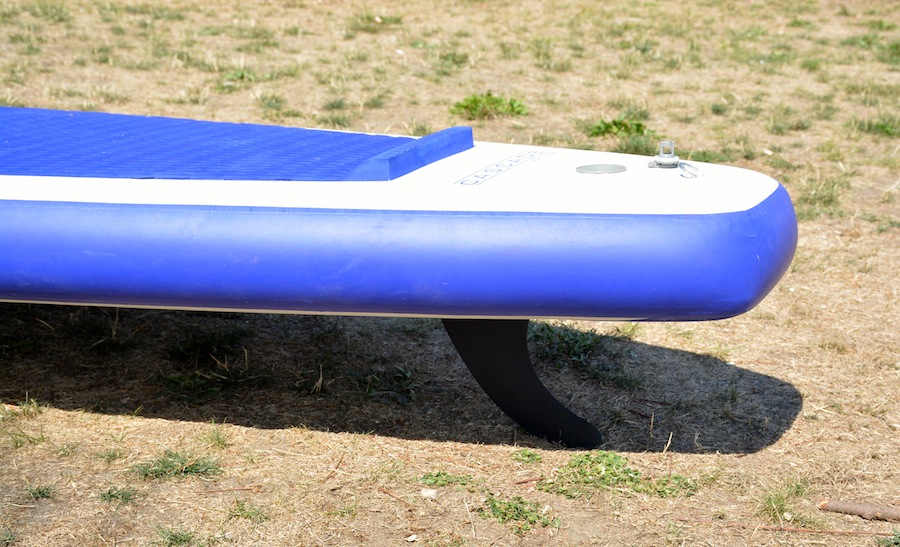 Removable Fin There is one fin on this board. It is a nice size and very sturdy once attached. It screws in easily and really helps with tracking.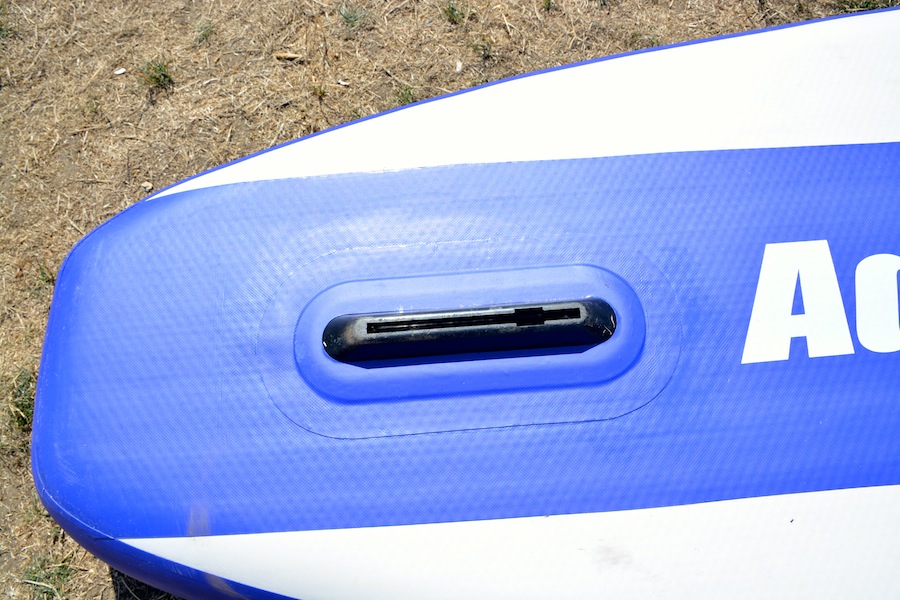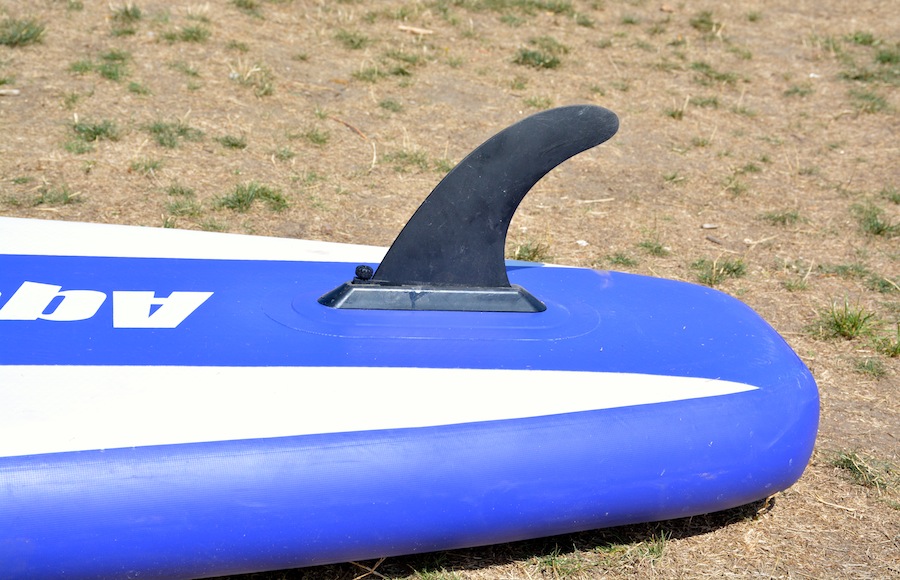 Carry Handle – The center carry handle is basic nylon. Feels strong and easy to use. I like a little padding on the handle myself for extra comfort but this type of handle is very standard amongst inflatable SUP's.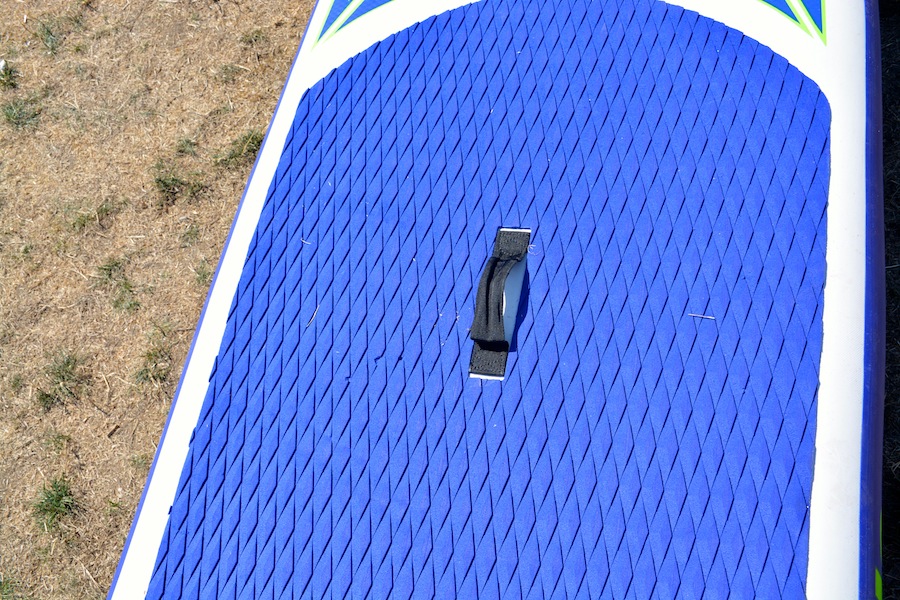 Valve – The valve is a one-way Halkey-Roberts style valve. This is a typical ISUP valve and works great.
Push in and twist so that the valve is in the 'popped up' position to inflate. When deflating push and twist again so that it is in the 'down' position to let the air out.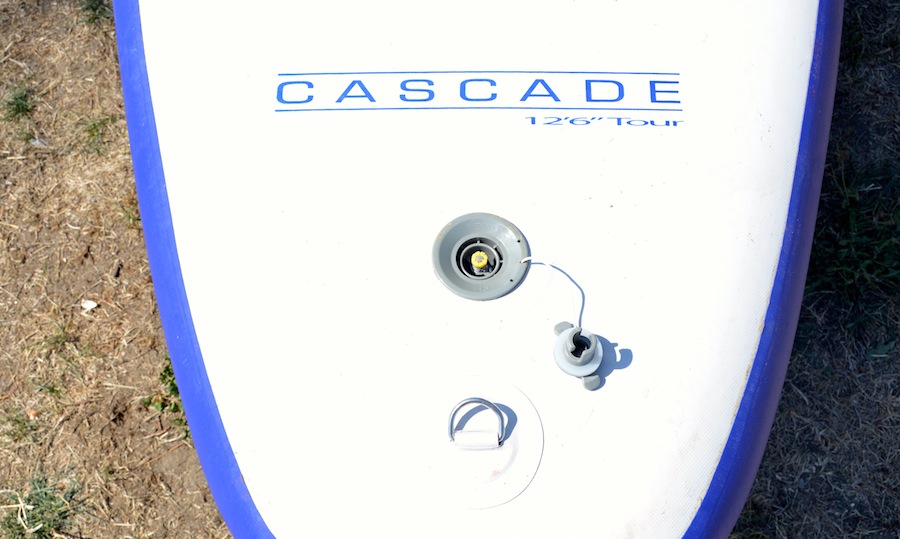 Aqauglide ISUP Backpack
The backpack that comes with this board is unique from others I've seen.
It is not fancy but it is very functional. It is a nice size and we found it very easy to load the deflated rolled up board into the bag after using it.
It seems to be fairly well made. I rarely find these bags to be top notch but the straps and clips on this one seemed strong.
It has some mesh on the front of the bag for breathability. There is also a zipper on the top portion for storing small essentials.
You can tighten the straps on the side and it clips together at the top.
Besides the padded shoulder straps there is also a padded carrying handle.
The bag easily fits the board and the pump as well as a 2 or 3-piece paddle.
We didn't find it super comfortable to carry so you wouldn't want to do any backpacking with this bag.
However for transporting to and from the water, it works really well and like I said it is very functional.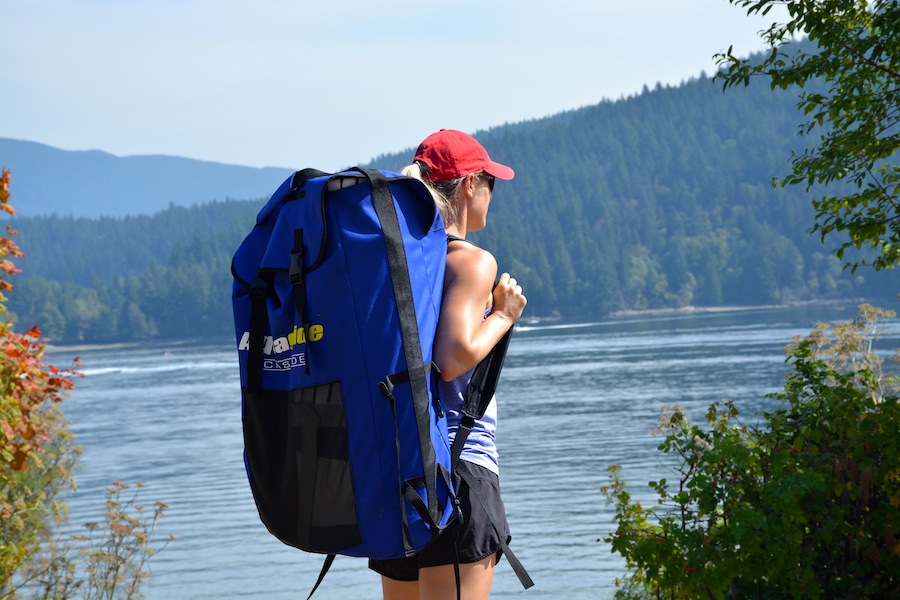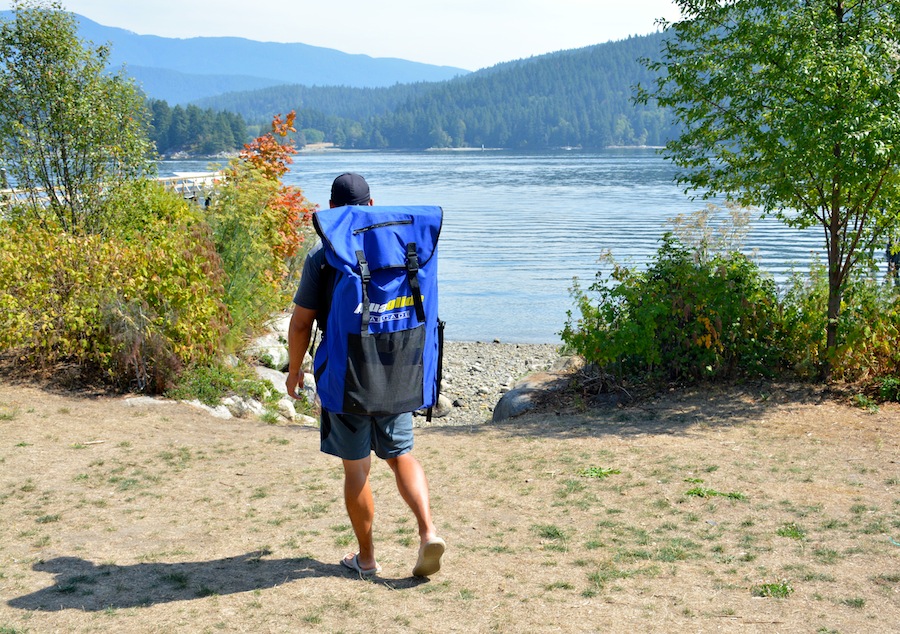 Aquaglide ISUP Setup
Inflatable stand-up paddle boards are convenient and popular because they are so portable and easy to set up.
For this one simply take the board out of the bag, unroll and inflate. Then attach the fin.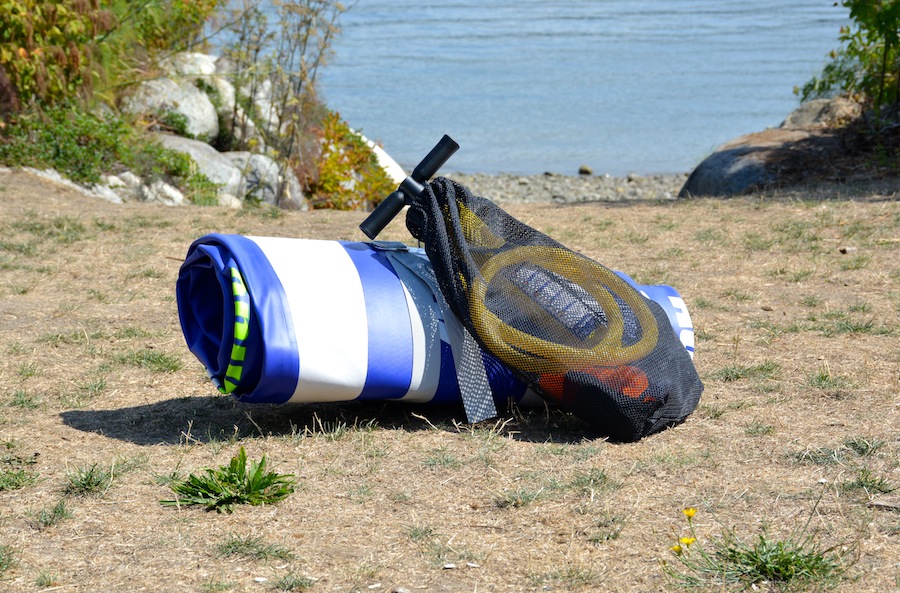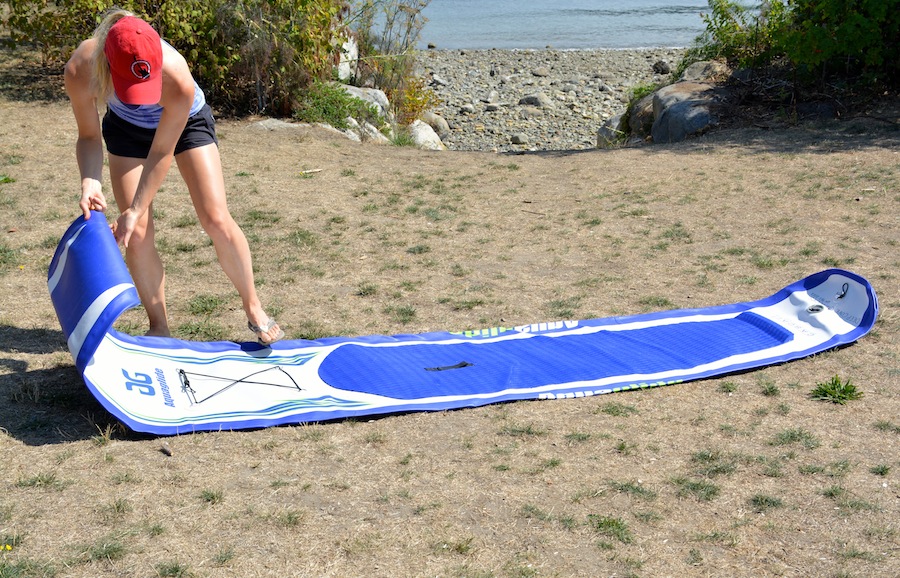 The included hand pump comes with a pressure gauge so you can check your progress.
The hand pump works fairly well. It will take some effort to get it to 15 PSI, you can expect to break a sweat.
If you want to bypass the heavy work of inflating, I'd suggest investing in a good electric pump.  I use this one most often and it works great.
We had two Aquaglide Cascade boards out with us and we inflated one with the hand pump and one with our electric pump.  You can see how much happier Darryl is using the electric pump 😉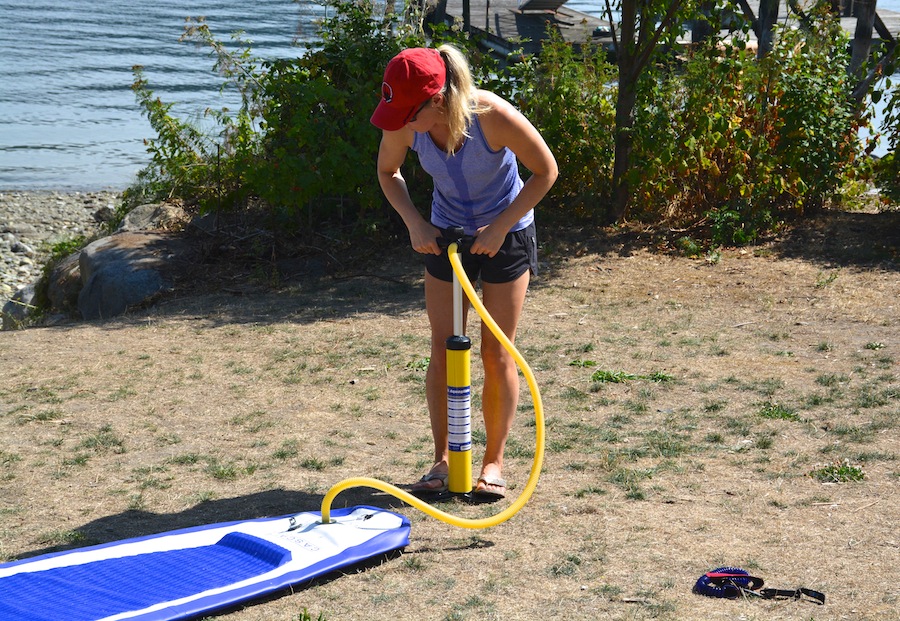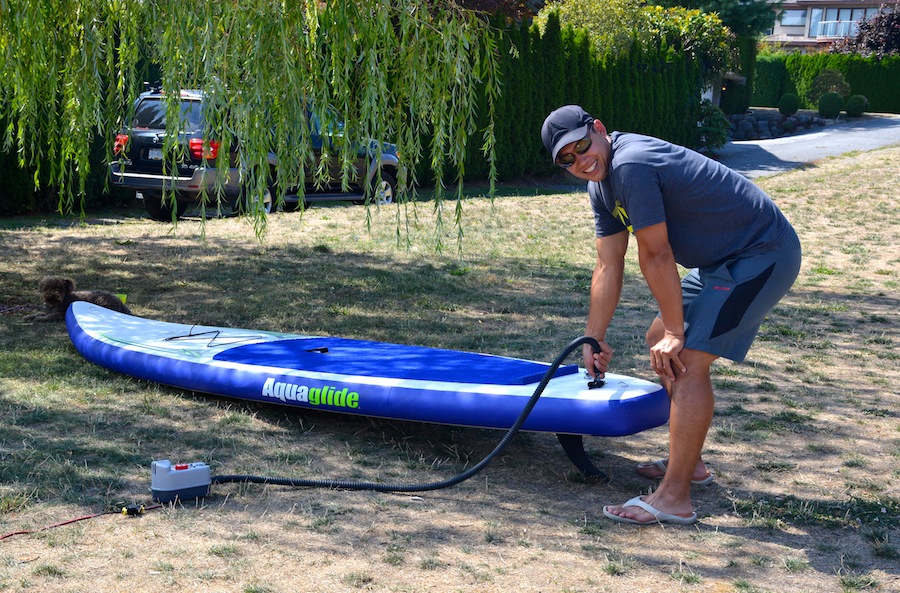 Once the board is inflated and the fin is secured in place you can take it to the water.  Although it is a little heavier than I would have liked, it is still easy to carry to and from the water.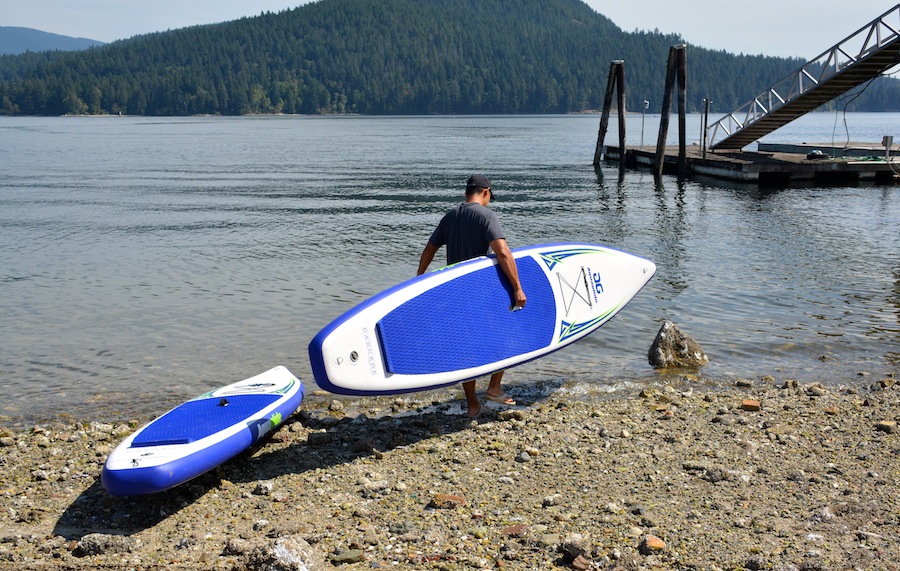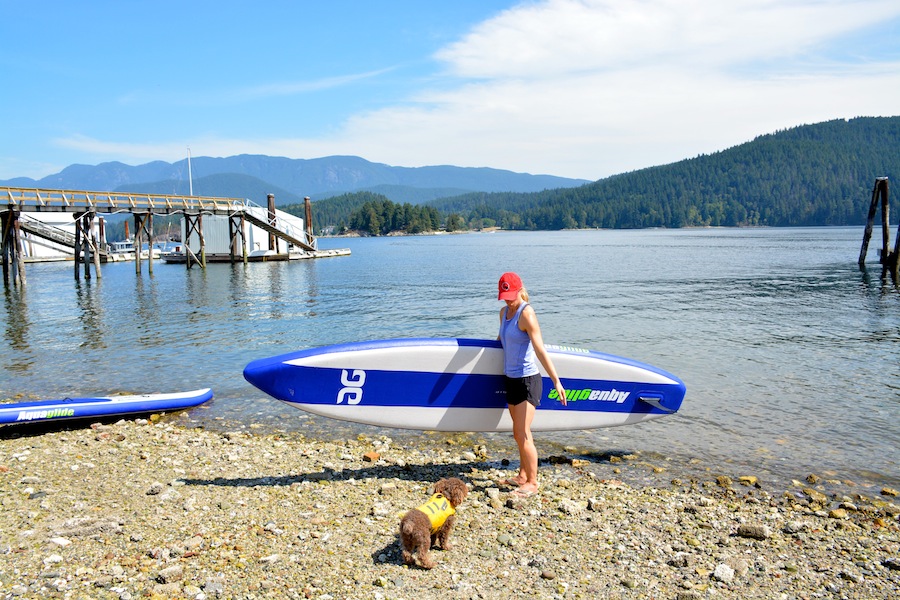 After using the board, just give it a quick towel dry, remove the fin, roll it up and store it back in the backpack carry bag.
Aquaglide Cascade Performance
This board doesn't rate all that well for maneuverability but we both found it quite easy to paddle, easy to turn and considering the longer size, very maneuverable.
It is very stable and overall I thought it glided nicely on flat water and cut through waves and chop easily.
It probably wouldn't be my choice for lake paddling, I'd prefer something faster.
However for ocean touring, I thought it was great. The tracking was good and I think people of all sizes would enjoy paddling it.
My little dog was very secure on it and I know it would have no problem supporting a larger dog as well.
This board would also be ideal for someone who wants to paddle with kids. There is enough room and stability to support them.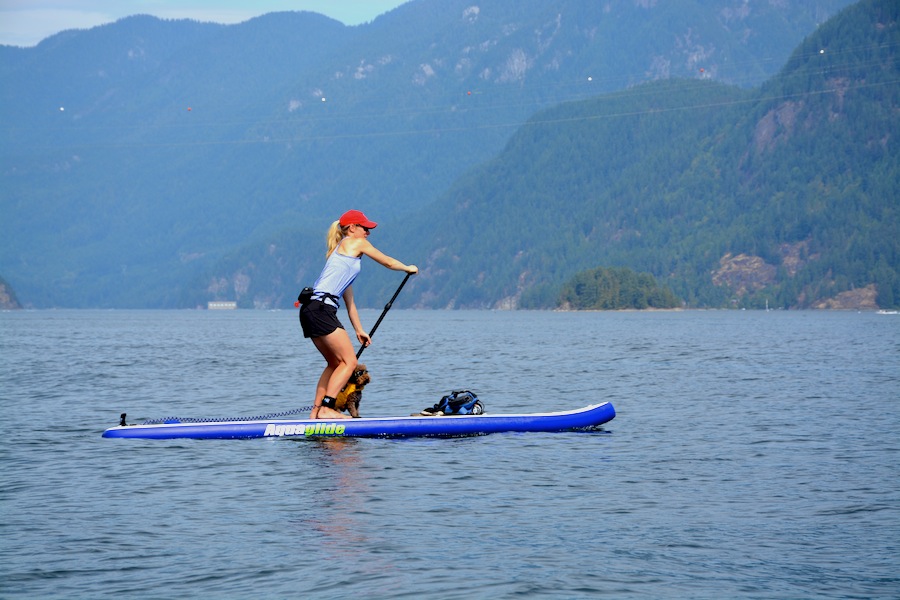 The Negatives
The few minor things I can pick out are the fact that I found it to be a little on the heavy side at 34 lbs. There are lighter boards out there of similar size.
Also it wasn't that fast in the water, but it wasn't super slow either. The speed didn't bother me at all and overall it glided nicely.
The bungee cord system is a little small but it still worked okay and I was happy that it at least had one.
More Pictures of the Aquaglide 12'6" Cascade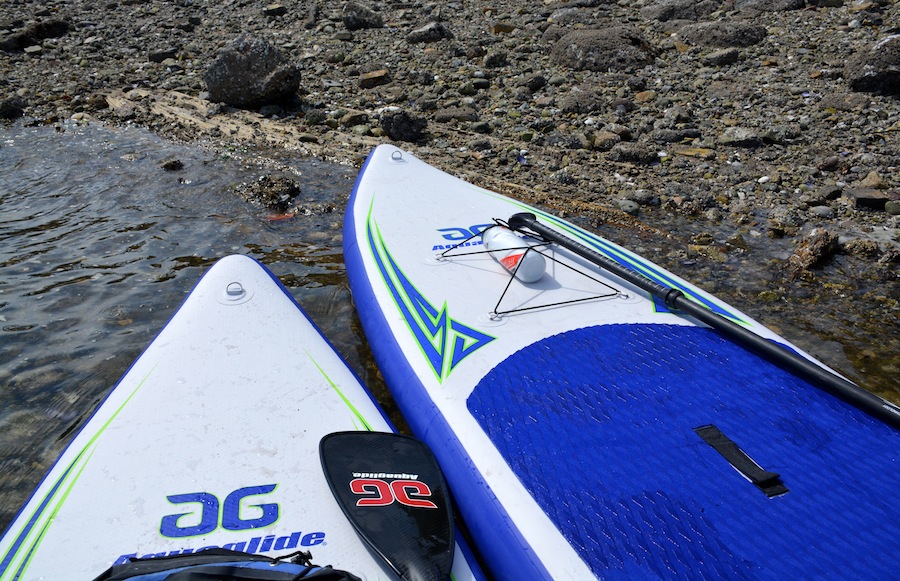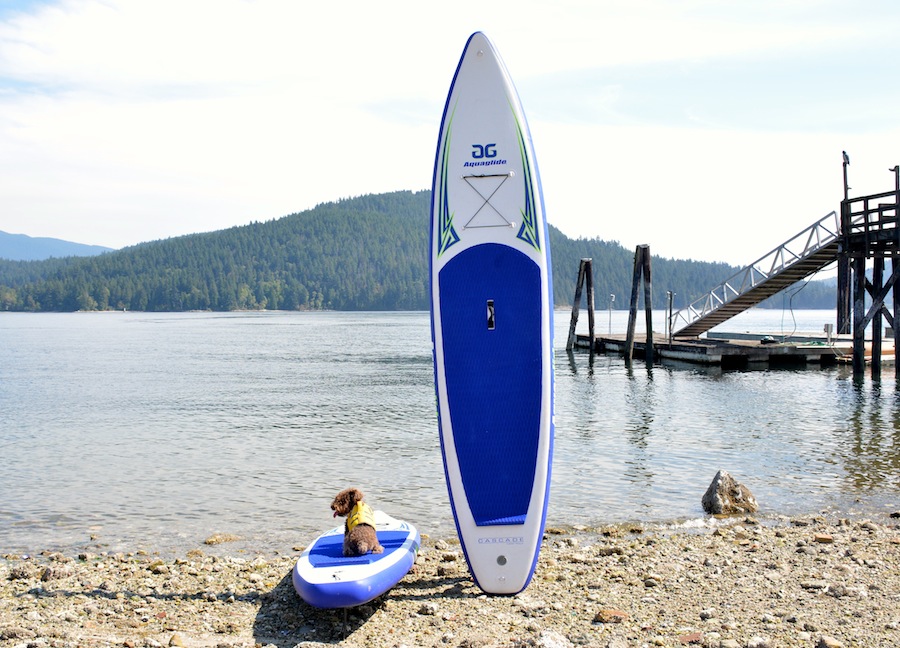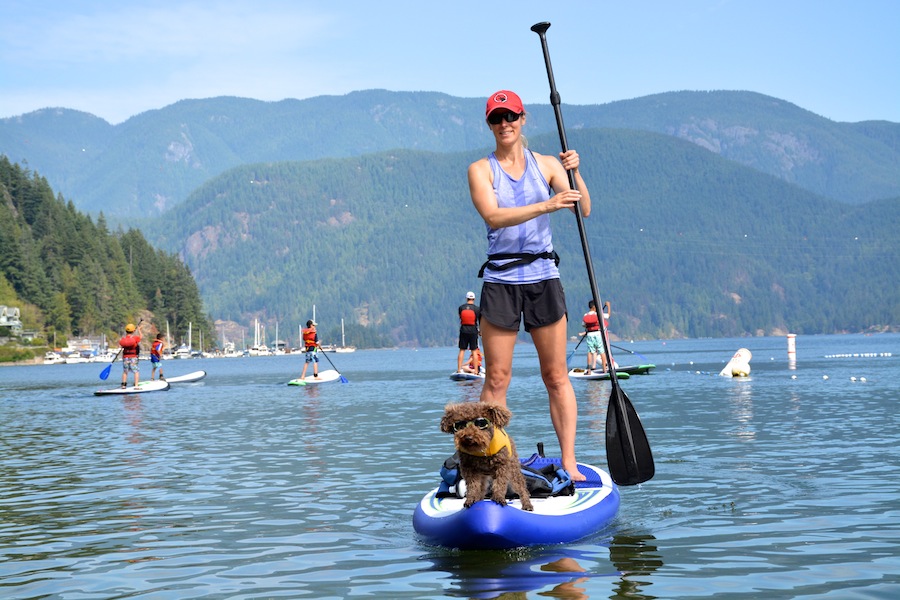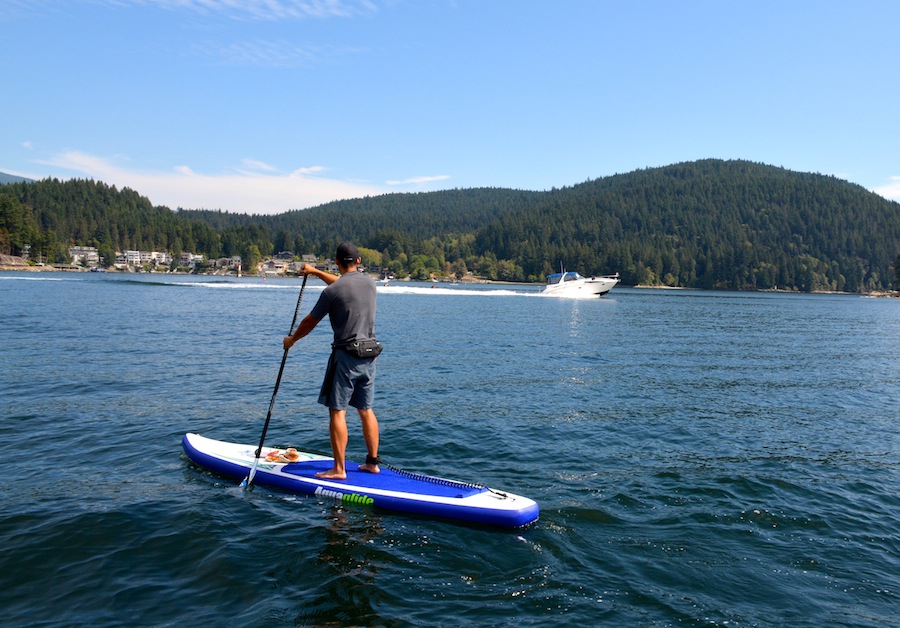 Final Thoughts
This board is priced well for what you get and is a nice stable touring ISUP.
It is portable and easy to transport anywhere. The size makes it quite versatile for a lot of different people.
The basic design and performance level is made up for by the stability and ease of use.
I enjoyed this board a lot and would have no hesitation in recommending it.  Would love it to have a longer warranty than 1 year but overall it's a good SUP.
Where To Buy
*Update for 2018: The 12'6″ Cascasde is no longer available however Aquaglide now has three size options for this ISUP… 10′, 11′ or 12′ long.
Amazon carries all three sizes. Click the link below for more info.
Click here for the Aquaglide Cascade ISUP at Amazon.com.
Did You Know?
By clicking on any of the above seller links you can help keep ISUPworld.com growing. When you make a purchase after clicking on our links, the retailer will contribute a portion of the sale to help support this site. It won't cost you anything extra and it's a simple way to help us fund our gear reviews. Thanks!