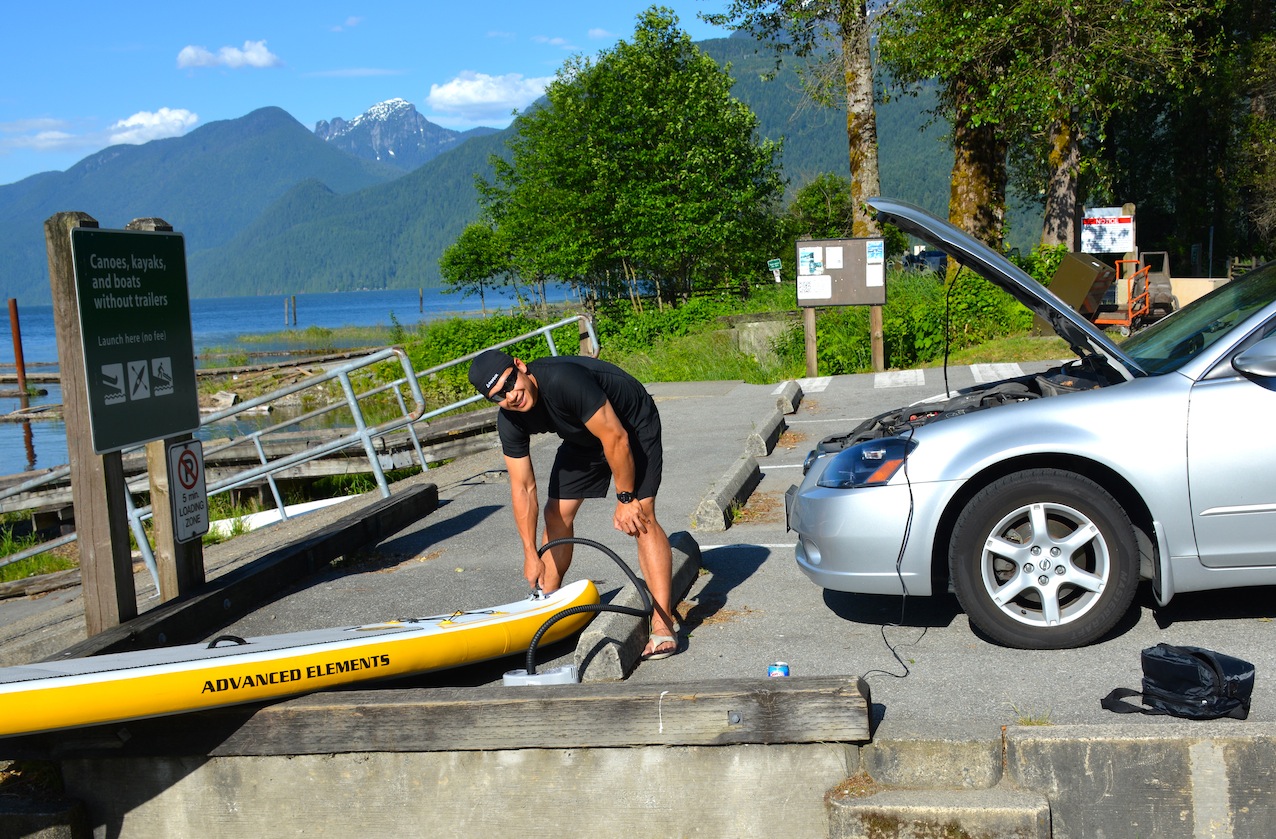 The hand pumps that come with the inflatable stand-up paddleboards are pretty good… they work far better than they did a few years ago.
As more and more inflatable SUP's come on the market the competition rises.  Not only are the boards competitive but so are the accessories and gear that come with them such as the inflation pumps.
Consequently the pumps have improved over the years and if you don't mind putting in the effort with a hand pump, then there's no need to spend extra money for a different product.
However if like me you:
plan to paddle often
plan to deflate your board in between each use
and you'd like to inflate your SUP with minimal effort in a fraction of the time
… Then a good electric pump is your best bet.
There are lots of different types of electric pumps and some are definitely better than others.
Over the last few years I've tried several of them and there are only a couple that I have found to work really well with inflatable stand-up paddleboards.
The cheap electric pumps used for inflating mattresses or small rafts, often found in the camping section of the store, tend to be uselesss for ISUP's.  I've tried them and I've even tried adding on parts and valves to make them work.
The problem is that they don't have the proper valve adapters for ISUP's nor do they have enough power.  They aren't capable of inflating an inflatable SUP to the proper air pressure and they are nothing but a frustration to use.
An inflatable SUP requires a good electric pump that was designed specifically to be able to inflate boards, kayaks or larger inflatable boats or rafts.
There are only a few out there that I have found worthy of your money and that actually work well with any ISUP.
BTP Electric Turbo Pump
The BTP 2-Stage Electric Turbo Pump was the first electric pump I used that actually worked well with my inflatable paddle boards.  It is the one I use most often and my review for this pump is long overdue.
Before using this electric pump I didn't really know what I was missing.  I would put in the solid effort needed to manually inflate my board with a hand pump and accepted that I was a little sweaty and tired before I even hit the water.
I tried a few cheap electric pump options and didn't get the results I wanted and ended up being disappointed and went back to using my hand pump.
However once I got the BTP Electric Turbo Pump and used it for the first time I knew there was no going back.  Once you try this product you will never go back to using your hand pump.
It is so much easier to use and takes almost no effort on your part to get the SUP inflated to the proper air pressure so that it performs as it should.
Bottom line is this pump saves time and energy and gets you on the water faster.
Although there are pros and cons to using this pump, overall it works well and gets the job done quickly.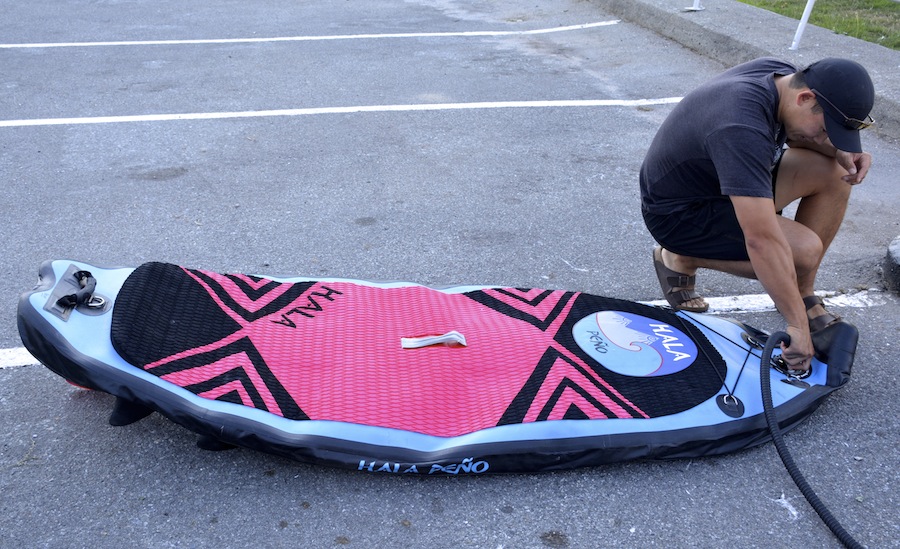 BTP 2-Stage Electric Pump Pros
It works fast.
After trying other electric pumps, I realize how quickly this one inflates my boards.  It is powerful and works great. It is especially handy if you have more than one ISUP to inflate.
The time it takes to get from your vehicle to paddling on the water is very minimal.
There are several valve attachment options.
It comes with several different attachment options so it will work not only on any inflatable SUP but also works well for inflatable kayaks and other inflatable boats and accessories.
The number of valve attachments make it very versatile to use on almost any inflatable product.
For most inflatable SUP's you will need to use the valve labeled #1.
There are two different inflation stages.
The first stage is for the initial part of the inflation process.  It works in low-pressure mode to inflate up to the first few PSI.
Then it switches to the high-pressure mode to finish off the job.  The high-pressure mode is slightly slower than the first stage and also noisier.
However it is critical because it allows you to get your board inflated to the proper air pressure so that it is as rigid as it needs to be to perform at an optimal level.
There is an automatic shut-off.
You can set the desired PSI level and the pump will automatically shut-off when it reaches the right level.
This is a great feature as it eliminates the worry of over-inflation and possibly ruining your board.
The automatic shut-off has worked every single time for me.  It has never failed.
It has good alligator clips.
The pump comes with 8'6″ long alligator clips that can attach to the battery in your vehicle.  I find the alligator clips work great.
I was initially intimidated to use the alligator clips, mostly because (embarrassingly) I didn't really know how to properly attach them to the battery.
However once you know what to do, it is extremely simple and easy.  If you have a vehicle anyone can use this pump.
There are two options for this pump.
One option just comes with the alligator clips and the other option has the alligator clips as well as a rechargeable battery pack. The battery pack option allows you to inflate your board anywhere, you do not need a vehicle close by.
I own both options. I find that I use the alligator clips most often but there are times that the battery pack is extremely useful and convenient. The battery pack option is quite a bit more expensive.
It is really only necessary if you need the option of inflating your board without the use of your car battery.  If you'll be driving your SUP to and from the water in your vehicle then you'll most likely be fine with the alligator clips only.
If you need to inflate your board away from your vehicle then the battery pack is a great choice.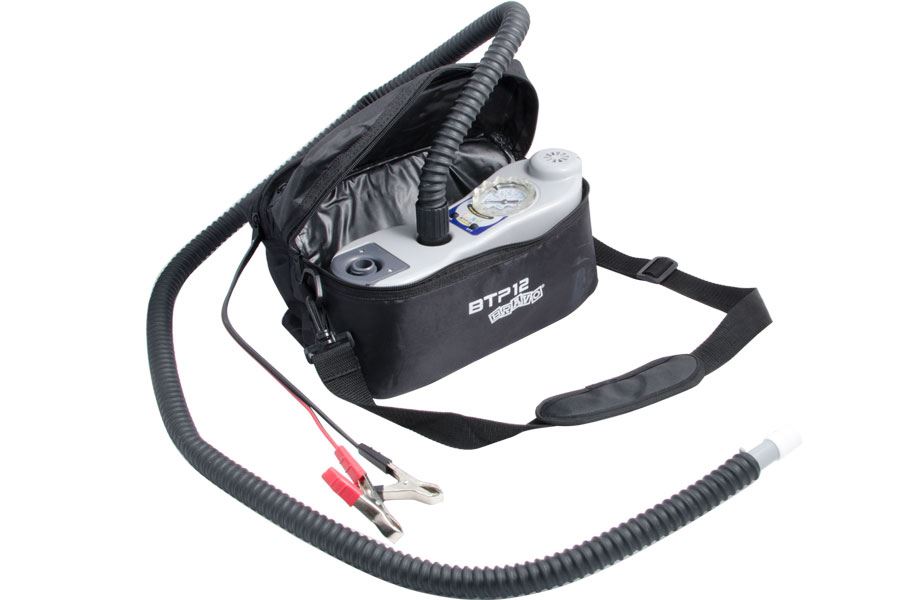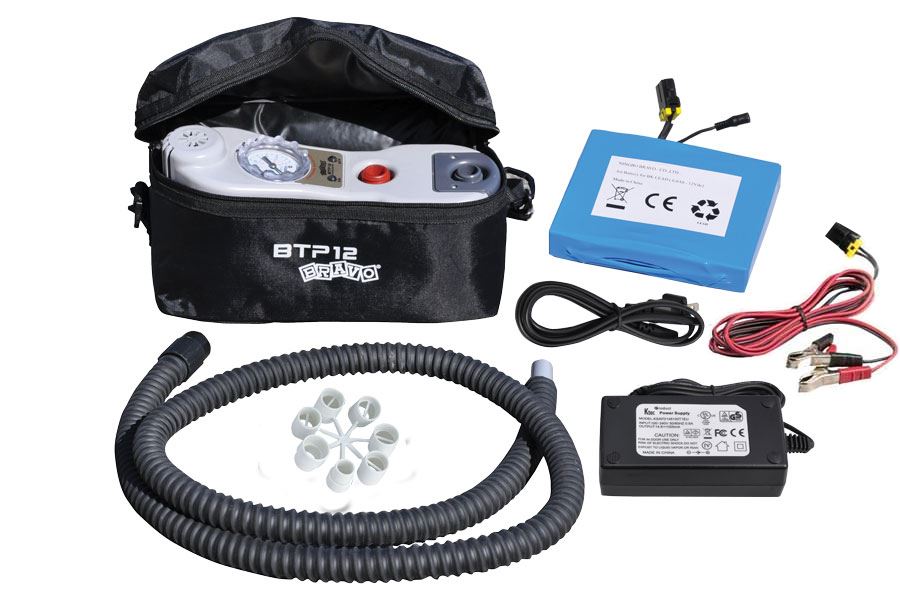 There is a 6 foot hose.
The hose is long enough so that it easily attaches to your board and there is still room to maneuver. I find it to be a good size.
It has a carry bag.
You might think this is standard with any electric pump but it is definitely not. Many don't come with a carry bag and I like that this one does.
The carry bag fits the pump and all the attachments and accessories. It makes transporting the pump easy and it keeps all the attachment parts in one spot so they don't get lost.
The bag has a couple of different zippered compartments to fit everything nicely. I normally keep mine in the trunk of my car ready to go.
It can inflates up to 15 PSI.
You can set the PSI level that you need on this pump and it can go up to a maximum of 15 PSI.
In truth I would love this pump to be able to inflate up to at least 20 or 25 PSI. However for the large majority of inflatable SUP's 15 PSI is enough.
If your ISUP allows you to go a little higher you can always top it off with your hand pump, the K-Pump or the Slingshot – all of which work great.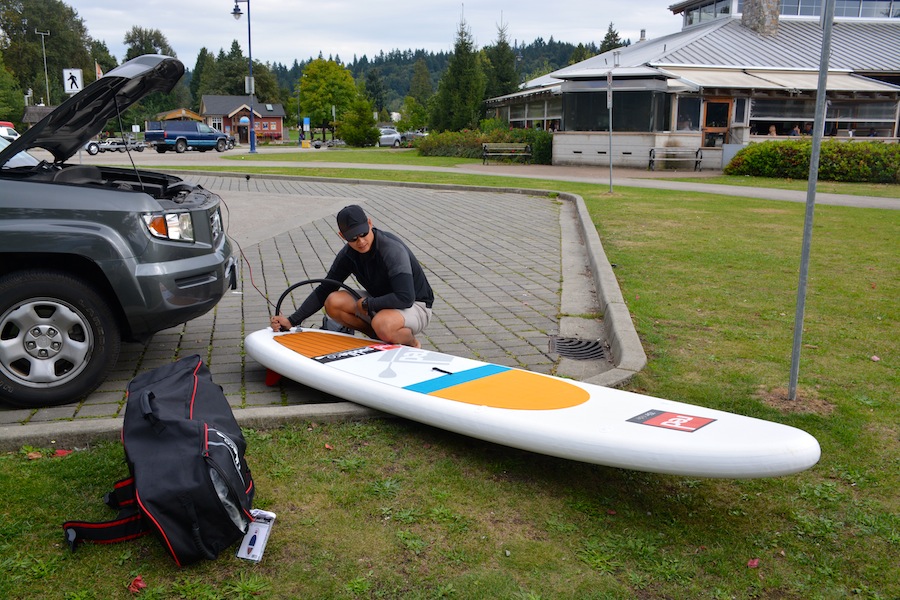 BTP 2-Stage Electric Pump Cons
It is a little noisy.
The pump is noisy, no doubt about it. It is one of the noisier pumps I have used.
However it is also one of the most powerful, so I guess the noise is a consequence of that extra power. Don't let the noise deter you from buying it however.
It is not a big deal, and it is not extreme. Just don't expect it to be whisper quiet.
I usually have to hold the hose to the valve.
What I mean is when I connect the hose with the valve on my SUP I have to hold the hose in place while it inflates.
If I don't hold it in place once it reaches the noisy high-pressure mode the valve attachment can get pushed out, which can be kind of annoying as you will then lose air and have to reattach it and start again.
So I suggest holding the hose in place with your hand around the valve attachment, especially when it is in high-pressure mode.
I haven't had this issue with other electric pumps and I'm not sure if it is caused by the extra power or the valve attachment itself.
Valve attachment # 1 does secure to the hose well and to the valve.
It inflates very quickly, so as long as you don't mind holding the hose to the valve, it works really well.  Although it would be nice to not have to hold it I really don't find it to be a big deal. It is just something to be aware of.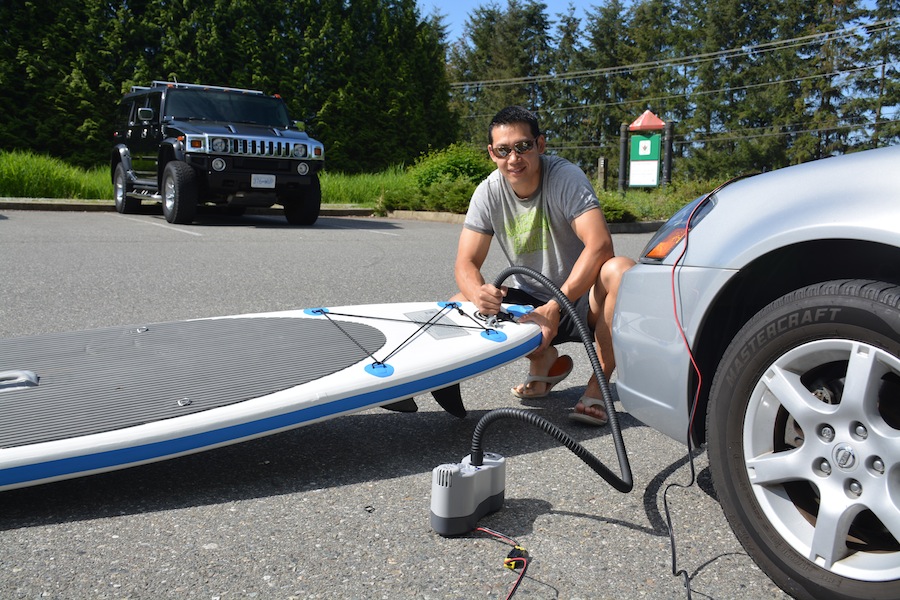 Specific Instructions
Due to quite a few comments I would like to include some specific instructions on attaching the valve attachment to the hose and to the board and how to use this pump most efficiently.
Some people (including myself) have tried attaching a Halkey-Roberts valve adapter to the hose valve attachment so that it could securely attach to the pump – similar to how your hand pump secures to the valve.
This can work but the problem is that because this pump exudes so much air pressure you can get some leakage around the gasket at high-pressure.  The air leakage causes the inflation process to be much slower.  Therefore it is not an ideal solution.
Instead what you will want to do is find adapter #1 in your electric pump package.  Press it on the gray tube until it is about 1/4″ from the bar.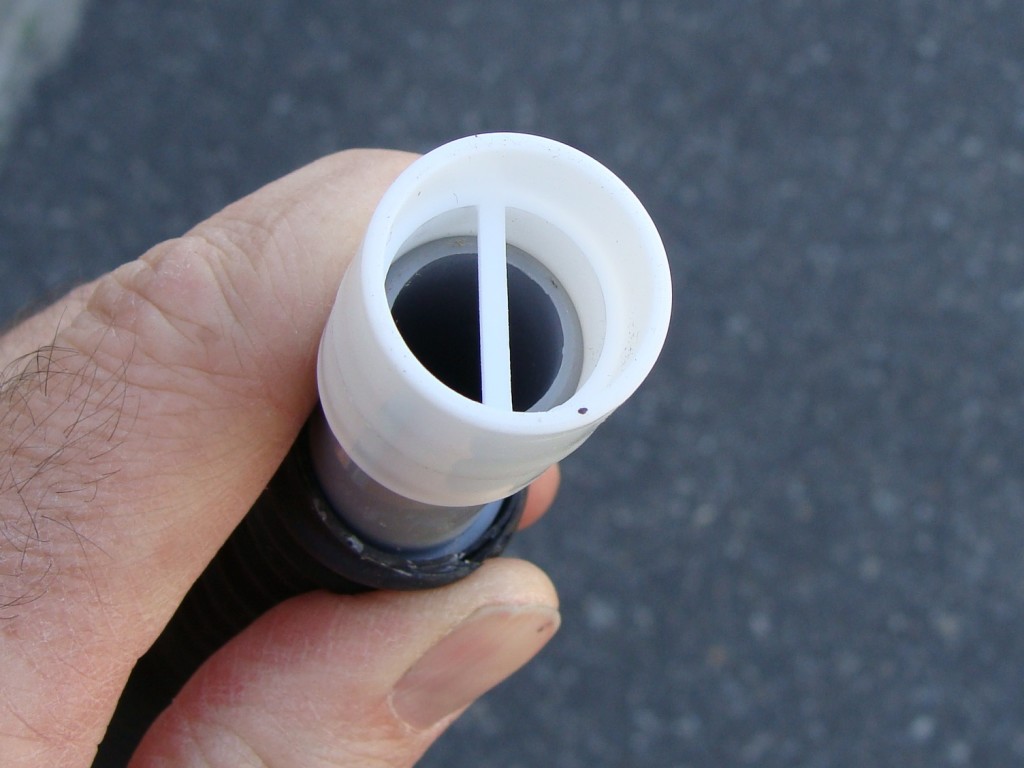 Rough up the shiny outside with a piece of sandpaper.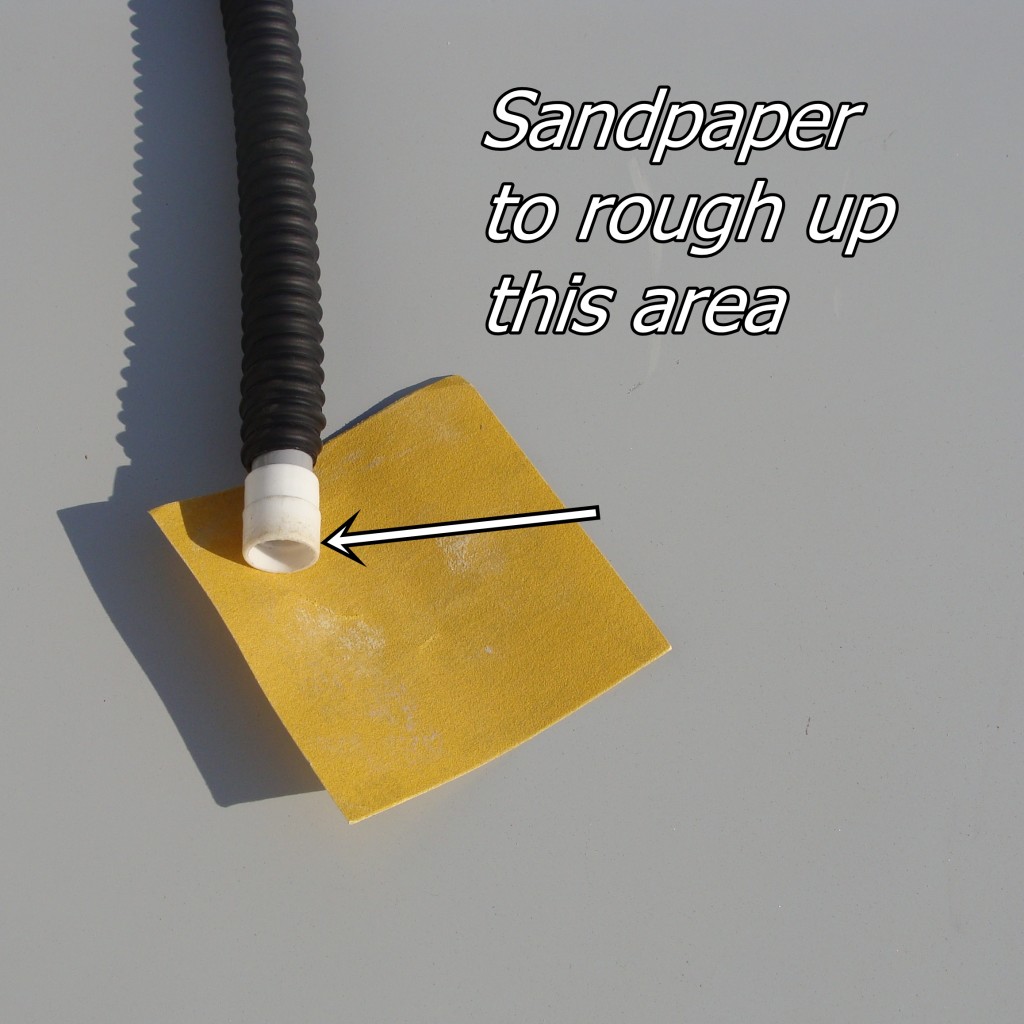 Push the  adapter straight in, no twisting.  Then when you are done inflating the board remove the adapter by knocking the hose to the side and it will spit out the valve.
Make sure you hold on to the hose and the valve adapater when you knock it out.  You want to make sure the white valve attachment gets knocked out and not just the grey hose.
Where To Buy The BTP Electric Turbo Pump
I got mine at Sea Eagle when I purchased a board. They have electric pump package options when you buy one of their ISUP's, which I found to be the best deal.
However you can also buy it on its own and use it on any inflatable stand-up paddleboard.
Click here for the best deal on the BTP 2-Stage Electric Turbo Pump at SeaEagle.com.
Click here for the best deal on the BTP 2-Stage Electric Turbo Pump at Amazon.com.
Did You Know?
By clicking on any of the above seller links you can help keep ISUPworld.com growing. When you make a purchase after clicking on our links, the retailer will contribute a portion of the sale to help support this site. It won't cost you anything extra and it's a simple way to help us fund our gear reviews. Thanks!