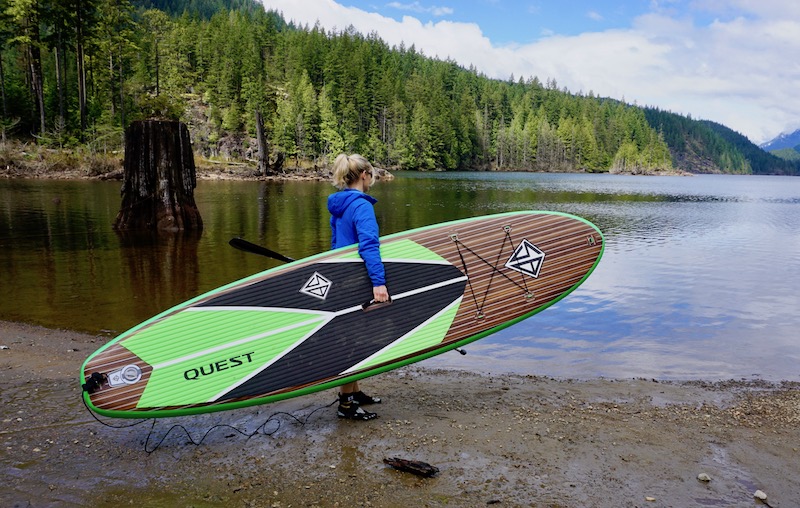 The new Scott Burke inflatable SUP is awesome. It's a winner right out of the box.
I love the colors and look of this board. The PVC material on top is made to look like wood and the green and black traction pad looks really sharp in contrast.
The shape and design make it very versatile for all different types of water and the size makes it easy for anyone to use from small to large, beginner to advanced.
It is not the fastest board out there but it glides nicely, tracks well and is really easy to paddle.
The 11' Quest was an instant favorite with my team as far as all-round board designs go.
Burke 11' Quest Specs
11' long
32" wide
6" thick
weighs 30 lbs.
can hold up to 300 lbs.
air pressure: 15 PSI
Material: UV resistant three layer drop-stitch PVC coated and reinforced fabric with EVA traction pad
Best Suited For: All-round design makes it ideal for flat-water lakes, rivers or ocean paddling. Could also work quite well for fitness and yoga.
Pros: Stable & easy to paddle, tracks nicely, glides well, good bungee tie-down for gear, 6 stainless steel D-rings, good size center fin, very attractive design and colors, versatile, easy to carry
Cons: Bag is a little short for the board (can't close it on top), paddle is heavy (but free with the package)
Where To Buy The 11' Quest
Click here for the best deal on the Burke 11' Quest at Amazon.com.
More In-Depth Info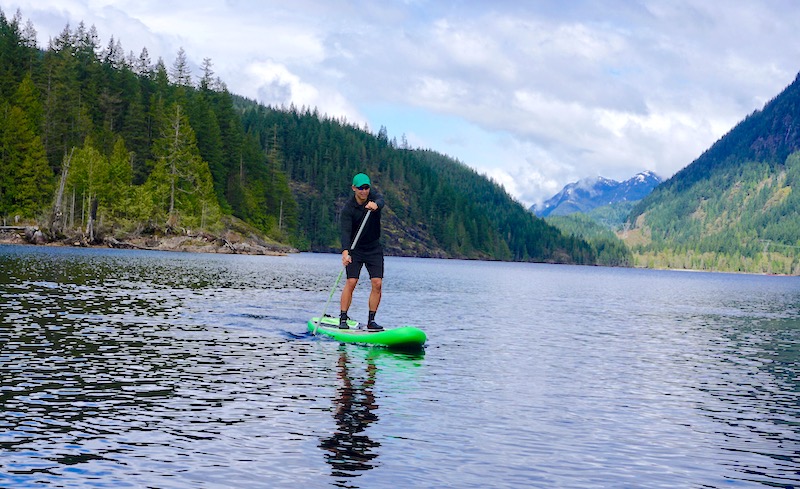 All-round ISUP designs are always popular. They are never as fast as a good touring board and they don't turn and maneuver quite as quickly as a shorter SUP.
However they have a lot of pluses that make them very appealing to a large majority of people.
They can easily fit into different types of lifestyles.
They can be used in different environments and in different types of water.
They can be used by different people of various skill levels.
The size and shape usually makes them quite stable and easy to paddle by anyone.
They are great for someone who wants a board that will handle well in different water but also could be used for yoga and fitness.
For these reasons they are always a convenient and fun option for a paddle board enthusiast.
This Burke 11' Quest ISUP is a perfect example of a board that embodies all of the above pluses.
It is a great all around board that can be used by anyone.
Important Features
Traction Pad – The EVA traction pad is a decent length starting right behind the bungee cords and going almost all the way to the back tail of the board.
It helps with grip and we found it to be comfortable for both standing and kneeling.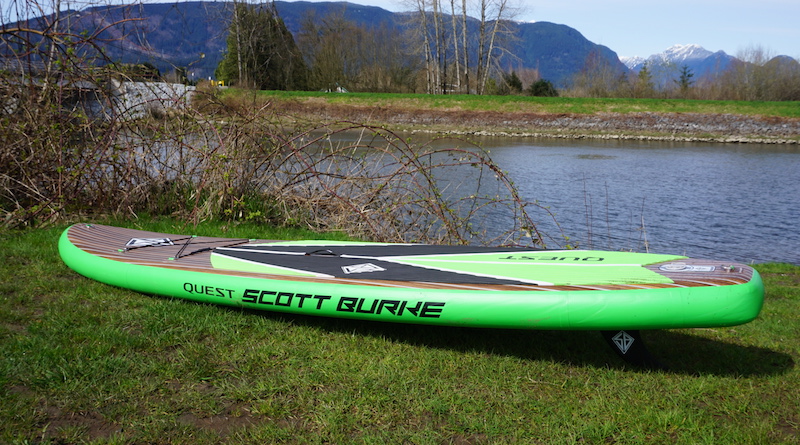 Stainless Steel D-rings – There are 6 stainless steel D-rings.
4 up front with the bungee cords attached
1 at the tip of the nose, which is ideal for towing
1 at the back tail that is perfect for attaching your SUP leash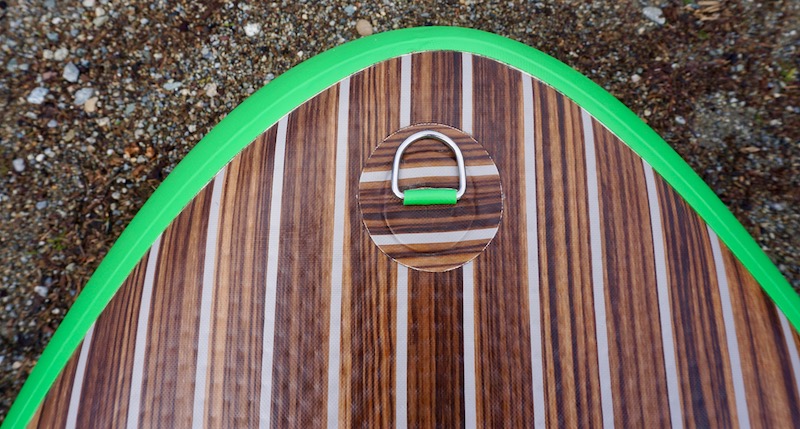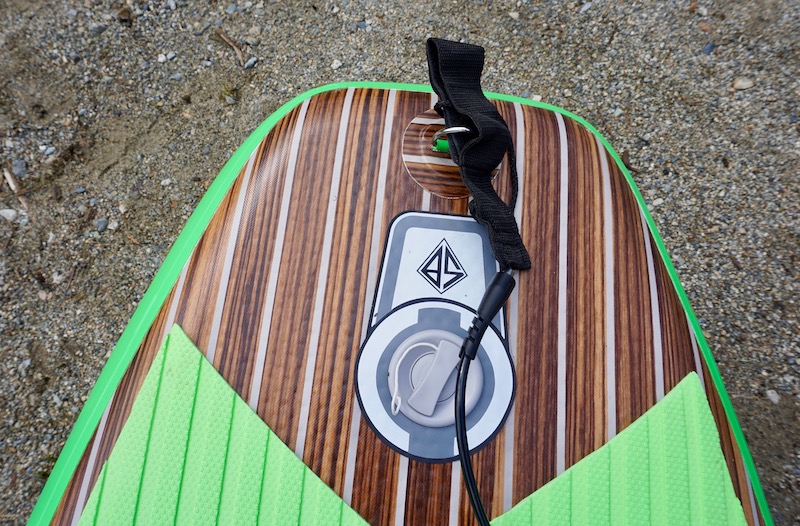 Bungee System – The bungee system up front is a good size for securing a dry bag, PFD, water bottle or other essentials that need to come along for the ride with you.
The bungee cords are close enough to the traction pad that you can easily reach them when kneeling.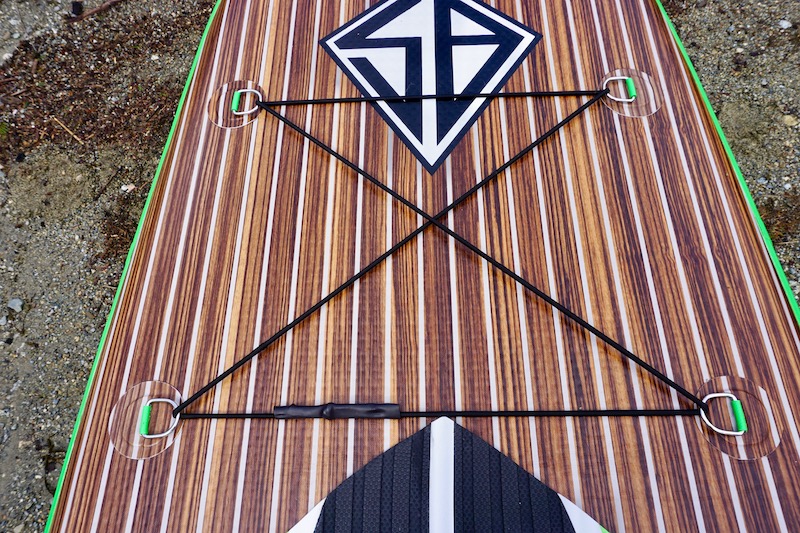 Fin – The plastic fin is the ideal shape and size to help with tracking and keep you flowing in the right direction.
It slides into the fin box and clips into place. Once clipped in it is very secure.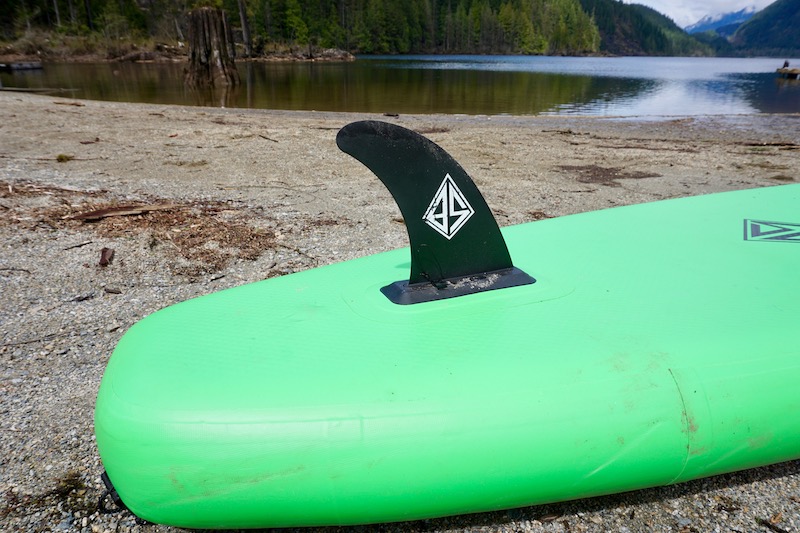 Carry Handle – There is one carry handle at the center of the board.
The handle is made of strong nylon. It lays flat and doesn't get in the way of your feet.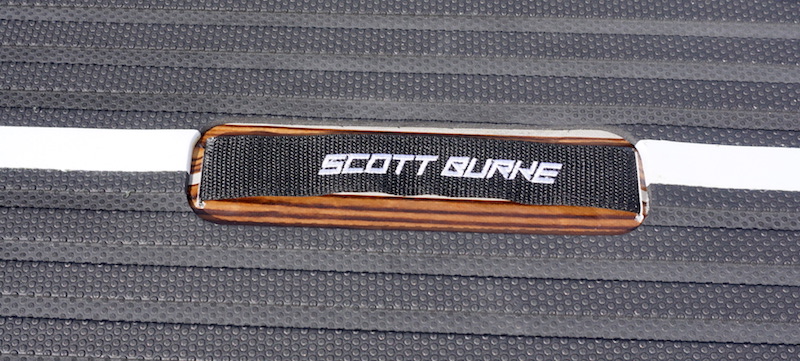 Included Accessories
Backpack – The backpack that comes with this package has mesh sides and a sturdy nylon front and back.
It has adjustable should straps and a waist strap as well.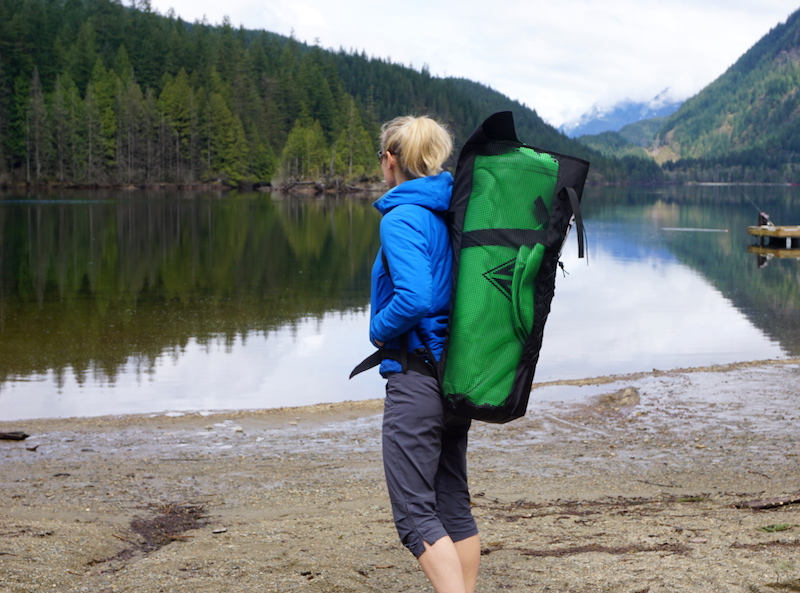 There is a bungee system on the front of the bag that can be used to secure the pump or other gear.
We found the backpack functional but not super comfortable to carry too far.
It seemed a bit short for the board and although we could easily get the board into the bag, we could not close the top of the bag because it wasn't long enough.
I wouldn't use this bag for traveling by airplane but for storage or for transferring to and from the water in your vehicle, it works fine.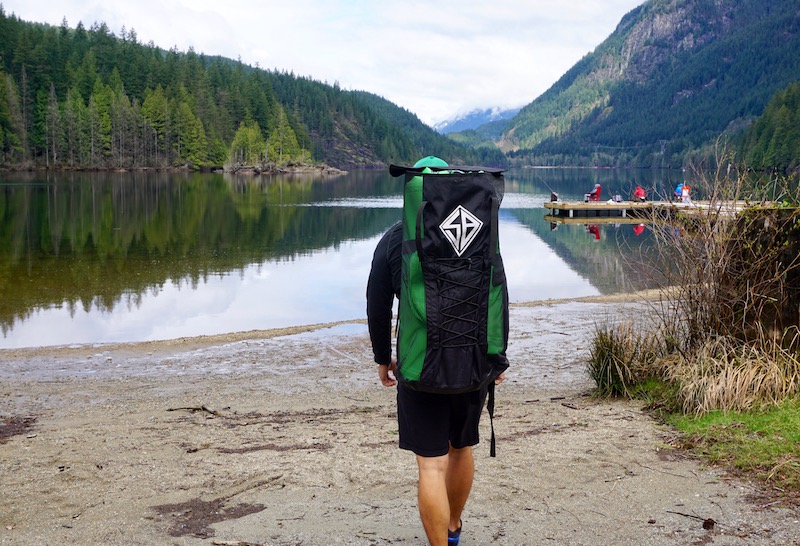 Pump – The hand pump that comes with this package is a good dual action pump.
It will take you roughly 5-8 minutes to inflate the board… depending on how fast you pump.
If you have an electric pump, it's even faster and of course much less work 😉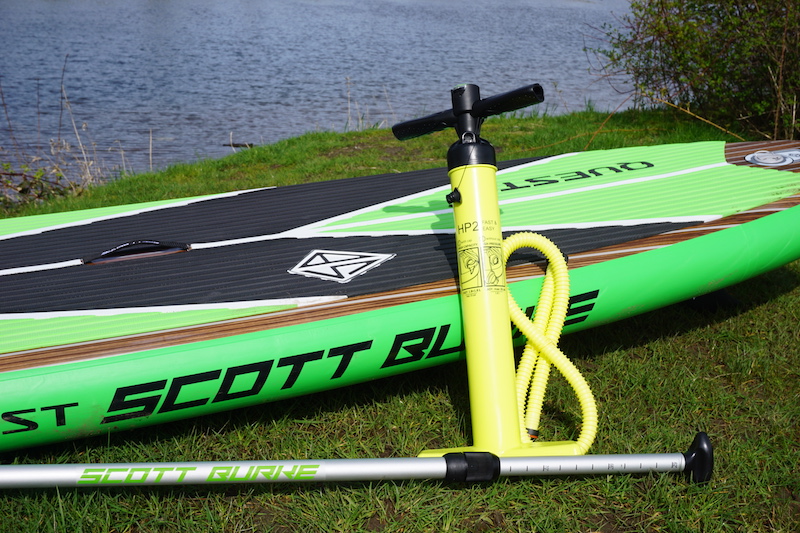 Paddle – The paddle comes apart into three pieces making it easy to store in the bag and easy to transport and travel with.
It is a basic aluminum paddle and we found it to be a little on the heavy side. However this is very typical for paddles that come free with a SUP package.
It will get you on the water and if you ever decide to upgrade it down the road, it will make a great spare or travel paddle.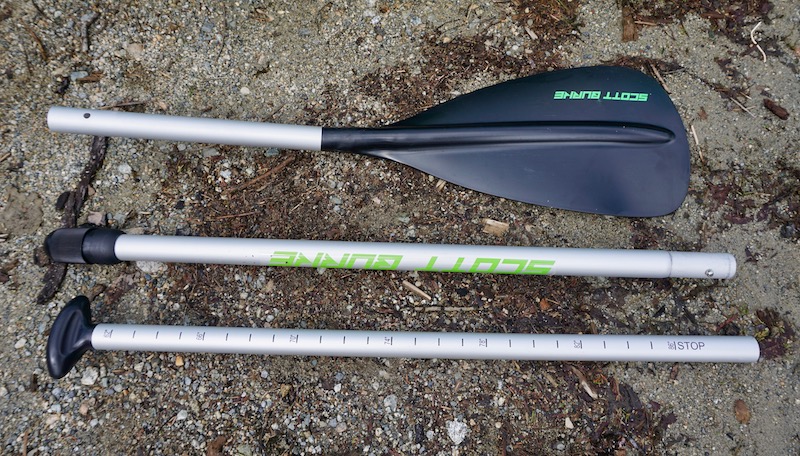 Leash – I love that this SUP package comes with a board leash.
Little bonuses like that are always nice and a paddle leash is an important safety accessory to have.
11' Quest Setup
Setting up an inflatable SUP is easy. The setup process rarely differs by much with the different boards.
This one is the same as many others. Take it out of the bag, unroll and inflate.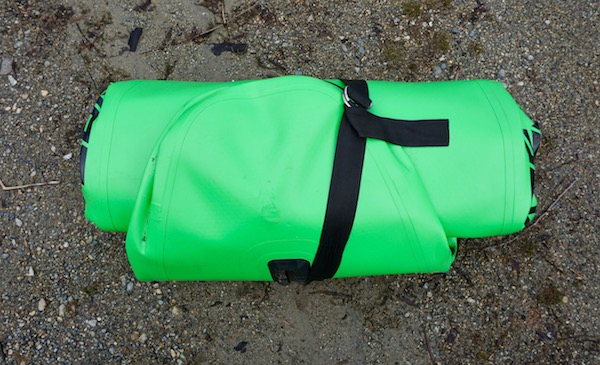 Make sure the valve tip is in the 'pushed up' position before inflating.
Inflate the board to 15 PSI then secure the valve cap. Next slide in the fin and clip it into place.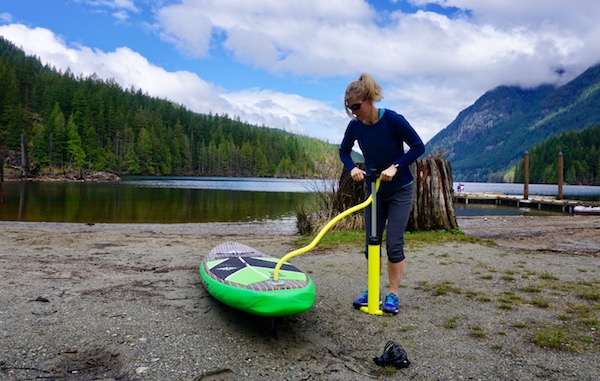 Attach your board leash and you are ready to go.
With a little practice it will take you no more than 10 minutes from the time you arrive until the time you are on the water.
Bring some old towels along for when you are finished paddling. Use them to dry off the board well.
Then remove the fin and push in the valve tip and twist to deflate the board.
Roll it up and store it back in the backpack carry bag. All in all a very simple process!
Burke 11' Quest Performance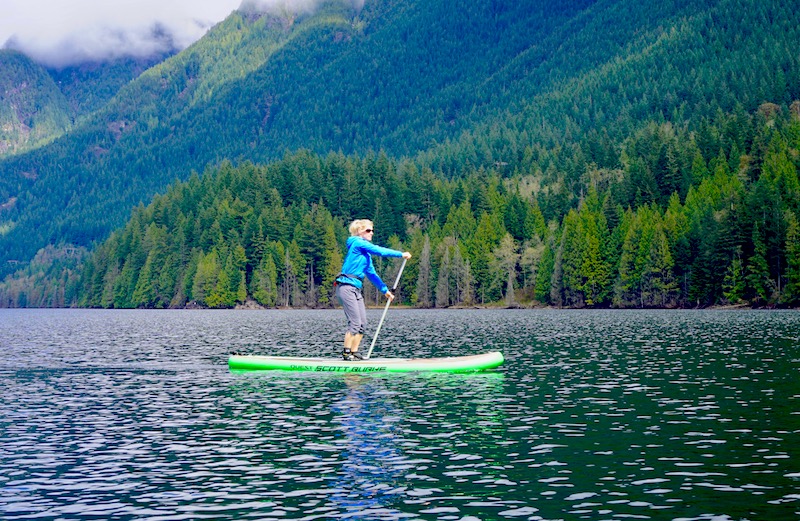 The performance is good and exactly what I would expect for a board of this shape and size.
At 11' long, 32" wide and 6" thick you can expect this board to move nicely and feel stable.
It is not super fast but it glides well. It is not super quick to turn but a board this size never is.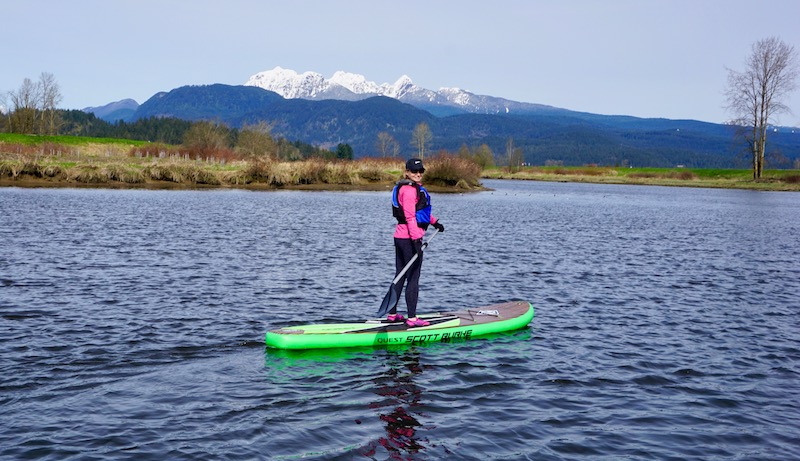 That being said my team and I all enjoyed paddling it in calm water and even in heavy winds.
It feels sturdy, durable and fun. The turned up nose plows through waves and chop and the tapered tail helps it to keep moving nicely.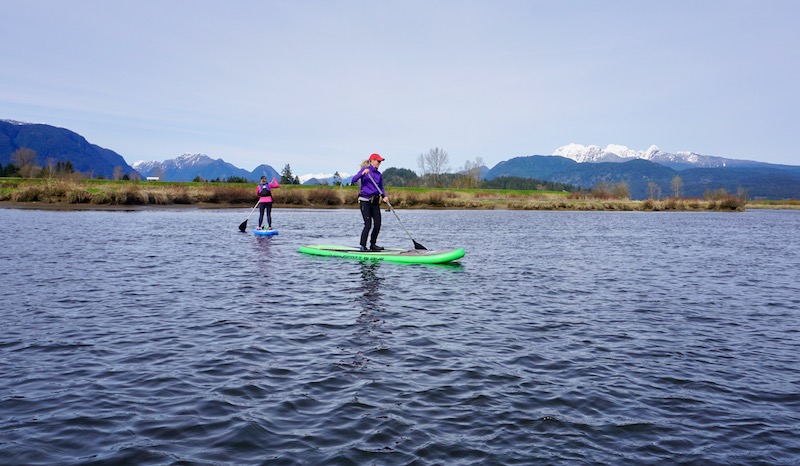 Versatility
You can use this ISUP anywhere.
It is ideal for paddling on flat-water lakes, going down calm rivers or tackling ocean chop.
Paddle it on your own or pile on the kids and dogs. It can hold up to 300 lbs. so you can load it right up.
The length and width are also suitable for fitness and yoga. Although it is not a yoga/fitness specific board, it could easily work as one.
Darryl tried out some pushups and squats and found it stable and comfortable with enough room on the traction pad to maneuver.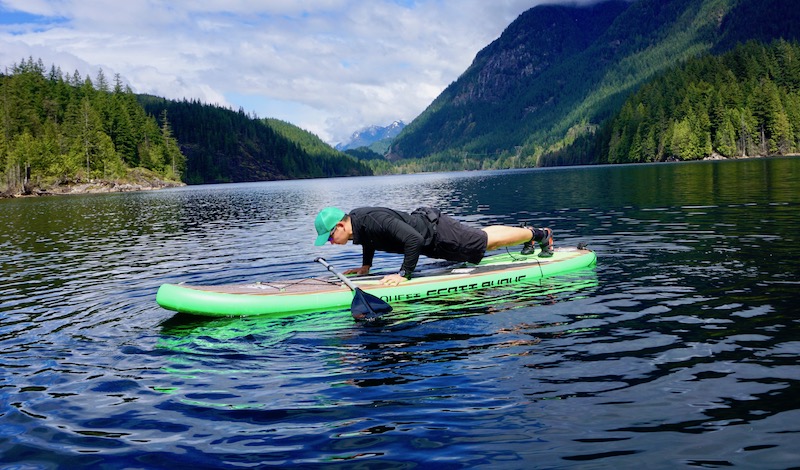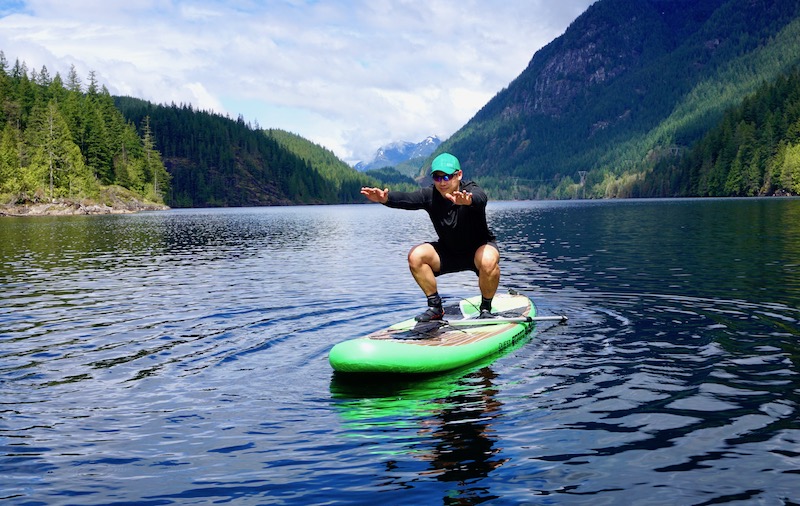 It is a highly versatile board that would suit a large or small person.
The Negative
The board is a little on the heavy side at just over 30 lbs. compared to others of similar size.  However I had no trouble carrying it when inflated or when deflated in the backpack so it didn't seem like that big of a deal.
The other negatives that we found didn't have much to do with the board itself.
We think the backpack definitely needs to be slightly longer in order to fit the board properly.
The size of the backpack doesn't affect storing or transporting the board but it would be nice to be able to close up the top properly.
The paddle is also a little heavy. However when it comes free with the package you can hardly complain.
Plus this type of aluminum paddle is very typical with SUP packages, so it's just being picky on our part.  For those starting out, this one will do just fine.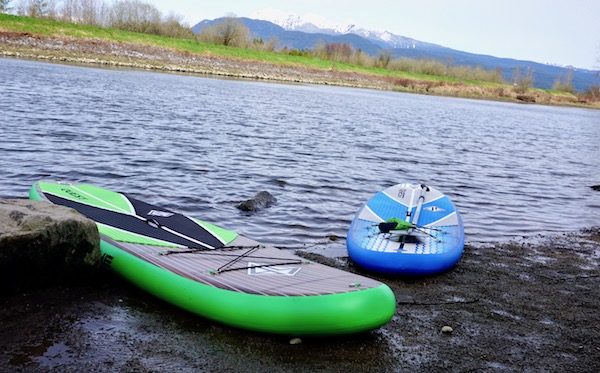 Final Thoughts
My whole team loved the look of the 11' Quest and enjoyed paddling it.
It is a versatile board that comes with good features and great accessories.
I personally think that anyone from beginners to intermediate paddlers would enjoy cruising around on this board.
The price is reasonable and the package comes with everything you need to get on the water right away.
Where To Buy
Click Here For The Best Deal On The Burke 11' Quest Inflatable SUP At Amazon.com.
Did You Know?
By clicking on any of the above seller links you can help keep ISUPworld.com growing. When you make a purchase after clicking on our links, the retailer will contribute a portion of the sale to help support this site. It won't cost you anything extra and it's a simple way to help us fund our gear reviews. Thanks!