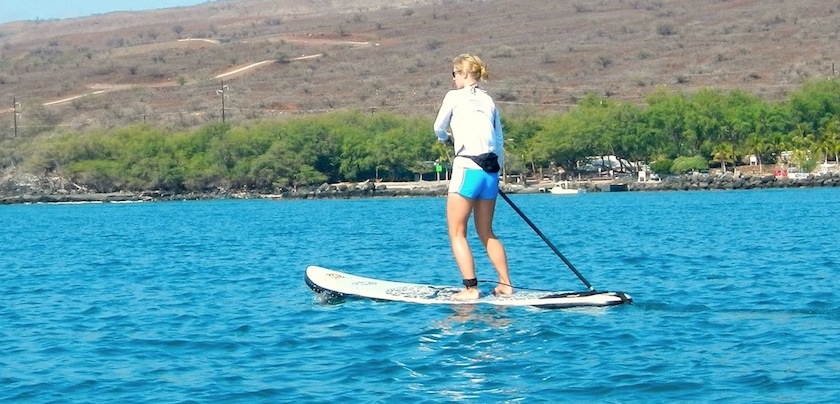 The C4 Waterman Sub Vector is an excellent inflatable SUP for rivers, surfing waves and cruising.
Quick Stats
Specs:
10 feet long
30 inches wide
4" thick
weighs 20 pounds
good for people up to 160 pounds
has 3 attached fins
Material: It is constructed with a heavy-duty polyester material and PVC Tarpaulin.
Pros – good quality, can inflate up to 17 psi, super easy to manoeuver, light to carry and transport, fairly versatile, three small fins for better performance
Cons – a little tippy, fins can not be detached, no bungee cords
More In-Depth Info
The Sub Vector is one of the boards I used for a whole winter I spent in Hawaii. I got to try it out in many different water conditions and got a pretty good feel for its performance.
I found the size of this board ideal for my weight (125 lbs.). The 4" thickness and the 30" width took some getting used to after I had paddled the Naish One ISUP which is much longer, wider and thicker… and consequently far more stable.
It was a little like starting over again as I had to adjust to the 'rockiness' of this smaller board.
However once I got my SUP legs back, I loved paddling the Sub Vector. It was so easy to paddle, turn and manoeuver that it became a thrill to ride.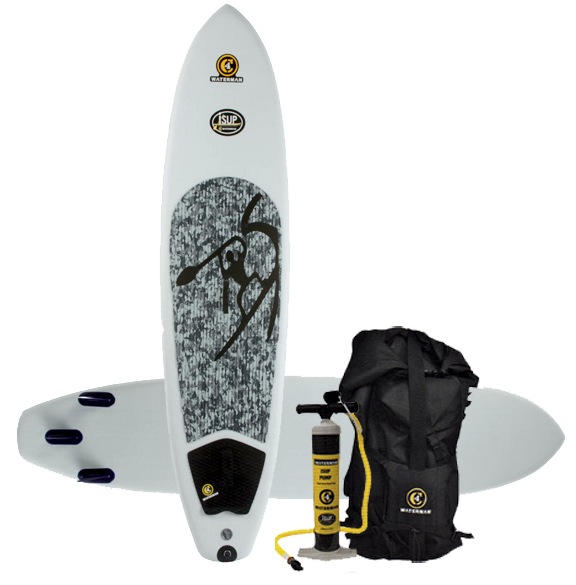 Sub Vector on Ocean Surf
I initially tried it out in some waves which was a mistake on my part as I was not yet used to the board. After twenty minutes or so of practice I was feeling far more comfortable and impressed with the performance.
It turned on a dime and rode the waves beautifully.
* Note that I am not a surfer and far too chicken at this point to take on large waves so when I refer to waves I mean smaller ones but I have no doubt this board can handle some real surf.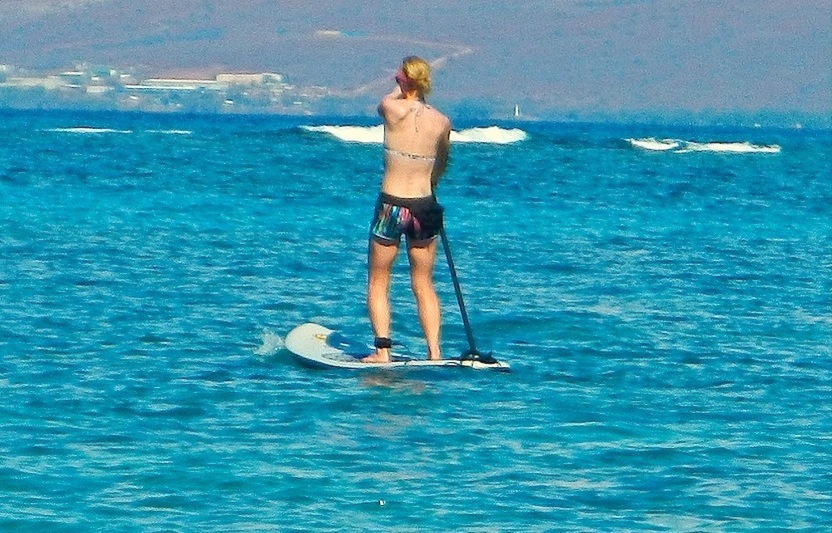 Sub Vector on Calm Ocean Bays
After several days of running and playing on the smaller waves I decided to take it easy and try the board on a flat, calm bay.
Although waves can be thrilling, one of my favorite things about stand-up paddling is paddling in clear ocean water where I can watch the fish and see the coral from above. It is a whole different kind of thrill.
The C4 Sub Vector was great on flat water as well. It paddled well, far faster than I expected. I spent that afternoon and many to follow lazily paddling around the bay watching the colorful fish, paddling with a sea turtle once in a blue moon and when I got tired, I would sit on the board, dangle my feet in the water and just chill.
The board is so rigid when inflated to the proper psi that I even started doing some stretches and exercises like sit-ups on the board while floating in the water.  I got some funny looks but I thought it was pretty cool.
Sub Vector on Rivers
I have not had the opportunity to take the Sub Vector down a river yet, however I think this is where it will likely excel the most.
The three shorter fins are ideal for river running and the board size makes it best for quick maneuvers. I have no doubt that it will exceed expectations on the river, but I will update this section once I have tried it myself.
The Down Side
I like the C4 Waterman Sub Vector a lot. The size makes it very versatile but there are a few down sides as well.
1. For one, even though the company states the board is good for people up to 165 lbs., it did not seem to perform as well if you are closer to 160 lbs.
My boyfriend who weighs roughly 160 lbs. found it difficult to ride. He has had a fair amount of experience with SUP's but he found that the shorter length and the smaller width and depth did not support him as well as a larger inflatable board does.
He found his weight caused a bit of flex in the middle and therefore made it slightly sluggish and not as stable.  He really had to be on his game to stay upright in the waves.
So even though the board is able to support up to 165 lbs. I would suggest maybe only up to 150 lbs. or so unless you are an intermediate rider in which case you are probably much better with control. That was just our opinion.
2. The other thing I found a bit of a down side for this board is that it does not have any bungees to tie down gear. Of course I understand that this board is not meant to be for touring – more for surf and river running. Therefore it makes since to have no bungee cords.
However I like to have bungees in case I am just on flat water as I can secure a dry bag or even a bottle of water.
This is not a huge deal as like I said this board was not designed for touring and maybe surfers and experienced river runners would not want to have bungees on it.  Whether this will bother you or not will likely depend on the type of water you plan to be using it on.
3. The last thing I noticed about this board is that although it has three attached smaller fins which work great, they are totally secured to the board, meaning you can not remove them if you want to.
You will always want those fins attached when in the water but while inflating the board or storing it, I find it nice to be able to take the fins off.  When deflated the board does not roll up as small as it could because the fins are in the way.
My Pics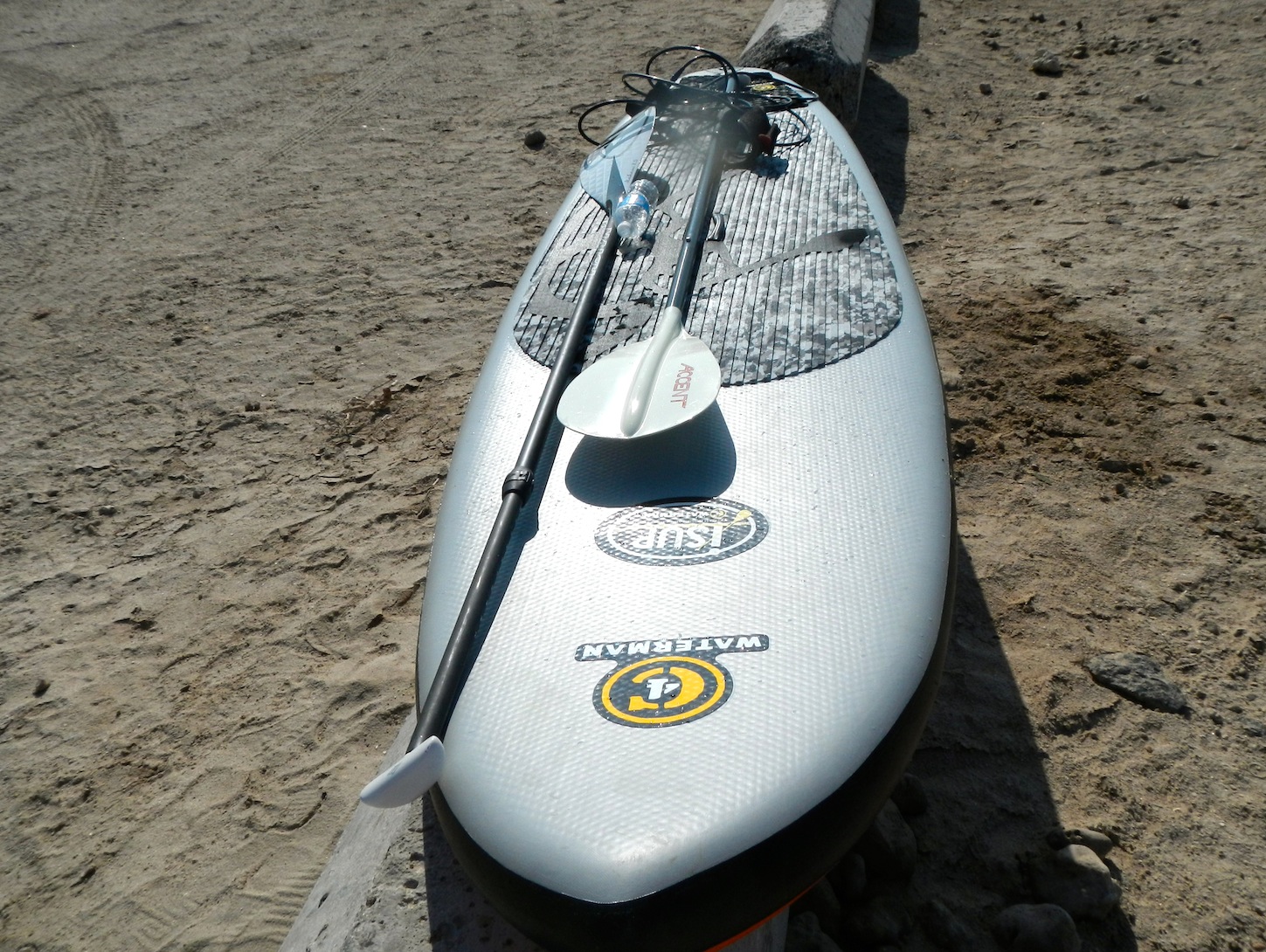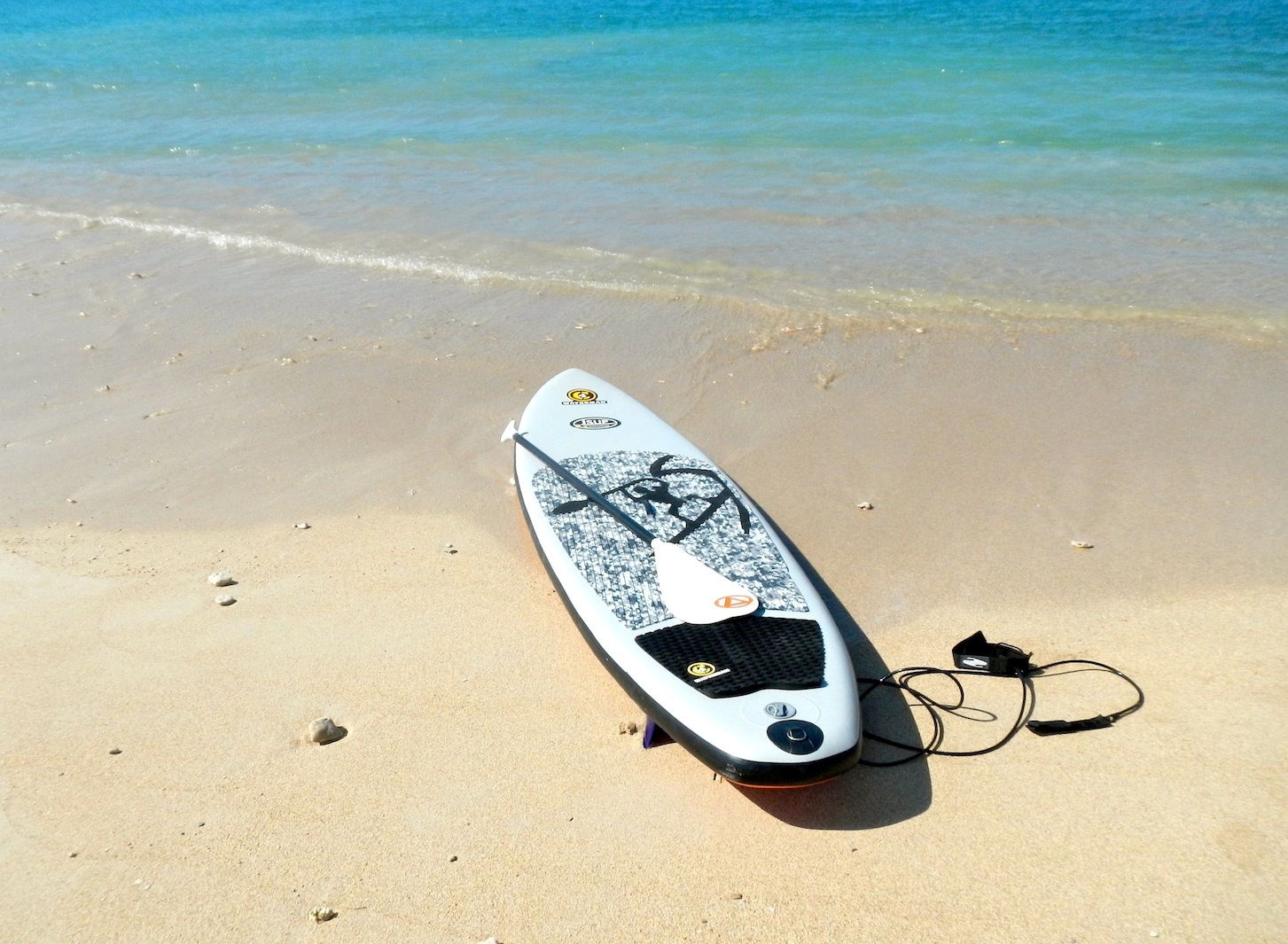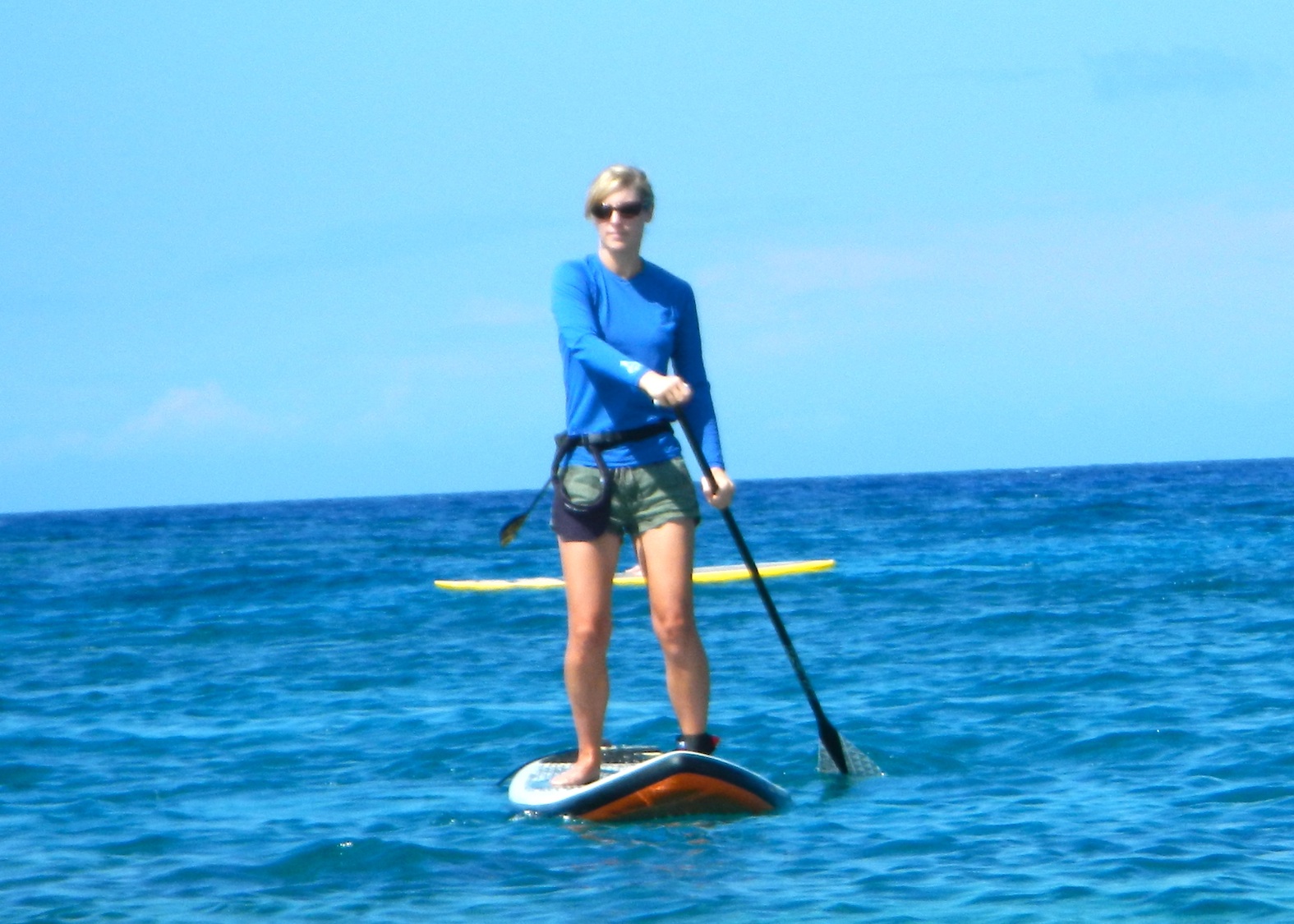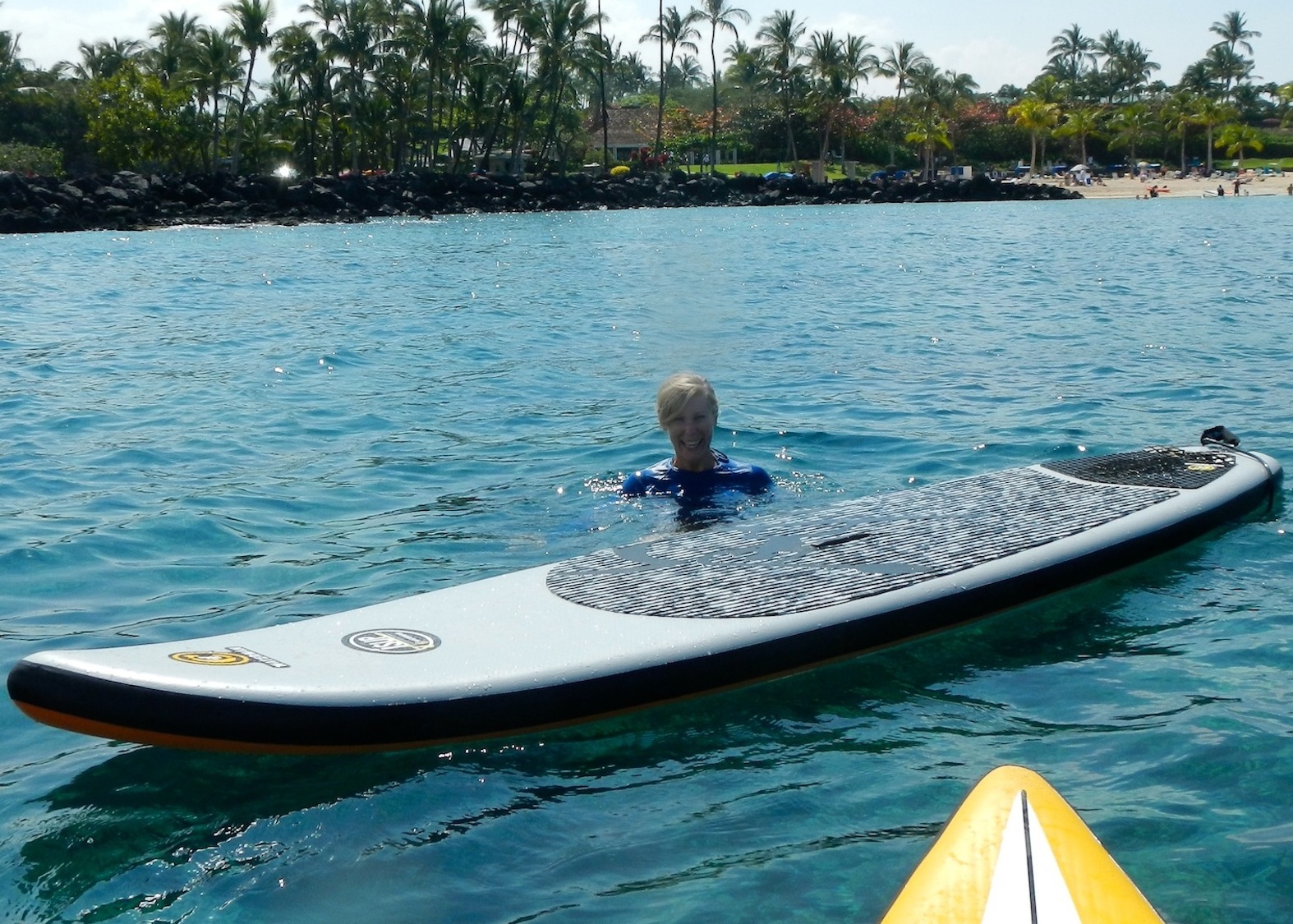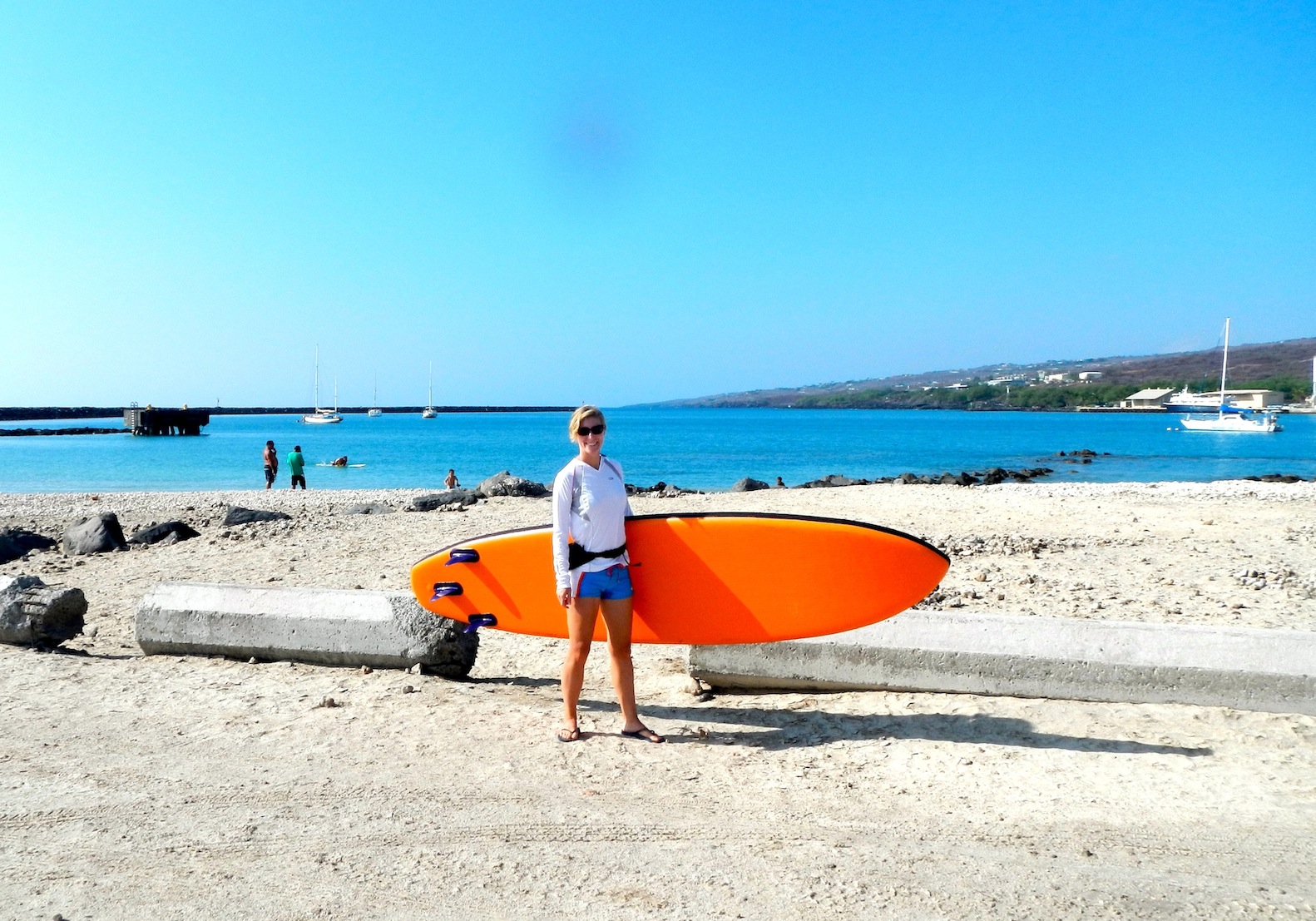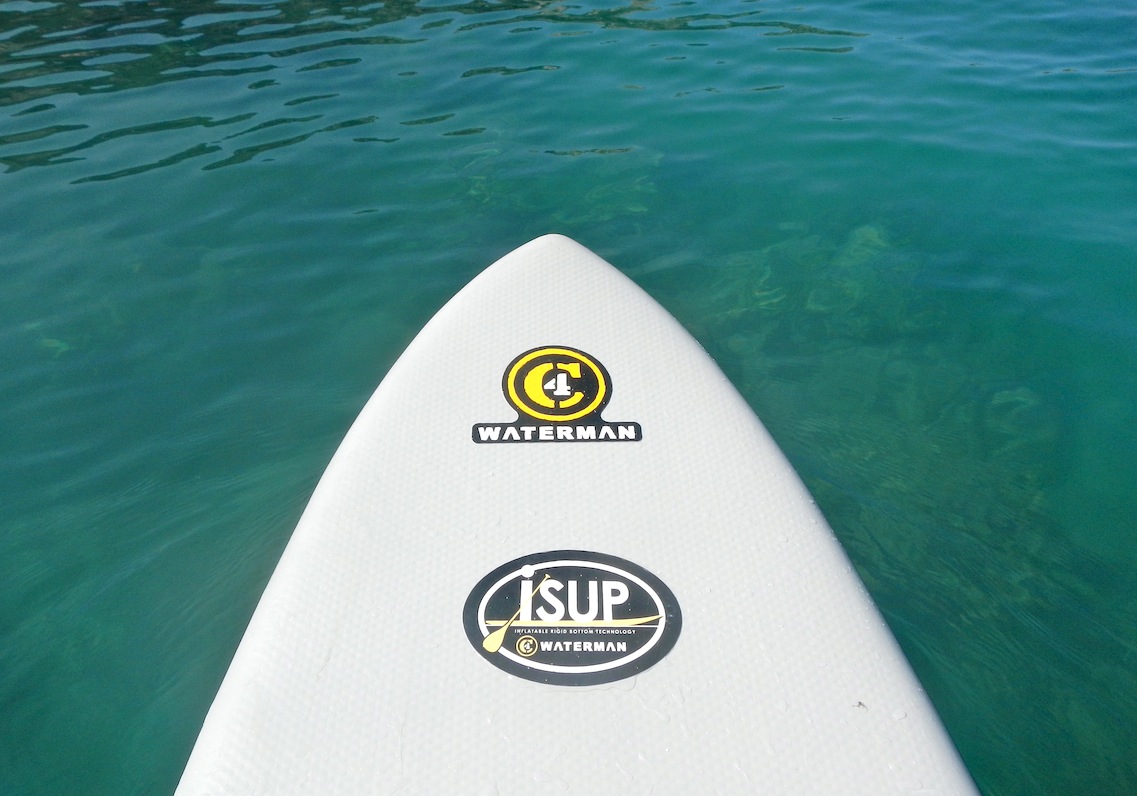 Final Thoughts
I have definitely had a lot of fun on this ISUP. It is very lightweight and so easy to carry. With the center carry handle I have no problem carrying the Sub Vector to the water with one arm.
It rolls up fairly small and can easily be taken on an airplane or thrown in the trunk of your car. For these reasons it is very convenient for traveling to and from anywhere.
The size makes it versatile enough for most types of water and the fact that it can be inflated up to 17 psi makes it super rigid.
C4 Waterman is one of the pioneers of inflatable stand up paddle boards. In fact they are the ones who coined the term ISUP. Their boards are known to be tough and resilient.
I have found that Amazon.com consistently has the best price on this board.
Where to Buy
The C4 Waterman Sub Vector is currently unavailable.
Did You Know?
By clicking on any of the above seller links you can help keep ISUPworld.com growing. When you make a purchase after clicking on our links, the retailer will contribute a portion of the sale to help support this site. It won't cost you anything extra and it's a simple way to help us fund our gear reviews. Thanks!