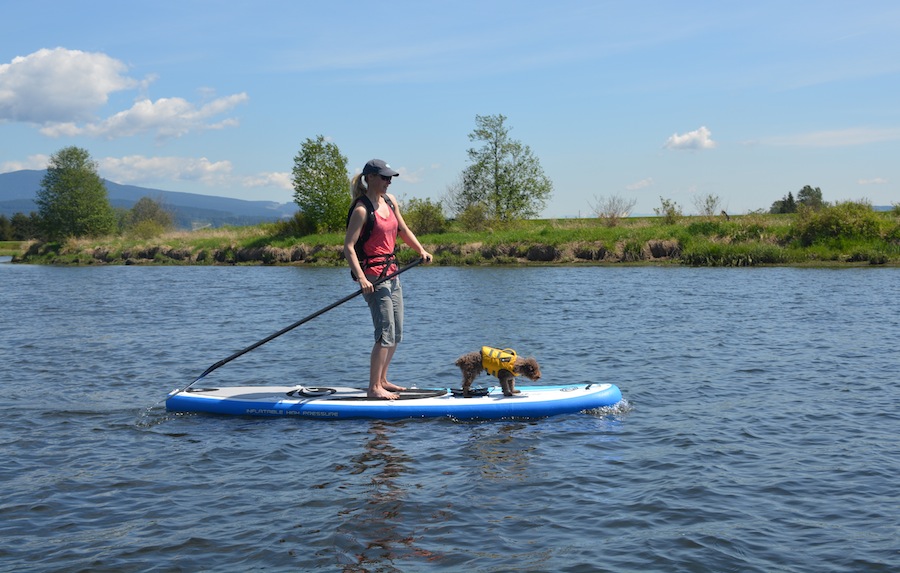 California Board Company makes several different SUP's and surfboards and now they have one very cool inflatable stand-up paddle board called the 132 Current.
The 132 Current is a well made versatile ISUP that can be paddled standing or kayak style.
It comes with a comfortable seat that attaches to the D-rings on the center of the board and a SUP paddle that can be converted into a kayak paddle.
This ISUP is stable and durable. It paddles well and is a lot of fun to use.
Specs For The 132 Current Inflatable SUP
11 feet long
32" wide
5.5" thick
weighs 24 lbs.
can hold up to 200+ lbs.
air pressure: 15 PSI
two attached side fins and one removable large fin
Material: Three-layer PVC coated and reinforced drop-stitch fabric
Pros: Stable, durable, bungee cord system up front, lots of D-rings, nice fin system, versatile, paddle standing or kayak style, package includes a combo SUP/kayak paddle, a board leash and a comfy seat
Cons: Not super fast, pump is basic
Where To Buy The California Board Co 132 Current
Click here for the best deal on the 132 Current at Amazon.com.
More In-Depth Info On The 132 Current
I really like the look of this ISUP. It is well made and has all the right features and some great accessories.
The shape of this board gives it a nice glide.  The 6″ thickness makes it very stable.  When inflated it feels rigid and durable.
It's a board that anybody could use and it is ideal for cruising around on lakes, rivers or ocean bays.
It handles well in the wind and I imagine would be a lot of fun in surf as well.
132 Current Features
The 132 Current has all the basic features that you could want covered.
It is functional, comfortable and versatile for a lot of different people.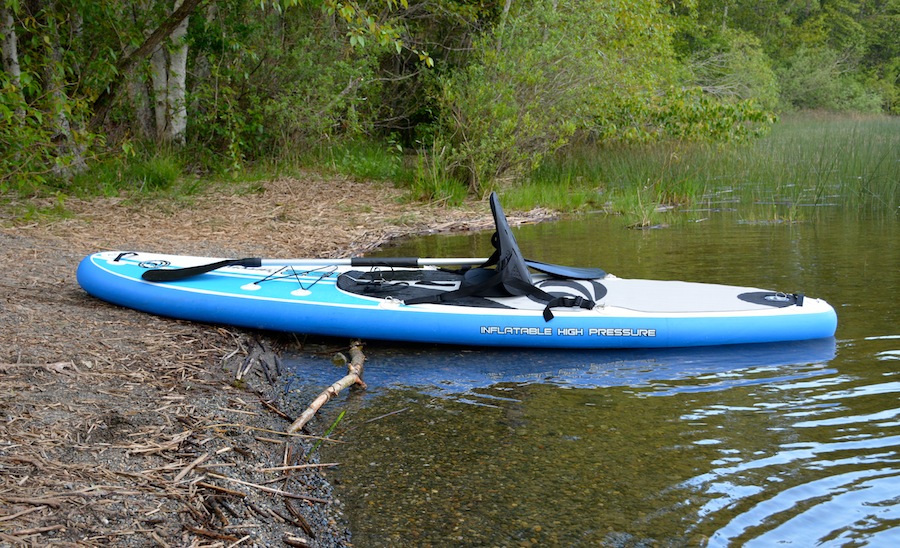 Removable Fin
Besides the two smaller side fins, there is also a large removable fin included in the package.
The removable fin is great to use in open water as it really helps with tracking.
The fin slides in easily and is secured with a push in clip. Once secured it is solid and durable.
If you were paddling in shallow water you would remove the fin and simply use the two side fins.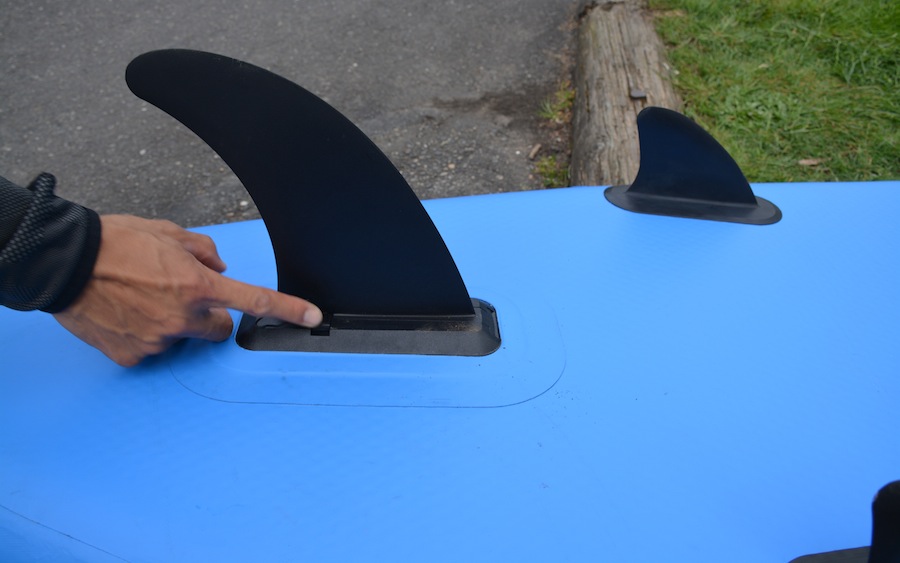 Bungee System
I personally like boards that have a bungee system; I find I use it all the time.
The bungee system on this SUP is just in front of the traction pad, which makes it very easy to access.
It is great for securing your water bottle or any gear that you would like to bring with you.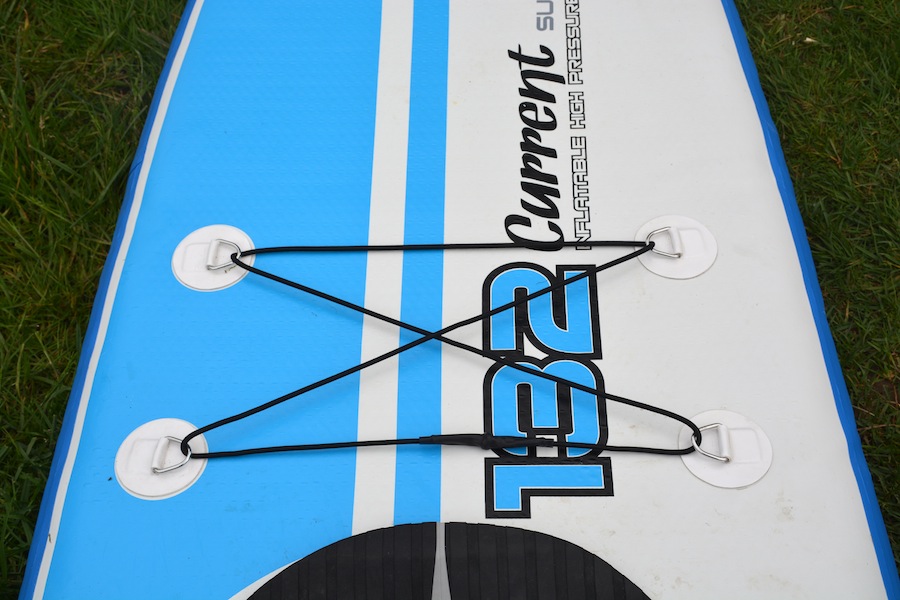 6" Drop-Stitch Material
The 6" thickness makes this ISUP very stable and rigid. It can hold a lot of weight and still paddle well.
The material felt strong and durable. It seemed well made and with a little care will last a very long time.
Loads Of D-rings
I like all the D-rings on this board. D-rings are always handy to have for securing anything you need to take out with you.
The 132 Current has a D-ring at the front, which can be used for towing, as well as one at the back that is ideal for attaching your SUP leash.
There are also four D-rings around the center of the board (two on each side). These are used for attaching the seat.
Then there are four more D-rings being used for the bungee system.
Lots of D-rings to work with, which I think is awesome.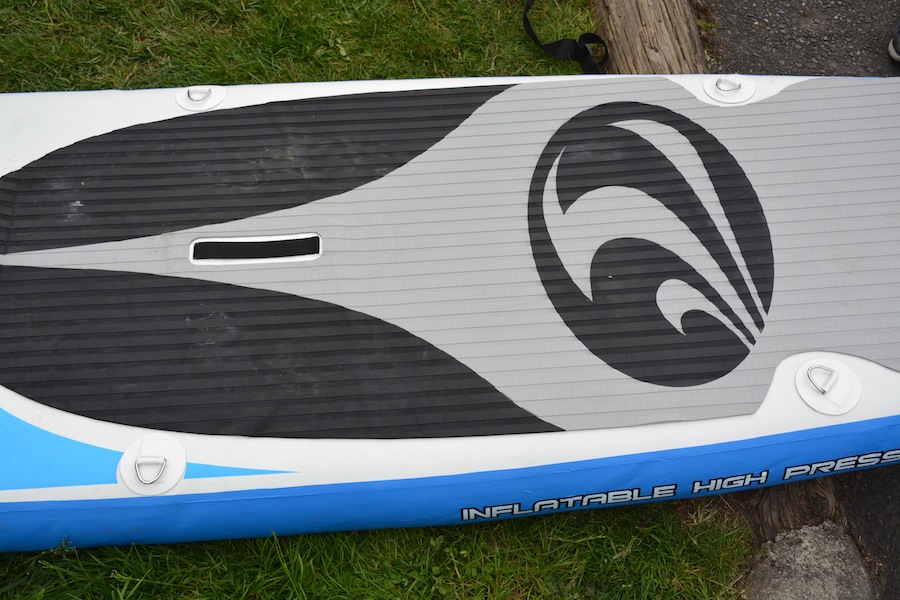 Seat
There are a few ISUP's now that provide the option of attaching a seat.
I like that this one includes the seat in the package price. It is one of the more comfortable SUP seats I have tried.
There is quite a bit of padding on the bottom of the seat and once attached to the D-rings the back support is excellent. I really enjoyed using it.
The board still felt stable when seated and I found when paddling kayak-style I could zip around all over the place. It was very easy to paddle this way.
The seat is perfect if you would like to fish from your board. It is also nice for those who think they might want to take a break from standing and have the option to sit.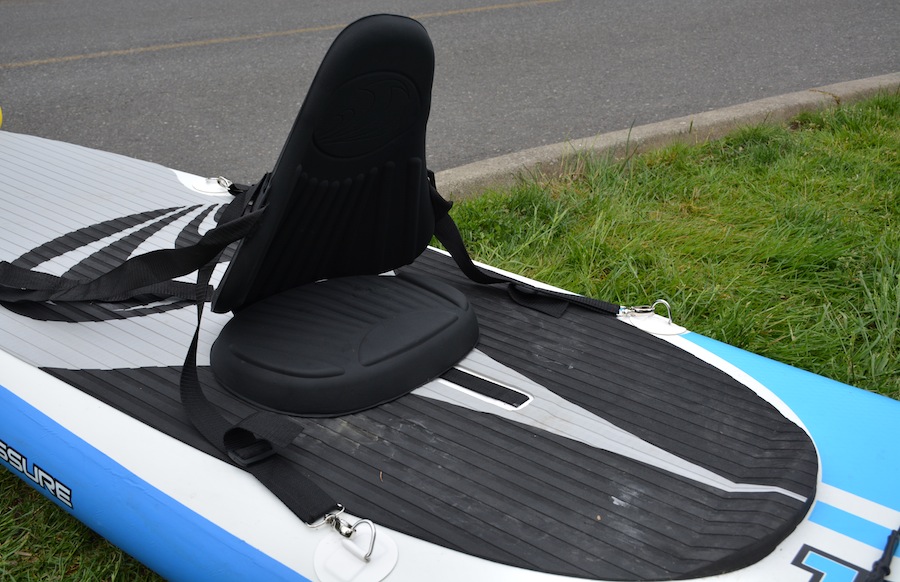 Carry Handles
There are three carry handles. There is one at the center of the board for when you are carrying it by yourself and one at each end.
The carry handles are pretty standard and made of strong nylon.  Weighing only 24 lbs. this board is easy to carry.
Backpack
The backpack that comes with this inflatable SUP is very functional.
It is large enough to easily get the board in and out of and to carry all the accessories.
It has side mesh panels to allow the SUP to breathe.
It has a bungee system at the front of the bag that can be used to secure and carry the pump.
The shoulder straps are slightly padded. I found the straps to be a little flimsy for a heavier load but they seemed solid and overall fairly comfortable.
There is also a waist strap for added support.
I could fit the board, the fin, the paddle, the seat, the repair kit, the SUP leash and the pump in the bag.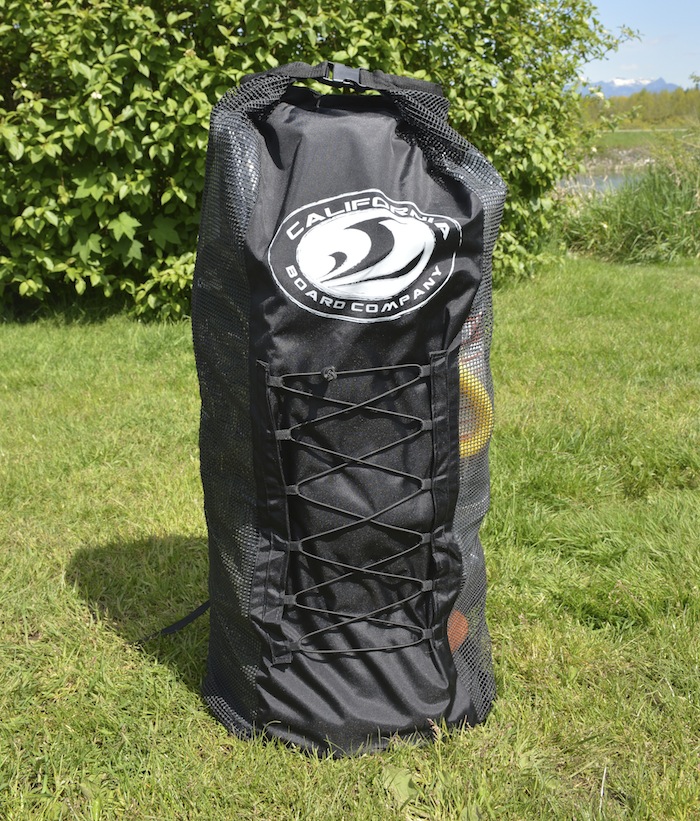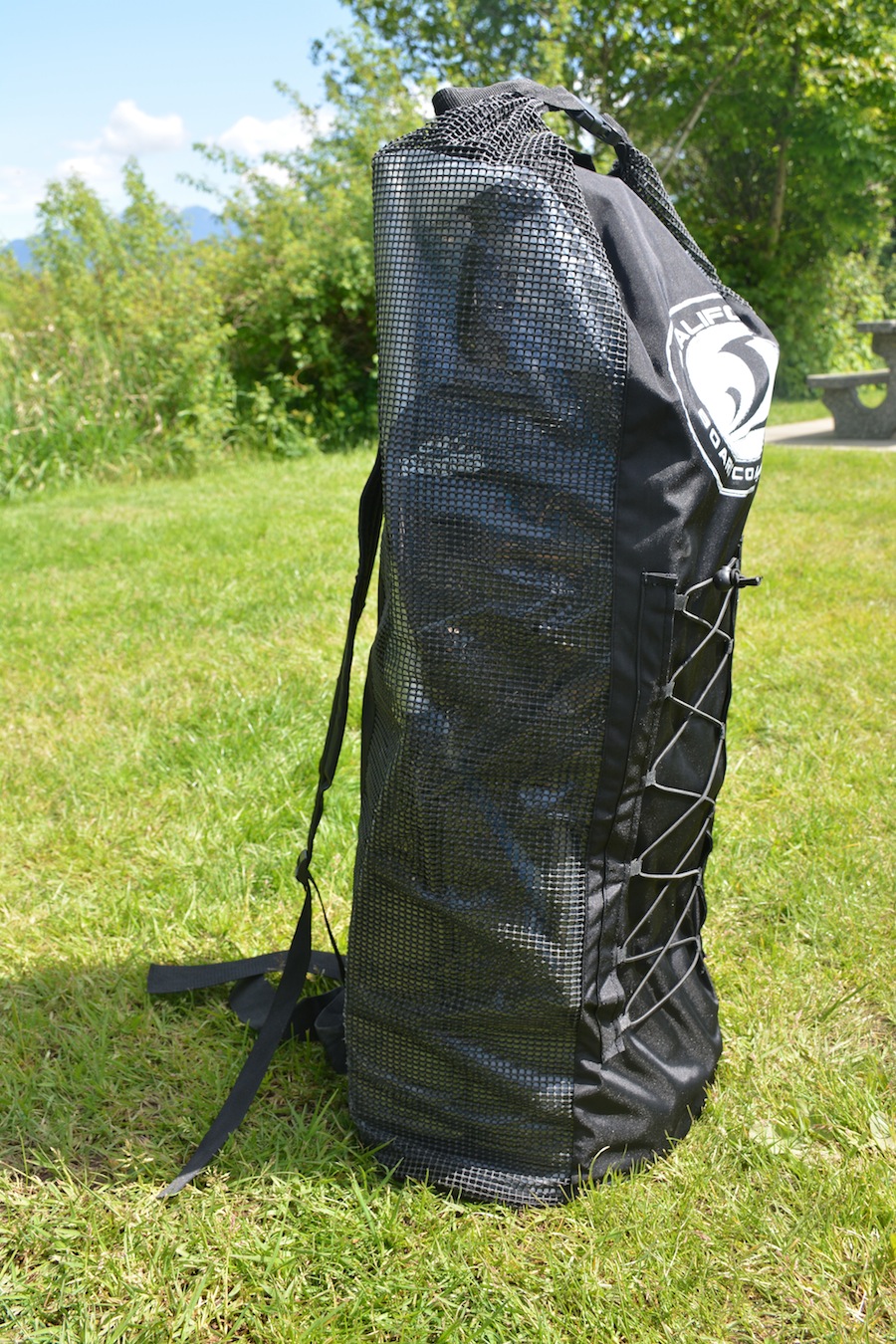 SUP/Kayak Combo Paddle
I'm not a huge fan of the combo SUP/kayak paddles but they do serve a purpose and are very convenient for those who want to paddle their SUP standing as well as sitting.
The SUP paddle breaks apart into 3-pieces making it ideal for traveling and then there is a 4th piece that is the extra kayak paddle part.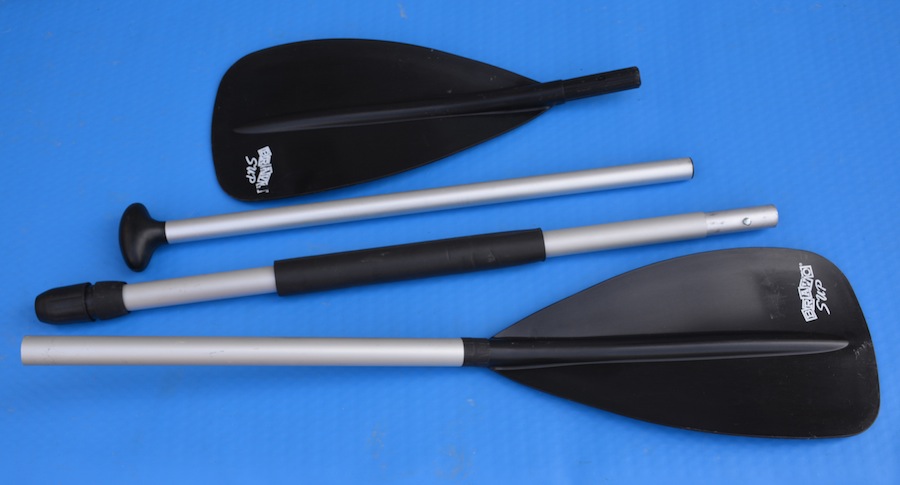 When used as a SUP paddle I loved it. It is basic in design  but it felt good and was easy to use.
It has some rubber padding around the shaft for added comfort. I loved the added padding, it's a great feature that I have never seen before and I really noticed the difference in comfort while paddling.
The SUP paddle is adjustable making it easy for people of different heights to use.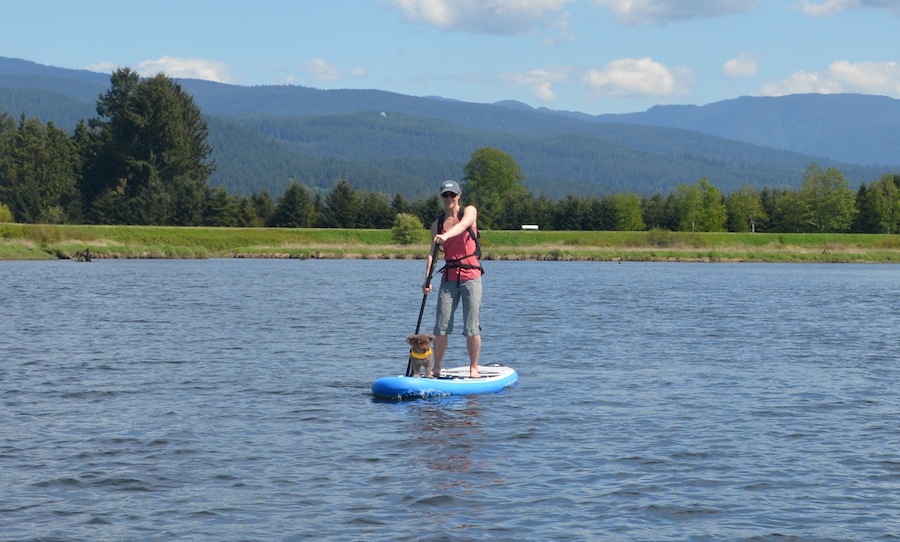 When you want to use the paddle as a kayak paddle you simply remove the SUP handle part and attach the extra kayak paddle part.
It only takes a second to switch them and could be done from your board while out on the water if needed.
When used as a kayak paddle I found it worked well. It feels different than using an actual kayak paddle, which I find is usually the case with the combo paddles.
However it worked well and as mentioned I really enjoyed paddling this SUP kayak-style.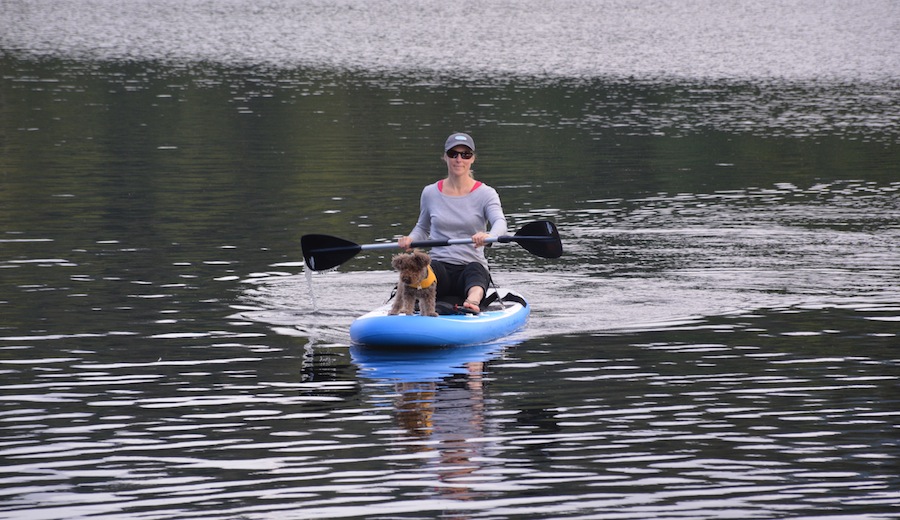 California Board Co 132 Current Setup
Setup is quite easy. Take the board out of the bag, unroll and inflate.
With the hand pump I found it took me about 10 minutes to get the board inflated to 15 PSI.
The hand pump comes with a pressure gauge so you can check your progress.
It takes awhile for the pressure gauge to show any air pressure but keep pumping and soon enough you'll see it show up.  Inflating it to roughly 7 PSI is fairly easy but I found it got much harder after that.
It took a bit of effort to get it right up to the 15-PSI mark but it's doable.
I prefer to use an electric pump personally to eliminate the sweat before hitting the water.
Once inflated you can attach the fin and your board leash then you're ready to go.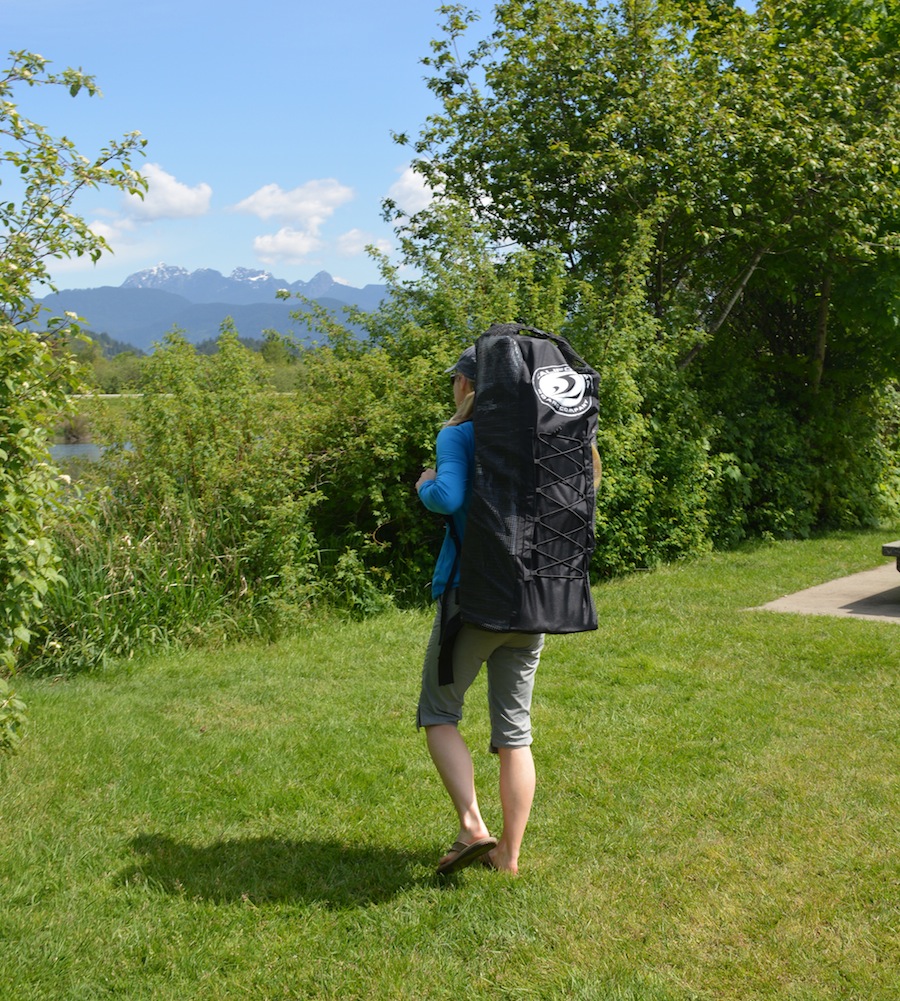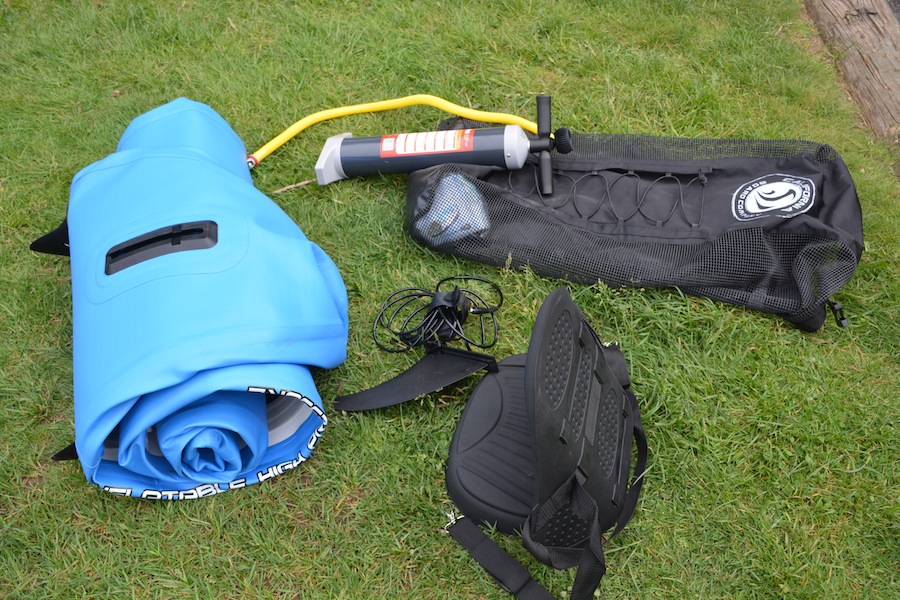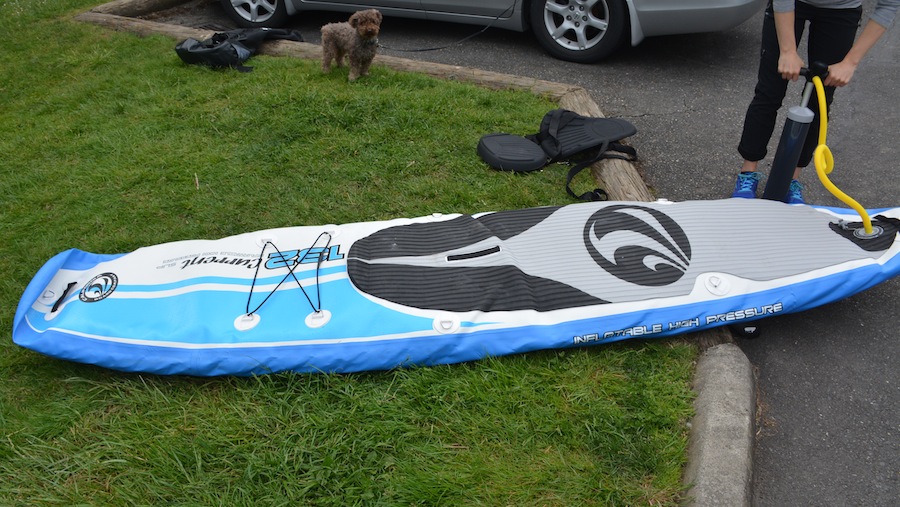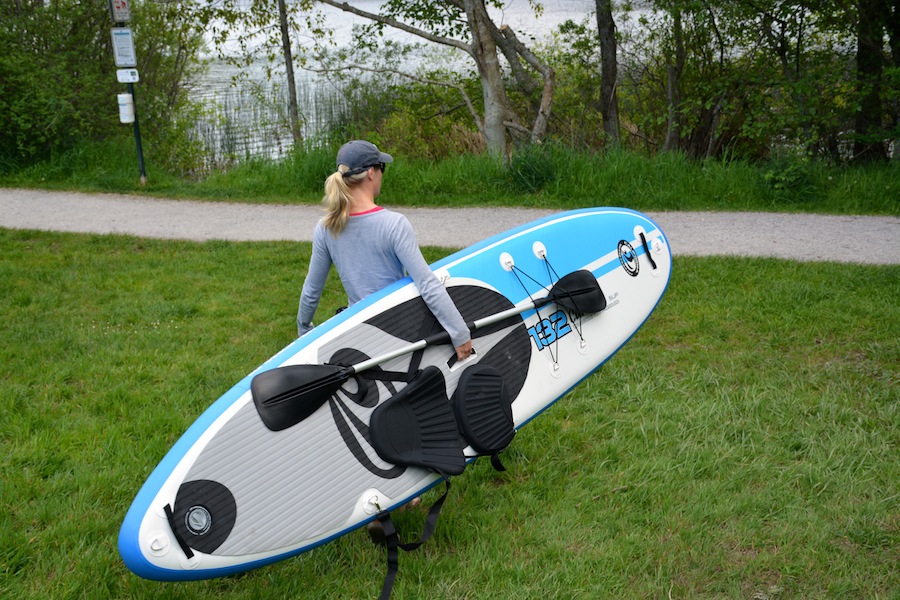 Weight and Versatility
The 132 Current weighs 24 lbs. I found it easy to carry and it is the perfect weight for traveling. It would be easy to bring anywhere.
The size makes it quite versatile. It would suit a large variety of people and is perfect for taking your dog paddling with you.
It paddles well on flat water, tracks and glides nicely. I had it out a couple of times in some heavy wind and it handled the chop with no problem.
I didn't have the opportunity to use it in any real surf but I imagine it would be a lot of fun.
The Negative
There aren't any major negatives with the 132 Current. It is not the fastest board on the water but overall it paddles well and is easy to handle and maneuver.
I think the pump could be improved upon as I found it to be a little tricky to get it fully inflated with it, but there are other pump options out there such as the K-Pump or an electric pump if you chose to upgrade.
More Pics Of The 132 Current Inflatable SUP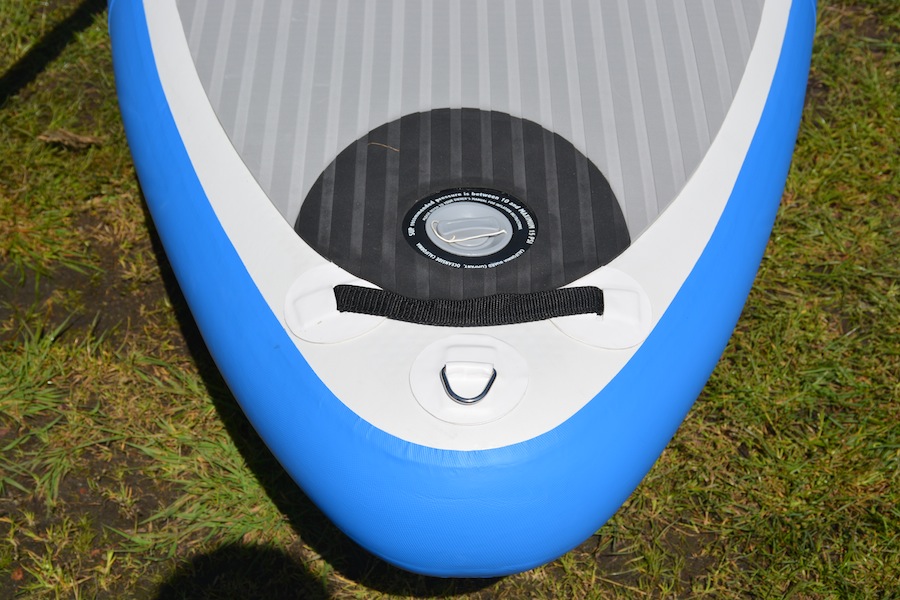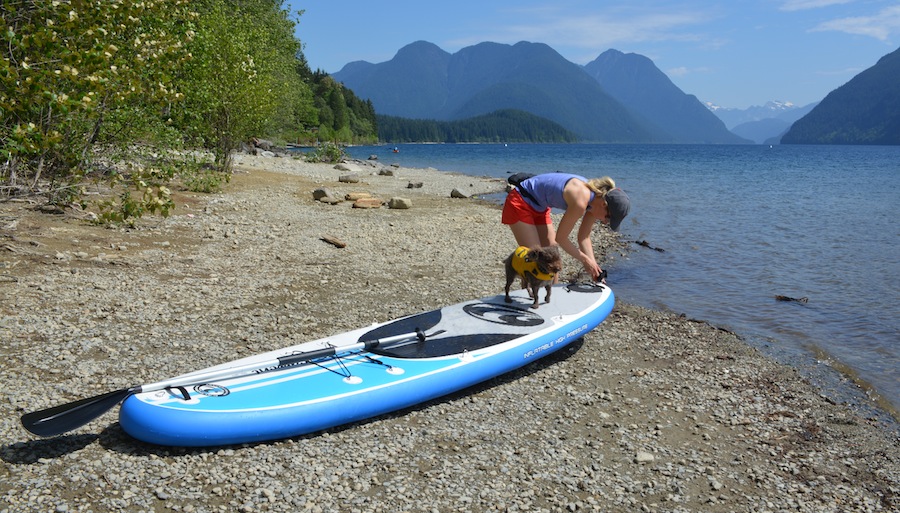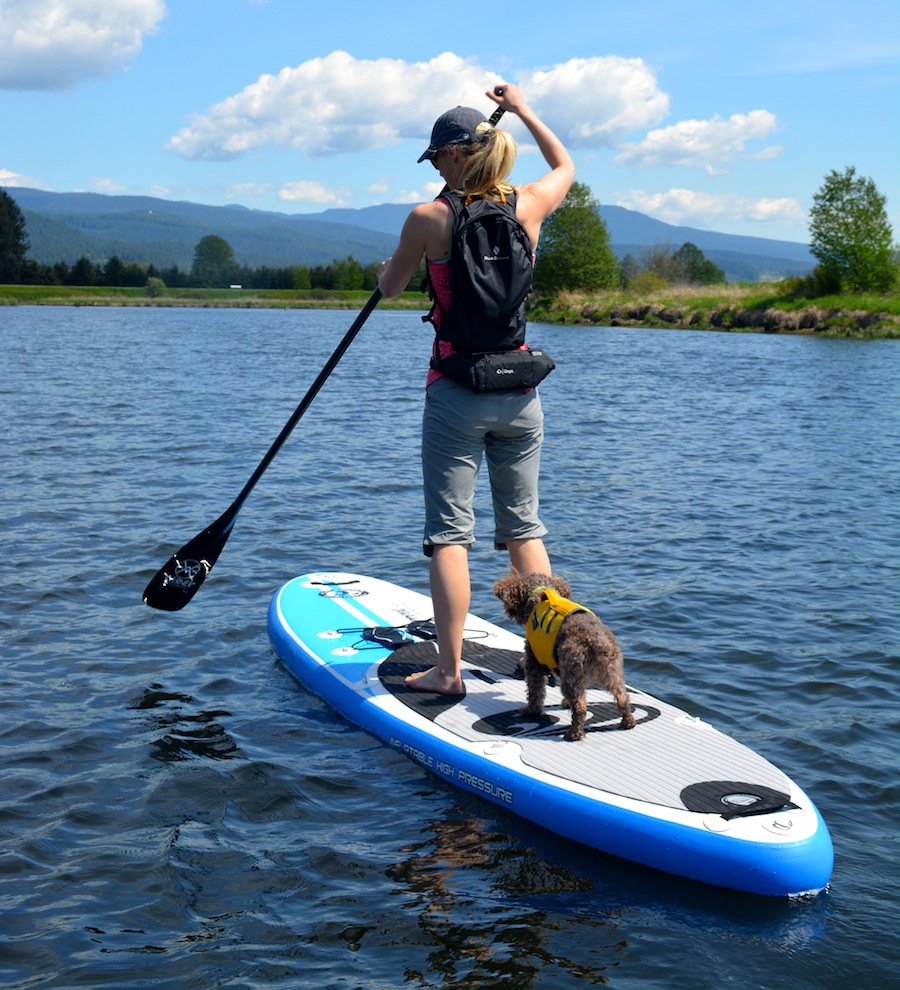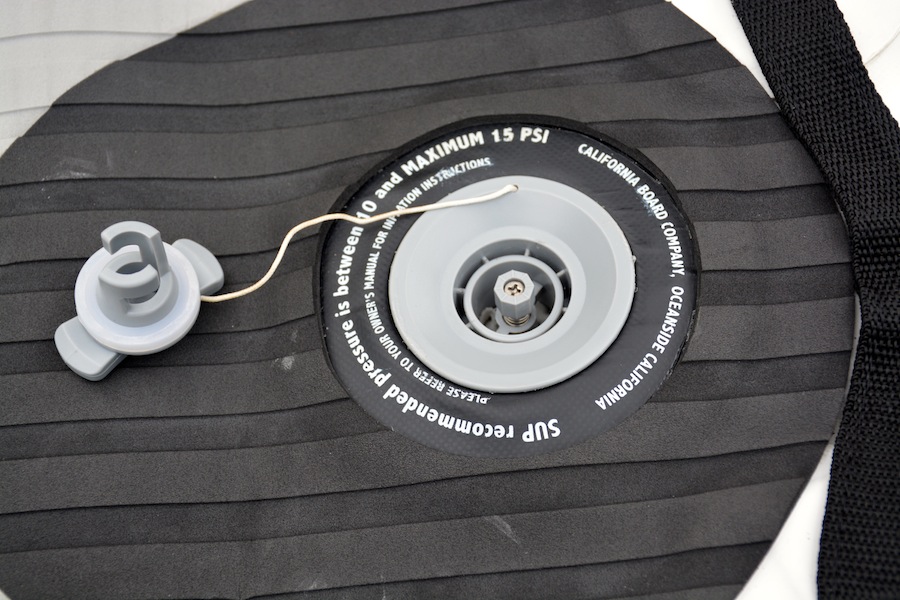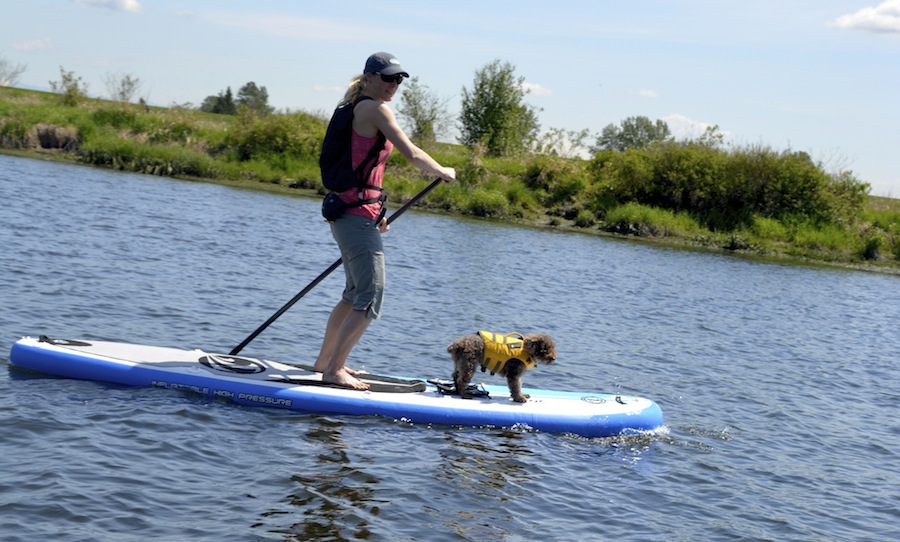 Where To Buy The California Board Co 132 Current
Click Here For The Best Deal On The 132 Current At Amazon.com.
Did You Know?
By clicking on any of the above seller links you can help keep ISUPworld.com growing. When you make a purchase after clicking on our links, the retailer will contribute a portion of the sale to help support this site. It won't cost you anything extra and it's a simple way to help us fund our gear reviews. Thanks!