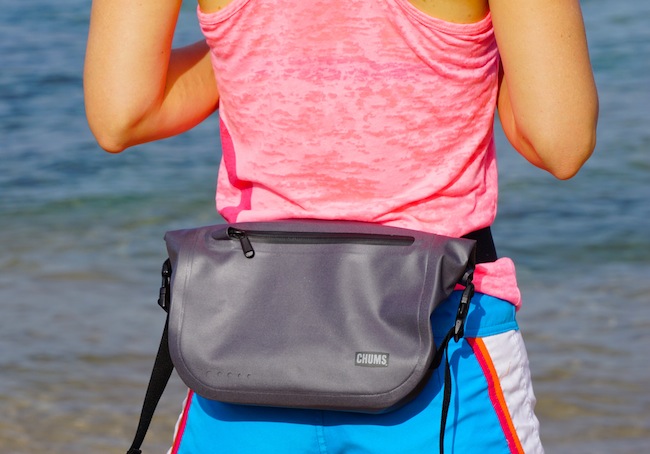 I had been searching for awhile for some type of water resistant bag that I could wear while stand-up paddling to store my essentials like my car keys, phone, snacks, camera, etc.
I have a waterproof backpack that is great for longer trips. Only problem is that it is big and bulky and there is no way I want to wear it while actually paddling. Sometimes I secure it under the bungee cords on my board if I need to bring a lot of gear.
However for short day trips a smaller bag to store my few essentials is all I need.
I was pretty psyched when I came across the Downriver Rolltop Bag by Chums.
This bag is made specifically for stand-up paddling, is quite versatile and is a great size – not too big and not too small.
Important Features
Waterproof – The most important factor for me was to keep my essentials dry and protected.
This bag is not made for continued submersion in water but it will withstand a quick dunk if you drop it or if you fall in or even if a big wave splashes you.
Anything you want to keep completely dry should be stored in the waterproof main pocket. The main pocket has a roll top closure with side clips, very similar to a dry bag.  The length of the side clips can be adjusted depending on how much gear you store in the bag.
This bag has waterproof RF welded seams and a YKK water resistant zipper on the front pocket.
The exterior of the front zip pocket is water resistant and has drain holes for quick drying.
I tested this bag in rainy weather, with quick splashes and with full submersion in the water just to check out how well it keeps my important stuff dry.
In rain it was awesome.  I actually used it hiking a couple times and got caught in drizzly rain then in a complete downpour.  Although the burst of rain was fairly short, everything in my bag stayed dry… thankfully because I had my good camera stored inside.
Quick splashes while ocean paddling were not a problem.  Where I ran into an issue was when I had my bag stored under the bungee cords on my SUP and I got taken out by a big wave.
The bag ended up fully dunked in the water and pushed around by another wave before I was able to grab it.  My stuff got wet.
So two things I learned from this.
If you choose not to wear the bag and instead store it under the bungee cords on your paddle board, make sure you actually clip the bag to the bungee cords so that it does not get swept away or fully submerged if you bail.
Second, I had the bag way too full so the top part of the bag was only rolled over once or twice – not enough to keep my gear dry when being dunked by waves. Make sure you only pack the bag half full so that you are able to roll the top enclosure down three times (as Chums tells you to do, oops!).
All in all I was impressed with the waterproof level of the Downriver Rolltop bag. The one time my gear did get wet was really my own fault.
Removable Strap
There is a removable strap that can be easily adjusted and allows you to use the bag as a shoulder bag or as a waist pack.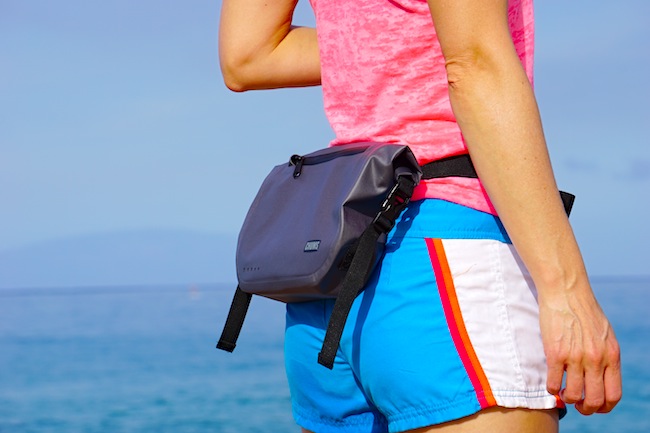 The strap has a large adjustable range so it will definitely suit all sizes.
If you don't want to wear the bag you can also remove the strap completely.  This is a nice option if you want to store this pack in a larger backpack or simply secure it under the bungee cords on your SUP.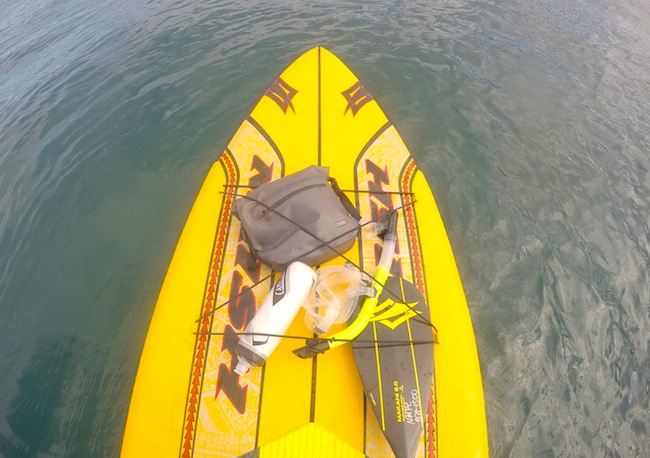 2 Compartments
As mentioned there is one main waterproof pocket and one zippered water resistant side pocket.
I was impressed with how much you could actually fit into these pockets.
You can easily store a small water bottle in the main pocket and still have room for a camera, and snacks.  It can also fit a top, gloves, sunglasses or other small items.
I have a waterproof case for my phone so I stored that in the front pocket and kept my keys, camera and wallet in the main compartment.
The size of this bag is really handy and perfect for short day trips.
Just make sure you only fill the bag about half way so that you can still roll the top enclosure down three times to keep your gear dry.
Versatility
I love that you can adjust this bag it to wear however you like depending on your needs.
I often wear a PFD waist pack while paddling. So when wearing my PFD pack I can wear the Downriver Rolltop bag as a shoulder bag.
If I am not wearing my PFD waist pack then I can wear this bag as a waist pack as in the picture below.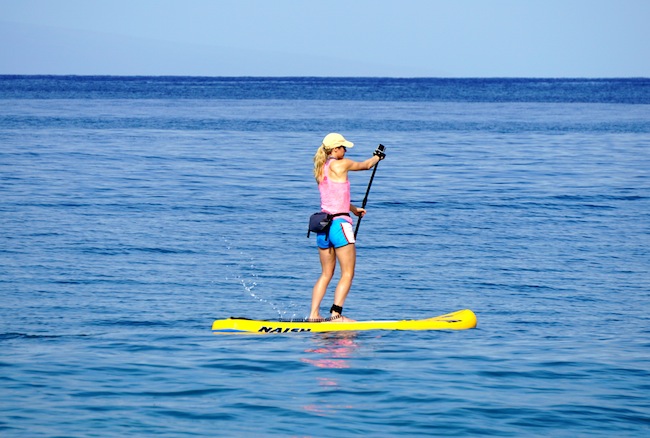 I don't normally like any type of straps around my shoulders when stand-up paddling.
However this bag is quite comfortable and I did not find that it rubbed or got in the way of my paddling strokes.  You can tighten the straps so that the bag is secure on your back.  It did not move around when I was paddling.
As a waist pack it is very secure and comfortable.
The strap on this bag can be easily adjusted with only one hand and it is easy to access when you need your stuff.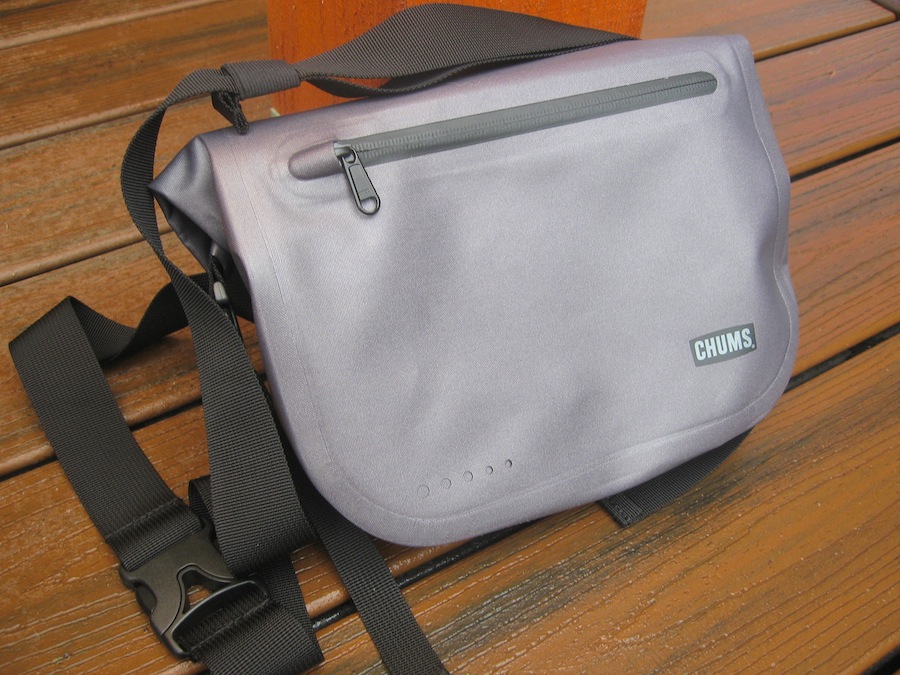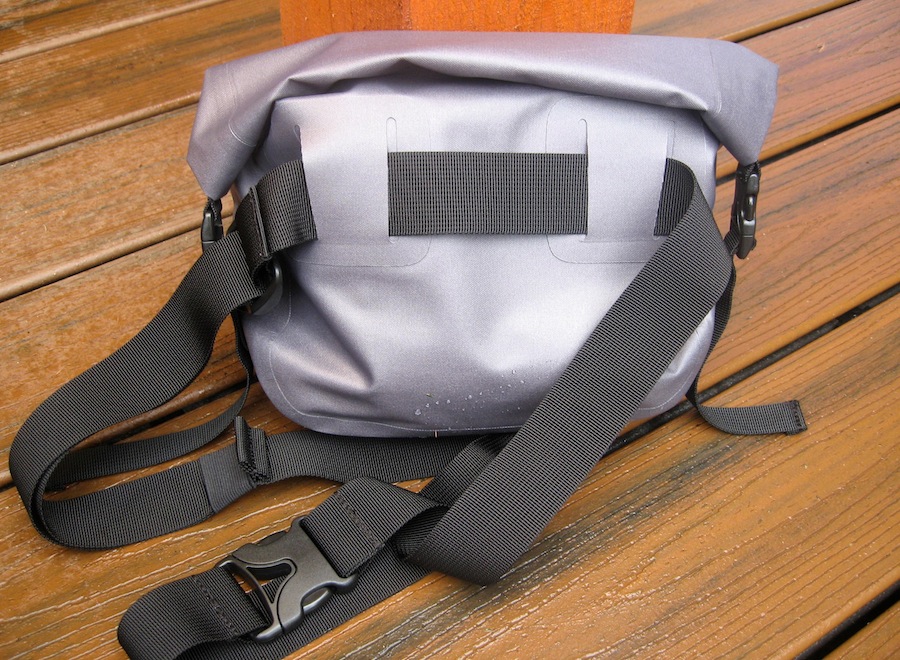 Size
The dimensions for this bag are 7.5" x 10" x 2.25".
I think it is a great size. It can hold a lot without being too bulky or uncomfortable.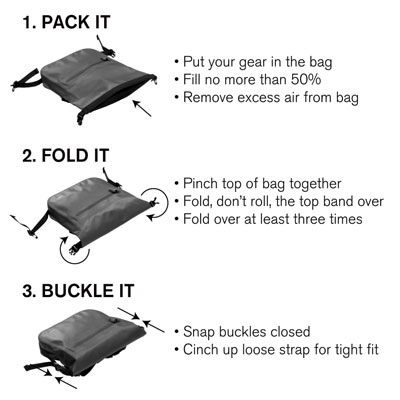 Above picture from Chums.com.
Simplicity
This bag is simplistic in design yet functional and versatile.
It looks classy in my opinion and I think would be equally stylish on a male or female rider.
The color is a charcoal grey and the straps and zipper are all black.
It is a nice looking bag that can be used by anyone.
Not only is it ideal for stand-up paddling but it can also be used for hiking in drizzly weather as well.
Negatives
I like to always point out a negative or two with any product I review.  Rarely is anything perfect even if it is a great product.
However I can honestly say that this bag met and exceeded all of my expectations.  I have a really hard time finding a negative to share.  It works as it should and looks great.
Make sure you follow the instructions on how to fold the top over properly and you should have no issues with it.
Chums DownRiver Rolltop Bag Bottom Line
I found this bag comfortable and functional.  It is well suited for stand-up paddling and the price is decent for the quality of the product.
The straps are all adjustable so you can fit it to your body and make it comfortable for your needs.
I found it easy to access even while paddling and it feels rugged and durable.  I imagine it will last for a very long time.
For its intended use I think it works great.  It kept my gear dry, organized and easily accessible.  I felt comfortable and happy wearing it.
It is the kind of product that will get a lot of use because of its versatility and functionality.  It is ideal for stand-up paddling but also just for everyday outdoor life.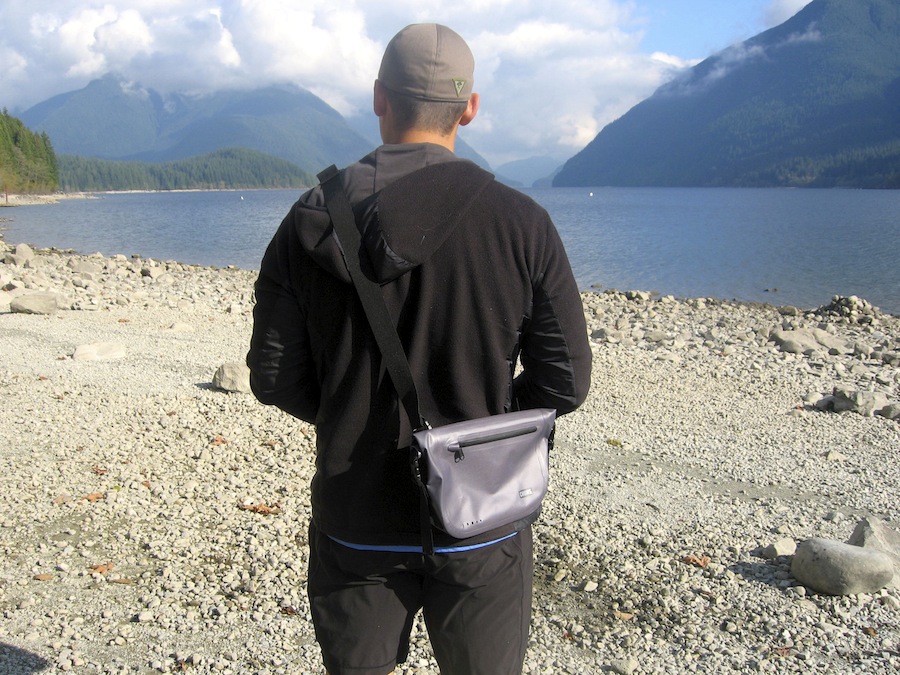 Where To Buy The Downriver Rolltop Bag
The best price I have seen is on Amazon.com especially with the free shipping option.
Click Here For The Best Deal On The Chums Downriver Rolltop Bag At Amazon.com.
Did You Know?
By clicking on any of the above seller links you can help keep ISUPworld.com growing. When you make a purchase after clicking on our links, the retailer will contribute a portion of the sale to help support this site. It won't cost you anything extra and it's a simple way to help us fund our gear reviews. Thanks!