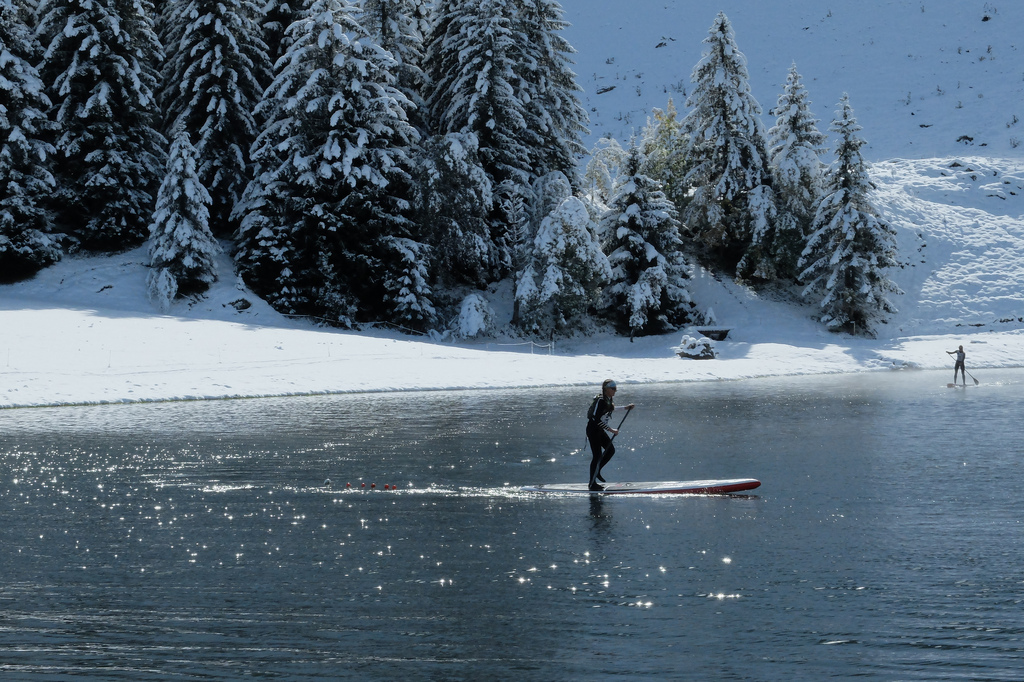 Want to keep stand-up paddling in the winter? I do and I knew I needed to figure out what to wear in order to make that happen.
I have no interest in freezing while out paddling my board… that's not fun. However with the right gear and protection you can keep paddling all year long, just as long as the water hasn't frozen over.
Cold weather paddling gear can add up but it doesn't have to cost a fortune. You probably already have several of the necessities in your wardrobe.
Tip #1 – Be well prepared before the paddle.
There are a few steps to take before you hit the water that will help with comfort and warmth.
I take a thermos of tea with me in my car on the way to the water. I drink a cup on the way there and save some for after the paddle.
I find it warms me up and is really comforting and warm for when I am done. A hot beverage is just one of those extras that makes the experience even better.
Also double check that you have all your equipment with you, such as your leash, drinking water, extra clothes, etc.
Before heading out tell a friend where you are going and what time you expect to be back. Safety is so important, especially in the winter months. Be smart and let someone know your paddling plan.
Next you will want to check out the weather report. Check the wind direction, temperature and overall forecast before getting on the water.
This isn't always as important if just paddling the shoreline of a calm lake but all the same it is a wise practice.
There is nothing worse than enjoying a nice day of paddling only to have to return to shore in a full out wind or rain storm.
I've been caught having to paddle back in heavy wind once and swore I'd never allow that to happen again. It is scary, exhausting and dangerous
Tip #2 – Dress for the water temperature.
You probably don't plan on going in the water. However falls happen and you should dress for the water temperature all the same.
That means wearing the right layers.
Start with your head, hands and feet. They need to stay warm in order for you to enjoy the experience.
A fleece or neoprene tuque is great for the head. I am partial to a comfy fleece beanie. It doesn't itch and keeps me warm.
You will need some waterproof gloves or neoprene gloves for your hands. I typically use my NRS kayaking gloves.
For stand up paddling you don't want your gloves to be too bulky but make sure they will keep your digits warm and dry.
For your feet you have a few options…
A pair of neoprene booties will keep your feet toasty.
A pair of surfing booties will do the trick as well and might provide slightly better grip on the board
Or my favorite and what I chose to wear while paddling in cold weather are the Vibram Fivefingers shoes. I have the Maiori Fivefingers, which are ideal for SUP'ing. With these shoes you can still move your toes so that you can easily grip the board and keep your balance.
Next you will need to layer your body. You might chose to wear a neoprene suit or drysuit both of which work great but can be a little costly.
I make do with a pair of fleece longjohns and waterproof pants for the bottom half of me and a moisture wicking long sleeve t-shirt, fleece sweatshirt and waterproof jacket for the top half.
The most important thing to remember when planning your layers is to avoid cotton. It soaks in the water and will make you very cold.
Tip #3 – Play it safe.
There are a few safety items that are essential for winter paddling.
For one always wear your PFD. In warm weather I usually wear one of those waist pack PFD's where you have to pull the tab to inflate it. I find it more comfortable while paddling.
However in the winter I always wear my actual PFD. It may seem bulky but in truth it adds an extra layer of warmth and protection.
Plus it has pockets for keeping your camera, power bar, or any essentials you want quick access to.
It is also extremely important in cold weather to wear your board leash. The last thing you want to happen is to lose your board and be stuck in freezing water.
Make sure your leash is attached properly and secured to you.
Another good idea is to attach a dry bag to your board. You can use this to store extra clothes if you like or even to store layers that you might want to take off once you work up a sweat.
The last important detail to be aware of is the fact that the days are shorter and it gets dark early.
Plan your outing accordingly and if you think you will be out after dark or even in dusk then attach a waterproof white light to either your board or your body so that other boaters or people can see you.
Click here for more stand-up paddling articles, tips and advice.