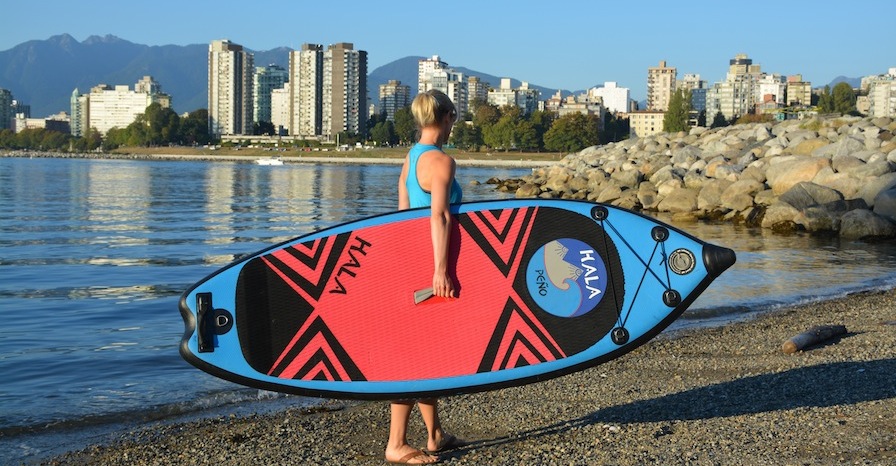 I feel like the Hala boards really stand out.  The company hasn't been around as long as some of the other big names but they are definitely making a name for themselves.
They make the type of SUP boards that you can beat the crap out of and know that you and your board are going to be okay.
Their boards are not cookie cutter shapes or colors. They look funky and they are totally functional. Each one is uniquely designed to perform well for a specific type of paddling.
For example the Hala Atcha SUP is ideal for whitewater. The Peño, which I had the pleasure of riding for awhile is short and squat and perfect for wave riding.
The Hala Hoss BT (Big Time) is big and stable yet still has the right amount of rocker to be able to maneuver well… perfect for the larger paddler, fishing, dogs, and families who want a solid and stable board for flat water or whitewater.
The Hala Straight-Up is their most universal design. The shape is more traditional and it is very versatile. It is a jack of all trades, very popular and ideal for the large majority of recreational paddlers. It paddles well on flat water, whitewater and surf.
Their Nass 12'6″ ISUP is designed for touring and racing and has a really nice shape as well as great features.
The Play Surf is a surf and tour board. This is the SUP you want to take to the beach to tour around and ride the surf. It is a tapered board that can pick up speed. It won't be as stable as some of the other models.
The Hala Fame Super-Sized is really big. It is 11'3″ long and a whopping 37″ wide. This is the board you want to take out if you have a ton of gear or need an extra wide platform for yoga, pilates, fishing or kids.
In general I find the Hala boards are often rated 5 stars by those you use them. Explore the different models below to compare the specs of each ISUP.
Compare Hala Inflatable SUP Boards
| | | | | | | | |
| --- | --- | --- | --- | --- | --- | --- | --- |
| Model / Review | Best Uses | Length | Width | Thickness | Weight | Load Capacity | Where To Buy |
| | | | | | | | |
| Hala Peño  | surf, waves, cruising | 7' 11" | 33″ | 6" | 23 lbs. | 200+ lbs. | HalaGear.com |
| Hala Atcha | whitewater, yoga, cruising | 9'6" | 36″ | 6" | 29 lbs. | 200+ lbs. | Amazon.com |
| Hala Straight Up | surf, lakes, rivers | 10' | 33″ | 6" | 28 lbs. | 200+ lbs. | CampSaver.com |
| Hala Hoss BT  | lakes, rivers, ocean, fishing, larger paddlers | 10'10" | 35″ | 6" | 32 lbs. | 250+ lbs. | PumpedUpSUP.com |
| Hala Fame Super-Sized | families, fishing, expeditions, whitewater | 11'3" | 37″ | 6" | 36 lbs. | 250+ lbs. | Amazon.com |
| Hala Playa | racing, touring, rivers, waves | 11'5" | 30″ | 6" | 27 lbs. | 200+ lbs. | HalaGear.com |
| Hala Daze | whitewater, big loads, overnight trips | 11'11" | 42″ | 8" | 42 lbs. | 500 lbs. | HalaGear.com |
| Hala Nass  | racing, touring | 12'6" | 31″ | 6" | 29 lbs. | 250+ lbs. | Amazon.com |
| Hala Nass 14′ | racing, touring | 14′ | 29″ | 6" | 33 lbs. | 250+ lbs. | HalaGear.com |