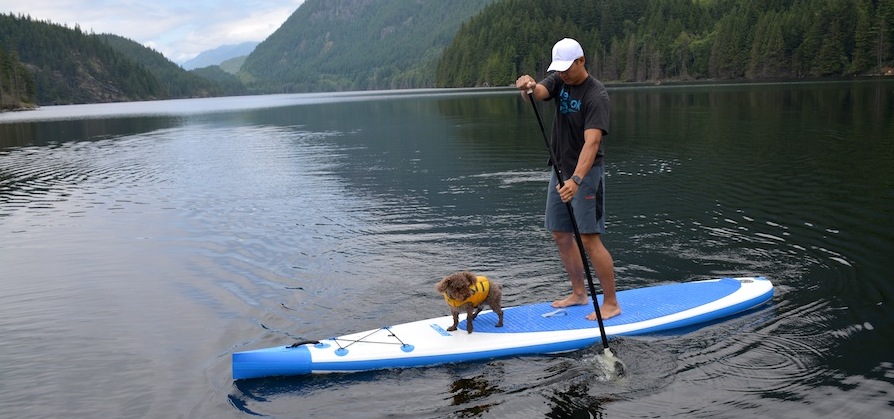 Sea Eagle has a few different inflatable SUP models that come in different size options.
Their boards are very popular and their package options give you a lot for your money… Including a paddle, a backpack carry bag, a pump, a repair kit, a seat (depending on the package your choose) and of course the board itself.
I have both their Longboard and their Needlense ISUP's  at home and I take them out often.  The Needlenose has long been my favorite SUP for flat water paddling.  It is fast, efficient and unique from any other board out there.
The Longboard has been improved on over the years and is extremely versatile and fun to paddle.  This is the board I would take on the waves but it also works well for flat water cruising, fishing, or paddling with a child or dog.
Although I prefer the performance of the Needlenose for flat water touring, there is no question that the versatility of the Longboard is hard to beat.
Their smaller 9'6″ Hybrid model is ideal for surf and for cruising.  It is a lot of fun to use and extremely portable.
With the different size options, you can easily pick one to suit your needs and weight requirements.
Sea Eagle will give you a 3-year warranty and 180-day risk free trial when you purchase one of their inflatable SUP boards.  Basically if you are not happy you can return your board at any time within 180 days for a full refund, as long as it is in good condition.  Their customer service rocks.
Compare the different models below.
Compare Sea Eagle Inflatable SUP Boards
| | | | | | | | |
| --- | --- | --- | --- | --- | --- | --- | --- |
| Model | Best Uses | Length | Width | Thickness | Weight | Load Capacity | Where To Buy |
| | | | | | | | |
| Sea Eagle Hybrid 9'6″ | surfing, cruising, yoga | 9'6″ | 32″ | 5.9" | 22 lbs. | 175 lbs. | SeaEagle.com |
| Sea Eagle Longboard 11  | touring, surf, rivers | 11' | 30″ | 6" | 22 lbs. | 200 lbs. | SeaEagle.com |
| Sea Eagle Longboard 126  | touring, surf, rivers | 12'6" | 30″ | 6" | 24 lbs. | 250 lbs. | SeaEagle.com |
| Sea Eagle Needlenose 116  | touring, lakes, bays, rivers | 11'6" | 30″ | 6" | 23 lbs. | 200 lbs. | SeaEagle.com |
| Sea Eagle Needlenose 126  | touring, lakes, bays, rivers | 12'6" | 30″ | 6" | 24 lbs. | 225 lbs. | SeaEagle.com |
| Sea Eagle Needlenose 14  | touring, lakes, bays, rivers | 14' | 30″ | 6″ | 28 lbs. | 276 lbs. | SeaEagle.com |