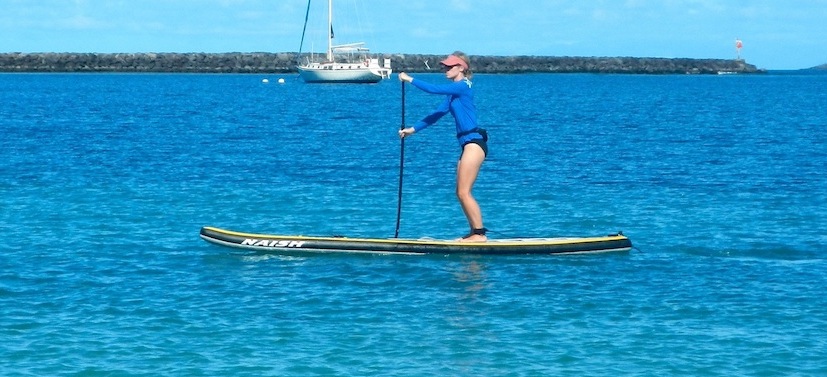 I love Naish, always have.  I love their boards and I love the company.  They have a decent selection of inflatable SUP's now available for cruising, touring, surfing and even for windsurfing.
Naish has a reputation for quality and I find their boards to be very well made and strong.
I've spent the most time on the Naish One, which was designed for touring.  For the size of this board it is still easily manageable to carry and transport and can hold one heck of a lot of weight.
It paddles very well and with the 6″ thickness it is quite stable.  I found it equally fun to paddle on flat water as it was to paddle it through chop and small ocean waves.
Compare the specs of the different models below.
Compare Naish Inflatable SUP Boards
| | | | | | | | |
| --- | --- | --- | --- | --- | --- | --- | --- |
| Model / Review | Best Uses | Length | Width | Thickness | Weight | Load Capacity | Where To Buy |
| | | | | | | | |
| Naish One  | touring, racing | 12' 6" | 30″ | 6" | 24 lbs. | 230 lbs. | Amazon.com |
| Naish Glide Air  | cruising, touring | 12' | 34″ | 6" | 24 lbs. | 230 lbs. | Amazon.com |
| Naish Alana Air  | women, cruising, small surf | 11' 6" | 32″ | 6" | 25.4 lbs. | 210 lbs. | Amazon.com |
| Naish Nalu LT   | cruising, lighter riders | 10'6" | 32″ | 6" | 21.4 lbs. | 210 lbs. | Amazon.com |
| Naish Nalu Crossover  | cruising, waves, windsurfing | 10'6" | 32″ | 6" | 21.4 lbs. | 210 lbs. | Amazon.com |