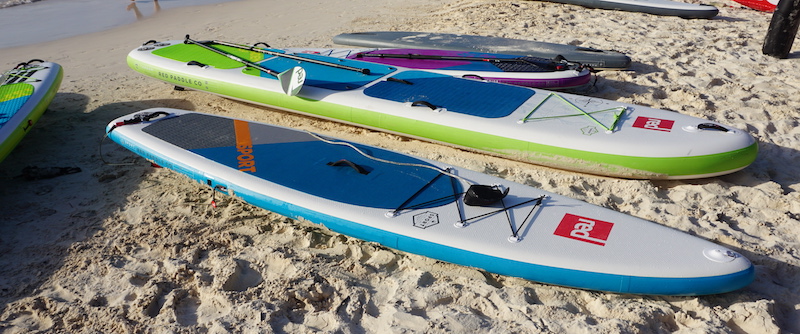 Red has redesigned their lineup of inflatable SUP's for 2018. They are one of the few ISUP companies that produce boards that can compete in races and competitions.
Their new lineup is awesome and there is a board for everyone. They have expanded their very popular 'Ride' model to include 6 different versions of this all around fantastic board… Including a giant 17′ group board.
You pay a little more for a Red Paddle Co. inflatable SUP but you can't go wrong with these boards. They are very well made, perform great and can withstand a lot of abuse.
I have been lucky enough to test out a several of their new models and found them to be a lot of fun.
Also worth noting that Red Paddle Co includes one of the best backpack carry bag in the business.  It is very well made and includes wheels so you can easily pull it to your vehicle, to the water or right onto an airplane.
Only downside to these boards is that they don't come with a paddle.  You have to buy your own so it's an extra cost to be aware of.
Compare the different models below.
Compare Red Inflatable SUP Boards
| | | | | | | | |
| --- | --- | --- | --- | --- | --- | --- | --- |
| Model / Review | Best Uses | Length | Width | Thickness | Weight | Load Capacity | Where To Buy |
| | | | | | | | |
| 8'10" Whip MSL | surfing | 8'10" | 29″ | 3.93" | | 200 lbs. |  Amazon.com |
| 9'4″ Snapper MSL  | kids | 9'4" | 27″ | 3.93" | | 132 lbs. | Amazon.com |
| 9'6″ Wild MSL | whitewater | 9'6 | 34″ |  5.9″ | |  265 lbs. | Amazon.com |
| 9'8″ Ride MSL  | allround, surf, lighter riders | 9'8" | 31″ | 3.93" | | 210 lbs. | Amazon.com |
| 10'6″ Ride MSL  | surf, cruising, touring | 10'6" | 32″ | 4.7" | | 220 lbs. | Amazon.com |
| 10'6″ Ride SE MSL  | surf, cruising, touring | 10'6" | 32″ | 4.7" | | 220 lbs. | Amazon.com |
| 10'8″ Ride MSL   | bigger riders, allround | 10'8" | 34″ | 4.7" | | 265 lbs. | Amazon.com |
| 14′ Ride MSL | families, groups | 14′ | 47″ | 8" | | up to 4 riders | Amazon.com |
| 17′ XL Ride MSL | large groups | 17′ | 60″ | 8" | | up to 8 riders | |
| 10'8″ Activ MSL   | yoga, pilates, fitness | 10'8" | 34″ | 5.9" | | 265 lbs. | Amazon.com |
| 10'7" Windsurf MSL  | beginner windsurfing | 10'7" | 33″ | 4.7" | | 265 lbs. | Amazon.com |
| 10'7" Wind MSL  | allround | 10'7" | 33″ | 4.7" | | 265 lbs. | Amazon.com |
| 11′ Sport MSL | touring, cruising, performance | 11' | 30″ | 4.72" | | 198 lbs. |  Amazon.com |
| 11'3″ Sport MSL  | performance with more stability | 11' 3″ | 32″ | 4.72" | | 242 lbs. | Amazon.com |
| 12'6″ Sport MSL | touring with more speed | 12'6″ | 30″ | 5.9" | | 330 lbs. | Amazon.com |
| 12'6″ Voyager MSL | touring, heavy loads | 12'6" | 32″ | 5.9" | | 330 lbs. | Amazon.com |
| 13'2″ Voyager MSL | touring, expedition | 13'2″ | 30″ | 5.9" | | 330 lbs. | Amazon.com |
| 15′ Voyager Tandem MSL | cruising, touring | 15′ | 34″ | 8" | | up to 3 riders | Amazon.com |
| 10'6″ Max Race MSL  | kids racing | 10'6" | 24″ | 4.7" | | 132 lbs. – 165 lbs. | |
| 12'6″ x 26″ Elite Race MSL   | serious racers | 12'6" | 26″ | 5.9" | | 240 lbs. | Amazon.com |
| 12'6″ x 28″ Elite MSL  | racing | 12'6" | 28″ | 5.9" | | 265 lbs. | Amazon.com |
| 14′ x 25″ Elite MSL | racing | 14' | 25″ | 5.9" | | 240 lbs. | Amazon.com |
| 14′ x 27″ Elite MSL  | racing | 14' | 27″ | 5.9" | | 265 lbs. | Amazon.com |
| 22′ Dragon MSL | team paddling, team racing | 22' | 34″ | 8" | | up to 4 riders | Amazon.com |