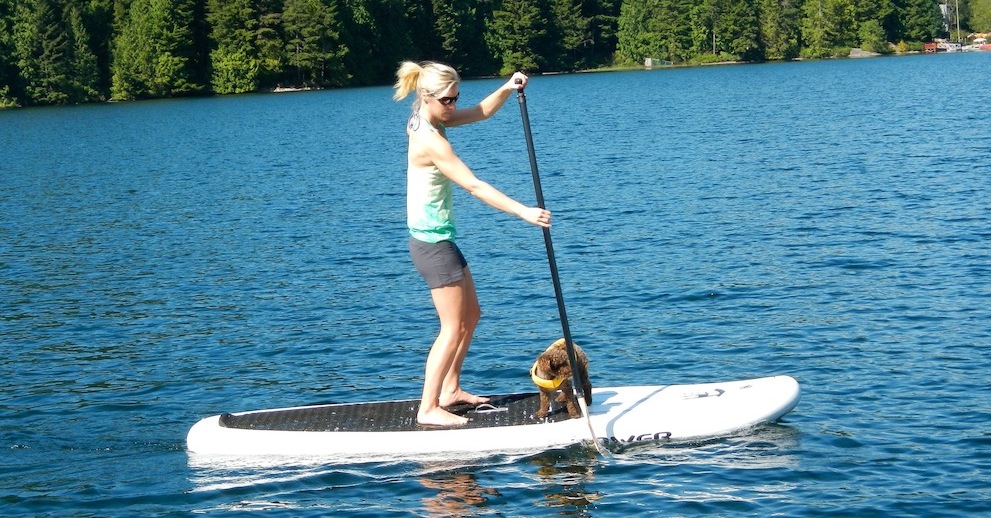 Tower has a few different inflatable SUP boards. The Adventurer and the Adventurer 2 are shorter and ideal for recreational fun on lakes, rivers, or on ocean surf.
The larger Xplorer adn the iRace are for anyone who is interested in touring, exploring and who wants a board that is super stable and can hold a lot of weight.
The iRace in particular is able to pick up some good speed.
The Tower ISUP's are extremely solid.  These boards can withstand a lot of abuse with very little wear and tear.
I own the Adventurer and although it isn't my board of choice for paddling myself, I keep it around for when I am bringing out friends who have never stand-up paddled before or for someone who is a bit nervous to try.
It is also great for kids and dogs as it is so super stable.  I haven't tried the Xplorer yet… it is a mammoth of a board at 8″ thick.  It is designed for touring and for anyone who needs a board that can hold one heck of a lot of weight.
I don't imagine that it is super fast or easy to maneuver quickly because of that extra thickness but I am sure you would feel extremely secure on it, which may be a huge plus for a lot of people.
Truly the best thing about these boards however besides the fact that they are so rock solid is their price point.  Tower offers a great way for people to get out on the water and try out stand-up paddling without investing too much cash.
Compare the models below.
Compare Tower Inflatable SUP Boards
| | | | | | | | |
| --- | --- | --- | --- | --- | --- | --- | --- |
| Model / Review | Best Uses | Length | Width | Thickness | Weight | Load Capacity | Where To Buy |
| | | | | | | | |
| Tower Adventurer  | cruising, surf | 9'10" | 32″ | 6″ | 24 lbs. | 400 lbs. | Amazon.com |
| Tower Adventurer 2 | cruising, surf | 10'4″ | 32″ | 6″ | 28 lbs. | 400 lbs. | Amazon.com |
| Tower iRace | touring, speed | 12'6″ | 30″ | 6″ | 27 lbs. | 400 lbs. | Amazon.com |
| Tower Xplorer  | touring, exploring | 14′ | 32″ | 8″ | 36 lbs. | 800 lbs. | Amazon.com |