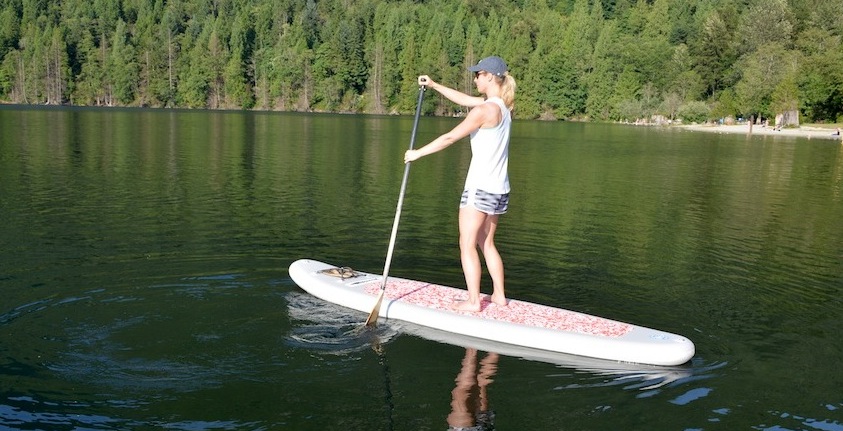 Wakooda introduced their Wahoo line of inflatable SUP boards in 2012. Their boards are well priced and packed with good features.
I find the Wakooda SUP's to be versatile, strong and easy to paddle.
However I think their best feature is the fact that they are so lightweight. Their boards weigh between 15 and 21 lbs.  They are extremely easy to carry to and from the water.
If you want to travel absolutely anywhere with your board, a Wakooda ISUP is a great choice.
I've paddled the 10'6″ long, 32″ wide model and I found it to be really versatile and convenient.  Plus considering it doesn't weigh much it can still hold a decent amount of weight and is super rigid.
They have several models to choose from, with different package options.  Compare the different models below.
Compare Wakooda Inflatable SUP Boards
| | | | | | | | |
| --- | --- | --- | --- | --- | --- | --- | --- |
| Model / Review | Best Uses | Length | Width | Thickness | Weight | Load Capacity | Where To Buy |
| | | | | | | | |
| Wakooda 8′  | cruising, surf, kids | 8′ | 30″ | 6″ | 15 lbs. | 180 lbs. | |
| Wakooda 10'6″ Touring | touring | 10'6″ | 30″ | 6″ | 21 lbs. | 220 lbs. | |
| Wakooda 10'6″  | cruising, surf | 10'6″ | 32″ | 6″ | 18 lbs. | 220 lbs. | |
| Wakooda GT126 | touring, exploring | 10'6″ | 30″ | 6″ | 22 lbs. | 250 lbs. | |
| Wakooda LA132 review | cruising, yoga, touring | 11′ | 32″ | 6″ | 21 lbs. | 250 lbs. | |
| Whopping Wakooda 11'8″  | touring, exploring | 11'8″ | 32″ | 6″ | 21 lbs. | 250 lbs. | |
| Wakooda GT150 | touring, exploring | 12'6″ | 32″ | 6″ | 28 lbs. | 250+ lbs. | |