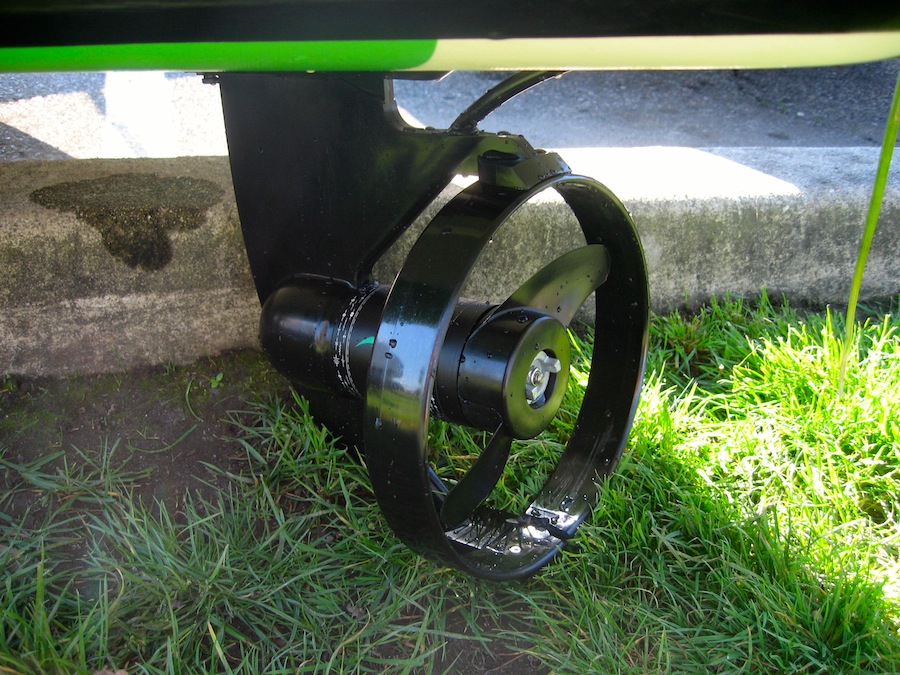 The stand-up paddle board world is growing and expanding. With that growth we are seeing some really innovative new products on the market providing stand-up paddlers with some great options.
One of the coolest products I've seen lately is the ElectraFin designed by Seattle based company Current Drives.
The ElectraFin is an electric conversion kit that works with any stand up paddle board.
It is an electric powered motor under 10 horsepower that is totally silent, is battery powered and emits zero emissions.
The Electric fin can be controlled by a wireless remote control that attaches to your paddle and can go as fast as 4.5-5 mph (7.2-8 kph).
With the remote control you are not only able to control the speed but also whether you go forward or backwards.
What's Included In The ElectraFin Package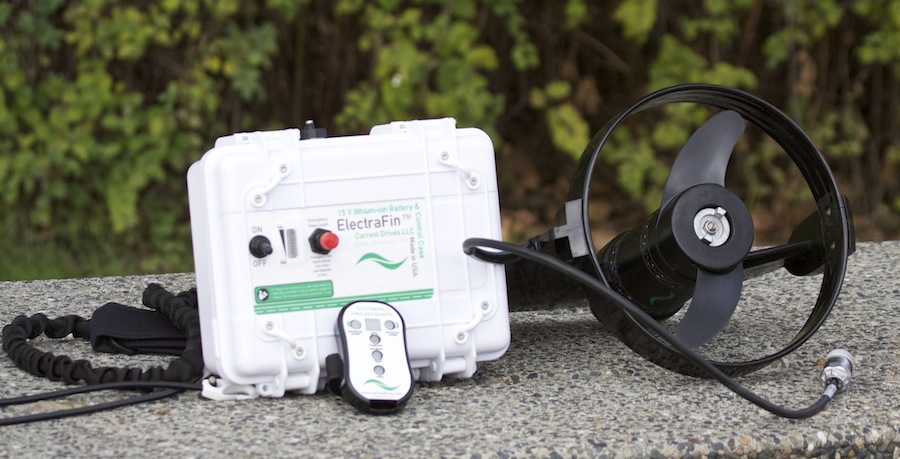 Battery – It comes with a rechargeable Lithium-ion battery. It takes 4.5 hours to fully charge the battery and it is able to run for 6 hours on a single charge.
Control Case – The waterproof control case holds the battery and the motor controller.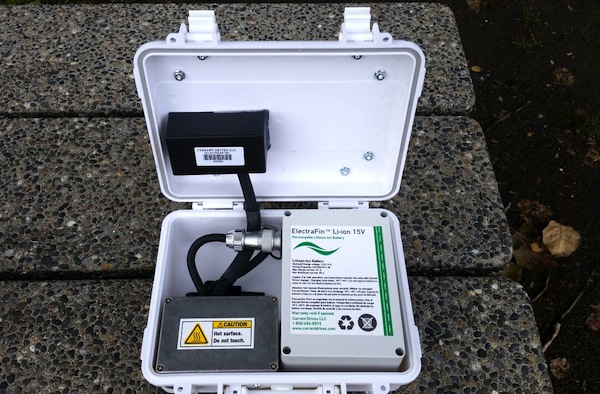 It seals tightly and has stainless steel and sacrificial anode screws and plates to protect the system from salt-water damage.
The top of the case shows the battery gauge and has an on/off toggle switch. The emergency stop surf leash attaches to the on/off switch.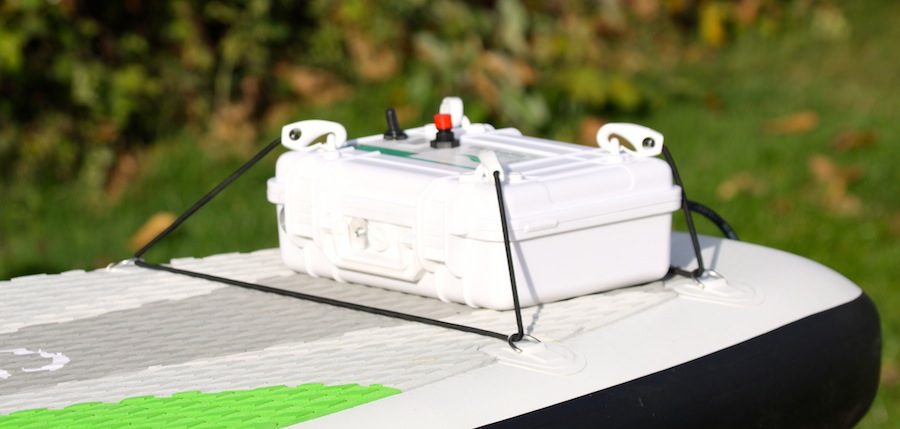 Surf Leash – The leash that comes with this package attaches to your ankle or calf on one end and to the red emergency off switch on the control case at the opposite end.
If you happen to fall in, the leash will detach from the switch and turn the motor off immediately.
The motor will not run unless the leash is attached to the emergency off switch.
I tested this switch with the leash and it worked perfectly.  It would not start unless it was attached and when I pulled it off the motor stopped immediately.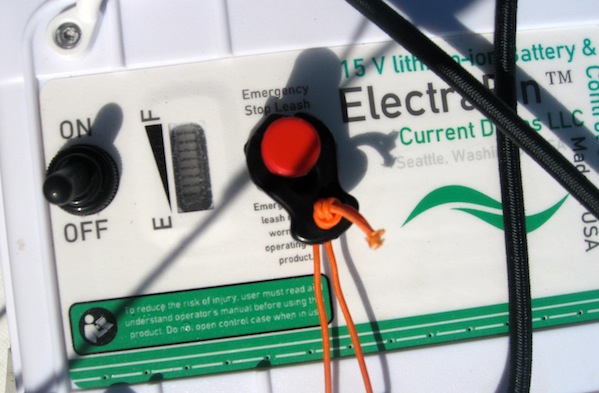 Remote Control – The wireless remote is marine-grade and waterproof.
It attaches to your paddle with Velcro. I found that once attached it was very secure and didn't move around at all.
Having the wireless remote attached to your paddle allows you to easily control every aspect of the electric motor.
You can turn it on or off, increase or decrease the speed, go forward or reverse.
I found the remote very easy to use and it worked great.  I tried it on a SUP paddle and on a kayak paddle.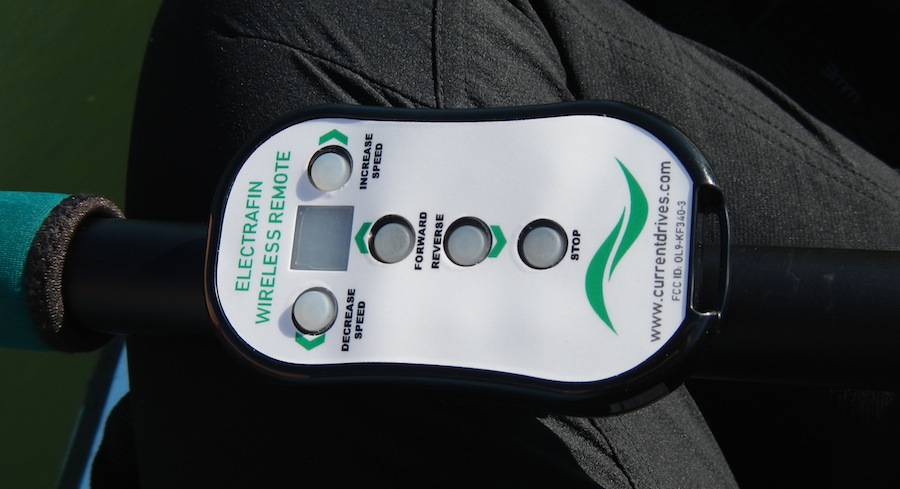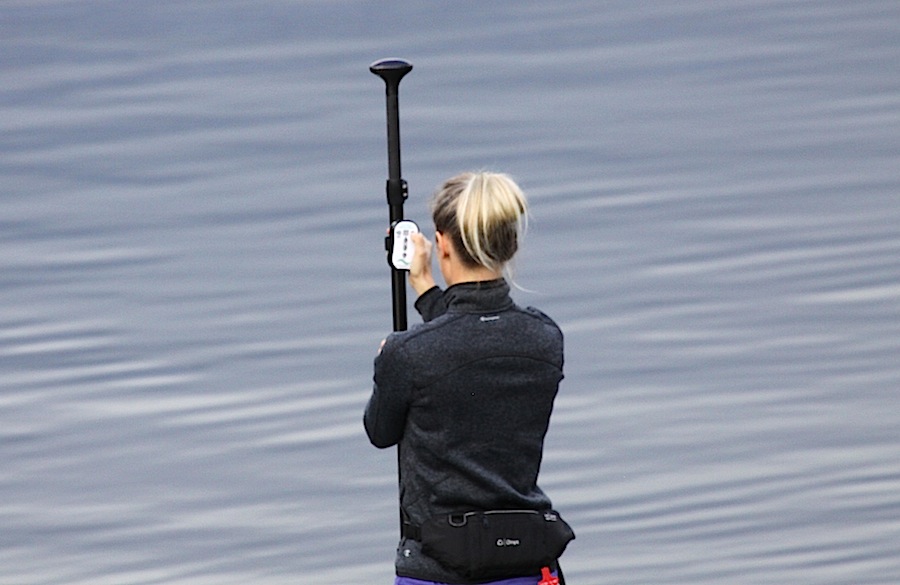 Fin – The fin is made from a specialty marine grade impact copolymer plastic.
The material is strong and resistant to scraping over rocks and sand.
It has a safety ring around the blade to protect not only the rider but also swimmers and marine life.
It attaches to the fin box on the bottom of the SUP.
If your board does not have a US fin box you can get a slide-in fin box adapter from Current Drives.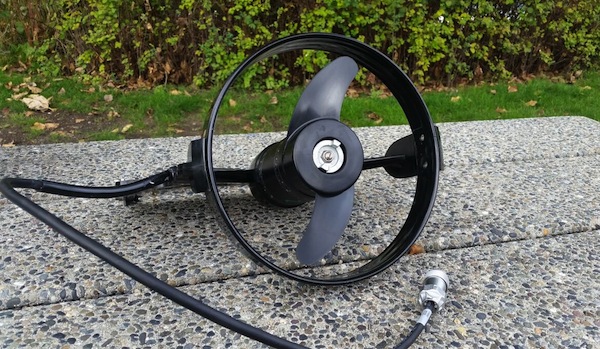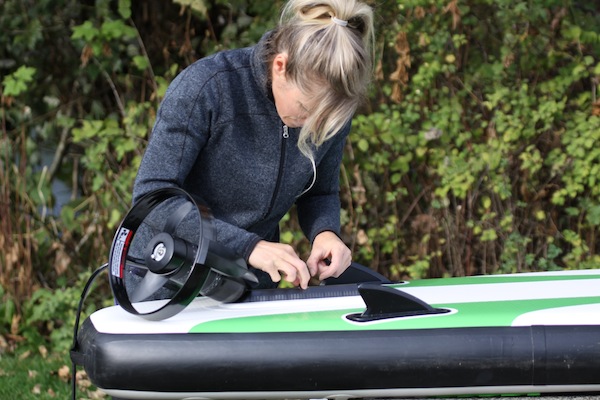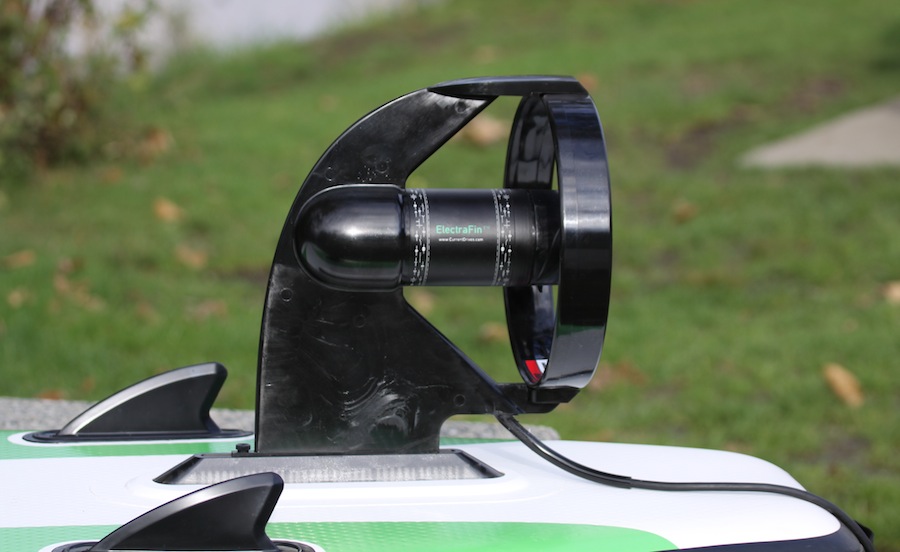 Charger – The charger for the battery is included and lets you charge the battery from any wall outlet.
Why The ElectraFin?
One of the great attractions to stand-up paddling is the fact that it is a self-powered sport.
It provides an awesome workout, strengthens your core and provides a tremendous amount of benefit to your entire body by working on your balance.
So you might wonder why you would want to use an electric propulsion kit.
Well truthfully you may not. The ElectraFin won't be for everyone, however there are many people who will greatly benefit from a little electric SUP power.
Below are some of the top benefits to using an electric fin on your SUP.
Pushing Through Wind
The first advantage that comes to mind for me is using the ElectraFin to help get through windy conditions.
Getting caught in wind, especially on your return paddle can make for some exhausting and painful paddling… Not to mention it can be a little scary.
It is an awful feeling to know that you can't stop paddling or you will get blown backwards.
Being able to power up your board to help push your way through wind and currents is a real benefit for a lot of people.
It is a nice option to have and it provides security. It will help you to get through windy conditions safely with a lot less effort on your part.  It is worth noting that it also tracks very well in the wind.
Go Further
You know your own limits and how far you can paddle.
The ElectraFin will let you go much further. You can let the electric motor push you along or paddle yourself at any point.
With this kit you will have far more options as to where to paddle and how far you can explore.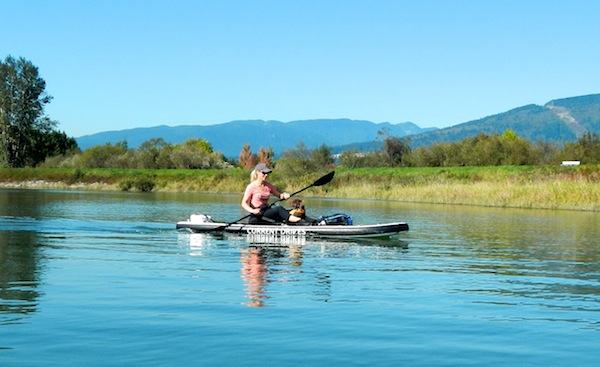 Load Up
You can easily load your board right up, bring a friend along for the ride or take kids or dogs out with you.
Normally it takes a lot more effort to paddle a full board. However this way you can paddle when you choose and use the electric fin to propel you when needed.
Or turn the power on low speed while still paddling to give you just that little bit of extra help.
Towing
How many people have gone out paddling with their kids only to have their kids get tired and not want to paddle back?
I have heard this complaint many times from friends so I decided to test out it's towing capabilities.
While out with my kayaking club one day we decided to rope our kayaks together and see if the ElectraFin could pull everyone.
I had the ElectraFin attached to the Current Drives Huey inflatable SUP that I was paddling kayak-style with a seat.  With one kayak roped to my board we moved easily with the power on.
Next we attached another kayak, then another and then another until we had six kayaks roped in a line with my board up front.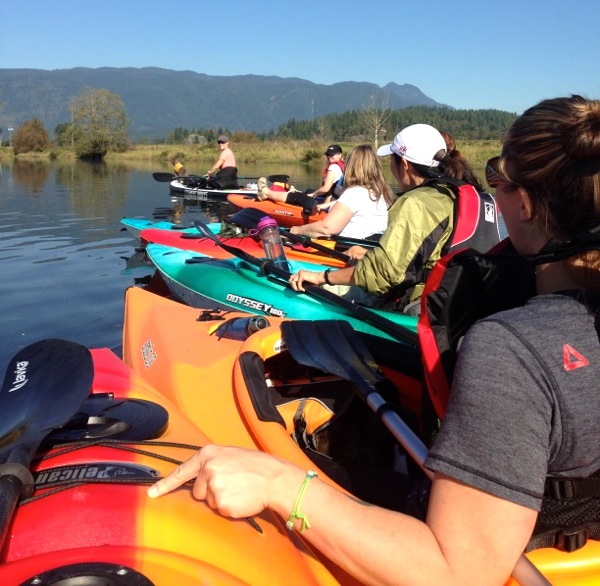 At full speed I was still able to pull all six kayaks.  We moved slowly but it still pulled them with no problems, which I thought really showed how powerful this system is.
I wouldn't recommend towing six other boards or kayaks however if you need to pull one or two, it is totally doable.
While roped to only one kayak, we moved at a really good speed.
Important Factors
Speed – It can run for two hours on top speed of 4.5-5 mph (7.2-8 kph) and six hours on low speed.
You can control the speed and increase or decrease it as slowly or as fast as you like.
The LED display on the remote allows you to choose between 1-99 for variable speed.
Safety – There are three safety factors to be aware of.  I've mentioned these already but they are worth noting again.
There is a safety ring that surrounds the spinning blade to protect marine life and swimmers.
There is a stop button on the wireless remote that you can press at any time if needed.
There is an emergency stop leash that attaches to the emergency stop switch as well as an on/off switch on the control box . If you are separated from the remote you can manually flip the on/off switch to turn it off.  Or if you fall off the board the stop leash will disconnect from the control case and shut off the ElectraFin immediately.  The ElectraFin will not operate unless the emergency stop leash is connected to the control case.
Waterproof – Every component of the ElectraFin is waterproof and designed to withstand fresh and salt water.  All components are rated to a minimum of IP65 waterproof standards.
ElectraFin Pros & Cons
Pros
No tools are required for setup.
Setup time is extremely fast especially after you've done it once and know exactly what you are doing. You can be on the water in mere minutes.
The wireless remote lets you control everything with the touch of a button and conveniently attaches to the paddle.
You can control the speed as well as whether you go forward or reverse.
The speed does not go up too fast, creating a stable base while it is moving.
The whole system is very user-friendly and could easily be used by anyone.
You can explore much further with less effort.
Top speed can be maintained even in windy and choppy conditions.
The ElectraFin can be attached to any paddle board.
You can also add a mount to a kayak making it very versatile.
Cons
I found with the ElectraFin attached and the control case on top of the board, the back end of the SUP was really heavy. You would need either two people to carry it to the water or else a rolling cart to help you pull it.
With it attached but turned off I found it took more effort to paddle. The extra weight will make you work a little harder and there is a slight drag when the motor is off, but I didn't find it to be such a big deal.  The ideal for me was keeping it on low speed while still paddling.  Then I was really moving while still getting a great workout.
It has a fairly high price tag. Although you are getting quite a bit in the package it is still going to cost you likely more than you paid for your SUP. However keep in mind everything you are getting. The package includes a pretty awesome lithium ion battery that is worth $500 alone.
Our ElectraFin Video
My Experience With The ElectraFin
I expected to feel slightly unstable using this electric propulsion kit.  However I was pleasantly surprised how slowly it starts off when starting on low speed.
I was able to slowly adjust the speed so that I felt completely comfortable the whole time.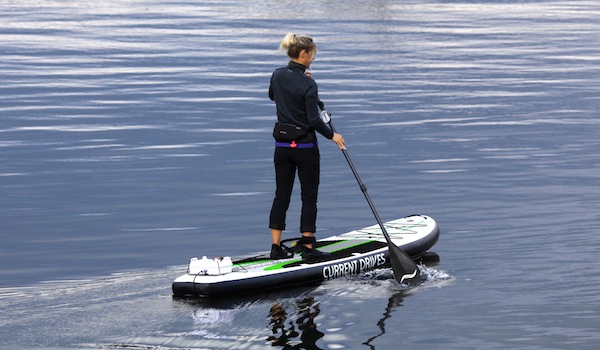 I really liked controlling everything from the remote attached to my paddle.
Everything seemed to be a smooth movement. Whether I hit the forward or reverse button didn't matter, there were no jerky movements and I felt stable at all times.
I think the only time you might feel a little unbalanced is if you hit the off switch while going at top speed.
I would suggest bringing the speed right down then stopping altogether so you don't lose your balance if stand-up paddling.
The electric motor works really well and is designed to power through wind and chop while still tracking straight. Therefore turning takes a little more effort.
The further you stand back on the board the easier it will be to turn. Holding the paddle across your body and steering with the paddle at the nose of the board really helps.
Overall I found the whole system extremely easy to setup and use.
I did find the board to be very heavy with everything attached. I couldn't have carried it alone.  However once on the water, it is a lot of fun.
It is a totally different feeling to stand, kneel or sit on the board and just motor along.
I like to paddle and self-propel my board if at all possible but I can definitely see the benefits of using this kit.
I like the idea of paddling as much as I want then in order to go further and explore more areas, use the motor to get me there.  Or as mentioned keep the motor on low speed while I paddle to go further faster.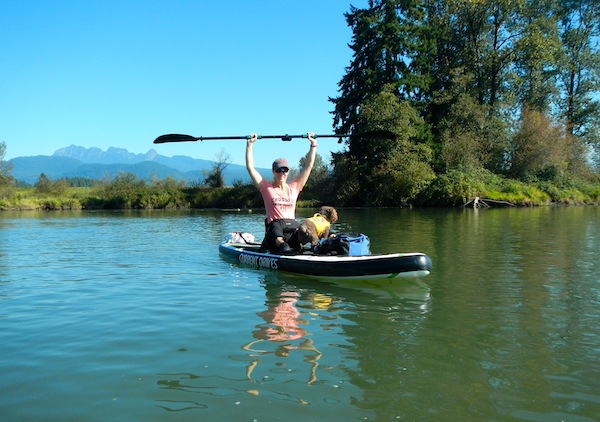 It does provide a certain level of security that feels quite good.  It works well, it is user-friendly, it is unique and a lot of fun to use.
The Current Drives ElectraFin comes with a 1-year warranty.  Click here for more information from the official Current Drives website.