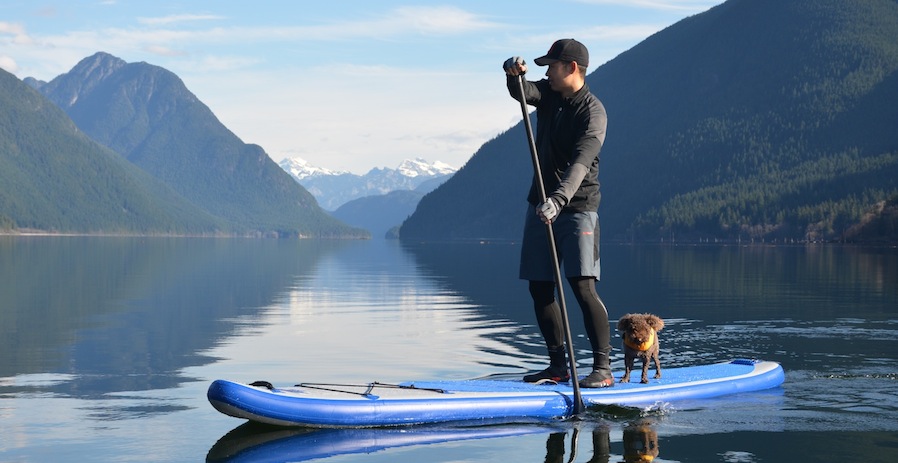 This inflatable stand-up paddleboard was actually the first one I ever tried several years ago.
Since that time it has been upgraded and improved upon and now the 2015 model is even better than ever.
The Sea Eagle Longboard is super versatile, strong, rigid and loaded with great features.
However the best part about this board is that it gives you a lot for your money.
Their packages include not only a high quality versatile paddle board with great standard features but also your paddle, a backpack carry bag, a repair kit and a high-pressure hand pump with gauge or an electric pump (depending on which package your choose) and a great 3-year warranty.
This board also has two different size options to choose from, an 11' long 6" thick model or a 12'6" long 6" thick model.
Specs For The Sea Eagle Longboard
| | | | | | | | |
| --- | --- | --- | --- | --- | --- | --- | --- |
| Model | Length | Width | Thickness | Weight | Max Weight | Air Pressure | Fins |
| | | | | | | | |
| Sea Eagle Longboard 11 | 11′ | 30″ | 6″ | 22 lbs. | 200 lbs. | 15 PSI | 1 large removable fin, 2 small side fins |
| Sea Eagle Longboard 12'6″ | 12'6″ | 30″ | 6″ | 24 lbs. | 250 lbs. | 15 PSI | 1 large removable fin, 2 small side fins |
Material: Made with very strong 1000 denier PVC drop stitch inflatable construction and quadruple overlap seams for extra strength and protection.
Pros: Lightweight, stable, easy to travel with and transport, long comfortable deck pad, custom kick tail, great tracking fins, very versatile, option to sit or stand up paddle, bungee tie-down cords at bow, very rigid, 3-year warranty
Cons: A jack-of-all-trades but a master at none.
Where To Buy The Longboard
When you buy directly from the manufacturer you truly get the best deal as you are able to take advantage of their 3-year warranty and 180-day risk free trial as well as their frequent package sales.
Click here for current package deals for the Longboard from the official Sea Eagle website.
More In-Depth Info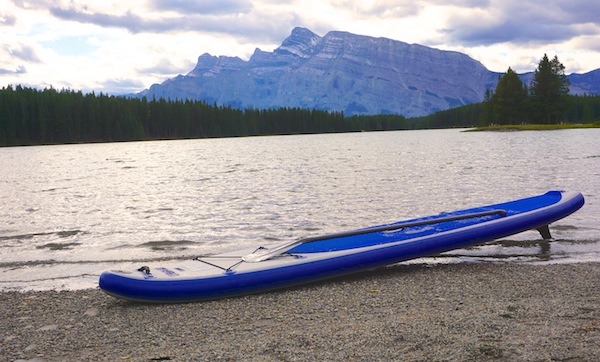 The new Longboard SUP is an awesome board. What I love the most about it is its versatility.
This is a board that anybody can ride, no matter how old or how young, no matter what type of water you want to paddle on and no matter how experienced or inexperienced you are.
This ISUP will suit just about anybody and it is extremely fun to paddle.
The length to thickness ratio makes both the 11' and the 12'6" Longboard stable and easy to maneuver.
It will glide nicely on flat water but also have no problem handling windy chop, ocean surf or even a little whitewater.
It is not a specialized board meaning it is not designed for super speed or high performance but what it can do is go anywhere with you and ride any type of water quite well.
This is the board that you can switch between friends and family members and take to any waterway and know that it will hold up well and stay solid.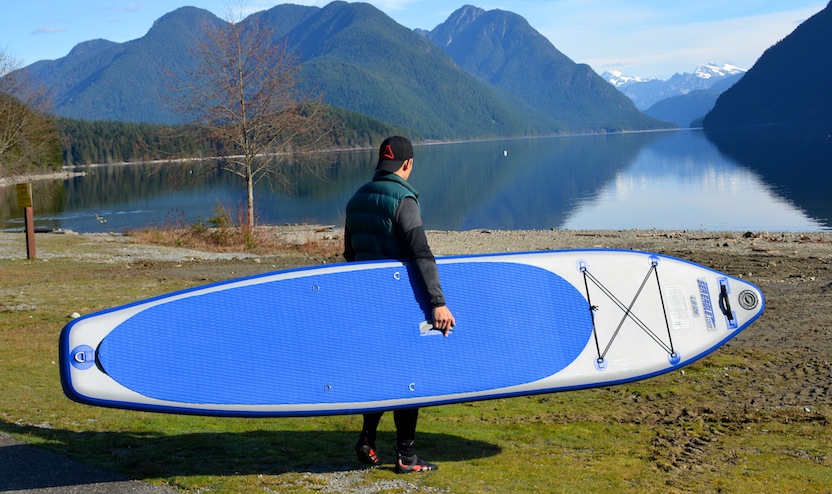 Longboard Shape and Design
It has quite a standard shape and more of a traditional feel than Sea Eagle's other inflatable SUP model, the Needlenose.
However even thought the shape is more traditional it is not the same as all the others on the market.
In Sea Eagle's words…
Our Longboard SUP's are now made with 6" thick drop stitch material to increase buoyancy, rigidity, and stability. We've also added 4" nose/entry rocker followed by a slight continuous board rocker and finish/exit with a 2" tail rocker.
I'm not super technical but I can tell you that this board feels good on the water. The shape and design definitely work for me.
Longboard Performance
I just received the newest version of the Longboard this month and although I knew this was a great board and I remember very well paddling the original version years ago, I was surprised at the improvements and how much I actually loved paddling it.
Improvements that I noticed over the board I tried many years ago is more rigidity, better performance and it now seems like a SUP that can adjust to just about any situation or rider.
It is just easy and fun. Every thing about it is convenient. It is easy to set up, easy to carry to the water, easy to take off, easy to paddle and easy to ride some waves.
It tracks straight and feels stable even when paddling in wind.
As you might already know winds can pick up fast and seemingly from out of nowhere. It feels good to have confidence in the board you are on and I found that was exactly what this board offered… confidence that it would perform as it should.
The first time my boyfriend and I took it out it was a calm sunny day. By the time we were heading back the wind had picked up quite a bit and the water got choppy.
This is pretty typical behavior for some of the mountain lakes around here and it was a great test for the Longboard. Although we had to paddle a little harder, there were no issues at all and it cut through the wind nicely.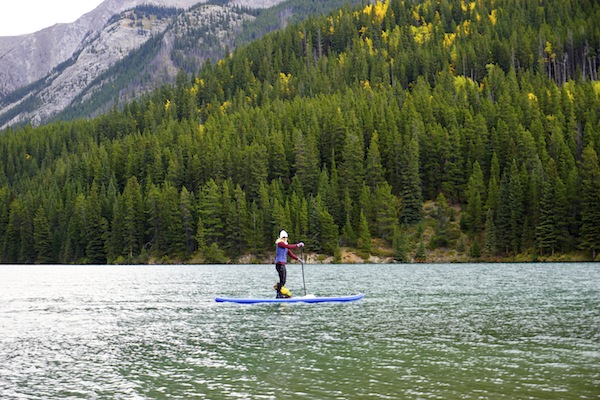 I wish we had some real ocean surf close by to try it out (and warmer waters). From some of the pictures on the Sea Eagle website (see pic below) you can see this board in action riding waves and kicking butt on ocean surf.
I imagine it would be a lot of fun to take on a vacation somewhere warm, sunny and tropical.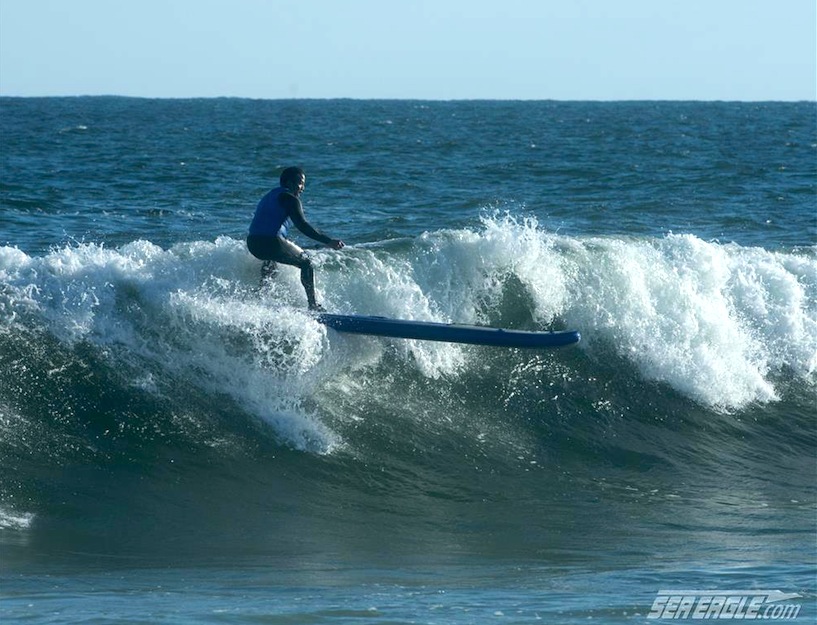 Rigidity and Strength
The 11' board can hold up to 200 lbs. and the 12'6" board can hold up to 250 lbs. We had the longer 12'6" board out and we really liked the length.
Neither my boyfriend nor myself noticed any flex at all. The board feels strong and totally rigid and can hold up to 15 PSI in air pressure.
Paddle Standing Up Or Sitting Down
This is one of the few ISUP's out there that offers a package with a seat. The seat gives you the option of stand-up paddling or paddling kayak-style sitting down.
The seat is inflatable and fairly comfortable. It attaches to the D-rings on the board to keep it in place. It has a back pocket for storing snacks or small items.
The seat is convenient for quite a few reasons.
It is fantastic for those who like to fish from their boards. I used to see people in Hawaii who would tie down a milk crate on their SUP so they could sit and fish from their board. The optional seat available for the Longboard provides a far more comfortable platform to sit.
It is great for those who think they might get tired while out stand-up paddling and want the option of sitting down half way through.
It can be ideal for getting you through tricky situations. Paddling sitting down kayak-style will give you more stability and strength when paddling through strong winds or big waves.
The seat can be used for a child while you stand and paddle.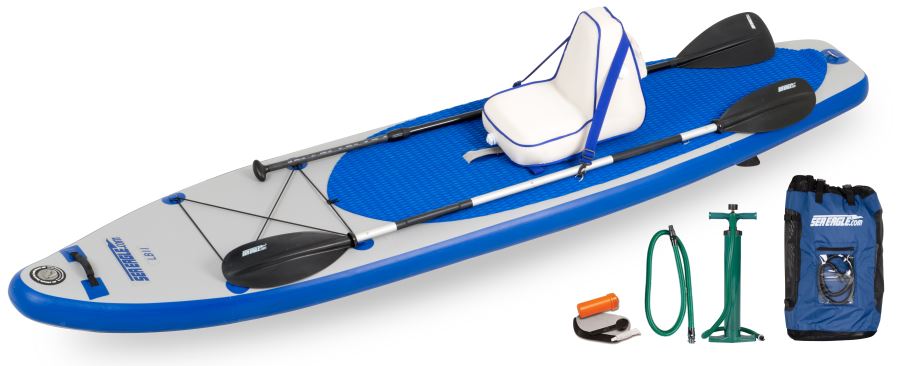 Longboard Setup
Setup is a snap. Take the board out of the carry bag. Unroll and inflate either with the included hand pump or the electric pump if you chose the electric pump package.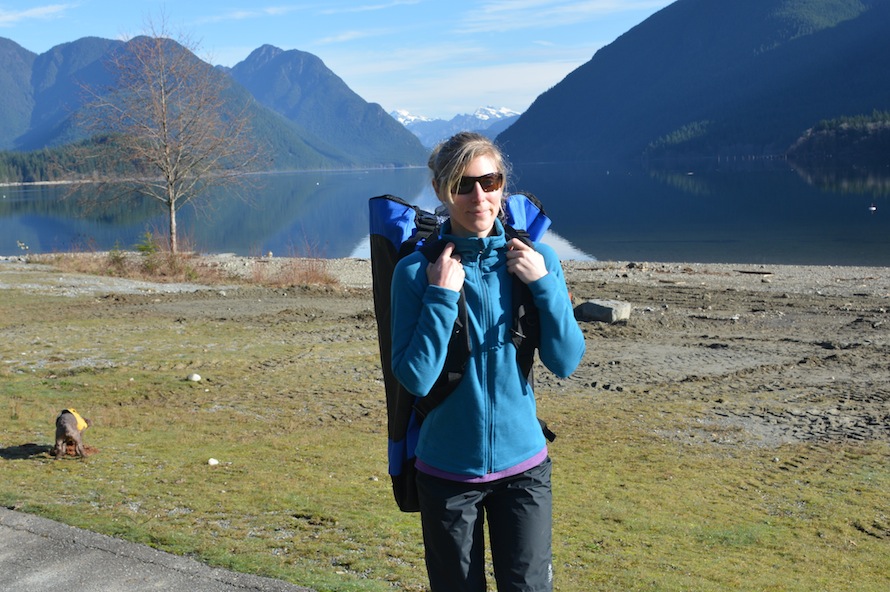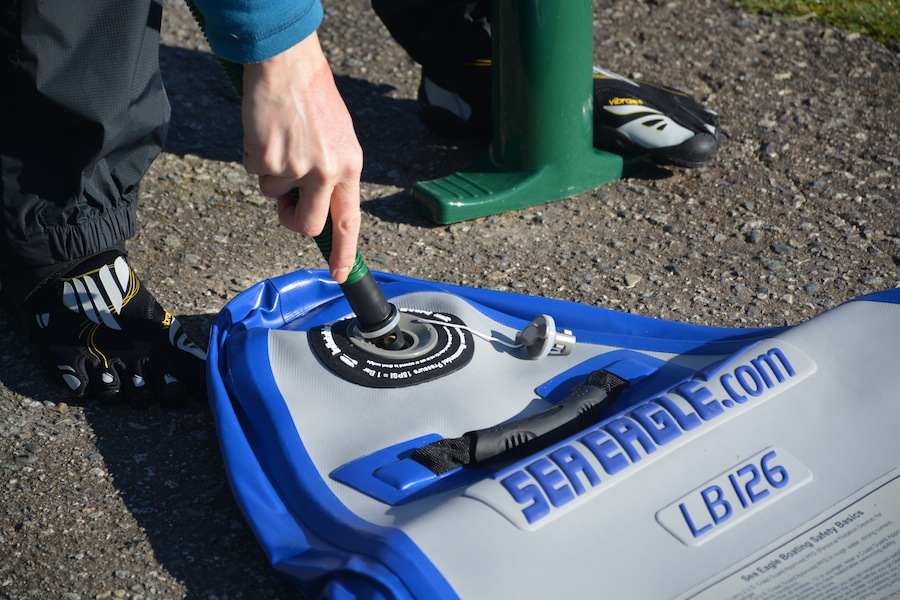 Once inflated you can slip in the fin and clip it into place. All in all it takes less than 10 minutes.
The high-pressure hand pump that comes with this board is really good.
The Longboard can be inflated up to 15 PSI and with a little effort the hand pump will get the job done fairly quickly.
The hand pump comes with an inline pressure gauge that works really well so you can keep track of the PSI level.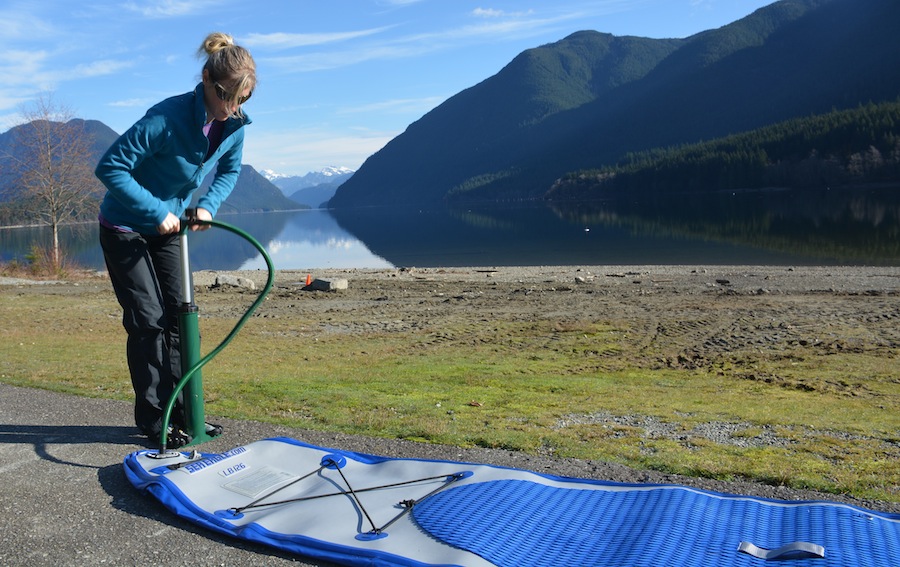 If like me you are a little lazy and don't want to overexert yourself and work up a sweat before getting on the water then the electric pump package is 100% worth it.
The electric pump attaches to your car battery with alligator clips and inflates the board super fast while you just stand there and watch. It's a lot easier and makes the process a lot more enjoyable in my opinion.
However I've gotten spoiled using my electric pumps over the last couple years and I sometimes forgot how well the new hand pumps work.
The Sea Eagle green hand pump works really well, so if you decide to forfeit the electric pump package not to worry as the job still gets done quickly… it just takes a bit more effort.
Sea Eagle LB Fins
I really like the fins on this ISUP. There are two small leading side fins that can be used alone if in shallow water or rivers with lots of debris.
There is also a removable large fin that easily clips in and is ideal for flat water touring or cruising around ocean bays.
I find with the combination of the large fin clipped in and the two smaller side fins, the tracking is really good.
The Sea Eagle fins are solid. Mine have gotten a little scratched up over the years but they've never broken and I've never had any issues with them.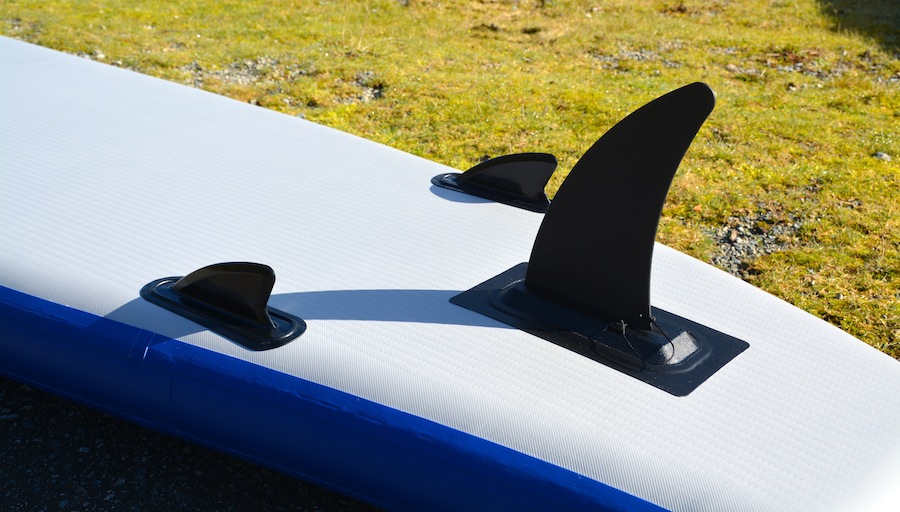 Important Features of the LB 11 and LB126
Front Bungee Tie-Down Cords
The bungee tie-down cords at the front of the board are super convenient. You can use them to secure gear, to secure your shoes or flip-flops, to secure fishing gear, to secure lunch or a dry bag or anything else you want to bring. I use mine just about all the time.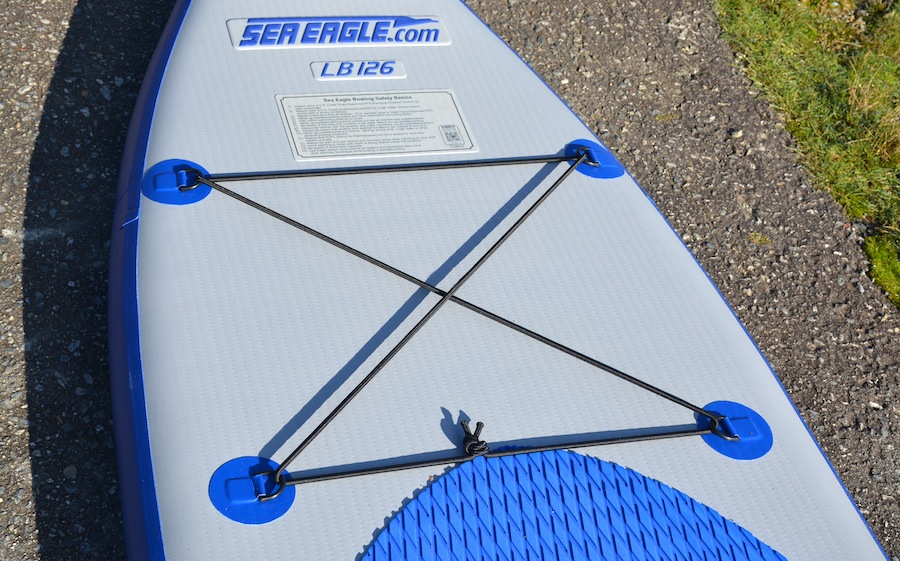 Carry Handles
There is a carry handle in the center of the board that you will use most often while carrying your SUP to and from the water.
It is a standard carry handle and works fine. There is nothing overly special about the handle but it is strong and secure.
There is also a padded front grab handle, which is very convenient to have in many different situations such as pulling your board through surf.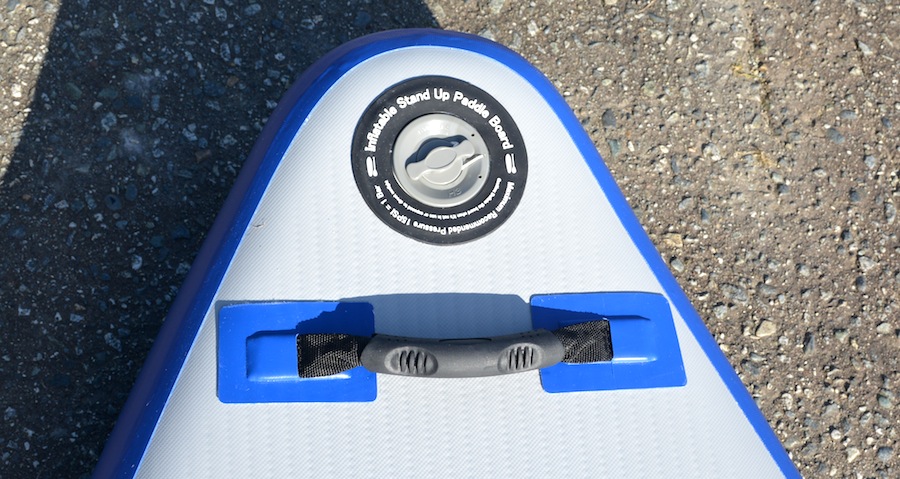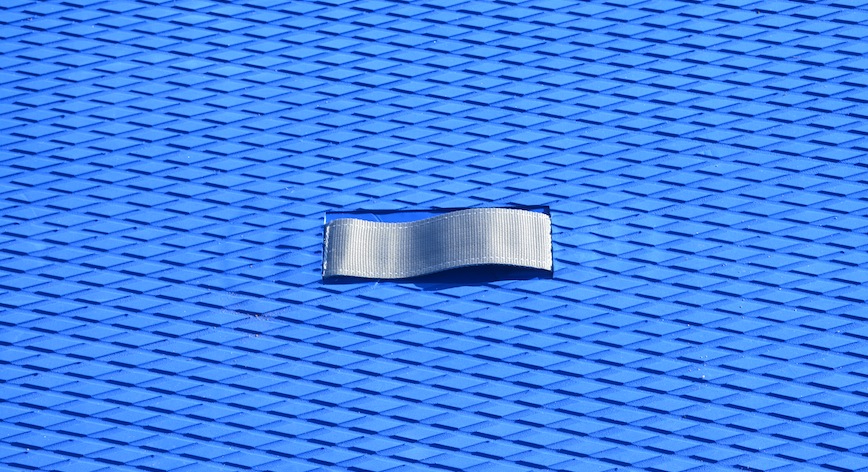 One-Way Valve
This board has a deluxe recessed Halkey Roberts style air valve.
This is my favorite kind of valve on any inflatable SUP or kayak. It works great and is easy to use.
Any air leaks from this type of valve are very unusual.
D-Rings
There are four center D-rings that can be used to attach the seat or tie down gear.
There is also a large rear D-ring attachment for towing, leash or anything else you might want to secure.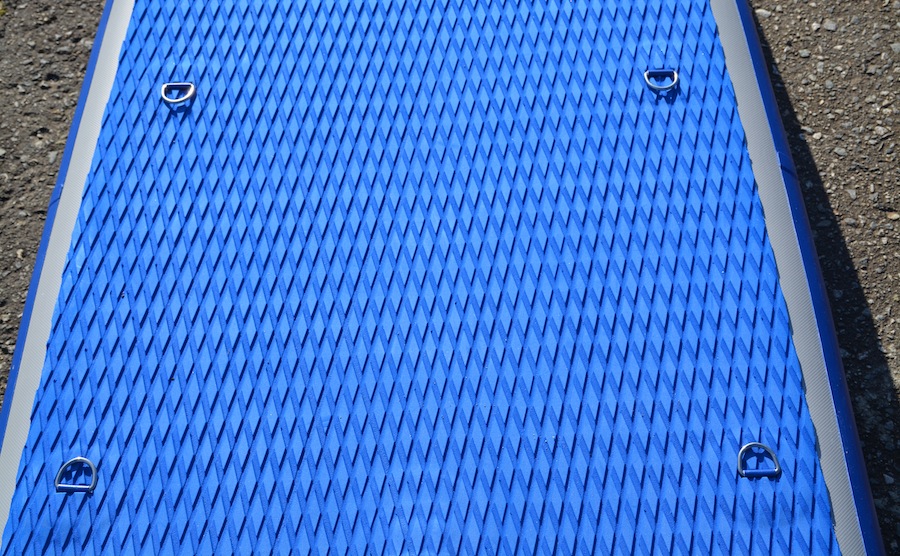 Deck Pad & Kick Tail
The deck pad is fairly long and I find quite comfortable to stand or sit on. It is skid resistant and doesn't get slippery.
The custom performance kick tail at the back of the deck pad prevents you from slipping or stepping off the tail and helps with foot placement and fancy maneuvers if you dare to try.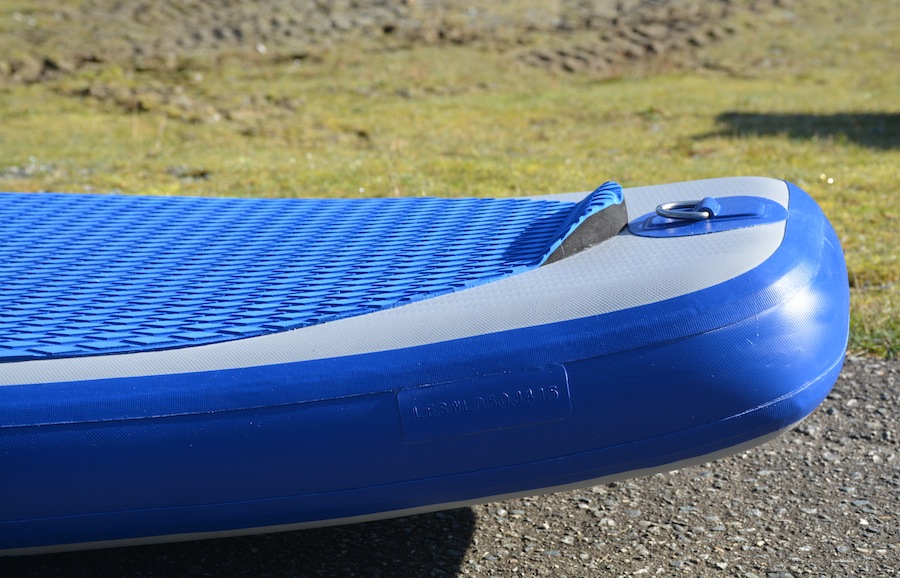 Nose Rocker & Tail Rocker
This board is 6" thick for added stability and rigidity but it has an upturned 4" nose rocker that is really helpful when surfing waves.
The 2" tail rocker is ideal for high performance and advanced maneuvers.
Material
The drop stitch inflatable construction is tough and strong and you will immediately notice the rigidity of this board when inflated.
It also has additional reinforcement layers over seams and where needed to combat any wear and tear.
The Downside
There are not too many negatives that I could find with this stand-up paddleboard.
It is truly a hybrid board that can be used for just about any type of paddling by any person.
I do find with these hybrid boards that although versatile they tend not to excel at any type of paddling.
You can buy a SUP that is specific for touring, racing, whitewater or surf and possibly get a better performance.
However a niche-specific board doesn't give you versatility and that is where this one shines.
It may not be the fastest or sleekest ISUP out there but it is awesome in just about every other way.
My Pictures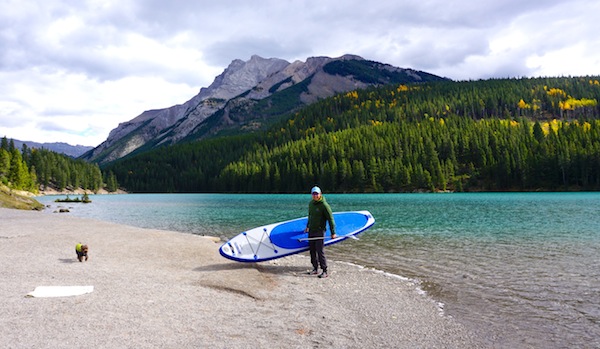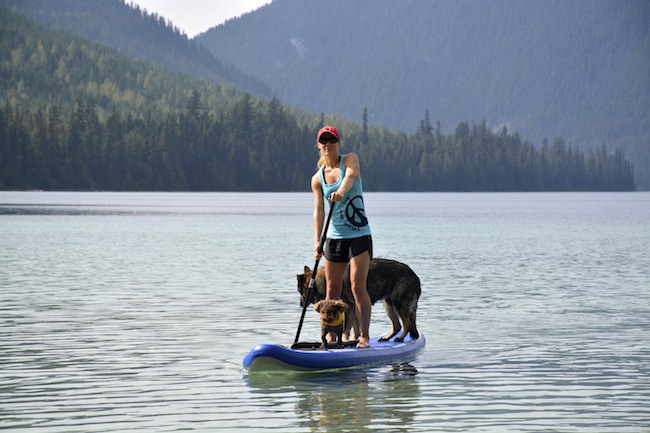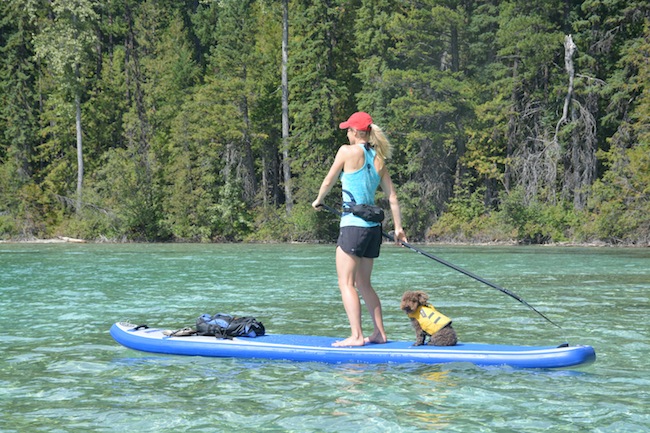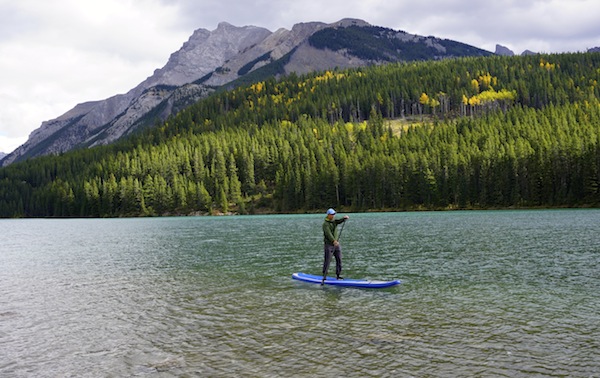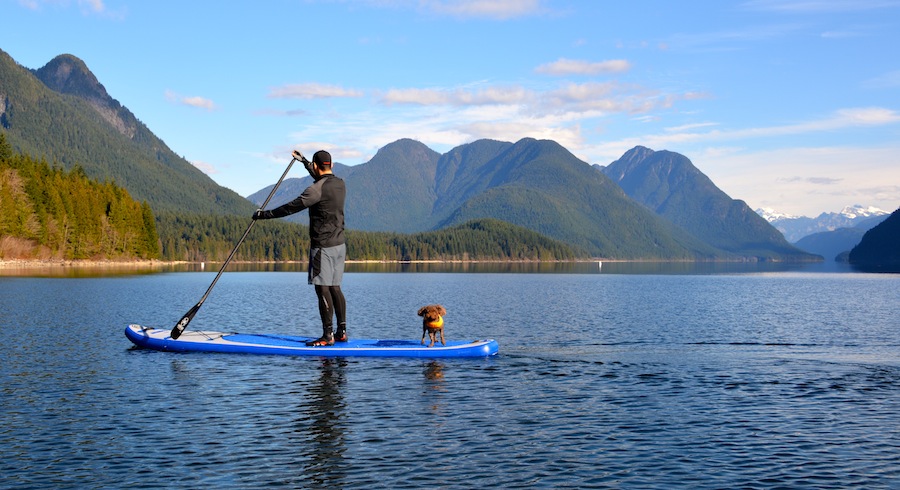 Final Thoughts On The SE Longboard Hybrid ISUP
Beginner to Advanced riders will appreciate the continuous rocker this board provides when surfing and the stability and great tracking for flat-water touring.
I really like this new Sea Eagle Longboard a lot. It is so easy and so fun to use and so extremely versatile.
Whether cruising around catching some sun, paddling for exercise, surfing some waves or hitting the rivers, the Longboard will perform well and stay strong.
It comes with Sea Eagle's standard 3-year warranty and 180 day risk free trial, meaning if you are unsatisfied at any point within 180 days of purchase you can return the product for a full refund… as long as it is in good condition.
We have really loved testing out the Longboard and I know we will have it out often.
We have the 12'6" model and I have to say that I really like this length. It feels even longer than the 12'6″ Sea Eagle Needlenose because with the Needlenose you lose some of the space with the tapered hard nose.
This length is awesome for dogs if you have a furry friend you plan to take out with you. There is lots of room for both you and your dog to be comfortable.
It feels roomy yet is still lightweight and easy to paddle. Best of all it can hold a ton of weight.
However both lengths are good and a smaller person may much prefer the 11' board.
Also worth noting that this ISUP would be an ideal choice for camping or overnight trips as there is lots of room to secure gear.
I wouldn't hesitate to recommend the Longboard to a friend or family member.
Where To Buy
When you buy directly from the manufacturer you get to take advantage of their great 3-year warranty and 180-day risk free trial. Plus Sea Eagle often has some great package sales going on.
Click Here For The Best Package Deals For The Sea Eagle Longboard From The Official Sea Eagle Website.
Did You Know?
By clicking on any of the above seller links you can help keep ISUPworld.com growing. When you make a purchase after clicking on our links, the retailer will contribute a portion of the sale to help support this site. It won't cost you anything extra and it's a simple way to help us fund our gear reviews. Thanks!