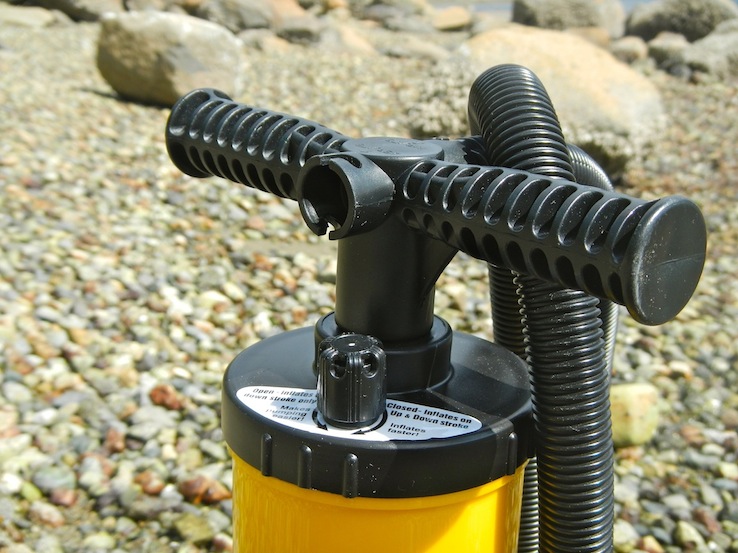 An inflatable stand-up paddleboard inflates very quickly. The majority of them come with a standard hand pump, which will do the trick. However there are other options that may interest you as well.
Below I will go through the pros and cons of each pump option.
Hand Pump – The hand pump is the most common type of pump and when you purchase an ISUP, you will likely get one in your package.
Their quality can differ but as a general rule they work fairly well. I particularly like the ones that have two inflation settings.
This allows for high and low inflation pressure, which is helpful in getting the board pumped up to the proper PSI level.
Foot Pump – I've used a foot pump for years for my inflatable kayaks and I have always found that it did a decent job.
The foot pump is easy to use, not as hard on the back as the hand pump and easy to transport.
However for the ISUP's, I find that I only like using the foot pump for part of the inflation process.
It's good to get the board into shape but I find it too difficult to get the SUP to a high air pressure so that it is as rigid as it needs to be.
In my experience the foot pumps are easy to break if you continuing trying to pump when it gets really hard. Therefore if you were going to use a foot pump, I would recommend having a different kind of pump to top it off such as the K-Pump or a good hand pump.
K-Pump – I use the K-Pump a lot. I originally bought this pump while I was traveling because it was small and compact and works really well. There are a few different models to choose from. A couple of them are specifically for inflatable SUP's.
The K-Pump is the easiest pump I've used (besides a good electric pump) that will get an ISUP pumped to maximum air pressure.
It's not cheap but it works really well and is easy to use. For more information on it check out our K-Pump review that we did a while back.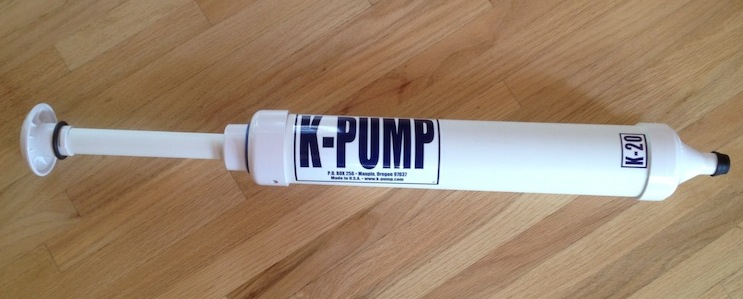 Electric Pump – I've grown to love the electric pump. If you've never used one then it's no big deal because you don't know what you're missing. However once you inflate your board with one, it's really hard to go back to manual pumping. At least that was the case with me.
A good electric pump makes inflating your board a snap. It only takes about a minute to get it fully inflated and you don't have to do any of the work. It's great!
I use a battery powered electric pump, which means that I don't have to hook it up to my car or anything.
A battery powered electric pump is really handy and I totally recommend it, however it is also quite pricey. This is the one I use from Sea Eagle.
I find that it works on most ISUP's. The only board so far that I have found it not to fit properly was the Airis SUP's. However I took an adapter valve from the Airis hand pump and fitted it with the electric pump and then it worked fine.
The other option is an electric pump that connects to a 12V battery with cable and alligator clips. This is a great option if you can inflate your board close to your vehicle. This option is less expensive than the pump that comes with its own battery.
The cheaper electric pumps that hook into a cigarette lighter in your vehicle don't tend to work as good. They wouldn't be my first option but if you have one and can get the right adapters, it's worth a go.
The only thing I would caution against with an electric pump is to make sure not to over inflate your board to where you do damage.
A good electric pump will often have a gauge so that you can check your PSI level.
Slingshot High Pressure Valve – This is an interesting option that opens up more possibilities for inflating a SUP.
I just received the Slingshot high pressure valve to review but haven't had a chance to test it yet.  As soon as I do I'll be able to add more information and my own experience with it soon.
Basically it's a valve that can hook up to a compressor to inflate your board.
With this high-pressure valve you can even inflate your board at a gas station with their air compressor. That's pretty cool. It helps to get the SUP to a very high air pressure.
Click here to read our full review of the Slingshot High-Pressure SUP Inflator Valve.