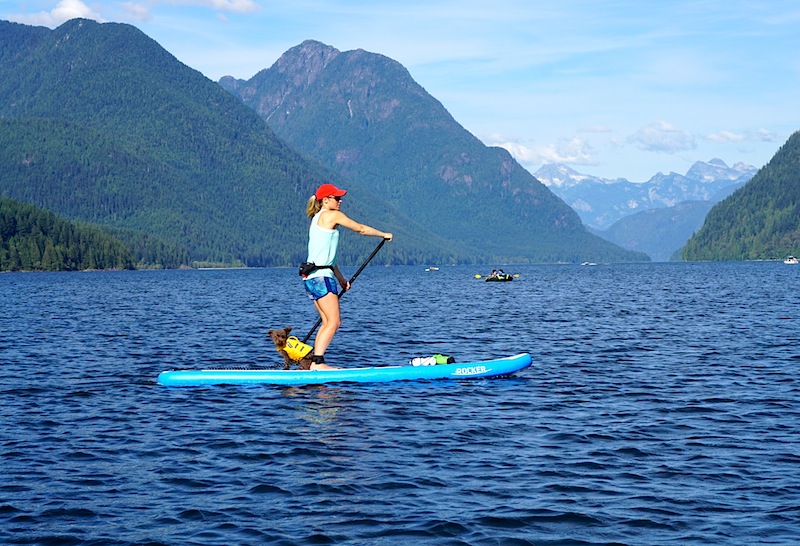 The 11' iRocker inflatable SUP is a cool board for a good price. It is very portable, fun to paddle and comes with everything you need to get on the water right away.
I found the shape and design of this board really nice. The streamlined shape allows it to move through the water nicely and it takes little effort to paddle and get moving.
The 6" thickness provides good rigidity and stability. Just about anyone could paddle this ISUP from old to young and it is able to hold quite a bit of weight and still paddle well.
Specs For The iRocker 11' ISUP
11' long
30" wide
6" thick
weighs 22 lbs.
can hold up to 385 lbs.
Material: Triple layer military grade drop stitch PVC
Best Suited For: Touring, cruising on flat water and ocean bays
Pros: Glides nicely, easy to paddle, responsive and easy to maneuver, versatile, bungee tie downs up front for securing gear, 3 fins, very portable, 9 D-rings, center D-rings can be used to attach seat if wanted
Cons: The bungee system is small, no kick tail, a little unstable in waves if you're a beginner
Where To Buy The iRocker 11'
Click here for the best deal on the iRocker 11' paddle board at Amazon.com.
More In-Depth Info On The iRocker 11' ISUP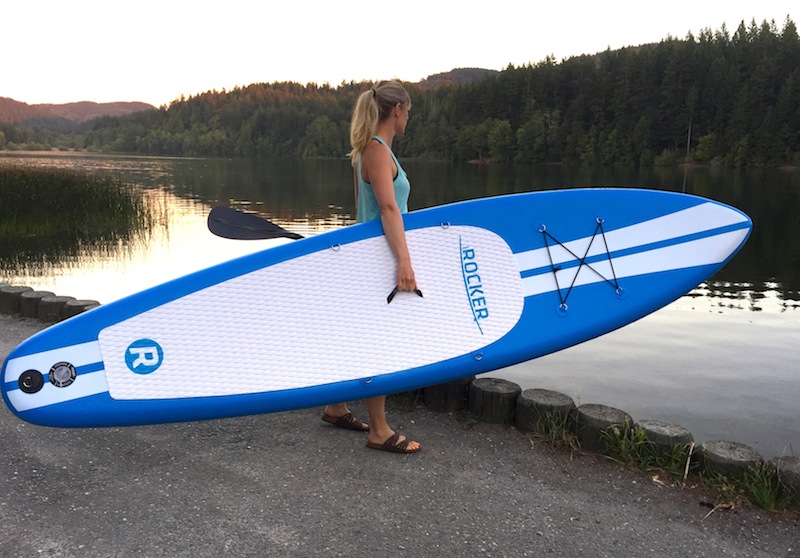 I was excited to review this iRocker stand-up paddle board. I have had a lot of questions about it and I notice that it has had a lot of good reviews.
Best of all it is priced quite well making it a great option for those who want a board that paddles well but is still affordable.
I liked the shape right off the bat and knew that it would cut through the water nicely, which it does.
The pointier nose and tapered tail as well as the fact that this paddle board is only 30" wide makes it a good performer.
It doesn't take a lot of effort to get moving and I found it very easy to maneuver and turn.  It is ideal for flat water paddling and cuts through the water nicely.
After paddling some wider boards lately it was nice to get on a SUP that could move a little faster.   Darryl and I both noticed the leaner width and tapered design right off the bat as it is a little less stable.
However I found we both got used to the feel very quickly and enjoyed the responsive design.  It is a fun board to paddle.
Important Features & Accessories
D-rings – There are 9 stainless steel D-rings on the iRocker.
Four are being used by the bungee cords up front.
There are two on each side at the center of the board that can be used to attach a seat if you wanted to paddle sitting down kayak-style.
Then there is one more at the back end of the tail that is perfect for attaching your SUP leash.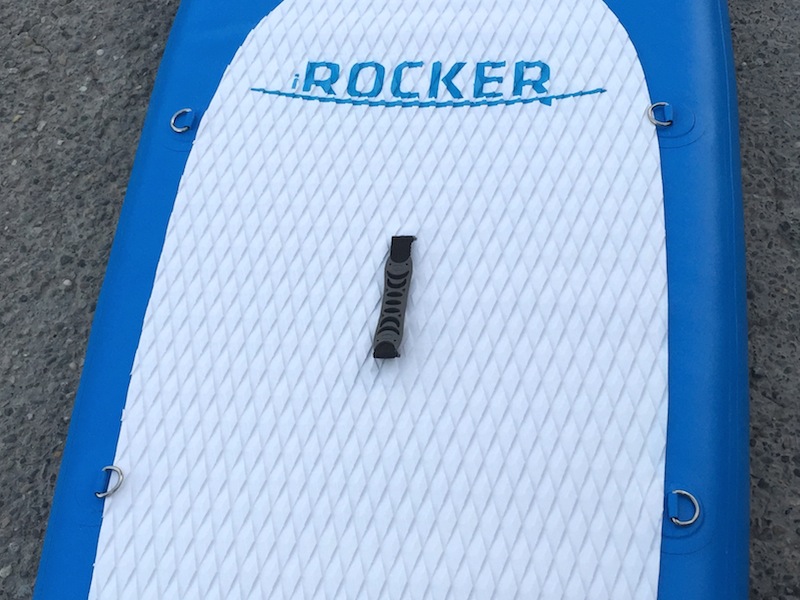 Traction Pad – The non-skid traction pad isn't super long but it is comfortable to stand or kneel on and great for regular recreational paddling.
Bungee System – The bungee system up front is a little on the small side.  I have a small backpack that I often bring out paddling with me and I couldn't fit it under these cords.
However it is still very functional and can easily secure your water bottle, a small dry bag or your flip-flops, which is often all you need to bring.
Bungee cords on a paddle board are always handy to have. I find that inevitably I always have something I want to bring along and the bungee cords keep my gear secure.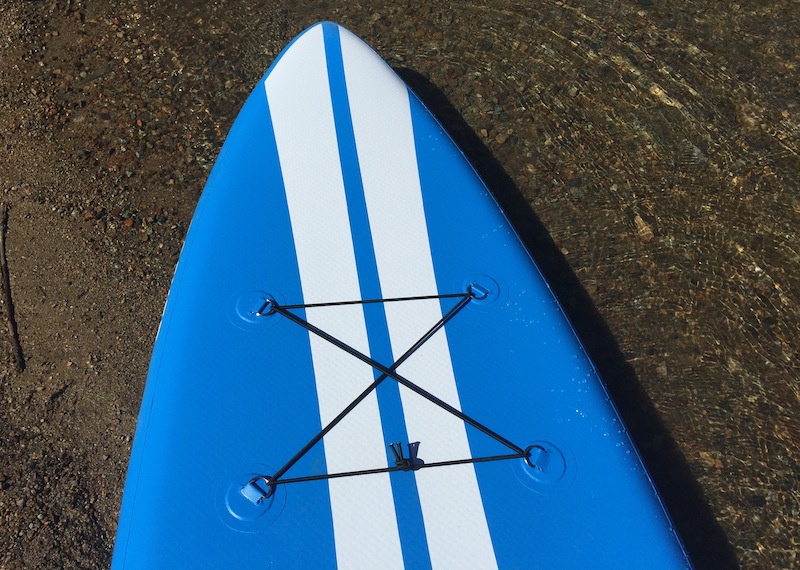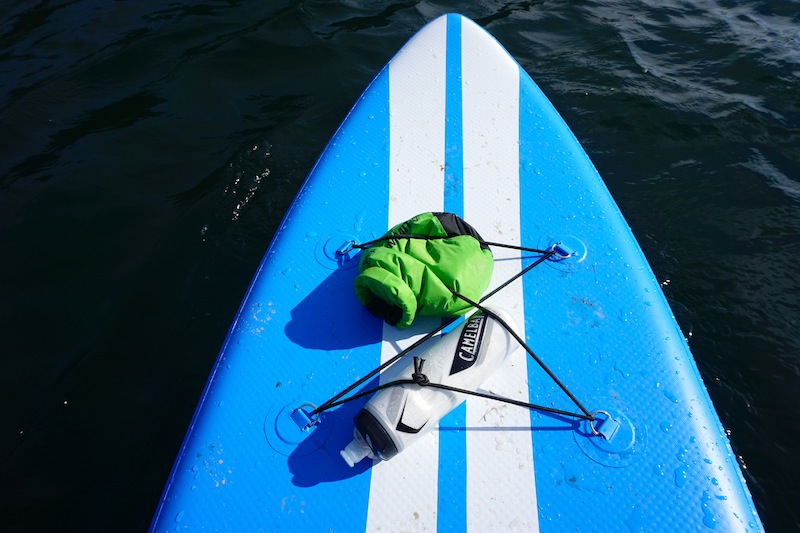 Rigid Construction – You will notice as soon as you inflate this board that it is very solid.
The first time I took it out I had someone comment that they were surprised to learn it was an inflatable.  They thought it looked like a hard shell SUP on the water.
The triple layer construction makes the material strong and durable. I always recommend that people take extra care with their inflatable stand-up paddle boards but in truth they are quite tough.
This board should be able to withstand a fair amount of abuse and last a long time with a little care.
Fins – There are two smaller attached side fins as well as one large removable center fin.
This tri-fin configuration is ideal for good tracking. The center fin is very easy to attach and clips easily into place.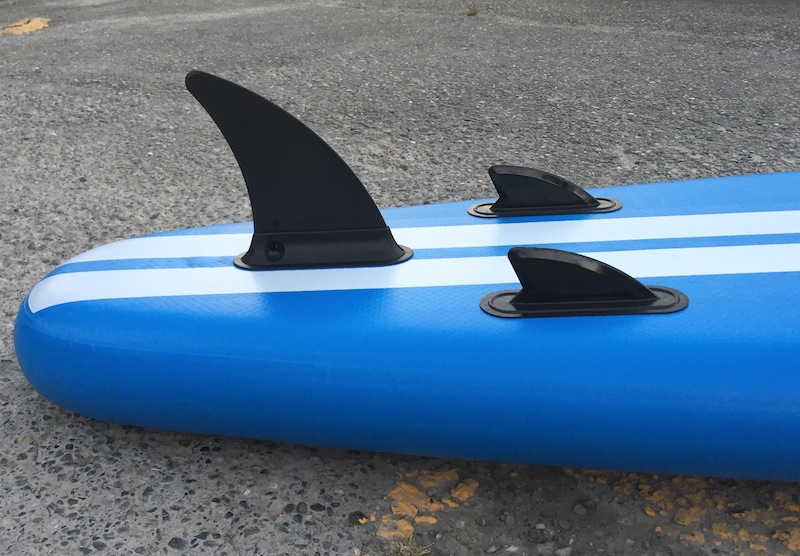 Carry Handle – The center carry handle has a nice rubber grip on it making it comfortable and easy to carry.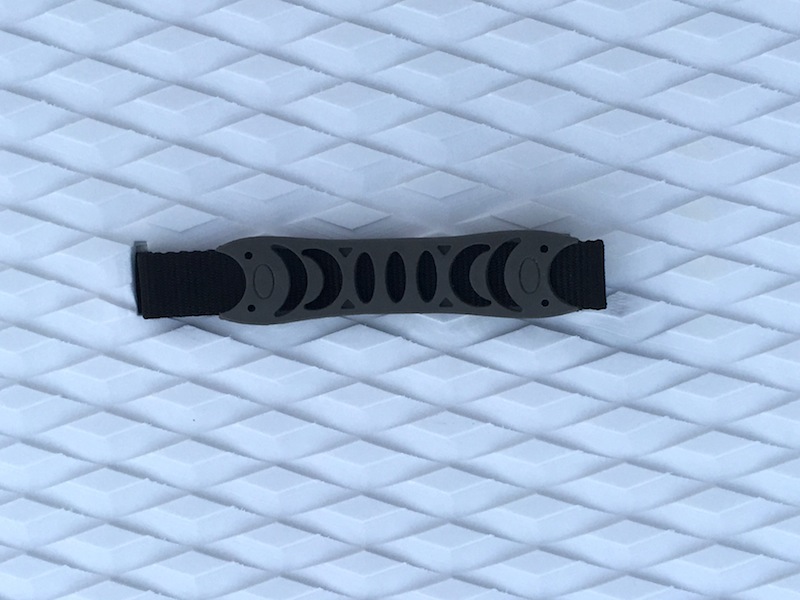 Backpack – A backpack carry bag is included in the package and stores the board when not in use or when carrying to and from the water.
The backpack has a half zipper meaning it zips around the top and one side of the bag.  Although the zipper only goes around 2 sides as opposed to 3 sides of the bag it is still very easy to take the board out of the bag and especially to put it back in.
The backpack is not overly large but it will fit the board, the pump and the 3-piece paddle inside. There is also a clear zippered outside pocket for storing small items.
The padded shoulder straps are adjustable and there is also a waist clip for added support.
I didn't find the backpack overly comfortable to carry too far of a distance but it does the trick and makes it easier to transport everything to the water.
If you wanted to upgrade the bag iRocker also offers an optional Roller Bag that has a full zipper and wheels.  I haven't tried the Roller bag but it looks like a nice option especially for traveling.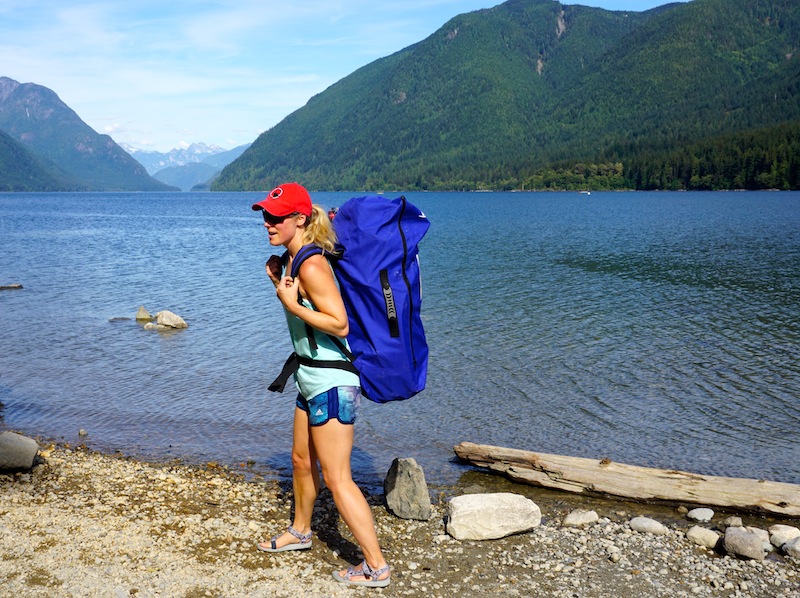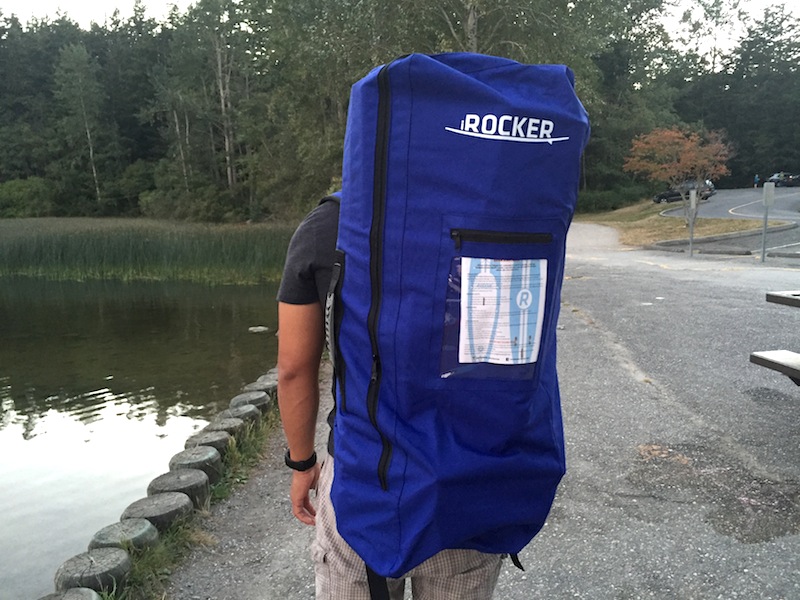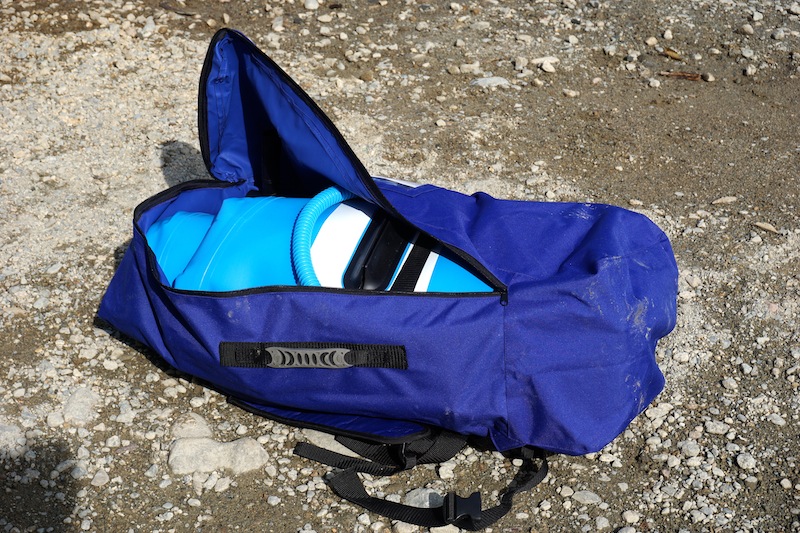 Paddle – This package comes with an adjustable 3-piece aluminum paddle.  It can adjust from 63 to 85 inches.
The paddle is a little on the heavy side but makes a great starter paddle, travel paddle or can be used as an extra if you upgrade to a lighter option down the road.
Setup
I found setup to be easy and fast. The double action pump that comes with this board inflates it fairly quickly.
It always takes a bit of effort to manually pump an ISUP to 15 PSI but it is very doable.  This board took me five and a half minutes to fully inflate and that included taking a few little breaks in between pumping.
Once inflated you can attach the fin, which clips into the fin box.  Then attach the SUP leash to the back D-ring, adjust your paddle and you are ready to hit the water.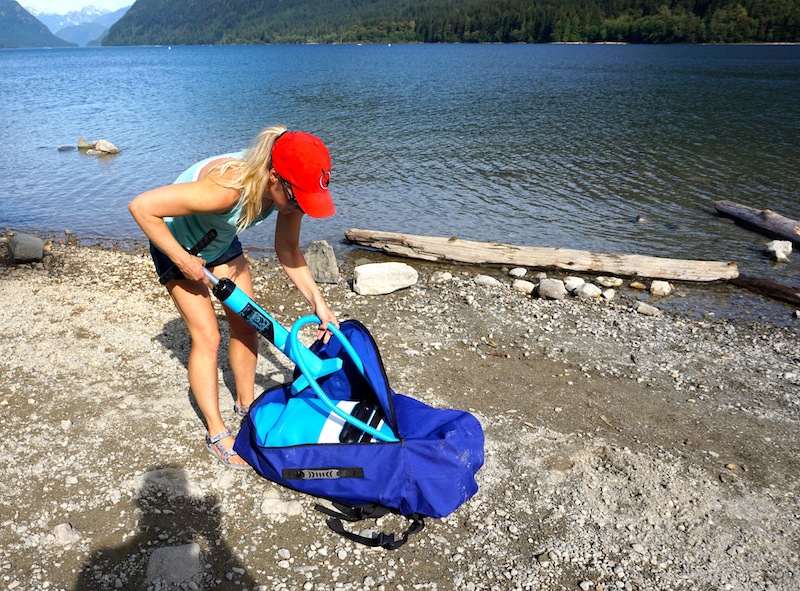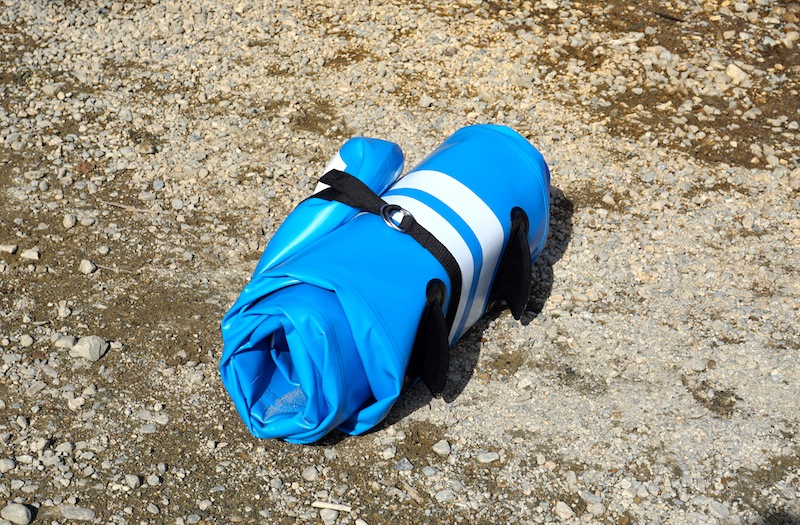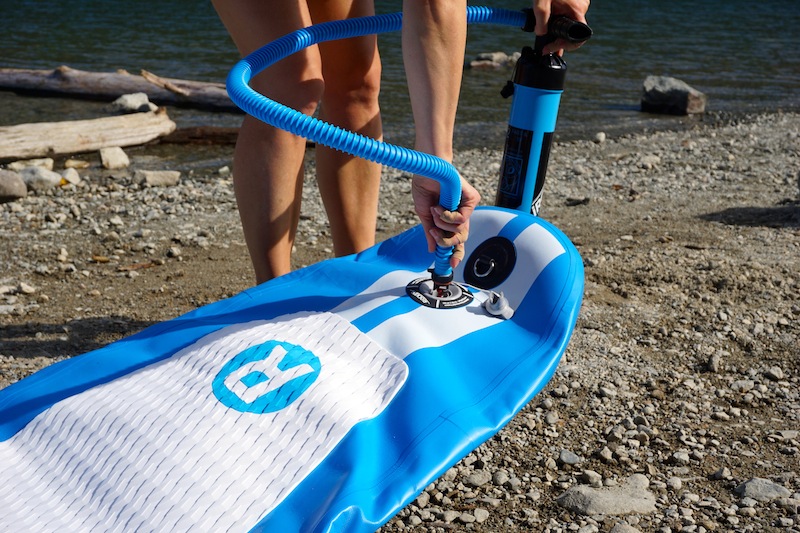 Performance
The overall performance is good and I enjoyed paddling this board.
The streamlined design does help it to cut through the water nicely.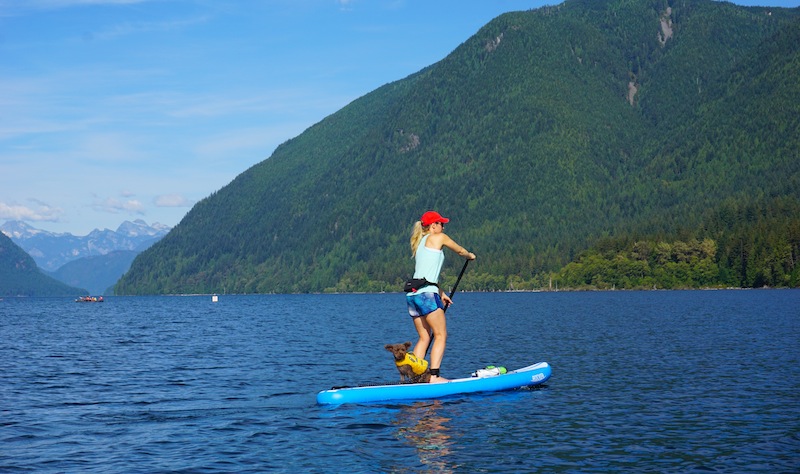 In waves and choppy water it will take more focus to paddle and stay balanced but on flat water it feels stable.
It has a nice balance between stability and performance and I think most people will feel quite comfortable paddling the 11' iRocker on flat water after just a couple times out.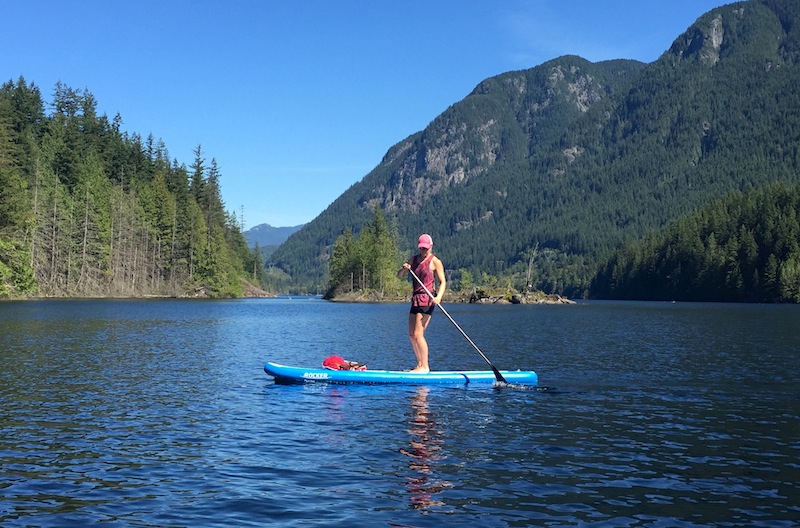 It is not the fastest board out there but it certainly isn't the slowest either.
It doesn't feel sluggish, if anything it feels very responsive for an 11' board.
I ended up in some pretty high wind and choppy water on one of my outings and although I had to paddle hard the iRocker felt solid getting me back to shore.  I had no complaints with the performance of this SUP.
The tapered tail makes turning fast and easy.  Even with no kick tail at the back of the board Darryl had fun practicing pivot turns and the iRocker responded well.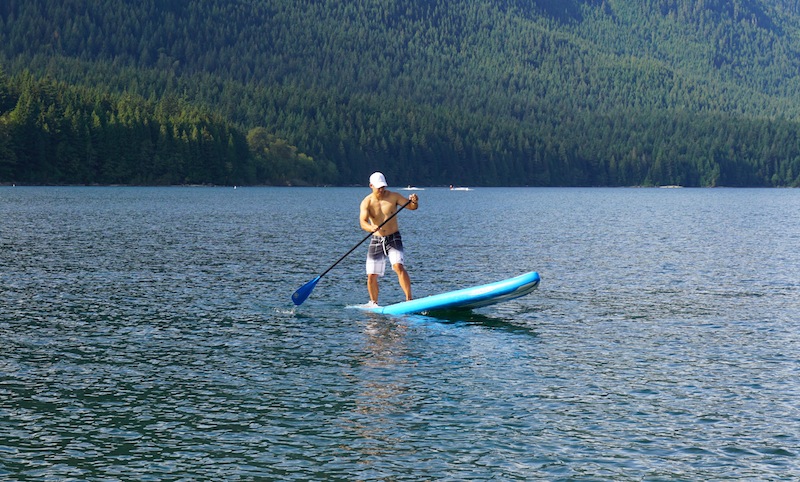 The Negative
As mentioned the bungee cord system is a little on the small side.
This isn't a big deal unless you plan on doing longer expeditions, in which case you could always add longer or additional bungees and D-rings to the deck to be able to hold more gear.
There is no kick tail at the back end of the traction pad. Some boards have these and some don't.
They are fun to use to practice pivot turns and fancy maneuvers but certainly are not critical.  As you can see Darryl had no problem playing with this board even without a kick tail.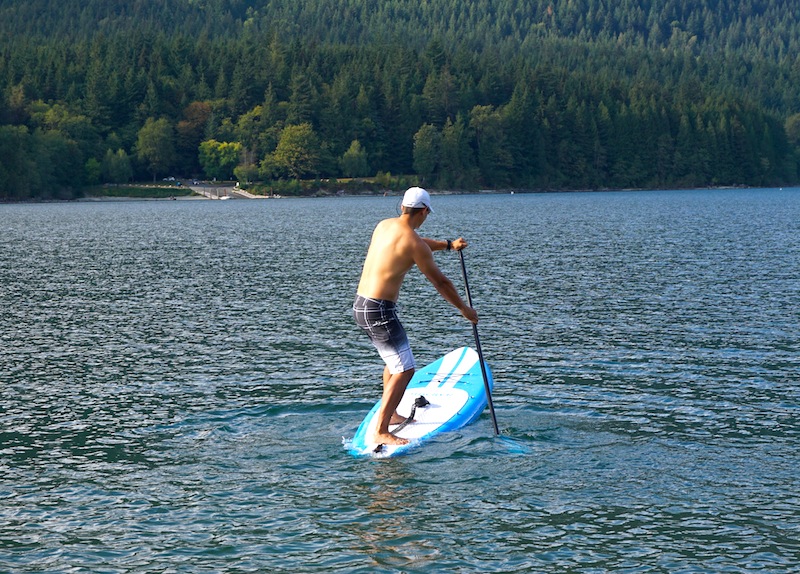 The construction of the backpack seems basic.  The overall design of the backpack is fine but we were a little worried with how long the zipper would last on this bag and the shoulder straps could use a little more padding.
This wouldn't be a bag I would take on an airplane traveling but for going to and from the water it should be fine.  The most important thing is that it is easy to get the board in and out of the bag and ultimately it is easy enough to carry although I wouldn't want to have to trek too far with it.
That being said I rarely find any of the SUP backpacks to be perfect unless you go for a higher-end board.
More Pictures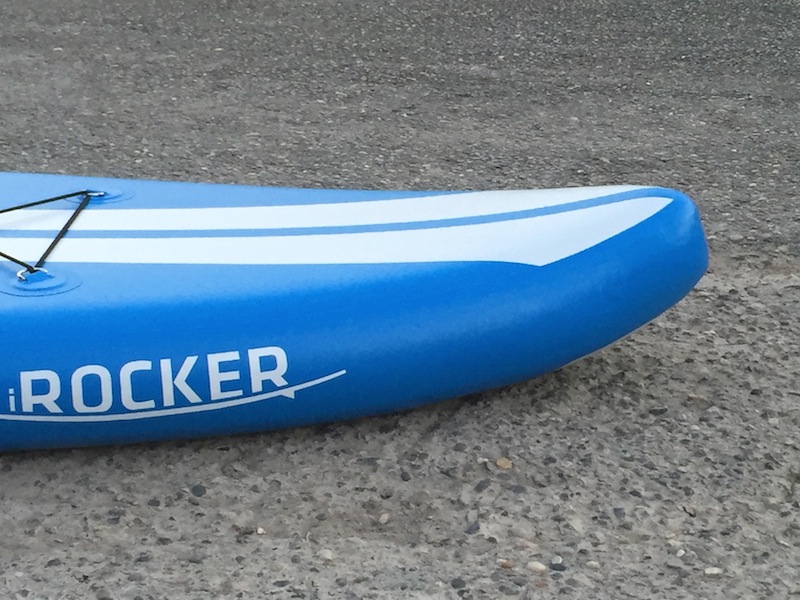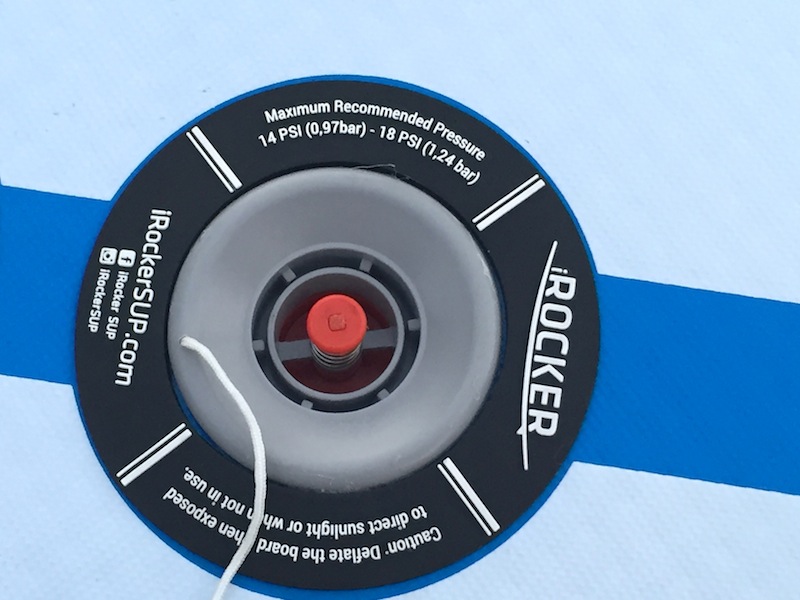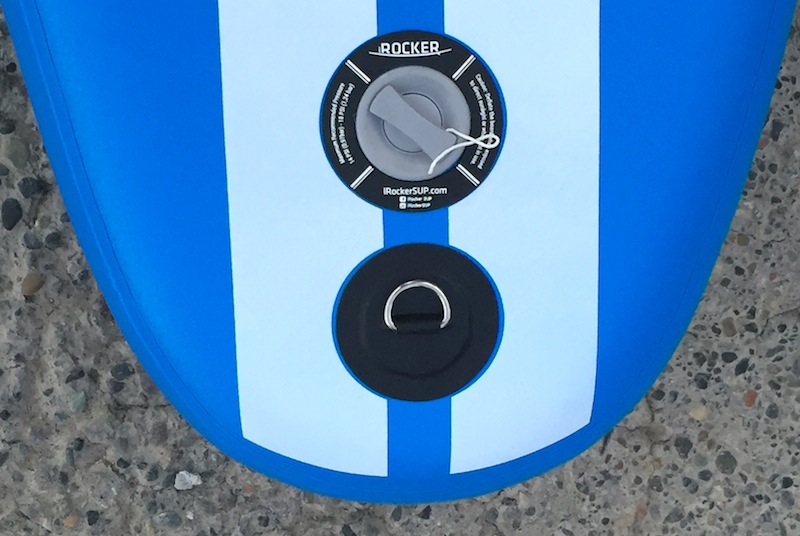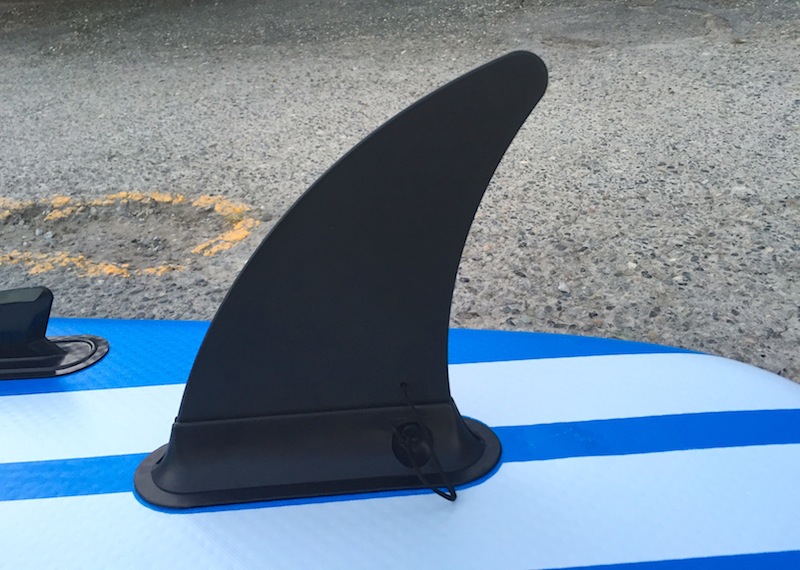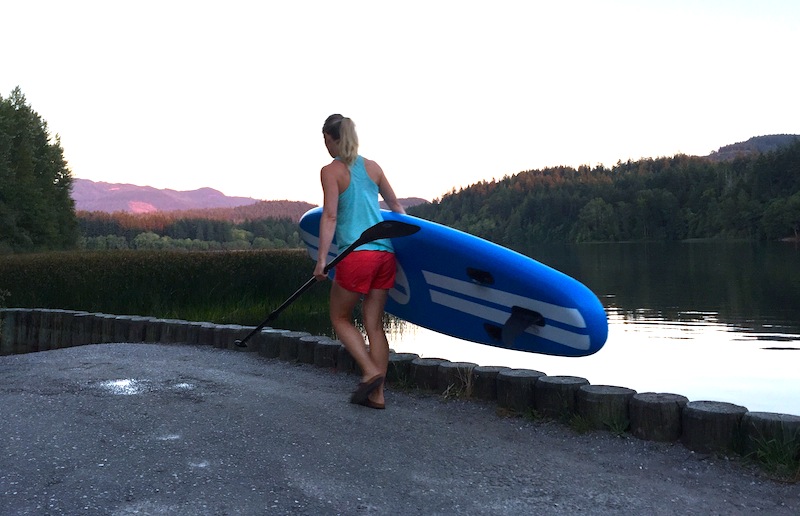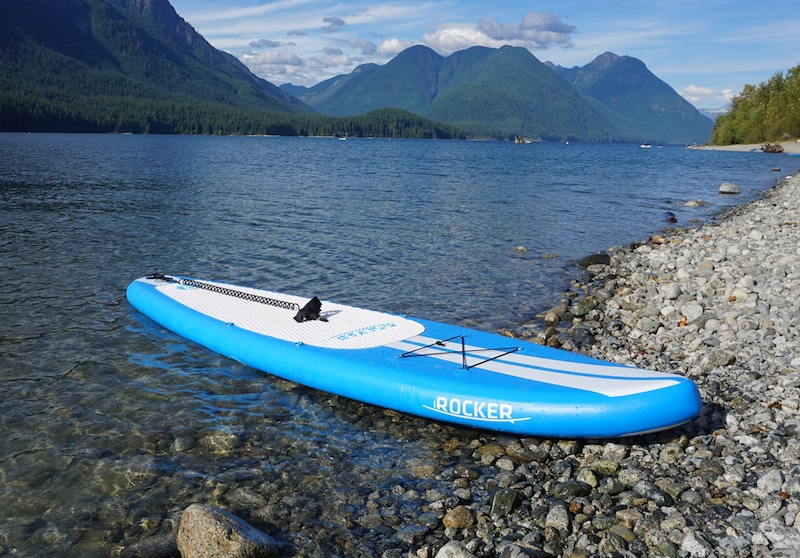 Bottom Line
Overall I think the 11′ iRocker is a great ISUP for a decent price. I can see why it has been so popular.
It is fun to paddle, the construction seems solid and it comes with all the accessories and gear that you need to get started.
This isn't a flashy board but it does what it is supposed to do, which is paddles well and rolls up into a very portable package.
It is a good affordable option that will provide many hours of fun on the water.  Plus it comes with a good 2-year warranty.
Where To Buy
Click Here For The Best Deal On The iRocker 11' Inflatable SUP At Amazon.com.
Did You Know?
By clicking on any of the above seller links you can help keep ISUPworld.com growing. When you make a purchase after clicking on our links, the retailer will contribute a portion of the sale to help support this site. It won't cost you anything extra and it's a simple way to help us fund our gear reviews. Thanks!