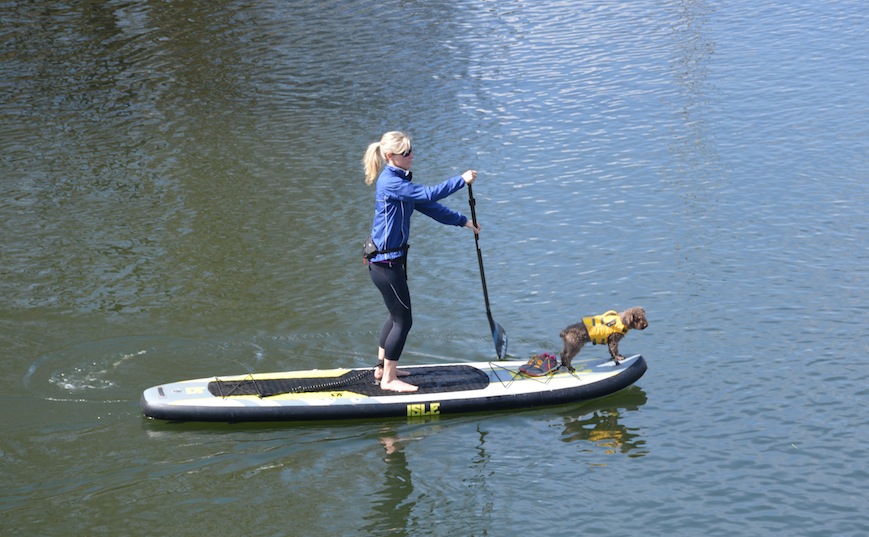 Isle Surf and SUP was founded in 2004 and is based out of San Diego, California.
They have a great line of inflatable stand up paddle boards and after many comments and questions from visitors to our site regarding the Isle boards, I was super happy to get the chance to review one.
I've been paddling the extremely versatile 11' Isle Explorer ISUP for the last month and enjoying every minute of it.
This board is well made, super rigid, stable, and has all the great features you would want.
Overall this board impressed me. The design is semi-basic but it has all the important points covered and most importantly it paddles well.
Specs For The Isle Explorer
11' long
32" wide
6" thick
weighs 19.1 lbs.
can hold up to 275 lbs.
air pressure: 15 PSI
two attached small fins, one larger removable fin
Material: Military grade drop stitch PVC
Pros: Strong, rigid, extremely stable, durable, bungee tie down system at front and back, center padded carry handle, 3 fins – 2 attached small fins and one large removable fin, large fin screws in and is very secure and strong, priced well
Cons:  No D-rings at nose and tail, can feel a little sluggish
Where To Buy The 11′ Explorer
Click here for the best price on the Isle 11′ Explorer inflatable SUP at Amazon.com.
More In-Depth Info On The Isle Explorer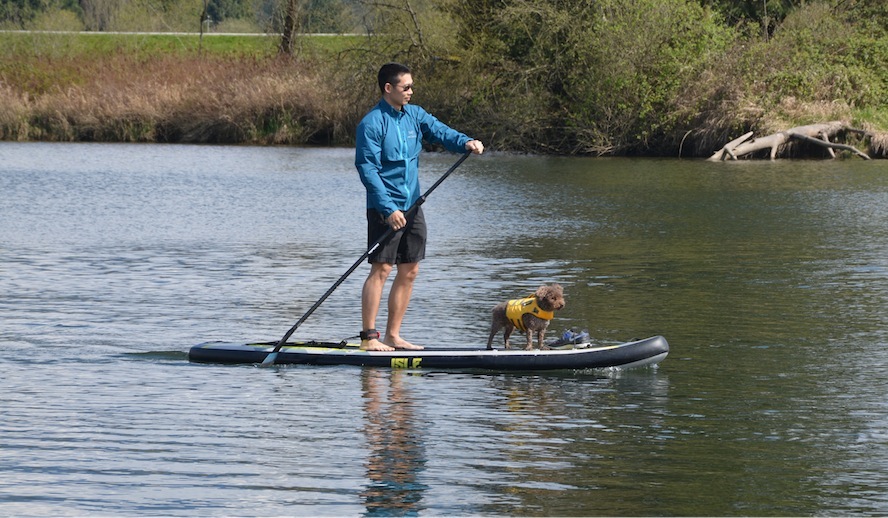 The Isle 11 ft. Explorer is designed to suit a large range of people. The length and shape of the board make it ideal for flat water cruising, exploring lakes, rivers or ocean bays.
The tri-fin configuration allows a lot of versatility and makes this board equally at home on shallow rivers or for touring on open water.
When paddling on open water secure the larger fin for better tracking and performance.
I found the Explorer to be very rigid, stable and easy to paddle. It is not the fastest board out there but it is fun to ride and as the name implies, it is a great board for exploring all different waterways.
It can be inflated up to 15 PSI and is able to hold a lot of weight.  With Darryl and our two dogs on this board, we regularly have it loaded up with 300 lbs.
Great Features
I like that for a good price this board covers all the important bases.  The shape is designed for easy paddling. It tracks well and turns easily.
The shape and width do create a little drag so don't expect miracles with speed but all things considered it cruises well and is especially great at plowing through chop and waves.
It has a large bungee system at the front of the board and a smaller bungee cord section at the back. This allows you to secure all the gear you need for a day of exploring.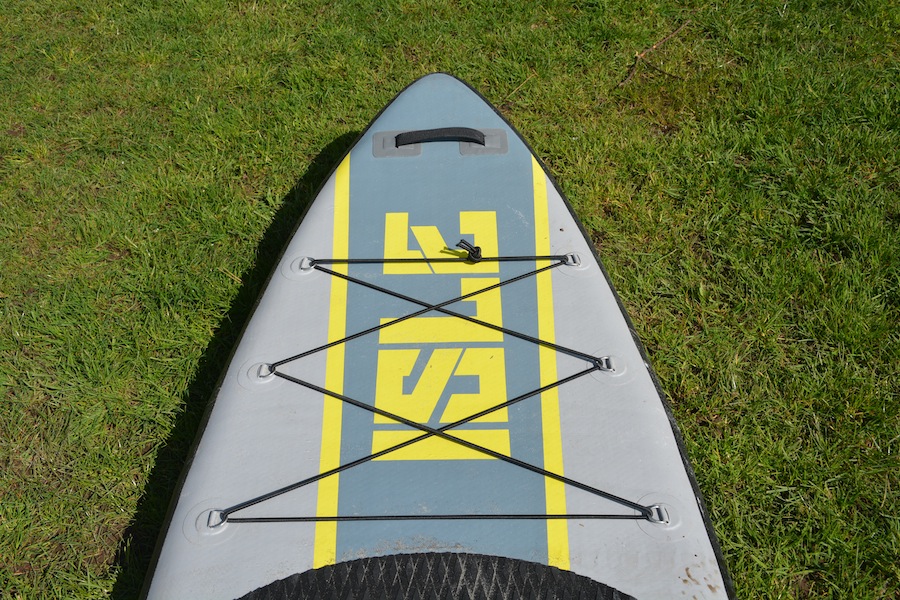 The foot pad is not super long as the front bungee system takes up a lot of space at the nose of the board. However it is long enough to be functional and is comfortable to stand on.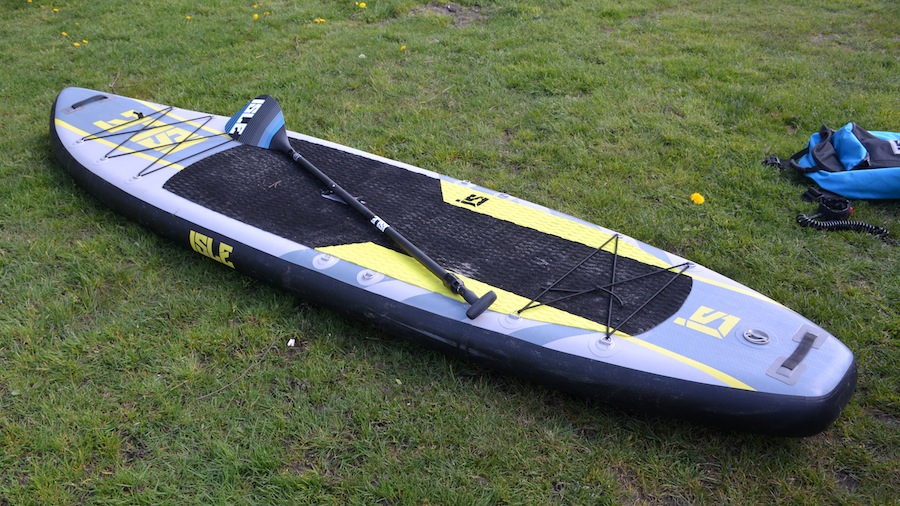 I quite like the center carry handle on this board. It has some rubber padding on it, which not only makes it more durable but also a lot more comfortable to carry.
Little things like this are a nice touch and I wish all ISUP's had padded carry handles.  There are also carry handles at the front and back of the board… these are not padded.
At only 19 lbs. the Explorer is very easy to carry and transport anywhere.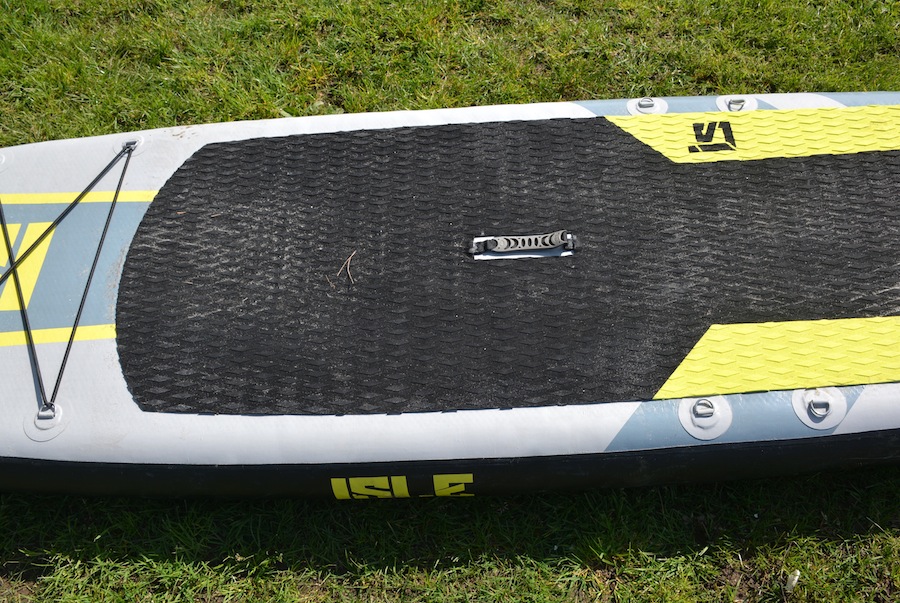 Removable Fin
I like the fin box on this board. It is a little different than others I have seen and at first glance I thought it might be a little tricky to use.
However it ended up being simple to secure the fin into the fin box. It slides in and is secured by screwing it down.
There are no extra parts to be concerned about losing and once attached it felt very secure and strong. It's a nice system.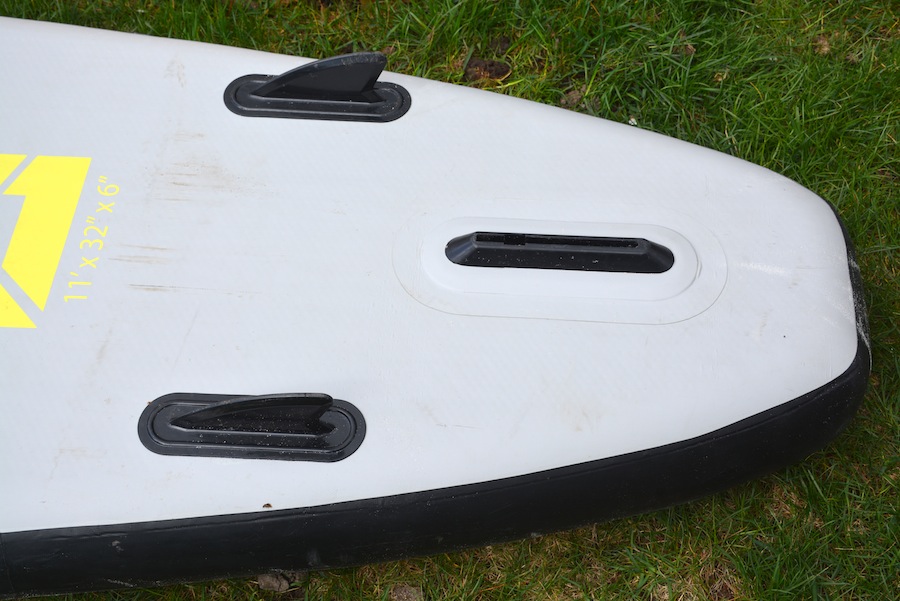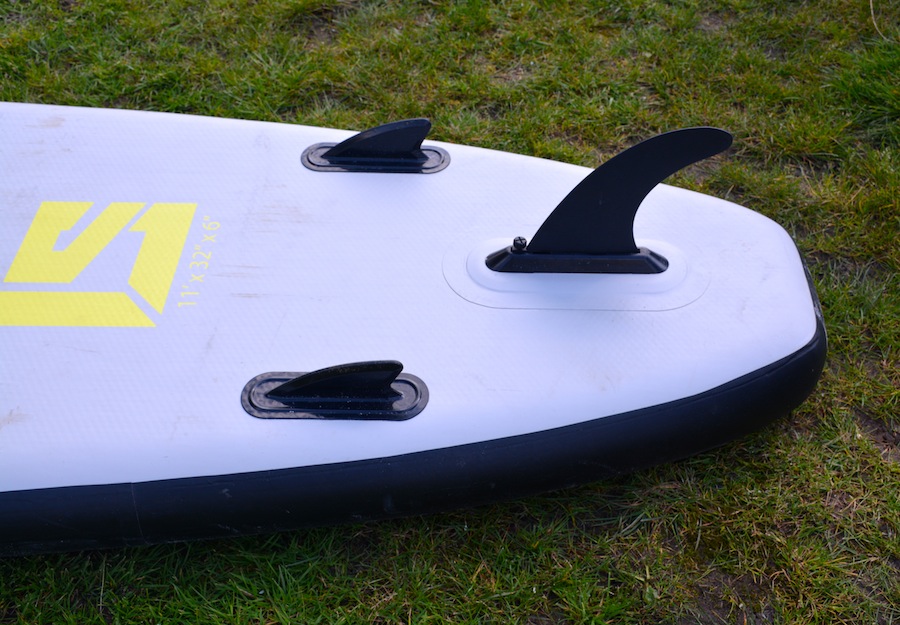 I would recommend always using the larger fin when paddling on open water. It really helps with the tracking and performance.
In shallow water or when paddling in rivers with debris, you can leave the large fin off and rely solely on the two smaller attached side fins.
This fin system makes the Explorer quite versatile for all different uses.
6" Drop-Stitch Material
The 6" thickness of this ISUP makes it extremely stable and rigid even when carrying a lot of weight.
Isle states that they use military grade PVC material in the construction of their boards and when inflated the Explorer felt durable and strong.
They also claim you can run over their board with a car and it will be fine. I wasn't going to put this statement to the test but I always love a company that will stand behind their product.
D-Rings
This inflatable SUP has four D-rings up front being used by the bungee system and 4 D-rings at the back being used by the back bungee system.
It also has 4 center D-rings that can be conveniently used to attach a seat if wanted.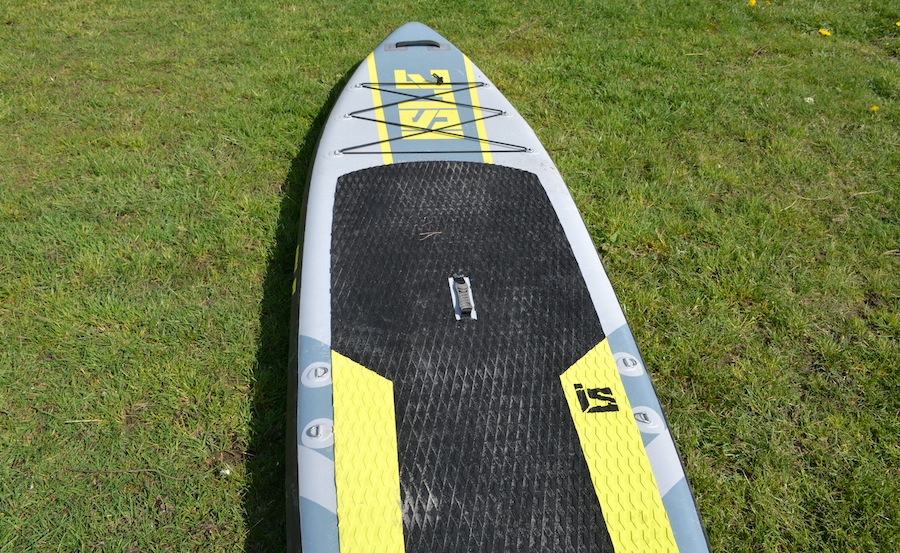 It is worth noting there is no D-ring at the nose (for towing) and also no D-ring at the back for securing your SUP leash. These are not critical but always handy to have.
If you would like to add them on yourself a package of D-rings are very affordable and can be glued on with some strong waterproof glue.
I attached my ankle leash to the bungee-cord D-rings behind me and that worked fine… although I do prefer my leash attached to the back of the board.
Isle Explorer Setup
As with most inflatable paddle boards, the setup is simple.
Take it out of the carry bag, unroll and inflate. I found the hand pump that comes with this board decent but not great.
It worked but I have used others that were a little easier in the high-pressure mode. It comes with a pressure gauge so you are able to see what PSI level you are at. The Explorer can be inflated up to 15 PSI.
At this point I normally use my electric pump, which does the job super fast and with no effort on my part.
The valve is a one-way Halkey-Roberts style valve.  This is a very typical valve for an inflatable SUP.  It works great, is easy to use and air leakage is very unlikely.
Once inflated secure the fin and you are good to go… 5–10 minutes top, depending on the pump you use.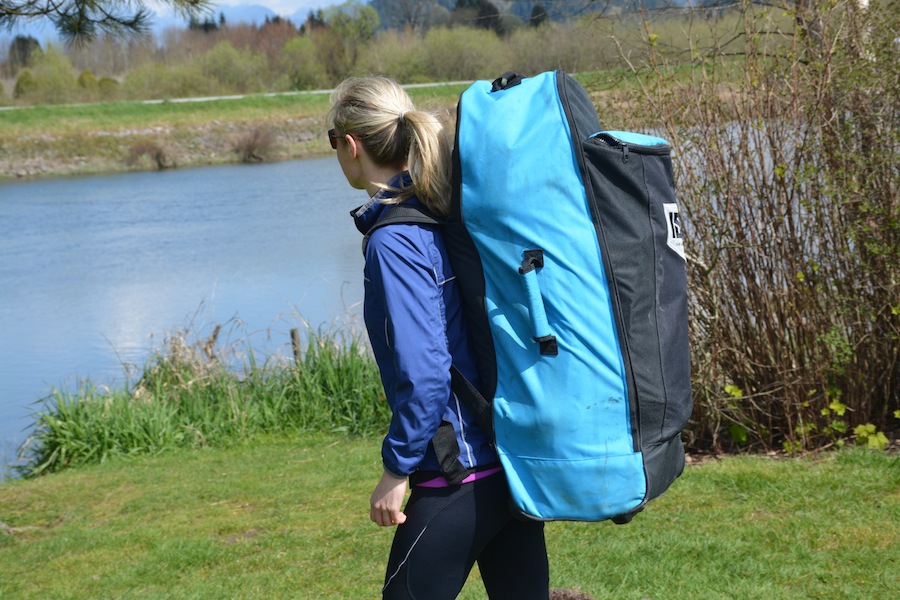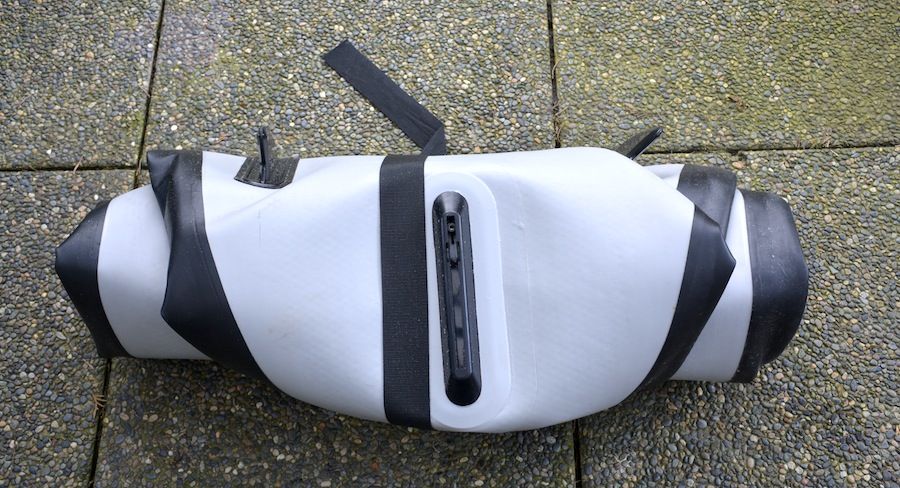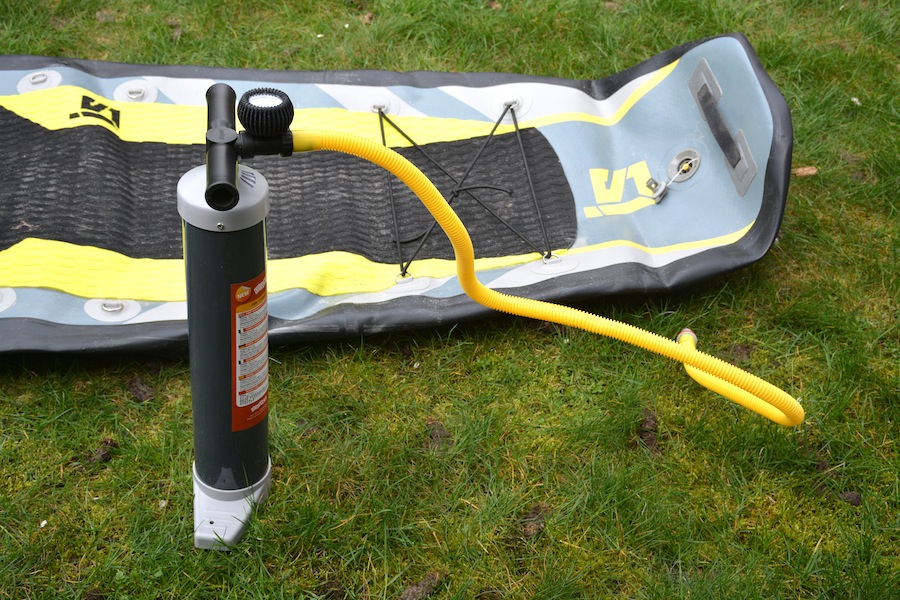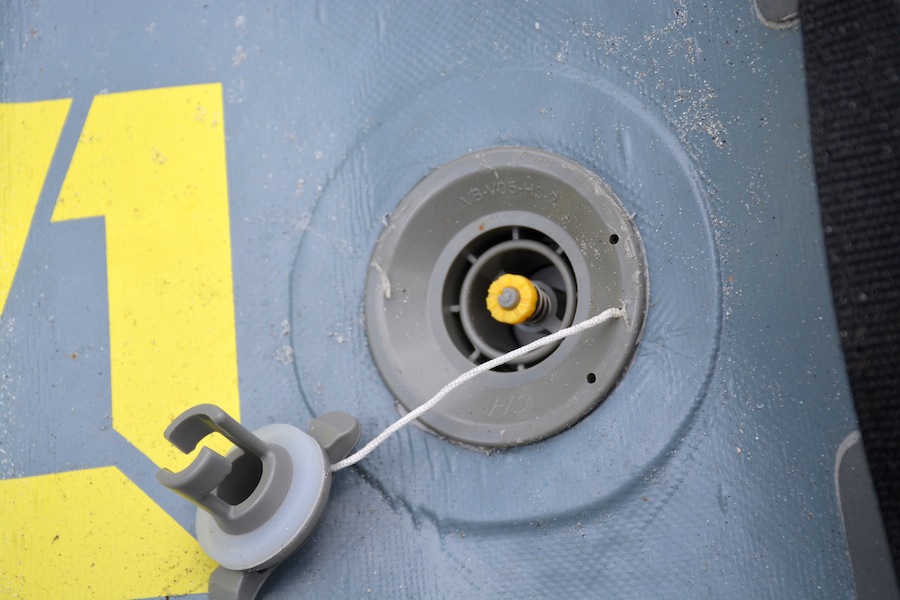 11' Explorer Weight
The new Isle Explorer weighs 19.1 lbs.  The one I have is an older model and it weighs 29 lbs.
I found it a little on the heavy side at 29 lbs. and that was one of my major complaints about this board.
I was very happy to see that Isle now uses new Airtech Fusion Light Construction, which has knocked a good 10 lbs. off the weight.
I do not know if the strong construction is compromised in any way from this new lighter weight.
I have heard of no issues or complaints so at this point I have to think that Isle has done a great job in improving this ISUP and making it more portable and functional for all.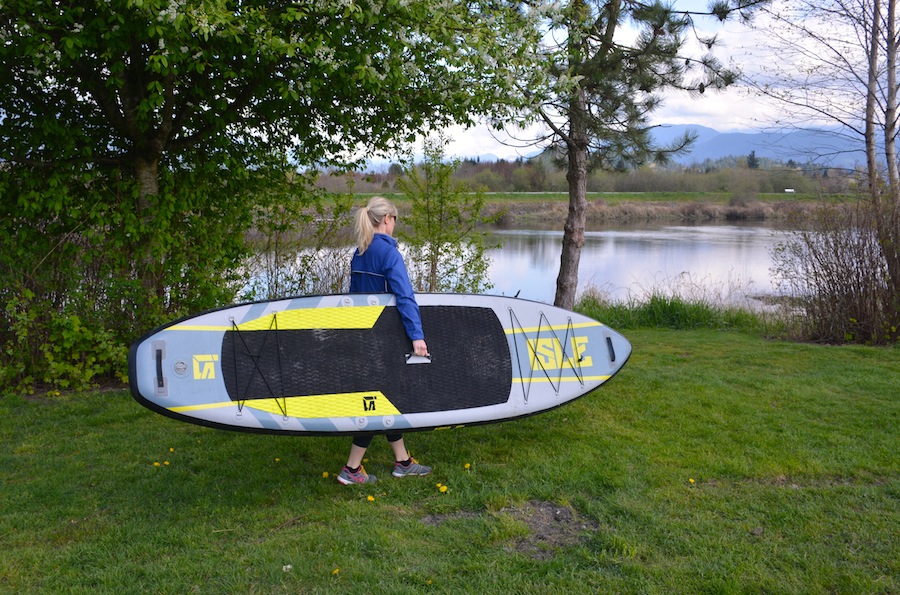 Isle Backpack Carry Bag
With the Isle boards you get the choice of two different carry bags.
Their regular inflatable SUP carrying back pack
Or their inflatable SUP wheeled travel bag
The regular cary back pack comes included with the board.  It has mesh sides so that the board can breath and bungee ties on the front of the bag.  Overall this bag works just fine.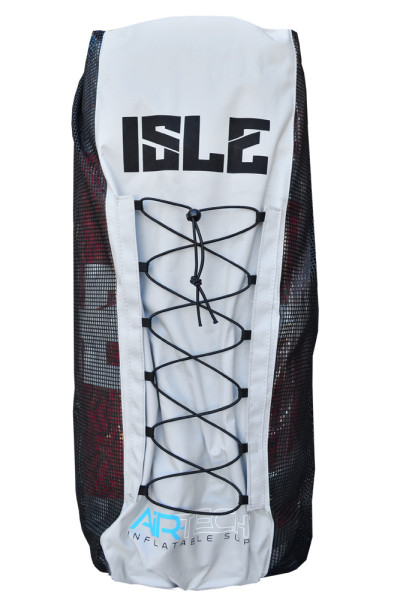 If you plan to do any airplane travel or don't want to have to lug the pack on your shoulders then the wheeled travel bag is an awesome choice.
The wheeled travel bag is the one I tested out and I liked it a lot.
This bag gives you the option of pulling it on wheels or to carry it on your back like a backpack.  It feels strong, the zippers are sturdy and the carry handles and straps are solid.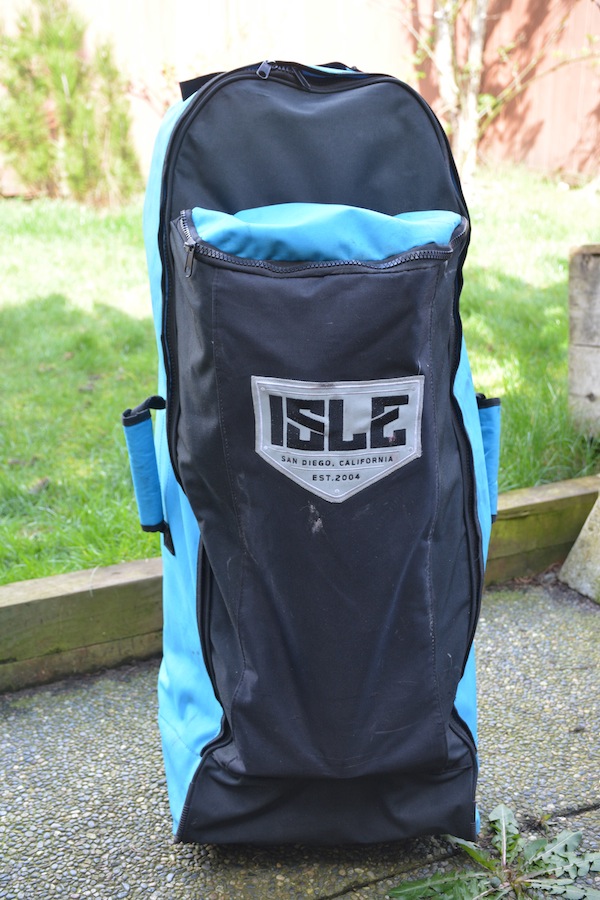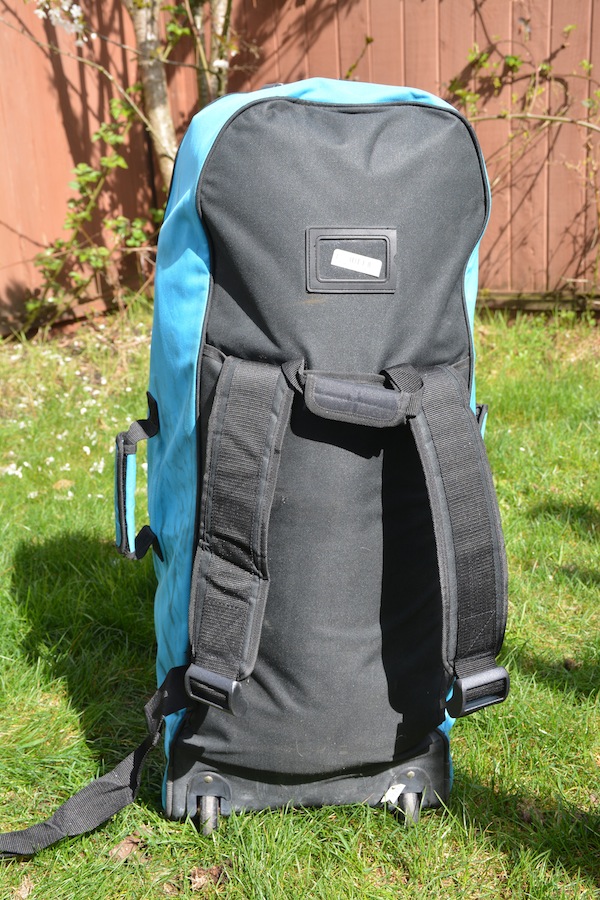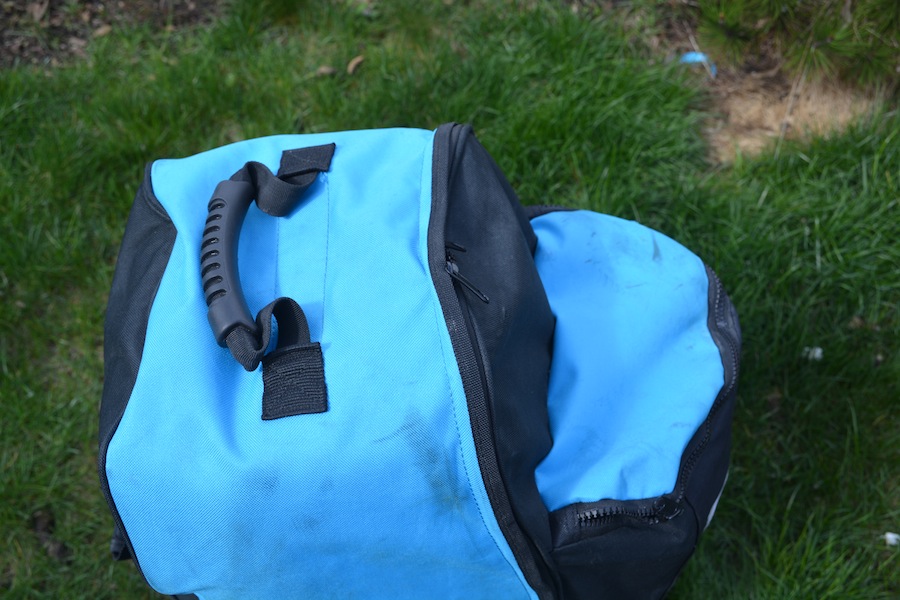 The backpack straps tuck away so that they do not get caught or torn when pulling the board or when checking it on an airplane.
I found it a little heavy to carry on my back for too far of a distance (with the Explorer inside) so the wheels make it convenient to take anywhere.
However if you do choose to carry it on your shoulders there are adjustable shoulder straps and also a waist strap that really helps for support.
The front of the bag has a large zippered pocket that fits the pump, the fin and the repair kit.
The main zipper opens all the way up so you can easily place the board in the bag and it also holds a travel paddle.
Explorer Performance
Overall the performance is good. It doesn't necessarily excel in any which way but we still love paddling it.
This is our go-to board when we want to bring out both dogs on one board.  Darryl also loves using the Explorer in choppy ocean water as it feels very secure and stable.
Unless you are looking for more speed I think the majority of people would be very happy with it.
It is designed to help you feel stable and secure and it is quite versatile and fun to use.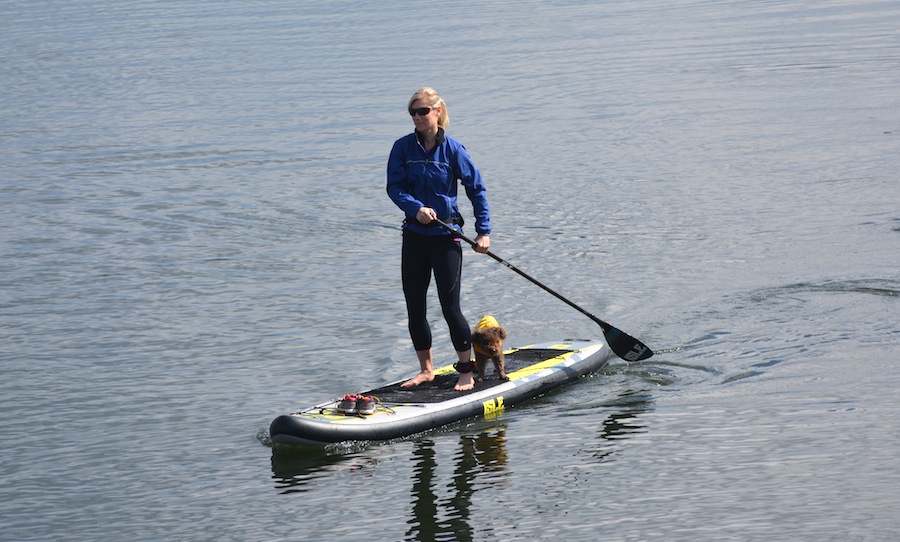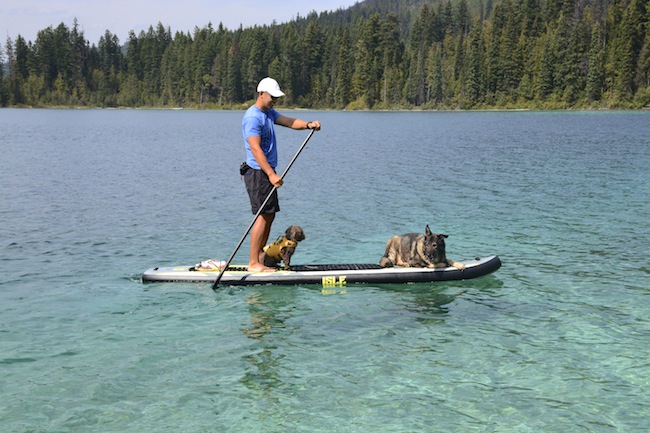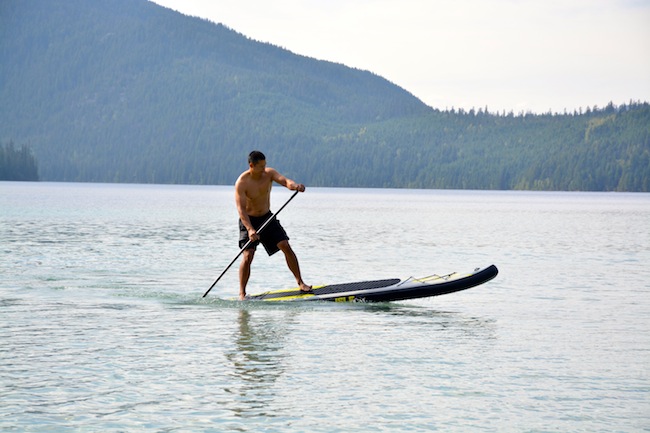 The Negative
There were not a lot of negatives with this ISUP… At least not many that really matter.
A couple more D-rings would be nice to have but are not critical.
It can feel a little sluggish in the water especially when loaded with lots of weight.  The stability that it offers does compromise the speed and maneuverability some.
However being the fastest on the water is not always that important and overall the Explorer is a nice ride.
More Pics Of The Isle Explorer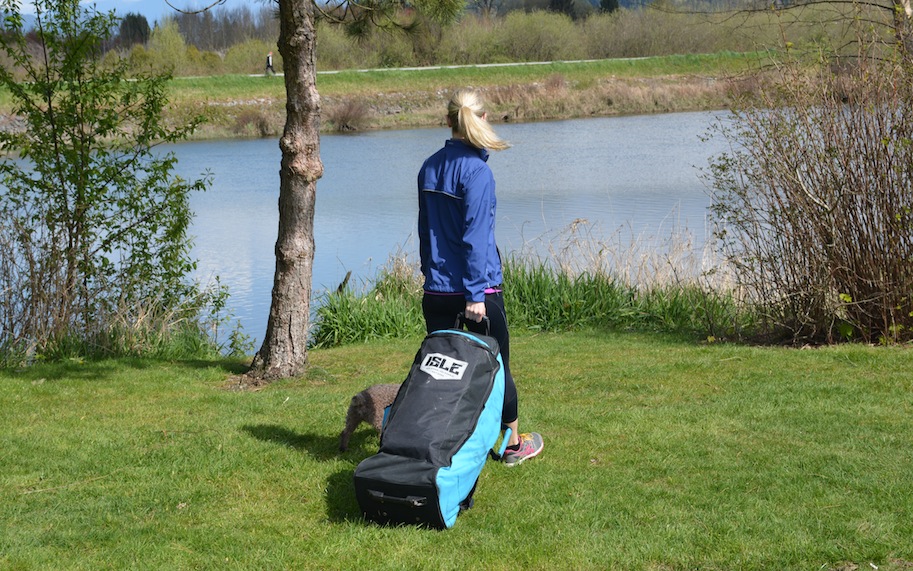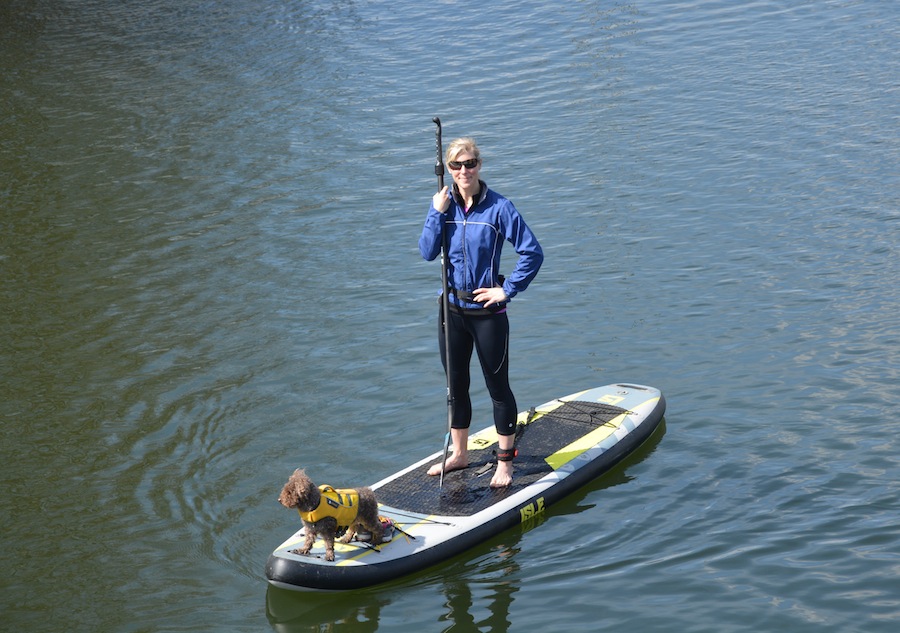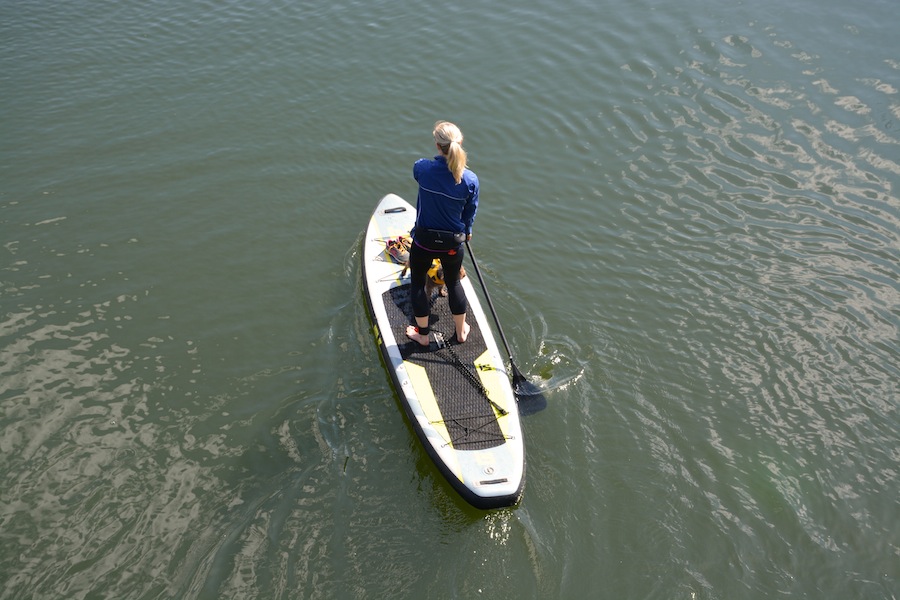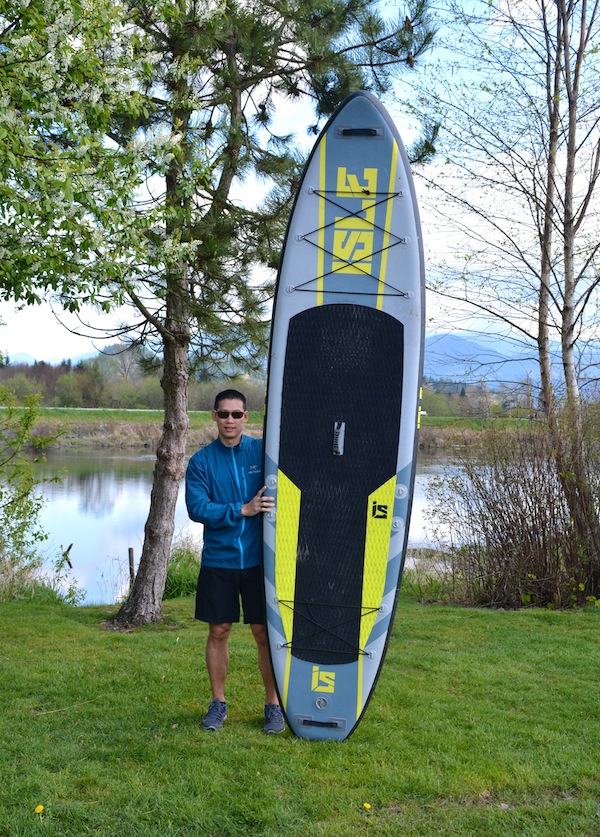 Where To Buy The Isle Explorer Inflatable SUP
There is a new and improved model for the Isle Explorer now available at Amazon called the Isle Airtech 11′ Explorer inflatable SUP.  This new board comes with a 3-piece paddle, a backpack, a hand pump, a repair kit and fins.
We have been using this paddle board for roughly 2 years now and have had no issues.  For the price, it is a great buy.
It can withstand a lot of abuse and Isle backs up their commitment to quality with a great 2-year warranty against factory defects.
Click Here For Current Prices On The 11′ Isle Explorer Inflatable SUP At Amazon.com.
Did You Know?
By clicking on the above seller link you can help keep ISUPworld.com growing. When you make a purchase after clicking on our links, the retailer will contribute a portion of the sale to help support this site. It won't cost you anything extra and it's a simple way to help us fund our gear reviews. Thanks!