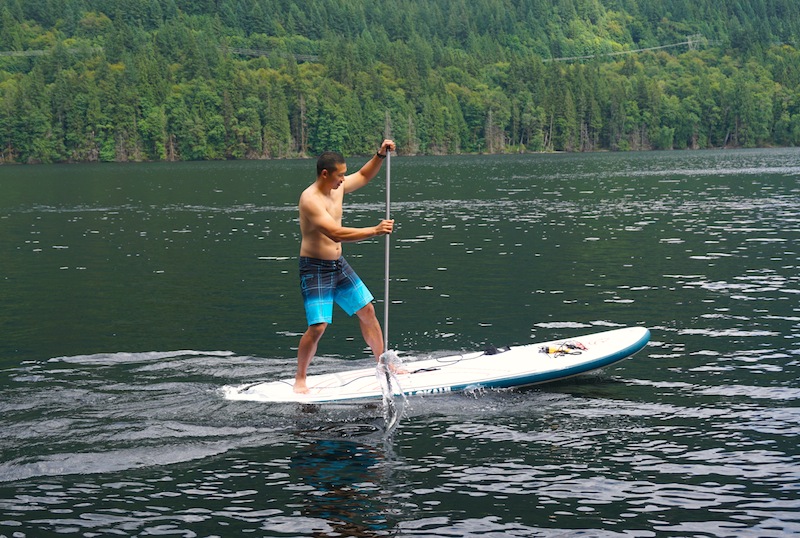 Lokahi Boards has more than 20 years experience in the surfing world and has now designed a very nice series of inflatable stand-up paddle boards.
The Lokahi WE (Water Explorer) inflatable SUP has four different sizes to choose from to meet a variety of different needs.
For our review we tested the 10'6" Lokahi WE.  We found this board to be an interesting mix of stability and quick maneuverability.
It is a fairly versatile paddle board that can be easily paddled by anyone, old or young, beginner to advanced and excels stability wise on flat water as well as on chop and waves.
Specs For The Lokahi WE ISUP
Below are the specs for all the different size options. We reviewed the 10'6" board.
| | | | | | |
| --- | --- | --- | --- | --- | --- |
| Length | Width | Thickness | Weight | Max Weight | Air Pressure |
| | | | | | |
| 9'5" | 31″ | 5″ | 19.8 lbs. | | 15 PSI |
| 10′ | 33″ | 5″ | 20 lbs. | | 15 PSI |
| 10'6" | 33″ | 5″ | 22 lbs. | 250+ lbs. | 15 PSI |
| 12'6" | 30″ | 6″ | 22 lbs. | | 15 PSI |
Material: PVC drop stitch with additional PVC stringer
Best Suited For: Cruising on flat water or ocean surf, yoga/fitness
Pros: Stable, nice classic design, bungee cords for securing gear, 6 D-rings, good backpack carry bag, very responsive and quick to maneuver, lots of room on board because of the wider width, good US box fin, kick tail
Cons: Slower, feet get wet (depending on your weight)
More In-Depth Info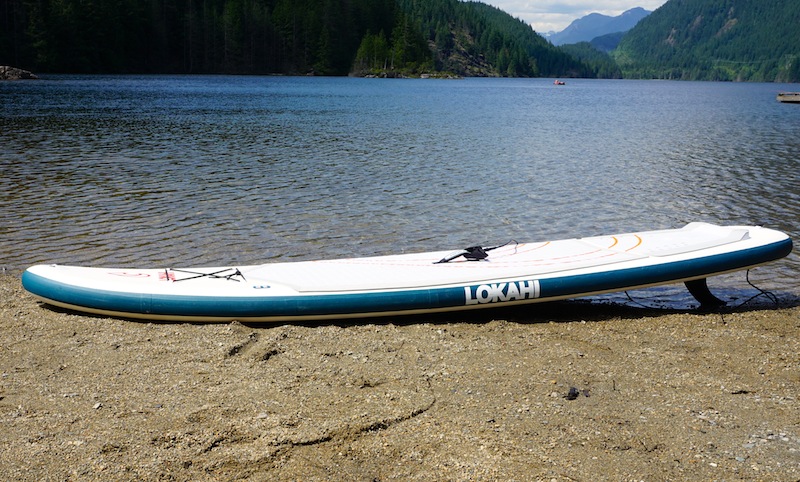 This ISUP is a lot of fun and we have enjoyed reviewing it.
The 33" width makes this board very stable and I think just about anyone could feel quite secure on it.
Even though it is only 10'6" long it feels like there is a lot of room on this board while paddling. You could easily pile it up with gear for fishing or exploring.
We found it very comfortable for one person but it also easily handled one rider and two dogs. The paddling was a little slower but it still felt secure loaded up with 300 lbs.
I think the 10'6" WE would be great for bringing out a kid or two with you as well.  It would hold up well as a family SUP.
It is versatile enough to handle many different situations and types of waterways.
Important Features
D-rings – There are 6 D-rings. One is located at the tip of the nose that is ideal for towing, one at the back tail for securing your SUP leash, and 4 are being used by the bungee cords up front.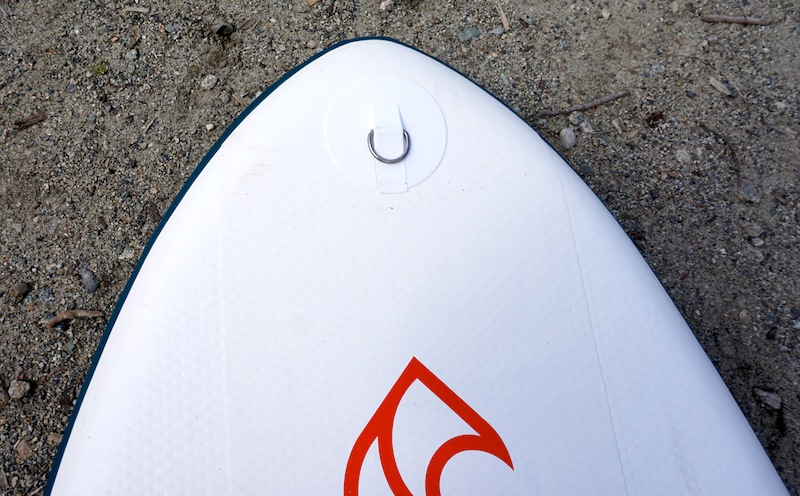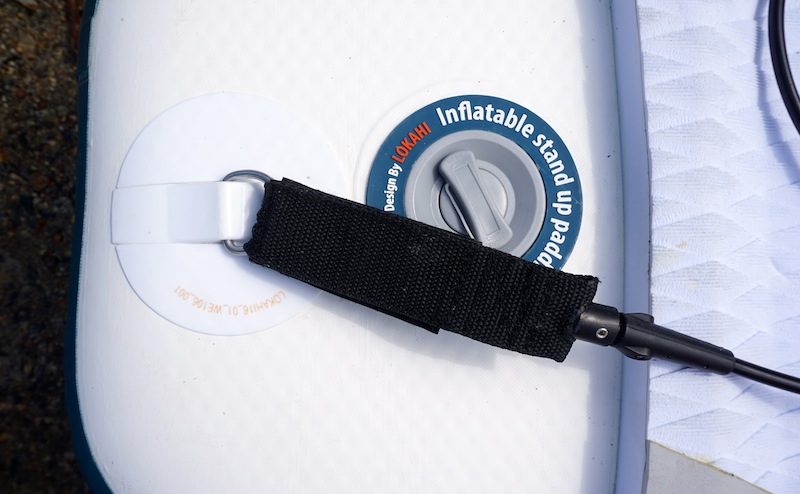 Traction Pad – The traction pad is a good size providing lots of room to maneuver and be comfortable.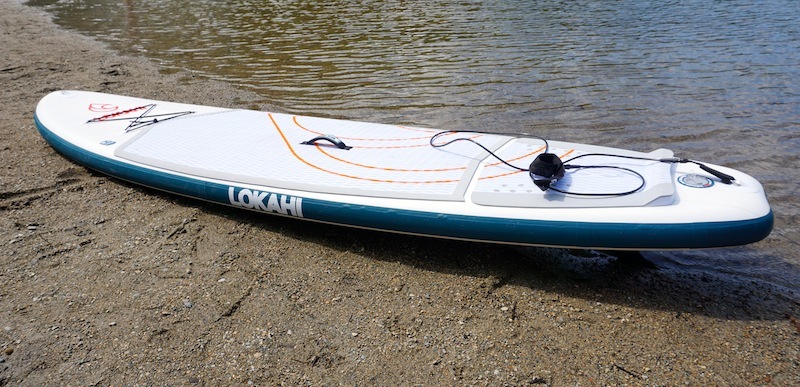 Kick Tail – There is a little kick tail at the back end of the traction pad at the tail of the board that is handy for doing pivot turns.  The kick tail helps your foot not to slide off the board.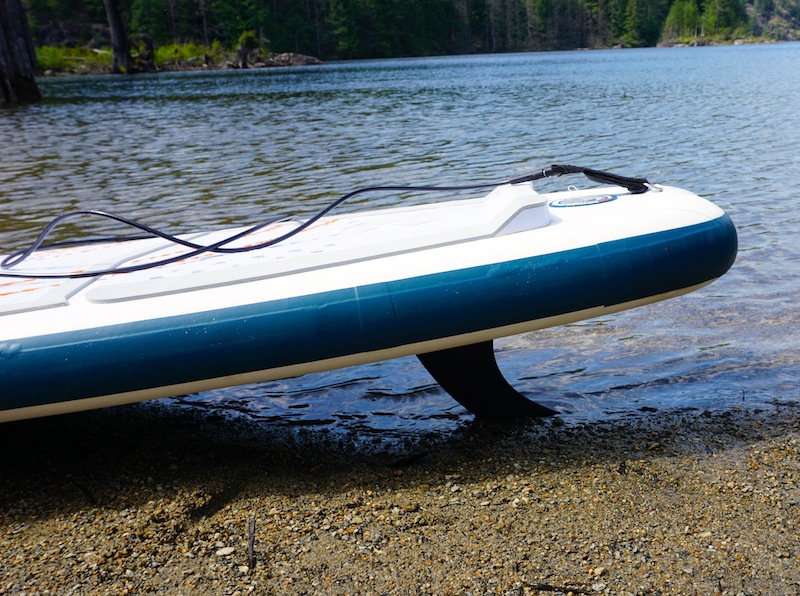 Bungee Cords – The bungee system at the front of the paddle board is great for securing your gear and essentials.
The bungee system is large enough to fit a small dry bag, your water bottle and a few smaller accessories.
Fins – There is one removable US box style fin.  This type of fin has to be screwed in so there are a couple little bolts you don't want to lose.
However the advantage of this type of fin is that you can customize it and change it to a different one if you ever wanted to.
The fin that is included in the package is perfect for touring and once secured it is very solid.
You can paddle without the fin if you are in shallow water however it makes a big difference in the tracking when it is attached.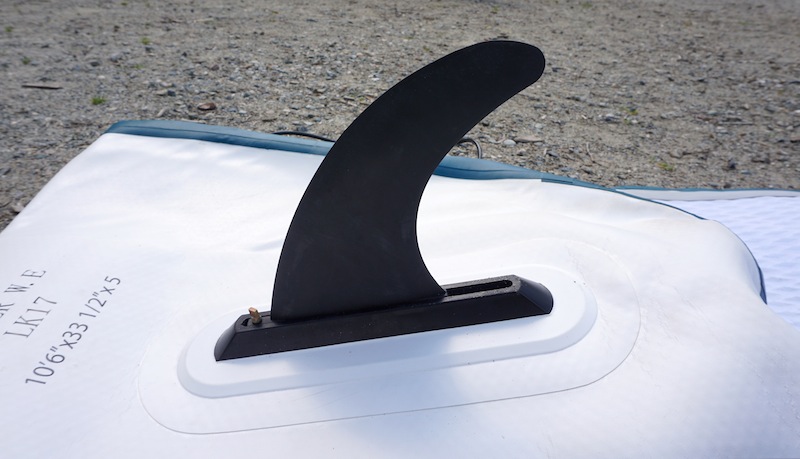 Carry Handle – The carry handle is made of strong nylon. It is a standard handle and feels solid and strong.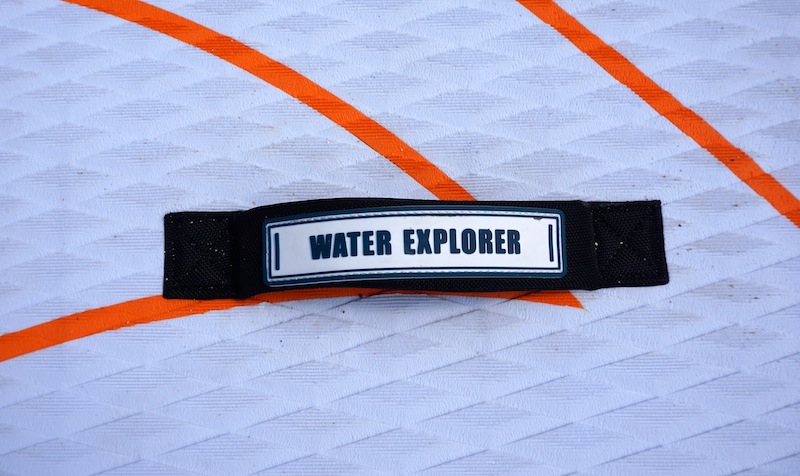 Backpack – The backpack is basic but very functional.
It has a full front zipper making it super easy to get the board in and out.
The padded shoulder straps are adjustable and there is also a waist strap for added support.
The handles are easy to grip and there are enough side clips to cinch the bag into a compact package.  The side clips can also be used to secure your paddle.
This bag has one main compartment that is large enough to fit the board and the pump.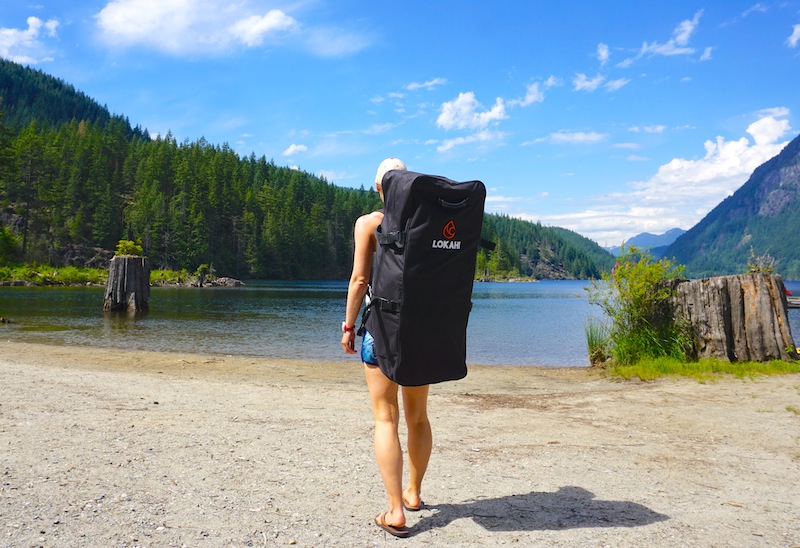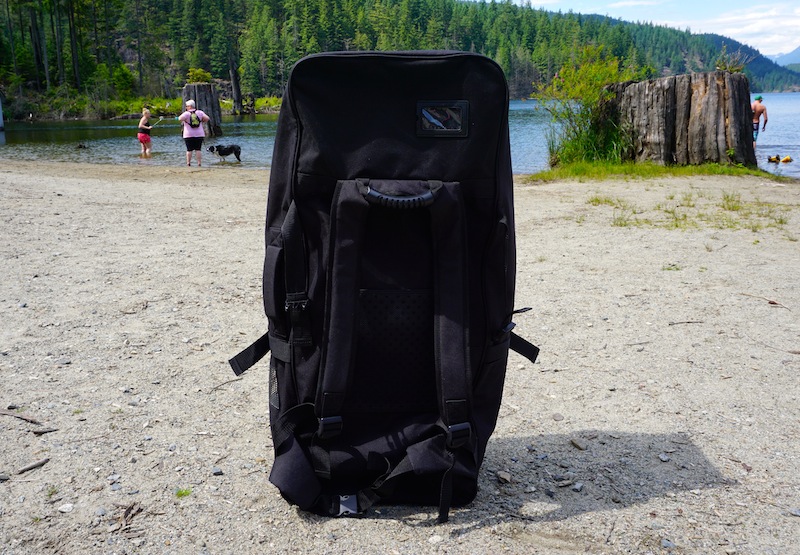 Pump – The hand pump that comes with the package is a good one.
It is a dual stage pump and we found we could inflate the board in 5 minutes. I am normally not a huge fan of hand pumps – I much prefer using an electric pump.
However I have to say this one made the job easier than normal.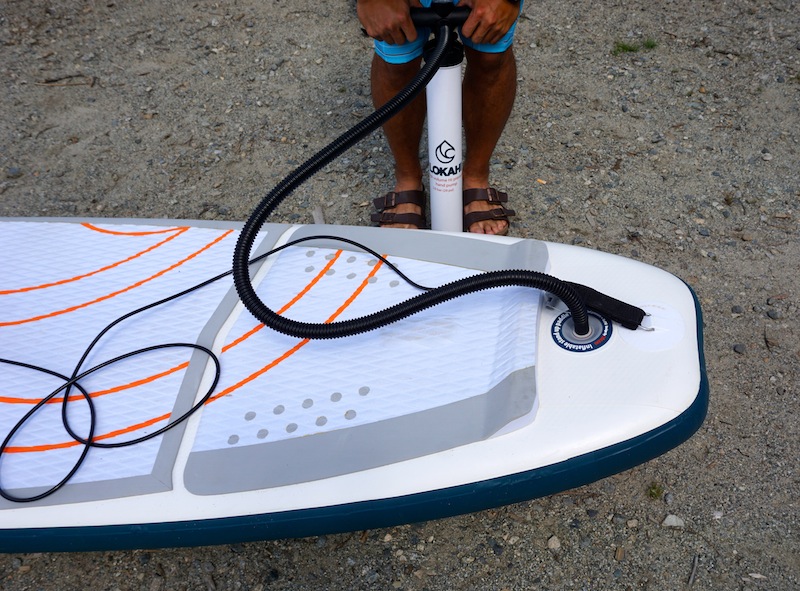 Design
We really thought (and had several friends agree) that the Lokahi Water Explorer is a really classy looking ISUP.
The colors and design have a classic feel to them and I personally really like the look of it.
The lighter colour will show dirt and marks easier than others but I find that a good boat cleaner will get the majority of stains off my boards.
Lokahi WE Setup
Setup is fast and easy. Take the board out of the backpack, unroll, push in the valve tip and twist so that it is in the 'up' position then inflate with the hand pump.
The fin can be attached either before or after inflation.
The whole process took us roughly 8 minutes and about the same to pack up when we were done.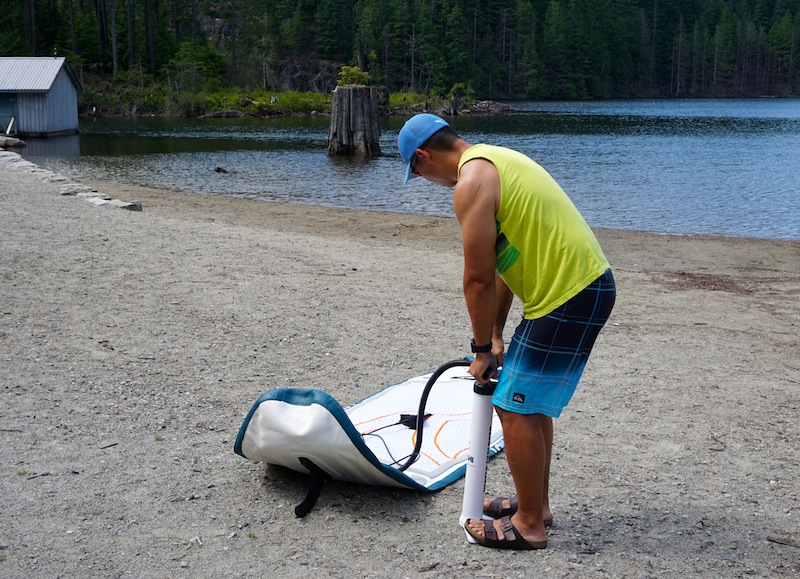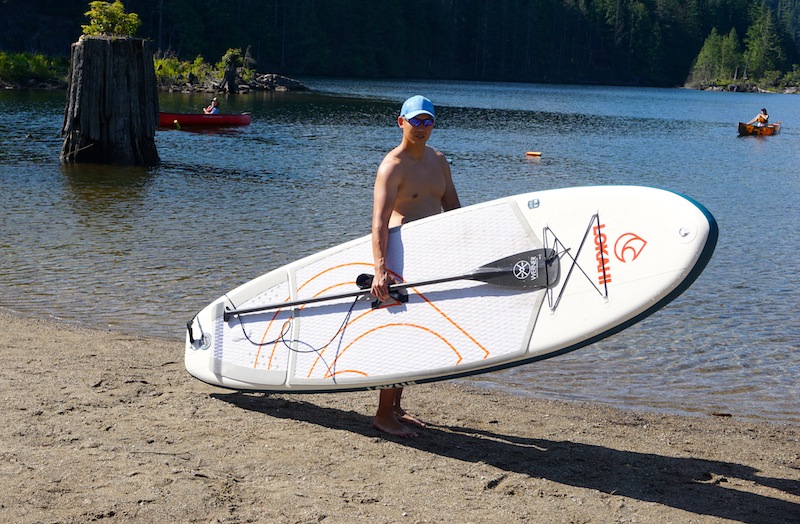 Lokahi Water Explorer Performance
The wider frame will help you to feel quite secure. There is lots of room to pile it up with gear or bring along the dogs.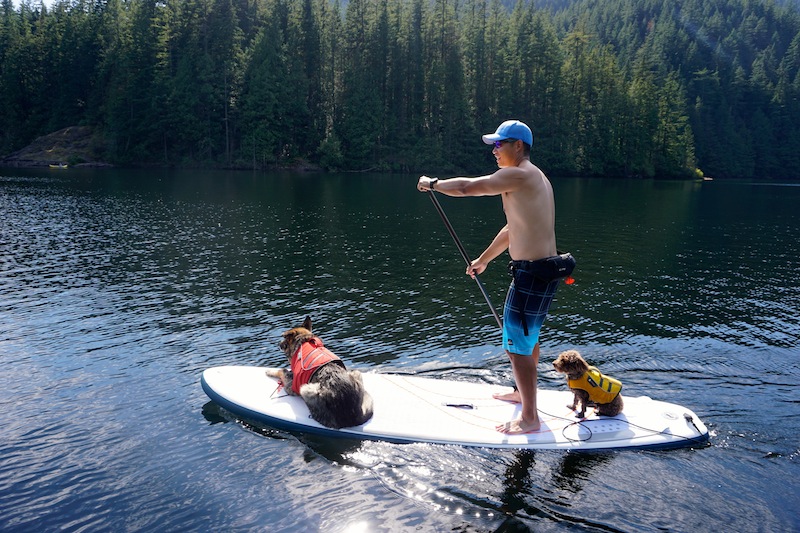 The shape is unique in that it is definitely a wider board however the wide tail and the 5" thickness – as opposed to 6" thick as we often see with other inflatable SUP's – makes it very quick to turn and pivot.
Darryl in particular has been really enjoying practicing his pivots on the 10'6" Lokahi WE.  I wasn't so brave in the cold water.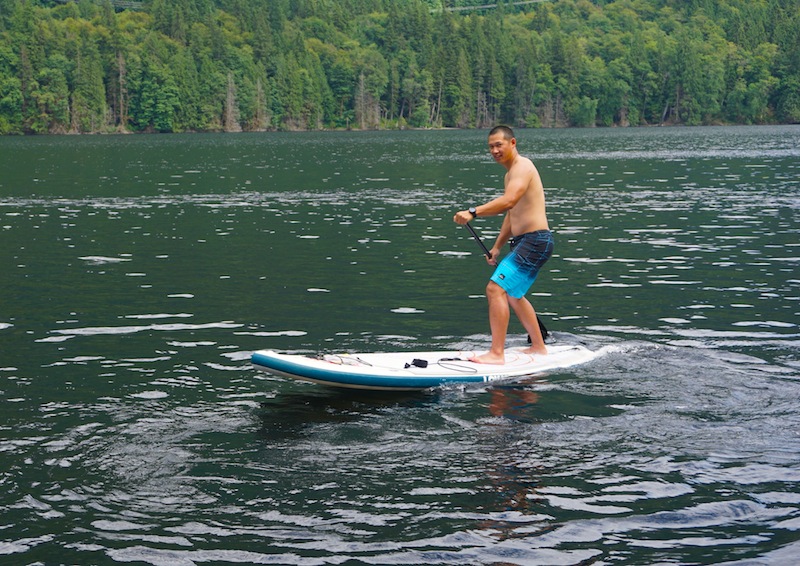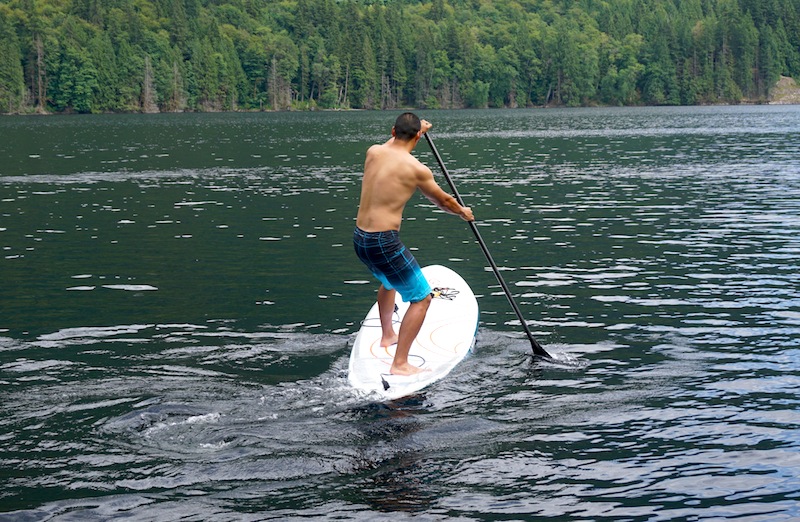 The added stability from the wider width helps you to feel more stable while doing the pivots, while the 5" thickness keeps it feeling super responsive.
The 10'6" model is not fast so don't expect great speed. However it was not designed for speed but instead to be very user friendly and accessible to just about anybody.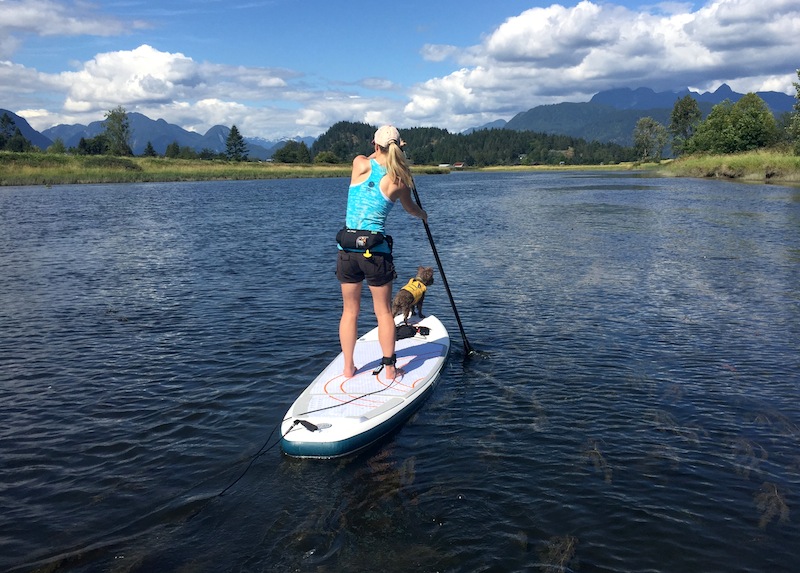 Fitness
We also think that the 10'6″ Water Explorer is ideal as a fitness or yoga board.  It is wide and stable enough to do yoga, stretching or other types of fitness activities.
Yet still light enough to be very compact and portable while still being fun to paddle.
Below Darryl is testing it out with some push-ups.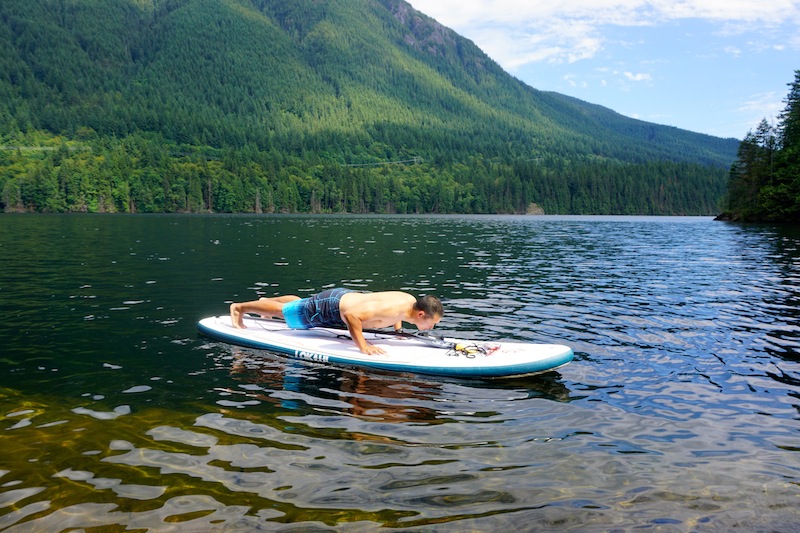 The Negative
The lack of speed is one negative that comes up for us but it is hardly fair to call that a real negative when the board was not designed to be the fastest out there.
The light color of the board will show marks and dirt more than a brighter or darker board but with a little boat cleaner you can keep this stand-up paddle board looking great.
Darryl found that his feet got more wet while paddling the Lokahi because of the 5″ thickness.  With a 6″ thick board your feet are higher off the water.
However I didn't have that issue so you might only notice this if you are 180 lbs. or more.
Wet feet while paddling is not a problem unless the water is very cold.
More Pictures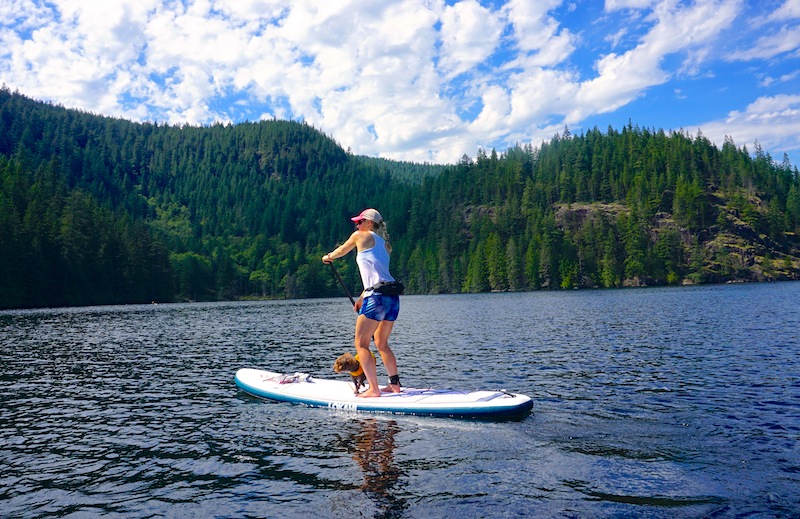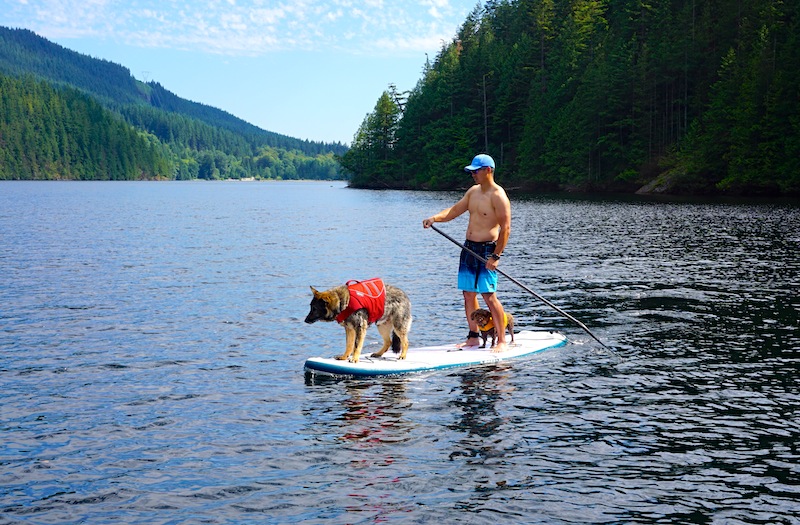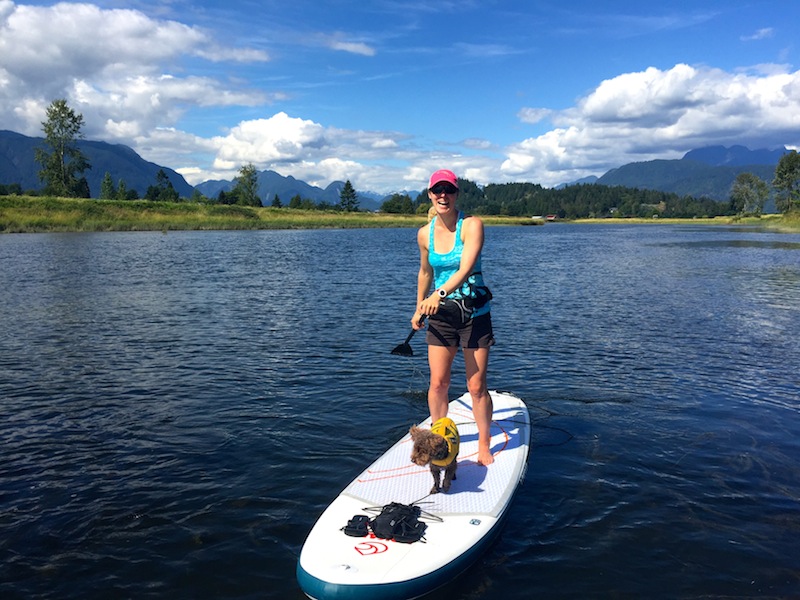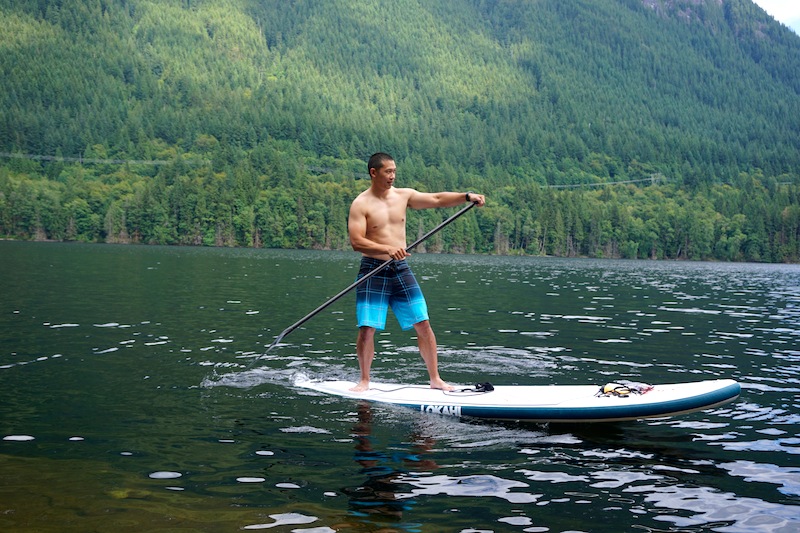 Final Thoughts
This is a classy looking board that is fun to paddle and fairly versatile. It is an ideal family SUP or great for beginners or those who want their board to be able to hold a lot of weight.
We found it ideal for plowing through ocean waves and fun to cruise around on lakes and rivers.
If speed is not a factor and you want a board that can handle a lot of weight and still feel very secure and responsive then the Lokahi 10'6" WE is a great choice.
Where To Buy The Lokahi WE Inflatable SUP
The Lokahi ISUP's are only available in Europe at the moment.
Click here to learn more about the Lokahi Water Explorer from the official Lokahi Boards website.