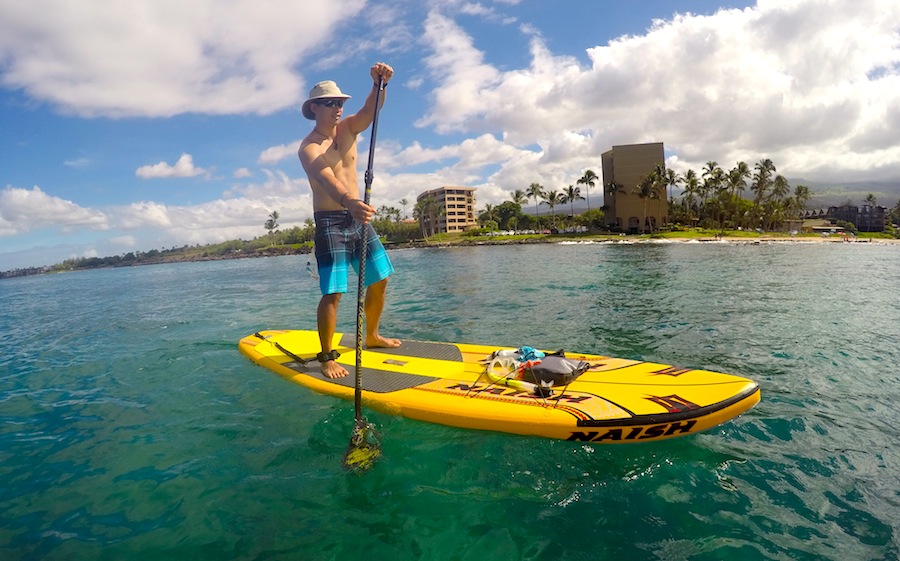 While in Maui this year I was fortunate enough to meet up with the guys at the Naish Maui Pro Center and try out a few of their boards.
The Glide Air was top of my list of of the Naish inflatable stand-up paddle boards that I wanted to try so I was really excited to have the opportunity to test it out.
It is a great looking board. It has a nice shape and design and all the convenient features you would want.
It is a versatile all-around good board for cruising and touring.
The size of the Glide will suit a lot of different people. It is 12' long, 34" wide and 6" thick.
You can expect it to be very stable and to handle quite a bit of weight and still perform well.
For the size of this board I was impressed with how well it cut through the water.
I expected it to be stable and it definitely was. We felt very secure paddling this board on ocean waves and through choppy conditions.
It wasn't super fast but it did glide nicely and lived up to its name.
It felt easy enough to paddle and overall was a lot of fun to ride.  Or even just hang out on in the middle of the ocean and enjoy the warm Maui breeze!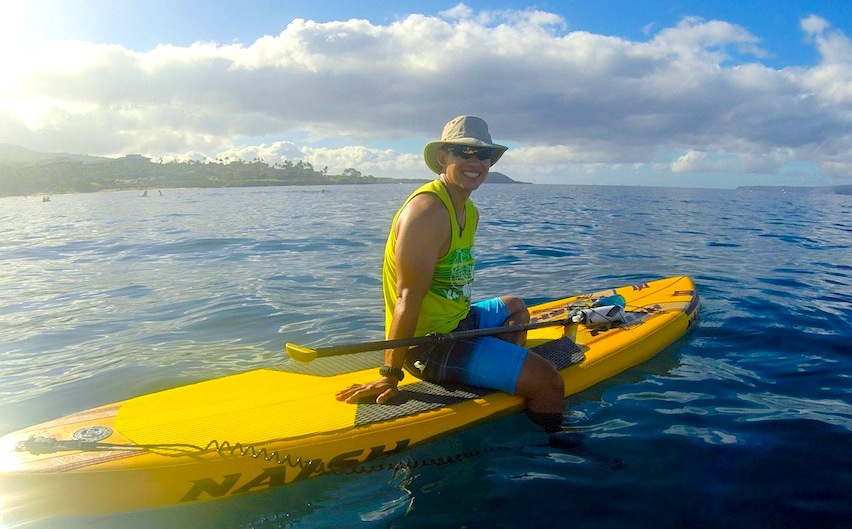 Specs For The Naish Glide Air
12' long
34" wide
6" thick
Weighs 24 lbs.
Can hold up to 230 lbs.
Ideal air pressure: 14 PSI
Material: Durable PVC – dropstitch outer shell, top and bottom PVC, dropstitch space yarn, urethane UV protection, EF polymer rail band
Pros: Stable, glides nicely, good fin helps with tracking, front bungee system for securing gear, fairly lightweight for a board this size, fun to paddle, versatile, great backpack
Cons: Not that fast, extra width and thickness make it less responsive especially when turning – although it is easy enough to maneuver for a board this size.
Where To Buy The Glide Air
Click here for the Naish Glide Air at Amazon.com.
Click here for the Naish Glide Air at GreenWaterSports.com.
More In-Depth Info On The Naish Glide Air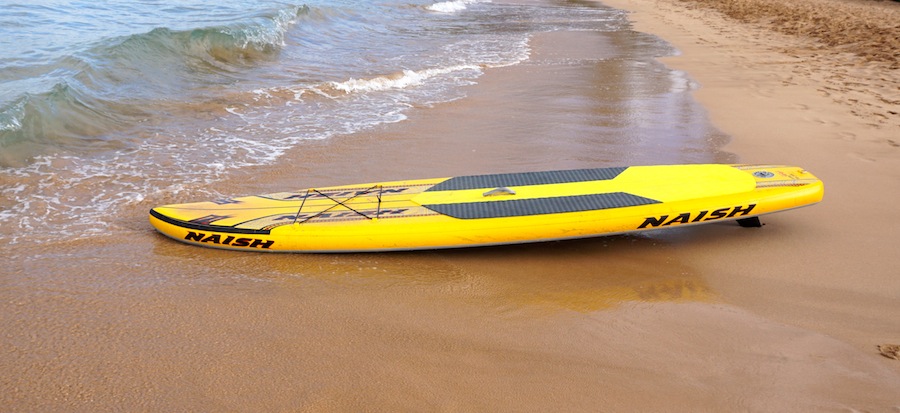 The Glide was designed to be very stable, to be able to hold a fair amount of weight (up to 230 lbs.) and to glide well through the water. I think it delivers in each of these areas.
It is easy to paddle and stable when powering through waves and chop.
Although it is not as easy and quick to maneuver as a leaner board, it does quite well considering its size.
I'm not a very big person and I had no problem paddling it. I took this board out several times for some ocean paddling in Maui and enjoyed every minute of it.
My boyfriend who weighs roughly 180 lbs. really appreciated the extra stability and rigidity it offered. This board is a beast without being clunky or sluggish in the water.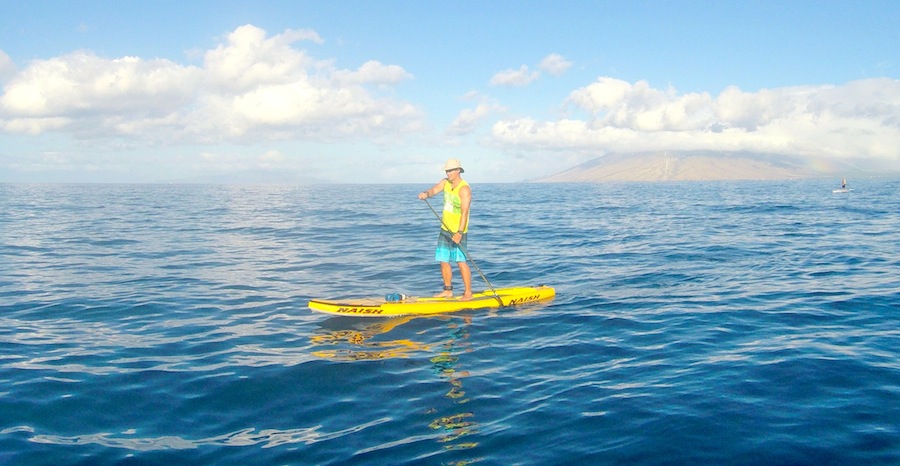 It would be ideal for anyone who wanted a well designed inflatable SUP that could hold quite a bit of weight yet still cut through the water with ease.
It may not be the fastest board out there but it makes up for the lack of speed in many other areas and definitely holds its own amongst other ISUP's of similar size.
Plus I think the Glide looks great. It is a nicely designed board that really stands out.
Glide Air ISUP Important Features
Bungee System – The front bungee system is perfect for storing your gear while you are out cruising around.
It is a decent size and can hold quite a bit of stuff. I usually have my water bottle and a small dry bag secured under the bungee cord.
While paddling in Hawaii I often had my snorkeling gear secured on there as well.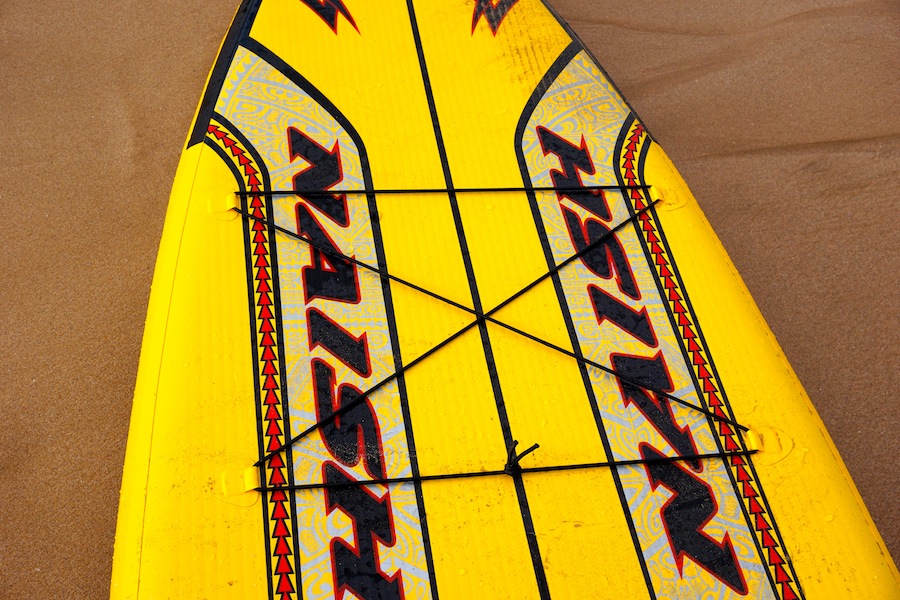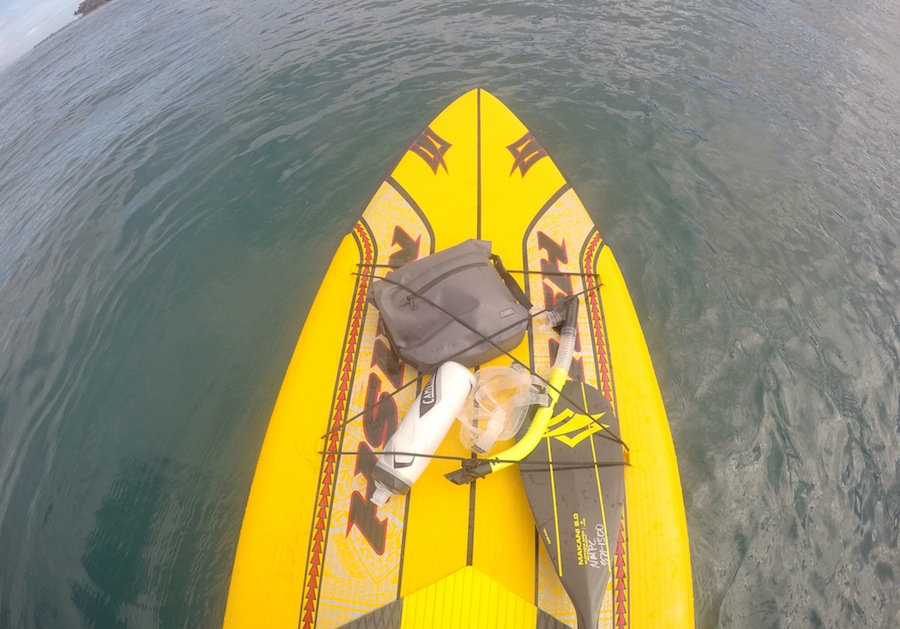 Carry Handle – There is one center carry handle made of strong nylon.
This type of handle is very common on ISUP's. It lays flat so it doesn't get in the way if you are moving around on your board.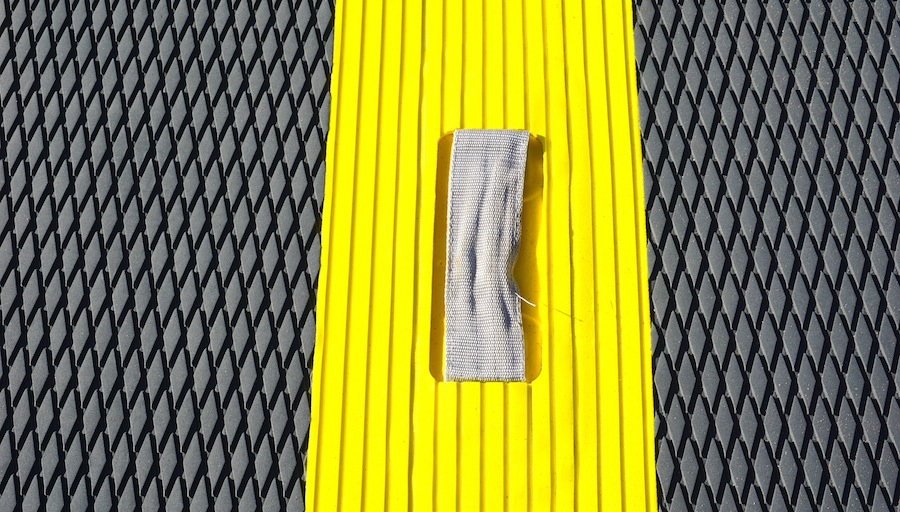 EVA Deck Pad – The deck pad is a decent size and is comfortable to stand or kneel on.
I like the gray paneling on each side of the deck pad for placing your feet.  The rest of the padding is yellow like the board.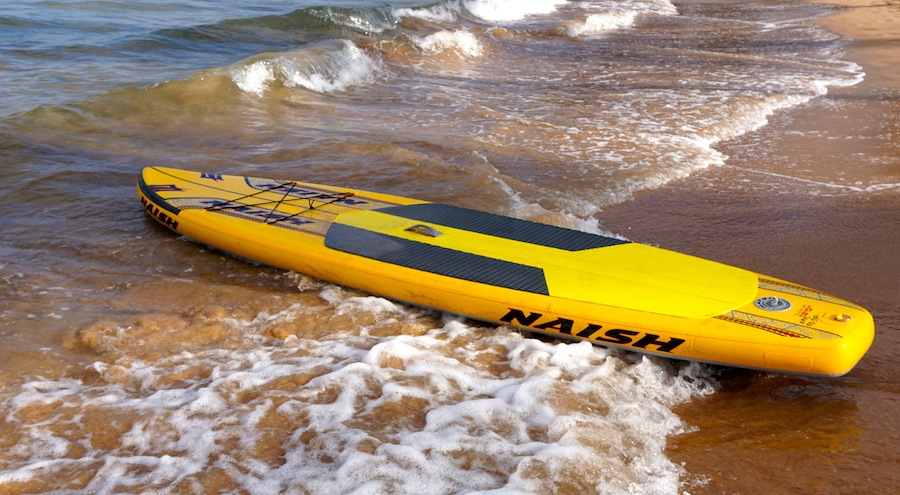 D-rings – There are six D-rings on this board.
There is one metal D-ring at the tail for attaching your SUP leash. There is also one underneath the nose of the board for towing.
Then there are four more plastic D-rings up front that secure the bungee cord.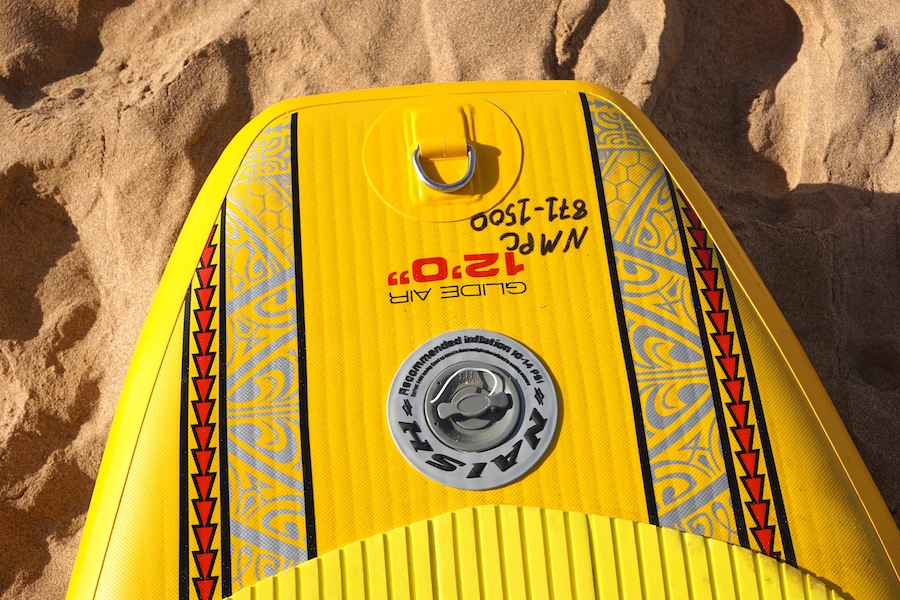 Fin – The fin is a good size for touring.  It is made of hard plastic and feels durable and solid when attached.  It is very easy to secure and can be removed if not needed.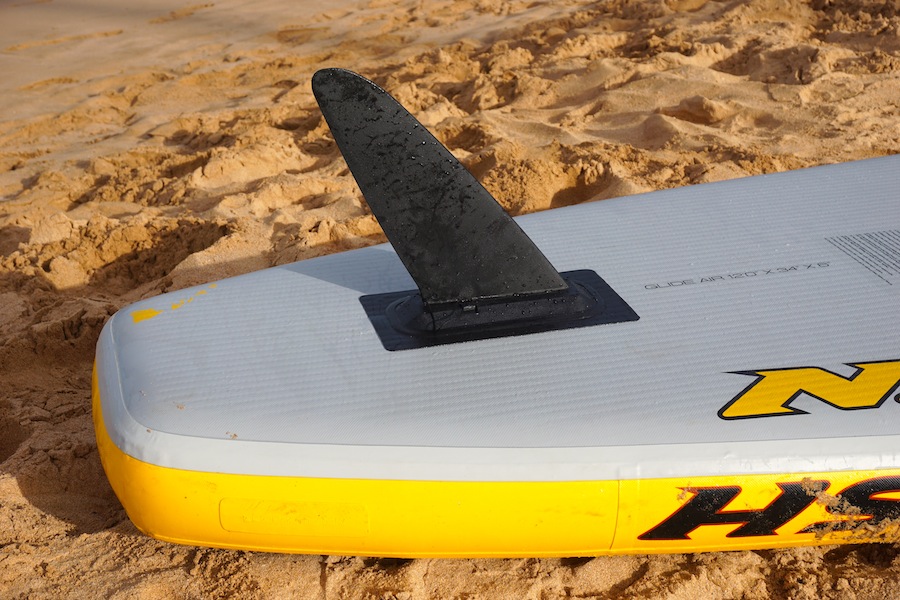 Updated Naish Backpack
Naish has recently updated their ISUP backpack carry bag. This new and improved version is a big upgrade with some really nice and functional features.
The first thing I noticed with this backpack was the size. It is quite big making it really easy to place the rolled up deflated board into the bag.
The size is nice because you can fit a lot in it. It easily holds the board, the pump and the repair kit while still leaving room for some smaller gear.
The downside to the large size is that it feels really big while carrying it on your back.
For me this bag almost went down to the back of my knees when it was on my shoulders.
I carried it to and from the water from my hotel each day in Maui and although it was easily done, I did notice it was a bit of a pain that it was hitting the back of my legs as I walked.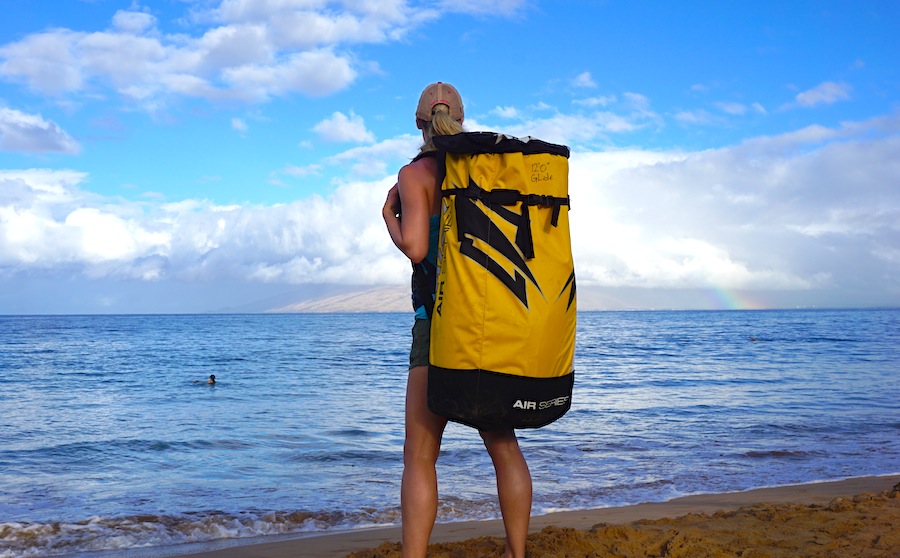 However I wouldn't say it is a big deal unless you plan to really hike somewhere with it. A five minute walk was not a problem.
The other thing I loved about this bag was the fact that it had a couple paddle sleeves. You could put the blade of your paddle into the sleeve then clip the paddle shaft to the bag so you are totally hands-free when carrying it.
This is a very functional feature that I have not seen on other ISUP bags before and I loved it.
This backpack also has an inside zippered mesh pocket under the top part of the bag. The pocket is fairly large and can fit either the fin, or some small essentials. This is another really handy feature.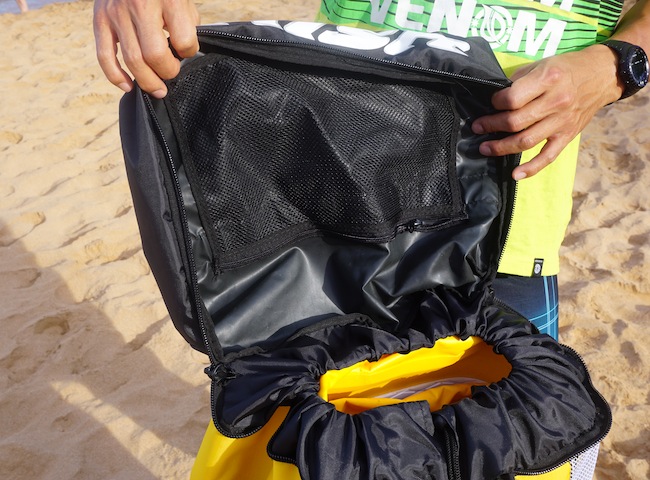 The bag closes tight with a draw cord and then the top 'lid' part of the bag zips right up to keep everything inside secure.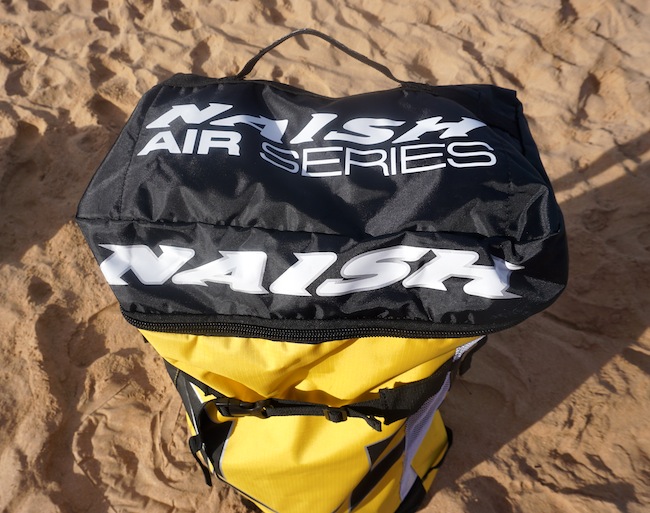 The shoulder straps are comfortable ad adjustable. The chest strap also adds a little extra support.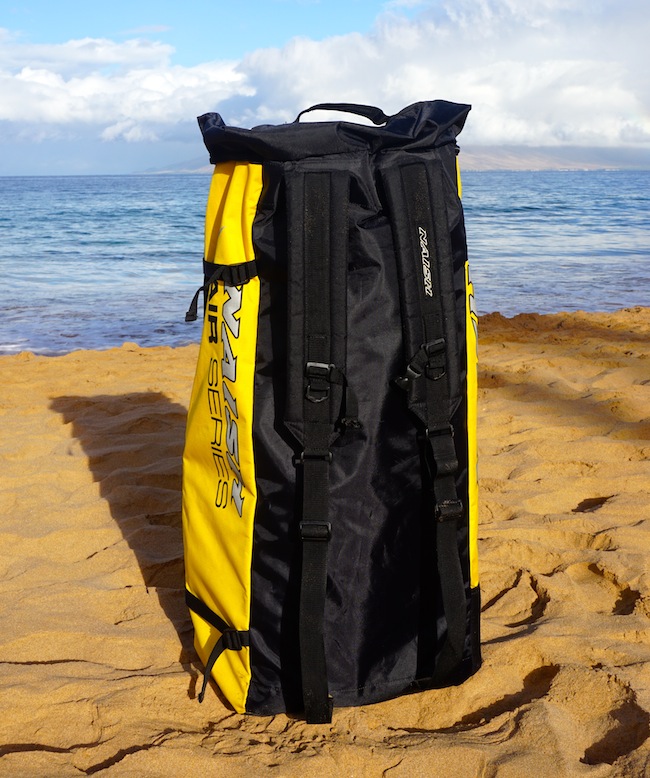 Overall this is a really nice bag. It is big but it is very functional and easy to use.
Glide Air Setup
Setup is really very simple. We inflated this board and deflated it just about each day we were in Hawaii so we got quite used to the setup process.
First take the board out of the bag and unroll it. Then pop the inflation valve up and secure the hand pump.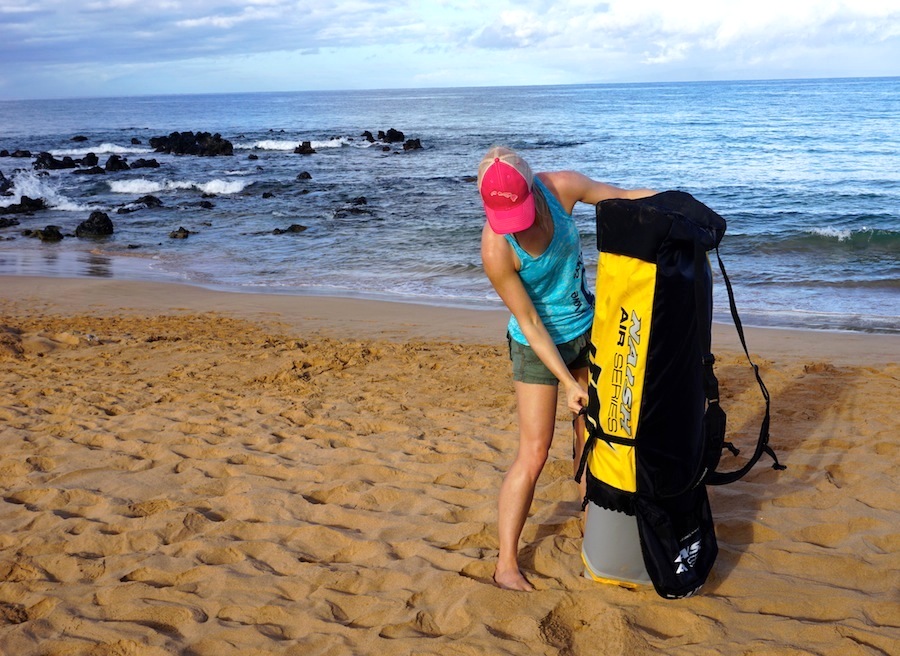 The hand pump works well. I prefer using an electric pump at home with my boards but while on vacation the hand pump had to do.
It took us eight minutes to inflate the Glide Air to 14 PSI. It is not that difficult to inflate but it does take a little effort. We took turns pumping and got the job done quickly. Our eight minutes included a couple quick breaks.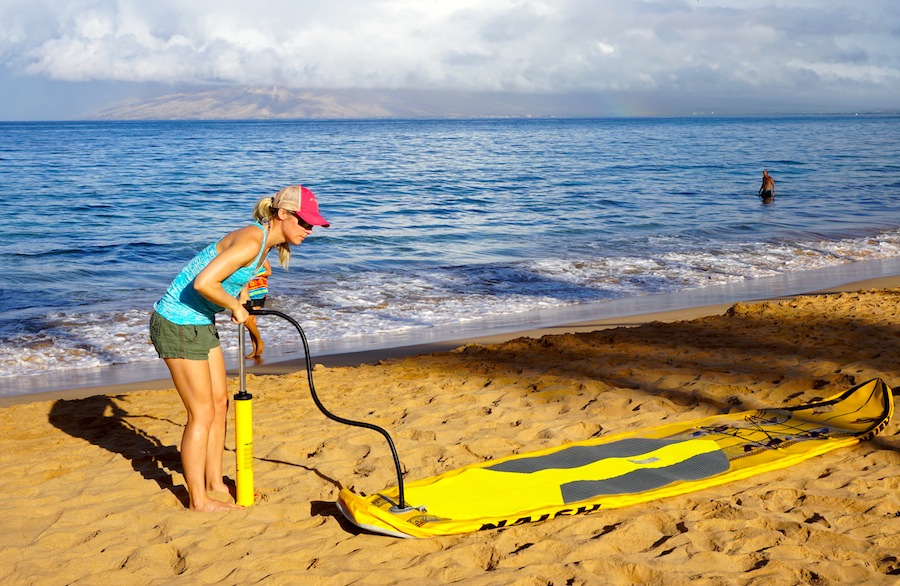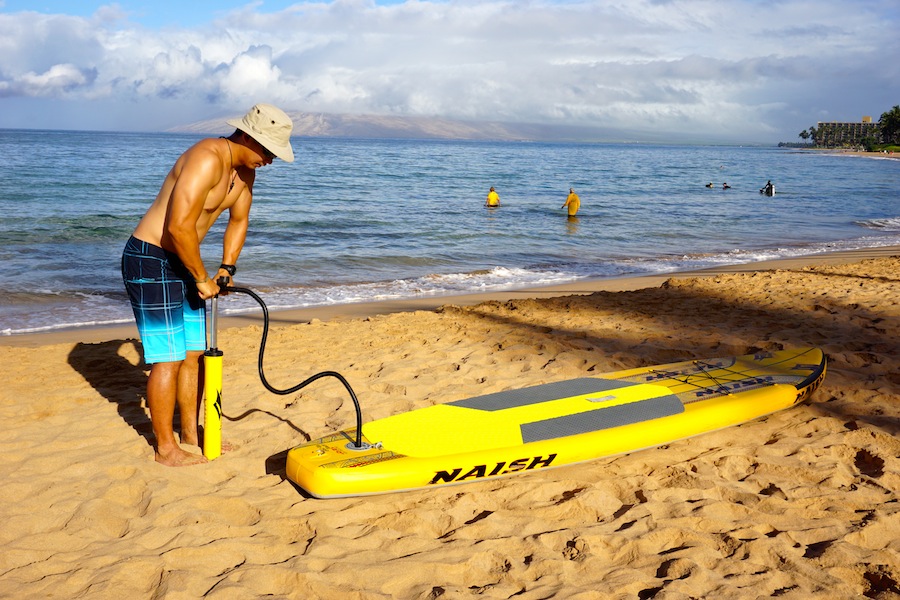 Once inflated you can attach the fin. The fin slides into the fin box and secures with a clip. Once attached it is very strong. It only takes a couple seconds to attach the fin, it is really easy.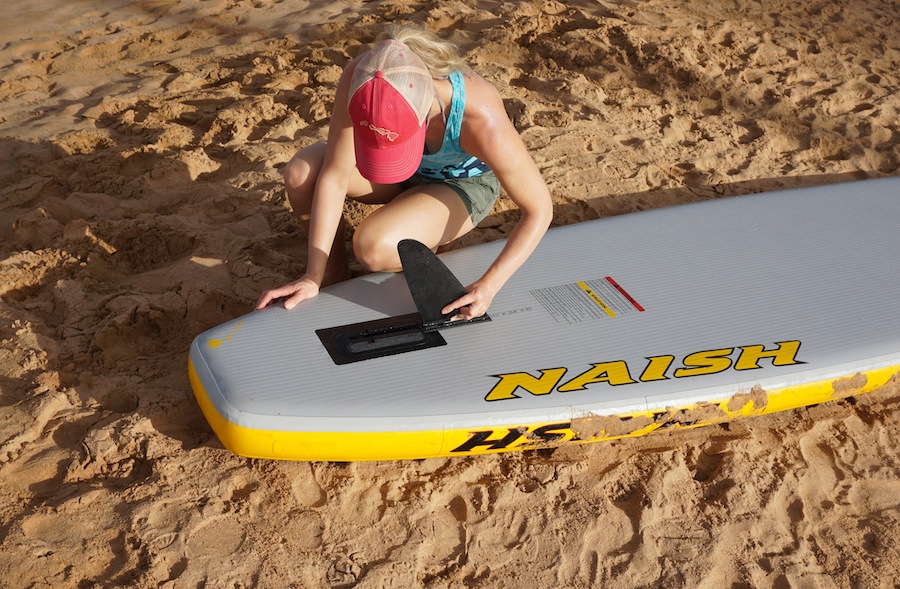 Then you're ready to go. After a fun day of paddling, rinse it with clean water (if you have been in the ocean), dry it off with a towel, push in the valve and twist to deflate then roll it up.
Storing it back into the large backpack is a snap.
The whole process is simple and we loved using this board while on vacation.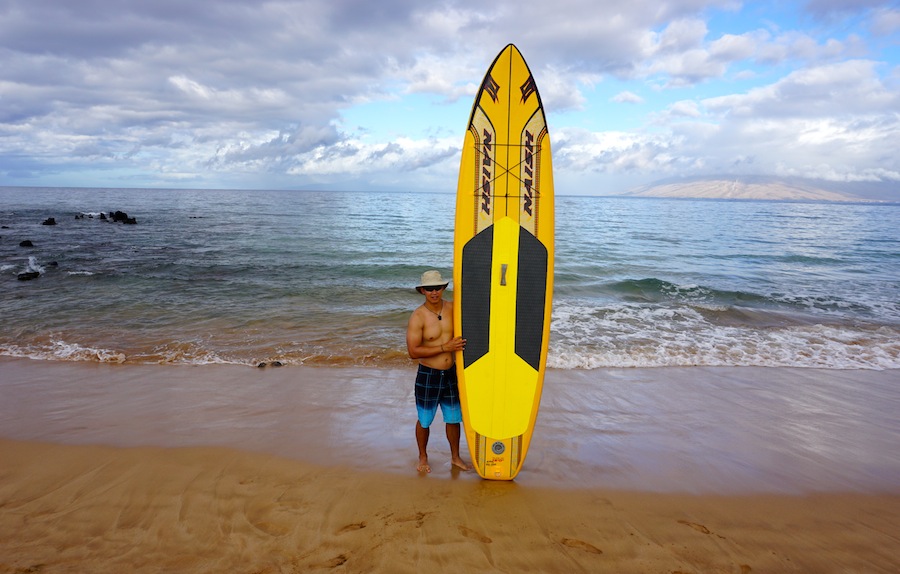 Naish Glide Performance
The Glide Air is not a performance board per say but it does perform well.
It is not the most responsive or the fastest board out there. However it is not designed to be.
The Glide Air is designed to glide through the water well, be able to hold a lot of weight, provide good stability and be easy enough to maneuver.
It delivers in all those areas. It is big and stable and fun to ride.
Although I prefer a slightly smaller board myself I still really enjoyed paddling it and definitely appreciated the rigidity and stability on ocean waves.
I would say anyone could essentially paddle this board from beginners to intermediate paddlers, large or small.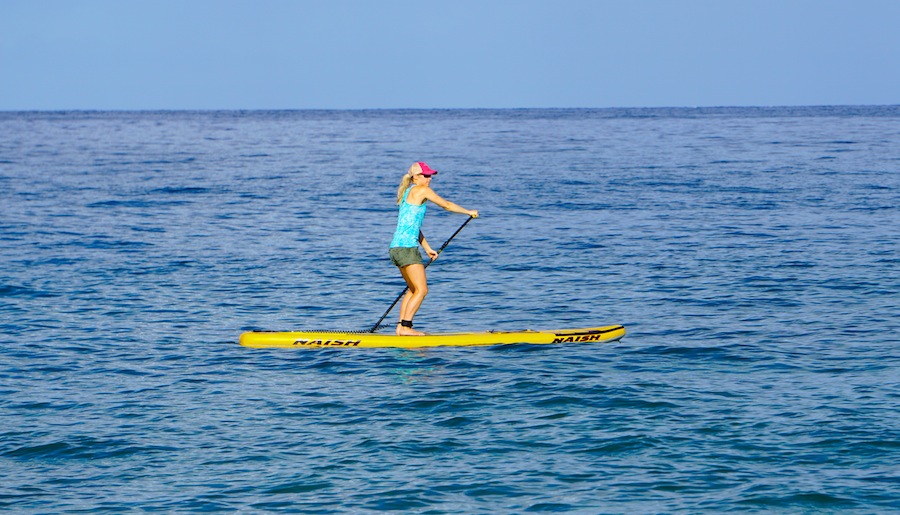 However it is best suited for a larger person, someone who wants to paddle with their dog(s) or even for families who want to all pile onto one board.
It has added volume and a decent tail width that really helps with the overall performance.
I found it really nice to paddle on the ocean. For flat water lakes I would prefer a leaner board that could go a little faster.
That being said, this board does glide well and if you need a board that can hold quite a bit of weight and still remain stable, the Glide Air is a good choice.
The Negatives
I like Naish, their boards are great quality, functional and rarely lacking in any major areas.
The only negative for me with the Glide Air was the fact that it wasn't that fast… And it is hard to really call this a negative because for the size it still moved nicely through the water.
The backpack is a little long and for a smaller person they might find this a bit annoying. However it certainly can hold a lot of stuff and is easy to take the board in and out of.
The price is a little higher but it is not out of the ball park from other boards of similar size and quality.
More Pictures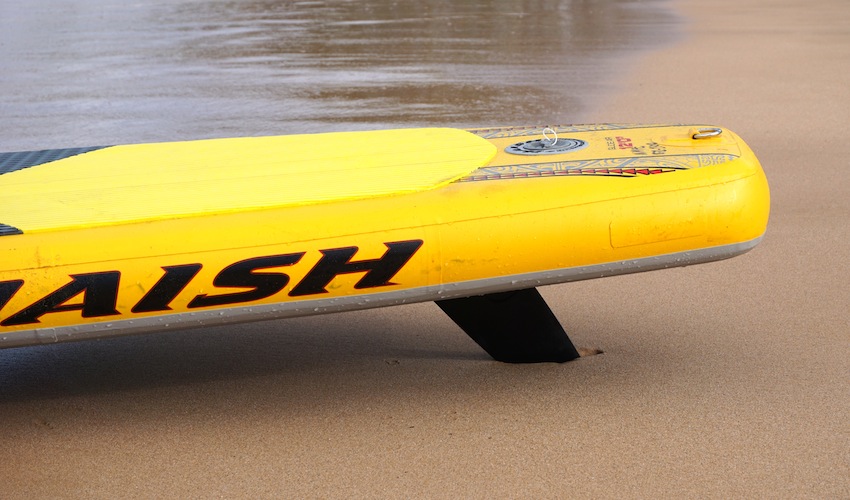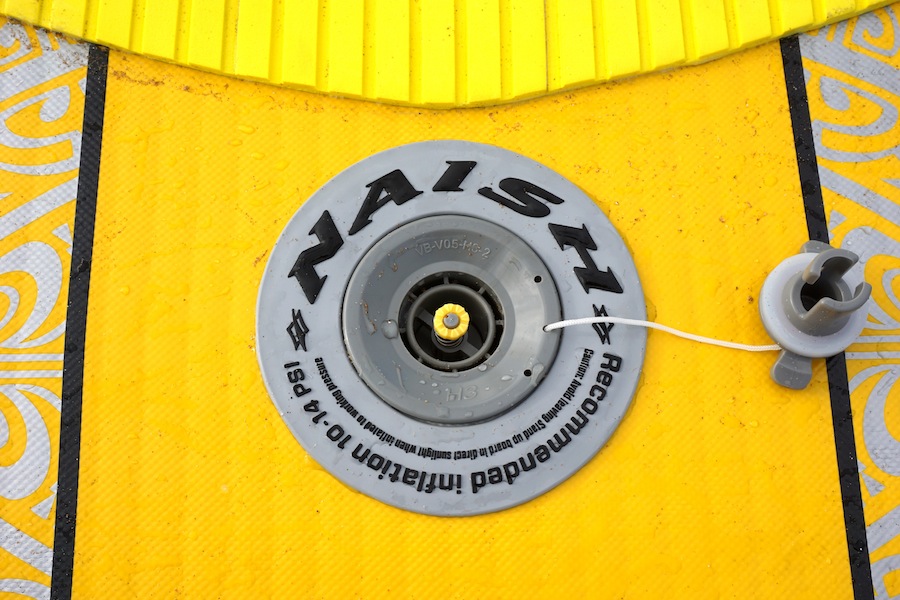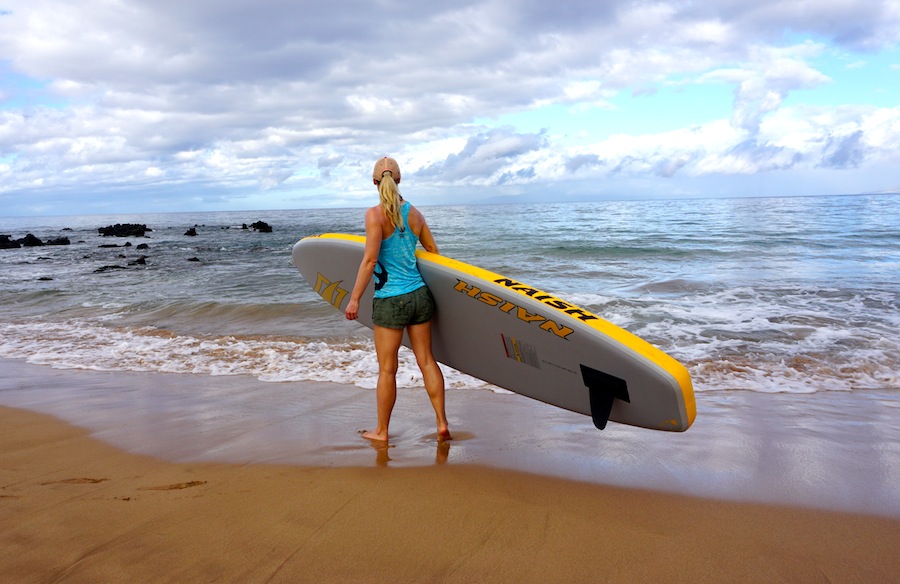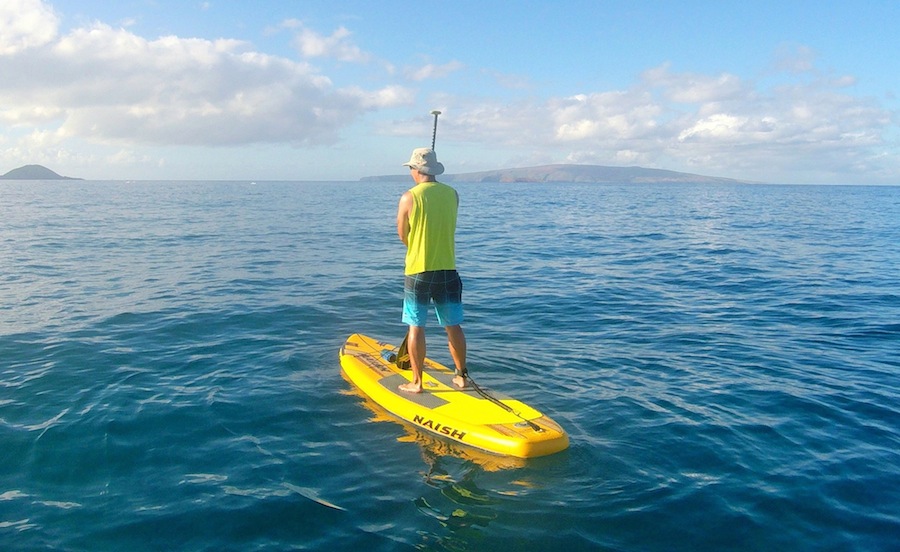 Final Thoughts
Overall I thought the Glide Air was a great board. I thoroughly enjoyed using it and it was perfect for paddling through choppy ocean water.
I like the 12' length. It seems that most inflatable stand-up paddle boards of similar size are either 11' long or 12'6 long.
I enjoyed the 12' length as it seemed like a happy medium. The width of the tail, the pointy nose and the 34" center width seemed to offer a nice balance between stability and performance.
The design looks great, it is fun to paddle and the quality is good. I am sure the Glide Air will be popular with many.
Where To Buy
Click Here For The Naish Glide Air At Amazon.com.
Click Here For The Naish Glide Air At GreenWaterSports.com.
Did You Know?
By clicking on any of the above seller links you can help keep ISUPworld.com growing. When you make a purchase after clicking on our links, the retailer will contribute a portion of the sale to help support this site. It won't cost you anything extra and it's a simple way to help us fund our gear reviews. Thanks!