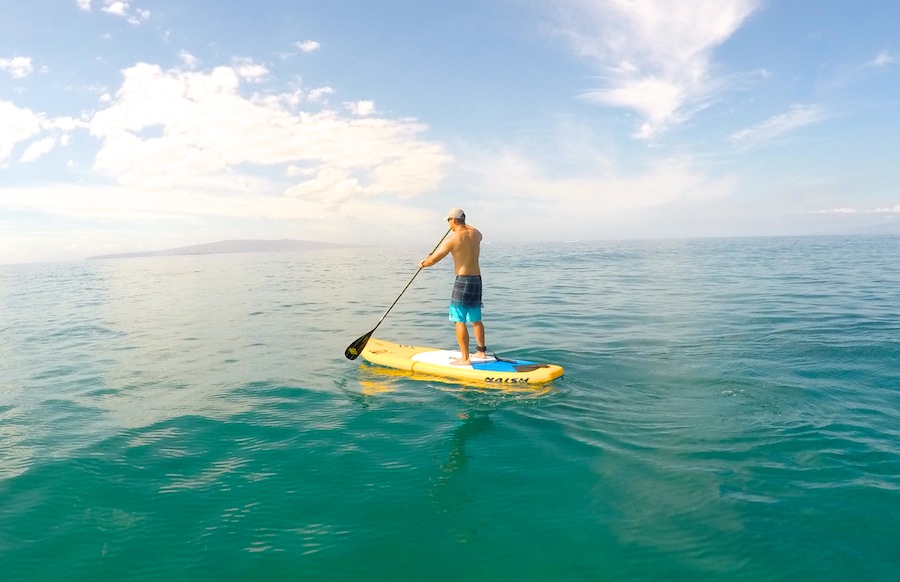 The Mana Air is a very stable and super fun inflatable stand-up paddle board.
I was lucky enough to be able to paddle this board in Maui this year and really enjoyed cruising around in ocean bays and riding waves.
This board is kind of short and squat and you would think it might be a bit of a pain to maneuver while paddling.
However both my boyfriend and I loved paddling the Mana Air. It isn't made for speed but it sure is fun and ideal for riding ocean waves.
We both really appreciated the 34" width and the shorter 9'10" length made it easy to turn and maneuver quickly even in choppy water.
Specs For The Naish Mana Air
9'10" long
34" wide
6" thick
23.8 lbs.
can hold up to 230 lbs.
Material: Dropstitch outer shell, top and bottom PVC, urethane UV protection
Pros: Super stable, easy to maneuver, front bungee cords for securing gear, well made and good quality, dependable and rugged, fun in waves, good amount of D-rings, easy to get on and off
Cons: Not fast, not a huge amount of room for loading up gear, no kick tail
Where To Buy The Mana Air
Click here for the Naish Mana Air At Amazon.com.
More In-Depth Info On The Naish Mana Air
We found the Naish Mana Air easy to move and turn in the waves and it tracks nicely on flat water.
It is responsive when you need to quickly turn into oncoming rollers without feeling like a tank.
It is a shorter board but we didn't find that it felt too small. There is no kick pad at the back which we thought was kind of unfortunate but overall not that big of a deal.
It feels light enough to carry comfortably for a longer trek but not for kilometers worth of hiking.
We were on and off the board a lot and found it stable and easy to pull ourselves back onto it after swimming.
It has a nice solid feel and the deck pad provides good traction.  It is equally comfortable to stand or kneel on.
The board is fast to inflate because of its smaller size. It took us 4min 57 seconds to pump up.
The bright yellow sets it apart and you know it is a Naish board coming at you with the nice accent deck pad with several bold colors.
Also worth mentioning that the Eva deck pad and the fin box are nice and secure… They are adhered to the board well unlike some other boards out there where the adhesive bonding agent sometimes comes loose.
I have seen several times before on cheaper boards when you roll it up the glue looks like it'll separate after a season or two and some abuse but this one felt and looked solid.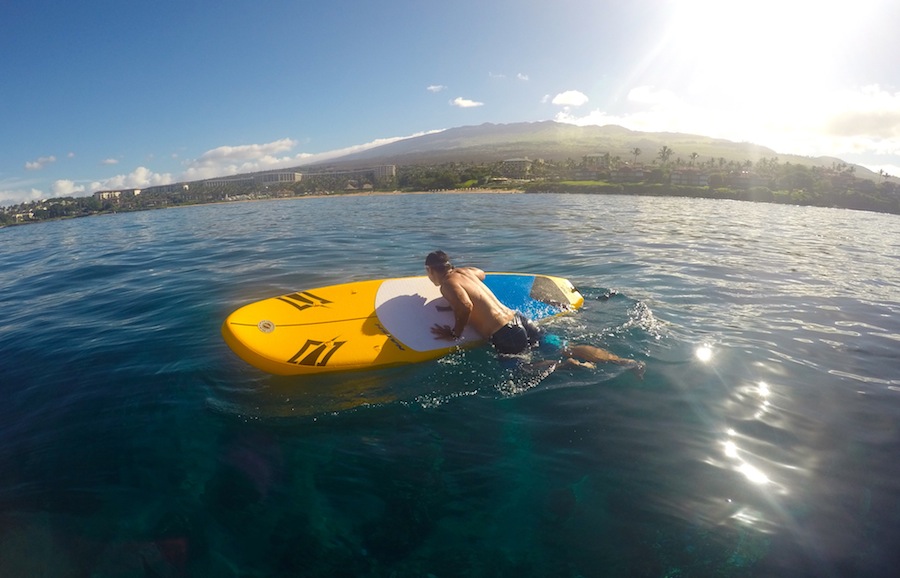 Mana Air ISUP Important Features
EVA deck pad – The EVA deck pad is a nice length and provides good traction.
D-rings – There are 6 D-rings on this board. There is one metal D-ring at the back tail for securing your SUP leash and one more metal D-ring underneath the nose of the board for towing.
Then there are four plastic D-rings up front that secure the bungee cord.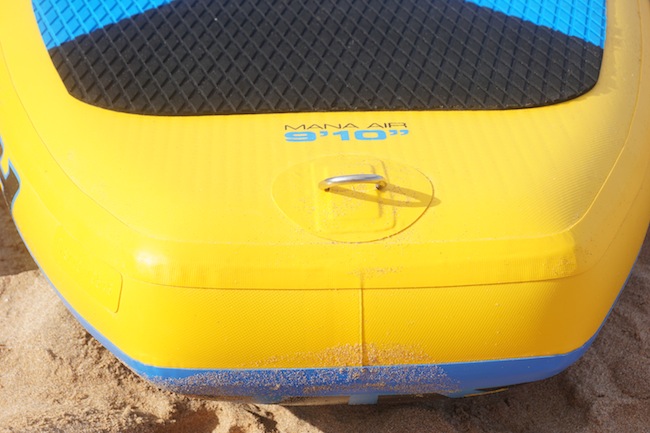 Bungee cord system – The board I tested was missing the bungee cord so you won't see it in my pictures.
However it does actually come with the Mana Air and it is very handy to have.
You can store a small dry bag, your water bottle or any small essentials under the bungee cords.
If you are taking on some decent size waves I would suggest clipping your dry bag to the bungee cords so you don't lose it if your board gets tipped over.
Valve – The valve is a standard Halkey Roberts style valve that you see on most inflatable SUP's.
It works great, push in and twist so the valve pops up to inflate then push in and twist the other way so that it goes down to deflate.
The valve is reliable and does not allow for air leakage.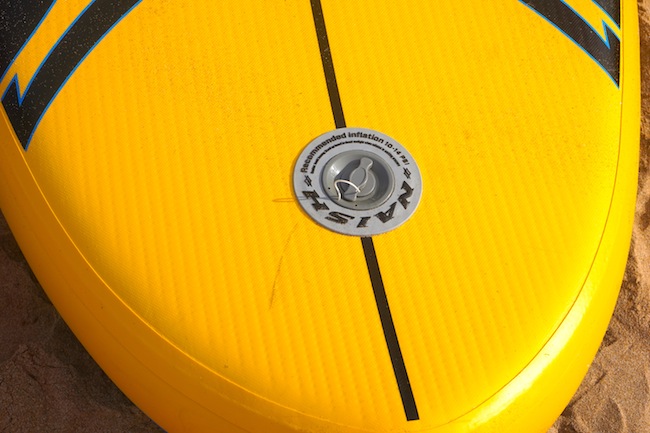 Fins – This board has two small attached side fins and one large removable fin.
The large removable center fin is ideal to use when you need more stability, better tracking and overall better performance in flat water.
The large center fin will make turning quickly in surf harder however so you may choose to remove the center fin when wave riding or when paddling in shallow water.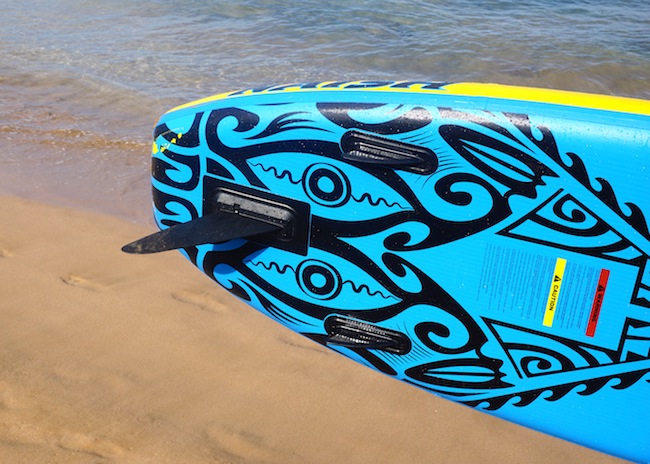 New & Improved Naish Backpack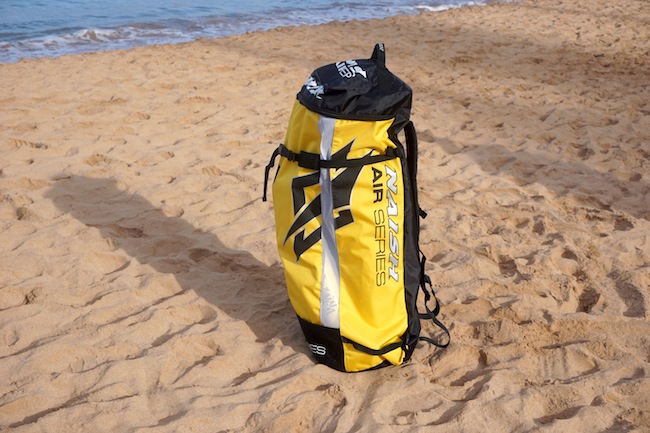 Naish updated their SUP backpack recently and the new version has some great improvements.
For one it is quite large. The large size makes it easy to place the rolled up ISUP into the bag plus store quite a bit of extra gear.
The bag easily holds the board, the pump, the fin, the repair kit, your SUP leash and there is even a paddle pocket on the outside of the bag to store your paddle.
There is an inside mesh zippered pocket underneath the hood of the bag that I found really handy for storing some small essentials.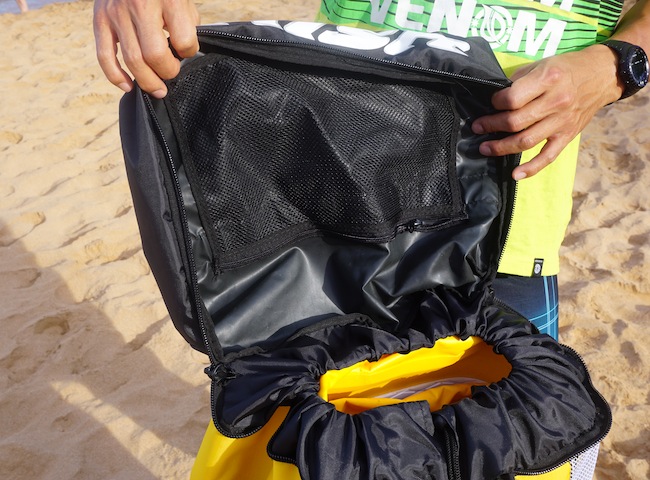 There is a drawstring at the top of the bag to close it up then the hood of the bag also zippers close so that it is totally sealed up. This is great for traveling as nothing can fall out of the bag.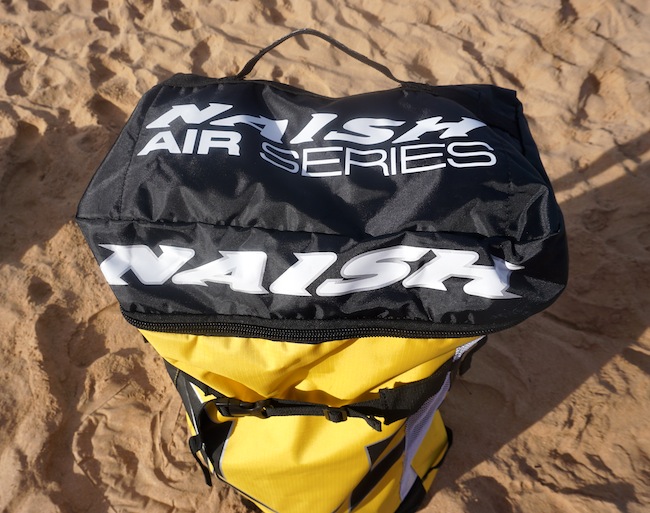 The outside of the bag has several clips and adjustment straps so you can tighten up the whole package.
There is a top carry handle to help when lifting the bag and padded adjustable shoulder straps that are fairly comfortable when carrying.
The chest strap helps with a little added support as well.
We carried this bag all loaded up to and from our hotel while vacationing in Maui several times.
Although we both found the bag quite big to carry, it wasn't hard and we had no problem doing a short 5 minute walk (even uphill) with it.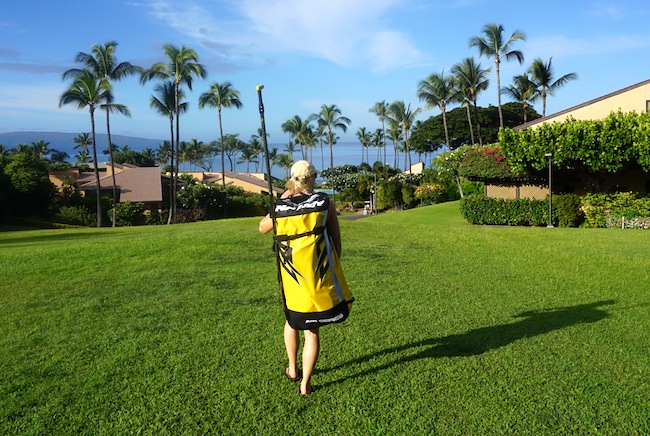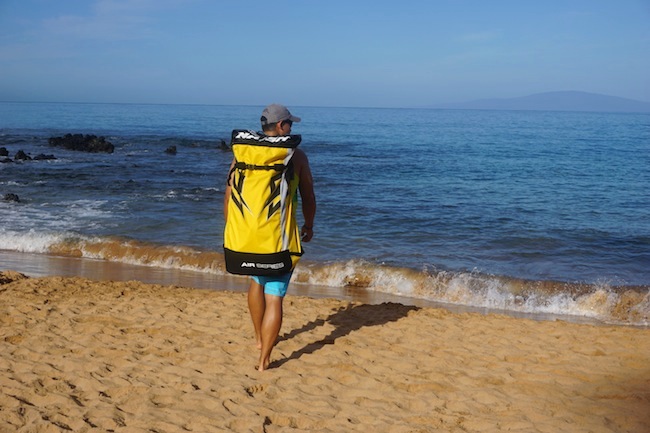 Mana Air Setup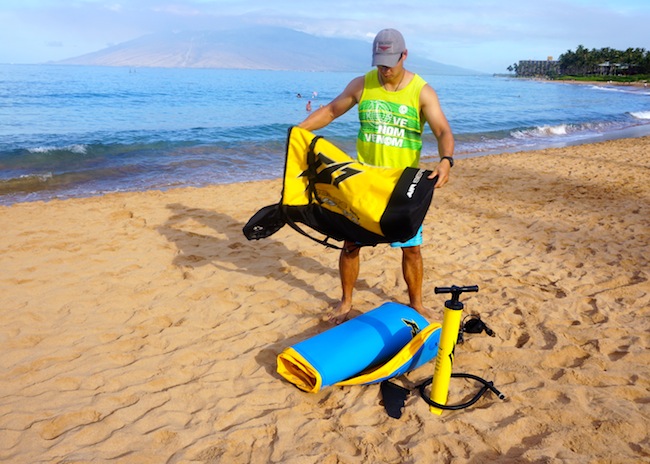 The smaller size of this SUP makes it very fast to setup. It took us just under five minutes to get it fully inflated to 14 PSI.
We inflated it and then deflated it after each use so we definitely got some practice with the inflation process.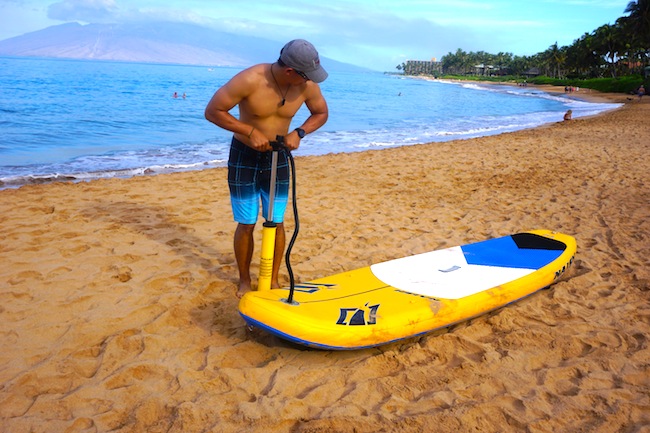 It takes a little effort but if you just go slow and steady it isn't so bad and in five minutes you will have a fully rigid board ready to go.
After the board is inflated you can slide in the center fin and secure it with the clip.
It is a very fast process from the time you take the board out of the bag until the time you hit the water.
Naish Mana Performance
I have paddled other inflatable SUP's with similar dimensions to this board before and they can sometimes feel sluggish to paddle.
We didn't get that feeling with the Mana Air. Granted it is not that fast but it isn't made for speed.
However it tracked well and ultimately glided nicely even in flat water.
Where it really excelled was in small waves. Whether tackling choppy waters or doing some small wave surfing, the Mana Air was awesome.
The 34" width as well as the progressive rocker make it stable yet powerful in the water.
It glides well and takes on small waves with ease.
This is a board that can be used by any person large or small and they will feel comfortable.
The Mana Air is very versatile and functional for cruising, waves, families, and even for yoga.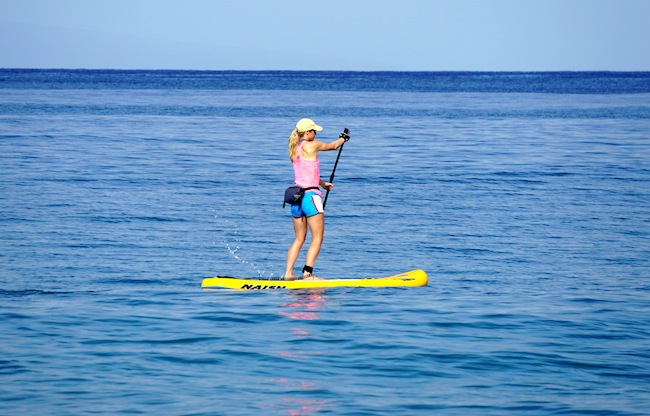 The Negatives
The negatives aren't major at all.
We noticed that there isn't a huge amount of room for gear. However for day trips we found the front bungee cords were ample for securing a few small essentials.
It isn't the fastest board out there but if you are buying a board this shape and size you likely aren't looking for speed but instead versatility, stability and maneuverability in waves.
I would have loved to see a kick tail on this board but it isn't a critical feature and for straight paddling it wasn't missed.
More Pictures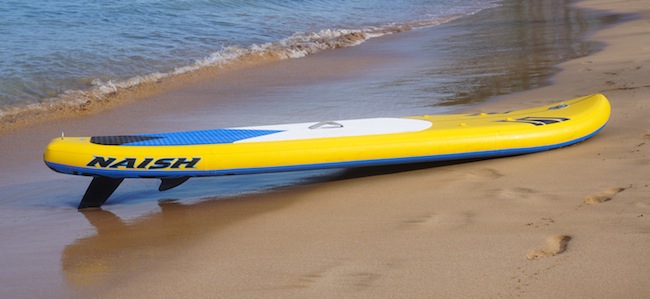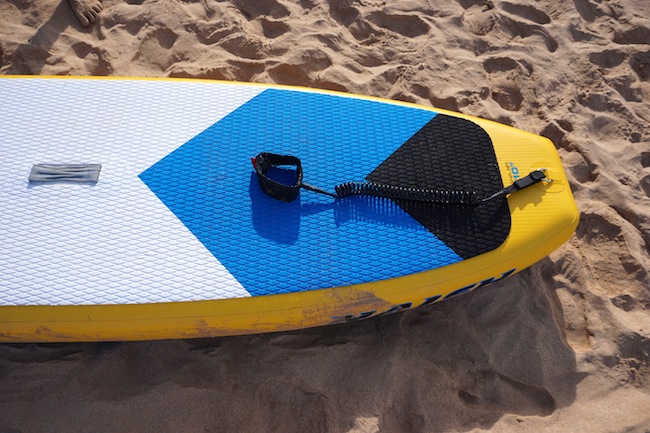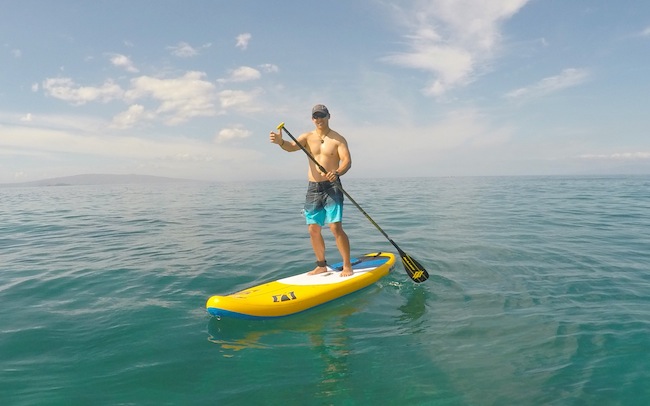 Final Thoughts
The bottom line is that we enjoyed the Naish Mana Air and feel it is ideal for riding smaller waves.
This is a board that can be enjoyed by everyone and it can hold quite a bit of weight with no problem.
It is another well made and popular inflatable SUP by Naish. It is highly portable and easy to setup.
If a wave runner is what you are looking for, especially one that can hold a lot of weight and provide extra stability… Then the Naish Mana Air is a good choice.
Where To Buy
Click Here For The Best Deal On The Naish Mana Air At Amazon.com.
Did You Know?
By clicking on any of the above seller links you can help keep ISUPworld.com growing. When you make a purchase after clicking on our links, the retailer will contribute a portion of the sale to help support this site. It won't cost you anything extra and it's a simple way to help us fund our gear reviews. Thanks!