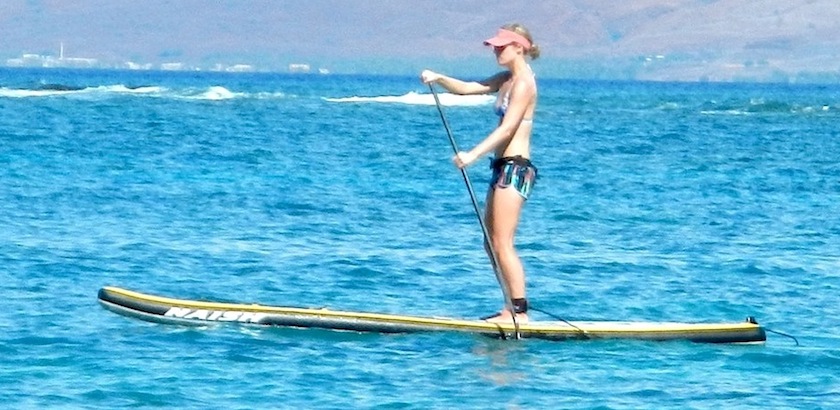 The Naish One is designed for flat water cruising, touring, racing and speed. It can handle just about any sized person with ease and is extremely stable. Good for beginners to intermediate riders.
Quick Stats
Specs:
12 feet 6 inches long
30 inches wide
6" thick
weighs 24 pounds
good for people up to 250+ pounds
has one removable center fin
Material: It is constructed with a heavy-duty polyester material and PVC Tarpaulin. It is solid with several layers of construction including a layer for UV protection.
Pros – very stable, lightweight, good speed, great tracking, large removable fin, easy set up, very versatile, bungee tie-down cords
Cons – does not turn or maneuver as easily as a smaller board
Where to Buy
Click here for the Naish One ISUP at GreenWaterSports.com.
More In-Depth Info
The Naish One is a great all-around easy to paddle inflatable stand up paddle board. It is long and thick making it very stable and ideal for riders of all different weights and ages.
I found that I felt very secure on this board; it would suit beginners right up to the more advanced rider.  It is an all around great board for cruising, touring and having fun out on the water.
Whether paddling alone or piling on a kid or two while you get your workout, it will feel safe and solid.
The design of the Naish One is ideal for paddling on flat water lakes or ocean bays. The large removable fin really helps eliminate any yaw movement and keeps you going straight with little effort.
I really like the bungee cords up front which are ideal for securing a dry bag or loose gear. I found I used them constantly to secure my water bottle, my flip-flops, my hat or whatever accessories I had with me.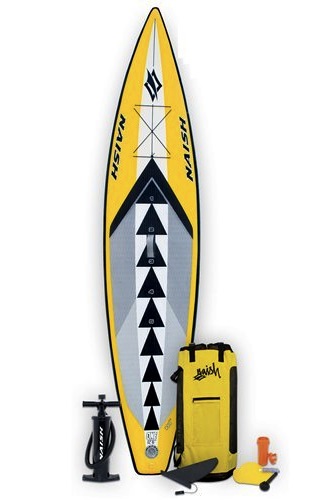 Traction Pad
This ISUP is unique in that it has a multi-colored traction pad with a numbered reference guide graphic layout that shows the proper standing positions.
The numbers will help teach a beginner to novice paddler the proper rider positioning as well as work as a visual reference for racers who are in training.
Even though the board is very rigid, I found the traction pad soft and easy to grip with my feet.  It was very comfortable.
Rigidity & Stability
The Naish One is 6" thick and able to be inflated up to 15 psi. It is really important that you get this board pumped up to its maximum psi in order for it to perform the way it is supposed to.
I find it very difficult to get inflatable stand up paddle boards pumped up properly with the standard hand or foot pump provided. It is much easier with a good electric pump or the high inflation K-Pump, which is what I use.
Once inflated to the maximum psi, this board is super rigid. Both my boyfriend and I found there to be no flex in the middle while paddling, it was solid and could hold a lot of extra weight with no issues.
The 6-inch thickness makes it super stable.  It feels quite different from paddling a 4-inch thick ISUP.  The extra 2 inches is excellent for a larger paddler that wants to make sure there is absolutely no flex in the board under their weight.  It is also ideal for anyone who just wants to feel very secure while out on the water.
Paddling Ocean Bays
I was fortunate enough to use the Naish One in Hawaii for several months while testing it out. I found it performed best on ocean bays and flat water. We were not that fond of using it on bigger waves or surf as the length made it difficult to maneuver quickly – at least for us.
However on flat water, it was awesome and I really enjoyed using it. It glided beautifully through the water.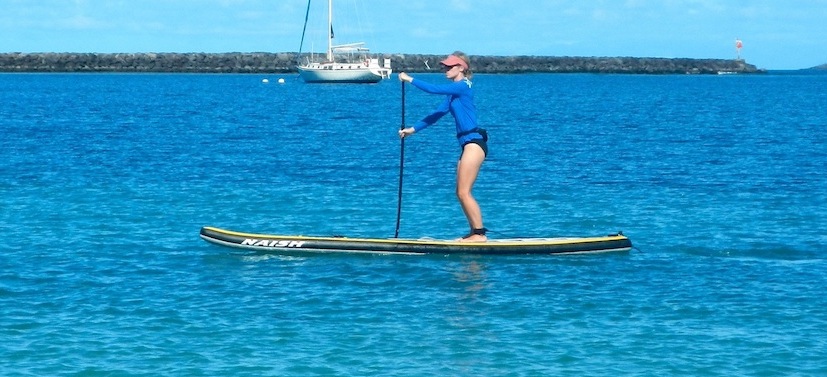 Convenience & Quality
Even with the long length and thickness of this board I was impressed with how compact it is when deflated and rolled up.
The fin is removable which makes it easier to roll up when deflated and it is light enough for myself to carry with one arm – no problem. Anyone could carry or use this board and it can easily be taken traveling.
There is no need to question the quality of the 'One'. Naish is a well known manufacturer of SUP's and the quality of their inflatables is excellent. The Naish One is rugged and resilient. With a little care, it will last a very long time and be able to withstand a fair amount of abuse.
The Down Side
Even though I like this inflatable SUP a lot and really enjoyed using it, I find that for myself I prefer paddling a smaller, more responsive board.
The Naish One is long and even though there are many benefits that go along with that, it also means that it is not as easy to turn or maneuver quickly.
For recreational cruising, touring or even racing on ocean bays or lakes, it will excel. However if you want to do a lot of turning and fancy maneuvers it will not be as good… unless you are an experienced rider with far more skills than I have right now.
My Pics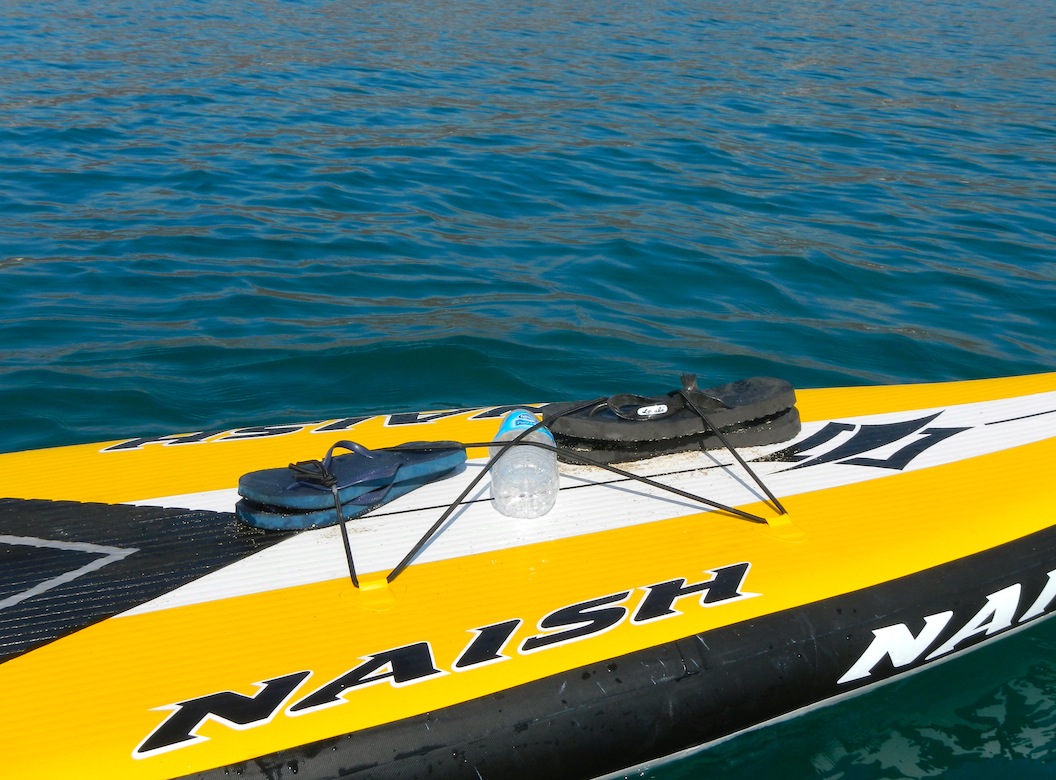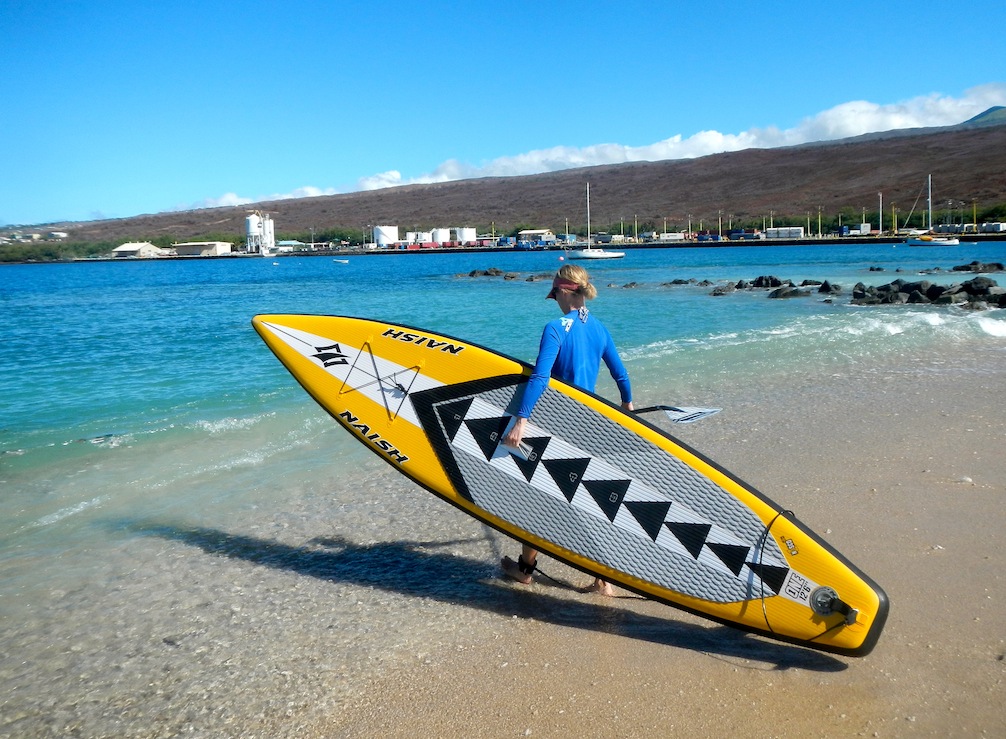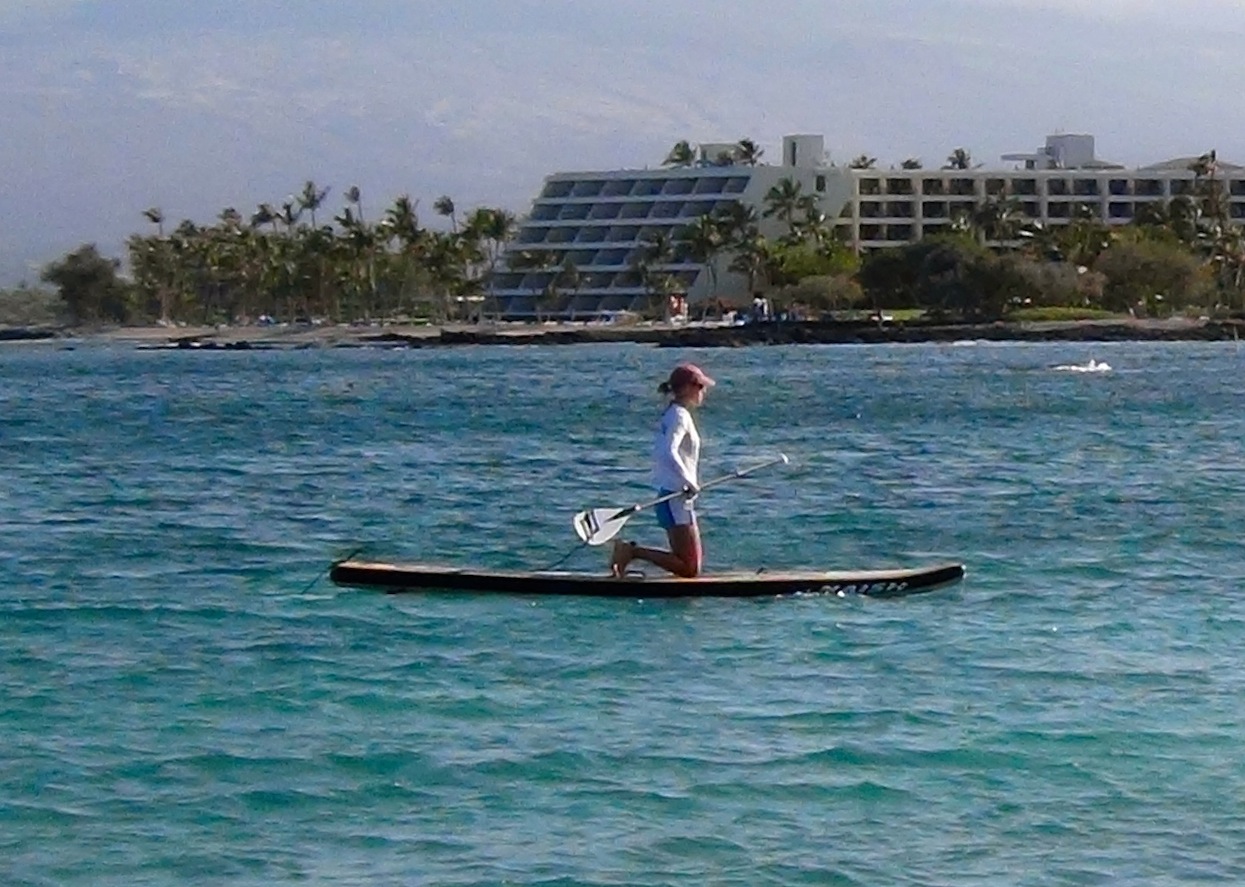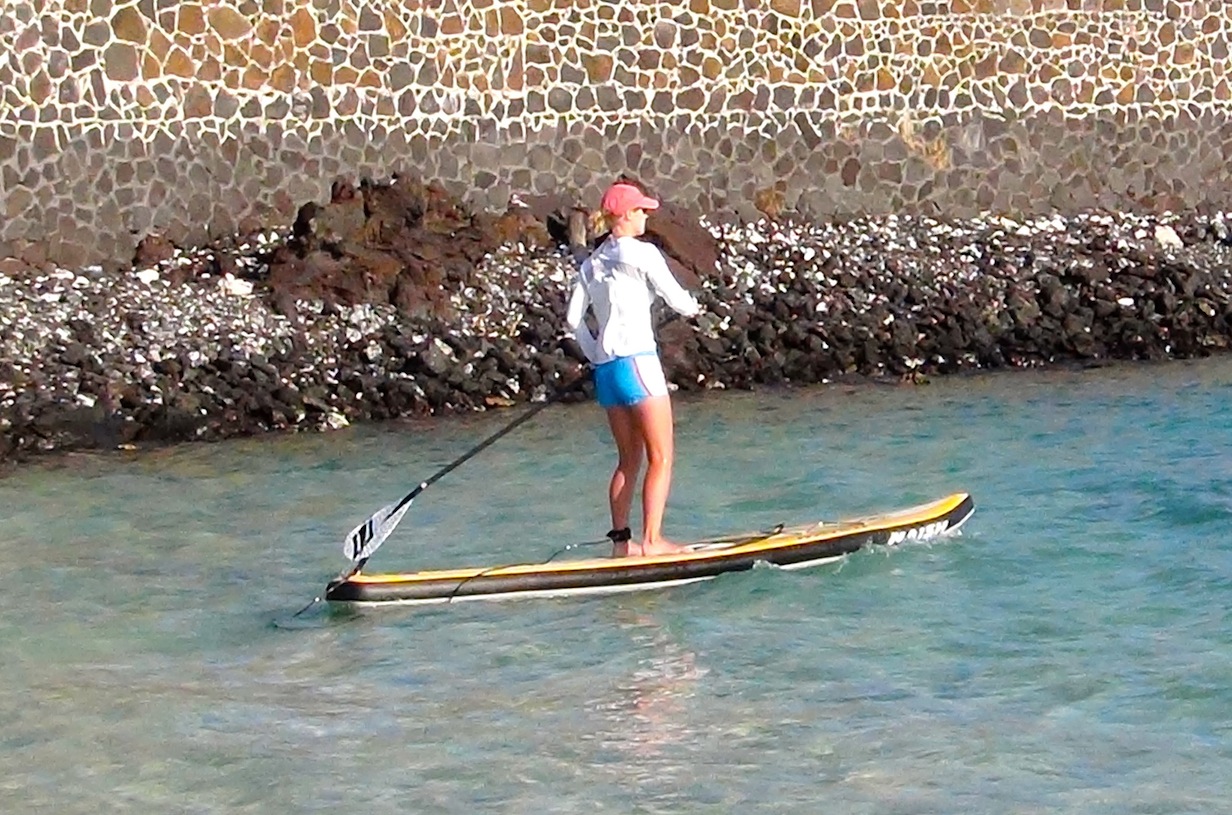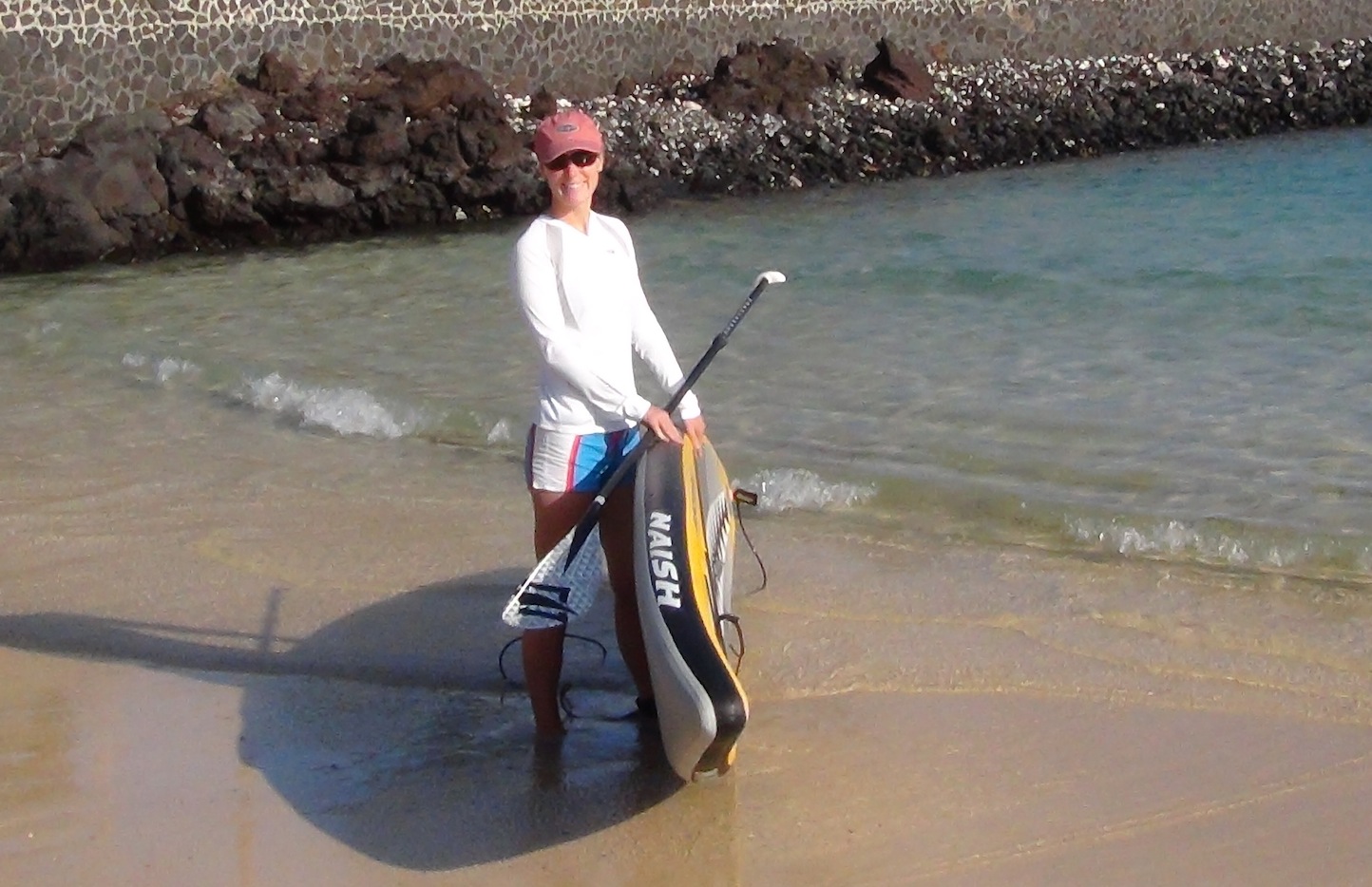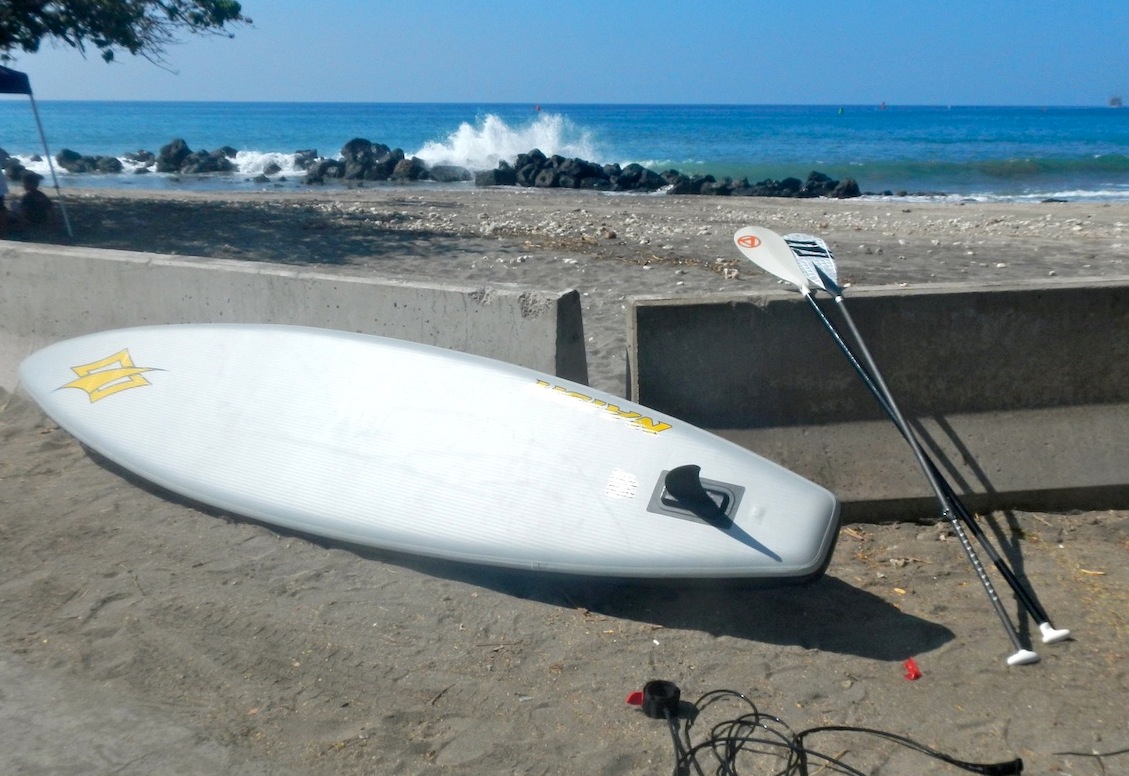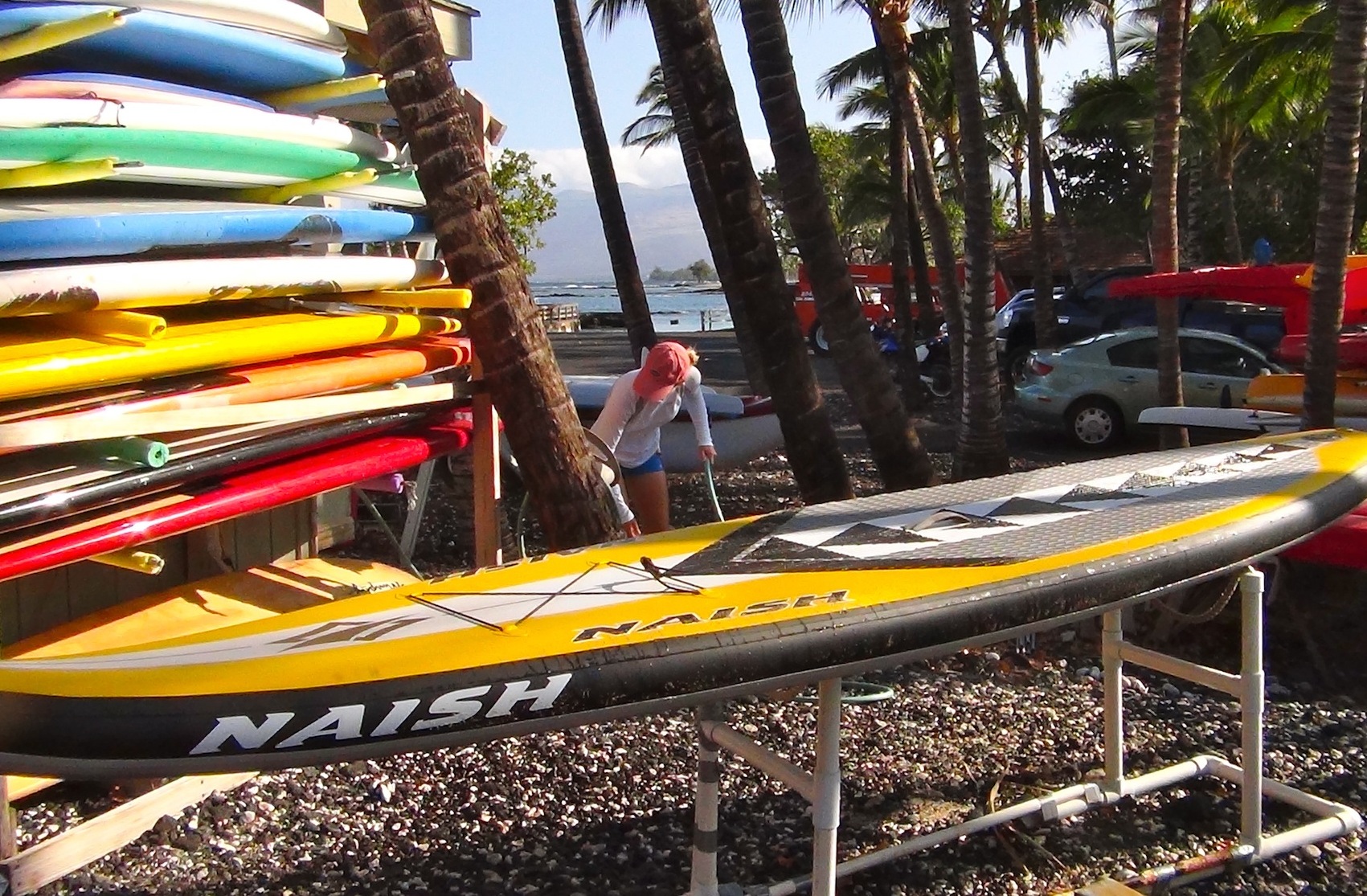 My Video in Hawaii
Final Thoughts
No doubt about it, the Naish One is a great all around recreational ISUP that will work well for most people – all different weights and ages. It is solid and stable and if you want to work on your power strokes it can get some great speed and be fun for racing.
The extra width will make it popular with heavier riders as it will support them well with no flex in the middle of the board. The extra stability is ideal for beginner to novice paddlers and the design will likely pique the interest of the more experienced rider as well.
I think it is an awesome addition to the inflatable stand up paddle board world.
Expected Price
The price on this board does not vary much and it usually retails for just over $1250.
Where to Buy
Click Here For The Naish One Inflatable SUP At GreenWaterSports.com.
Did You Know?
By clicking on any of the above seller links you can help keep ISUPworld.com growing. When you make a purchase after clicking on our links, the retailer will contribute a portion of the sale to help support this site. It won't cost you anything extra and it's a simple way to help us fund our gear reviews. Thanks!