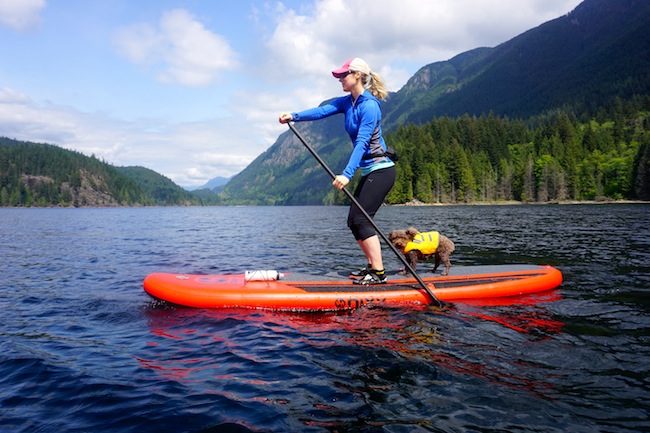 The NIXY Newport is another great board that offers good value for the money.
This is a versatile inflatable SUP that is easy for any person to paddle and comes with some great accessories.
The NIXY inflatable stand-up paddleboard was listed as one of the top 10 gadgets to take on your next trip by USA Today in an article from March 2016.
Besides being very portable it is well made, stable on the water and ultimately fun to ride.
It also comes with a very functional backpack carry bag making it easy to take anywhere.
Specs For The Nixy Newport
10'6" long
33" wide
6" thick
weighs 17 lbs.
can hold up to 270 lbs.
air pressure: 12–15 PSI
Material: Drop stitch PVC
Best Suited For: All-around board can be used on any type of water.  Also good for yoga and fitness.
Pros: Stable, quick and easy to maneuver, good traction pad, bungee system up front for securing gear, lots of included D-rings, 3 removable fins, comes with very functional backpack and 3-piece paddle
Cons: Not that fast, paddle is heavy, no kick tail
Where To Buy The NIXY 10'6" ISUP
Click here for the best deal on the NIXY Newport inflatable SUP At Amazon.com.
More In-Depth Info
The 10'6″ NIXY Newport was fun to review.
What I like most about this board is how much it offers for a low price.
Not only do you get a good versatile board with pump but you also get a 3-piece adjustable aluminum paddle, a backpack and a 10′ SUP leash.
This is a board that anyone can paddle from young to old, beginners to advanced.
It is 33" wide providing a nice stable platform for paddling on flat water lakes, moving rivers or even on ocean waves.
We didn't find it to be very fast but this is not a touring board so we weren't expecting speed.
However it is quick to turn, takes little effort to get moving and feels very secure on the water.
Plus it looks great. There are a few different color options to choose from. The red Nixy board that we had really stood out on the water.
I think bright boards are great as they make you more visible, which is good if you are paddling around motor boats.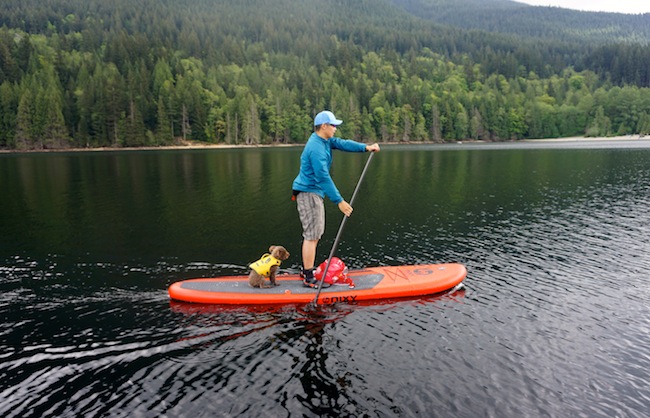 Important Features
D-rings – There are eight stainless steel D-rings attached to the Newport.
One at the back that is perfect for attaching your SUP leash
One underneath the nose of the board that works well for towing
Two on either side of the center of the board that can be used for securing gear or attaching a seat if needed
As well as 4 up front being used by the bungee cord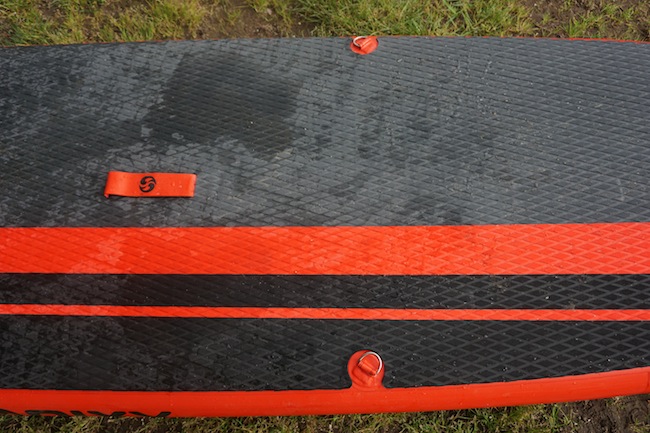 Traction Pad – The traction pad is a nice length and comfortable to stand or kneel on.
We sometimes see issues where traction pads have not been glued on that well. The adhesive sometimes wears away and the pad starts to peel.
This one seemed to be attached well, we noticed no issues at all.
Bungee System – I always love bungee cord systems at the front of a paddle board. It is a really handy thing to have included on your SUP.
The bungee cords are ideal for securing a dry bag or any gear you would like to bring out with you.
I usually have my water bottle, sometimes my flip flops and a dry bag secured under the bungee cords.
The bungee cords on this NIXY ISUP are not large but I had no trouble securing all my gear.
Fins – There are three removable fins included in this package.
There are two smaller side fins and one large center fin making this paddle board very versatile.
The fact that all of the fins are removable means you can make this board adapt to whatever type of water you are paddling in.
For flat water touring, the large center fin really helps with tracking.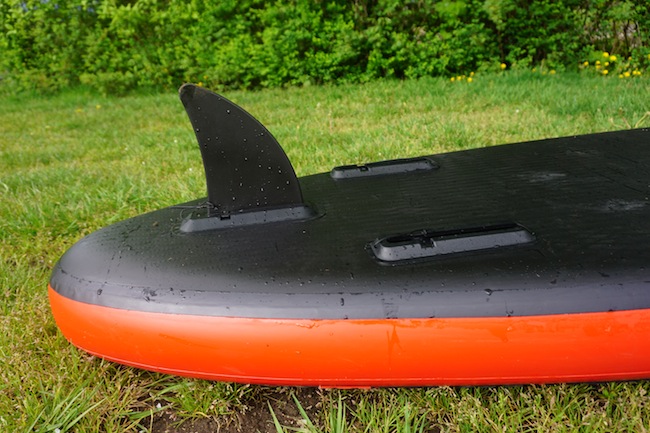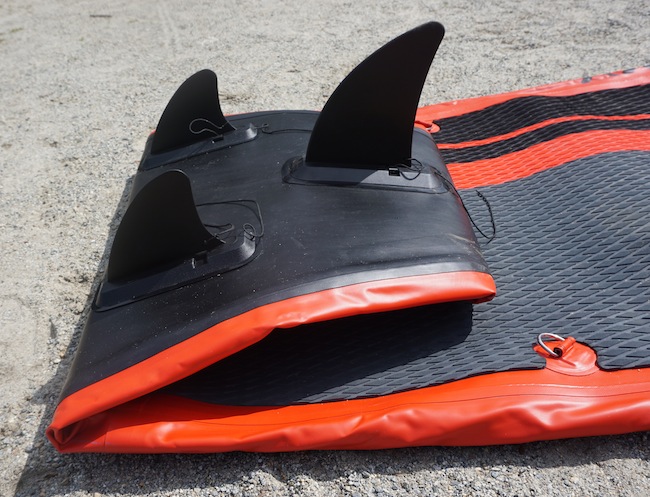 Carry Handle – The center carry handle is basic but strong and made from the same PVC material that the board is made of.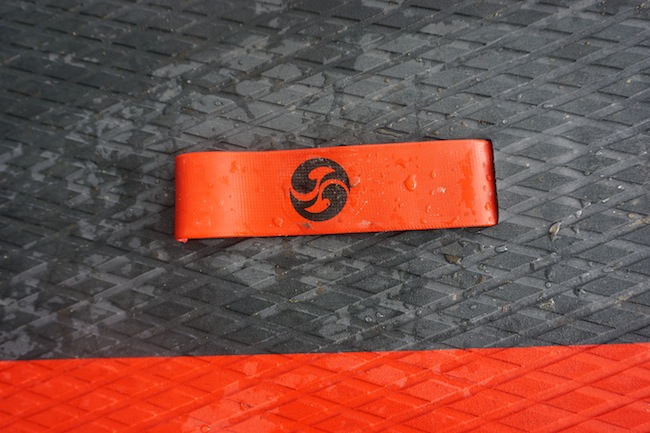 Backpack – I like the NIXY backpack, it seems well thought out.
It has a zipper that opens three sides of the pack making it very easy to get the board in and out of the bag. It has padding along the inside edges of the bag providing extra protection for the board and your gear.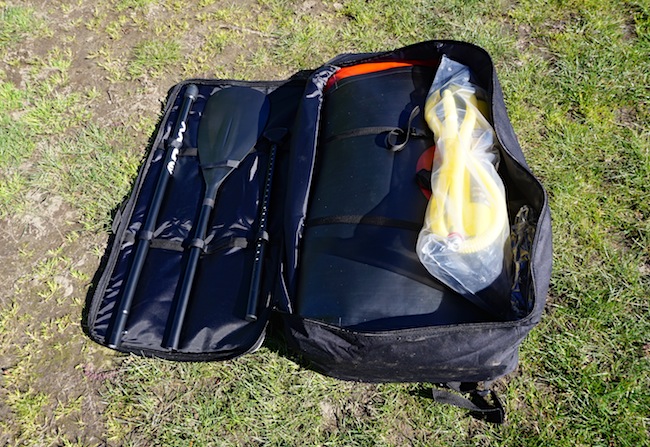 It is large enough to fit the stand-up paddle board as well as the pump and a few extras.
The inside of the front cover has Velcro straps for securing the 3-piece paddle.
Everything fits nicely inside this backpack making it super functional.
The padded shoulder straps are adjustable and there is even a waist strap for added support.
It is a big bag and it feels big when wearing it on your back. I wouldn't want to have to walk too far with it but for its intended use, it works great.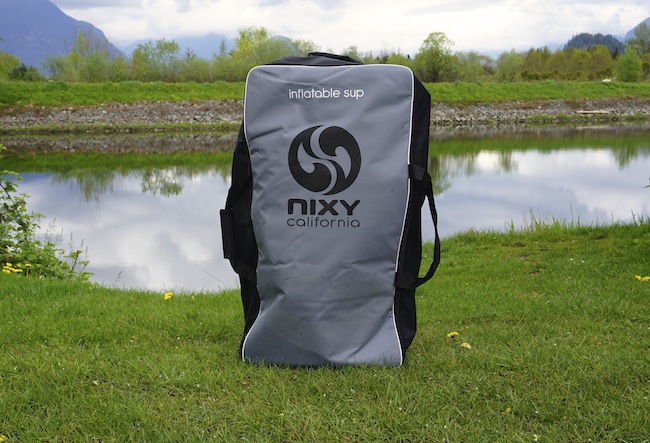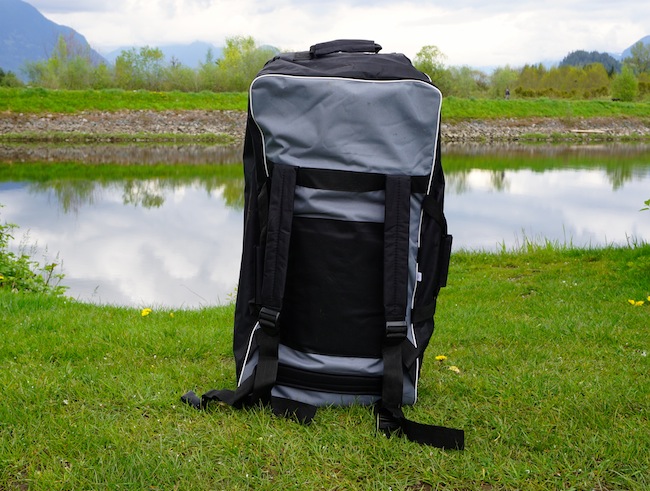 Pump – The pump is standard and works fine. It comes with a pressure gauge so you can check your progress.
It is a bit of work to get the board fully inflated to 15 PSI but it doesn't take that long.
If you want to make the process easier an electric pump will do the job for you.
Paddle – The aluminum paddle comes apart into 3-pieces making it very easy to travel with.  It fits easily into the backpack.
It is height adjustable and best of all comes included in the package.
I found the paddle a bit heavy – at least heavier than I would like it to be even for a basic paddle.
However it is still really nice that it is included in the package deal and you can upgrade down the road if you wanted to.
NIXY ISUP Setup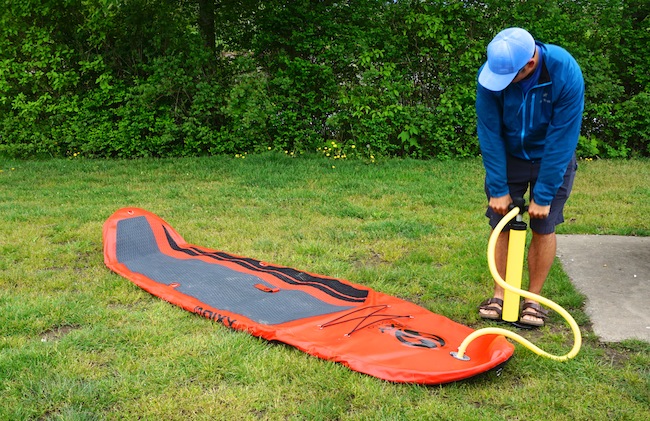 Take the ISUP out of the bag and unroll it. Push in and turn the valve tip so that it pops up.
Then attach the pump and inflate. Once you reach 12 – 15 PSI replace the valve cover.
Once that is done you can attach whichever fins you wish to use. The fins clip in easily and are very secure once attached.
Next attach the 3-part paddle together, adjust the height and off you go.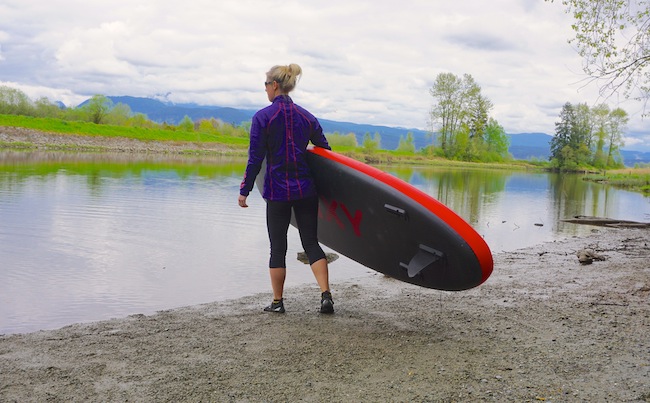 When you are finished using the board I would recommend drying it off with a towel, then remove the fins and roll it back up.
It can stay stored away in the backpack until ready to use again.
The whole setup process takes roughly 10 minutes. It is even faster to dry, deflate and put the board away after use.
NIXY ISUP Performance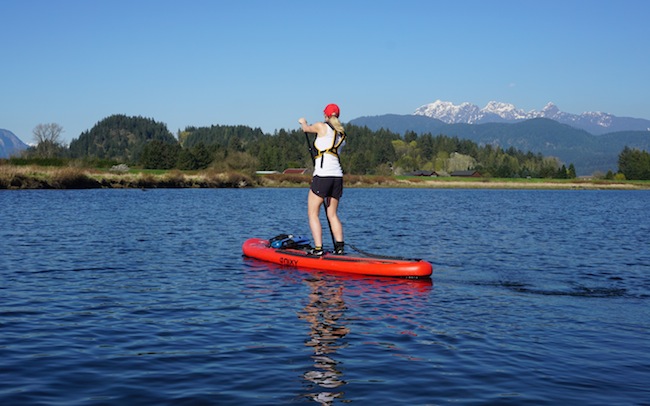 The shape of this board is designed to make it very versatile. It is truly an 'all-around' SUP.
I would compare it to a jack-of-all trades but a master at none. It isn't a touring board and it does not paddle that fast.
The 33" width and 6" thickness adds stability but lessens the ease and quickness of maneuverability.
However that being said for cruising around on flat water lakes, riding down rivers, or paddling through ocean waves, it handles well, feels good to paddle and is super functional.
It performs well for what it is supposed to do. I think almost anyone could feel good on this board and you can take it out on just about any body of water.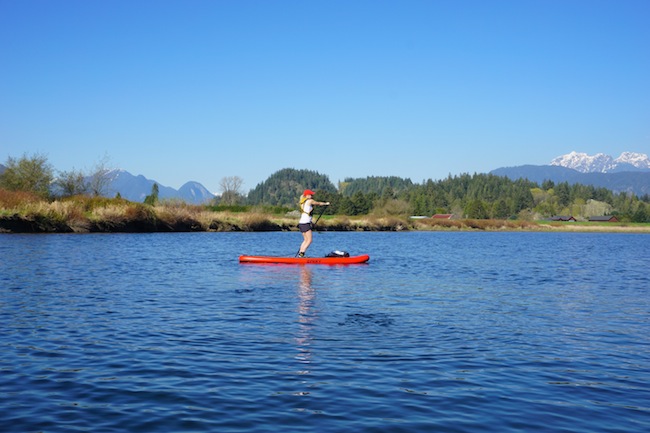 Versatility
We love how versatile this paddle board is.  Any person of any age can use it.
It is not that long but with the width and thickness it works great for paddling with dogs and kids as well.
Besides paddling it is also an ideal size for SUP yoga or SUP fitness activities.  We tested out doing some squats and stretches and were very happy with the stability and feel of this board.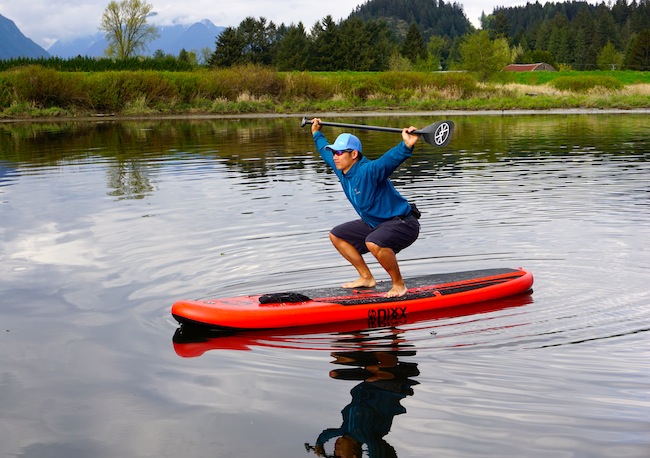 The Negative
The negatives are of course as mentioned that it does not paddle that fast.
However I assume if you are buying an all-around versatile board you are not looking to be the fastest in the water. Often it simply does not matter.
The second thing I would mention is that the 3-piece paddle is a little on the heavy side. It is a basic paddle, works well but feels heavy to me.
However don't let that deter you as it is included in the package that is already priced very well so it feels like a needless complaint.
The fact that any paddle is included is awesome. You can always upgrade the paddle down the road if you wanted to.
The last thing is that there is no kick tail at the back of the traction pad like you see on many other boards of similar size and shape.
A kick tail helps to do pivot turns and quick maneuvers. It is nice to have although many people never use it.
More Pictures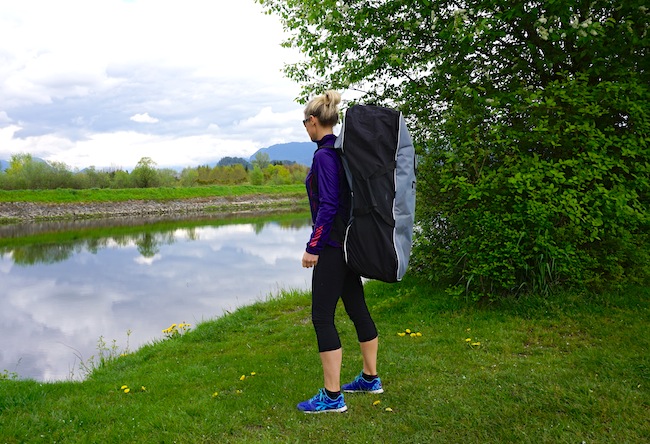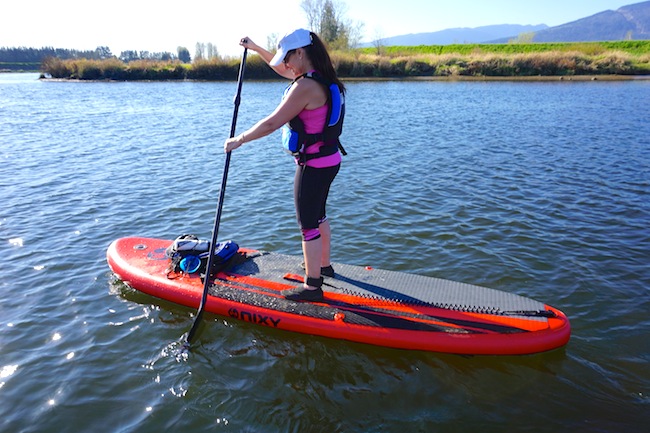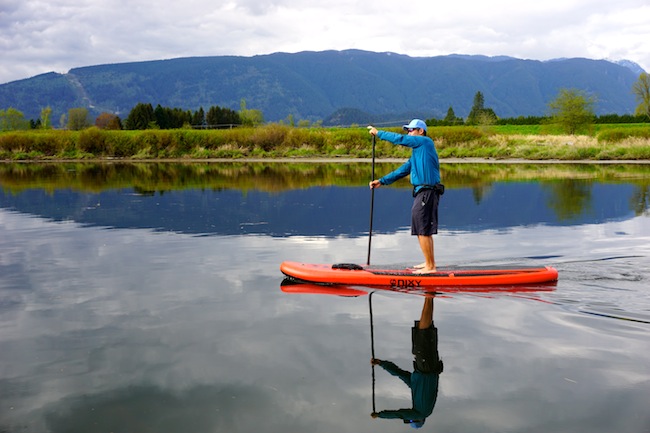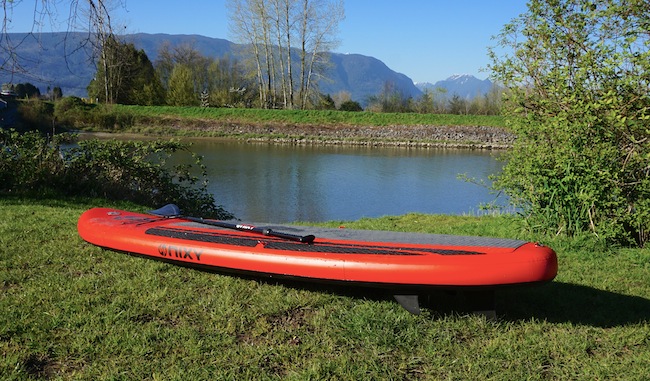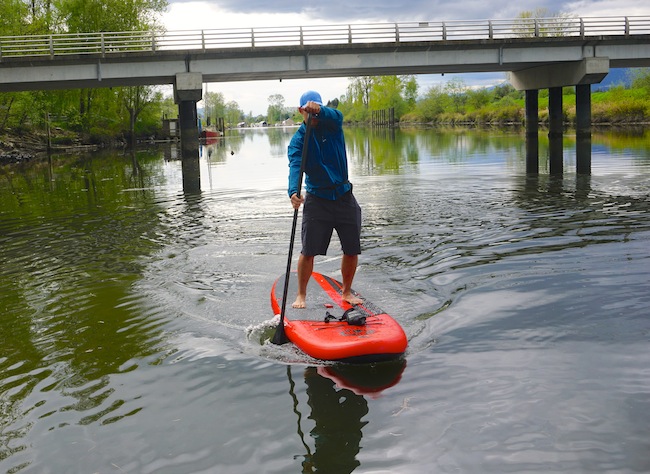 Final Thoughts
Overall this is a good board for a great price. It includes everything you need to get started stand-up paddling.
The 10'6" length, 33" width and 6" thickness make it very versatile and fun to paddle.
It can hold a lot of weight with no flex and feels solid and strong.
It is portable, functional and it looks great. The few complaints are far outweighed by the positives.
Update (2018)
NIXY has updated the style and package of this paddle board.  Below is a picture of the new board design.  It comes with a great rolling backpack now as well!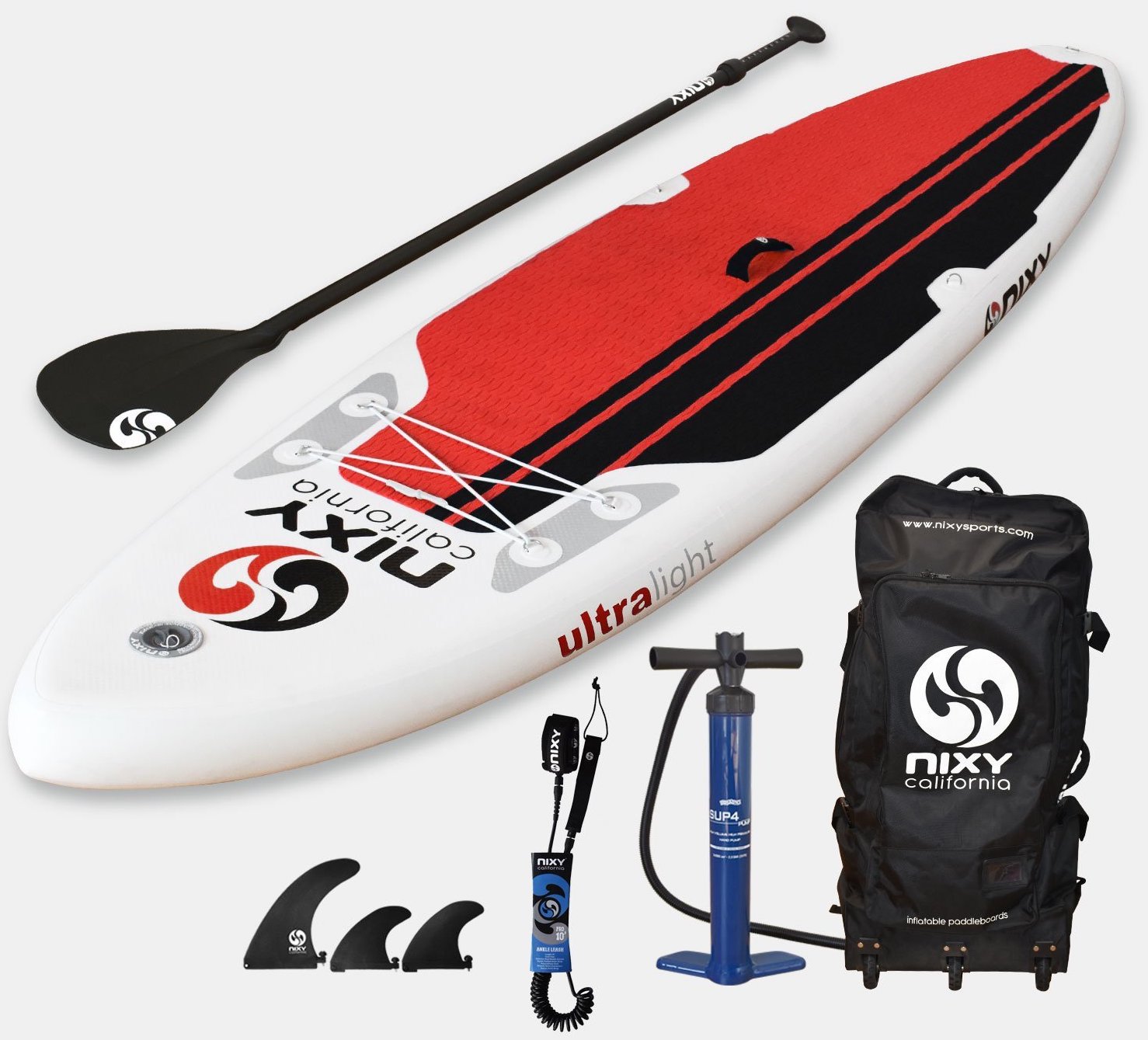 Where To Buy The Nixy 10'6 ISUP
Click Here For The Best Deal On The Nixy 10'6" Newport ISUP At Amazon.com.
Did You Know?
By clicking on any of the above seller links you can help keep ISUPworld.com growing. When you make a purchase after clicking on our links, the retailer will contribute a portion of the sale to help support this site. It won't cost you anything extra and it's a simple way to help us fund our gear reviews. Thanks!