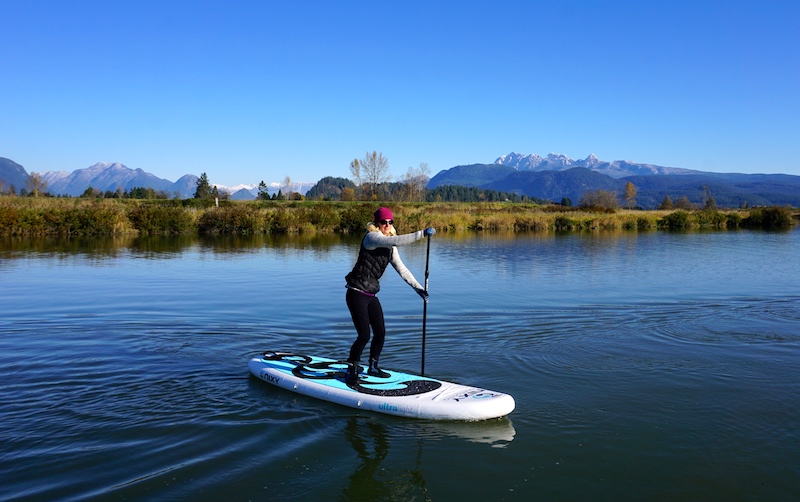 If you love yoga and love to be on the water then this NIXY Venice G2 yoga inflatable SUP is about as far as you need to look.
It is as convenient, comfortable and functional as they come and best of all it is priced quite well for a very high quality board.
We love the design and have really enjoyed reviewing the Venice.
NIXY Venice Specs
10'6" long
34" wide
6" thick
weighs 17 lbs.
can hold up to 300 lbs.
Inflate up to 20 PSI
Material: Very durable high-pressure double layer drop-stitch PVC material with Fusion Laminated Dropstitch to create a stronger, lighter and stiffer board.
Best Suited For: Yoga, fitness, cruising on lakes, river and ocean. Also great for beginners and for bringing dogs or kids along for the ride as it is nice and stable.
Pros: Very stable, ultra light weight, portable, quick to inflate, front bungees for storing gear, lots of D-rings, comfortable soft traction pad ideal for yoga, easy to maneuver and turns quickly, side paddle holder, comes with great accessories.
Cons:  This board is slower to paddle, which is to be expected with a width of 34". However if you are not in a rush, it is very comfortable to cruise along on.
Where To Buy The NIXY Venice Yoga ISUP
Click here for the best deal on the NIXY Venice at Amazon.com.
More In-Depth Info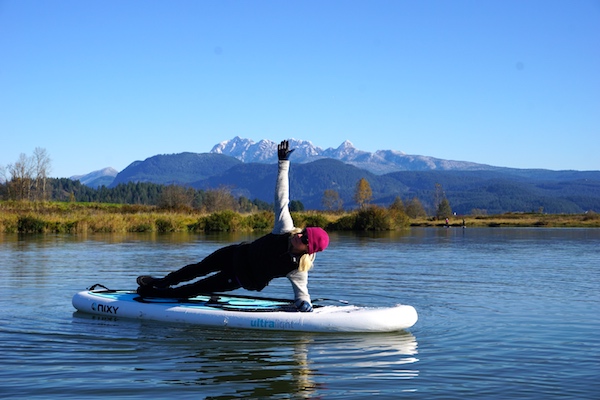 Yoga on a board… on the water! It's not easy that's for sure but it sure is fun and the ultimate workout for your core.
Some people make it look so simple and graceful.  For me it's a challenge and one that I greatly enjoy!
You could use any ISUP for yoga but a yoga specific board is going to make the experience more comfortable, enjoyable and functional.
STABILITY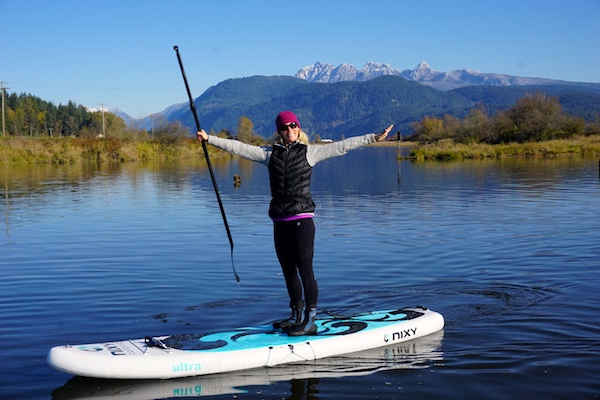 What the Venice offers is enough stability to do most yoga moves with a little practice.
However it is not so large that it becomes a burden to paddle or get to and from the water.
The 10'6" length keeps it very easy to maneuver and the ultra light-weight design makes it highly portable and convenient.
This is a board that anyone could paddle no matter your experience level.  It is a comfortable ride and ideal for fitness.
SOFT TRACTION PAD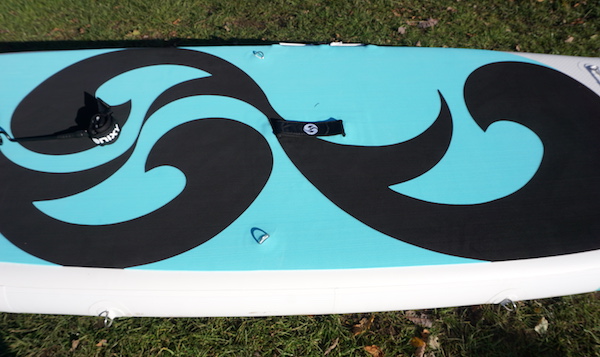 The soft EVA traction pad is designed specifically with yogi's in mind. It doesn't have the same high grooves that you will find on the traction pads of other classic ISUP designs.
The softer pad keeps you comfortable while on your hands and knees, standing or sitting.
You will also notice that the traction pad covers the full width of the board providing ample room to practice your moves.
PADDLE HOLDER & BUNGEES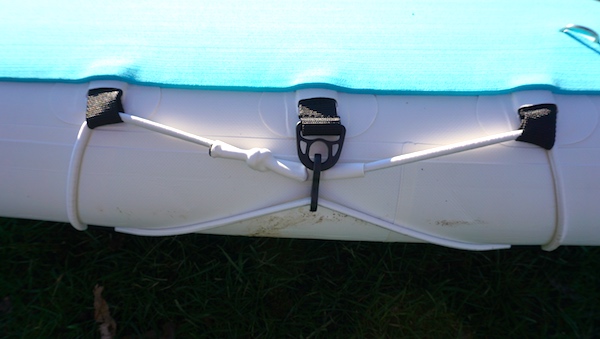 The side paddle holder keeps your paddle safely out of the way while you do yoga and the front bungee cords are perfect for storing a water bottle, dry bag and PFD.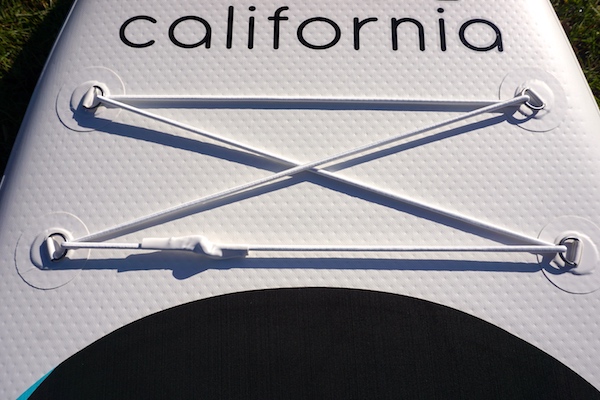 BACKPACK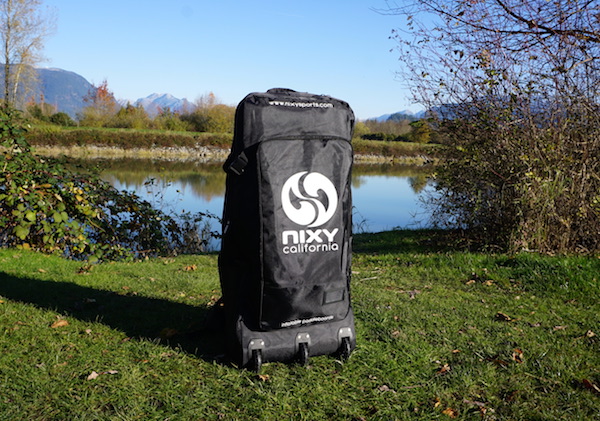 The backpack that comes with this package is really great.
It has three wheels allowing you to roll it like a suitcase, making it very easy to get to and from the water and perfect for traveling!
Keep in mind this board only weighs 17 lbs. so it is awesome for travel by airplane, bus, boat, RV or car.
This pack also has padded adjustable shoulder straps, waist strap and large zippered outside pocket.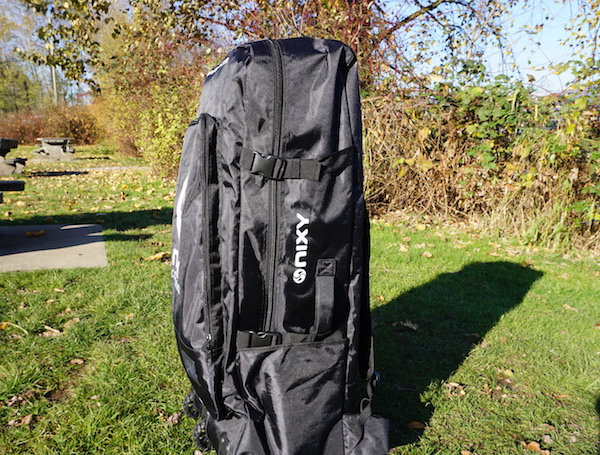 It is large enough to hold the board, paddle, pump, leash and you could still toss a few other accessories in there if you were traveling.
We had no issues with this bag and thought it was nicely designed.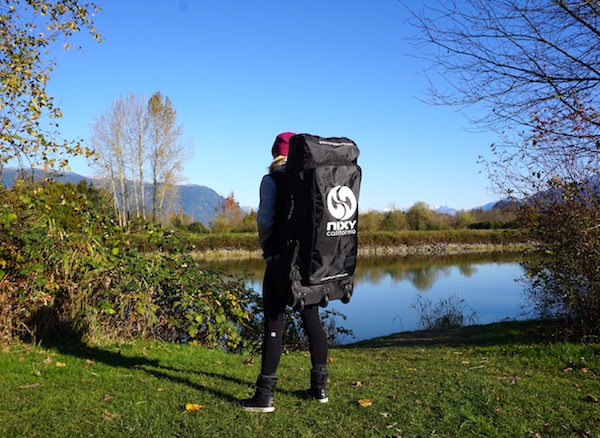 QUALITY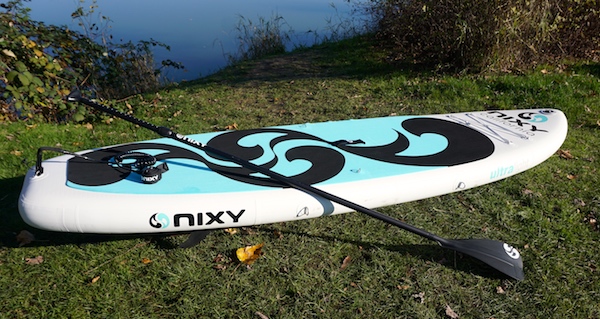 All of Nixy's G2 inflatable stand up paddle boards are made with new Fusion Laminated Drop Stitch technology.
Only a few paddleboard companies are using this technology right now although we feel it is the future of ISUP's.
The fact that Nixy has incorporated this type of construction in their new boards is fantastic as they are providing far more quality for your money.
This technology allows the board to be 30% lighter without compromising the quality and durability.
It also allows the board to be inflated to 20 PSI providing more rigidity for heavier loads.
PADDLE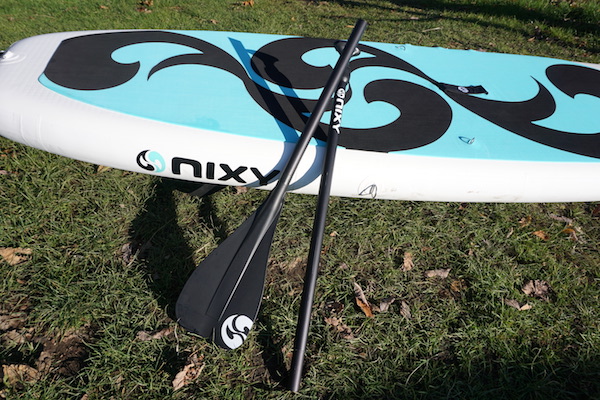 The three-piece aluminum paddle is decent and feels solid.
It is adjustable for different heights so you can customize it to your size and it fits easily in the backpack carry bag.
PACKAGE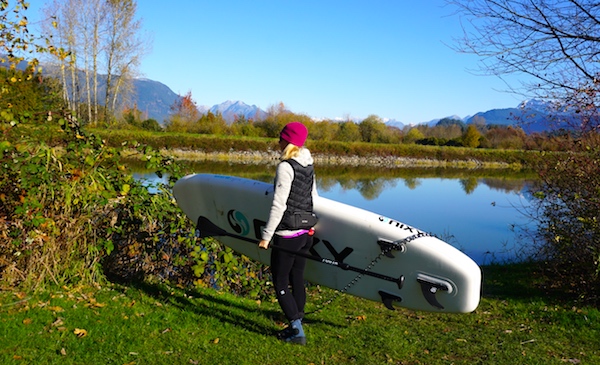 Included in the package is:
A two-stage high pressure hand pump. Takes approximate 6 – 8 minutes to inflate.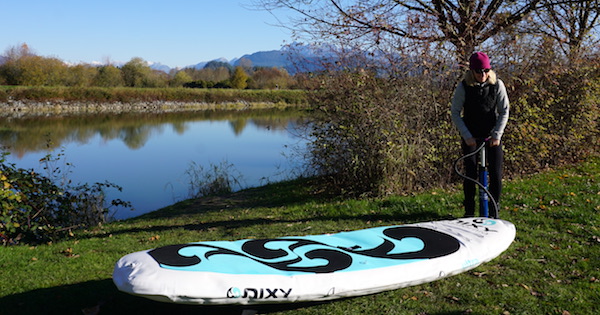 Three-piece adjustable aluminum paddle. Feels durable and solid.
Hybrid ankle leash – An important safety item, love when these are included in the package.
Shoulder strap – A thoughtful accessory that you rarely see included.
Front and side bungee system – Perfect for storing gear and keeping your paddle safe while doing yoga.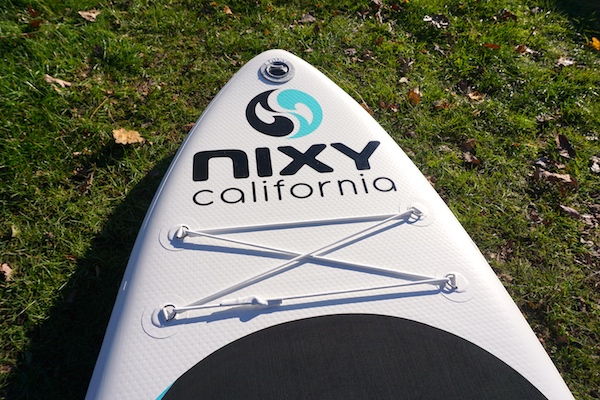 3 removable fins – They easily slide in and screw into place without needing any extra tools.  The fins greatly help to keep the Venice tracking straight.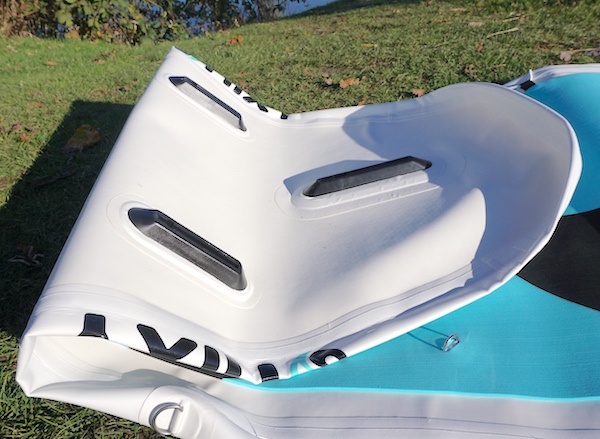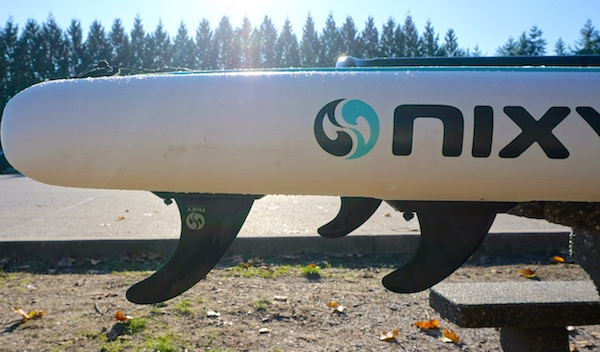 Repair kit. Includes PVC patch, glue and valve tightener.
Performance
As a yoga and fitness board the Venice rocks. It is stable but not overly huge. You will feel challenged yet fairly secure on this ISUP.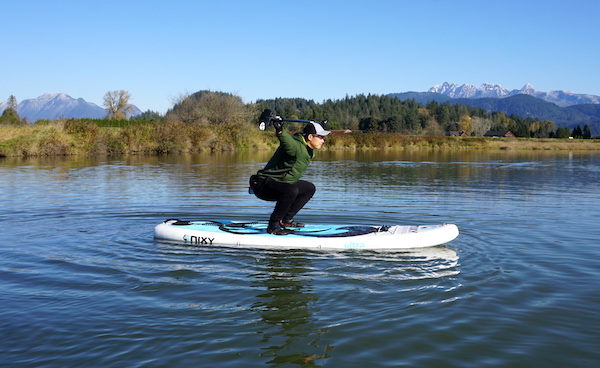 Some yoga-specific boards are really big and consequently they are heavy and frustrating to paddle as they slug through the water.
The Venice isn't quite as stable as some of those extra large ISUP's however it has the added advantage of still being able to get a decent performance out of it while paddling on lakes, rivers or on light ocean surf.
It isn't that fast but it cruises along nicely and we feel that it provides the best of both worlds as far as performance and stability/comfort go.
So if you want a paddleboard that works well for yoga and fitness but that can also be used to actually paddle and feel like you are moving, the Venice is a fantastic choice.
We feel that it will challenge you in just the right way as you work to remain balanced, poised and keep breathing while performing your yoga moves.
WARRANTY
Nixy provides a great two-year warranty on all of their boards and a risk free 30 day return policy.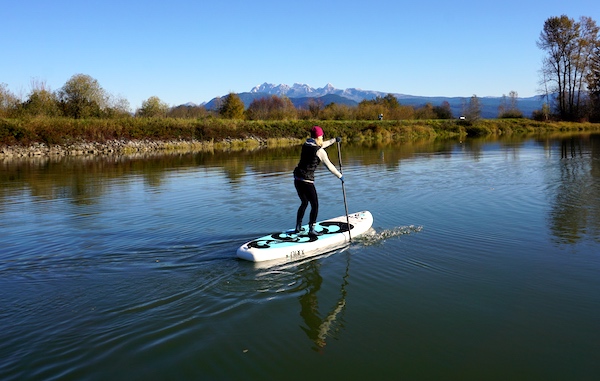 Bottom Line
We were impressed with the Venice yoga ISUP. Nixy offers a great package, a high quality board and they back it all up with a good two-year warranty.
You really can't go wrong with this one. There are three color choices to choose from… aqua blue, pink or purple.
Click Here For The Best Deal On The Nixy Venice G2 Yoga ISUP At Amazon.com.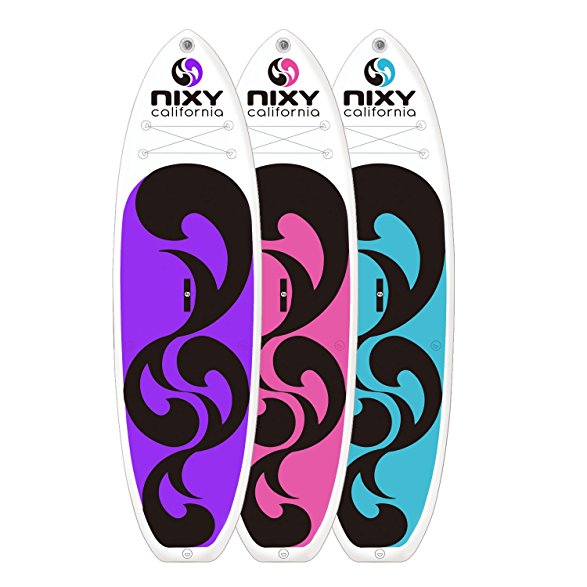 Did You Know?
By clicking on any of the above seller links you can help keep ISUPworld.com growing. When you make a purchase after clicking on our links, the retailer will contribute a portion of the sale to help support this site. It won't cost you anything extra and it's a simple way to help us fund our gear reviews. Thanks!