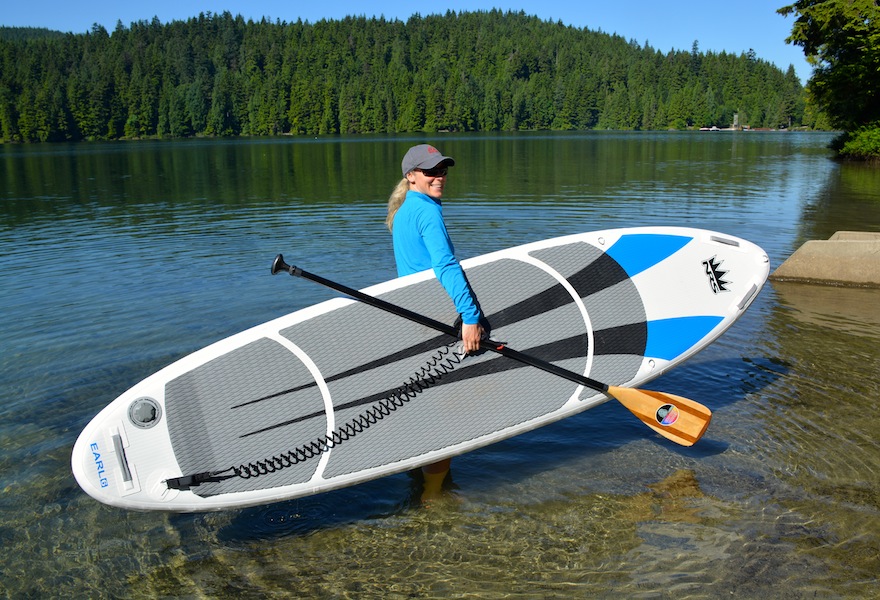 I had wanted to review this board and happened to come across a couple while I was out paddling one day who had the NRS Earl 6.
They were nice enough to let me spend a little time with the board and try it out.
I only had that one shot with it so I didn't get to test it out on different waterways as I normally do for my reviews.
However I got a good feel for it and this review is based on my initial impressions.
Basically I thought it was a great board. A little basic perhaps performance wise but otherwise there was nothing really wrong with it.
It is lightweight, portable, stable, and easy to paddle. Overall I just felt really comfortable on the Earl 6.
There are 2 different size options for the Earl… a 4″ thick board and a more stable 6″ thick board.
Specs For The NRS Earl
| | | | | | | | |
| --- | --- | --- | --- | --- | --- | --- | --- |
| Model | Length | Width | Thickness | Weight | Max Weight | Air Pressure | Fins |
| | | | | | | | |
| NRS Earl 4 | 10'6" | 30″ | 4″ | 21 lbs. | 200 lbs. | 15 PSI | 1 large removable fin, 4 small removable side fin |
| NRS Earl 6 | 10'6″ | 30″ | 6″ | 22 lbs. | 240 lbs. | 15 PSI | 1 large removable fin, 4 small removable side fim |
Material: Durable PVC drop-stitch
Pros: Stable, durable, versatile, light weight, nice fin system, comfortable, 3 carry handles, 6 D-rings
Cons: Not that fast
More In-Depth Info On the NRS Earl
The NRS Earl is a great all around ISUP.  I think it's a nice looking board, with a nice design.
It can be used for fitness, for cruising, on rivers, in ocean bays and for paddling on lakes.
It is quite versatile and will suit a wide range of people of all different sizes and different skill levels.
It comes in two size options… a 6" thick board, which is what I tried out or a 4" thick board that is ideal for a smaller person.
The 6" thickness creates a very stable platform and almost anyone can feel comfortable paddling this inflatable SUP pretty much right off the bat.
The 30" width is nice because it makes it fairly easy to turn and maneuver.
The 10'6" length is versatile and also creates a compact package when deflated and stored in it's carry bag.
The Earl didn't strike me as an exceptional board. The performance was decent but didn't wow me.
That being said it paddled just fine and overall it had the important features covered. Most importantly it was comfortable and fun to paddle and very compact and portable.
All that and the fact that it comes with a 3-year warranty make this ISUP a great choice as an all-around versatile and portable SUP.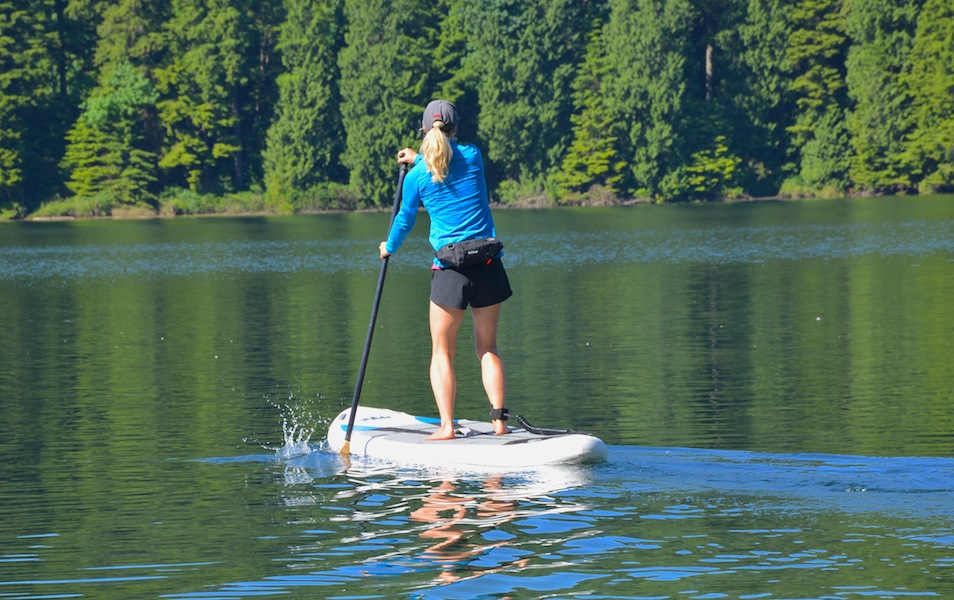 NRS Earl Setup
I didn't set this board up myself. However from looking at the design and the valve I could tell it would be very simple.
Take the board out of the backpack carry bag, unroll and inflate. From talking to the owner of this board, he said that inflation was quite fast.
Once inflated you can attach the fins. It comes with five removable fins; two 2" side fins, 2 5" side fins and one 9" center fin.
The center fin is all you need for flat water cruising, but you can attach two of the smaller fins for better tracking if you like.
When paddling in shallow water, attach the two smallest fins. It is great that NRS includes the extra sizes, so you can switch them depending on your needs and the type of water you are paddling in.
Important Features
D-Rings – There are 6 D-rings. There is one at the front and one at the back as well as 2 on each side up front of the traction pad.
The back D-ring is ideal for attaching your board leash. The front D-ring is great for towing. The side D-rings are ideal for securing gear.
There are no bungee cords attached to the front D-rings as you often see on other boards. However you could easily add your own if needed.
I personally like bungee cords for securing my water bottle, my flip-flops and possibly a small dry bag.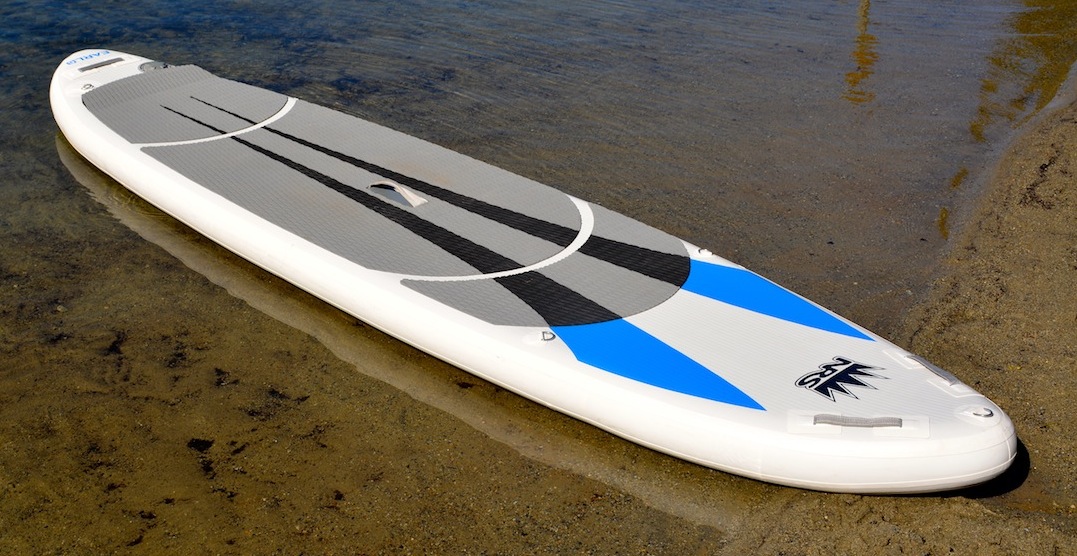 Traction Pad – The traction pad is quite long on the Earl and comfortable to stand or kneel on.  It makes it easy to grip the board.
There is a small raised kick tail at the back end of the traction pad for quick maneuvers and pivot turns.
Carry handles – On the board I tried there were four carry handles… 2 up front, one large center handle and one back handle.
I notice on the NRS website that the current board only has 3 carry handles, one at the front, one at the back and one center handle. I believe that all current models have 3 handles, not four.
The carry handles are just nylon but feel sturdy and strong.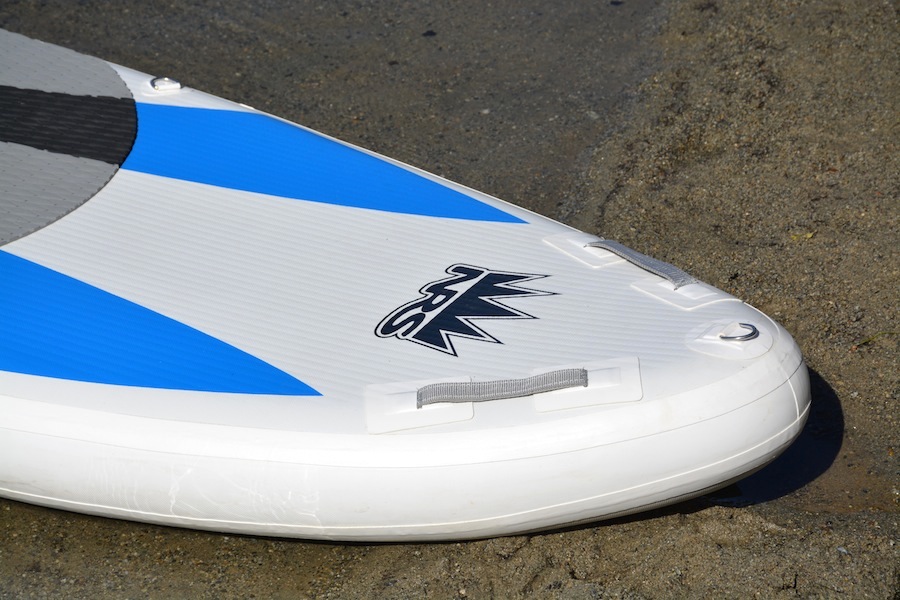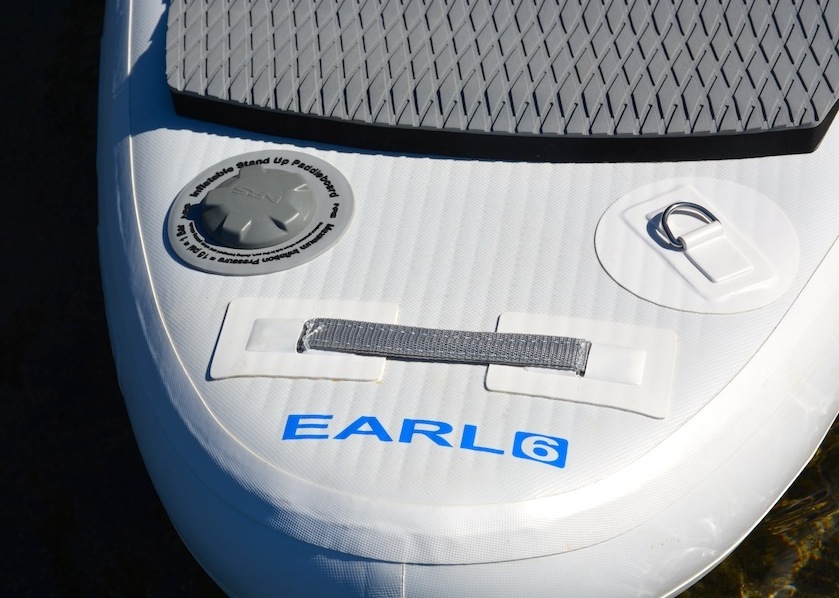 Fins – Rarely do you get so many fin options with a board.
This one comes with one large 9" center removable fin as well as two 5" removable side fins and two 2" removable side fins.
They all easily slide in and clip into place. You can adjust the fins depending on the type of water you are paddling in.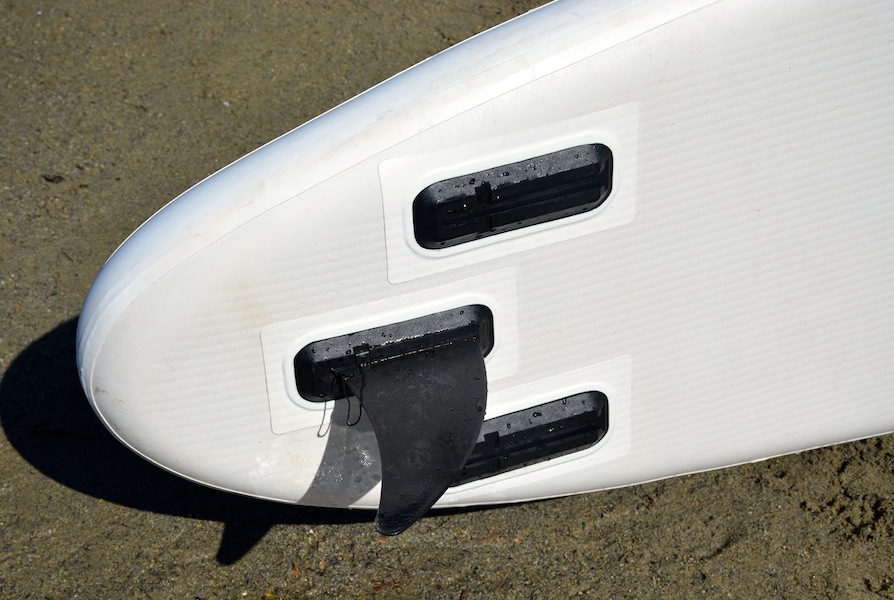 Backpack – The backpack that comes with the Earl is fairly durable. It has a large zippered pocket at the front for storing smaller items.
The padded shoulder straps make it easy to carry and the board fits nicely inside it.
There is a drawstring on top and clips to secure it in. There is also side clips for securing your paddle or pump.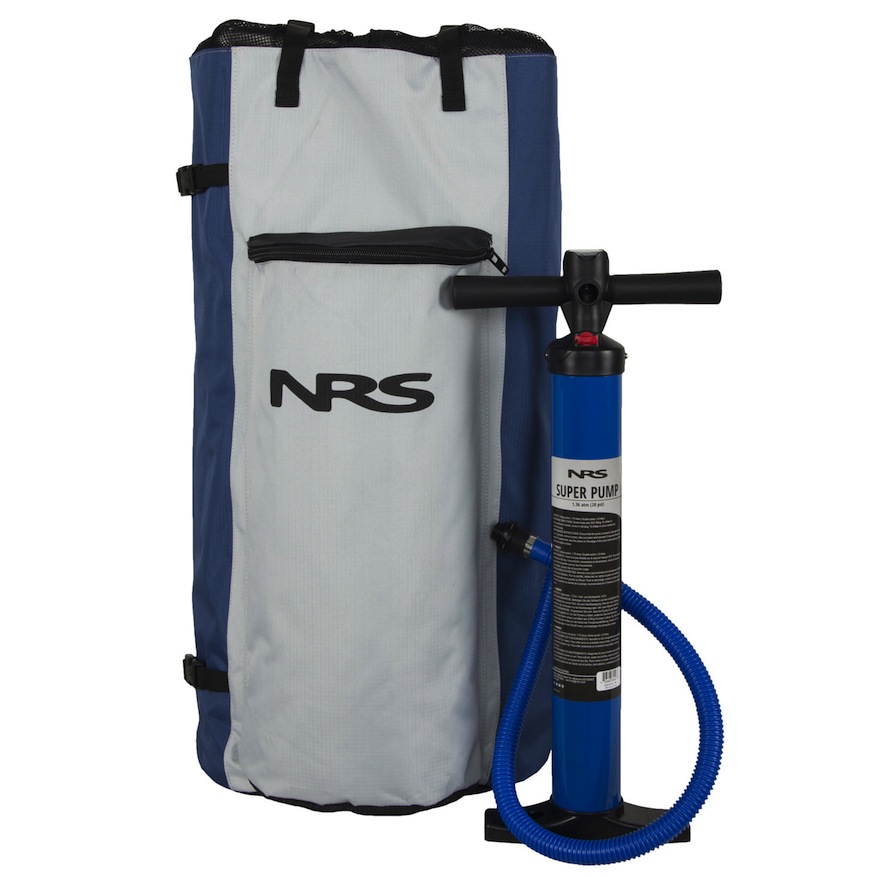 Pump – The pump that comes with all NRS boards is a good one.
It is a manual hand pump with a low and high pressure mode as well as a pressure gauge.
I much prefer using an electric pump with my boards. I find it is way easier and you eliminate the sweat before hitting the water.
However as far as hand pumps go this one works well. With a little effort you can have the Earl inflated in well under ten minutes.
NRS ISUP Material
I find inflatable SUP's in general to be extremely durable. Until you've tried one, it's hard to know how strong they are.
However as soon as the Earl is inflated you can see and feel how durable it is.
The Earl is made with heavy-duty PVC construction that is made to withstand abrasions and a fair amount of abuse.
NRS Earl Performance
I found the NRS Earl 6 to be super stable, easy to paddle and fairly responsive.
I didn't find it to be that fast but it did track well. The Earl 6 can hold up to 240 lbs. with no flex.
The Earl 4 would be more ideal for a smaller person. It can hold up to 200 lbs., but in my experience those who weigh under 160 lbs. will do best on the 4" thick boards – although the 6″ thick boards are more stable for everyone.
The 4" thickness helps the board to turn and maneuver easier. It will be even more responsive than the thicker option.
However the 6" thick board will provide extra stability, be a little more versatile and of course be able to support more weight.
I think one of the best things that the Earl has going for it is that it is so versatile.
It doesn't really excel in one area but it can be used on flat water, moving rivers, or in some light surf.
I paddled it on a lake and it was quite fun. I thought it would be a good board to take on rivers or even in some small ocean surf.
NRS has a great rep and I rarely hear of any major issues with their products.
They have been in the inflatable kayak and SUP business for quite a while and I like that they offer a 3-year warranty.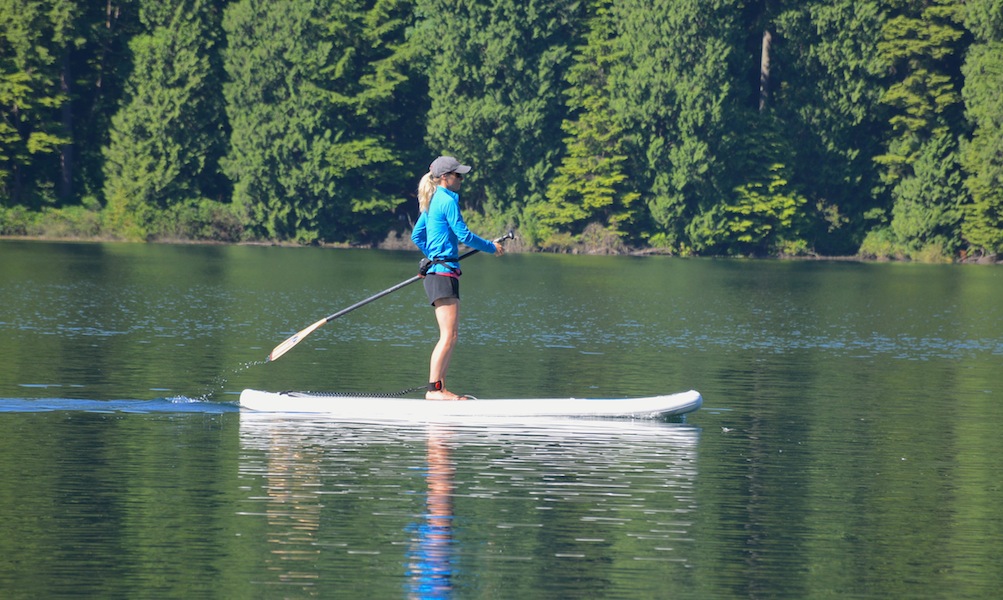 The Negatives
The negatives weren't major. A couple things to point out are…
It didn't paddle that fast
There are no bungee tie down cords
There are no center D-rings if you wanted to attach a seat.
The speed part shouldn't be a big deterrent unless you are really looking for a fast board for racing.
The bungee cords can be added on if you wanted them.
Center D-rings could also easily be glued on. They are quite cheap to buy.
More Pictures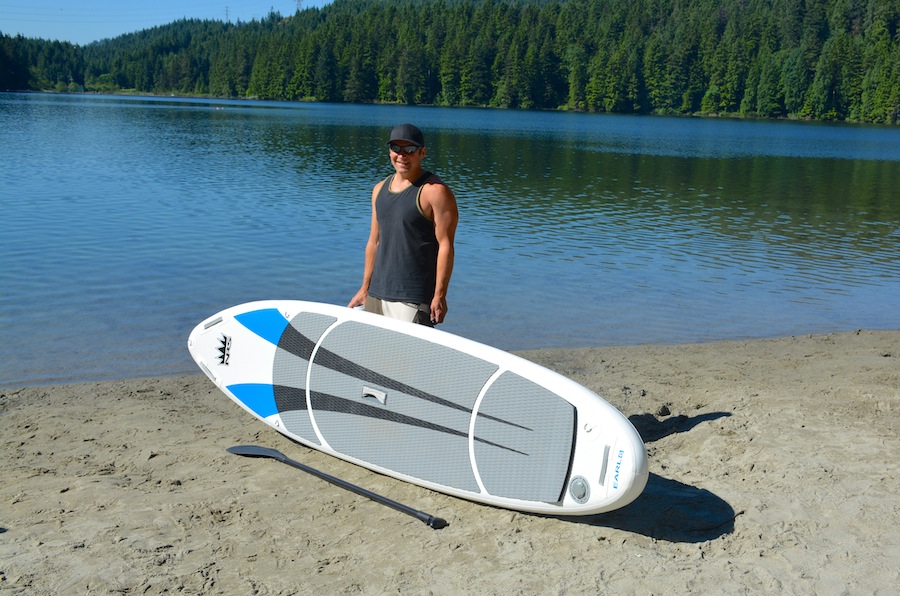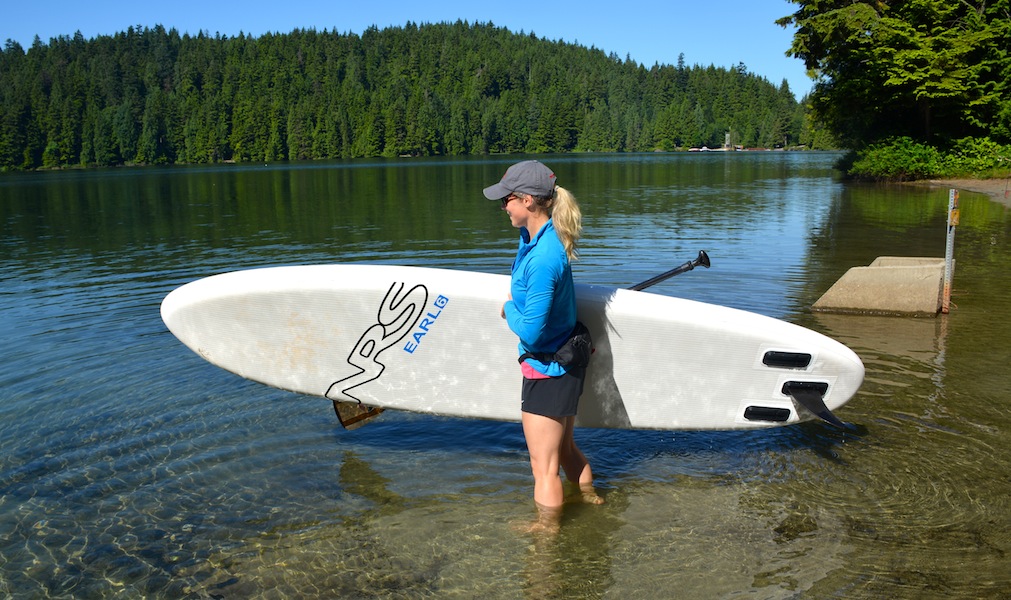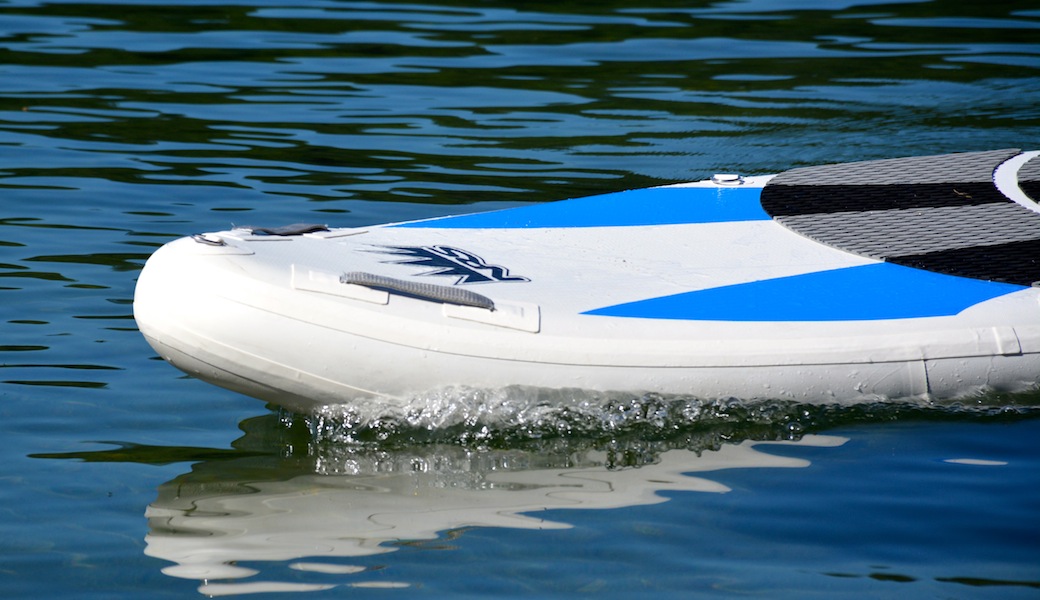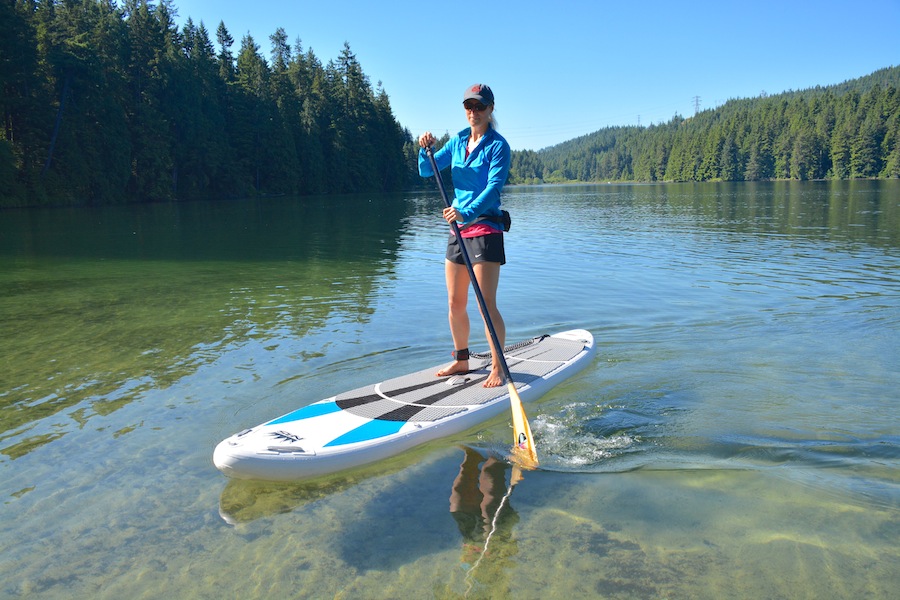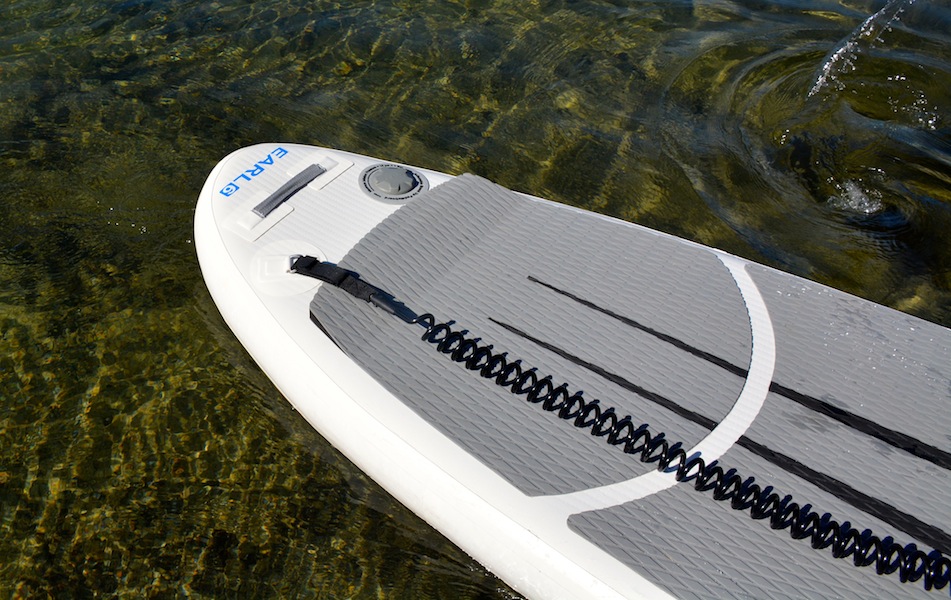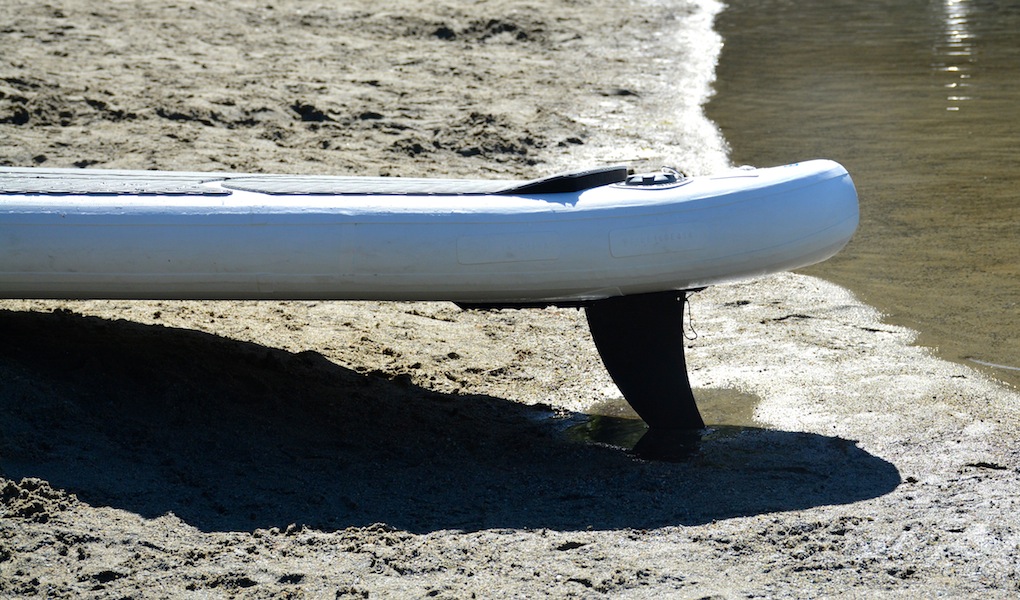 Where To Buy The NRS Earl Inflatable SUP
The NRS Earl is no longer available.