This is a guest post from Denise Nelson, a mountain bike and fitness enthusiast from Mountainbikeez.com.
Honopu Beach is a remarkable location that is a fantastic, secluded beach that is quite hard to get to. I'm athletic, as is my husband, and we still found it difficult to swim against the current from Na Pali Coast to Honopu Beach. Legally, swimming is the only way, and you need fins to accomplish this.
I love Hawaii and how different each island is. By far, Kauai is my favorite island with its detours, nooks and crannies, and perfect dating location. This island will bring you closer than ever to your special someone, and it always brings me closer to my husband.
We both love mountain biking, and we usually plan our trips around biking trails, mountain biking events, or even places we can buy parts for our bikes. This time, we left our mountain bikes at home and picked up our paddling equipment for our vacation in Hawaii!
We stayed in Princeville, but our destination was Honopu Beach. Here's how we planned our perfect date getaway!
The Start of the Adventure
So I have arrived in Hawaii to the beautiful island of Kauai, or as it's called "the Garden Island." This lovely island is full of amazing flora and fauna as well as exotic and unique seascape and landscapes waiting for you.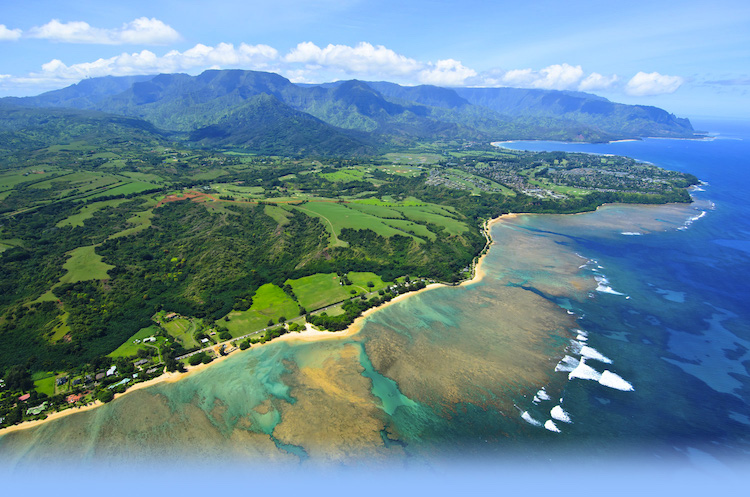 I fly directly into Lihue, Kauai and then drive up to Princeville or Hanalei. I prefer the northern part of the island for the unique Honopu Beach experience, but the southern part is just as beautiful.
After arriving at Princeville, we check into the Hanalei Bay Resort and relax for a little while. We usually fly in between the afternoon hours and the evening hours depending on what we were doing when we left.
We'll eat in by room service and enjoy the first night just relaxing, resting, and recuperating from our flight into Hawaii. This gives us plenty of time to recover from jet lag and prepare for tomorrow's adventure!
Tomorrow's adventure includes a 9-hour hike on the Kalalau Trail that is 11-miles long. We start early so we can drive to the trail with food in our stomachs and our gear ready to go!
Eat Breakfast
For breakfast on our hiking morning, we like to pack ourselves full of protein to energize our trip. Protein helps to provide your body with energy and helps you to jumpstart your day, get your mind in gear, and keep you full longer.
We like to cook eggs, bacon or sausage, almonds, and baked oatmeal bars. We didn't have an oven in our hotel room, so we pack the oatmeal bars from home and buy more groceries the night we fly in.
After finishing up our plates, we allow our food to digest by reading or talking for about 30 minutes; then we start packing for our trip. We plan for this trip to take anywhere from 4-5 days and we'll be camping on the beach together.
Prepare for Camping and Fun
With the two of us both bringing camping bags full of gear, food, and snacks, our bags will weigh anywhere between 30-50 pounds each. We pack our sleeping bags, a small collapsible tent, a Firestarter, a pan, multiple bottles of water, painkillers, snacks, canned foods and a can opener, trash bags, clothes, swimsuits, sunscreen, a map, our phones, and anything else we think of last minute.
We also attach our inflatable paddle boards and electric pumps. We know what we want to do, so we plan for all the things we may need for a successful trip.
Long Drive Down HI-560 W
When we are fully packed and ready to go, we head out for one last item we need, our permits. To hike the Kalalau Trail and camp, you will need to get a permit first.
After picking up our permits (you will need one for each person you are going with), we proceeded to make the 35-40 minutes' drive down HI-560 W to Kalalau Trail.
Along the drive, we always make a pit stop at the Village Snack Shop & Bakery in Hanalei, right off the HI-560 W.
After we stop for a light snack and add some to our packs, we continue down the highway for the rest of the drive and park in the trail location.
Hike and Camp the Kalalau Trail
This hike will take about two days to complete, so about 4.5 hours a day of hiking an intermediate trail. If you are a beginner, you should bring a guide with you, but my husband and I have hiked the Kalalau Trail every year for the last five years.
As we started the hike, we veered off to get a nice little picture of us at Ke'e Beach. This beach is quite beautiful, and whenever we stop in, there's no one around! It has this beautiful sandy coast, and the water changes color the further out you get. We don't linger too long and hop back onto the trail.
We hike up steep hills, around valleys, down valleys, and coastal bends. There are many picturesque moments along this hike of the N? Pali Coast, and I always take advantage of it.
Once we have reached our destination for the night, Hanakoa Valley, which is about halfway into the hike, we set up our camp and just enjoy the space around us. When we first made this hike, we did the entire hike in one day, and we could barely entertain the idea of doing anything else for the rest of the day, so we changed our plans.
In the morning, we pack up and begin our final hike into Kalalau Beach. The rest of the hike will take about another 4 hours and the scenery along the way is breathtaking from the trails overlooking the coast to the beautiful cliffside formations you walk alongside, and finally, the sign appears.
You've reach Kalalau, but there's still about a mile to the beach so keep walking!  Once we make it to the beach, we set up our camp first.
Set up Camp
We unpack our bags and set up our tent and sleeping bags, prepare where we want the fire, gather firewood, and store our packs at the back of the tent.
After the camp is set up, we take a few moments to talk and rest before changing into our swimsuits, pumping up our paddle boards and running towards the beach!
Head to the Beach for Paddling
Once we're in the water, the paddle boarding is natural, almost second nature to us. If we aren't on land riding bikes, you can find us in the water enjoying other recreational activities.
Paddle boarding in Kalalau Beach is an amazing, secluded experience. You might see a few other tourists or locals on your hike and at the beach, but it won't be crowded, and you'll feel like you've got the beach to yourself!
We paddle board for quite a few hours, only coming back in for lunch. We stay out on our boards to even watch the sunset against the ocean.
End Night Two
Watching the sunset while sitting on the paddle boards is one of my favorite moments in Hawaii.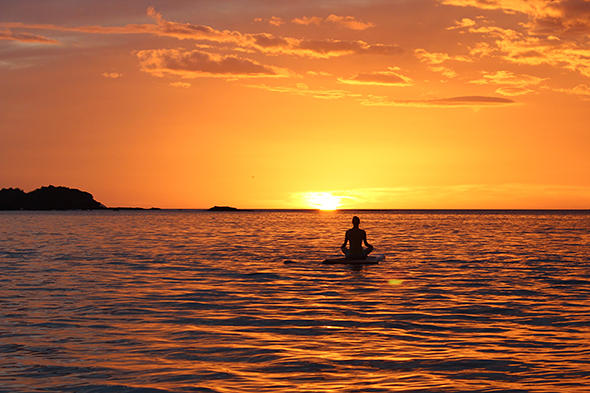 Being in the water as the sun sets and creates this magnificent fading effect of blue into yellow, and as the sun drops more, the sky turns red and orange creating these purple puddles where blue used to be.
Finally, the sunsets and you are left staring at the stars in this swirl of black, blue, and a few yellow tones above you. The entire world feels like it could stop for just that one moment, but you paddle back to shore and head back into your camp.
We make dinner, talk about our trip, plan tomorrow, and we sleep in our tent under the stars. How romantic and beautiful is that?
Begin Day Three
If you can wake up early enough, head to the beach and watch the sunrise. The sun comes up in this magnificent yellow blaze that instantly warms you and prepares you for the day.
Enjoy breakfast, put out your fire safely, and prepare for your swim to Honopu Beach.
Swim to Honopu Beach
The swim from Kalalau Beach to Honopu Beach isn't easy. You should bring fins with you and be at least an intermediate swimmer. This swim should only be made when the tide is low otherwise a hide tide could create fatal waves and currents.
As you swim from Kalalau Beach, stay close to the coast and make your way around the small outward rock formation and back towards the beach.
To identify Honopu Beach, look for the arched sea cliffs and a waterfall. Once you are on this beach, you may only swim here. You are not allowed to boat, fish, surf, paddle board or anything else on this beach.
This beach is sacred ground, so make time exploring it and understanding it by experience. Once you finish on Honopu Beach, swim back to Kalalau Beach and enjoy the rest of your night however you choose. My husband and I found ourselves paddle boarding one more time on these private-like beaches.
Camp Before The Trip Home
Make an early night on this day. I always make sure we're in our tents right after sunset (because I enjoy them so much), and we sleep the night away preparing for our trip home. For the hike home, it takes less time, and we're able to do it in just one day, so we want to be fully prepared.
Hike Home
We start the hike during sunrise to get the best start to our day. We don't want the sun to be right on us at first, so we try to get ourselves deeper into the trail before the sun hits overhead.
We're back by the afternoon and make the drive back to our hotel. We stop by The Dolphin Restaurant on the way for some authentic seafood and drinks before calling it a night at our hotel.
Planning the perfect date in Hawaii is all about your location and destination, and it will be different for everyone. I wanted our trip to focus on the beauty and uniqueness of Honopu Beach.
While we've always been to Kalalau Beach, we never tried to visit Honopu Beach. It was fantastic, and I hope you will attempt to go for yourself.
Where in Hawaii would you love to visit?