*Note:  My personal pictures below are of the older model.
Red is known for making some of the best quality inflatable SUP's on the market.
I first tried a Red paddle board in the Cook Islands several years ago while on vacation.
At the time I didn't know the name Red and I didn't have much experience with stand-up paddling but I remember two things… being very impressed with the Red board I was using and falling in love with stand-up paddling.
So I was excited to get the opportunity to try out and review some of their newer boards.
This Red 126" Explorer did not disappoint and has a ton of great features.
Quick Stats
12'6" long
32" wide
5.9" thick
weighs 34 lbs.
air pressure – 15 – 25 PSI
rider weight is almost unlimited
has one large sleek removable fin
Material:  150mm dropstitch PVC material
Pros: Very stable, can hold a lot of weight, super rigid and stiff, tracks well, large removable fin, 9 separate D-rings for securing gear, comes with one of the best ISUP carry bags in the industry.
Cons: A little heavy at 34 lbs. and a little on the pricey side
Where To Buy
Click here for the Red Paddle Co Explorer at PumpedUpSup.com. – Use coupon code ISWPUS75 at checkout for $75 off your order of $500 or more.
Click here for the Red Paddle Co Explorer at Outdoorplay.com – Save 15% off while supplies last.
Click here for the 2017 Red Paddle Co Explorer at GreenWaterSports.com. – Save $240 off the 2017 model and get a free glass/nylon paddle valued at $179 while supplies last.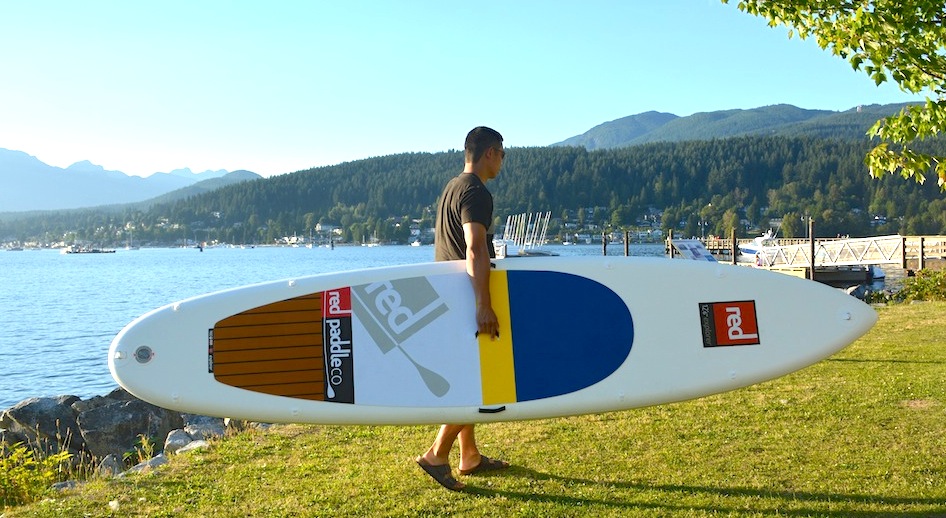 More In-Depth Info
There were three things that really stood out for me with this board.
The first was how solid it was. It felt very rigid and I felt very stable and secure on it. The Explorer is able to be inflated up to 25 PSI which basically means it can hold far more weight than the majority of other ISUP's with no flex.
The second was that it came with the coolest fin I had seen for an inflatable SUP. The fin is red, sleek and fairly large. It is removable and really helps with tracking.
Third, the backpack carry bag is the most functional and best quality carry bag that I have seen for an inflatable stand-up paddle board.
What Makes This Board Unique?
What makes this board unique is the construction and design.
All Red inflatable SUP's are built using Tec Air specifications to make sure they are as strong as they need to be.
The rigidity and quality is evident when you inflate a Red board. The drop-stitch technology used with this board allows it to be inflated up to 25 PSI. I don't know of any other board that promotes an inflation level that high.
For many people 15 PSI is as high as you need to go. However for someone heavier, inflating the board closer to 25 PSI means no flex while paddling and a very strong board.
The design of this board is great. The nose does not turn up like many other inflatable SUP's.
The nose and tail are more flat and the nose is slightly pointy which helps with gliding and control. This type of design is ideal for touring on flat water.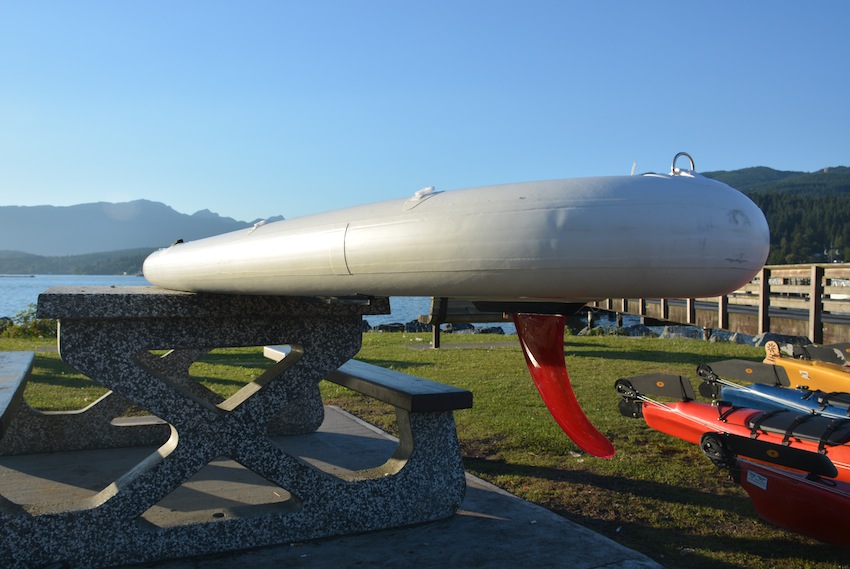 Setup
Setup is simple. Take the board out of the bag, unroll it, press and turn the spring-loaded valve so that the plunger is UP.
The valve should be in the UP position for inflating the board and when deflating, press and turn the valve so that it is in the DOWN position.
Attach the hose from the EZee pump that comes with the board and begin pumping.
This is a large board with a volume of 370 liters. That means it will take a little longer to inflate.
With some effort the pump that comes with the Explorer is able to inflate it up to 20 PSI.
However Red Paddle Co offers a High-Pressure version of the EZee pump that is sold separately that will make inflating this board up to 25 PSI much easier.
It's nice to have both pumps but not totally necessary.  The regular EZee pump inflates faster, but the HP EZee pump makes reaching the high PSI level easier.
The fin can be installed either before or after inflation.
The fin uses a US Fin Box. The nice thing about this fin box is that it allows you to use various fin styles… so you could change your fin down the road if you wanted to.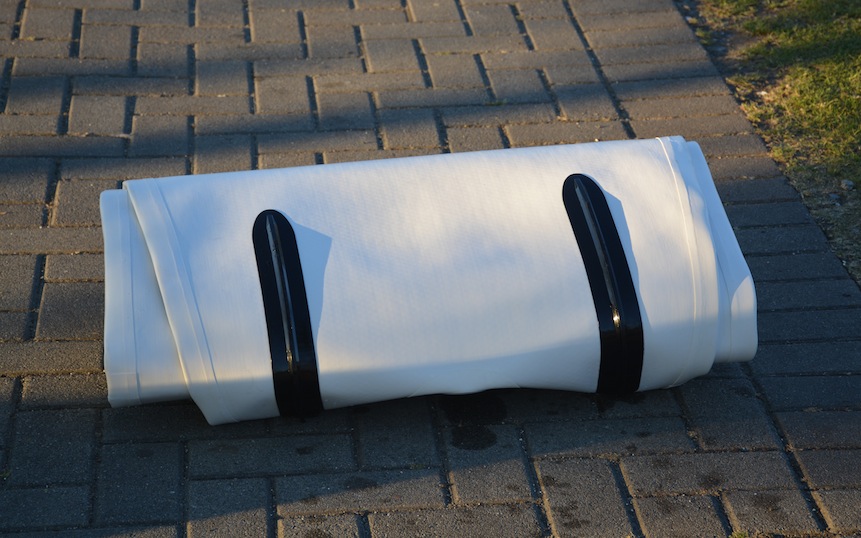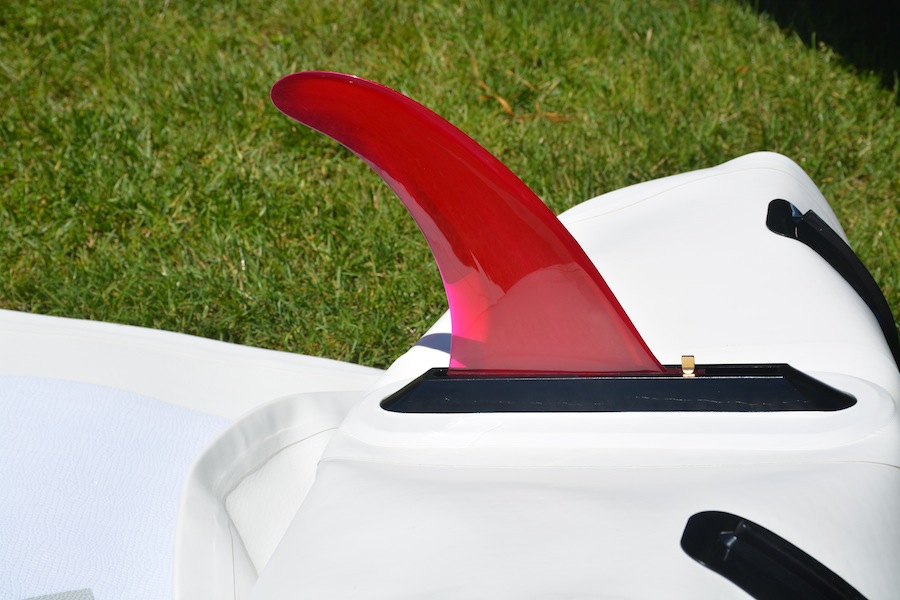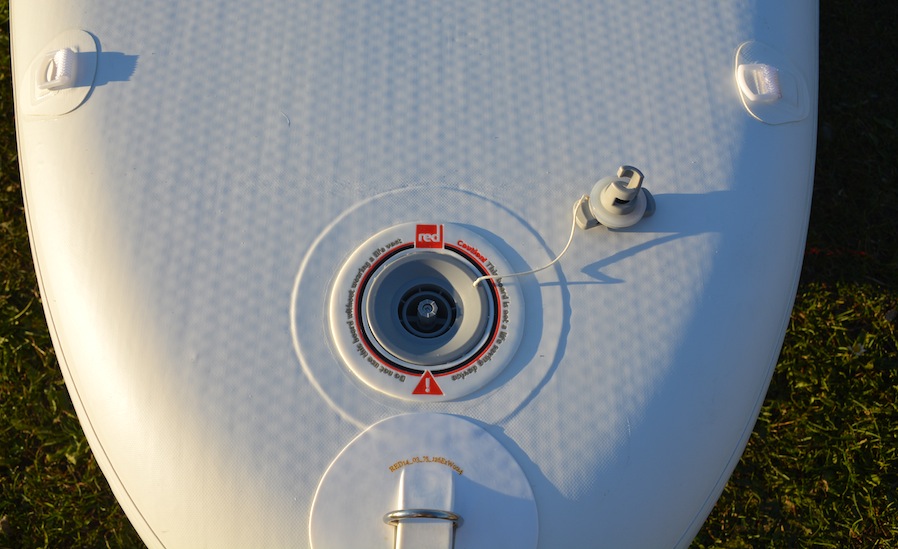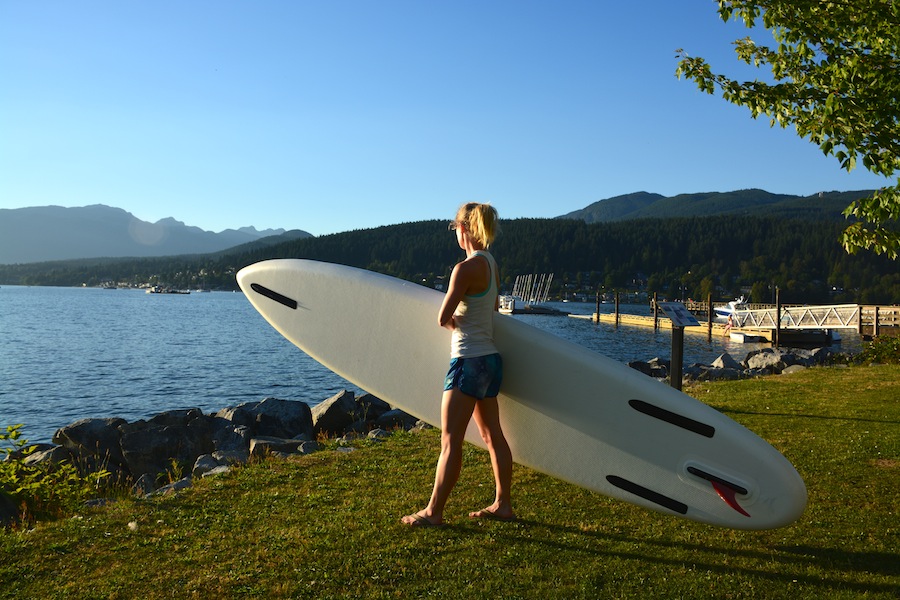 Performance
I found the performance to be good. It's not the fastest board I've been on but it does track well and is great for flat water paddling.
The size of this board makes it ideal for a wide variety of people.
Beginner paddlers will enjoy the stability, larger paddlers will appreciate the rigidity and experienced stand-up paddlers will like the shape and design which cuts nicely through the water.
The fact that it is bigger and a little heavier makes it not quite as easy to turn quickly and I also found it took a little more effort to get going.
However overall I really liked the 12'6" Explorer and felt it would get me safely though a variety of conditions.
The size also makes it ideal for fishing as there is plenty of room for gear and it is stable enough for quick movements.
Important Features
There are several features to be aware of with this board.
With the newer models Red has improved upon the rigidity of their boards by using the Red Tec Air specification as well as improved valves, seals, cap and they are now using even stronger threads. The quality is top notch.
It has one large removable fin.
There are also two rear fin runners and a runner on the bottom front of the board to help with straight paddling
It is made with double layer construction which adds rigidity, strength and durability.
There is an Air Block membrane which eliminates air leakage.
It has a nice long and thick EVA deck pad that makes standing on this board quite comfortable.
There are several D-rings at front and back to secure gear.
There is a center carry handle as well as two side carry handles.
It comes with a very well made front loading backpack with two wheels for easy traveling – awesome bag!
Also comes with the EZee hand pump with pressure gauge
Rolling Backpack
I'm a fan of the backpack carry bag for inflatable SUP's in general. Most companies make fairly good carry bags but I never find the quality of them to be worth boasting about.
The backpack that comes with this board is so far above any other carry bag I have seen. It is so much more durable and extremely functional.
It zips all the way around the front so it's very easy to load the board in and out of it. It has padded shoulder straps that can be tucked away when not in use or when traveling and two wheels on the bottom so it can be rolled anywhere you want to go.
It is the most ideal ISUP backpack carry bag I have seen for traveling by airplane.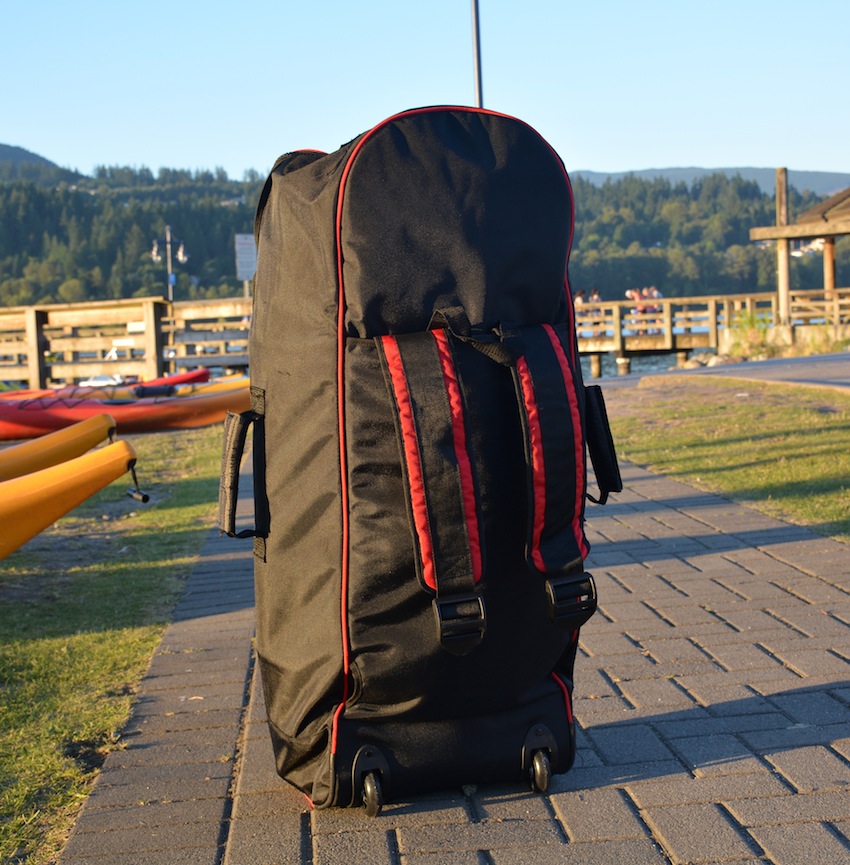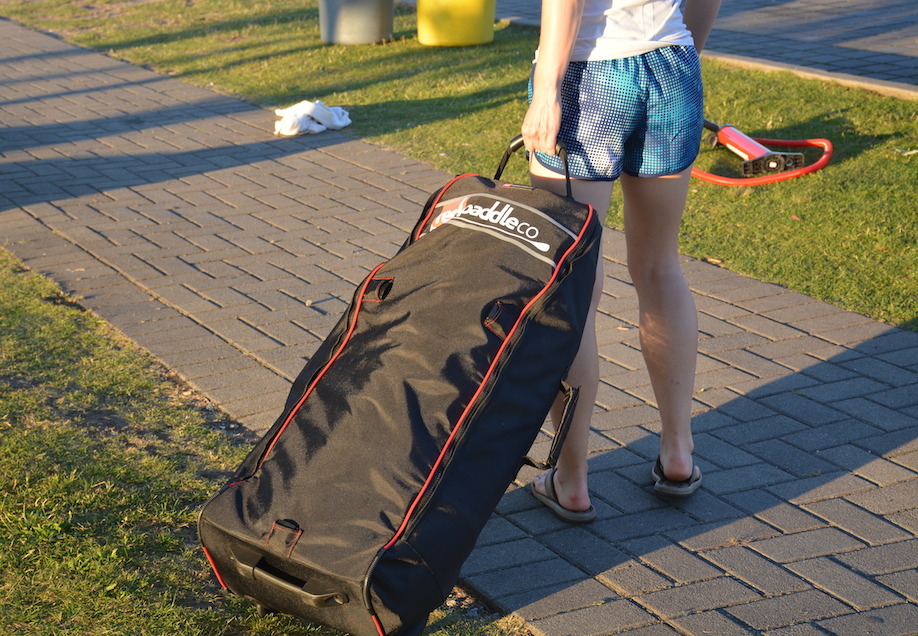 The Down Side
The only down side I found was that it is a little heavier than other boards of similar size.
I had no trouble carrying it to and from the water by myself but I wouldn't want to carry it too far.
When deflated and stored in the bag however it's very easy to transport because the bag has wheels.
In my opinion this board will be easier to paddle and handle for a larger person but it is versatile enough to support any type of paddler.
My Pics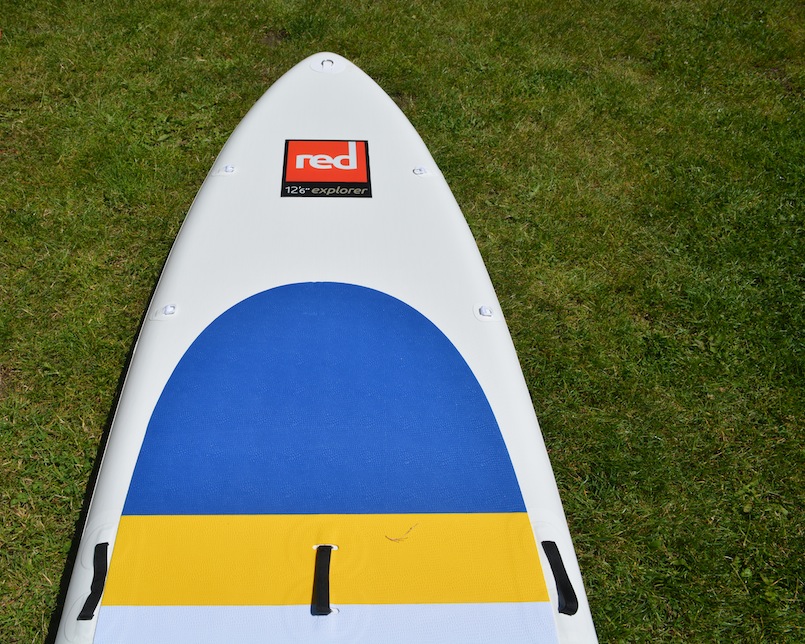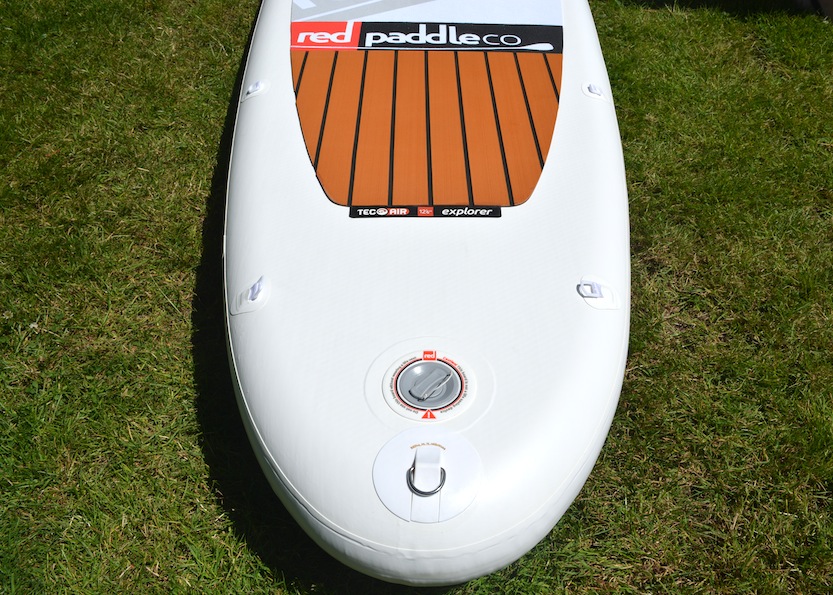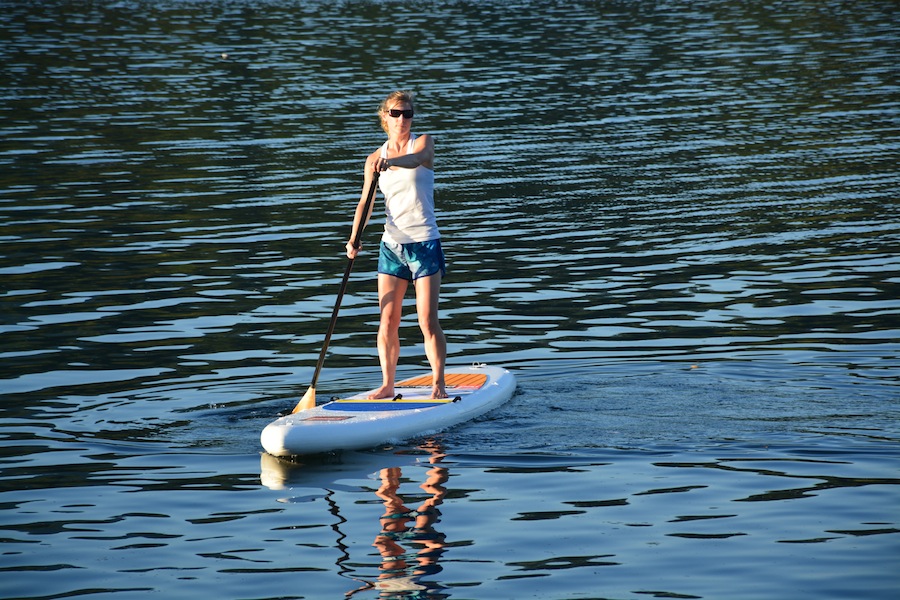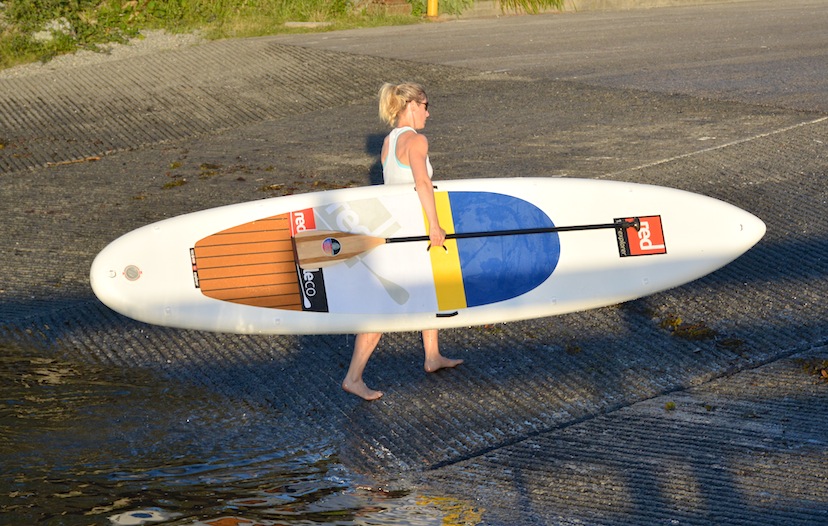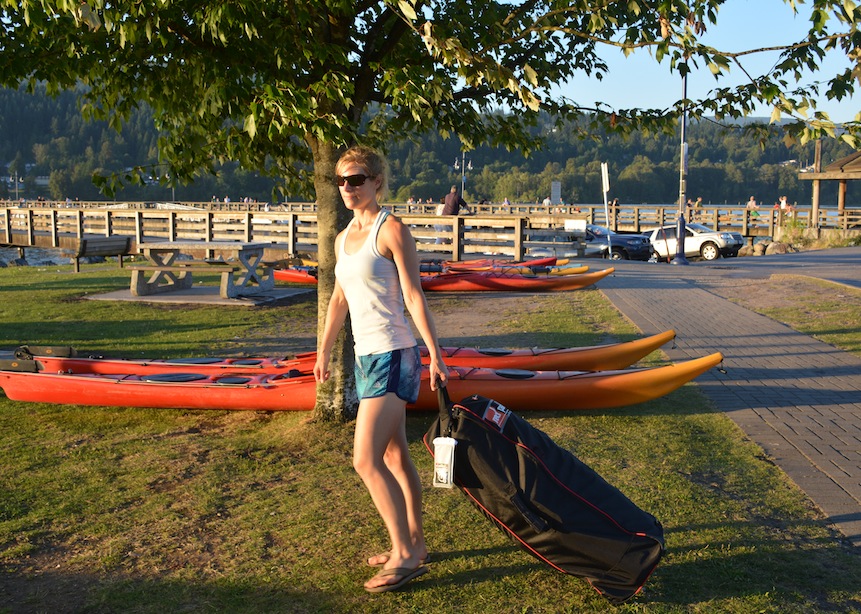 Overall I liked the 12'6" Red Explorer a lot. I would have preferred it to be slightly lighter but the quality is great, the design is really nice and it paddles well.
It was built to be able to withstand a lot of abuse and it is ideal for flat water lake or ocean paddling. Although not designed for surfing, it can handle smaller waves quite well.
The length is best suited for touring and exploring as opposed to having to make quick turns and fancy maneuvers.
I think it is best suited for someone who wants a stand-up paddle board that can hold a lot of weight and still paddle quite well.
The price is higher than many other inflatable boards on the market and the standard question seems to be whether their boards warrant the higher price tag.
From speaking with those who own a Red board, the answer seems to consistently be yes.
The quality of the board in general, the backpack carry bag and the fin definitely stand out. The fact that this board can be inflated up to 25 PSI makes it unique.
Included with the Explorer is the rolling backpack carry bag, a repair kit, a waterproof phone case and the EZee pump.
Where To Buy
Click Here For The Red Paddle Co Explorer ISUP At PumpedUpSup.com. – Use coupon code ISWPUS75 at checkout for $75 off your order of $500 or more.
Click here for the Red Paddle Co Explorer at Outdoorplay.com – Save 15% off while supplies last.
Click Here For The Red Paddle Co Explorer Inflatable SUP At GreenWaterSports.com. – Save $240 off the 2017 model and get a free glass/nylon paddle valued at $179 while supplies last.
Did You Know?
By clicking on the above seller link you can help keep ISUPworld.com growing. When you make a purchase after clicking on our links, the retailer will contribute a portion of the sale to help support this site. It won't cost you anything extra and it's a simple way to help us fund our gear reviews. Thanks!