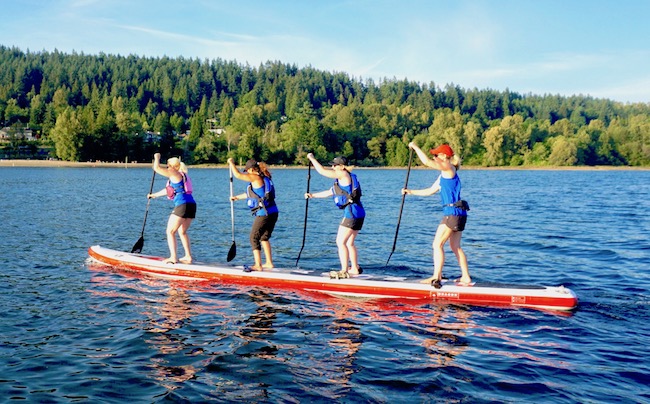 When I heard about this new 4-person inflatable SUP that was designed for team racing I jumped right on board!
I got myself a Red Paddle Co Dragon SUP and found 3 adventurous and crazy friends to join me on this new adventure.
You may have seen the extra large mega SUP's out there that can hold multiple people.
The Dragon SUP however is a little different in that it is designed for racing and includes many of the same features as the other Red Paddle Co Race boards.
At the time of writing this review I have been paddling my 22' long Dragon SUP with my team for  over three months.
It has been an absolute blast and I can say in all honesty that I am enjoying paddling this ISUP even more than going out on my solo boards.
The Dragon takes it to a whole other level of fun and the challenge is so rewarding.  When all four paddlers get into sync, you fly through the water.
We are so excited to be involved in this new sport!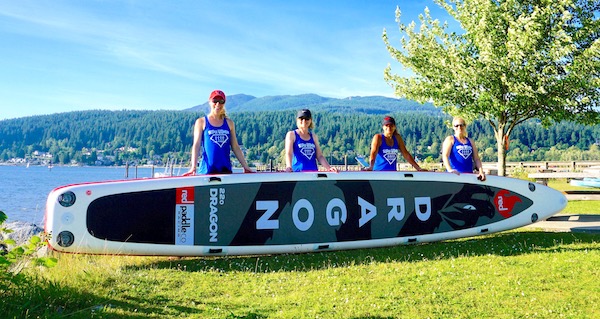 Specs For The 22' Dragon
22' long
34" wide
8" thick
Weight:  TBA
Air pressure: 18 – 22 PSI
Volume: 984 litres
Number of riders: up to 4
Material & Construction
We have had so many people come up to us and ask about this board and be completely surprised that it is inflatable.
It is made of PVC material with high grade, double-thread internal drop stitching. It is extremely durable, well made and rigid when fully inflated.
It is constructed using a process called MSL fusion technology (Monocoque Structural Laminate).
MSL reduces hand-gluing errors (which I have seen often with some cheaper boards) as well as the amount of glue used, which saves 2kg in weight.
MSL as well as Red Paddle Co's standard TecAir manufacturing process creates a durable, high-performance board.  It is built tough and you can tell by looking at it.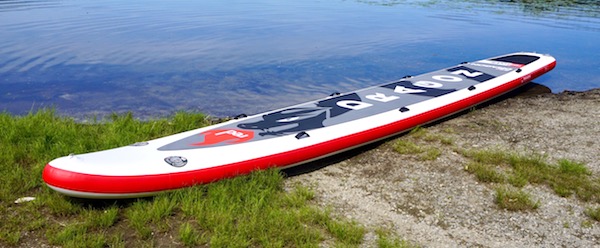 Important Features Of The Dragon SUP
There are quite a few features worth mentioning such as:
US Fin Box With Removable Fin
I really like the fin on this board. It is easy to secure with a simple nut and bolt system, and feels very strong and solid when attached.
It is a Race fin that was engineered to efficiently slice through the water.
It has a 45% rake on it to ensure nothing gets caught (like weeds) that could slow you down.
Tip: Attach the fin after you have inflated the ISUP and remove it before you deflate in order to save the fin from getting needlessly scratched.
Side Rails With Four Layers Of Taping
The high side rails on the 22' Dragon are extra durable with four layers of taping.
The taping provides good protection against dings and scratches.
Special "Air Block" Membrane Eliminates Air Leakage
The Red Paddle Co inflatable stand-up paddleboards are some of the best in the world for good reason.
Air leakages are highly unlikely!
Extra Long Super Traction Non-Slip EVA Deck Pad
At 22' long the Dragon is one long SUP! The traction pad covers a large majority of the board.
The EVA deck pad helps with grip and comfort and we particularly love the dragon design on it.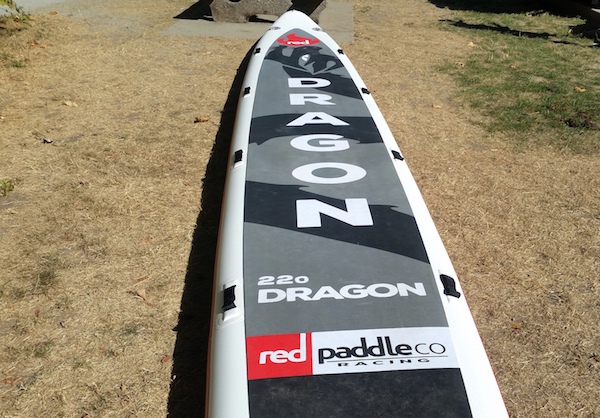 Eight Rugged Carrying Handles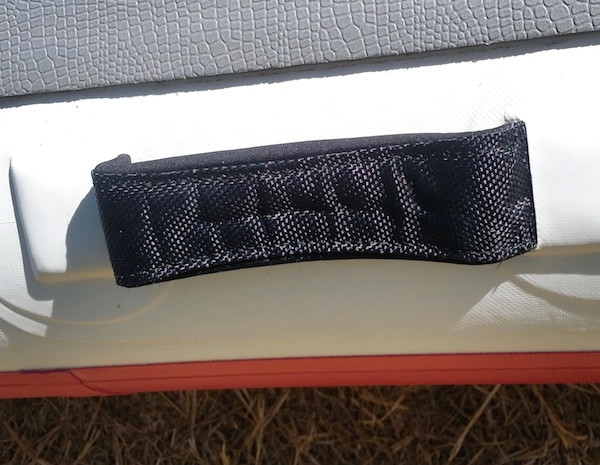 There are four strong handles on each side of the board – eight in total.
These handles make it very easy for your team of four to carry the board to and from the water.
It is also very possible for two people to carry but much easier with four.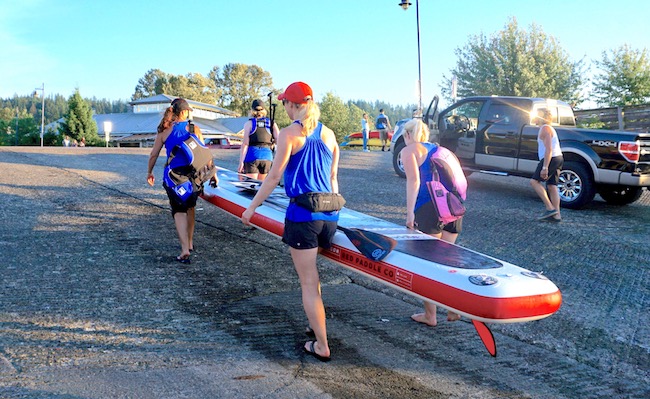 Four Inflation Valves
Worried about pumping this beast all by yourself? Don't be… There are four inflation valves, two at each end.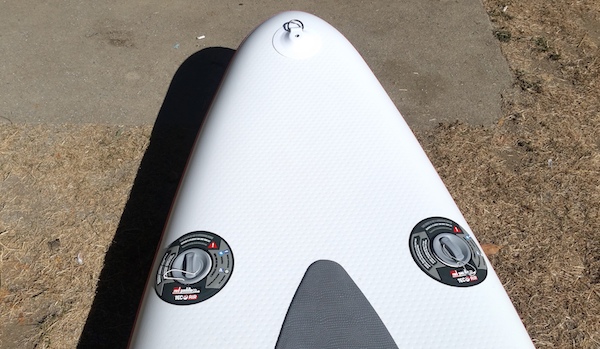 For the most part my three team mates and I usually inflate this board together.
The odd time it has been just three of us and a couple of times we used two electric pumps to get the job done.
However with the four of us using the hand pumps, it takes about 15 minutes to inflate. We consider the pumping part of our workout!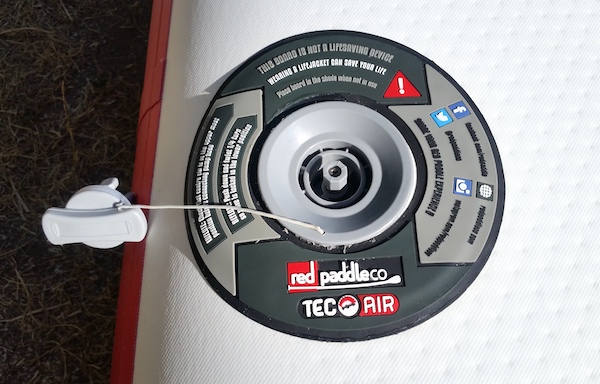 RAM Mount
A really nice added touch is the special screw thread at the nose of the board that is compatible with Ram Mount products.
With this accessory you can easily attach a GoPro camera, GPS device, fishing rod or even a cup holder.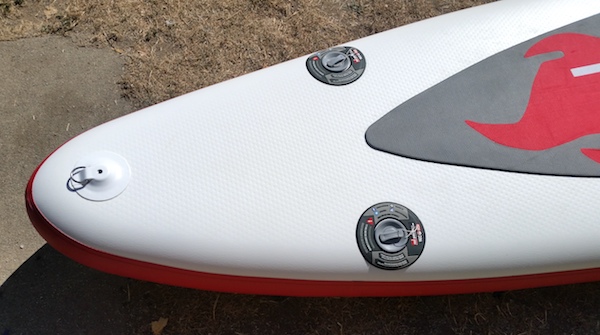 What's Included?
When your Dragon SUP arrives you can expect to find:
Four Red Paddle Co Ezee Pumps
Red Paddle Co storage bag
Repair Kit
Water resistant phone case
Removable US box fin
And of course the board itself.
The Setup Process
As mentioned there are four air valves on this board and it comes with four pumps so each person can help out.
With the size of the Dragon it holds a high air volume.  So it does take a little extra time to get it fully inflated as compared to inflating a solo board.
We used our electric pump a couple of times but mostly we use hand pumps and just put in the work.
With the hand pumps it takes the four of us roughly 15 minutes to get it fully inflated – that includes taking a few quick breaks.
It is a bit of effort but we are usually talking and laughing while we pump so it goes by quickly.
Once inflated you can secure the fin into the fin box and off you go.
After we have finished paddling, we remove the fin, dry the board off with some old towels, then deflate it and roll it up.
Place the board back into the storage bag along with the fin and the pumps.
The whole package can easily be transported in the trunk of your vehicle.
Performance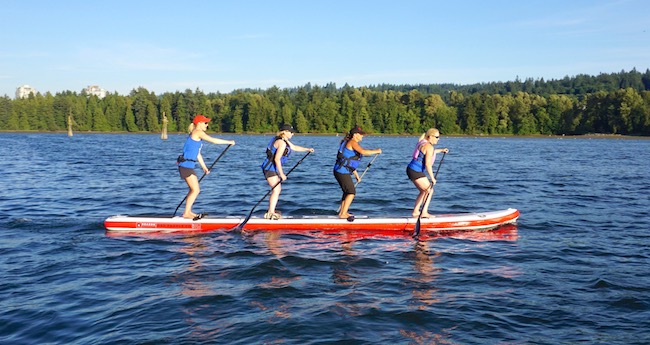 The Dragon was made to move swiftly and with the power of eight arms paddling it forward, it feels awesome.
With the profiled nose, slim body and high sides, we have found it to track straight, glide well and cut through choppy water with ease.
As you can probably imagine a board this long is not that easy to turn quickly.
Turns are something we have practiced quite a bit, trying to learn how to do it efficiently and as quickly as possible.
Paddling a four person SUP feels very different than paddling a solo board.
Each person needs to be totally in sync in order to move smoothly through the water.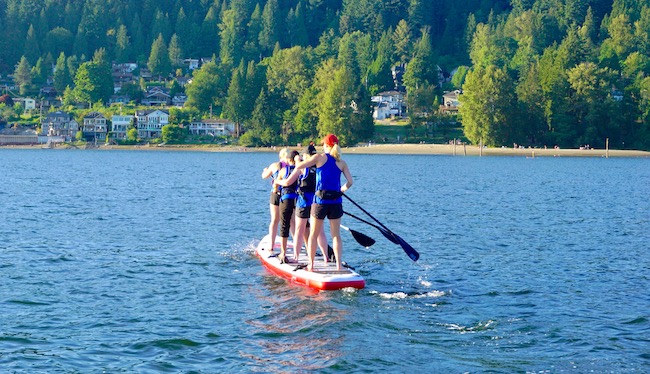 If one person gets out of sync the movement becomes jerky and you will lose your balance.
Once you feel solid in your position and all get in sync it is such a fantastic rush as you all glide swiftly through the water.
It is a great feeling and I can't say enough about how fun it is to ride the Dragon SUP.
The Races
So once you have this awesome team racing board, what do you do with it?
Find three friends to join your team.
Brainstorm for an awesome team name.
Start training for a race!
There is a full list of Dragon World Series events all over the world that you can check out here.
You have to be on a Dragon SUP to participate in these races so everyone is on the same board.
Once you have participated in one of the Regional events you can then compete in the Dragon World Championships held this year in Barbados October 28-30th 2017.
We will be there paddling our hearts out and we hope to see you there!!
Below are a few photos from our first race together…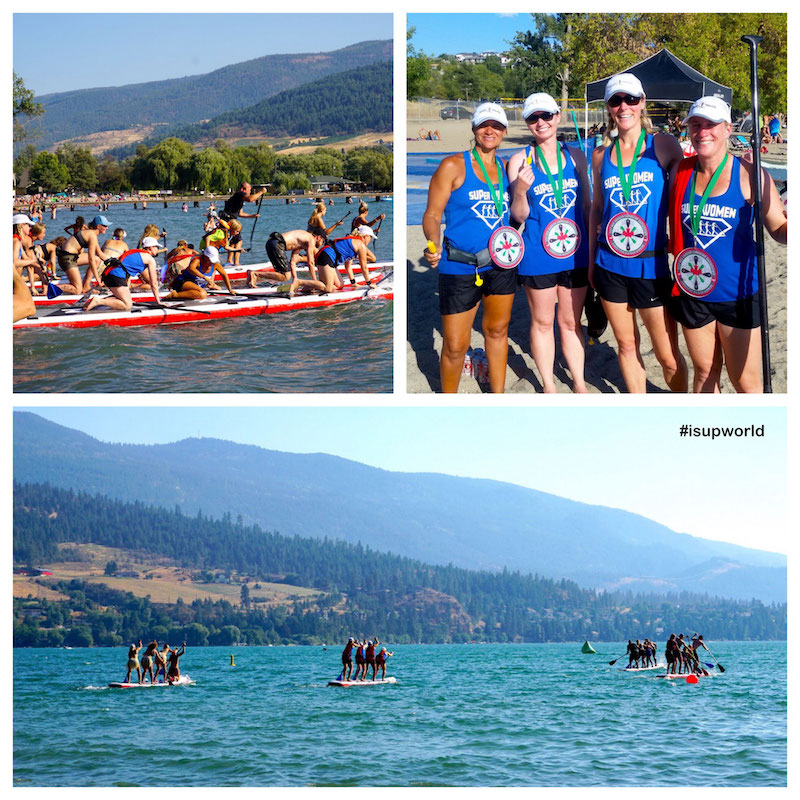 Other Uses For The Dragon SUP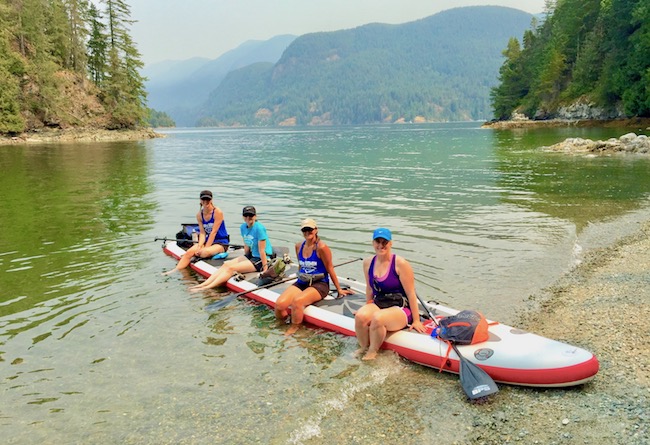 Besides team racing this board also has a few other great uses.
It is ideal for families to go out paddling together. The Dragon will easily fit two adults and a couple kids and even a dog.
Darryl and I have taken the Dragon out together with our three dogs and we all fit extremely well!  It is a totally different type of paddle board experience and it is SO much fun.
We think it would be perfect for clubs and summer camps as well. Paddling this SUP forces everyone to work together and it is almost impossible not to laugh and be happy while doing it ?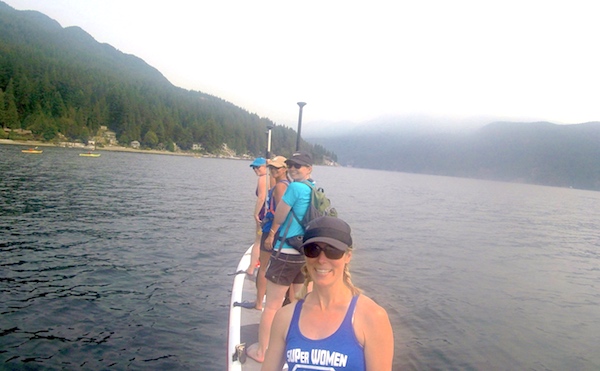 The Downside
In our opinion the Red Dragon simply rocks. It is a total game changer in the inflatable SUP world.
The only downside is that with all four people on one board it is hard to get pictures!
A GoPro or a good drone will do the trick!
Where To Buy The 22' Dragon SUP
If you are interested in joining us, exploring this awesome new team sport and having the time of your lives with your own Dragon SUP then visit the stores below to find the best deal!
Click Here For The Best Deal On The Red Paddle Co Dragon SUP At Outdoorplay.com.
Click Here For The Best Deal On The Red Paddle Co Dragon SUP At GreenWaterSports.com.
Click Here For The 2017 Red Paddle Co Dragon At GreenWaterSports.com. – Savings of $200 while supplies last.
Did You Know?
By clicking on any of the above seller links you can help keep ISUPworld.com growing. When you make a purchase after clicking on our links, the retailer will contribute a portion of the sale to help support this site. It won't cost you anything extra and it's a simple way to help us fund our gear reviews. Thanks!